Imagine you have a freshly minted SaaS. Your tool is fast, smart and far-reaching. It has plenty of cool features with many more to come. Clients are signing up for early access, looking forward to your grand release. You want to bring value to them while sharpening your tool. But what is the best way to serve your subscribers and early adopters in the meantime? That's a question we faced with our team designing Chanty team chat.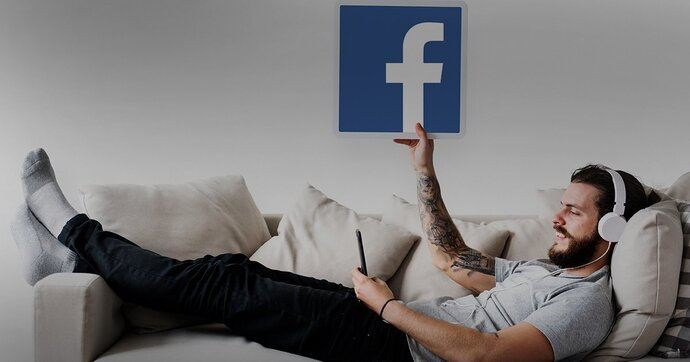 As you can guess from this article's title, we started with newsletters. Recently, however, we transitioned from sending the particular type of marketing emails to creating a Facebook community. For those of you interested in our experience and the results we've achieved, let us share them with you.
Our Journey with Newsletters: Fun yet Bumpy
It was a bright sunny day in January 2018 when we sent our first newsletter.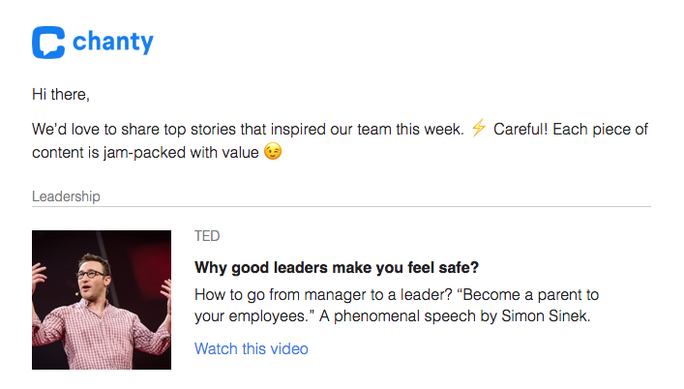 A short disclaimer. By the term 'newsletters', I don't mean all kinds of marketing emails (such as transaction messages, product updates, etc). I'm talking about 'article digests' – roundups of stories that are likely to have value for your readers.
At Chanty, we treated our subscribers with the best content on communication, collaboration, and productivity. We picked up the best stories written by top experts and delivered them to our readers. We've also included some articles from Chanty blog written by our marketing team to the newsletter.
Delivering newsletters seemed logical from the start. People share their emails with us as they sign up for early access to our tool. Each day we get dozens of contacts via different subscription forms. Of course, we don't send anything without a subscriber's permission. Before signing up, we ask them if they want to get the particular type of content.
As briefly mentioned, the goal of sending newsletters was to engage with our subscribers. We addressed mostly those waiting for the full access to our tool. But we also wanted to bring the added value to our early adopters – those already using Chanty. So we put our heart in designing newsletters, going the extra mile when necessary.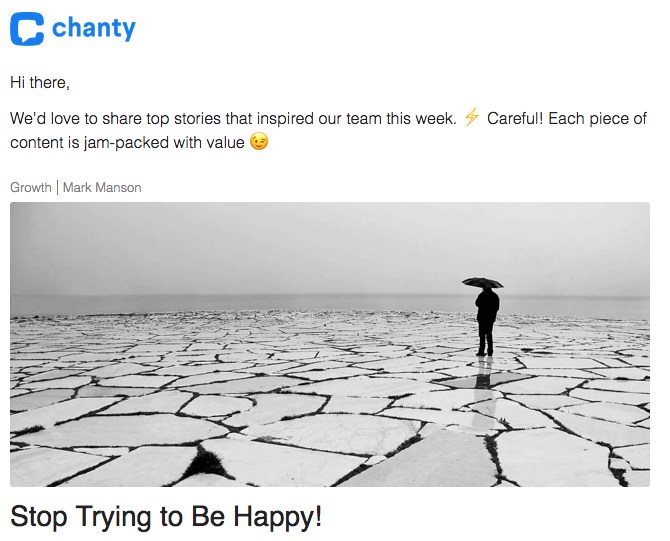 These newsletters felt like a game changer. However, we encountered a few bumps on the road that made us rethink what we do. Here are two main hurdles of article digests:
1. Newsletters provide a one-way communication. Expect no feedback!
Sometimes we stopped and asked ourselves if these newsletters really serve our subscribers? Of course, we had 'open rates', 'click rates' and other statistics to learn about that (I'll jump to some numbers in a moment). But, obviously, newsletters provide one-way communication. There was no way we could interact with our readers.
2. There'll be unsubscribes. Sometimes more than you expect.
Simply put, we were losing people who could have become our customers. We had a nice open rate – starting at 20%. But, apparently, there were people who weren't interested in the content we offered. After sending the first newsletter we lost 90 readers. Around 80 more were gone after the delivering the second one. Sending the third and fourth newsletters yielded similar results. The pattern was clear – with each campaign we were losing about 10% of those who opened our emails.

Chanty SaaS is getting closer to its public launch each day. So losing subscribers (who can easily become our customers) wasn't good news. We came to realize it might not be the right time for the marketing newsletter and it's better to explore other marketing channels. Realizing that businesses can rarely do without social media, we decided to engage with Facebook.
Building a Facebook Community from Scratch
How can a business thrive on Facebook? What's worth our effort, as well as our customer attention?
We explored SaaS best practices and the strategies of our colleagues-slash-competitors to answer these questions. Then we took a bold step and created a Chanty online community – a Facebook group.

We had a handful of goals: from enhancing customer relationship to building brand awareness. We even toyed with the idea that the community might generate leads for us. But, of course, there was still a long way to go. We started from inviting all our subscribers to a Facebook group.
We began posting to our community while also encouraging its newly-wedged members to comment and share. We've introduced all kinds of messages – sneak peeks to the updates, requests for feedback, offering different perks, such as custom-made profile pictures. But sometimes we just say 'Hi' to the new community members.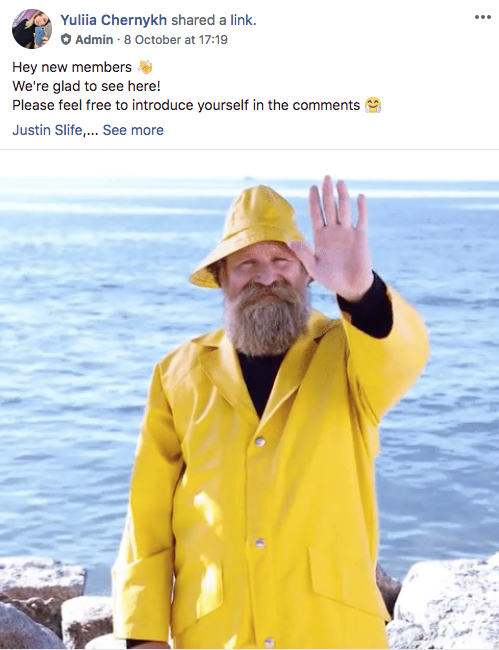 As I'm writing this, it's been 5 months since we started a Facebook community. I know you are interested in results – I'll present them in a minute. But I guess it's too early to summarize our experience in numbers only. Let me share with you the pros and cons of having a Facebook community. Here are the advantages:
1. Facebook community is a channel of engagement
We post – people read. Often, they comment and share. Of course, this is a best-case scenario. Sometimes people just scroll down our posts. But with time, the messages in our community provoke vivid discussions. Recently, we posted a question about integrations, and the community members responded with dozens of comments.
Unlike newsletters, Facebook enables dialogue between the brand and the clients. The better engagement, in its turn, enhances purchasing intention.
2. Facebook community is a source of feedback and a medium for client support
Having a possibility of direct communication with our users, we can give support and receive feedback from them. Though Chanty adopters can request help right from the app, our Facebook community provides an additional support platform.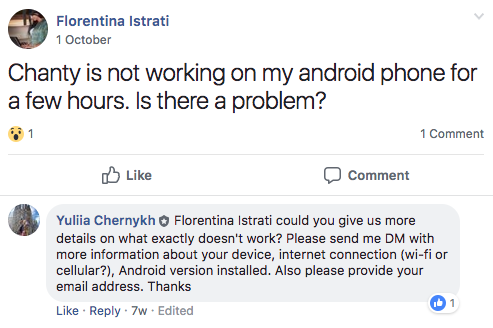 A Facebook community can also become a valuable resource of feedback. If you are not sure about a particular feature of your product, you can just ask your active users directly. The additional channel for customer feedback and support enhances clients' attitude towards a brand. Satisfied users are more likely to spread the word about your company among their friends, colleagues, etc.
3. Facebook group analytics helps in adjusting marketing efforts
Facebook analytics seems to be more detailed than the one provided within newsletter automation platforms. Which posts have most engagement? Which ones generate more views, likes, shares? Realizing popular topics, we can make the necessary updates to the content plan.
Within the Facebook analytics, we also learn about the gender distribution of community members. As you can see, we have more women than men in the Chanty Facebook group.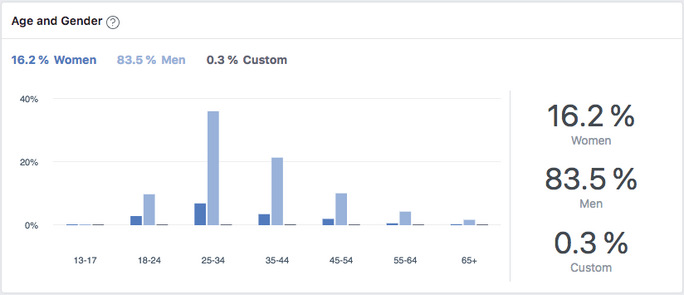 All this gives us the possibility to provide our community members with more value, which leads to better engagement. As of October, we have more than 400 total members. Each week this number rises 10%. Besides this you can also use a Facebook Insights tool to help you with analytics.
However, we've also encountered some challenges with solutions, such as:
1. Low organic reach
In 2018, Facebook has almost killed organic reach from businesses, brands, and media. Now it takes much more effort to make posts in a Facebook group visible by community members. The best solution is to bring value with your content, so people will seek to follow your updates. Meanwhile, you can recommend community members to turn "All Posts" in their Notification Settings so they won't miss any message published in the group. You could also use @mentions to reach individual members when necessary.
Also if you are managing multiple group then using free facebook marketing tools will save you a lot of time. It will empower you to curate, create and analyze variety of content under one roof for individual groups.
2. Building a core of community members
The challenge is to show that participating in the community is rewarding. The good news is once you have people who post and comment regularly, the community lives very much by itself – all you do is support their engagement.
3. The invite-only access vs free admission to everyone
Initially, we were choosing whether to have a closed or an open Facebook group. Granting the automatic access to everyone would probably mean a bigger audience reach. But being a closed group, we'd get rid of bots and spammers while also serving primarily to people who are engaged with our product. Eventually, we decided in favor of a closed group, as its advantages seem more appealing. To join the community, members need to be approved by the administrator.
At the end of the day, the challenge of starting a Facebook community is worth the end results.
Takeaways
We enjoyed designing newsletters. You might like it too! However, if your SaaS is on the way to a market launch, it might not be the best time for this type of marketing emails. Here's why:
Newsletters provide one-way communication. You might lack feedback on whether the content delivers value to your subscribers.
You can lose some prospective clients because of unsubscriptions. Just because some people don't feel like reading your newsletters, it doesn't mean they are not interested in your product either.
Building a Facebook community, however, can provide you with the following advantages:
Extra engagement channel can improve your consumers' attitude towards the brand image and their purchasing intention
More Feedback on your product or some of its features
A platform for customer support
FB Analytics tools help you track and adjust the marketing efforts. You can assess the engagement of the posts, consider the distribution of the community members, etc.
There are also some challenges of building a Facebook community that include overcoming low organic reach and building a core of community members. These issues, however, could be solved by creating valuable content and facilitating user engagement.
That's our story of moving from newsletters to a Facebook community. Feel free to share your insights on how newsletters or community forums made it for your brand.