Today, social networking is an integral part of people's lives.
But there could be times when users might want an out. Are you one of them thinking about deleting your Facebook account? Or is it just that you want a 'me time' break from social media?
Perhaps you're worried that your data might be at risk or afraid that your privacy is compromised. This is one of the reasons why users may wish to get rid of their accounts.
If you have stopped using social networking sites, then it is not such a bad idea to delete your Facebook account. Doing this will ensure that your posts are no longer available or searchable online for anybody.
But deleting your Facebook account is not the only way out. You can temporarily deactivate it, too, until you're ready to be back on social media.
Read ahead to find out how to delete Facebook account.
How to Delete Facebook Account
Before you delete your Facebook account permanently, be certain of it. Because once the account is deleted, you won't be able to reactivate it.
Your profile, photos, videos, and every other data uploaded by you since your first login will disappear permanently. Also, you will no longer be able to use Facebook Messenger, a feature of Facebook.
Steps to Delete your Facebook Account permanently:
On your Facebook mobile app, tap on the triple bars on the top right corner.
Scroll down and tap on 'Settings & Privacy.'
Next, tap on 'Settings.'
Tap on 'Personal and Account Information.'
Select 'Account Ownership and Control.'
Tap on 'Deactivation' and delete.
Choose 'Delete account,' then select 'Continue.'
Now again, tap on 'Continue to account deletion.'
Scroll down and select 'Delete account.'
Finally, enter your password, then tap 'Continue.'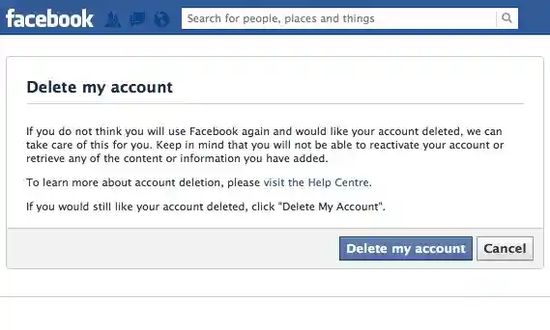 In case you change your mind, you will have only 30 days to cancel your account deletion.
There is also a second option, wherein you can just temporarily disable your Facebook account.
How to Temporarily Disable Facebook
Temporarily disabling your Facebook account is a safer option because the action can be reversed. This means you can access your photos, videos, and Facebook groups again whenever you decide to reactivate your account.
Although this is temporary, during this period of deactivation, people won't be able to search your account or see your profile and timeline.
Also, account deactivation doesn't have a deadline. You can reactivate it any time you want simply by logging back into Facebook using your email ID or phone number.
Steps to deactivate your Facebook Account temporarily:
On your Facebook mobile app, tap on the triple bars on the top right corner.
Scroll down and tap on 'Settings & Privacstrong>.'
Next, tap on 'Settings.'
Tap on 'Personal and Account Information.'
Select 'Account Ownership and Control.'
Tap on 'Deactivation and deletion.'
Choose Deactivate account, then select 'Continue' to account deactivation.
Finally, enter your password, then tap 'Continue.'
Now permanent deletion or temporary deactivation of your account aren't your only two options. If you decide to keep your account, to reduce engagement or data load, you can choose to just delete your Facebook page or even groups with little effort.
How to Delete Facebook Page
When you like or follow a page on Facebook, you can view updates in your news feed and react to it through likes, comments, or shares.
It's not an impossible idea for brands or creators to delete their Facebook Page. Their reason could be anything, for example, the purpose of that Page is served or if it's no longer bringing them business.
Are you one such brand/creator that doesn't want to carry out any ad business or promotion activities? Do you just simply want to delete your Facebook page? Then here is your solution.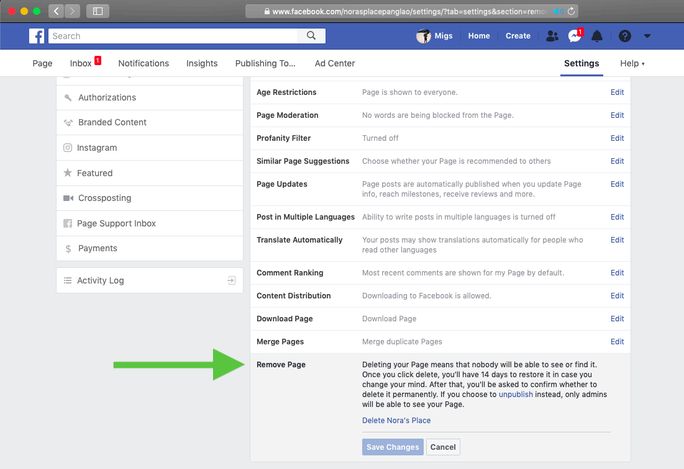 Steps to Delete Facebook Page:
First, ensure you are the admin of the page and want to delete it permanently.
Go to your Facebook page in your Facebook mobile app.
Now, tap on setting in the top right.
From the options, tap General.
Click 'Remove Page.'
Tap 'Delete [Page name].'
Finally, tap 'Delete Page.'
Bear in mind, once you hit the delete button, you'll have 14 days to restore the Page.
If you decide to cancel your page deletion, visit your page within 14 days of scheduling to delete your page. From the settings, tap General, scroll down and select Cancel Deletion. Finally, confirm your decision.
By confirming permanent deletion, you lose all the content on your page. This includes your posts, page likes, comments, interactions, and Facebook reviews.
Similarly, you can also delete your Facebook group.
How to Delete a Facebook Group
Facebook groups are a powerful marketing tool that helps attract new customers and engage the current ones with exclusive content and community support.
Groups on Facebook are also places where members interact with each other over shared interests. This is how a digital community is formed.
But for some intentional or unavoidable reason, if you no longer wish to run that group, you can always delete it.
Steps to Delete a Facebook group:
Open Facebook on your smartphone device.
From your news feed, click 'Groups' in the left menu.
Select your Groups.
Go to the group you want to delete.
Tap on the shield admin button to pull up options.
Scroll down and select 'Delete Group.'
Some groups are created for only a specific time period. Like, an event, launch, or workshop.
Groups can also get deleted when there are no active members. In this case, the deletion of the group is an irreversible action.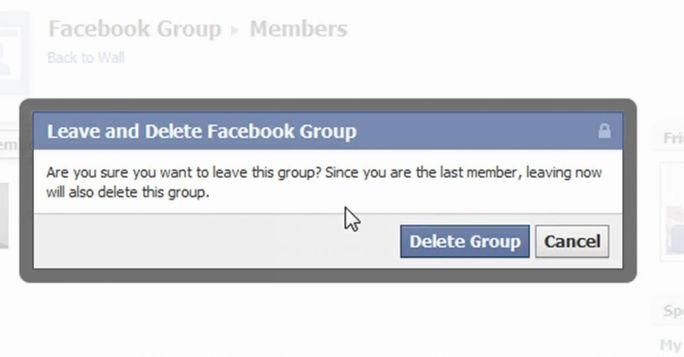 Also, being an admin of a Facebook group is not enough. If you wish to delete it, you have to be the owner of that group.
As an admin, you can only delete the group if the original creator leaves it. Also, group members don't get notified when the group is deleted.
However, be it your Facebook page or group or your account, all data will be lost once deleted. Hence, Facebook recommends that you download a copy of all the data on you before permanently deleting your account.
How to Download Your Facebook Data
Facebook stores every single piece of information they have on you. This includes your login records, the list of the people you follow, every message received or sent, every single status update or photo upload, etc.
It's the history of your every single activity. Facebook records them all and analyses them to learn more about you.
Therefore, if you're planning to delete your Facebook account, or page, or group, or all three of them, consider downloading a copy of all your data.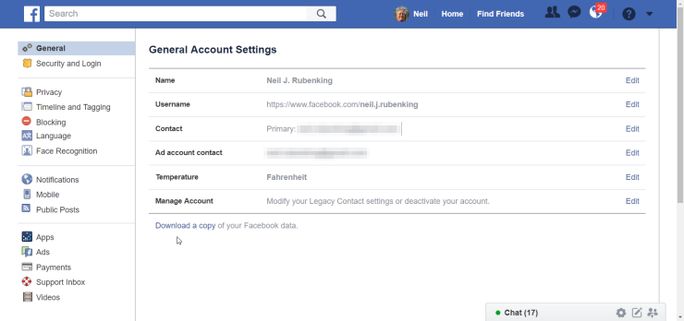 Steps to Download your Facebook Data on PC
Go to Facebook.com.
Go to settings.
Select Your Facebook Information.
Tap 'Download a copy of your Facebook information.'
Select 'Download Archive.'
It might take a few minutes, but Facebook will alert you when your archive is ready.
When ready, click 'Download Archive' again, and a zip file will download to your computer.
You can use this downloaded copy when you plan to leave Facebook, but it's also a reminder of how much Facebook knows about you and your life.
Final Words
We might agree that Facebook is a very user-oriented platform for managing and promoting businesses to staying in touch with friends and family.
But for many, the experience has turned into an intrusion, with an incessant amount of Facebook ads and an obligation to like, comment, and share.
If you are one of those users who don't find the social media king particularly useful or interesting anymore, it's fair for you to choose to disable or delete your data.
To sum up, there are two ways to quit Facebook. One is reversible, in case you change your mind, and the other permanent, for those who are certain they want a forever break from the social media giant.
However, if you're still considering your choices and wish to change your Facebook situation, then SocialPilot could be a great help to turn around things for your business.
With its assistance, you can schedule and publish customized posts and receive insights and data to make the right decisions for your Facebook page.