Facebook has simplified cross-app interoperability for businesses since purchasing Instagram.
The two social media platforms have been gradually gaining a stronger relationship and enabling more cross-platform integration.
If you are a social media marketer, a small business owner, or simply enjoy sharing content across both these platforms, the benefits of linking Facebook and Instagram are simply a no-brainer.
You may transfer content across the two and make some good use of the potential of visual elements that both of these platforms employ.
What's more, you may even log in to Instagram using Facebook to save time.
In this article, you will learn how to link Instagram to Facebook, and the advantages your business would gain by doing so.
Let's start.
What are the Benefits of Linking Facebook to Your Instagram Account?
Never underestimate the value of delivering a seamless online experience for your customers. By linking both your Instagram and Facebook accounts, your followers will know they're working with the same company, and you'll be able to provide a quality experience. Given below are some of the benefits of linking your Facebook and Instagram accounts:
1. Gain More Precise Insights
When both platforms are linked, you may compare and analyze the post-performance for both audiences, as well as other features. Determine where your organic initiatives are succeeding and where it would make the most sense to spend in paid marketing efforts.
2. Respond to Messages Instantly
Once you are done connecting your Instagram and Facebook accounts, you can manage your messaging from a single location. This makes maintaining a rapid response time much simpler, and it provides you accessibility to more inbox features, such as message filters and customer labels.
3. Run Ads Better
To run advertisements in some locations, you must link a Facebook page. Connecting accounts is optional, but it enables you to run advertisements on both of these networking sites and pay for them in one location.
Step-by-Step Process of How To Link Facebook With Instagram
You may have your Instagram business account and a Facebook business page individually ready. Now, it's just a matter of connecting the two.
Before You Begin
You must first create a Facebook business profile to connect an Instagram account with. If you currently sell on Facebook, using Facebook Business Partners, you can quickly link your Facebook page to Instagram Shopping. You may also start a new Facebook page from scratch and convert it into a business account at the outset.
Given below are the requirements for running a Facebook business page:
To be able to manage your Facebook business page, you should be a page admin
Your Facebook page should be public
Your business should deal with physical products
You must adhere to the Facebook Merchant's terms and conditions as well as its Commerce Policies
How to Link Facebook Page to Instagram
Sign in to your Facebook business page and select Pages from the left-hand menu.
Go to your Facebook page and click on Settings.

Scroll to the bottom of the left column and select "Instagram."
Enter your Instagram username and password and then click on "Connect Account."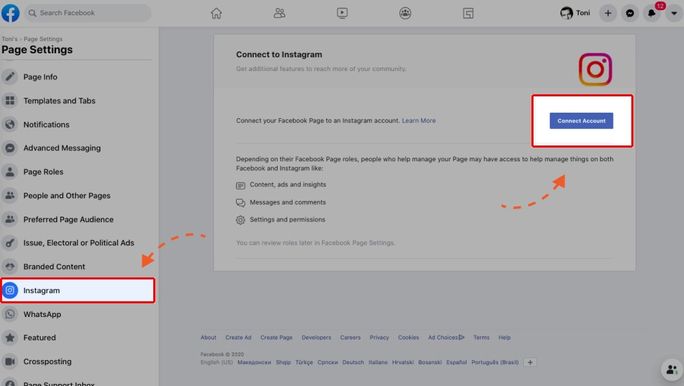 A window will now open prompting you to connect to your Instagram profile. Once logged in, proceed with the steps to connect your Instagram profile to your Business/professional profile.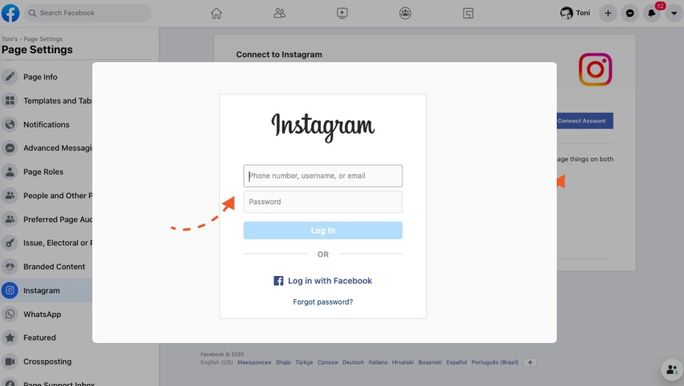 When you're finished, you'll get a success message proclaiming that you have successfully transitioned to a business account on Instagram.'
That's all; your accounts are now linked.
How to Link Your Instagram Profile to Facebook
Open Instagram and navigate to your profile.
Select "Edit" Profile.
Select "Page" under Public Business/Profile Information.
Select the Facebook page to which you would want to connect.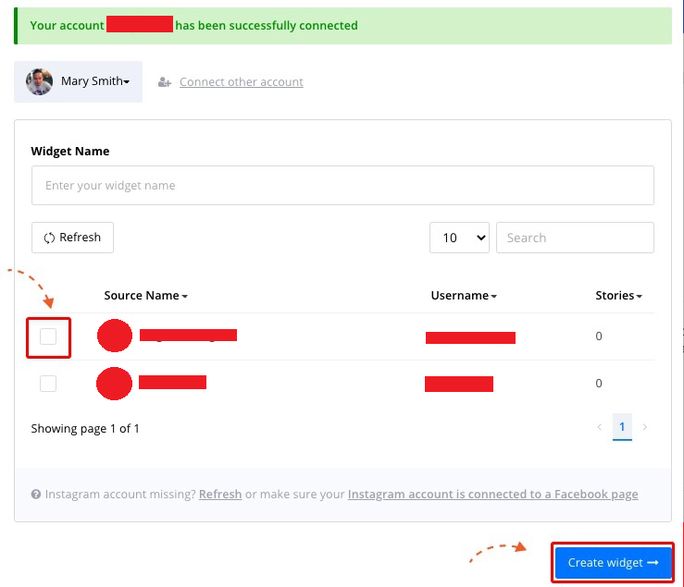 5. You can click/tap on the "Create a new Facebook page" if you don't already have one
Lastly, after creating your Facebook page, you can choose the profile and click on 'Create widget' to get started with your Instagram stories widget.
Integrating Facebook and Instagram allows you to utilize additional Facebook features to govern your Instagram profile, such as improved ad targeting and a unified messaging inbox, as already mentioned.
To be able to access these options, it is best to use Facebook using a browser on a computer rather than using the mobile app.
First, ensure that you are logged into the proper Facebook account and visit your Facebook Page. If Facebook asks you to Switch Profile to engage as your business page, you should do so.
What Type of Content Can Be Used for Both Instagram and Facebook?
Your accounts are now connected, and you may enjoy the previously stated perks. But what about the type of content that will work for both these platforms? Not sure where to begin? We have got some pointers to assist you in ensuring that your post's content is suitable for both Instagram and Facebook. Take a look:
1. Contests and Giveaways
Social media contests are a simple method to gain new followers, engage both new and current audiences, and promote your brand on both Instagram and Facebook. Ensure that all of the regulations for freebies and special promotions are the same.
Fortunately, when you publish to both accounts at the same time, your viewers on both platforms will receive the same information, streamlining all of your giveaways and contests in real-time!
2. Promotions and Sales
Do you have a unique sales offer going on for one of your posts on Instagram? Share it on Facebook as well! Cross-promotion of sales specials across accounts is an excellent method to grow your client base and sales.
Promoting your current specials across platforms will only help you grow sales because you have the opportunity to "catch-all" on both platforms.
One of the few platform-independent marketing techniques is special deals or discounts. The more you spread the word about these, the better. Make use of the connected profiles and plan specific sales posts on Instagram and Facebook.
3. Visual Content
This one is self-evident. All of your Instagram posts feature a picture or video of some kind. Therefore, including a video or photo must feature in your social media marketing strategy for posts to be shared on both Instagram and Facebook.
While text-only posts on Facebook may work, Instagram is primarily a visual medium that demands some sort of creative content to go along with the text (for example- an infographic)
How to Unlink the Accounts?
Now that you know how to link Facebook and Instagram, you can easily market your business and cross-sell on the platforms with lesser efforts than posting on both platforms individually.
But, what should you do if you do not want the two to be linked?
If you wish to deactivate your Facebook account or just separate the two platforms, you can do so without sacrificing any of your posts.
All you have to do is open the Account Center. Tap on your associated account, then select 'Remove from Accounts Center' from the Account & Profiles menu, as shown below.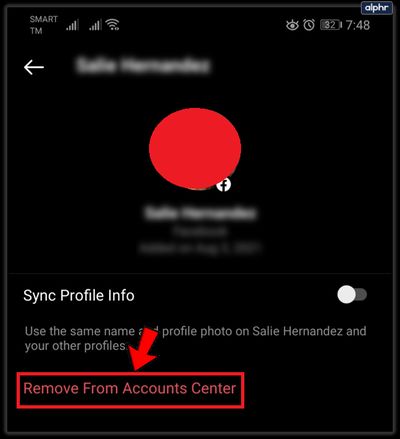 Your Instagram data will remain on your Facebook page until you manually delete it, and you will need to erase all of your Instagram posts from Facebook.
Wrapping Up
Connecting your Instagram and Facebook company accounts saves a lot of time through its cross-platform posting functionality. Besides, it is simple to implement in merely a few easy steps.
Social media is no longer a nice-to-have extra tool for a small business's marketing strategy; it is a MUST-HAVE. So, when it comes to local social media marketing, work smarter, not harder, by connecting your Facebook marketing and Instagram marketing efforts into one!
Speaking of marketing via Facebook and Instagram, there are few tools as effective as SocialPilot. Besides providing a host of tools for social media marketing management, such as post scheduling, publishing, and analysis.
It also offers an integrated Social Inbox tool to let you seamlessly interact with your audience and improve conversions. So, why wait? Go for its free trial today!