Instagram is often incorporated in a brand's marketing strategy, given approximately 1 billion active users on the platform.
If you haven't incorporated Instagram into your marketing strategy, you're missing out on a valuable tool that could help you reach millions of potential customers. Many brands repost others' content to highlight their business. Reposting content that aligns with your brand's image is also a common practice. Reposting content mindfully can help you achieve the same results as posting your own content.
What is Reposting on Instagram
Repost or Regram means resharing someone else's online content through your own account. This feature is similar to sharing a post on Facebook or Twitter's Retweeting option. Though Instagram does not have an official repost option available, there are multiple ways to repost content without violating the copyright terms.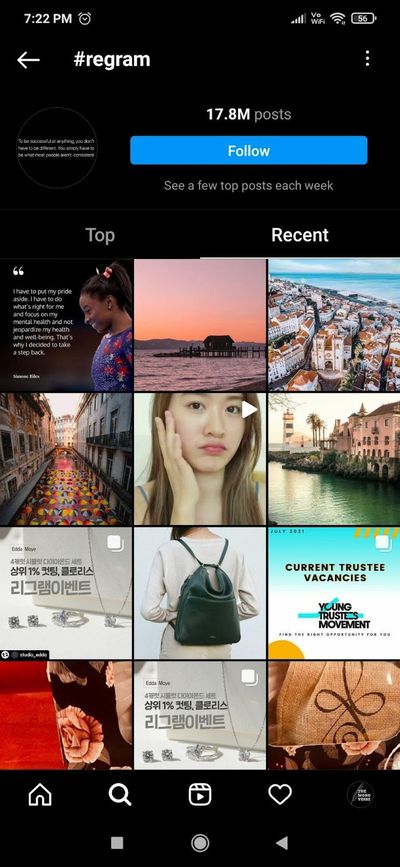 Wondering how to repost something on Instagram without running into trouble?
We've got you covered!
Understand the Regram Ethics
A lot of brands love to share their followers' content to create engagement.
Research shows that around 60% of Instagrammers learn about a brand through the social platform. Regramming content can help in creating brand visibility.
These are some ethics that you can follow when regramming:
Though Instagram doesn't clearly define the rules to repost content, it is best to take permission from the original poster to avoid any issues.
The simplest way to do this is by reaching out to the original poster via Direct Messaging. Some accounts make it easier by creating specific hashtags that are later used for reposting content.
Tag the original account:
Another great way is to tag the original poster while reposting their content. You can also give credit by mentioning the account in your captions.
Refrain from editing the content:
The next rule to follow is trying not to edit the original content. No one likes when their content is modified without their consent. Refrain from adding anything on the picture that could somehow offend the original poster.
If you have to edit the original post for some reason – reach out to the original poster before revising their work.
The best marketing strategy would be to have a combination of original posts along with some user-generated regrams. You have to make sure that the regrams fit your brand aesthetic. Additionally, the regrams should be relevant to campaigns or giveaways that you run.
Look for Custom Guidelines:
Check and see if a page already has some specific rules outlined. Most brands are extremely strict with content copyrights. Do your research before regramming anyone's content.
Stick to your Brand Image:
An essential tip to regram is always maintain your brand aesthetic. Instagram is a visual tool that can make your brand stand out by using specific colour palettes themes. If you stray away from your consistent themes while reposting, you could confuse your audience.
Once you follow the rules, you can repost without worrying about any copyright concerns while benefiting from your marketing strategies.
Ways You Can Repost on Instagram
There are multiple ways that you can repost pictures and videos on Instagram. Check out the step-by-step guide for all the methods:
How to Regram a Photo Manually?
The free and easy way to regram is by taking a screenshot. Please note that the quality of the screenshot will depend upon your phone's picture quality.
Step 1: Find the picture you'd like to regram and take a screenshot.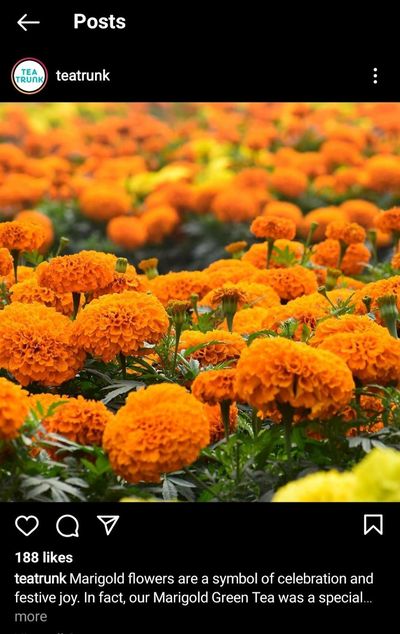 Step 2: Go to the Instagram application and tap on the camera icon.
Step 3: Crop or resize the image as per your liking. You can also crop the image before going to the Instagram app.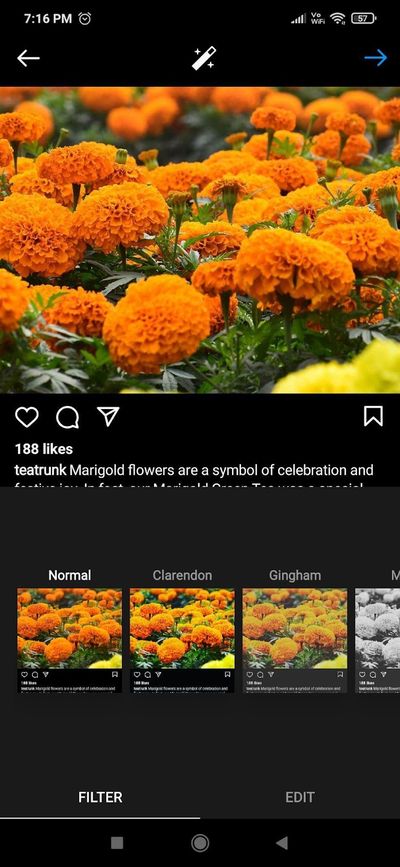 Step 4: Post the photo with your caption. Make sure to add some relevant hashtags and credit the original poster.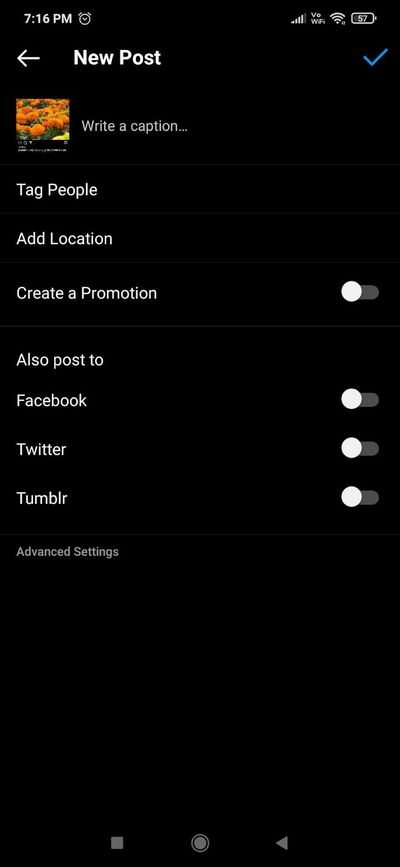 How to Repost a photo using a third-party application or website?
The most popular third-party app used for regramming is Repost for Instagram. Available for both Apple and Android mobile, the app has free and paid features. The paid version helps you get rid of the Repost logo, unlike the free version. Additionally, the app allows you to regram pictures as well as videos.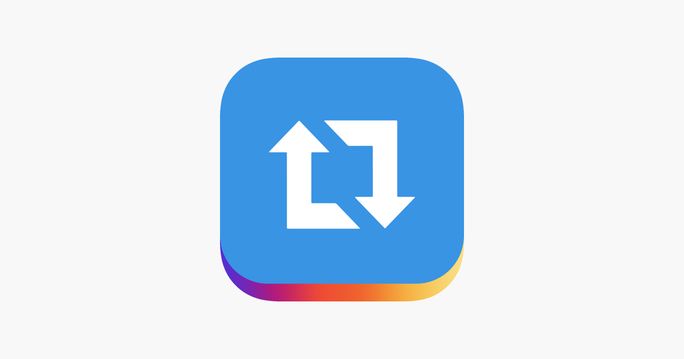 Step 1: Visit the Apple Store or Google Play Store and download Repost for Instagram.
Step 2: Open the Instagram app and find the picture you wish to regram.
Step 3: After opening the image, click on the three dots at the top right corner.
Step 4: Choose copy Link.
Step 5: Then go to the Repost app.
Step 6: Repost will directly show the image that you have copied.
Step 7: If you don't have the paid version, the app will ask you where you'd like to repost the image.
Step 8: Click on repost.
You can also find other third-party apps like InstaRepost that have similar features.
How to Repost using DownloadGram?
Sometimes, people don't like downloading additional apps for just one feature. In that case, you can use DownloadGram, which is a website where you can download an image.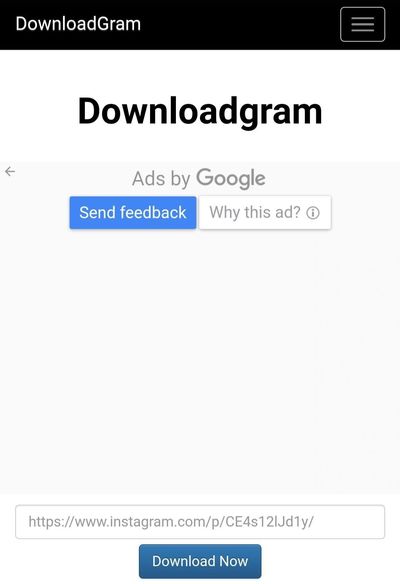 Step 1: Select the post you want to regram.
Step 2: Click on the three little dots located on the upper right corner and Copy Link.
Step 3: Open a web browser and visit downloadgram.com.
Step 4: Paste the image link.
Step 5: Scroll down to find the download image option.
Step 6: You will be redirected to a new screen where you'll be asked to confirm the download.
Step 7: Save the image to your device.
Step 8: Open the Instagram application and create a new post to share the content.
Note: Whenever you download someone else's content to repost, make sure to always ask for permission. Additionally, you can tag the original poster's account and give them a shout-out.
How to Regram a picture post to your story?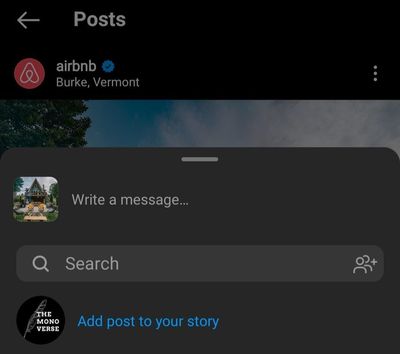 Reposting a post to your story is relatively easier.
Step 1: Find the post you wish to share.
Step 2: Click on the share button (the one that looks like a paper plane).
Step 3: Select Add post to your story.
Step 4: You can resize and align the post accordingly.
Step 5: This option will automatically credit or tag the original poster.
Note: If you're reposting a private account's content, you will only have the option to share it on Direct Messaging. The Instagram app will alert you when you try to share a private account's content.
How to Repost a Story on Instagram to Instagram Feed?
Numbers prove that around 500 million accounts incorporate Instagram Stories every day! If your viewers share any valuable stories instead of a post, you can regram them by converting them into posts.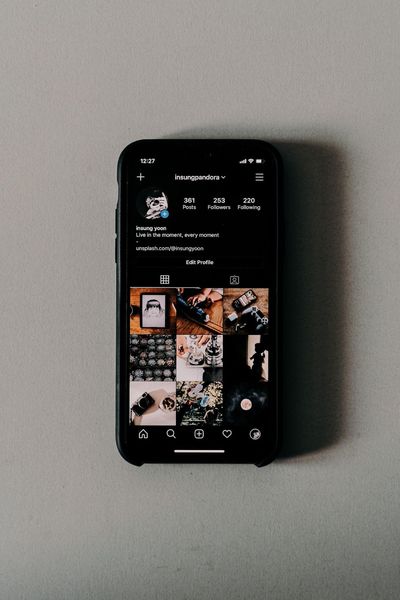 For an active Instagram Story:
Step 1: Click on the Instagram Story.
Step 2: Select Share as Post.
Step 3: It will lead you to a New Post page where you can customize and post the content.
For an archive or older Instagram Story:
Step 1: Log in to your Instagram account on the app.
Step 2: Click on the three parallel lines (Hamburger icon) on the top right corner.
Step 3: Select the archive option.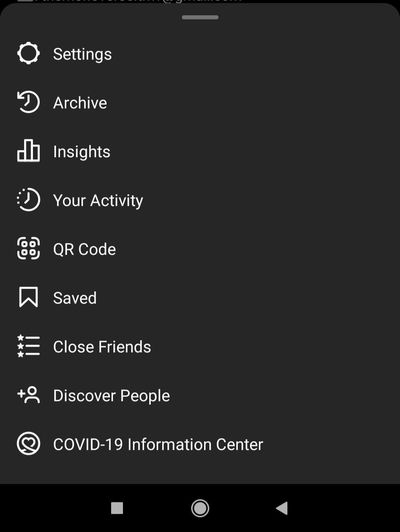 Step 4: Find the Story to wish to repost.
Step 5: Tap on the three little dots (More option) in the bottom right.
Step 6: Choose Share as Post.
Step 7: Customize accordingly and post.
There are a plethora of apps, web extensions and brands that can help you customize your regrams and schedule them as per your brand strategy.
Strategies To Optimize Reposting
Now that you also know how to repost a video on Instagram Story, what can you do to create some opportunities for having your own content reposted? These are few tips that might be helpful:
Create personalized hashtags:
Customize hashtags for better searchability and add them to your Instagram bio. Your viewers would be able to share your content easily if you have a custom hashtag.
Plus, you can use this hashtag to find the user-generated content and regram it occasionally. This will also encourage your audience to participate more.
A trendy method to garner customer interaction is by hosting competitions or giveaways. Depending upon your products or service, you can decide how frequently you can have these contests.
Make sure to respond to people's comments or repost any significant milestone.
Welcome your audience to interact:
This can be done by asking your viewers to share their content using your hashtags or tagging you actively. Promising to feature someone's account is also a great way to invite more interaction.
You can do so by tagging accounts straight to your Instagram images. This will make users feel more involved with your brand and draw their attention to your content, giving you more engagement in return.
Do you want an end to the process of switching back to Instagram just to tag accounts in your scheduled image posts?
Create Instagram-ready posts with SocialPilot and seamlessly add multiple public profile tags to your image post. Perform Instagram tagging while scheduling your post so you do not need to switch back to Instagram after.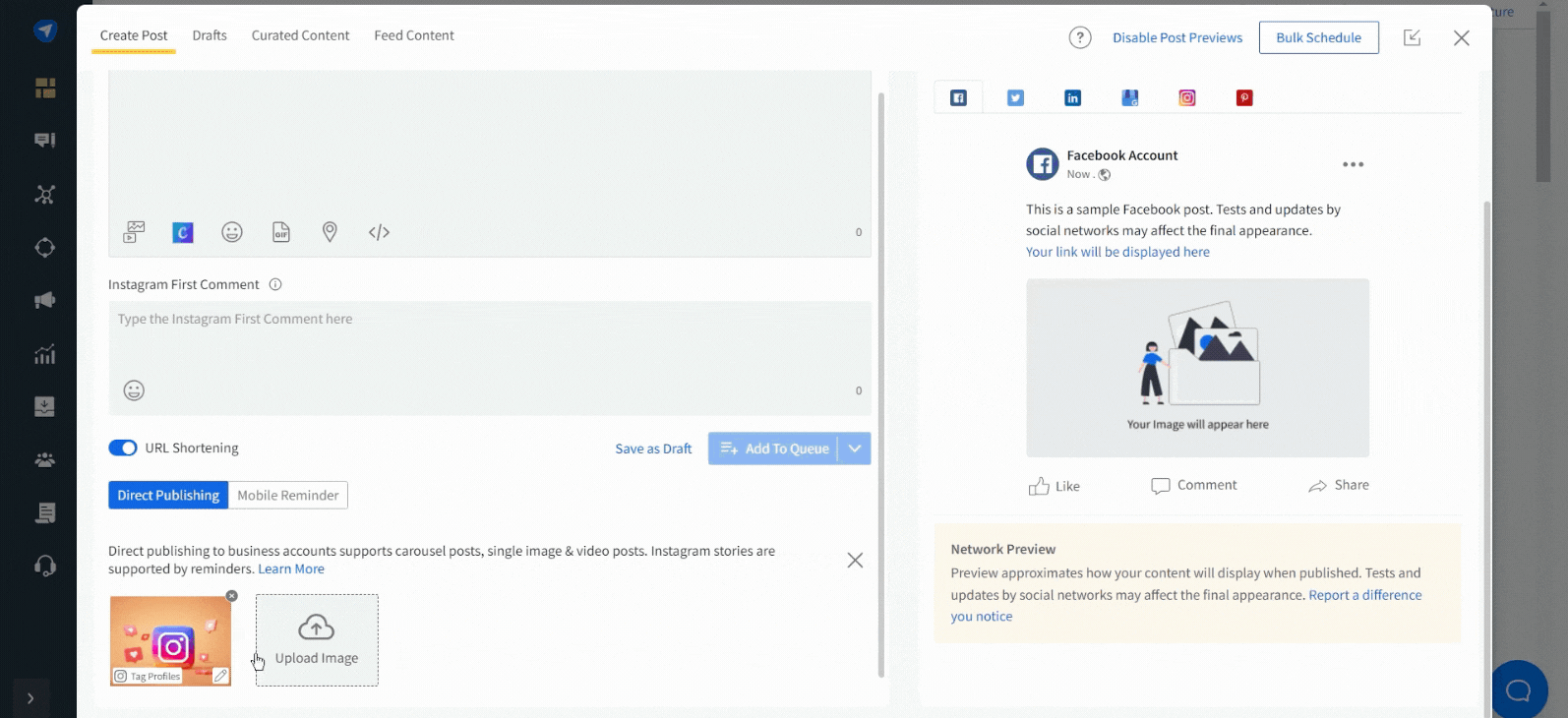 Working with brands that compliment your products or services or collaborating with influencers is a popular way to enhance the regram strategy. It is also a fantastic way to find new audiences.
Some Brand Examples
If you need further proof or tips to incorporate how regrams can elevate your social marketing strategy, check out these examples:
WeWork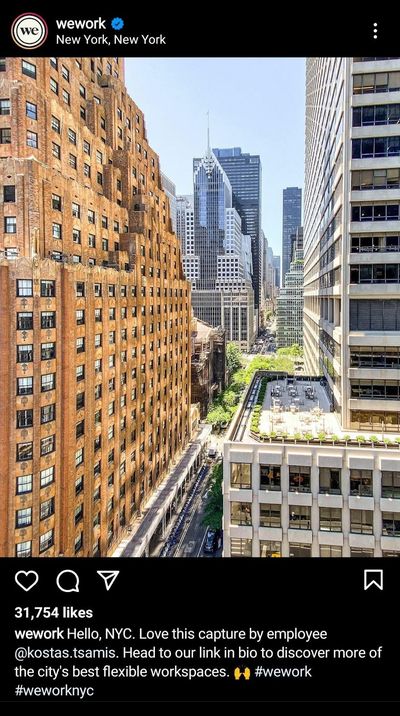 WeWork thrives on sharing user-generated content on their feed. If you check out their page, you will find a great mix of original and audience-shared posts. They also consistently give a shout out by tagging the user accounts.
Starbucks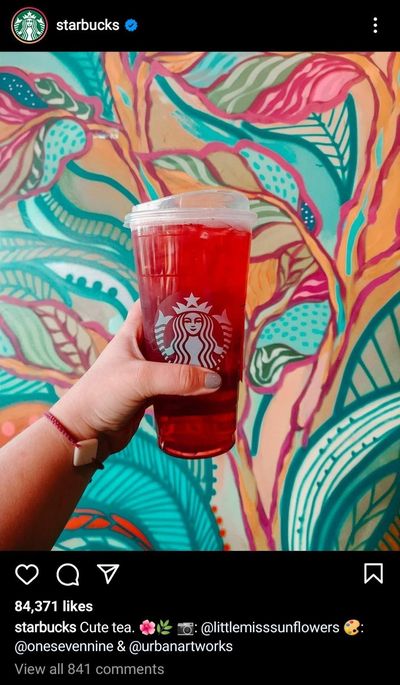 The food and beverage industry can indeed find a lot of user content on Instagram. Starbucks tags the user account while actively inviting the rest of the audience to share their own pictures.
Airbnb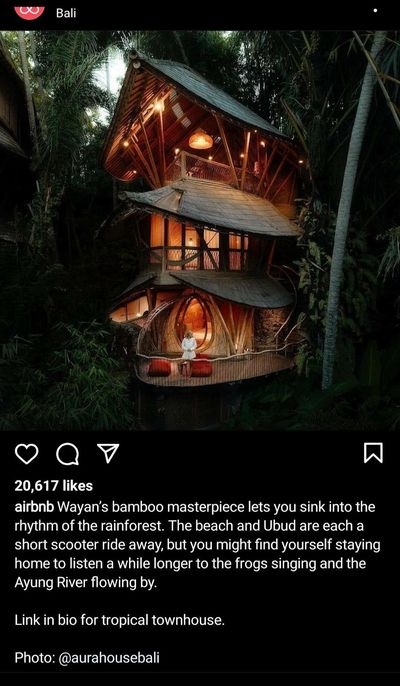 Another brand that shares user-generated content while simultaneously sharing the links that lead straight to their website.
Amazon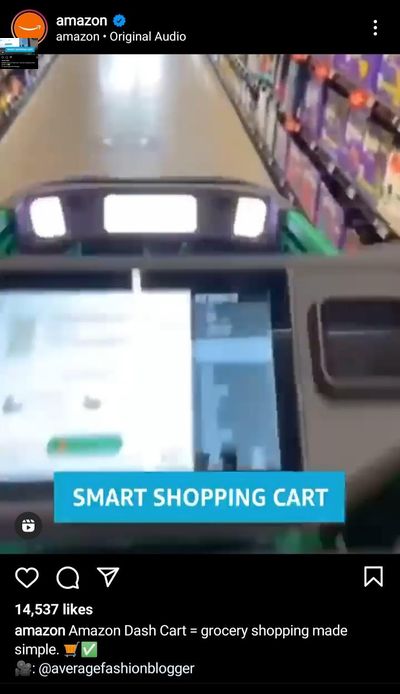 Amazon regularly regrams its audience's posts. This one, in particular, highlights the features of Amazon Dash Cart while also crediting the creator.
Little Infinite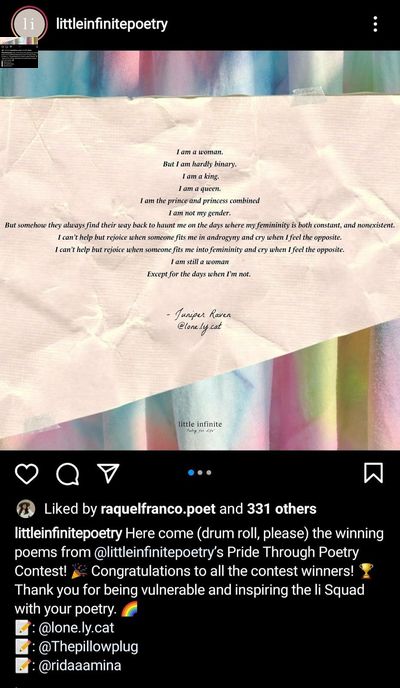 Little Infinite poetry is a page that relies heavily on reposting user content. They engage with their audience through writing contests and customized hashtags.
Travel + Leisure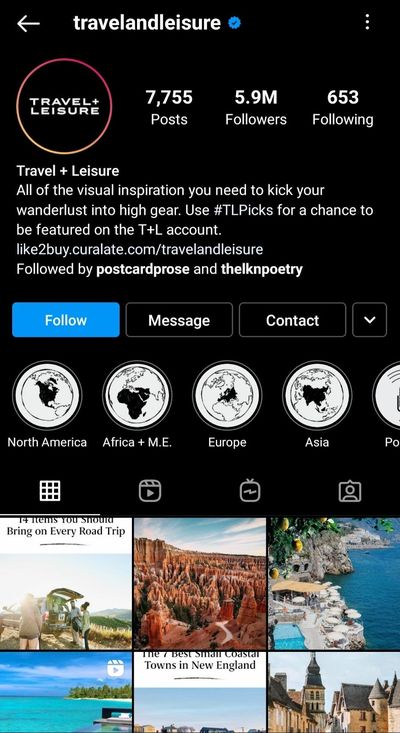 The Instagram page makes excellent use of its personalized hashtag. This makes it easier to find the user-generated content, which can later be regrammed.
Forever21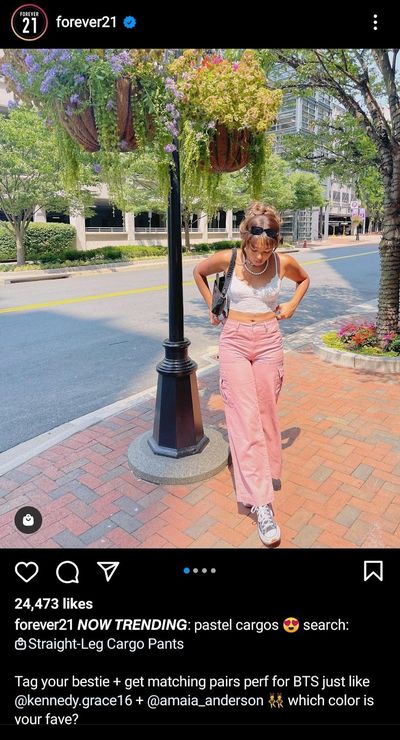 The fashion brand features reposts from customers and influencers alike. Another great tip, look at how they've outlined their products in the description. Plus, Forever21 also invites its customers to engage in the comments!
In Conclusion
It was reported that the Instagram network helps with creating brand interactions by 80%. Regramming is an excellent strategy to communicate your brand values while engaging with your followers.
Starting a conversation on Instagram works wonders. Anytime you share a happy customer's feedback, you're creating a chain of more interactions with the rest of your audience. It is also a good way to show your customers that you see them.
Since you already know the rules to regram, why not enhance your social strategy by collaborating with SocialPilot?
And to manage and schedule your social media feed you have SocialPilot. Use the 14-day free trial version to see the magic unfold for you!