Twitter is casting its spell on all with its popularity. As per the latest round up, there are more than 353 million active Twitter users worldwide.
And that's a golden opportunity for brands to make it big. Budding marketers can't ignore this platform's phenomenal marketing potential. More Twitteratis are now discovering newer brands and striking purposeful interactions with them.
But to cut through the noise and reach them before your competitors, requires additional effort.
Arm yourself with first-rate tools and go on auto-pilot mode. This blog talks about the best Twitter tools that every Twitter pro should know about.
These paid and free Twitter tools will ensure that you get only the best results with less effort, so you reach your goal faster than ever.
Sounds exciting? Let's dive right in!
Best Twitter Business Tools
SocialPilot is your Twitter tool when it comes to social media marketing. SocialPilot helps you analyze your Twitter account by including hashtags, Twitter mentions, and audience engagement.
It also has a built-in content curation feature that makes the curation of relevant content easier. The best thing about this tool is that along with the features to schedule and manage your Twitter account, you can access in-depth Twitter analysis and reporting.
Users can bulk schedule up to 500 posts with SocialPilot and connect up to 100 social profiles from a single account. SocialPilot shows a character limit of 280 characters while scheduling for your Twitter profiles, so you don't exceed the character limit. You can add GIFs right from the SocialPilot composer to make your tweets more engaging.
SocialPilot Features
Create customized posts for your social media accounts.
Generate White Label reports with in-depth social media analytics.
Upload 500 posts with the help of bulk scheduling.
Users can easily invite team members to collaborate and create social media posts for business.
Visualize your content strategy with the social media calendar.
Manage multiple clients' social media accounts hassle-free.
Advantages of Using SocialPilot as Your Twitter Tool
The tool is fast and easy to use with no learning curve.
It helps you auto-feed and find new content ideas for the keyword you search.
It is the best Twitter tool for small businesses and digital agencies as it is affordable, straightforward to use, and filled with features to fulfill every SMB requirement.
The Twitter analytics and reporting features help you with popular hashtags, best times to tweet, top-performing posts, people who have engaged the most, and downloadable visual reports which can be mailed directly to your clients.
Brian W.
Can't go wrong with this great bang for the buck. SocialPilot fit a perfect price point and got me connected to all of my social media accounts very quickly. I can make my posts and schedule them as I like. Thank you!
Dan F.
SocialPilot's ability to bulk schedule content is a giant time-saver. Having all of your content in the right place, on the right date and the right time, that, my friend, is magic! It's peace of mind. Having that feature plus an intuitive dashboard that was friendly to the new and intermediate user is a recipe for success.

---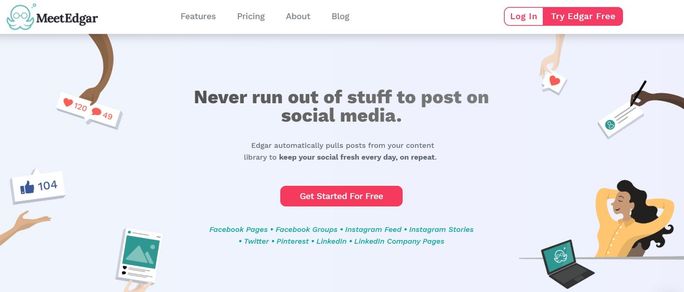 MeetEdgar is a Twitter tool that uses machine learning to read your blog posts and pull and create quotes out of them for social media updates. It helps you save hours by figuring out "what to post" on social media. MeetEdgar builds an evergreen library and utilizes it when running short on newer content.
Pros
It organizes content category-wise.
It keeps links to your old blog posts before your audience, so those posts garner more attention.
It gives an analytics review of your posts as well as your competitors' posts.
Sandra G
My favorite part of Meet Edgar is how they handle the recurring sharing of content. All the benefits of automation with really granular control over what goes out, when it goes out, and where it goes.
Cons
It doesn't have access to manage real conversations. You still need to log on to each platform individually to share, retweet, comment, and so on.
With the help of this Twitter tool, you can only post and publish your posts on 5 social media platforms: Facebook, Twitter, LinkedIn, Pinterest, and Instagram.
Verified MeetEdgar User
Edgar now has no reporting capabilities.
---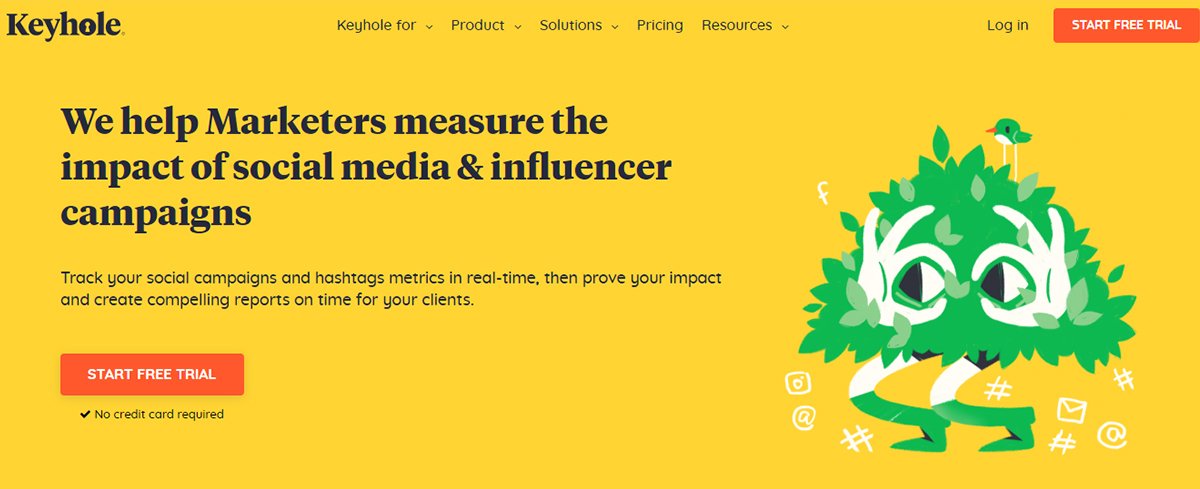 Keyhole is the most reliable Twitter tool for monitoring hashtag data and influencers on social networks. It helps in measuring all the metrics in real-time and the performance of every campaign with detailed data. It shares real-time dashboards so you can track the status of each task. It also creates PDFs reports for all your clients.
Pros
This Twitter tool is pretty easy to set up and is extraordinarily user-friendly. One can use this tool right away in no time without any training.
Keyhole also helps in account handling, influencer management, campaign following, analysis of emotions, and more.
Fatima M.
The dashboard encapsulates a detailed overview of your entire campaign and mentions all the details and KPIs that you need. The metrics given on Keyhole are unmatched and help us in setting KPIs and measuring results accordingly.
Cons
You need to improvise your hashtag strategy to get the full benefit of this Twitter tool.
The price is quite high if you are a small business and don't need thousands of hashtags to monitor.
Ashia S.
I didn't like the limitations on the number of hashtags you can use even when you pay the monthly fee. This makes it tough to use it for multiple, ongoing projects.
---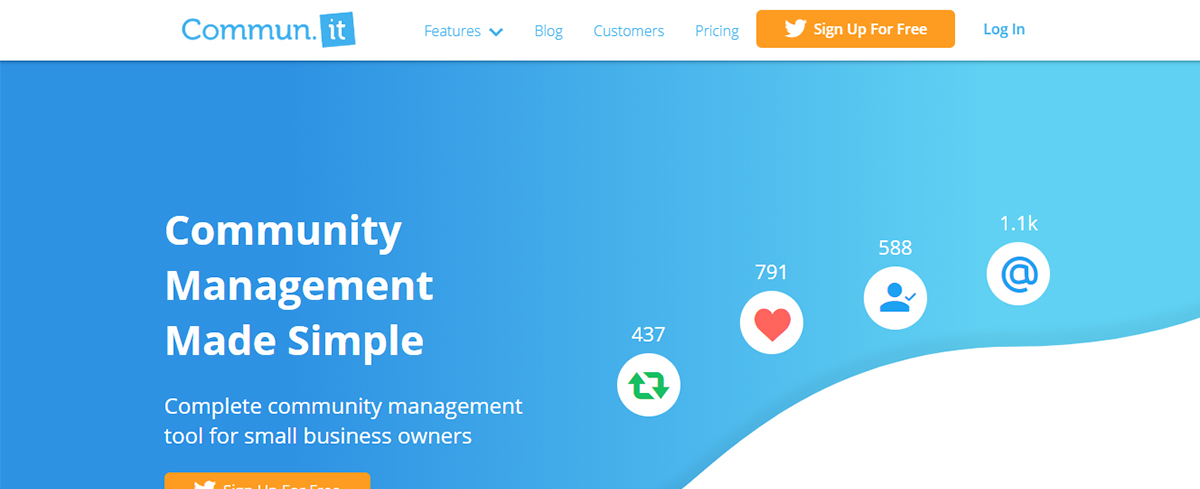 Commun.it is a Twitter tool that lets you find your most loyal followers and makes thanking your supporters easy. Commun.it also curates content and aids in proper Twitter management. It allows you to track your competitors and provides you with thorough research and reporting that you can share with your clients and teammates.
Pros
This Twitter tool suggests good content to tweet if you provide the right subject matter and hashtags to explore.
Commun.it makes it easy to thank each new Twitter follower and reach out to influencers you might have overlooked.
Shawn V.
Although initially, their platform can be confusing, given the complexity available depending on your membership level and your interest, but at its core, this app has all your bases covered.
Cons
The user interface, especially if you use it for multiple accounts, can be difficult to navigate.
You are only allowed 20 actions a day on the free version.
Boni Wagner-Stafford
Used to be really good. Now there is always a function or two not working, and they are very slow at responding to support-related requests. Often, we get no response at all.
---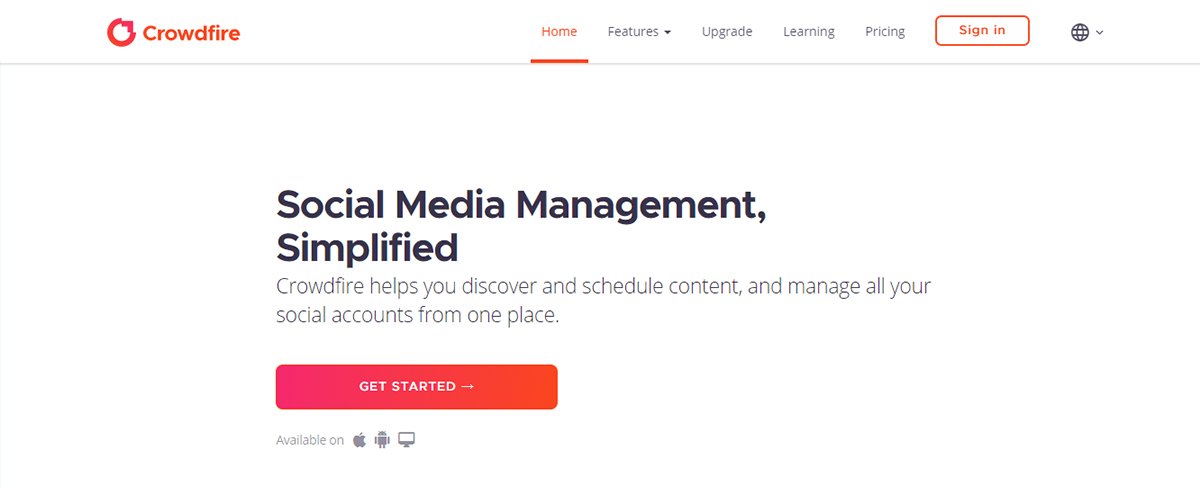 Crowdfire is a Twitter tool that helps in the content recommendation with RSS integration. This is what distinguishes Crowdfire from other social media devices. It allows you to gather new and interesting content every day and lets you share fresh and up-to-date posts with your audience.
Pros
It helps in discovering posts and photos automatically that your audience will love.
This Twitter tool keeps an eye on website updates, blogging, or shops and builds beautiful posts to share easily with all your social profiles with each update.
Nathaniel C.
Crowd fire enables me to share my business news, posts, and others in an easy and robust way. Content and user suggestions are a little off sometimes, but apart from that, the app is a standard.
Cons
Crowdfire has no potential to help you promote your blog if it's self-hosted.
This Twitter tool just recommends articles and images to be shared that have been posted by other Crowdfire members.
Henk M
The downside is this app's only real functionality, which is kind of a vengeful motive. Basically, to unfollow anyone who doesn't follow you, which seems like Twitter is just a game then.
---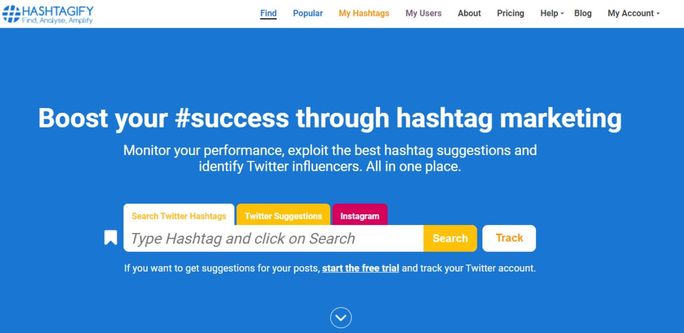 Hashtagify is a Twitter tool that explores popularity trends, correlations, and so on. It helps you search for amazing hashtags. It also keeps a check on the top Twitter influencers. It makes sure that it chooses the best hashtag that will work perfectly for you and then sets up your campaign. You can even compare hashtags with spellings and language variants and their usage trends in a fixed interval.
Pros
It analyzes your reach, popularity trends, and the perfect time to post.
It discovers the top Twitter influencers and comes up with an influencer marketing strategy for you.
This tool tracks your Twitter account to get dozens of ideas and insights to boost your performance.
Verified Hashtagify User
I liked the interface, and how user-friendly the software overall is.
Cons
As it is a hashtag tracking tool, you need another tool to manage, schedule, and analyze your Twitter account.
It can get costly as it doesn't suffice all your requirements.
Verified Hashtagify User
I disliked the limitations of features for the basic version. I think more could be offered upfront.
---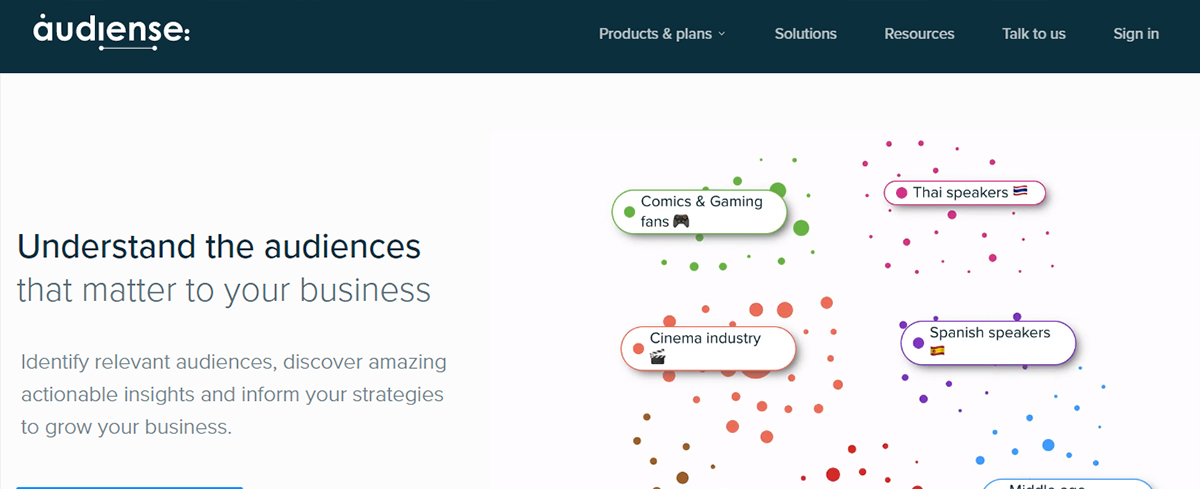 Audiense Connect helps you to create an individual chatbot to connect with your potential customers over Twitter DM. Keep an eye on your competitors and know what strategies they are implementing.
Audiense Connect discovers new followers, follows them back, and unfollows. Audiense gives you insights into your audiences' language, their recent Twitter habits, and where they come from.
Pros
This Twitter tool manages subscribers with opt-ins that are included in the chatbot.
It creates various conversational trees to customize your interactions.
It gets accurate information about your community, gets to know your followers in-depth, and interacts with them efficiently.
Alan Daniel
Audiense connect represents the best platform to track the community on Twitter. It helps to analyze the commitment in social networks.
Cons
It is paid when it comes to boosting Twitter performance and getting advanced insights.
The learning curve is steep, and initially, the users may find it overwhelming and complicated.
Darren H.
The features are limited and seemingly have become more limited over the years. Some key listening features, such as listening to keywords within tweets is a premium feature.
---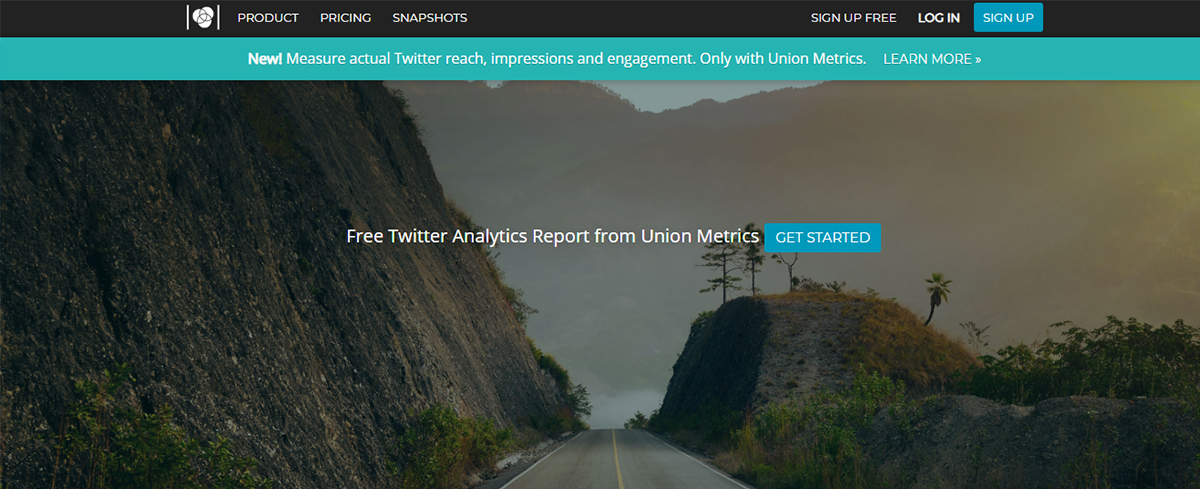 Tweet reach is a Twitter tool that monitors all important tweets, trending topics on Instagram and Facebook. Track every post's performance, find the best time to post, identify hashtags to magnify your reach. TweetReach helps in strategizing your overall Twitter management, so you attain maximum engagement and improvise it further.
Pros
Social media analytics are easy to set up, use and share with all your relevant stakeholders.
The analytics work in real-time to deliver timely insights so you can make better decisions.
With the help of this tool, you can set up monitoring for any hashtags, keywords, names, phrases – anything that appears on social media.
Jeff M.
TweetReach's support team is great, and they are super friendly. Willing to work through anything with you! It's been a pleasure doing business with them, and we are excited to keep expanding our network of displays in new and exciting ways in the future.
Cons
The ability to set standard or saved terms (such as brand names) when building new trackers is an arduous task.
There are many issues due to the application programming interface. It also possesses tracking restrictions.
---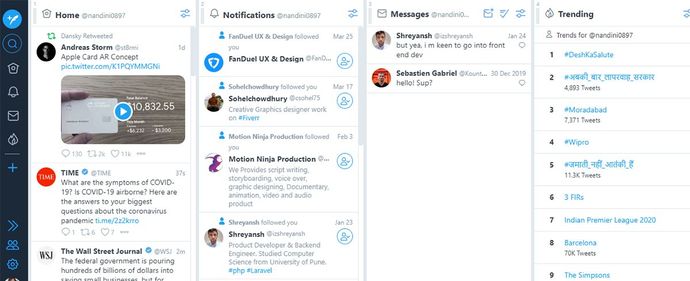 TweetDeck is one of the free Twitter management tools that make your Twitter management easier. It is owned by Twitter and helps you schedule and monitor posts. It allows you to view your scheduled, active, trending, and DM content in one look. TweetDeck also lets you search for specific keywords or media types.
Pros
It links and manages multiple Twitter accounts from one dashboard.
It lets you watch, share, and record video clips from the tool itself.
TweetDeck groups your audience for targeted marketing.
Nicole G.
I think my favorite part about TweetDeck is that it gives you the ability to feel so organized when it comes to Twitter accounts. I love the ability to move easily throughout the program and manage my accounts in a timely manner.
Cons
You can't change the auto-scheduling settings once set.
It might be overwhelming because of the information overload.
The user interface isn't that intuitive.
Matt C
I think that TweetDeck can be extremely confusing at times. There is a lot going on with Twitter, and the constant refreshing of content can be too much to handle. TweetDeck gets too congested, and it needs to be simplified. It can be overwhelming for users of the product.
---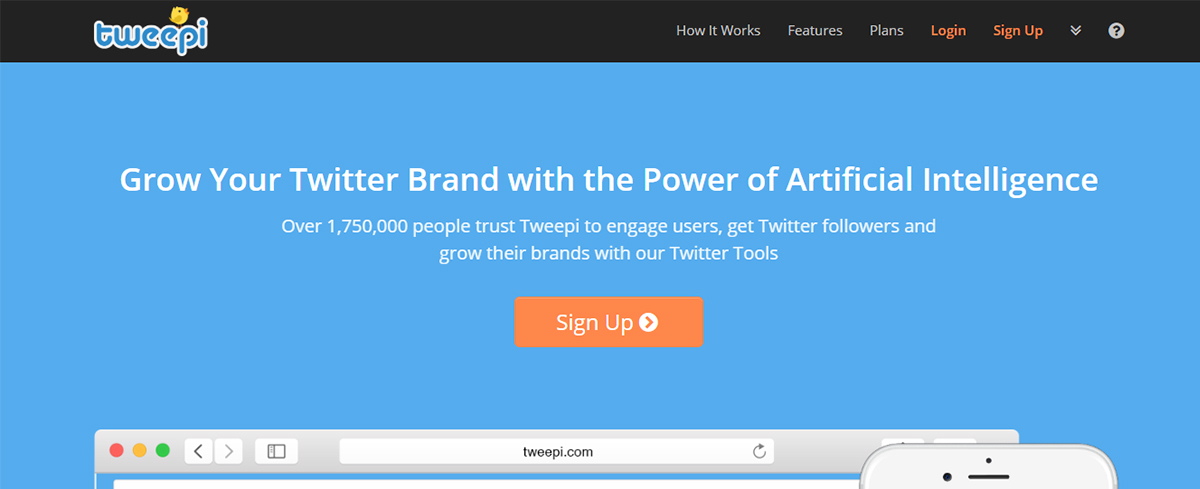 Tweepi is an AI-driven tool. This is one of the best Twitter marketing tools to increase your follower count with its advanced features. Track related hashtags, users, and competitors while setting up your Tweepi account.
It will analyze the targeted hashtags and users and then helps you find the ones that are most involved and important to you.
Pros
Tweepi is a Twitter tool that will engage its users, acquire Twitter followers, and help them grow more.
To find the best tweets, Tweepi monitors Twitter as well as its users.
It helps you grow your Twitter account by almost 100 new followers every day.
Verified Tweepi User
It suggests and automates pretty good accounts to follow/unfollow or message. The interface is simple enough, just 3 actions, resulting in easy-to-understand instructions even for a first-time user.
Cons
It does not guarantee follower retention.
It can only post on one platform.
Verified Tweepi User
Recently, Tweepi enforced some new rules and restrictions (I guess enforced by Twitter) that took away some of their best features, such as unfollowing people who don't follow you, etc. Now, this process has to be sorted manually.
---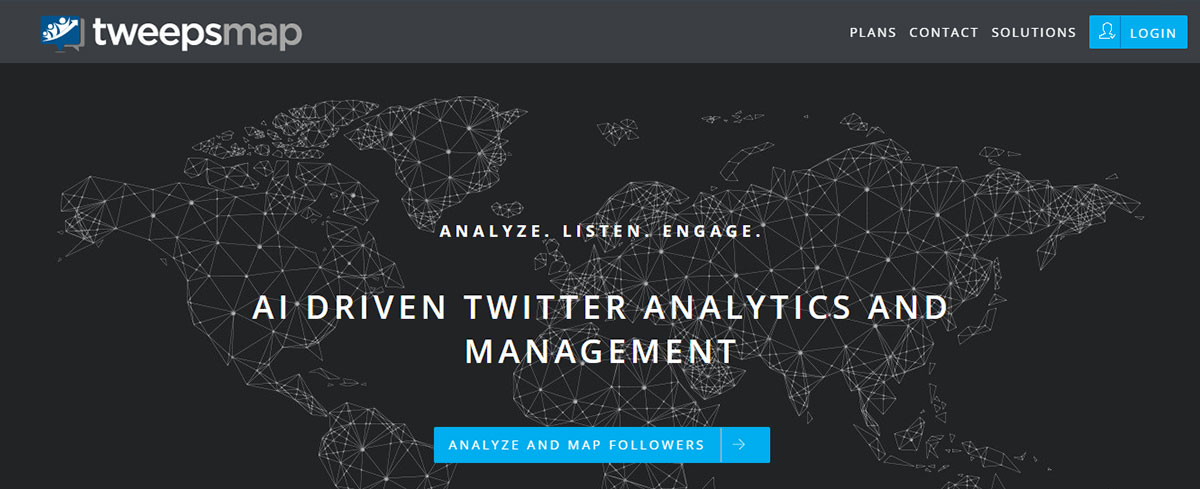 Tweepsmap is another Twitter tool that allows you to track all of your Twitter actions in one place. This platform has it all: in-depth analytics, posting at the ideal times, and analyzing all engagement metrics. It allows you to have a deeper understanding of your followers, their views, and how they interact to make better marketing decisions.
Pros
It supports multiple aspects of Twitter marketing, like publishing and connecting with the audience.
The tool is great for keeping track of campaigns.
Content curation is also a useful addition to Tweepsmap.
Keith K
There are a lot of handy features with this software. It really is an "ALL IN ONE" solution for anyone that uses Twitter as part of their marketing mix.
Cons
The tool can be overwhelming to new users.
User experience could be improved with a better interface.
Susan T
It is not the most intuitive software and is not necessarily easy to use. There are elements that would be improved by a bit of a UI/UX with some customers who are not as technical — I'd be happy to do this type of focus group with the team b/c I believe in the platform.
Marketers use several Twitter tools to make the most of Twitter. They allow you to connect better with your customers and supporters while maintaining a dynamic presence simultaneously.
They help you understand your demographics better which in return will maximize your impact on them. The above-mentioned Twitter tools are all handpicked, tested, and tried.
But we put our bet on SocialPilot as it lets you manage every popular social media platform from one place. It provides premium features like post optimization, analysis, content curation, collaboration, bulk scheduling, RSS feeds, and more at an affordable price.
Get started with your free 14-day trial and watch your marketing evolve!