Devoted haters, creepy stalkers, abhorrent commenters, and ne'er-do-well trolls love to flock to the comment sections of any social media platform.
The YouTube comments section has been notorious for harboring toxic comments over the years. This is because, unlike Facebook, Reddit, and other sites, YouTube did not filter comments until recently.
The result has, consequently, been disastrous. In fact, so devastating that YouTube had to implement more levels of security and introduce new features to mitigate the impact of toxic and hate comments on the platform.
With more people calling out this culture of hate comments, toxic comments, and cyberbullying, social media platforms have become prudent enough to exercise caution and vigilance when it comes to comments.
Almost every social media platform provides its users with the option to block accounts that annoy or harass them. And YouTube, too, has extended this option to its users.
In this blog, we will walk you through the steps on how to block someone on YouTube.
What Happens When Someone is Blocked on YouTube
When you choose to block or hide a user or a certain channel on YouTube, they are barred from commenting on your post. Nonetheless, they will still be able to view your content if it is public.
Furthermore, previous comments on your videos from that blocked channel or user are removed within 48 hours.
Now before we move forward with the steps regarding how to block someone on YouTube, let's look at a few reasons why users or creators block someone or some channels on YouTube.
Blocking someone on social media is mainly associated with harassment. People who are harassed on social media platforms end up blocking the harasser, and they are absolutely right in doing so.
While no one should leech on social media to violate someone else's privacy or make them feel vulnerable and uncomfortable, similarly, no one should tolerate such reprehensible behavior on social media.
Here are the major reasons why a creator may decide to block a person or channel on YouTube.
When users repeatedly comment with abusive language on the creator's posts
When users post offensive or negative comments on the creator's videos
Promotion of body negativity or body shaming through comments in the creator's posts
When users write racist, sexist, and derogatory comments on the creator's posts
If someone's hurtful comments affect the creator's confidence
If certain comments make the creator feel unsafe
When someone tries to stalk the creator, and their comments reflect that to a certain extent
Comments that affect mental peace and health
Indecent, obnoxious, and uncomfortable comments
When someone attempts to spam the creator's comment box
When users indulge in trolling with the intention of making fun of the creator
When someone uses the creator's comment section to promote vulgarity
If commenting spreads religious hatred and intolerance
Promotion of political agenda through comments in the creator's posts
When comments infringe YouTube Community Guidelines
Now, the ability to block someone who has been pestering you on social media offers a different level of security altogether. Read ahead to find out how to block someone on YouTube.
YouTube allows users to block someone who has probably been harassing them by posting mean comments on their YouTube videos.
Many people write nasty comments because they dislike your content, which is still comprehensible and not the gnarliest kind. However, the most appreciative option would be to just unsubscribe from the channel rather than disrespecting the efforts a creator has put into creating that content by posting a negative comment which can have adverse consequences, as people often read comments first to determine if video/content is worth watching.
The diciest kinds are those folks who randomly post hurtful and obnoxious comments on videos/content just for grins. A sadist label for these kinds of people would not be out of place.
Back in the day, YouTube had a feature called YouTube messaging, which was removed in 2019. Thank god!
While it was a great option to connect with friends through the private messaging feature, it also led the way for several scumbags to harass creators by sending abusive or offensive messages.
Now YouTube messaging is no longer in the scene, but comments are still an inevitable part of YouTube, and expecting it to be expunged in quest of less nuisance and harassment seems a distant dream.
However, the only silver lining in such dire straits is that YouTube permits you to block someone who has been bothering you with their comments. You can block someone on YouTube from posting comments on your videos or from replying to your comments.
You can block someone on YouTube using both the desktop/laptop and the mobile application.
Steps to Block Someone on Youtube Using the Mobile Application
Step 1: Go to YouTube. To block a profile, enter the desired profile's name in the search box.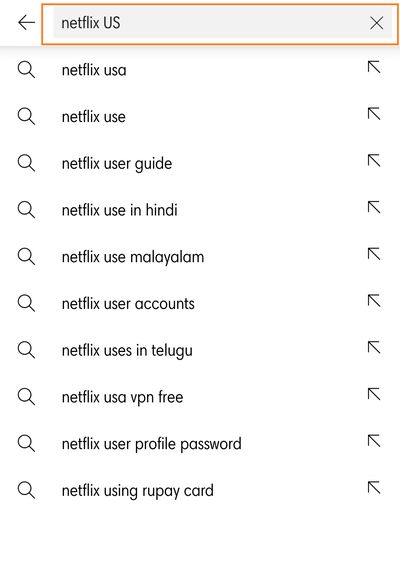 Step 2: The user's profile will be displayed on the screen. The profile can be accessed by clicking on it.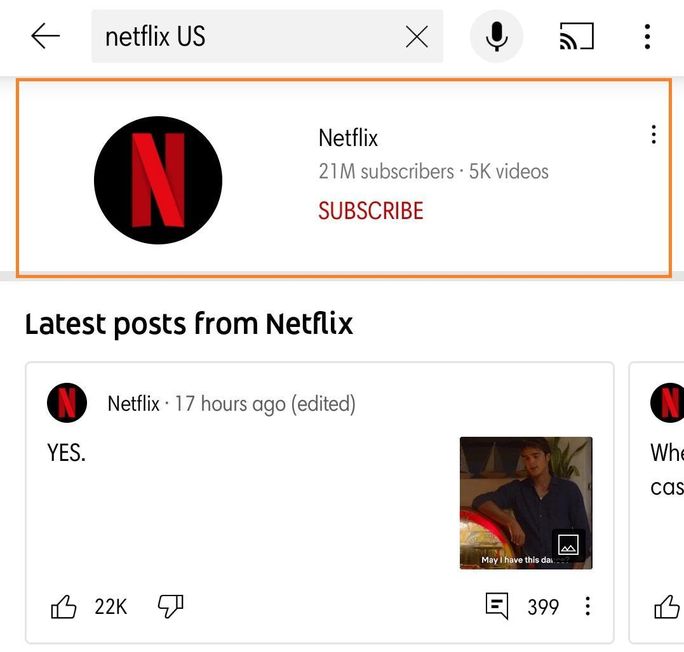 Step 3: The profile will have options like Home, Videos, Playlists, Community, Channels, and About. On the top right corner of the profile, you will see three dots. Tap on the three dots.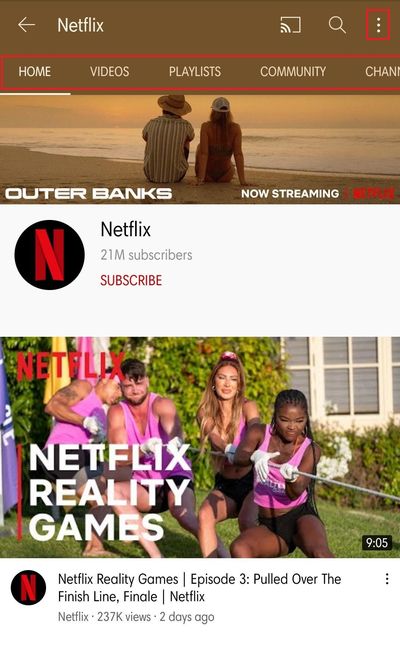 Step 4: After tapping the three dots, you will find a number of options such as Share, Reports User, Settings, Watch on TV, and more. In this list is the option Block User.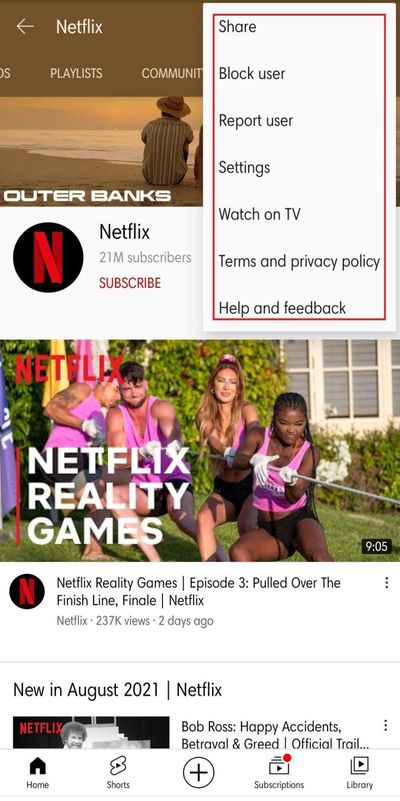 Step 5: Tap on Block User.
Step 6: Immediately after you tap on Block User, a small screen pops up asking you to confirm your decision to block the user as blocking the user prevents him/her from leaving comments on your videos.
If you are certain that you want to block the user, tap BLOCK.
Steps to Block Someone on Youtube Using the Desktop
Step 1: You can visit YouTube using any browser on your desktop or laptop.
Step 2: Two ways are available for finding the profile of the user you want to block.
You can search for the user's profile in the search box.
You can find the user's profile by clicking the user's name directly from the comments section.
Step 3: When the profile of the user is displayed, click on About.

Step 4: will lead you to the About section, where you will find a Gray Flag on the right-hand side. Click on the Gray Flag.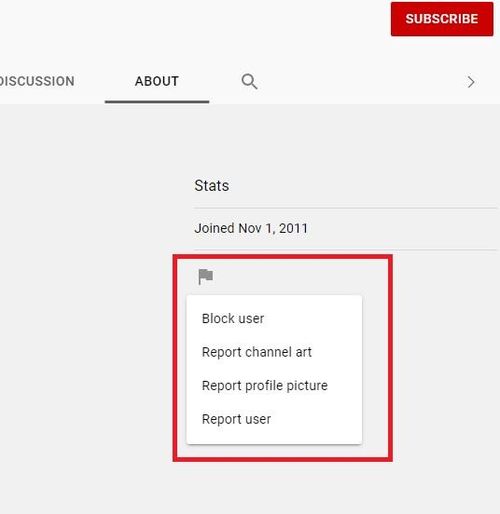 Step 5: By clicking on the gray flag, you'll be provided with four options, namely Report Channel Art, Report Profile Picture, Report User, and Block User.
Step 6: Choose Block User from the list. A pop-up screen will appear asking you to confirm that you want to block the user. If you are certain about your decision, click on Submit to block the user until hell freezes over.
How to Block Channels on YouTube Using YouTube Creator Studio
YouTube also empowers users to block a specific channel from commenting on their videos in YouTube Creator Studio if they think it is necessary.
To do so, follow the below-mentioned steps:
Step 1: You have to find the link or URL of the channel you wish to block.
Step 2: Copy the link or URL of the channel.
Step 3: Visit YouTube using any browser.
Step 4: Click on your profile image to access YouTube Studio.
Step 5: Once you are redirected to YouTube Studio, you will find the option Settings on the left-hand side. Click on Settings.

Step 6: This will take you to another screen where you will find options such as General, Channel, Upload of Defaults, Permissions, Community, and Agreements. Select the Community option.
Step 7: Under the option Community, you will further get two more options: Automated Filters and Defaults. Under Automated Filters, you will have options like Add Moderators, Approved Users, and Hidden Users.

Step 8: In the Hidden User box, click on Add Hidden Users and paste the link of the channel you had copied earlier.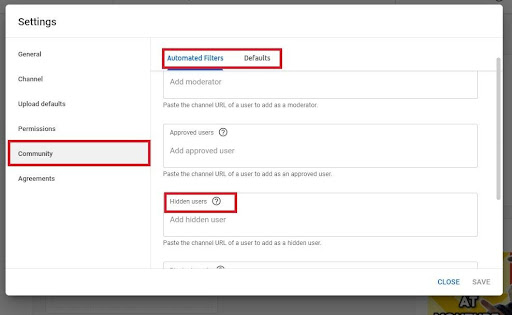 Step 9: To save your selection, click on Save.
Note: These steps can be followed only using a desktop/laptop and are not supported on the mobile application.
Conclusio
There you go! Blocking someone on YouTube is not that laborious after all. If you need to block users or channels that may negatively impact your channel, simply follow the aforementioned steps outlined above.
YouTube is an excellent medium for businesses to showcase their products and services as well as their philanthropic side.
And getting rid of trolls who disrupt your peace, brand identity and the overall atmosphere should be blocked by all means.
For more marketing tools that can help you with your campaigns try SocialPilot to know how it can amplify your social media marketing campaigns for faster growth.