I bet our days are not marked complete without watching a YouTube video.
With over 4 billion uploads monthly, it is the ultimate scroll-stopping hub of visual treats. No matter the genres, you can find as many videos as you can browse through.
This is why creators and marketers lurk around the corner to seize big and small opportunities. But it isn't easy
Maintaining a healthy YouTube schedule is nerve-wracking. Unlike other social media, creating content on YouTube is not a matter of a few minutes. It might take hours or even days to produce one good quality video
Though very little can be done to save hours on the creation drill, we can definitely cut down on time spent on manual uploads.
All thanks to YouTube scheduling tools, marketers don't have to glue their eyes to the clock each time they upload a new YouTube video or short. Let's go through each of them and see what fits your needs the best.
SocialPilot is your first accomplice if you want to be on track with your YouTube schedule. The tool has advanced features that help you automate video posting to your YouTube channel.
While you invest more effort in creating a quality video, a YouTube upload scheduler like this would ensure the quantity aspect. You just need to upload a video and select the desired time slot to share, and you'll be done.
Plus, you can collaborate with your teammates and clients if you manage multiple YouTube channels. That's not all
You can even add links, emojis, or tags while scheduling Shorts or videos. If you feel stuck, you also get enterprise-grade support on all plans to resolve queries at the earliest.
Why Should You Opt for SocialPilot for YouTube Video Scheduling?
It lets you add a video title and description to your video uploads at the time of scheduling.
It allows you to select the content category and even age restrict the video.
You can upload thumbnails of your choice.
It auto notifies subscribers once the scheduled video goes live.
SocialPilot lets you select license rights and ownership during the scheduling process.
It lets you select embedding and privacy status preferences as well.
Mobile app and browser extensions are also available.
You can share unlimited posts using SocialPilot across multiple platforms.
Other Noteworthy Features You Should Consider
SocialPilot has loads of useful integration, right from Canva to bitly.
Get a post and calendar preview of all your scheduled posts.
You can reply to comments and discussions from the Social Inbox.
You can curate unlimited content to get quick doses of inspiration.
SocialPilot has an image editing tool as well.
Its flexible calendar feature is praiseworthy.
You can bulk schedule 500 posts at once.
It has collaboration features for clients and team members.
It offers white-label shareable reports as well.
It supports the top 10 social media platforms under a single roof.
Kielo D
This tool provides powerful options for marketing, content creation, and scheduling to execute the data. Moreover, it provides the option of a free trial to the user, which encourages them to try. This saves user time which makes the software much liked.
Ojasvi A
Social Pilot has powerful and simple tools that help us to develop more efficient and strategic emails helping us to reach our clients in the best way. They also help us in saving our time because their customized templates enable us to generate efficient emails in minimum time, thus saving our time while promoting our business.
Frank P
Our company marketing tasks have become easier when we started using Socialpilot. It has very fast services for making our marketing campaign easier. The campaigns are managed easily on the user-friendly interface of SocialPilot. The calendar helps us manage our post data and time.
---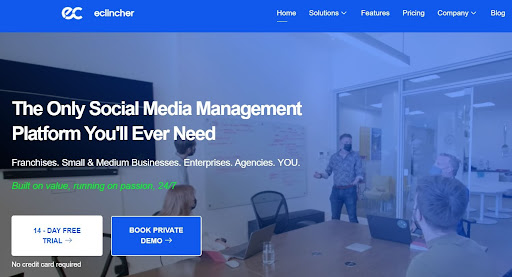 eClincher is yet one of the YouTube scheduling tools that has been around for quite some time now. It has decent top-ups like inbox, comment replies, brand mention tracking, etc., apart from the usual scheduling advantages on multiple platforms.
However, is it worth paying for? eClincher might not be the most affordable tool out there with the kind of features it provides. Hence, we recommend you assess potential eClincher alternatives and then choose.
Pros
The tool constantly updates to support more platforms and capabilities.
You get a preview of all your posts before scheduling.
Customer service is good enough to solve the initial hiccups of setup and onboarding.
Tiara H
I love the ability to preview posts and save them to drafts. I also love the access I get to all of our social profiles at once – especially the central mailbox.
Cons
It has a mediocre user experience with an okayish interface.
Integrations aren't quite seamless, posing errors at times.
There is a steep learning curve for beginners.
Gina B
The cost went up when I was using it. I also noticed that the mobile app was nothing like the desktop site. There were features on each that weren't available on the other. I just couldn't take it any longer and canceled my subscription.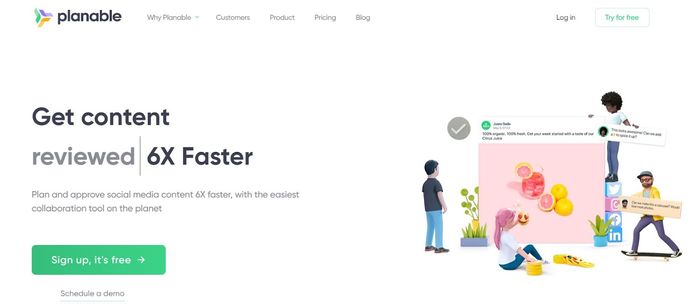 Next up, we have Planable. If you have a small team or work with multiple clients, then this YouTube upload scheduler is all you need. You can easily involve your vital players in social media marketing and plan your YouTube schedule.
You get multiple timeline views on Planable like calendar, grid, feed, and list. The scheduling feature is also quite flexible. Another striking addition is its enterprise-level security to secure users' sensitive information.
Pros
Planable has loads of resources that beginners can make use of.
The onboarding of teams is a hassle-free process altogether.
There are multiple workspaces for clients and in-house teams to facilitate better communication.
Rax L
Planable is visually brilliant at helping understand how social media posts will look when published. The approval process is incredibly intuitive and makes scheduling a doddle. It's also very simple to add new social platforms at a click of a button.
Cons
It supports only limited platforms, so you might have to use multiple tools.
Analytics and reporting features are limited.
It lacks strategic features like hashtags, comments, inbox, tag, etc.
Jay L
I'm new to marketing and social media advertisement, so I'm not sure if any additional features would be helpful. However, I find it a bit ridiculous to limit the ability to view scheduled posts (feed, calendar, grid, and list) on one's subscription status.
---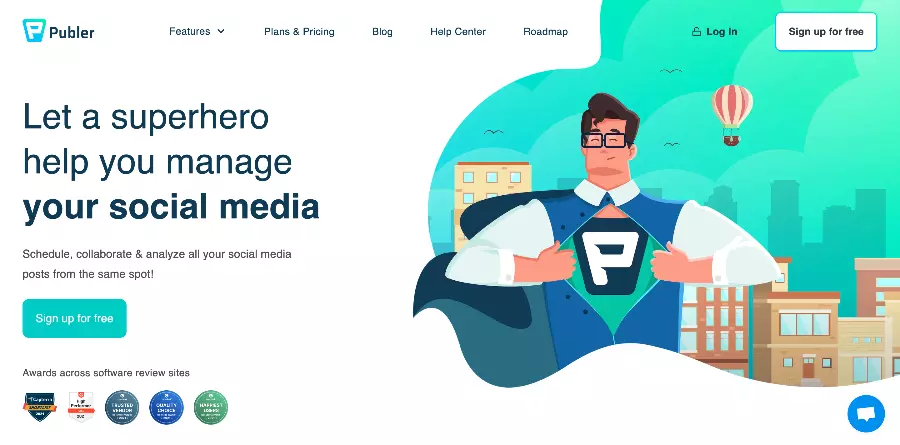 Publer is next in the line of competent YouTube video scheduling tools to help you ace your goals on the platform. It is a go-to option for marketers looking to schedule and analyze their posts across multiple platforms.
Publer gives its users 4 posting options: Manual, Recurring, Recycle, and Auto Schedule. You can select any one of these choices as per your sharing preference. This YouTube video uploader is an excellent fit for basic scheduling capabilities.
Pros
The user interface is clean and easy to use.
Customer support is prompt at solving issues.
You can manage multiple social media accounts on Publer.
Mohammed A
Publer has plenty of excellent features. But I like the "Watermark Option in Photos" very much. This watermark feature prevents my designs from stealing. Another good thing is "Hashtag suggestions" & "Content recommendations.
Cons
There is no mobile app for Publer.
Its current YouTube upload is 1 GB only.
Integrations offered in Publer are quite basic.
John L
Compared to other social media tools, it lacks some basic features such as recommended posting times, publishing multiple photos to Instagram via push notification, and more advanced metrics and reporting.
---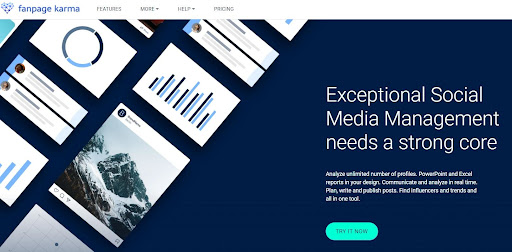 Fanpage Karma is one of the few YouTube scheduling tools that even keeps you updated with the latest trends in the market. You can find trending topics here that you can utilize for brainstorming your content strategy.
You also get to know what all posts worked best for you and analyze your channel's performance over time. It also lets you create excel reports summarizing all crucial data points around your social media profiles.
Pros
The tool is quite reliable with real-time data insights.
You can audit competitors' performances as well.
The interface is easy to navigate through.
Tom N
The tool is easy to use, and you can create a dashboard with just a few clicks. It's great for getting a quick overview of your most important KPIs on Facebook, Twitter, Instagram, Youtube, and Pinterest.
Cons
The customer support isn't the best and might delay solving your issues.
The tool is quite pricey for the features it offers.
There is no mobile app available for Fanpage Karma.
Firoz K
Although Fanpage karma has helped me to make better decisions about what platforms we should choose to achieve our business objectives and the type of content we should choose to improve the Key performance indicators of social media platforms. One thing I would like to ask from the team of Fanpage Karma is to improve the data visualization of the reports.
---
Zoho Social is yet another name you might be familiar with for maintaining a YouTube schedule. If you are a fan of using multiple integrations, then Zoho Social has you covered. The interface is also easy to grasp hold of and delivers a satisfying experience.
However, it might not pass the vibe check if you prefer to onboard a team. It lacks collaboration capabilities and workspaces. The reporting and analytics features aren't up to the mark. We recommend you use other Zoho Social alternatives before making the final call.
Pros
It has several seamless integrations with useful apps and platforms.
You can share dashboards with your teammates.
The calendar view gives you a snapshot of all your scheduled posts.
Rahul R
Zoho social is helpful to connect multiple social media accounts and manage them using their platform. I can publish content on all social media platforms from the Zoho social app. Not just publishing, it allows you to monitor the growth of a brand and let your team collaborate seamlessly.
Cons
Reporting needs to be revamped.
Insights are not always accurate.
It supports only a handful of social media platforms.
Tom S
The way Zoho has so many different apps, and you have to pay for each of them separately. For a small business, I want one system to rule them all. I'm sick of having to jump from one website to another, and I don't know what the best tool to do the job is. I can do the same thing in several places and often feel like I'm missing something which I have in another app. It's too modular.
Swat.io is a fairly new YouTube upload scheduler that brings all-in-one social media marketing features. You can easily use its editorial calendar to plan your videos and other posts on YouTube and other social media channels.
Swat.io also provides an inbox where you can manage all comments and mentions from one place. This ensures that you engage with your community alongside entertaining them. But the tool is quite pricey and is affordable for enterprises.
Pros
It has established workflow setups for better team collaboration.
Analytics and reporting are quite comprehensive in this tool.
You can identify top-performing posts and assess your current strategy's performance better.
Viola R
A good overview of all channels and brands. Different people can edit texts and photos in one post. The note function is very helpful when multiple suggestions are made, or background information is needed. And, of course, the scheduling with the calendar function.
Cons
The tool is expensive for individuals and small business owners.
The user experience can be improved considerably.
The tool can get buggy at times.
Verified User
It can feel congested, like the desire to be inclusive has made it clustered in the dashboard.
Watching YouTube or even playing it while some of us are neck-deep in work has become a ritual. This is the platform to catch hold of your audience's attention while educating or entertaining them to the fullest. As a marketer, YouTube needs your well-deserved attention.
While you put all your brain power into finessing the scripts and frames, let YouTube video scheduling tools take charge of the publishing part. And with SocialPilot, automating this process need no longer be a pricey affair.
Take a free trial and fix your entire social media schedule in one shot