In today's fast-paced world, client management software is essential to foster long-lasting business relationships, retain clients, and stay ahead of the competition.
Statistics show that these tools can improve sales by up to 87%, increasing customer satisfaction and significantly impacting customer retention. From customizable dashboards to advanced reporting features, these tools will streamline your client management process and boost your business.
However, with so many options on the market, choosing the right one for your business can be overwhelming. That's why we've created a comprehensive overview of the top 10 solutions available today.
Explore the software solutions below to find your business's best client management software. Compare features, pricing, pros, and cons to make an informed decision.
10 Best Client Management Software
1. SocialPilot

Topping our list of client management software is SocialPilot. The highly versatile tool caters to the needs of businesses of all sizes and offers a variety of features, including social media management, team collaboration, client reporting, and more. With SocialPilot, you can streamline your client management processes, ensuring efficient communication and collaboration across teams.
One of the standout features of SocialPilot is its ability to allow multiple team members to work on client accounts simultaneously, with each member having their own login credentials and access levels. This ensures that everyone on the team is on the same page and can collaborate seamlessly.
Moreover, SocialPilot's client reporting features are top-notch, providing real-time analytics and data to help you track your client's social media performance and progress.
All in all, SocialPilot offers an unbeatable combination of features, affordability, and ease of use, making it the perfect solution for businesses looking to streamline their client management processes.
Top Features
Track team productivity with automated client reports and collaborative workflows
Never miss a deadline with task management and calendar features
Streamline approval processes with Approvals-On-The-Go
Simplify your client communication with the centralized client inbox
Analyze campaign performance with advanced analytics and reporting tools
Improve your team's efficiency with customizable workflows and approval processes
Collaborate with clients and team members in real-time with the chat feature
What do SocialPilot users say?
S
Stephen C.
Social media isn't a large part of our business, but we still provide it for each client. Socialpilot makes it easy to quickly schedule posts at scale via CSV, and the process is easily repeatable and the results reliable. RSS feeds are a nice feature.
S
Suzannah S.
Social Pilot outshines the competition by providing integration with more social media channels, even YouTube video uploads.
---
2. HubSpot

HubSpot is a comprehensive client management software offering various tools for businesses to manage their customers' data, track their interactions, and automate their marketing and sales processes.
With its easy-to-use interface and powerful features, HubSpot enables businesses to build stronger relationships with their clients, analyze customer behavior, and identify new growth opportunities.
HubSpot's suite of features includes contact management, lead generation, sales automation, customer service, and marketing automation. The software also integrates with popular third-party applications like Salesforce, Shopify, and Slack, making it an all-in-one solution for businesses of all sizes.
Key Features
Marketing, sales, and customer service modules
Email marketing and automation
Lead management and analytics
Pros
Comprehensive suite of marketing, sales, and customer service tools
Great support and community
Robust reporting and analytics capabilities
Cons
Expensive pricing for larger businesses
Steep learning curve for beginners
Limited customization options for certain features
---
3. Zendesk
Zendesk is a powerful all-in-one platform that seamlessly integrates customer support and sales tools to enhance business communication and customer relationships. With its comprehensive contact management database, businesses can gain a 360-degree view of their customers, including their activity history and social data.
The platform's sales tool, Zendesk Sell, offers a range of impressive features, such as sales prospecting, call logging, integrations, and analytics. What sets Zendesk apart from other platforms is its unique approach to unifying sales and support teams. Doing so helps improve sales habits, promote collaboration, and foster meaningful customer relationships.
Zendesk is an excellent choice for businesses looking to enhance their sales and marketing results while improving customer satisfaction. With its intuitive interface and comprehensive suite of features, it's a game-changer in customer relationship management.
Key Features
Knowledge base and self-service options
Ticketing and helpdesk system
Live chat and help center
Pros
Excellent customer support tools
Scalable and customizable
Seamless integration between Zendesk products
Cons
Highly limited features at lower price plans
Tends to be pricey for larger teams
---
4. Salesforce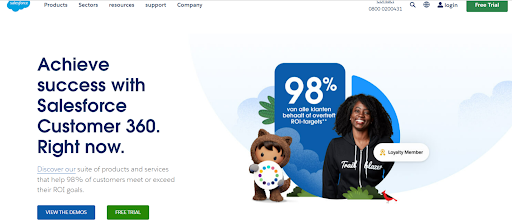 Salesforce is an all-in-one client management software solution offering advanced features such as contact management, lead and opportunity tracking, sales forecasting, and performance analytics. Its customizable dashboard overviews client interactions, account details, and customer service cases.
With its AI-powered tools and process automation capabilities, Salesforce allows businesses to streamline their sales processes, increase productivity, and improve customer service. Additionally, Salesforce's app marketplace is home to thousands of third-party apps, custom app components, and certified consultants that businesses can leverage to extend the platform's functionality and tailor it to their needs.
Overall, Salesforce is an excellent choice for businesses that want to boost their sales and marketing results while fostering meaningful customer relationships. It caters to sales reps, managers, and executives, making it a versatile and comprehensive solution for businesses across sectors and regions.
Key Features
Sales, service, and marketing automation
Customizable dashboards and reporting
App marketplace for additional integrations
Pros
Robust and feature-rich CRM
Highly customizable and scalable
Large ecosystem of integrations
Cons
Steep learning curve
Numerous add-ons and extra fees for third-party tool integration
---
5. Zoho CRM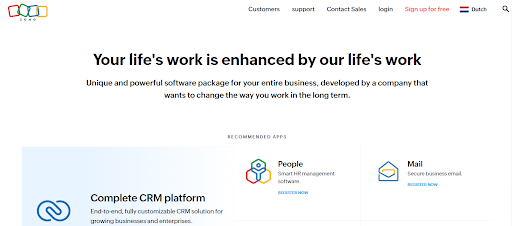 Zoho CRM is a cloud-based customer relationship management solution that provides businesses with a 360-degree view of their sales cycle and customer data.
The client management software offers features such as lead and contact management, workflow automation, email marketing, and more. Zoho CRM's standout feature is its AI-powered SalesSignals, which helps sales reps identify and act on key customer behaviors in real time. The platform also provides mobile apps, third-party integrations, and a marketplace with extensions and add-ons.
Zoho CRM's customization options and affordable pricing make it an excellent choice for small and medium-sized businesses looking to manage their sales cycle more effectively. Overall, Zoho CRM is a robust, user-friendly solution for managing customer relationships.
Key Features
Sales and marketing automation
Customer support and helpdesk
Multi-channel access to customers through phone, email, social media, and live chat
Pros
Affordable and flexible pricing
Easy to use with an intuitive interface
Wide range of features
Cons
Limited customization options
Most of the automation features are only available at higher-priced plans
---
6. Pipedrive

Pipedrive stands out because of its robust features, including sales pipeline management, chatbots, web forms, and AI-powered sales assistance. This CRM solution seamlessly syncs with Google and Microsoft, offering comprehensive contact activity history and tools for managing leads and deals.
In addition to these features, Pipedrive offers integration with more than 300 popular apps, enabling businesses to automate financial management processes, communicate with remote teams, and generate leads. This tool is a versatile and powerful choice for managing client relationships and optimizing sales performance.
Key Features
Sales pipeline management
Email integration and automation
Lead and deal tracking
Pros
Simple and easy-to-use interface
Strong focus on sales pipeline management
Solid integration options
Cons
No free plan
Automation, document integration, and most email features are only available in higher tiers
---
7. Monday.com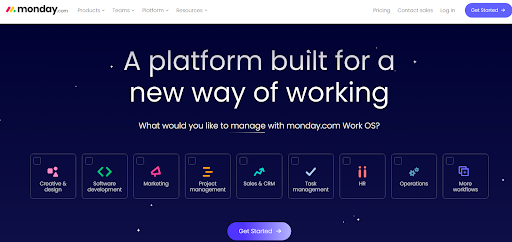 Monday.com is a highly flexible and intuitive workflow and team management solution suitable for all types of businesses. Its all-encompassing platform streamlines various departments, such as creative, design, HR, sales, and customer relationship management, making it a top contender in the client management software arena.
One of Monday.com's standout features is its ability to manage sales pipelines using the Kanban view and provide centralized data review, informative contact cards, and customizable templates for sales and CRM.
In addition, Monday.com promotes transparency by enabling clients to access project boards, improving communication, and reducing the time spent on status updates. The platform's centralized client information, file sharing, and project roadmaps streamline collaboration and communication, making it an excellent choice for businesses of all sizes.
Key Features
Project and task management
Team collaboration and communication
Workflow automation
Pros
Highly customizable and adaptable
Great for project management
Easy integration with numerous other tools
Cons
The free plan has a two-person limit, making it unsuitable to try as a team
Cluttered interface
Time tracking is only available for Pro and enterprise users
---
8. Agile CRM

Agile CRM is an all-in-one, cost-effective marketing tool designed for small and medium-sized businesses that streamlines sales, marketing, and customer service, all on a single platform. This affordable solution comes with modern features and easy implementation.
Agile CRM provides single-page contact management, deals tracking, appointment scheduling, project management, and gamification to boost sales performance. Additionally, the platform provides marketing automation, email marketing, mobile marketing, email tracking, and a helpdesk for personalized customer experiences.
Additional features such as feedback management, ticketing, and canned responses help improve customer relations and streamline support processes. One of its unique features is the drag-and-drop designer, allowing for creating personalized email templates and landing pages without any coding knowledge.
Agile CRM's intuitive user interface and affordable pricing make it a great option for businesses looking to improve their customer relationships, automate their marketing efforts, and enhance their sales processes.
Key Features
Sales, marketing, and service automation
Web and mobile-ready user interface
Email and mobile marketing
Pros
Comprehensive features for sales, marketing, and customer service.
Affordable pricing plans.
Integrates with popular apps like Slack, Mailchimp, and Zapier.
Cons
Steep learning curve for beginners.
Limited customization options.
Occasional glitches and slow loading times.
---
9. Freshsales

Freshsales is designed to accelerate revenue with context-driven sales. By personalizing engagement and leveraging customer data, Freshsales allows you to shorten your sales cycle and grow your business effortlessly.
Freshsales offers a 360° view of your customers, providing a comprehensive understanding of their interactions to deliver personalized experiences. One of its key features is the AI-powered chatbot, which engages with website visitors in real time, helping you generate more leads.
This software enables contextual engagement, allowing personalized messaging across various communication channels like phone, email, chat, and SMS. With automated sales campaigns, upselling and cross-selling to your customer base becomes a breeze, ensuring long-lasting relationships and increased customer value.
Key Features
360-degree view of the customer
AI-powered analytics and insight
Personalization and customization options
Pros
Intuitive interface and easy to use
Strong focus on sales and lead management
Cons
Limited third-party integration
Most CRM customization options are not available for free and basic plans
---
10. Keap

Keap is a powerful client management software designed for small businesses. With integrated email marketing and appointment scheduling, Keap helps businesses centralize client management.
The tool offers a range of features, such as marketing and sales automation, recurring payments, and advanced reporting to help streamline business operations.
Keap's visual sales pipeline dashboard and integrations with apps like Quickbooks and WordPress make it easy to manage sales processes and convert leads into customers. Additionally, Keap's custom forms, pre-written emails, and automated lead capture features help businesses efficiently convert leads into loyal customers.
Key Features
Integrated email marketing and automation
Visual sales pipeline dashboard
Automated lead capture and conversion
Pros
Comprehensive CRM and marketing solution
User-friendly interface
Good for small businesses
Cons
Expensive for larger teams
Limited third-party integrations
---
Conclusion
In today's highly competitive business landscape, investing in reliable client management software has become a necessity.
By selecting the right client management software, businesses can comprehensively understand their clients and streamline their operations. The key is identifying your business needs and goals and choosing a tool that best aligns with them.
With the help of our list, you can make an informed decision and select one that optimizes your client interactions, boosts efficiency, and ultimately drives growth.
While all these 10 are strong contenders, SocialPilot offers a user-friendly interface and an all-in-one social media management tool at unbeatable prices. With features like bulk scheduling, client management, and in-depth analytics, SocialPilot is the perfect fit for businesses of all sizes.