Social media marketing is essential for contemporary businesses. However, franchise social media marketing presents a unique challenge as it involves managing multiple accounts across different locations while preserving individuality and localization.
To succeed, franchises need a strategic approach with a well-defined brand voice, a content strategy that resonates with their audience, and consistent social media management strategies across all locations.
We will discuss the seven efficient tips that will help create a foolproof franchise social media marketing strategy.
7 Fool-Proof Tactics for Franchise Social Media Marketing
1. Understand the Franchise's Brand and Goals
Before creating a social media marketing plan for a franchise, it is crucial to clearly understand the brand, including its vision, mission, and values. This understanding will help you create content that resonates with the target audience and aligns with the franchise's identity. Additionally, understanding the brand's social media marketing goals is essential for creating an effective plan that meets those objectives.
To better understand the franchise and its goals, you must analyze the company's macro and micro environment. This analysis will give you a clearer direction to create a fool-proof social media marketing plan that caters to the franchise's specific needs.
Keeping primary stakeholders in the loop and soliciting their feedback and suggestions is also critical to the plan's success.
Gap analysis and market research are essential to identify trends and gain a competitive advantage in the market. By conducting market research, you can identify the target audience, their preferences, and what drives their engagement on social media.
Furthermore, staying up-to-date with industry trends, competitor strategies, and changes in the consumer behavior can help you create a more effective social media marketing plan that drives results.
2. Develop a Social Media Strategy Tailored to the Franchise
Creating a personalized social media strategy is critical for achieving franchise marketing goals and building a strong online brand presence. By tailoring the social media strategy to the franchise, marketers can ensure that the brand's message, values, and goals are consistently communicated to the target audience in a way that resonates with them.
To create a personalized social media strategy, begin by understanding the franchise's social media marketing and identify the right platforms to target the appropriate audience. For example, if the target audience of your franchise is primarily young adults, platforms such as Instagram, TikTok, and Snapchat may be more suitable than platforms like Facebook or LinkedIn.
Once you have identified the appropriate platforms, the next step is to create content that resonates with your audience. The content should be tailored to the platform, audience, and marketing goals. You could include promotional content, customer stories, franchisee spotlights, and behind-the-scenes glimpses into franchise operations.
After creating content, ensure you are setting the right Key Performance Indicators (KPIs) to measure the return on investment of the social media strategy. This will help franchisees to track their progress, optimize their efforts and make data-driven decisions.
To comprehend it further, let's look at one of the most popular Canadian coffee houses and restaurant chain, Tim Hortons, which recently extended its franchise in India.
While creating the social media strategy for Tim Hortons in India, they kept the essence of localization into consideration. They welcomed the people of Punjab (where they opened their outlet) in their local language Punjabi, fulfilling their ultimate agenda of tailoring the franchise's social media marketing.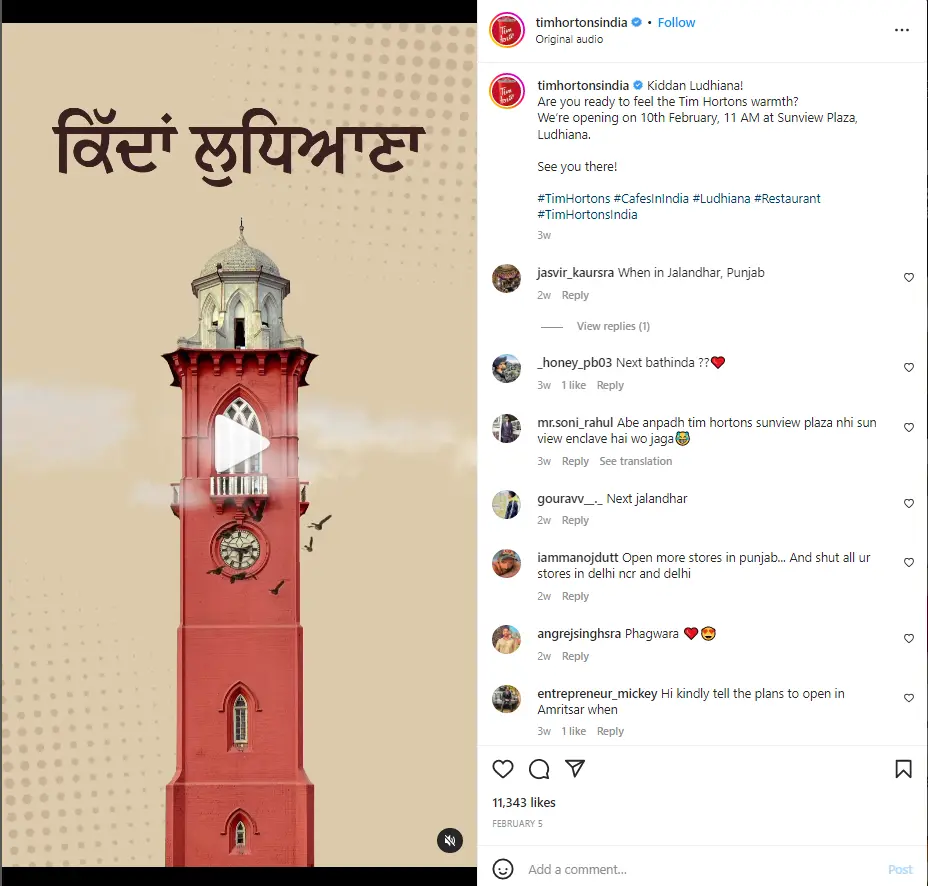 3. Create Consistent and On-Brand Content
Consistency is crucial for building a strong brand identity across various social media platforms. However, ensuring that the efforts invested are in the right direction is equally important.
Therefore, when creating content for franchise social media marketing, you must ensure that the content aligns well with the franchise's values. This will help establish a recognizable brand identity and ensure all content resonates with the franchise's values and goals.
It is essential to follow brand guidelines and collaborate with the franchise's marketing team to create content that reflects the franchise's brand and values. Collaborating with the marketing team will ensure that all content aligns with the franchise's objectives and goals. Additionally, using audience insights to inform content development will help tailor the content to the franchise's target audience.
By implementing these practices, you can establish a cohesive brand identity across various social media platforms, strengthen your franchise's brand image, and enhance customer engagement.
To comprehend this better, let's look at the example below of a popular fashion brand, NetAPorter.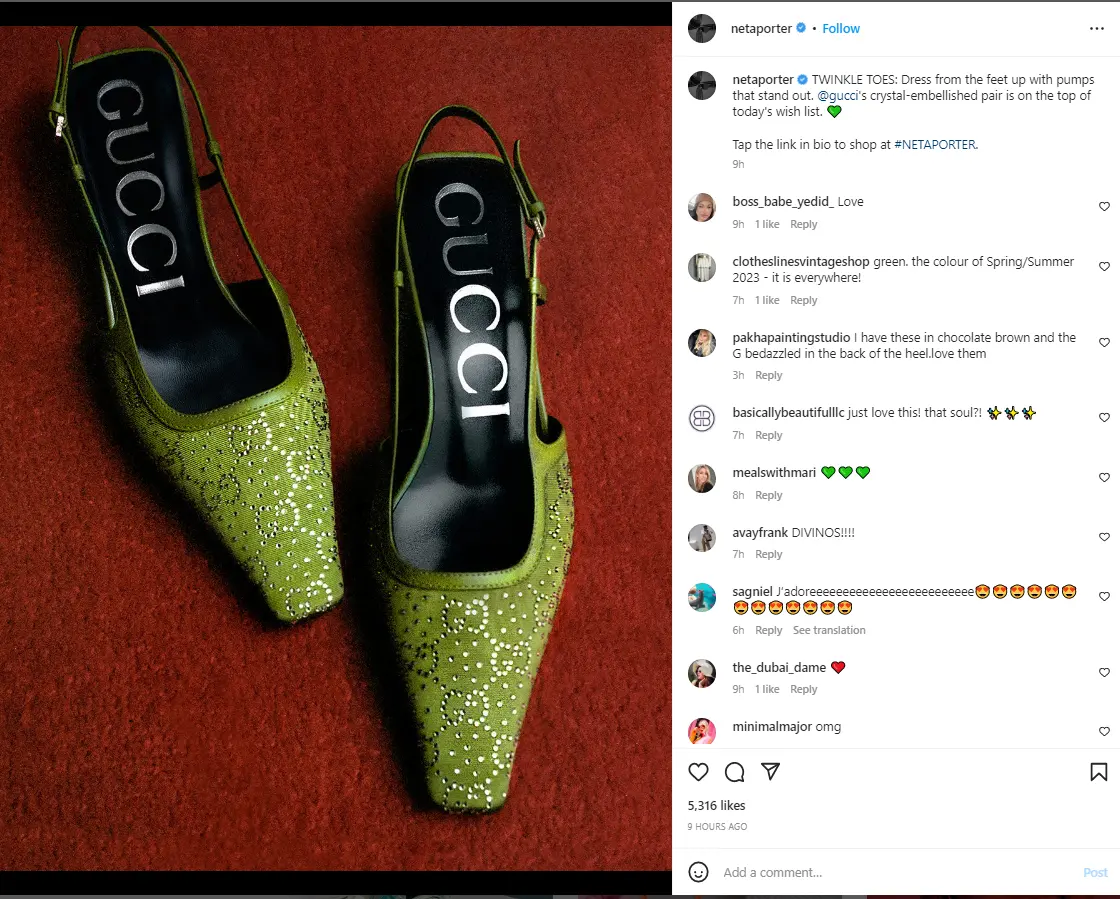 Looking at the images above, you will see that their Instagram content reflects that it is a premium-quality luxury fashion brand. This, in turn, ensures that its social media content aligns with its brand value and vision to portray itself as a luxury brand.
This is precisely how you should use your social media handles to create consistent and on-brand content.
4. Use Tools to Streamline Social Media Management
Managing social media accounts for multiple franchise locations can be challenging, especially if each location has its own accounts on different social media platforms.
The downside?
This can lead to inconsistencies in messaging, missed opportunities to engage with customers, and overall inefficiencies in social media management. That's why using tools to streamline social media management can be a game-changer for franchises.
One of the biggest advantages of using social media management tools is that they save time and effort.
By managing all social media accounts from a single tool, franchises can auto-schedule posts in advance and eliminate the need for manual posting on each account. This can free up time for franchises to focus on more important tasks, such as engaging with customers and creating high-quality content that aligns with the franchise's values and goals.
Social media management tools like SocialPilot can provide franchisees with a single dashboard to manage multiple social media accounts, schedule posts in advance, and analyze the performance of social media accounts using advanced analytics features.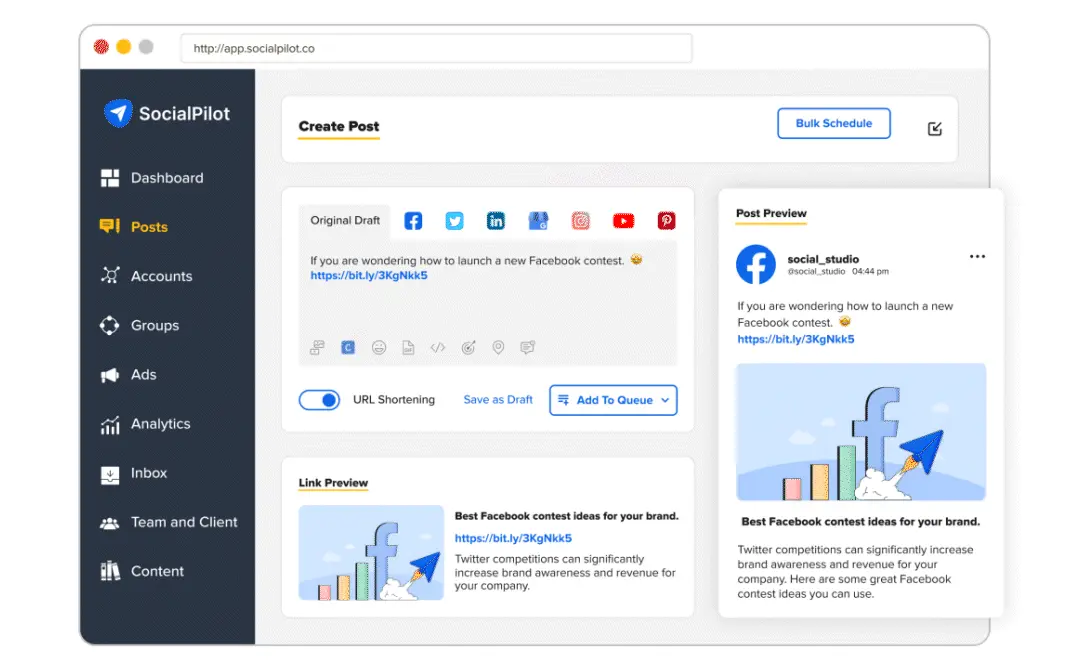 This tool can also allow franchises to collaborate with team members to create and approve content before posting, ensuring consistency in messaging and branding across all locations.
5. Collaborate with Franchisees for Consistency
Managing social media for a franchise requires collaboration with franchisees to ensure consistency across all locations. This consistency is crucial for building a cohesive brand image that customers can recognize and trust. By working with franchisees, franchises can ensure that all social media accounts follow the same branding, messaging, and tone.
How to do this?
One effective way to collaborate with franchisees is establishing clear social media guidelines and standards. This will ensure that all franchisees know the expectations and requirements for their social media accounts.
In addition to providing training and resources, franchises should provide regular feedback and support to franchisees. This will help maintain consistency and improve social media content quality.
Sharing content and best practices across franchise locations is important for building a cohesive brand image. By encouraging franchisees to share their successful campaigns and ideas, franchises can learn from each other and improve their overall social media strategy. This collaboration can also help identify common challenges and opportunities for improvement.
Lastly, franchises must monitor franchisee social media accounts for consistency. This involves regularly auditing social media accounts to ensure they follow brand guidelines and best practices.
Franchises should also review posts for accuracy, appropriateness, and engagement levels. Providing feedback and guidance to franchisees is essential for maintaining consistency and improving social media content quality.
6. Monitor Analytics and Make Adjustments
In addition to regularly reviewing social media metrics, franchises should also set specific goals and KPIs (Key Performance Indicators) for their social media campaigns. This helps to provide a clear direction for their social media strategy and allows them to measure success against specific metrics.
To effectively monitor analytics and make adjustments, franchises need a dedicated social media team or point person who can regularly analyze the data and make informed decisions. This team or individual should also stay up-to-date with changes to social media algorithms and trends to ensure that the franchise's social media strategy is optimized for success.
Moreover, franchises should focus on quantitative and qualitative metrics such as sentiment analysis and customer feedback. This can help gauge how customers perceive the brand on social media and identify areas for improvement. It's also important to take a proactive approach to social media crisis management by monitoring mentions and promptly addressing any negative comments or reviews.
By monitoring analytics and making adjustments, franchises can continuously improve their social media strategy and stay relevant in an ever-changing digital landscape.
Overall, monitoring analytics and making adjustments is essential for franchise social media marketing success, and tools like SocialPilot's analytics tool can help make the process more manageable.
7. Maintain Communication With the Franchise and Its Locations
Effective communication is key to the success of any franchise business, and it is especially crucial when managing social media for multiple franchise locations. In addition to scheduling regular check-ins and providing performance reports, franchisors can leverage technology to improve communication with their franchisees.
For instance, they could use Slack, Microsoft Teams, or Trello to create dedicated channels for social media discussions, share files, and assign tasks.
Social media is an ever-evolving landscape, and franchisees may need guidance on new features, updates, or best practices. Hence, providing training and resources is imperative as it can help franchisees feel more confident in their social media skills and can improve their performance.
Furthermore, franchisors can leverage social media to improve communication with franchisees and their customers. By creating a dedicated social media account or franchisee group, franchisors can foster collaboration and share real-time updates, tips, and best practices. This can also help build a sense of community among franchisees, leading to better engagement and performance.
Lastly, franchisors should be open to feedback and suggestions from franchisees. Franchisees may have unique insights into local audiences or may have discovered new social media strategies that work well for their location. By listening to their feedback and incorporating it into their overall social media strategy, franchisors can improve their overall performance and build stronger relationships with their franchisees.
An interesting real-life example of a company that failed to maintain communication with its franchisees is Quiznos.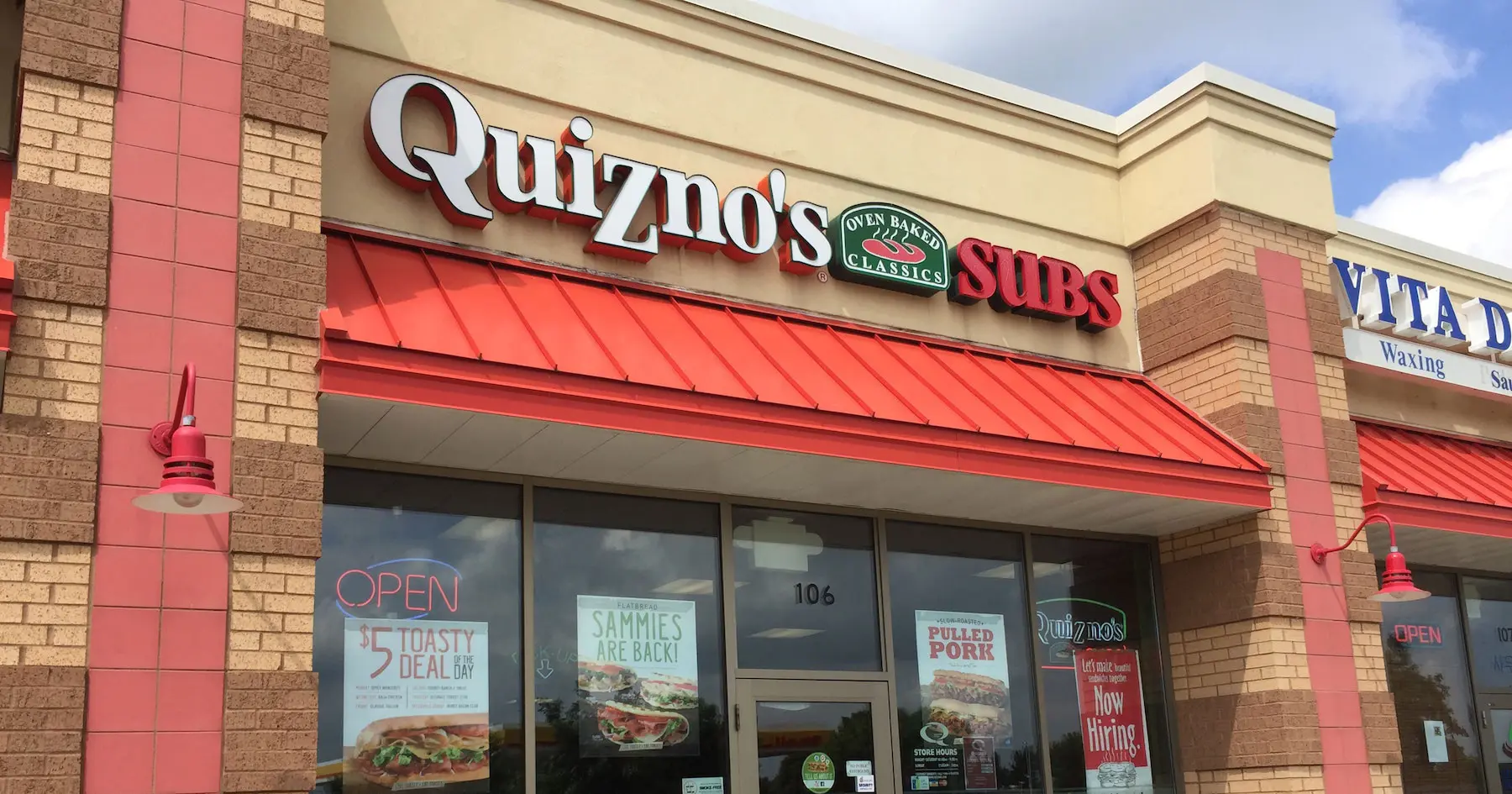 In the early 2000s, Quiznos was one of the fastest-growing franchises in the United States, with more than 5,000 locations worldwide.
However, the company's rapid expansion led to a breakdown in communication with its franchisees. Franchisees complained about high food costs, low profits, and inadequate support from the franchisor.
As a result, many franchisees filed lawsuits against Quiznos, and the company's reputation suffered. Quiznos eventually filed for bankruptcy in 2014, citing declining sales and increased competition.
This implies that failure to maintain communication with franchisees can lead to decreased productivity, low morale, and a decline in profitability. Therefore, franchisors should prioritize communication and take steps to ensure effective communication with their franchisees.
Conclusion
In conclusion, managing a franchise's social media can be challenging for agencies. However, with the right strategies and tools, it can also be a highly rewarding one.
By following the above-given tips, agencies can help franchisees build a strong online presence, connect with customers, and ultimately achieve business success.