"That awkward moment when nobody likes your Facebook status."- Denzor
Even the most seasoned social media players goof up from time to time.
Are you the one?
As a business, you create a social media page and start posting content. But despite your best efforts, your posts fail to engage with the audience. The problem could be with your content, metrics, inconsistent posting schedule or an incorrect marketing strategy. While there is an absolute science behind getting a higher number of likes and shares, there's also a science behind mistakes marketers often make that lead them to zero engagement – no shares, no likes and most important, no comments.
Today, we will explore some common mistakes businesses commit on social media, its impact on user engagement and brief tips to rectify them.
Top 10 Mistakes you are committing if you are not getting likes, comments, and shares
1. Inconsistent Posting
Don't you agree?
Facebook marketing should always be backed by a consistent posting strategy. You have to keep updating your content to retain the audience interest. Some brands initially post content on social media and do not follow up for a long time.
What they miss?
They miss using the correct social media posting tools. They miss to answer users' comments, queries and appreciation. They miss users who liked the content and who didn't. They miss to notify why users didn't like the content?
Social media is bombarded with advertisements and promotional campaigns that are getting better each day. If you want to survive, make your presence felt by answering comments & queries relevant to your niche.
Tip: Successful brands post updates regularly using social media marketing tools free, to fill the gaps between two posts and keep their accounts active.
Some points to remember:
Post updates regularly
Fill in gaps with statistics, facts, and quotes between two postings
Recommended number of posts on social media platforms:
Facebook – one post a day
Twitter – 15 tweets a day
Pinterest – 11 pins a day
Linkedin – 1 post per day
Instagram – 1-2 posts a day
Keep posting!
Once your social media page starts pulling the audience who interact and engage with your brand, it's time to post more. If at this time you refrain from updating posts thinking that the battle is won, it would be a grave mistake. Now is the time to nail it and make your way into the hearts and minds of the audience like never before!
2. You are not using the brand page to its full capacity
The brand page of businesses should carry complete information about the brand. This includes the address, product and working details, and other relevant information. Also, be sure to include the social media icons so that the audience can share the content.
Tip: Get a nice username and it would be great if the same is your Twitter handle.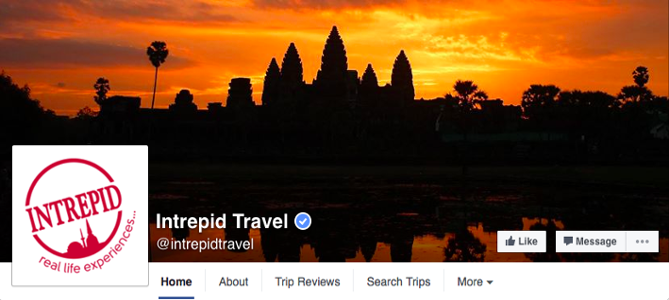 Intrepid travel has put up a great Facebook page. It has all details regarding their business and is complete with tabs about reviews, searches, travel plans and more. This travel company provides a robust package of a seamless user tour across the website. Wouldn't you be compelled to like and share such wonderful website details to your friends?
3. Irrelevant cover photo
Mashable says that cover photo is the first thing your audience notice.
Always follow the social media platform rules stated for cover page photo. Use a picture that conveys the brand message accurately. For e.g. restaurants carry close-ups images of the best food they serve, while baby product pages showcase cute baby pictures. If there is an event coming up, brands change their cover photo in tune with latest happenings.
Update your cover photo to make it look novel and fresh. Viewers immediately like and share photos when their favorite brands update their photos.
4. Too much salesmanship
The primary motive of every brand which is creating a presence on social media is increased sales. But if you will act only for sales, your audience will move away from you.
As a brand, you have to win the trust of your audience and establish an indelible bond with them. This means that all the content that you post should not be promotional. It could be an answer to a user query, like a tutorial or help session. Your posts should contain informative content related to the niche of your product/service, without having any promotional motive. That is when you earn your audience trust and make them your ardent fans and followers.
Likes, shares and comments, my dear readers; will follow soon.
5. No human touch
What is the reason of the mammoth success of the social media platforms? Well, apart from the fact that they have made life easier, these platforms have been hugely successful in connecting people from all corners of the world. Brands have to understand this intrinsic insight and device posts that aim to touch human chords.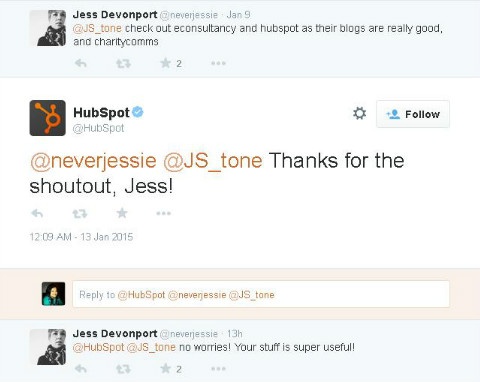 HubSpot is a great example of acknowledging fans and engaging with them on a personal level. Hubspot interacts and connects with users to get higher leads and conversion.
When users leave a query or feedback; be sure to answer them. Lend them your ears and respond with genuine concern.
Tip: Never send automated messages or the same pre-written replies for all consumers. Your fans should feel heard and acknowledged!
6. You are targeting a wider audience
2.8 billion??
Not everybody on social media can be your target audience. What is the point of posting content for an audience that doesn't care? Not only will your content get undermined, it will fail to lead to conversions and leads. Further, tagging uninterested fans in a marketing campaign leads loss of trust. Worse still, you definitely do not want them to hit the 'block' or 'unfriend' button.
Work towards posting content for an audience catering to your product realm. This could be achieved by measuring the post performances in terms of demographics. Once you ascertain your niche audience, focus on targeting them by posting relevant content.
7. You don't measure your results
Gosh!
Unless you don't test how deep your waters are, you can never determine what step to take next. Your social media insights and analytics help you ascertain whether your posts are working or not. Study all the performance metrics of your posts to determine the strong and weak points. Apart from the analytics offered by social media platforms, independent marketing tools are also available to help you effectively track and analyze your post performance.
8. You don't use images well
Eye-catching images could work wonders for your brand strategy. It's hardly surprising that Instagram, Pinterest, Snapchat, and Youtube have been gaining so much popularity while Facebook has also adopted an image-friendly marketing strategy.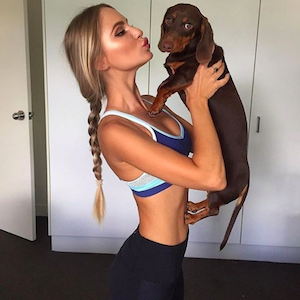 Lorna Jane, the Australian active wear company posts colorful and sporty pictures of women which truly represents the essence of the brand. The images are the heart and soul of its social media strategy.
Another example is Wishpond's blog. It recommends showcasing ads that feature colors reds, oranges and greens to naturally contrast with Facebook's white and blue color scheme.
Points to remember:
Optimize your images for the relevant platform
Use attractive images
Use more of visuals(images and videos)
Images should not be text-heavy
9. You post very lengthy updates
Posts between 100 and 250 characters get 60% more Likes, comments, and shares than ones that are more than 250 characters – Facebook research
Posting lengthy updates steals away the user interest. After all, you are not giving them homework to study. As per BuddyMedia, status updates of less than 80 characters received a 27 percent higher reaction than longer updates.
Make your audience participate in your posts. Ask a simple question that compels them to answer. While you should keep your social media pages active, do not post content that is too long.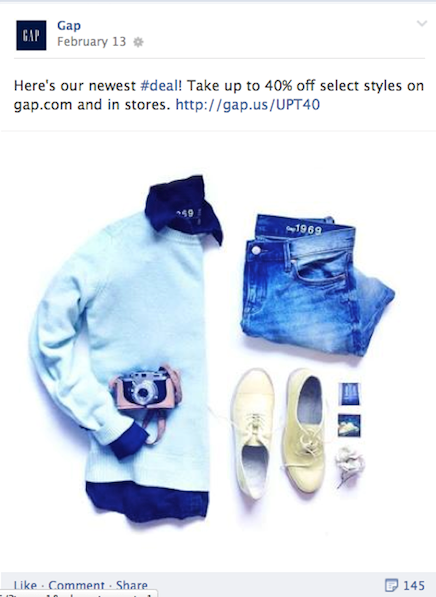 Gapfans are thrilled to see the brand's status update. The brand provides what the fans are waiting for- offers and discounts, in a short and crisp update!
10. Your posts are dull and boring
Yes!
This is the single biggest factor that drives the audience to your website and compels them to engage with your content. Your content has to be fascinating with appealing visuals – enough to draw the viewers to like, share and comment on your posts.
Create stories, run contests, and throw questions for the audience to answer. Also, maintain variety in your posts and spice up your content, but do not compromise on the quality. Make use of some social media marketing tools free of cost to help you managing these posts.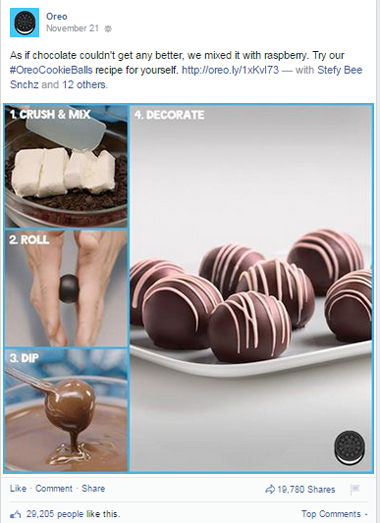 # Lovely images# great recipes# interesting posts# no one does it better than Oreo!!
Wrap-up
A 'like' means that your fans are noticing you, a 'Share' means that they surely love you and a 'Comment' means they truly interact with your content.
Marketers have to start from a 'like' and engage with their audience through questions, feedbacks, and conversations in the 'comments' section. And finally, it's the 'shares' that reflects your true fan following. This marketing journey on social media platforms has to be strategically planned and executed. Follow our advice and avoid the 10 mistakes mentioned in this article to create inspiring posts that your audience loves to engage with.
Being a social media marketer, you too have made some mistakes. Why not share the same in the comments to help other social media marketers.