The idea must have crossed the head of every single person on Twitter – how to verify my Twitter account? 
There is something about that blue tick. Isn't it?
The very thought of standing out as a celebrity on Twitter among 353 million monthly active users worldwide is nearly unearthly.
So, how to get that coveted symbol of approval? 
In this article, we will take you through the process of verifying your account on Twitter and a few tips that can increase your chances of getting the ultimate blue badge.
The Importance of Verifying Your Twitter Account
Having a Twitter verified symbol can boost your credibility tenfold and also work wonders for brands and businesses marketing on Twitter. 
Any prospect on a research spree will be inclined more towards a Twitter account with a Twitter verified symbol. It implies credibility and authority to users and helps you attract more followers.
In a nutshell, a verified Twitter symbol next to your personal or business profile helps you:
In avoiding any identity theft

Implies you are an account of quality and credibility

It helps you build trust among the community

It gives you the ability to opt-out of group DMs and filter and receive notifications of only other verified users
Eligibility Criteria for Twitter Verification
In the year 2017, Twitter suspended the process of verification after it got widely criticized for verifying accounts to endorse people rather than using it for identity authentication.

But, recently, it came back with an overhauled verification system. Now, to get a Twitter blue badge next to your name, your account must be authentic, notable, active, and of public interest.
Twitter rolled out new verification criteria wherein to qualify for a twitter verified symbol, your account need to fall into the following categories:
Government
Companies, brands, and organizations
News organizations and journalists
Entertainment
Sports and gaming
Activists, organizers, and other influential individuals
Apart from the category-specific eligibility criteria, your account must have all the necessary information, such as a profile image, email address, or phone number, to prove its authenticity. 
Another thing that makes a difference in getting the verification badge is how active your account is. Your account must be active within the last six months.
So, If you feel like you cut the eligibility criteria, then let's move on to the step-by-step process of verifying your Twitter account.
How to Apply for Twitter Verification: Step-by-Step Process
The Twitter verification process is quite easy. You can request verification from your desktop as well as your mobile phone application. We will look at the desktop process as the one with the mobile application is precisely the same.
Step 1: Log in to your Twitter account and click on the "Settings and privacy" option from the left-hand side menu and then head to the "Account information."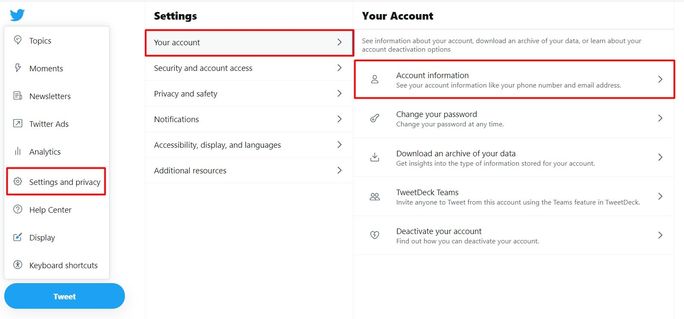 Step 2: Here, you can see if your account is verified or not and also request verification.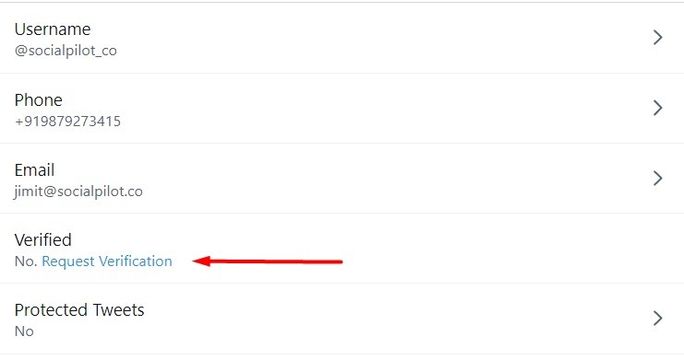 Step 3: Once you click on the "Request verification," a new window will appear from where you can begin the verification request process.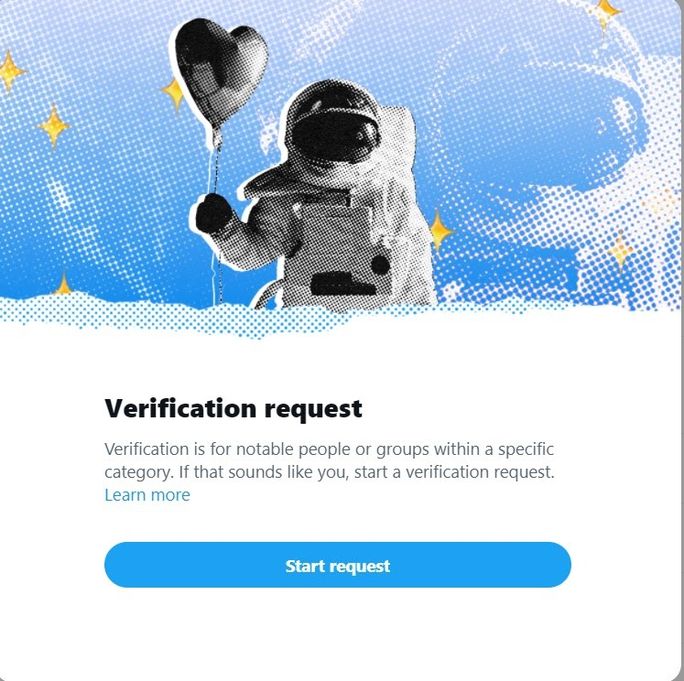 Step 4: Choose which type of account you are from the list of categories. Right now, only the following categories are available to apply, but Twitter is planning to introduce more categories, such as scientists, academics, and religious leaders.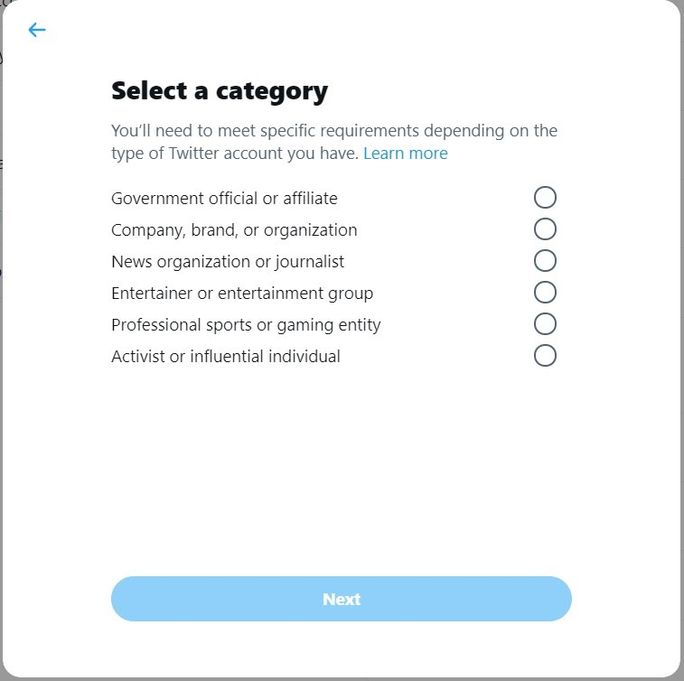 Step 5: Next, you will have to choose between a few methods to show that your account qualifies for verification based on your selected category.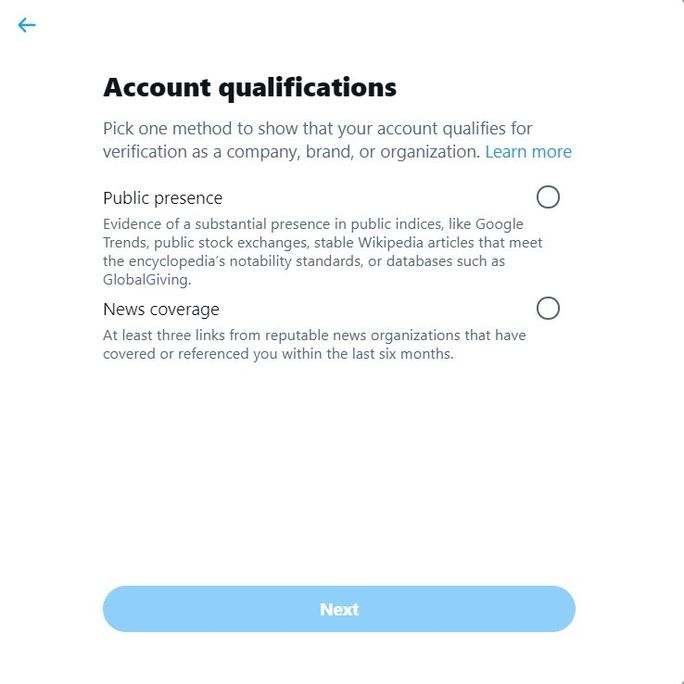 For every category, the qualification criteria are different. For example, to verify that you belong to the "Professional sports or gaming entity," you need to give evidence of an official website of a professional sports or esports organization that references you as a league, team, player, or coach.
Step 6: Now is the time to link to the evidence of the method you have selected in the previous step. 
However, if you have chosen the "News coverage" method, you will have to provide links to at least three links from reputable news organizations that have covered or referenced you within the last six months.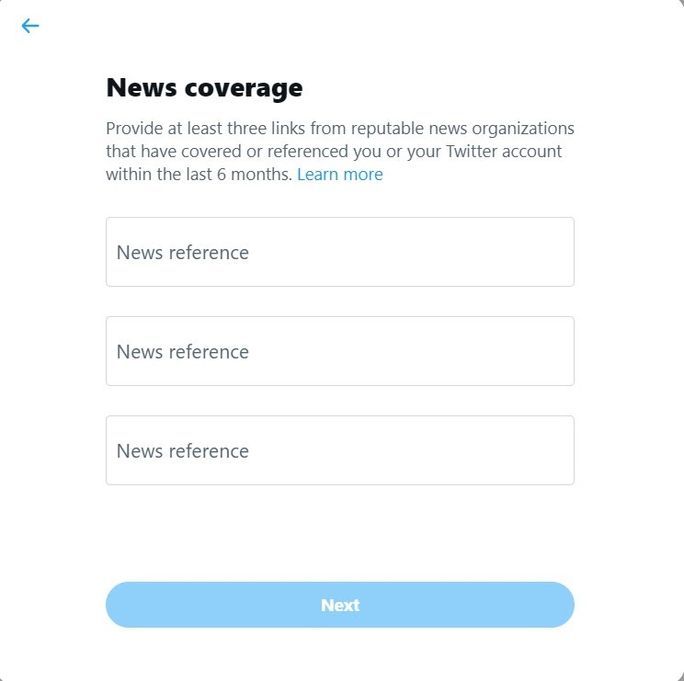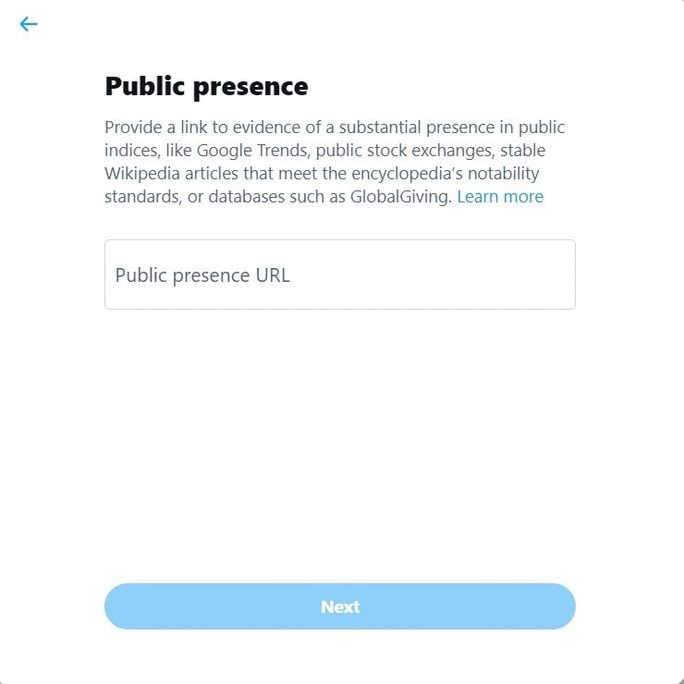 Step 7: Finally, you will have to provide an identity verification document to Twitter so they can verify it's really you and not an impersonator.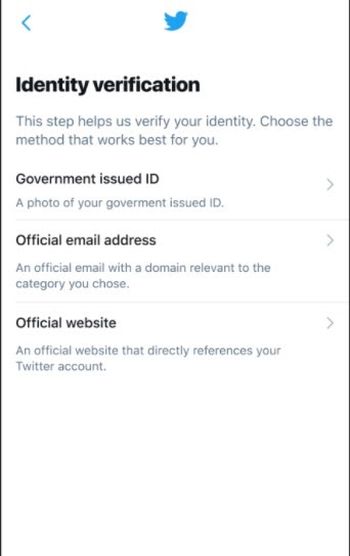 And it's Done! 
Once you submit your request, folks at Twitter will manually look into your account and check if you adhere to all the eligibility criteria and verification rules. The approval process takes a few days to weeks, depending upon the applications already in the queue.
If you don't get the verification badge at first, then you can re-apply again in 30 days.
Pro Tips: How to Increase Your Chances of Twitter Verification
1. Be Active on Twitter
Don't keep your Twitter account dormant.
One of the eligibility criteria in Twitter username rules says that your account must be active within the six months of applying, or you are not eligible for the badge.
Having an active account to qualify for the Twitter badge helps your end goal of building an audience as well as engaging them with your business. 
If consistent posting is an uphill task for you, use a social media scheduling tool like SocialPilot to post on dates and times of your choice automatically.
2. Include Links to Verified Accounts in Your Bio
Adding mentions of other verified Twitter accounts in bio elevates your credibility in the eyes of people dropping on your profile. Similarly, it works as a plus point when requesting Twitter verification.
You can add the handle of your startup, current or ex-company, or any organizations for which you have worked.  It sends out a clear picture of your work and the community you are connected with.
Look how Janet Machuka clearly mentioned her accomplishment as well as the other verified organizations on which she has been featured.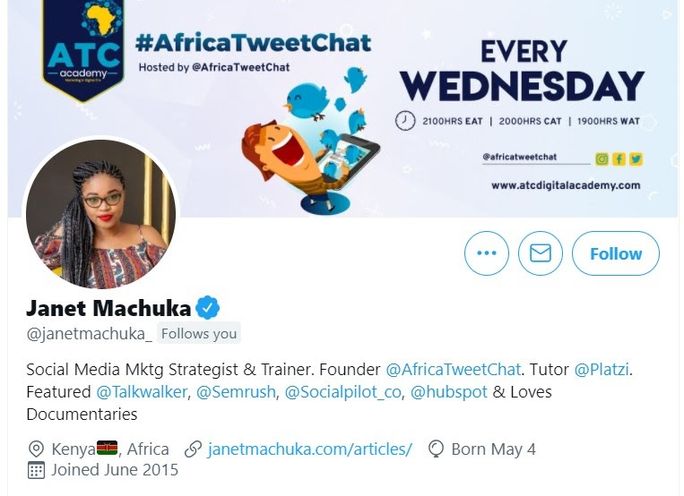 3. Highlight Your Authenticity
Let your bio work as a conversation opener. Write a clear and concise bio that specifically tells what product/service your company provides and how it helps your audience.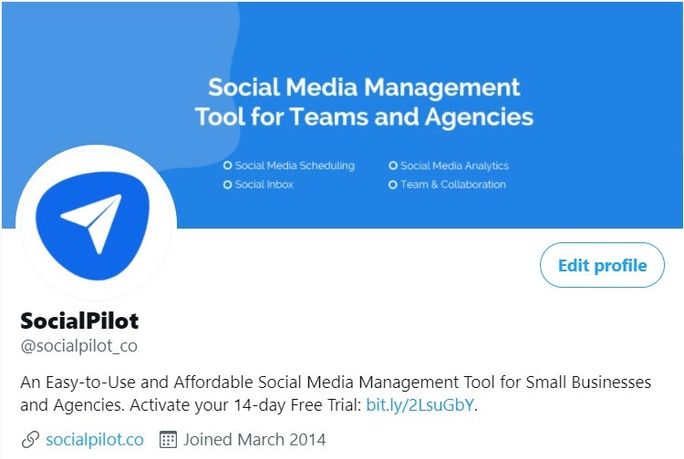 Whereas an individual must describe their job title as long as possible. For example, if you write, then instead of putting "writer" in your bio, say you are a "Content writer @ company" name or "Featured @company."
Look how Michael Brenner condensed the multiple roles he has played over time into his bio.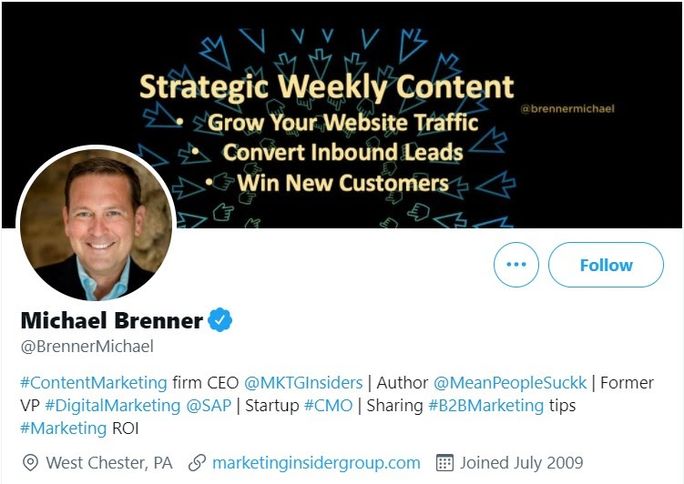 4. Highlight Your Achievements
What are you most proud of in your professional life? Think about it. It should be something that solidifies the credibility of your Twitter profile more. 
Once you do, share your significant accomplishments, such as awards, noteworthy articles, books, events. You can either write them in your bio or make things more impactful by showcasing them on the cover image.
See how Neil Patel has condensed all his significant accomplishments into his Twitter bio.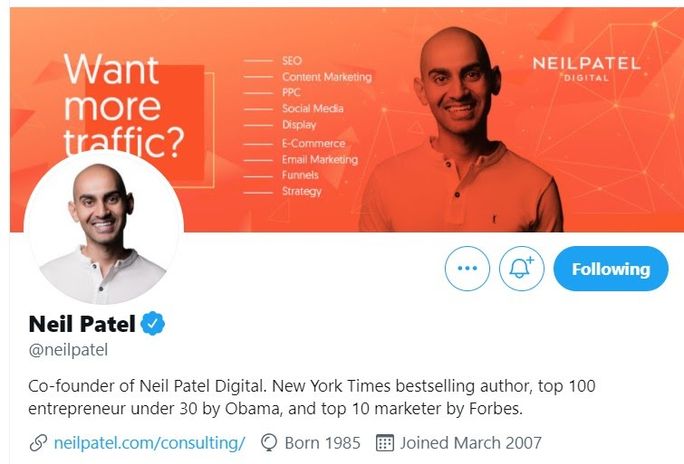 5. Position Your Account for Public Interest
Being a profile of public interest boils down to creating a space where people can learn, share, and engage. This also grows your followers and engagement, which is crucial enough in getting you the verification badge. 
You can use interactive content to engage with your followers and deploy cross-promotion campaigns with other verified accounts to solidify your credibility.
6. Ensure Your Tweets Are Public
On Twitter, you have the option to hide your tweets from the accounts that don't follow you.
But having a private account can badly impact your engagement and follower growth on the platform. Also, you won't be considered an account of public interest that should get a Twitter blue badge.
So make sure that your tweets are available to see for all the users coming to your profile. If not already, you can turn your tweets public from the "Setting and privacy" section. 
3 Best Practices to Stay Verified on Twitter
Beware! Twitter can remove the blue badge from your account without giving you any prior notice if you are not following its rules and regulations.
Here are a few pointers to know if you want to keep flaunting that precious blue badge on your profile:
Don't change your username: Twitter may take back your blue badge if you change your username. So make sure you don't change your Twitter username for unnecessary reasons.
Don't impersonate: If your account is misleading people by posing as another brand or person by changing the display name or bio, then Twitter can not only take your badge but also suspend your account.
Don't lose your civility: Remember, you are the page of public interest. So don't make content that is offensive, hateful, gruesome, or glorify violence unless you want your badge taken and account suspended.
Getting a Twitter verified badge is already a challenging feat, and losing it over misconduct on Twitter is something you wouldn't want. So maintain your Twitter profile in the public interest.
Conclusion
A verified Twitter account is a holy grail for marketers and individuals. Not everyone gets it, and that is what makes it so unique. 
So even if you don't get it on the first go, remember to keep growing your brand on different channels. Eventually, your brand will get enough credibility to be considered as a verified Twitter account.
Once again, here are the steps needed to get your Twitter account verified: 
Log in to your Twitter account and click on the Settings and Privacy
Click on Request verification
Choose your account category
Choose methods to show that your account qualifies for verification
Provide an identity verification document

Good luck! 
Also, remember to build your Twitter presence effectively while saving time for other tasks with SocialPilot. A single dashboard solution to schedule and publish posts, maintain a content calendar, and generate content automatically. Experience it today – Start your Free trial!