Social media contest, if used correctly can help to grow your followers, engagement, and yes, even grow sales! It isn't just for fun and games anymore.
Don't believe me?
BHU Foods received a 35% increase in online sales by adding social media contests to their marketing strategy. Another brand Hydroflask started on Instagram with as little as 300 followers, now they've grown into a massive 500,000. Their main strategy?
You guessed it right, social media contests!
If you want to get the most out of a contest, there's a bit of a "je ne sais quoi" and a not so secret formula to get you more returns than an increase in followers.
Here, let's see the six best ways to use social media contests for your business.
1. Promote Your Best Selling Product
Do you have a product that's a fan favorite or constantly in high demand? Use social media contest to build product popularity.
For example, this brand's best-seller is the Ringly Luxe Smart Bracelet. It is the perfect balance of jewelry and technology. It helps users track fitness activities and meditation and much more. So it came as no surprise when there giveaway was an online success. Followers saw the chance to win their favorite product for free and jumped on the offer.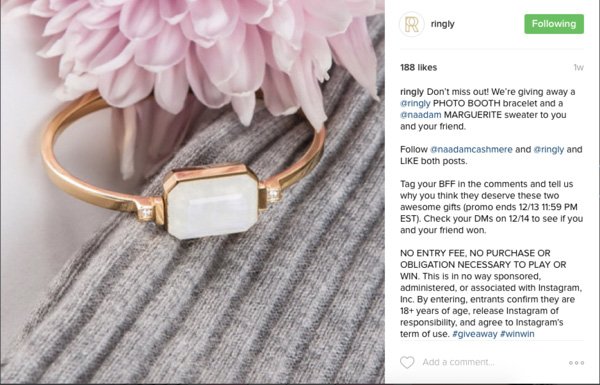 You can also take things a step further and highlight the added benefits of your product in your contest caption. Treat social media contest like mini ads for your products, as they get so much engagement. So that contestants can see why you're buyers first choice and why your prize is worthwhile . You're bound to see engagement, contest entries and even sales increase
2. Get User-Generated Content
They say a picture is worth a thousand words, so is user-generated content (UGC). User Generated Content is 10 times more effective at building trust than brand's self-promoting efforts. It is probably why 85% of consumers find user generated content more influential than a brand photos or videos.
It helps followers envision themselves enjoying a product even before purchasing it. Because User Generated Content is trusted much more than traditional advertising, you can incorporate it into your social media contest and strategy.
Backcountry, an e-commerce company that sells outdoor gear and accessories, hosts an annual contest. They ask contestants to share images of their best #GoatWorthy places and moments.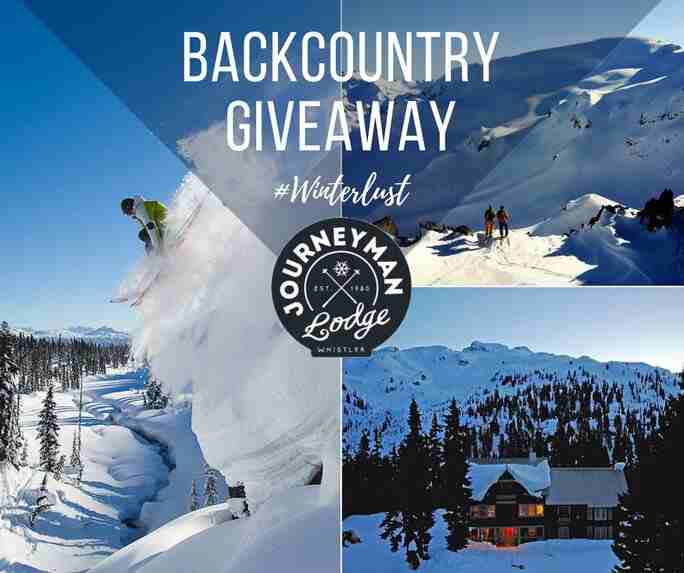 The winner would get a 2-night stay in one of seven Under Canvas sites and $500 in travel essentials from Backcountry. With a prize that big, the contest went viral and on Instagram alone #GoatWorthy got over 715,722 posts.
Pro Tip: Ask contestants to share user-generated content with branded hashtags. This way you can track your entries easily. Take it a step further and show off the UGC on your website and landing pages as well.
3. Increase Sales With A Buy-to-Enter Social Media Contest Entry
Host a giveaway that gives back to you. Ask your followers to make a purchase to enter the social media contest.
It is a win-win method for your business. It drives more traffic and sales to your website as well as brick and mortar store, along with attracting contestants.
That's what 7-Eleven did when they hosted their Mystery Slurpee Contest on Instagram. Contestants had to:
Follow 7-Eleven's Slurpee Instagram account.
Post a photo, video, or GIF with their best guess of the three flavors in the "Mystery Slurpee."
Of course, to submit your entry, you had to buy a Slurpee first.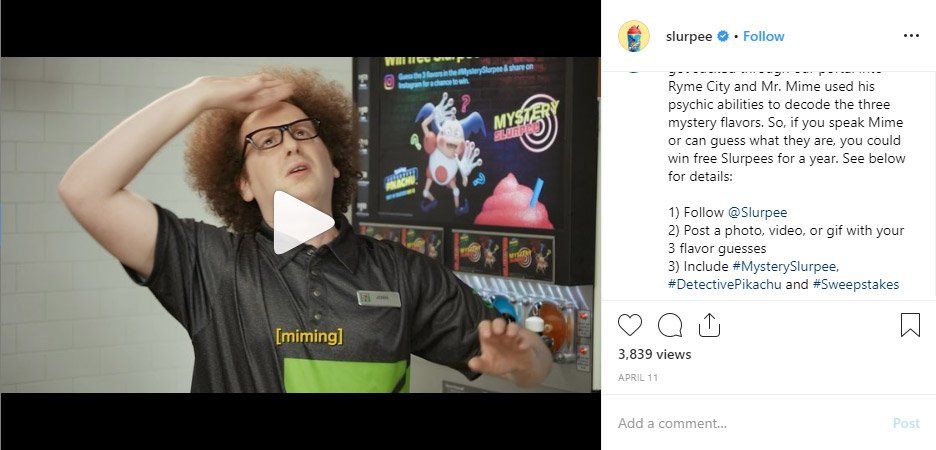 Pro Tip: Try to simplify your social media contest entry method. Set a shopping limit that's low enough, not everyone is willing to spend $50 or $100 to enter a contest. The easier the entry method and lower the limit, higher are the chances of your social media contest becoming a success.
4. Get Reviews & Testimonials From Your Social Media Contest
Social media reviews are just as important as UGC. They both add to your brand's credibility and help to sway new customers your way.
BrightLocal's annual consumer review survey found that 86% of consumers read reviews for local businesses, especially restaurants and hotels. Their survey also revealed that consumers tend to read an average of 10 online reviews before they can trust a business.
Getting product feedback through social media contests is an excellent way of engaging with your audience. And, showing off your fan base to whoever happens to scroll by.
Kopari Beauty hosted a giveaway on reaching 100k follower mark. They asked followers to comment their favorite products and to tag a friend. When the giveaway was over, they noticed that most contestants tagged their famous Kopari Coconut Body Milk and Coconut Crush Scrub. They decided to push the two as a product bundle called Bodycare Dream Team.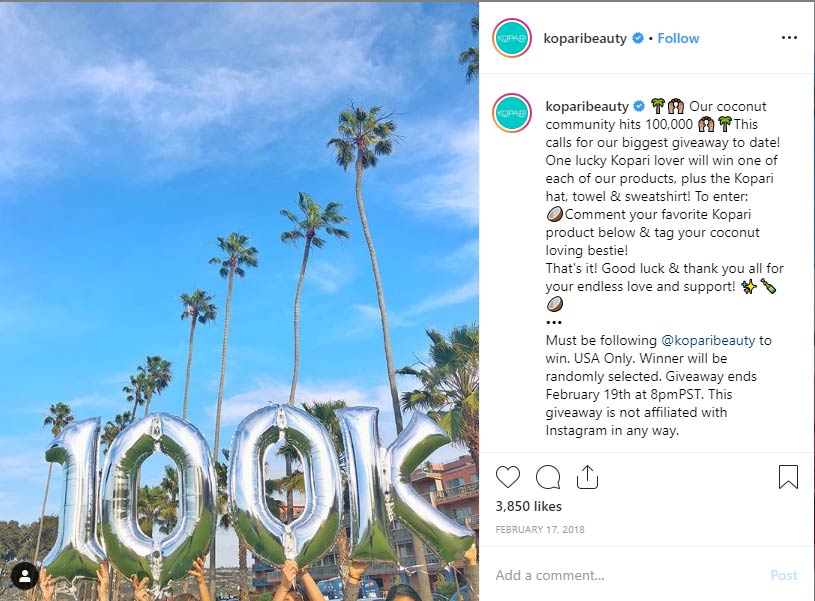 Pro Tip: Give your social media followers a chance to get their favorite product for free. It will help attract more participants and will spread the word about your content, . For example, you can giveaway a gift certificate so that the winners can choose whatever product they want.
5. Find Influencers With Your Social Media Contest
If you're looking for a way to draw attention to your brand, host a giveaway with an influencer.
Social media Influencers come with an audience from all over social media, ready to engage with your brand. So, it should come as no surprise when influencer marketing made it to top three most popular marketing strategy for past three years.
No.7 USA, a skincare brand, decided to partner with more than 20 influencers like Insta-mom Chi-Lan Lieu, for a new product giveaway. The key to their success ? They used Influencers with a large following who regularly used their products. So, that their followers get an honest review.
Pro Tip: Don't select influencers based on follower count. That's where most brands fail to see good returns. Choose an influencer who matches your target audience so customers can connect better with your brand. Remember one influencer doesn't fit all brands. Need help with influencer marketing? Check out this Ultimate Guide to Social Media Influencers
6. Use Contest Hashtags To Promote Your Brand Awareness
Hashtags help online users to easily discover content without the hassle of searching endlessly. If you created a hashtag and you'd like to make it more discoverable, you'll need to increase engagement with it. This means getting people to retweet, use them in the post and click on your hashtag when on social media.
Charmin took a creative approach to their tissue rolls and created an annual Charmin TP Wedding Dress Contest using the hashtag #TPDress which became a trending hashtag on Twitter.
Creating a branded hashtag can be pretty straightforward. It shouldn't be too long or complicated that people might misspell it. Remember a hashtag doesn't always get popular overnight, just be consistent, use it in the right context and have fun with it.
Here are some Do's and Don'ts of #Hashtags on Instagram you wouldn't want to miss.
Summary
Social media contests can be beneficial to your brand in more than one way. The key is to have a goal in mind before creating your contest. Go beyond "increase in followers" and see how you can build your brand awareness and sales along the way.
As a quick recap, here are six ways you can use social contests to promote your business today:
Promote Your Best Selling Product
Get User-Generated Content
Increase Sales With A Buy-to-Enter Contest Entry
Get Reviews & Testimonials From Your Social Media Contest
Find Influencers With Your Social Media Contest
Use Contest Hashtags To Promote Your Brand Awareness