During the times of social media heyday, LinkedIn emerged as a platform for professional communication. It was primarily dedicated to connecting with colleagues, business partners, and others from the professional community.
Initially, LinkedIn had a limited set of functions, though it was sufficient for granting efficient communication on this platform. However, LinkedIn then implemented features typical for other social media platforms.
Native LinkedIn videos are one feature that appeared several years ago on the platform and changed the user interaction experience within this professional communication network.
Implementing this feature prompted companies to develop their microblogs. As a result, 85% of LinkedIn users preferred watching a video to reading text.
Given the popularity of LinkedIn videos, almost 86% of companies stated that they used it in their marketing strategies. It appeared to be effective for business communication over this social network.
This article presents information on how to create and upload videos on LinkedIn. Also, it explains why those videos must be used and how to analyze statistics on their performance.
What Are Native LinkedIn Videos?
In brief, native LinkedIn videos are video content you upload directly to the platform from your device. Such videos are called native because they are hosted exactly on LinkedIn storage once uploaded. Non-native videos are those links provided on the posts you submit on LinkedIn.
It is also necessary to differentiate between the video types on LinkedIn.
A typical native video lasts several minutes but cannot exceed 10 minutes or be less than three seconds. The topics of native videos range from company news and announcements to educational or entertaining content.
Note that the videos you upload on LinkedIn could be the same as those you post on other social media channels. This phenomenon is called content syndication.
Another type of native video that has gained popularity on LinkedIn is an advertisement video. It is uploaded via LinkedIn Sponsored Campaign Manager as part of your promotional strategy on LinkedIn. Such videos appear as promoted content for users on LinkedIn to attract attention to your brand.
Both long native videos and short advertisement ones must correspond to the identified standards.
Below are the technical specifications the videos should meet to be published on LinkedIn.
LinkedIn Native Video Characteristics
File size from 75KB to 5 GB
Resolution from 256×44 to 4096×2304
Acceptable video formats: .mp4 or .mov
Unsupported file formats: Raw Video, VP6, ProRes, MPEG-2, WMVlas
LinkedIn Video Ad Characteristics
File size from 75KB to 200 GB
Quality of video file: 360p, 480p, 720p, 1080p
Acceptable video format: mp4
Supported file formats: AAC and MPEG4
How to Post Native LinkedIn Videos?
If you actively use LinkedIn for posts as a part of your marketing strategy, consider using videos along with the articles. It is proved that blogs with video content attain 157% more traffic than those with only text.
Posting a video from your personal or business accounts is similar to submitting an image or text article on LinkedIn. Depending on your device, posting native videos on LinkedIn may vary.
Using a Computer
Log into your LinkedIn account
Click Home to go to the news feed section. Then click on the dedicated field to create a post. The following window opens:

Tune up the privacy settings to define who will see that video
Click on the Video icon at the bottom of the window
Select the video you want to upload from your computer
Write a caption for the uploaded video or add other information in the text field if needed
Click Post to publish your video
Using a Smartphone or Tablet
Open LinkedIn on your phone
Click on Post at the bottom

Tune up the privacy settings to define who will see the video

If you want to add video from your smartphone, click Add a photo and select video material on your device. If you want to create a new video with your phone camera, click Take a video.
Write a caption for the uploaded video or add other information in the text field if needed
Click Post to publish your video
Once you publish the video, you will be able to monitor the activity related to it constantly. You can view the video's likes, views, shares, and comments.
The statistical data will depict the professional titles of users who watched the video and show which countries they are from. LinkedIn also tells you which businesses and companies have viewed your video.
Unique Ways to Enhance Your LinkedIn Video Content Creation
As mentioned above, the main factor that prompts businesses to create more video content is that videos are perceived better than text by users.
There is also a range of other factors that stimulate businesses to create video content. These include:
Ads
Creating videos may come in handy when you want to launch a powerful advertising campaign. Given that viewers watch a video ad up to the end in 70% of cases, creating one might appear very effective for your business.
A promotional video could be dedicated to an already existing product or be made to present a new product.
Below is an example of how Ducati presented their new model of moto bikes.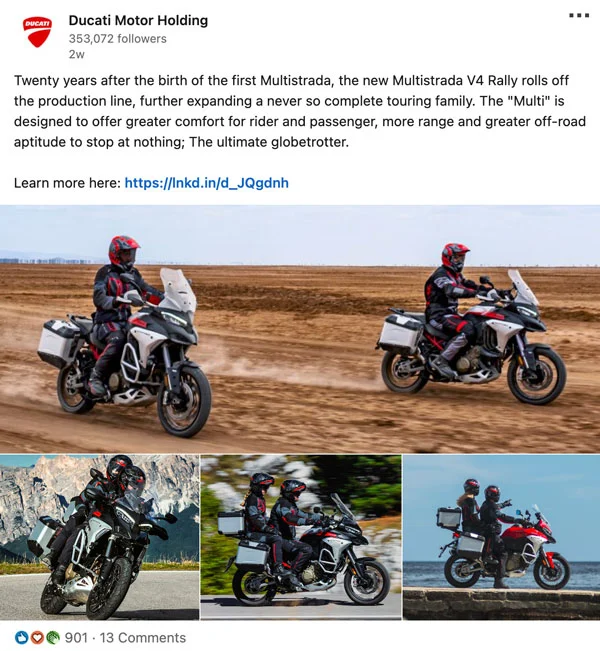 Company News
Making a video about the updates in your company is highly effective for strengthening your brand recognition. Telling your users and business partners about your company's progress would certainly build stronger relationships.
There are several ways you can present a video with the company news.
That could be a short video presentation with the report and results of your recent activity. Otherwise, an employee could tell about your progress in an interview.
Below is Barilla group's short news video presented as a set of statistics and facts about their work during the recent year.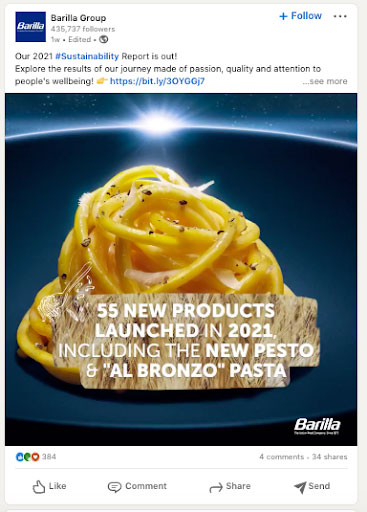 Employee Stories
The spirit of getting closer to your customers and stakeholders comes when you tell more about the 'behind the scenes' part of your business.
Employees' stories depict internal processes within a certain work team. Creating videos that make one plunge into the 'behind the scenes' atmosphere brings the customers closer to the brand.
One of the options to tell more about your company is to present the real stories of your employees. Those could be videos several minutes long where employees share their experiences in the company.
British Airways is a great example of employees' stories in videos. The company regularly provides LinkedIn videos glorifying its employees and their input for its success. Such videos emphasize the importance of every worker, creating value.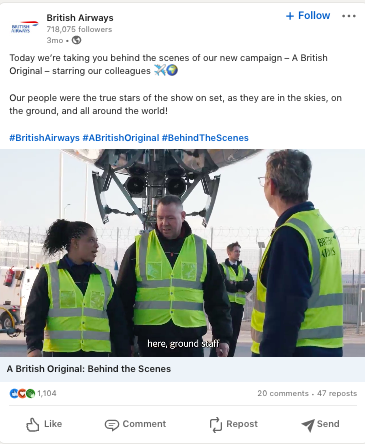 Educational Content
Learning something new is always exciting as one learns another facet of this world.
As each business usually specializes in certain products and services, you can also present information about the industry to your stakeholders.
That way, they will better understand how the operations are done and would be interested in buying your products or investing in them.
Educational content on LinkedIn must be made in the form of videos. There are many text materials, which is why people come to social media to find clear and colorful explanations of difficult things in simple words.
Thus, you can prepare a series of videos explaining complex things using real-world examples of your business.
Below is an excellent post of educational content. SocialPilot regularly releases informational podcasts for its followers. The one mentioned below promotes Dain Walker's podcast on social media branding.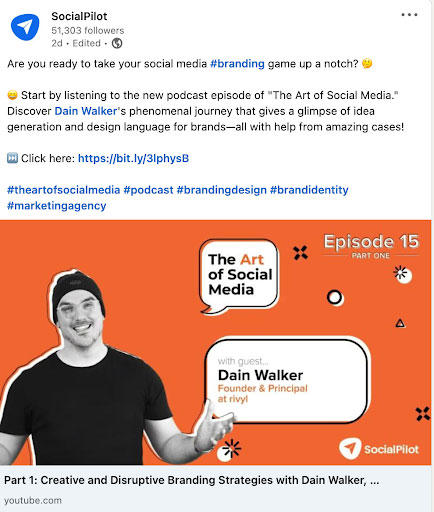 Entertaining Content
While LinkedIn is a serious social media platform mostly dedicated to professional communication, some entertaining content is welcome.
It does not mean that videos should be funny or humorous, but it means that entertaining content should be relaxing and exciting.
For instance, Ferrari created a series of videos about the processes in the factory. This helps users learn about Ferrari production and encourages them to visit the Ferrari museum.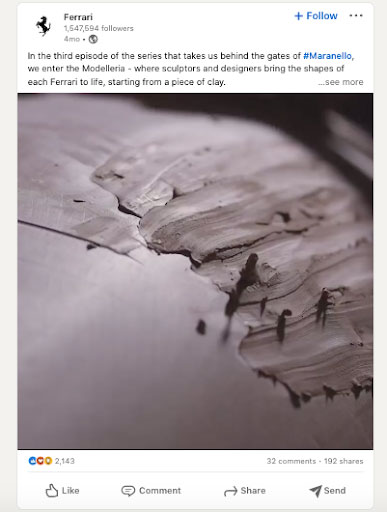 Announcements of Job Placements
Attracting new talents and reinforcing the company's intangible value is very important for any business. Thus, some businesses benefit from LinkedIn native videos by posting job announcements.
For instance, Tesla regularly creates videos showing its facilities in different cities encouraging talents to join the company.
Making video announcements within the corporate LinkedIn account helped Tesla gain an advantage in the hiring process. The company has recruited talented engineers to develop cutting-edge technology and bear all its competitors.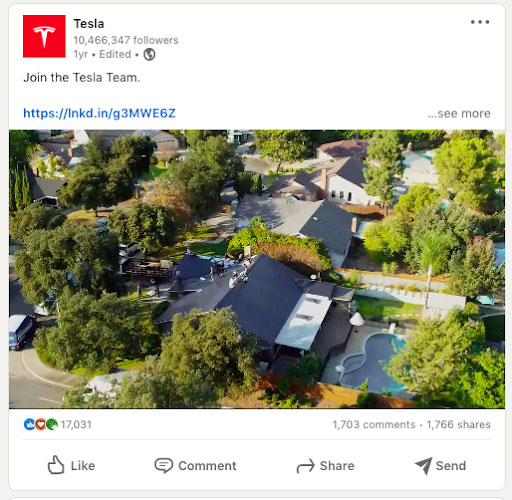 How Can SocialPilot Benefit You?
For making the video publication and analysis of its performance more convenient, SocialPilot comes in handy.
It is suitable not only for LinkedIn social networks but also for Facebook, Instagram, Twitter, and other worldwide-known social media platforms.
SocialPilot facilitates the publication of videos and other posts on LinkedIn by offering a scheduling calendar for clarity. It also makes analyzing each post easier by presenting all the necessary information on its performance. It also automatically analyses and compares posts to let you know which type of content your target audience prefers and which needs to get more reactions.
As an absolute beginner, you can consider taking up small freelance projects through Upwork or Fiverr.
Conclusion
Using video content on LinkedIn is no longer an option – it is a must.
Numerous investigations prove that video content is perceived better than simple text, even with images. That is why more and more companies tend to upload videos for any occasion.
Native LinkedIn videos perform well for making company announcements or providing entertaining materials to the audience.