The marketing funnel hasn't changed for decades even after new marketing strategies surfacing every now and then.
The marketing funnel you know today is surprisingly more practical for social media as you can analyze how it performs in real-time.
Before diving into it, let's take a quick look at the meaning of marketing funnel.
What is a Marketing Funnel?
The marketing funnel is a concept used to describe how potential customers go through different phases when interacting with your brand. Understanding these phases empowers you to help prospects down the funnel and convert them into customers.
St. Elmo Lewis first found this concept in 1988, where he developed a model that explained customers' journey.
The idea is referred to as the AIDA model that stands for Awareness, Interest, Desire, and Action. Many still agree that the AIDA concept works for every business when running a marketing campaign.
The AIDA Concept
Many marketers have used this concept for decades as it precisely describes the customer's journey entering the marketing funnel. The concept can also be referred to as a communication path rather than a simple customer-turning model.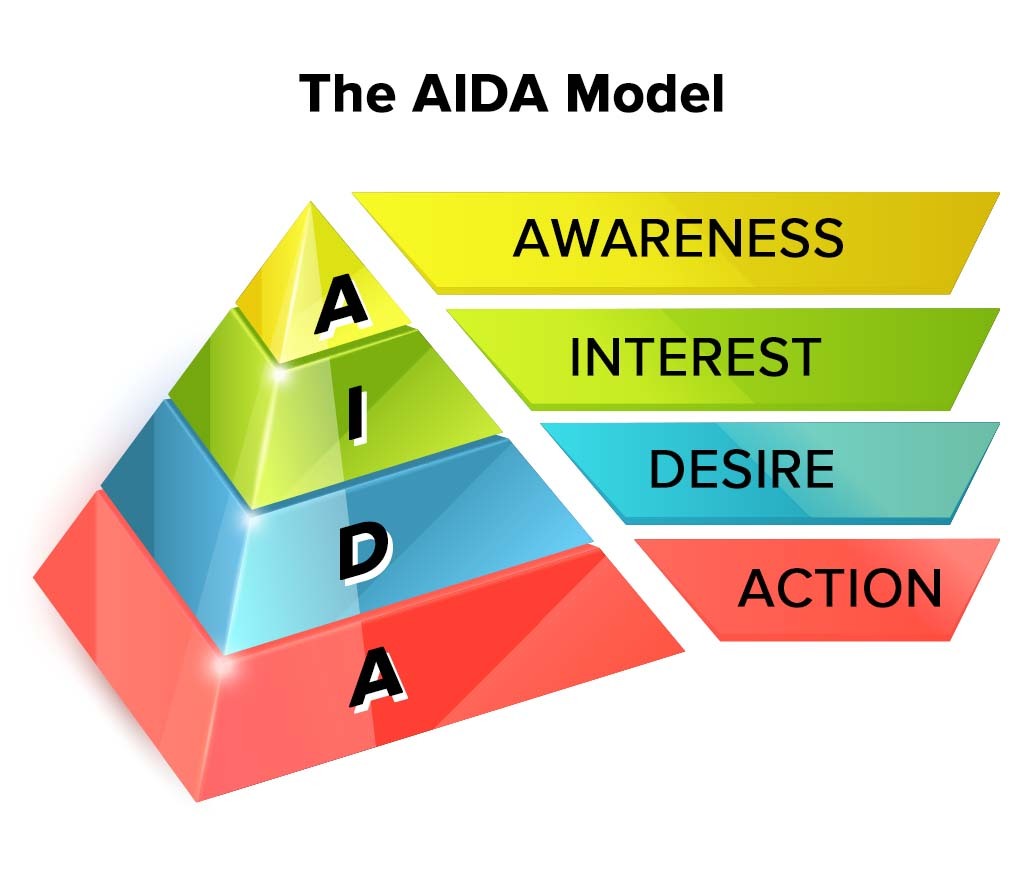 This is how the AIDA concept looks
Awareness: at this stage, you'll create brand awareness for people who encounter your marketing campaign for the first time.
Interest: this phase aims to capture the audience's attention in order to generate their interest in your brand.
Desire: at this phase, you'll showcase a particular connection with your target audience to encourage their desire to become your customers.
Action: this stage aims for a full conversion by encouraging your audience to take action immediately. At this path, you'll need a call-to-action (CTA) to help your prospects move forward to becoming customers.
It is easy to follow and implement the AIDA concept in your marketing campaigns. This sales funnel helps you narrow down prospects by introducing your business through step-by-step marketing promotional content.
You can't push the new audience into buying your product when they barely know your brand. In other words, it's impossible to jump your marketing campaign into a desire or action phase if you skip the awareness stage.
The Modern Marketing Funnel
So, what does the new marketing funnel look like? Although it's been mentioned above that the AIDA concept is still the primary source for marketers in making campaigns, many have considered a concept that goes more thoroughly than the first model.
The AIDA concept suggests its end when customers purchase your products. However, a continuing marketing strategy shouldn't end at this point. In fact, your campaigns should never end.
You need to maintain your customers for as long as you run a business, which is the customer retention strategy.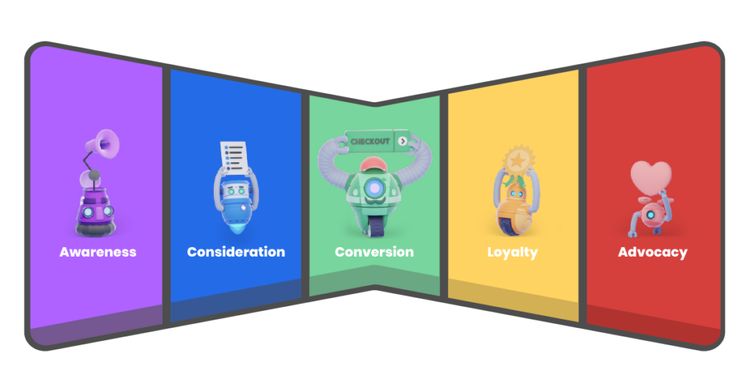 Thus, the new sales funnel is described as
Awareness: showcase your brand's value to capture your target audience's attention from the get go, use educational content to help people understand your business
Consideration: it's similar to the awareness stage, where an introduction is needed to help people consider using your product or service through promotional content (many marketers opt out of this stage)
Conversion: display your product's features and benefits to encourage your prospects to buy from your brand
Loyalty: retain your existing customers by offering the best customer service or making special offers
Advocacy: delight your customers to gain their trust and turn them into fans to share their experience with others
In short, the new sales funnel doesn't solely focus on converting new customers but also retaining them. Customer acquisition costs can be pretty high at times; you can't wholly depend on making new customers without keeping them in your business.
This sales funnel will help you convert as well as retain existing customers to reduce marketing costs from becoming too expensive.
5 Ways to Increase Sales at Every Stage of the Marketing Funnel
Now that you've understood the basic marketing funnel, you should know how to optimize each stage using the right strategy.
1. Deliver Your Brand's Message
The first stage of your marketing funnel is to let people be aware of your business. Next, you need to make content that perfectly describes your brand and conveys your messages in a meaningful way.
Remember that first impressions matter. So, make sure that your introduction campaign should never be too promotional. Let people know your business to get them an idea of what you do.
Get to know your audience. When you know who you want to target, you can then move forward to the next step: building awareness. There are many strategies you can use to expose your brand.
Organic search and social media are some of the common practices to help people discover your content easily.
Case study: Nike
Nike knows that when it comes to playing, everyone has their own game. That's why they created Play New—a video series designed to help you find and perfect your own personal game. From football to golf, tennis to running, there's something for everyone.
This video is trying to send a message whether you're a seasoned pro or just starting out, Nike will always be there for you.
2. Showcase Your Brand to Stand out in the Crowd
You should make content where people can quickly recognize you in the crowd. With so many businesses competing for the same audience, it can be hard for them to pick the best among the rest. One of many ways to make your brand noticeable is to create content that people can easily digest.
When people understand something, the chance to dislike it is less likely. Make sure that you simplify your products' features, benefits, and instructions to help your prospects understand better.
Sometimes, brands ignore the power of 'baby language' when it comes to delivering new information in a product description. They think that this language may deter them from becoming an exclusive brand. The truth is the opposite.
Case study: Nespresso
The Nespresso Citiz&Milk video shows its fresh, modern look in the advertising campaign. The high-definition video footage showcases the sleek design and functionality of this state-of-the-art machine as baristas prepare creamy cappuccinos and lattes with ease.
This is how brands should make a product video. The demonstration, the shoot, and everything about it look exquisite and informative. People would love to rewatch the ad for more product demos and tutorials.
3. Convert Your Leads with a Strategic Marketing Plan
Now that you know what to make to capture your audience's attention, it's time to promote it with a marketing plan.
An organic campaign, especially SEO, may take years to reach the SEO rank you want.
Unlike the organic campaign, paid campaigns can be obtained in a relatively short time. You just need to pay the advertising fee to reach the right audience.
Or use social media marketing campaigns by creating Instagram or Facebook ads. Likewise, you can make a Google ad account to help you get discovered quickly.
Make sure that you've also searched through potential keywords that people look for. Projecting a specific keyword with paid campaigns will make your discoverability much higher.
4. Build Customer Loyalty
When you've successfully secured your customers, the next step would be retaining them in your brand longer. Customer loyalty is one of the most important keys to sustaining your business.
Moreover, once people are tied to a specific brand, it's hard to get their interest over another brand. They often feel an emotional connection with brands.
You can offer reward programs, discounted prices, or priority services to your loyal customers.
Case study: Starbucks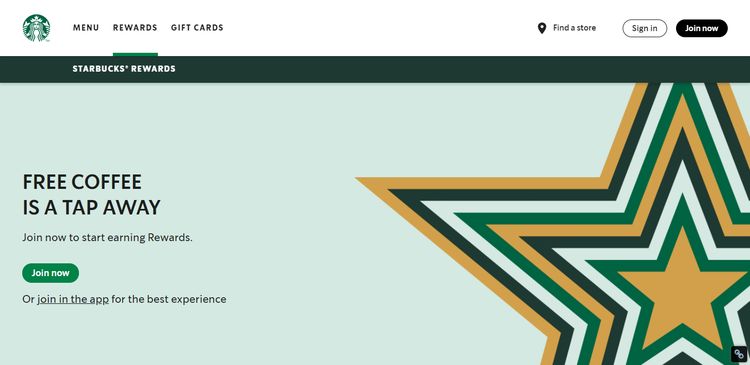 Starbucks has been using the customer loyalty program for years now. They use a reward card to collect points from each visit.
Reward cards mobilize customers because it creates a level of engagement and excitement about the product. Starbucks was way ahead of other companies when they set up rewards with a punch card in 2008.
The lesson here is that customer loyalty programs are more than just an incentive or reward for good behavior; they're also cost-effective marketing strategies. Customers who feel appreciated will keep coming back organically.
5. Collect New Leads from Existing Customers
Nothing beats the power of customers. When they are satisfied with your product or service, the happy vibes influence others.
People are more likely to buy from a specific brand after hearing or reading customer testimonials. Around 83% of new buyers agree that friends' recommendations are the biggest influence in their purchase decision, and about 76% of customers trust online testimonials as much as personal recommendations.
Provide the best customer service whenever people face a problem regarding your product. Once they are satisfied with your service, encourage them to leave a good review on a review platform or even their social media handles.
Case study: Slack
The "So Yeah, We Tried Slack" testimonial video is phenomenal. It looks so fun, and the whole story is exciting to learn. There are at least three points why Slack's video is relatable for those working remotely and out of the office.
Slack values remoteness like no other company out there. It also provides never-before-seen care for remote employees. Also, happy customers describing Slack is probably the greatest punch line in this testimonial video.
Knowing people are excited about trying a new product is always great. This social proof is enough to convince new customers to experience the same thing as it urges them to try out the product right away.
Bottom Line
An effective marketing strategy is needed for a robust marketing funnel. Whether it's the old AIDA concept or the new sales funnel, every stage counts.
There is no secret recipe in building leads. You just need to provide the right content and context to your targeted customers at the right stage of the sales funnel.
Undoubtedly, discovering brand content on social media is highly effective. It's your most powerful lead generation tool. But what you need to know about posting content is the quality and consistency.
The latter can be solved by using a social media marketing tool such as SocialPilot which helps you in auto scheduling and publishing of posts so that your brand gets all the attention it needs while you focus on other important tasks at hand.
Book a demo today to know how SocialPilot can help you.