As a social media manager, you're well aware of the significance of a streamlined approval workflow with your clients. After all, securing content approval guarantees that you can post consistently and on time on their social media channels.
Here's the twist, though.
Without client approval, your ability to excel in your role diminishes. It's a roadblock. However, when you do secure that approval, it ensures client satisfaction and paves the way for rewarding outcomes in the long run.
That's why having a dependable social media approval process is vital. It sets the foundation necessary to initiate this approval workflow.
In this blog, we will discuss how to establish a social media approval process that fosters collaboration between your team and clients.
But first, let's understand what a social media approval process truly entails.
What is a Social Media Approval Process?
The social media approval process is a systematic workflow encompassing a sequence of reviews and checks
Its primary goal? To ensure content is greenlit for posting on social media platforms after thorough vetting.
Proper approval processes ensure that the content aligns with the brand's guidelines, messaging, and objectives, while also upholding quality standards.
Acting as the backbone for successful social media teams, the social media approval process signifies that a post is ready for the public eye. It empowers social media managers to engage multiple team members and clients with diverse perspectives, product expertise, and audience insights.
In any social media marketing strategy, the inclusion of this approval process is non-negotiable. It's the safety net ensuring content meets the gold standards of quality, precision, and brand consistency before it goes live.
Who holds the final say?
The approval typically comes from the client in the case of a social media agency. Social media managers rely on this approval to press the 'publish' button.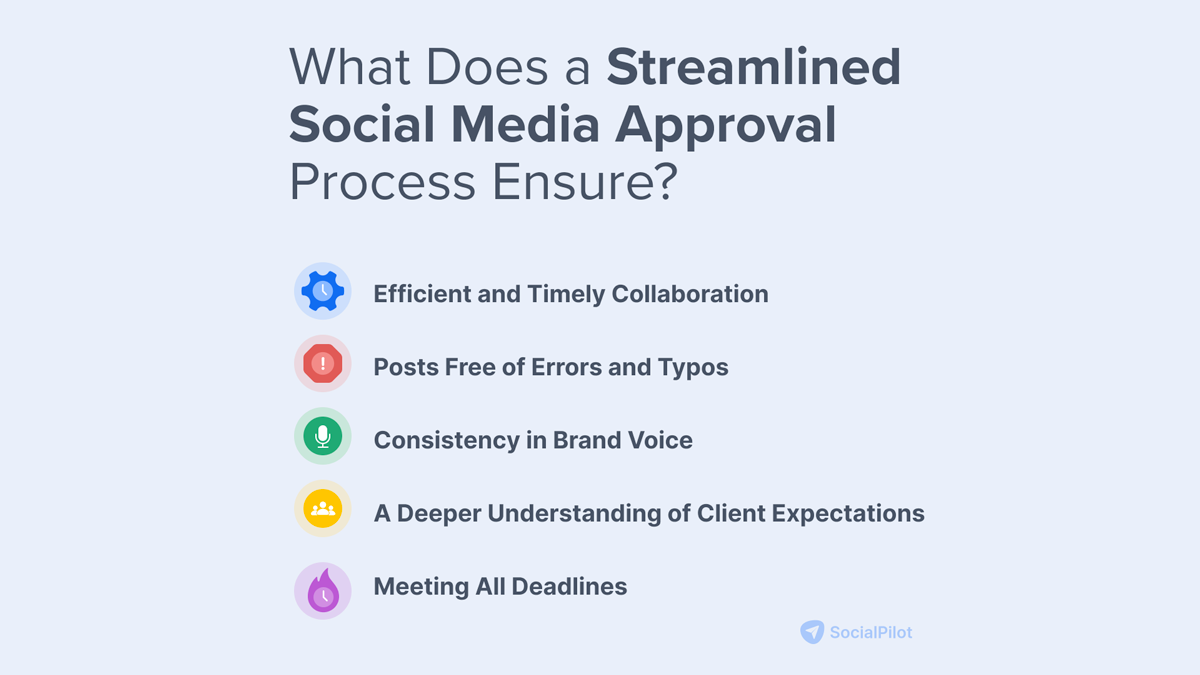 In theory, this might seem simple and straightforward. However, in practice, social media managers often receive content approvals long after a trend has fizzled out, rendering their efforts obsolete.
How do you sidestep, or better yet, completely eliminate such pitfalls? Meticulous planning and integrating a robust social media approval software is essential. These tools often come equipped with features that streamline the approval workflow, ensuring that every piece of content gets the scrutiny it deserves.
Yes, we will let you know of an amazing tool later in this article.
Since we're on the topic of social media approval workflow, you might be curious about how it actually works.
Let's gain a clear understanding of the entire approval process.
A Step-By-Step Guide to Crafting Foolproof Social Media Approval Process
Teamwork is essential for streamlining your workflow. By involving your clients in this workflow process, it becomes easier to generate content that resonates with all the stakeholders.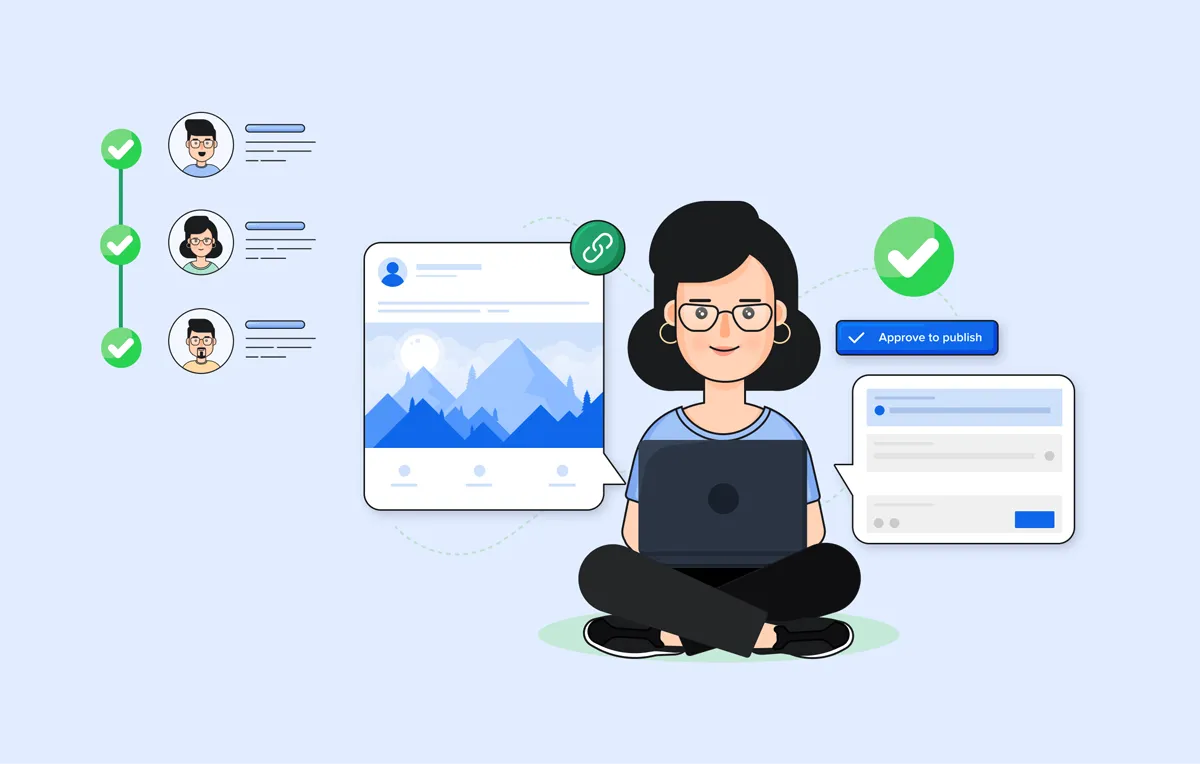 However, building an effective content approval system for social media involves strategic planning, clear role delineation among team members, and proactive stakeholder engagement.
This would take a lot of time and effort.
So, here is a step-by-step process of the social media approval process you can adopt:
Step 1: Redefine the Approval Workflow
Perhaps your existing approval process is lengthy, the outcomes are subpar, or campaigns are executed with unchecked errors. The foundation for a clear social media approval workflow is to redefine your current approval workflow from the ground up.
The specifics of the social media approval workflow can vary based on the brand's objectives and the type of social media content being produced.
Also, different types of social media content may require distinct workflows. For example, creating a promotional video for a product launch might involve a different approval process than managing customer support inquiries through social media channels.
While the social media brigade sets clear objectives for specific campaigns, many hands shape a single piece of content, occasionally blurring the initial vision. This is where the approver steps in, ensuring the content journey aligns with the campaign's core intent.
Also, flexibility is key.
Your social media approval workflow should be agile, adjusting easily to various situations. However, amidst these tweaks, two pillars should remain unshaken:
Team Alignment: Every team member must be in sync with the current social media approval workflow shared with clients.
Core Purpose: There should be a consistent and clear understanding of the workflow's existence and what it aims to achieve, irrespective of any modifications.
Redesigning the entire workflow will help structure the approval process without the risks of oversights.
Now that the ideation process is done and the designs are ready, it's time to progress to the subsequent workflow phase.
Step 2: Engage All Stakeholders and Define a Workflow
The creation of a single post or campaign typically involves multiple stages, each assigned to different team members. To guarantee content readiness within the stipulated time frame, it's crucial to segment tasks and establish clear deadlines for each contributor.
Clients may involve numerous approvers for a single piece of content. To enhance the efficiency of the overall social media content creation and publishing process, approvers must clearly understand their responsibilities.
Open and effective communication is the linchpin to supercharge the team's social media marketing endeavors and achieve successful results.
An effective strategy that works?
Draft a comprehensive approval guideline, spotlighting critical aspects like the review duration for each content segment and the preferred feedback channel. Share this guide among reviewers to ensure that approval requests are precise and consistent. This will foster team harmony and minimize potential delays or confusion in the approval process.
And what follows?
Naturally, it's the meticulous planning and execution of the decided workflow.
Step 3: Plan and Execute the Campaign Ideas
Creating a social media post goes beyond mere text and images; it's a blend of strategy and creativity. Here's a breakdown:
Writing Social Captions
Writing captions that resonate with your brand's identity is paramount – they provide context, evoke emotions, and drive engagement. However, producing impactful captions consistently can be challenging. This is where SocialPilot's AI Assistant can save you hours of racking your brain for the perfect caption and help you efficiently generate engaging and on-brand content.
Selecting Visual Content
Choosing the right photos and videos for a specific social media post requires careful thought. The right image or video can narrate a tale, evoke emotions, or even drive a call to action.
Why do they hold such power?
Because humans are visual creatures, we process visuals faster than text, and they often leave a lasting impression. While selecting visuals, ensure they align with your message to maximize impact on your audience.
Incorporating Links
Links serve as gateways, guiding your audience to relevant promotions, landing pages, or other resources.
But why are they so crucial?
Links are essential for driving engagement and conversions. A well-placed link can transform a curious browser into a potential customer. Ensuring that these links are seamlessly integrated into your post is part of the social media approval process.
For businesses with a substantial customer base, managing these dynamic aspects is the key to maintaining a strong online presence. To streamline the content creation process and ensure your posts are visually appealing and resonate with your audience, SocialPilot can be immensely helpful.
So, what's next after the post has been designed?
It is time to submit the posts for client approval
Step 4: Submit for Approval
Visualize your social media approval process as a relay race, where content seamlessly transitions from one team to another until it reaches the finish line – publication.
You've set the timelines, identified the approvers, and designed the post.
The next leap?
Submitting your posts for the client's final approval.
Ideally, your workflow should automatically transfer content from one person to the next. This approach ensures that everyone is well informed about the content's journey within the approval process. Plus, it prevents multiple individuals from making simultaneous changes to the content.
Efficiency is the end goal, trimming down time invested in each phase.
For agencies and clients, time is of the essence. Often, for agencies, the waiting period for client approvals can be agonizingly slow. On the other hand, clients might find the daily routine of logging into a platform for approving posts tedious.
The solution?
Social media management tools can effectively streamline the entire process. Social media approval software like SocialPilot, with its revamped approval workflow, caters to agency users, facilitating swifter feedback collection from clients (or other reviewers, if any).
What does SocialPilot's approval workflow process offer?
An easy, hassle-free content approval process
Eliminate the need to login for reviews
Empowering clients to conveniently review content on any device
So, the next step is to work on the edits if the posts come back with any changes from the client side. Once fine-tuned, the last step is to schedule them for publishing.

Step 5: Schedule Posts and Go Live
Timing is everything in the world of social media. The culmination of your approval workflow is about strategically scheduling your posts to maximize engagement and reach.
Just as you've meticulously mapped out a timeline for the approval process, it's equally important to adhere to a well-thought-out schedule for content publication and scheduling.
Why is this so pivotal?
Doing this benefits both your team and the brands you are promoting. It establishes a steady and predictable flow of content creation and publication for the audience. This way, they will know when to expect the content, creating a sense of anticipation and trust in the brand's messaging.
And there you have it – the blueprint to a seamless social media approval workflow. But you might ask, "Is that really necessary?"
Actually YES!
There are multiple benefits to creating a streamlined social media approval process. Let's get into it.
5 Benefits of Creating a Social Media Approval Process
For today's marketers, a structured social media approval process isn't just a luxury; it's a necessity. While initiating such a process demands an initial investment of time and effort, the results are absolutely worth it, especially in the long run.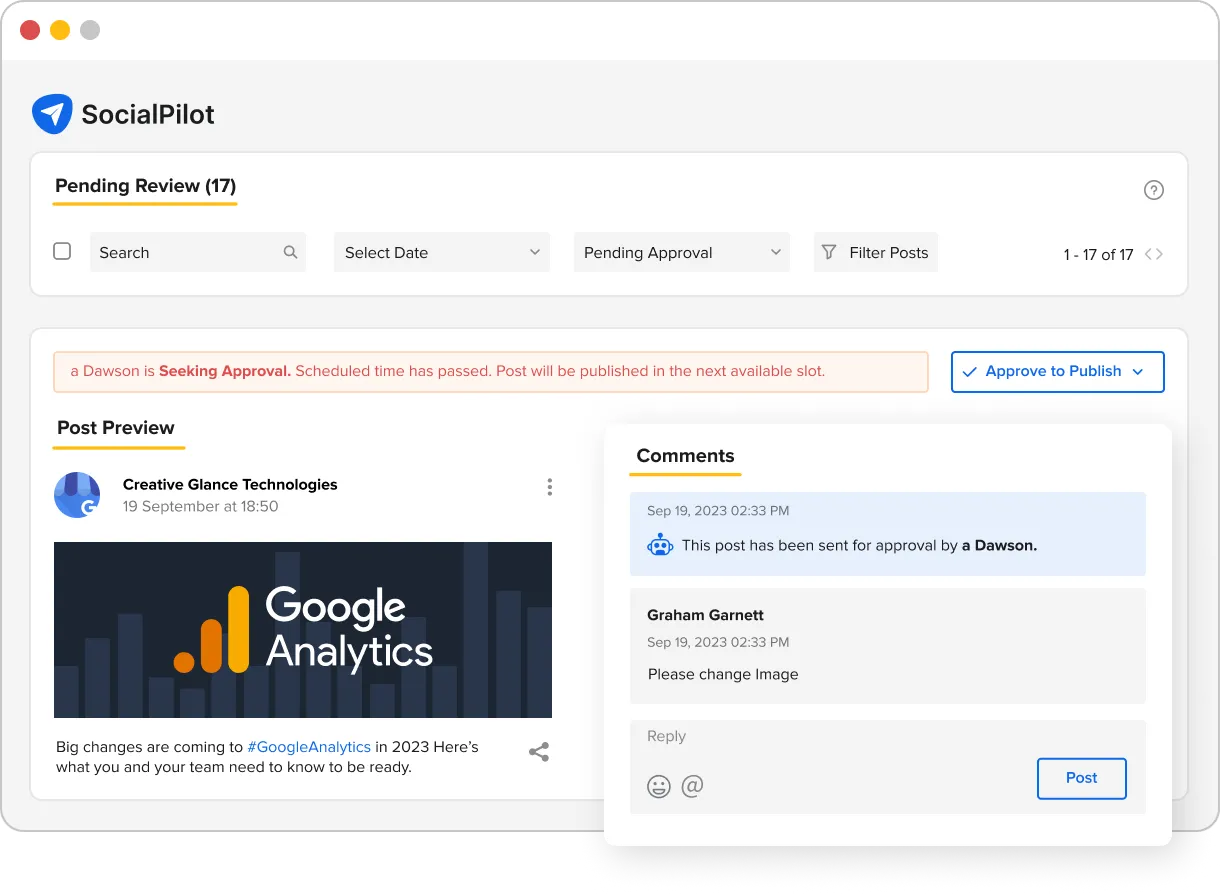 Here are some of the benefits of creating a social media approval process:
1. Minimizes Error Potential
Even minor errors can tarnish a brand's reputation and, ultimately, its credibility and financial health. When team members and clients can act as a second set of eyes for the content, the likelihood of avoidable mistakes is significantly reduced.
2. Enhances Client Collaboration
Involving your entire team, including multiple stakeholders, in a constant loop can become quite cumbersome. Streamlining reviews and approvals on a unified platform simplifies this. With this approach, roles and responsibilities are clearly defined at each stage of the process, making it easier for them to collaborate when specific needs arise.
3. Ensures Compliance and Risk Oversight
Social media platforms come with their unique set of regulations, including data privacy, advertising standards, and transparency in corporate communication. An approval process guarantees that all content on social media complies with these platform-specific rules, as well as company policies and governance guidelines.
4. Maintains Brand Uniformity
Even the most proficient editors can occasionally overlook a broken link or a missing comma. Following a structured social media approval workflow allows each team member to leverage their particular expertise, whether it's in their core skills or their familiarity with the brand's history and style.
5. Manages Timely Responses Effectively
A sporadic campaign can leave audiences second-guessing a brand's dedication. Consistency in delivering valuable content not only keeps the audience engaged but also enhances the brand's reputation and trustworthiness. Achieving this consistency can be challenging without a streamlined workflow.
These benefits merely scratch the surface of what a fine-tuned social media approval process can offer. And the linchpin to this optimization? The right social media approval software.
Enter SocialPilot.
One of the best social media management platforms that can speed up the approval process and help your posts shine.
Why is SocialPilot the Ultimate Social Media Approval Tool?
SocialPilot stands out as a user-friendly social media automation tool, meticulously crafted to empower professionals, teams, and businesses in managing their social media activities. From creating a post to scheduling it with required prior approval, the tool can be a blessing for social media managers.
Here is how it works:
Easy Onboarding of Team Members: Simplify the process of bringing new team members on board by inviting them through unique links and facilitating the quick setup of their SocialPilot accounts.
Assign Roles and Grant Permissions: Efficiently manage the collaborative efforts of your social media team by configuring various access levels, including Admin, Manager, and Content Scheduler.
Get Instant Notifications on Slack: Enhance communication and stay updated by integrating SocialPilot with your Slack workspace. Enjoy immediate alerts for pending actions, keeping you always in the loop.
Streamline the Workflow Process: Establish a streamlined workflow in which schedulers effortlessly create, edit, and schedule posts while awaiting approvals from managers or clients before publishing.
Collaborate Effectively with Clients: Ensure smooth and effective client communication with the Approvals-On-The-Go feature. Clients can simply click on a link received via email to review all pending posts from a single screen.
Speed Up Your Social Media Approval Process
One of the most essential skills for a social media manager is being well-organized. This is precisely why planning precedes publishing. For any social media agency, having a social media approval process in place is crucial.
Through a well-established social media approval workflow, your agency can function cohesively as a team, producing top-notch social content.
However, neglecting this critical step can have severe consequences. Failing to establish an effective social media workflow process runs the risk of disseminating inaccurate or off-brand information across the digital landscape.
Hence, establishing an effective social media content workflow process is of utmost importance.
If you have yet to embrace a social media approval tool, we highly recommend giving SocialPilot a try. This tool recognizes the significance of social media approval processes for agencies. That's precisely why they have included features like team collaboration and content approval workflows to assist in simplifying this process.