Are you looking to hire a social media manager for your agency?
Or researching what salary you need to pay to a social media manager for your up-and-coming business?
You've landed on the right page.
According to the latest social media statistics, 4.20 billion people use social media. Given the abundance of users and the ever-evolving nature of social media, social media managers are in great demand.
In this blog, we'll discuss some important questions about evaluating social media manager salary as you begin your recruitment process.
This will include determining the competitive salary for the role and its variation with qualifications, skills, time in the industry, company size, and location.
Armed with this information, you will be able to set a budget for the position and attract a candidate well-suited for the role.
To begin, let's discuss the responsibilities of a social media manager along with the qualities and skills they should possess.
What Does a Social Media Manager do?
Social media managers create as well as maintain brand promotions, marketing campaigns, and company presence across different social media platforms.
They also know the best social media metrics to focus on while calculating results. Additionally, their job also includes analyzing competitors, industry trends, and audiences of the product/brand/company.
The role is a fast-paced one and includes several tasks per day.
Below, we give you a detailed breakdown of the responsibilities of a social media manager to help you find the best candidate.
Key Responsibilities for the Role
The responsibilities of a social media manager can be divided into three categories:
Manage
Support
Collaborate
1. Manage
A social media manager has to manage different tasks on a daily basis. The most common ones are:
Strategy
Creating social media strategy for both long-haul and short-term promotional campaigns.
Manage deliverables corresponding to the social media strategy.
Content
Giving briefs for social, digital and studio content.
Creating reactive and proactive content.
Scheduling posts to ensure optimal content distribution.
Social Media Channels
Ensuring that the brand uses the right social media channels.
Managing a selection of social media platforms (For instance, Facebook, Twitter, Instagram, YouTube, and LinkedIn).
Social Media Communities on Different Channels
Engaging with the audience on each network.
Creating and maintaining adequate interaction opportunities with the audience on each of the social media platforms.
Team Members
Make sure the social media team produces high-quality, engaging content on a daily basis.
Campaigns
Managing weekly social content calendars.
Reporting
Analyzing and reporting a campaign's effectiveness.
Also analyzing and reporting the brand/company's social media performance on a monthly/weekly/quarterly basis.
Budget
Managing social media campaign schedules and budgets.
Alerting stakeholders and marketing leaders about any variances.
Forecasting, optimizing, and managing budgets by coordinating with the finance department.
2. Support
A Social Media Manager needs to support and help both the junior and senior members of the social media team.
3. Collaborate
Social media managers need to work with external and internal stakeholders:
Collaborate with internal stakeholders such as Product Managers, Customer Insight Experts, and designers to support the development and implementation of social campaigns.
Network by showing up to major social events to establish the company's brand presence.
Develop and maintain smooth working relationships with key social strategy partners(brands/channels/influencers, etc.).
For social media managers working in an agency, the tasks could also include supporting clients in different time zones, compiling routine reports, and carrying out client research in different industries.
They also would have to set and achieve social media KPIs (Key Performance Indicators) and lead client onboarding meetings. Regular performance updates and real-time client-relationship management could also fall into their kitty of tasks.
The Qualities to Look for
Apart from deciding the responsibilities of a social media manager, you must also consider the qualities you are looking for in the right candidate. These soft skills differentiate an efficient social media manager from an average one.
You may have to pay a higher salary for these skills, but you will definitely get an increased return on your investment.
A good and competent social media manager must:
Possess adaptability and willingness to experiment
Be creative enough to design and implement innovative campaigns
Pay great attention to detail
Have excellent communication skills and effective messaging qualities
Be passionate about the job
Be a critical thinker
Possess data-interpretation skills and optimize strategy based on various data models
Be able to lead the team to success
Be organized and can multi-task seamlessly
Which Skills to Look for
Now that we have the responsibilities and qualities sorted, it is also important to know the skills to look for in a social media manager. The right person should possess a majority of the below-mentioned skills:
Visual Design capabilities (videos and graphics)
Copywriting and copy-editing aptitude
Community Engagement Expertise (as they will be to required to interact with people on social media platforms)
Public Speaking
Behavioral Psychology (to understand user-mindset to boost social engagement)
Budgeting
Curiosity regarding new trends and technologies in the market
Business Savvy
Some other skills that make a great social media manager are fine-tuned research, writing, SEO knowledge, and visual intelligence.
The Experience they Should have
Another thing to consider when hiring a social media manager is the kind of experience you want for this role.
As an agency, you may want to look for someone who has experience managing multiple clients simultaneously.
Here are a few examples of requited experience we pulled from some job postings looking for experienced social media managers:
Experience as a Social Media Manager
Experience managing multiple clients
Experience in running and managing blogs
Experience in managing paid campaigns associated with app installation
Experience in other areas of marketing
Experience in producing video content
Experience in managing complete end-to-end social media campaigns for brand awareness as well as acquisition.
The Average Salary for Social Media Manager
According to Indeed.com, the average base salary for a social media manager is $47,774 per year in the US. As for monthly salary, the average salary for a social media manager per month is $3,382 in the United States.
As per LinkedIn, social media managers in the US enjoy a base salary of $50,000 per year (range $31K – $85K). This is based on 2,581 salaries submitted by LinkedIn members who work as social media managers in the US.

Some further insights into the salary of a social media manager in the US based on their education level and field of study:
Also, check the below image to understand the impact of high-paying skills and qualifications on the salary of social media managers in the US.

According to Indeed.com, 44% of social media managers in the US opine that their salaries are sufficient for supporting their lifestyle in their respective locations.
Social Media Manager Salary by Years of Experience
Irrespective of the industry, employers can expect to pay lower salaries to entry-level social media managers with zero to minimal experience.
As per LinkedIn, social media managers with less than 1 year of experience have a base salary of $40,000 per year in the US. In contrast, social media managers with an experience of 6-14 years and beyond have a base salary of $70,000 per year in the US.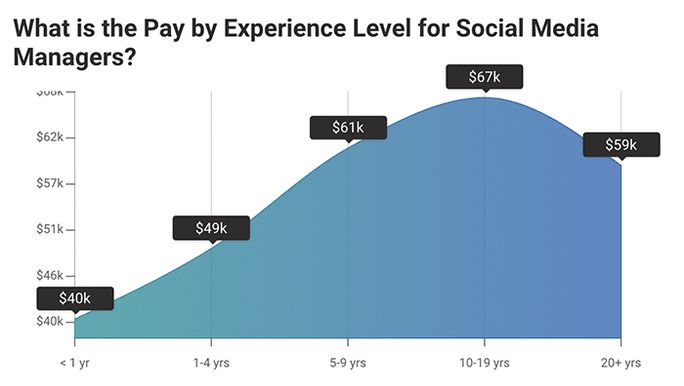 The Highest Paying Cities for Social Media Managers in the US
While deciding the salary of the social media manager for your company in the US, it is important to know the social media manager salary by cities. Have a look at the table below depicting the highest-paying cities for a social media manager in the United States.

How the Size of Your Agency Impacts the Salary of a Social Media Manager?
If you take a look at the present scenario, the salary for social media managers tends to increase with the increase in company size. Take a look at the image below to understand better.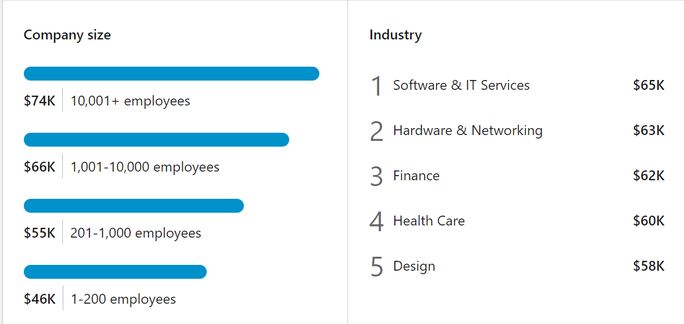 The information in the image gives you a fair idea of the salary offered varying by the company size. This will make it easier for you to determine your social media manager's salary.
The number of years you have been in business, the number of people in your marketing team, and the general health of your business are also important parameters to consider while deciding the salary.
Wrapping it Up
By now we have established one thing – the salary of social media managers differs based on education, location, experience, skills, and company size.
So, take these factors into account while determining the salary for a social media manager for your business. Also remember to pick a salary that aligns with your company's overall financial structure while deciding the final salary figures.
Now that you have got this part down, it is time to find your perfect social media manager! All of us are well aware of the benefits of social media marketing, and to find the best talent out there is only half the battle won.
Another important aspect to social media marketing is using a robust tool that can ease your social media marketing efforts. SocialPilot is one such tool.
Book a demo today to know how we can help you with your business goals.