With the increased use of social media platforms globally, it is no-brainer that social media marketing is a must for businesses of all sizes.
But it becomes overwhelming to manage your brand presence on multiple social media channels, as your targeted audience is present on various social media platforms like Instagram, Facebook, Twitter, LinkedIn, etc.
Thus, to help you become efficient at managing social media marketing, social media management tools like Zoho Social play a significant role.
Why consider alternatives to Zoho Social?
Zoho Social comes with many useful features, like Bulk Scheduling, Publishing Calendar, Listening, and Analytics. However, it will cost you a pretty penny if you want to use its services professionally. Also, there may be scenarios when you are not satisfied with the customer support.
To help you select the right alternative, we have reviewed the 8 best Zoho Social alternatives and have compared each tool against the Zoho Social.
What are the best Zoho Social alternatives?
1. Zoho Social Alternative – SocialPilot
SocialPilot is a comprehensive social media management tool designed and developed especially for small and medium-sized digital marketing agencies.
In addition to the powerful features, it comes with a clean and intuitive design, which means that you can focus on your work rather than waste your time to figure out which button does which thing.
This tool helps make social media professionals like you more efficient. How?
You can group your managed accounts the way you like and schedule posts in bulk. The tool comes with a content curation feature that helps social media content creators search for the relevant content in their niche.
Besides, if you are managing a team of social media marketers, you can define workflows to optimize your processes and reduce the risk of posting irrelevant content. You can also manage all your posts from a dashboard.
As you'd expect, this is a straightforward platform that comes with a lot of features.
However, here are a few that should help you understand more about SocialPilot:
Bulk Scheduling
With this feature, you can bulk upload up to 500 posts (with images) directly from a .csv file. You can review the content directly on the platform and then publish it in bulk on your multiple social media profiles.
Social Media Content Calendar
If you have multiple clients or manage many accounts across various social networks, this feature is here to save you. With it, you can organize your content and have a bird's eye view on your posting schedule by each account. You can further filter down the view by week and day.
Analytics & Reports
Get precious insights into the performance of your social media activities by each platform. From your content's performance to data about your audience, you can use it to optimize your social media marketing ROI. You can also identify the right time to post to improve your content reach and drive engagement.
Check all the features of the SocialPilot here.
SocialPilot vs Zoho Social:
You may find that both Zoho Social and SocialPilot offers similar features. But, there are considerable benefits of using SocialPilot over Zoho Social. For example, SocialPilot bulk schedule up to 500 posts with images, texts, and links compared to 350 posts with Zoho Social.
With SocialPilot, you can manage both boost post and lead ads on your Facebook account, whereas Zoho Social supports only Facebook lead ads.
To shorten your links, you can use only Zoho shortener and Bitly shortener in Zoho Social, whereas SocialPilot gives you the flexibility to choose from multiple URL shorteners like Snip.ly, Rebrandly.com, and Bitly.com.
Additionally, you can search for content related to your field while getting your RSS feeds. This feature is not available in Zoho Social.
To see a more categorized and detailed comparison of SocialPilot being one of the best Zoho Social alternatives, click here.
Price: SocialPilot offers a 14-day trial, and the subscription of its best selling small team plan starts at $50/month (billed annually) compared to Zoho Social's – $200/month subscription for agencies when billed annually.

---
2. Zoho Social alternative – Hootsuite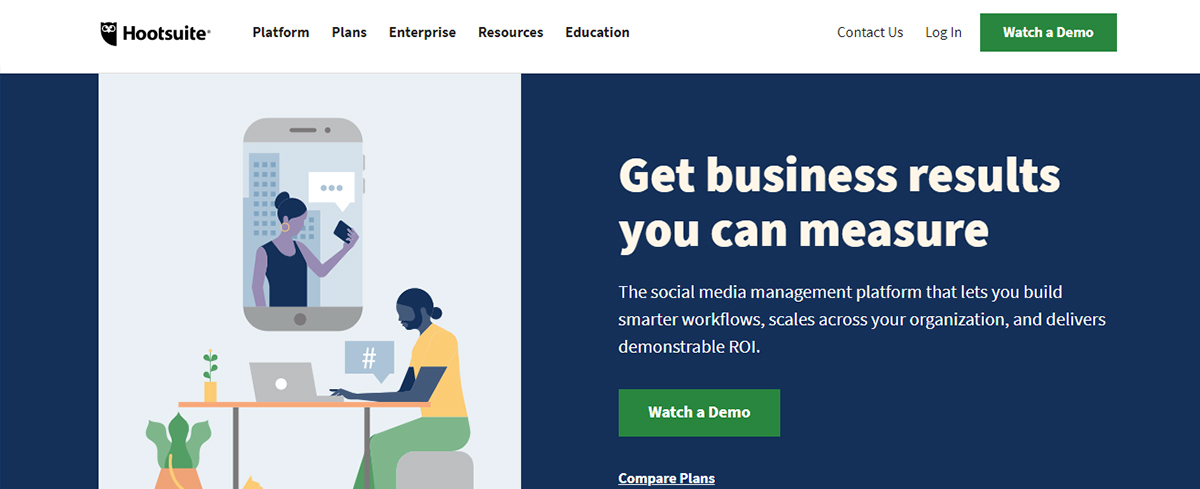 Hootsuite is one of the most used social media managers out there. It lets you work on almost any social platform you could think of—from Facebook to Pinterest or YouTube. It also enables you to work with a team—making this app a handy tool for growing your online presence.
Hootsuite is not just for planning your posts. It also has great analytics feature that can help you improve your content. It ticks off many of the requirements needed to help you grow your business or start-up.
Hootsuite comes with a lot of features that might take a while to get hands-on.
However, these are the most basic and important ones you should know about before using it:
Post Scheduling and Automated Publishing
Primarily, this is what a social media manager does. You can draft posts and save them within the app. Once you're pleased with the content, you can use the publisher to schedule your posts. It's easy, intuitive, and shouldn't take up too much of your time. You can also schedule different posts for multiple social media networks.
Social Media Listening
Social listening is essential if you want to know your reach. You can get an overview of what your audience is talking about online and see if you have any mentions. You can also engage with the public and respond to messages or mentions in-stream.
Analytics
You can set performance benchmarks in the app and see how your content improves. It's a great way to analyze how your investments in social media are working. Also, it's great for seeing what works best for your audience and continuing with that content.
Zoho Social vs Hootsuite:
Hootsuite is the best fit for Freelancers and businesses of all sizes, whereas Zoho Social is considered a right fit for small to large businesses.
With Hootsuite, you can get your queries answered through phone, online, knowledge base, and video tutorials. Zoho Social only provides email support.
If you are looking to manage Facebook and LinkedIn ads, then Hootsuite is a perfect choice, whereas, with Zoho Social, you can only manage Leads Ads on Facebook.
For user satisfaction, both platforms have a lot of positive reviews. However, Hootsuite comes with more detailed and in-depth features.
Price: Hootsuite offers a limited free plan that allows you to 3 social profiles, 30 scheduled messages and 1 user. If you are small business then this is a great plan for your needs. Zoho Social also offers a free plan that allows you to manage 1 brand.
If you'd like to have a look of how SocialPilot is compared as a great Hootsuite alternative, we have a detailed comparison here.
---
3. Zoho Social alternative – Sprout Social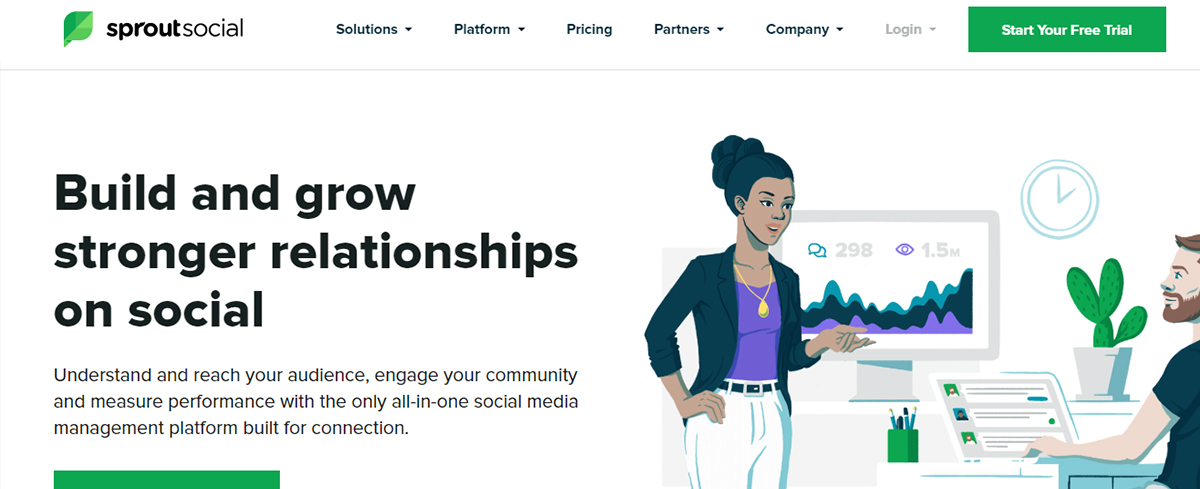 Sprout Social is another successful social media management platform. Like Hootsuite, it offers monitoring and analytics tools to improve your reach. But the app aims more at professionals and costs more. It provides a free trial, so you can see if this is the app you need.
Sprout Social is one of the oldest social media management solutions. This means they have perfected their services. As soon as you open the app, you'll get a questionnaire to determine what services you need. They will tailor your user experience to your business, not just provide general help.
Your experience is customized by the plan you choose and by the starting questionnaire.
But here are some general services the platform offers that you should know about:
Listening tools
This app will help you stay one step ahead of your competitors. With this feature, you can see what your target audience talks about online related to your brand. If you have this information, you know what kind of content will increase your reach. Knowing your public's interests is a vast improvement to any social media strategy.
Publishing and Scheduling
As you'd expect, you can draft your posts directly from the app. You can either publish your posts straight away or schedule them for a later time. This feature is useful if you want to organize your posts over a long time and more social media platforms.
Analytics
With this feature, you can easily measure your performance from the app. It shows detailed data to see your online impact and the reach of your content. If used well, you can improve your content and increase your social media involvement.
Zoho Social vs Sprout Social
When comparing these platforms, you see that the learning curve for Zoho Social is higher than for Sprout Social. The latter has a friendly interface, intuitive design, and easy to learn how to use it.
Zoho Social allows you only to monitor the hashtags but doesn't provide listening capabilities. However, Sprout Social lets you monitor and engage with messages across Facebook, Twitter, Instagram, and LinkedIn all in one place.
Though Sprout Social is a little expensive compared to Zoho Social, but if you are looking for a comprehensive social media management platform and don't worry about spending a few more, than Sprout Social is an excellent tool for you.
Price: Sprout Social pricing starts at $99 per user per month that allows you to manage 5 social profiles and comes with advanced features like review management, profiles, locations, and keyword monitoring, and social CRM. You will find these features missing in Zoho Social.
Check out how SocialPilot competes as an excellent Sprout Social alternative.
---
4. Zoho Social alternative – DrumUp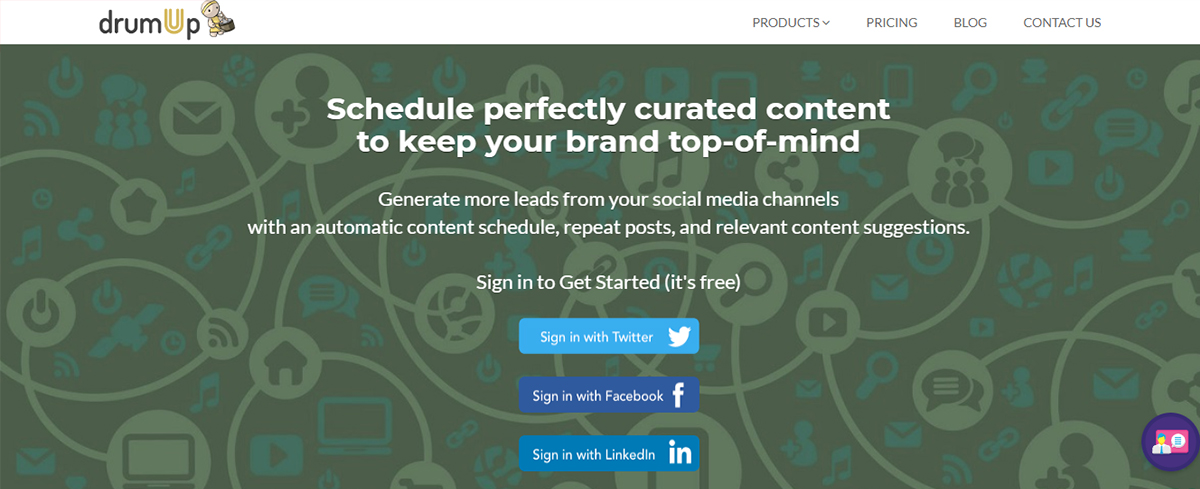 DrumUp is a platform that will not only help you manage your social media posts but will also help you create the best content. However, you can only connect with three social media networks—Facebook, Twitter, and LinkedIn.
You can still work with your team and connect multiple accounts. This makes the platform perfect if you manage more reports on the same social network. The prices are lower compared to other platforms.
DrumUp does offer a free plan option after your two weeks of free trial expire. So this is a good option for people testing out platforms to find the perfect social media manager.
It comes with many features, depending on which plan you use.
But here are some basic ones that should help you decide if this platform is best for your purposes:
Analytics
Just like other platforms, DrumUp can offer you metrics to measure your social media impact. There are four fundamental things to analyze: likes, shares, comments, and click-through data. Having this information will help you create the perfect content for your audience. You can also download the data and analyze it offline if you need to.
Publishing and Scheduling
Without this feature, this wouldn't be a social media manager. Just as with the other apps, you can draft and publish your content from the platform. You can also plan your posts and organize your content across the three social media networks available. You can also share interesting articles you find online directly through DrumUp.
Hashtag Recommendations & Repeat Schedule
This is a time saver. Based on the content of your posts and the analytics data, DrumUp will suggest smart hashtags add to your post before publishing. Also, if you have a relevant post that you want to publish more than once, you can set up a repeat schedule.
DrumUp vs Zoho Social
The first significant difference is that DrumUp doesn't have a free plan. However, it offers a free trial for any of its subscriptions.
All kind of customers can successfully use DrumUp, from small businesses to large enterprises and even freelancers. They have features that will be sufficient for anyone.
Price: In addition to the free plan offered by Drumup that allows you to manage 1 social account, publish 3 posts per day, it also provides 3 chargeable plans – starter, pro, and small business. They have priced their starter plan at $15/month that allows you to manage 3 social accounts, RSS feeds, and the ability to set a repeat schedule for posts.
---
5. Zoho Social alternative – Agorapulse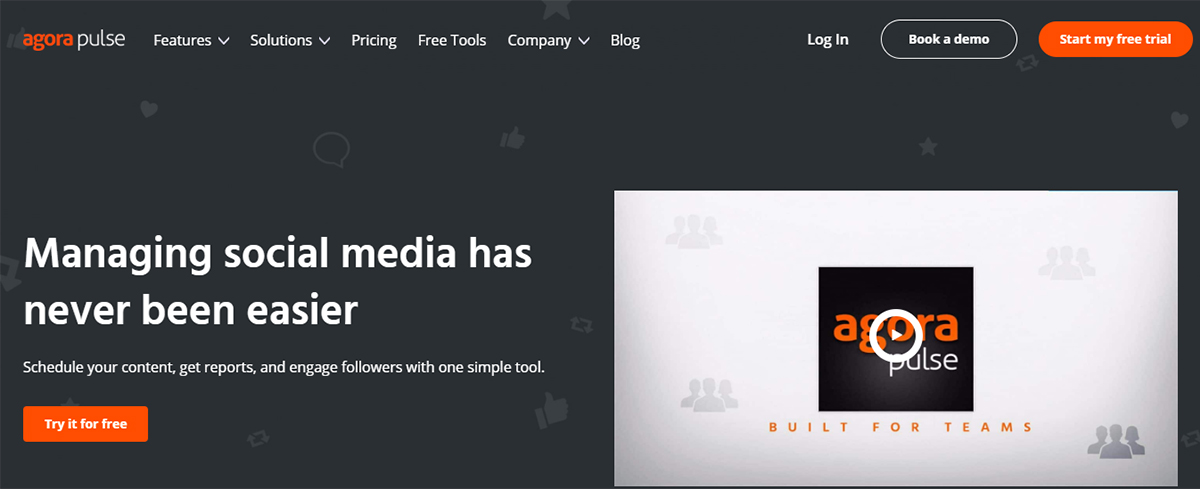 Agorapulse provides all the tools a social media marketer needs to win with social media marketing. It is a more complex platform designed to manage your social media posts and increase your brand awareness. Enterprise-level companies and agencies use it. There are plenty of useful features, but the subscriptions can be pricey if you're a beginner.
There are many features offered by Agorapulse, and their numbers only increase with the price.
However, here is a shortlist that will help you understand what this platform is all about:
Publishing and Scheduling
This feature is no surprise. Draft your posts or upload them in bulk on the platform. You can post them directly or schedule them on your calendar. If you have a valuable post you want to publish multiple times, you will also have the rescheduling option. The publishing world is your oyster.
Social Inbox
Does your page receive many messages per day? With the social inbox, you can reply and manage your comments, mentions, and messages. You won't have to log in to your social media profile. Thus, saving you time and improve your efficiency.
Built-in CRM
This feature helps you learn more about your followers without too much work. You can label your most active customers or followers. You can categorize them in any way useful to you. By having access to this kind of information, you can more easily find people you want to work with according to how they interact with your brand.
Agorapulse vs Zoho Social
For the number of features, Agorapulse takes the crown. Aimed more at enterprises and developed businesses, it has multiple features you could ever need.
However, Zoho Social has more third-party integrations. The most significant difference between these platforms is in the price, but they both have a free trial.
Agorapulse also offers social CRM that gives you detailed insights into your engaged users' historical interactions, track the most active users, and add labels to improve internal collaboration. Zoho Social provides you an integration with Zoho CRM.
Price: Agorapulse offers a 14 days free trial without a credit card and the subscription for their Medium plan starts at $79/month (billed annually).
---
6. Zoho Social alternative – Statusbrew
Statusbrew is a social media management platform that includes all the tools you could need as a professional social media marketer. It is also a perfect tool for multiple teams to work on one project—directly from the platform.
Main Features:
Link Customization
Adding UTM parameters to your links can increase the effectiveness of your social media campaigns. You can also shorten your link within the platforms, to make your posts look cleaner and save some space.
Slack Integration
Slack is an excellent tool for team communication. So it comes naturally to have it integrated with a platform aimed at improving collaborative social media management. Having this tool integrated into your platform will make teamwork more effective.
Audience Engagement
While it's good to connect with your customers, nobody wants to deal with spam. Statusbrew comes with customizable moderation rules that can help you focus on what is truly important.
Statusbrew vs Zoho Social
When it comes to prices, Statusbrew has higher fees. However, they are aimed more at agencies and enterprises. The features they offer are more in-depth, aimed at professionals. Additionally, they are more focused on user experience.
Statusbrew provides 24/7 live support and personal training.
Price: Statusbrew packages its product into 3 plans – Engage Plus, Professional, and Enterprise. Their Engage Plus plan starts at $99/month/license and allows you to manage up to 5 social profiles and 5 users in addition to some amazing features like in-depth analytics, social inbox, social CRM, etc.
---
7. Zoho Social alternative – Sendible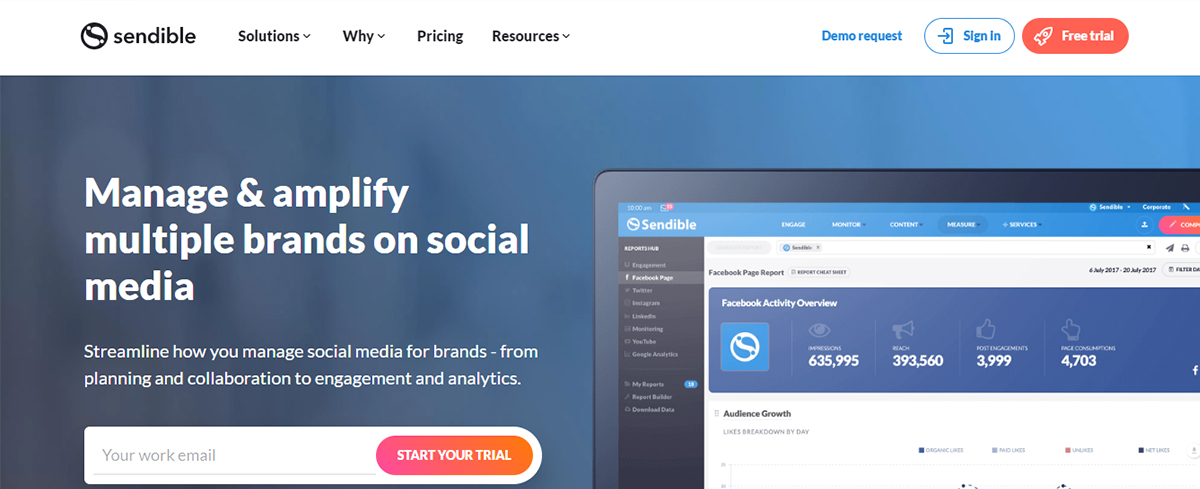 Sendible aims more at already developed businesses—considering its price plans. However, Sendible has robust built-in brand monitoring and engagement features, among others, if you buy their subscription.
Main Features:
Social Listening
You can keep track of what your audience is talking about straight from the platform. With this feature, you can reply to your comments and messages without logging into social media networks.
Collaboration
With this feature, you can use the Sendible platform with your team and create content together. You can delegate tasks, send posts for approval, and limit access for other users.
Zoho Social vs Sendible
Zoho Social might seem to have more features than Sendible. But the features of the latter give the platform more flexibility, along with its in-depth analysis and monitoring.
It's also easier to manage multiple users and clients with Sendible, and it's for any kind of business or freelancer. However, as mentioned, Sendible has a higher cost factor.
Price: Sendible's pricing for startup agencies starts with $99/month for 3 users where you can build 15 reports in total. You can try it out before with a 14-day free trial.
If you'd like to check a detailed comparison of SocialPilot being an awesome Sendible alternative, here it is.
---
8. Zoho Social alternative – Falcon.io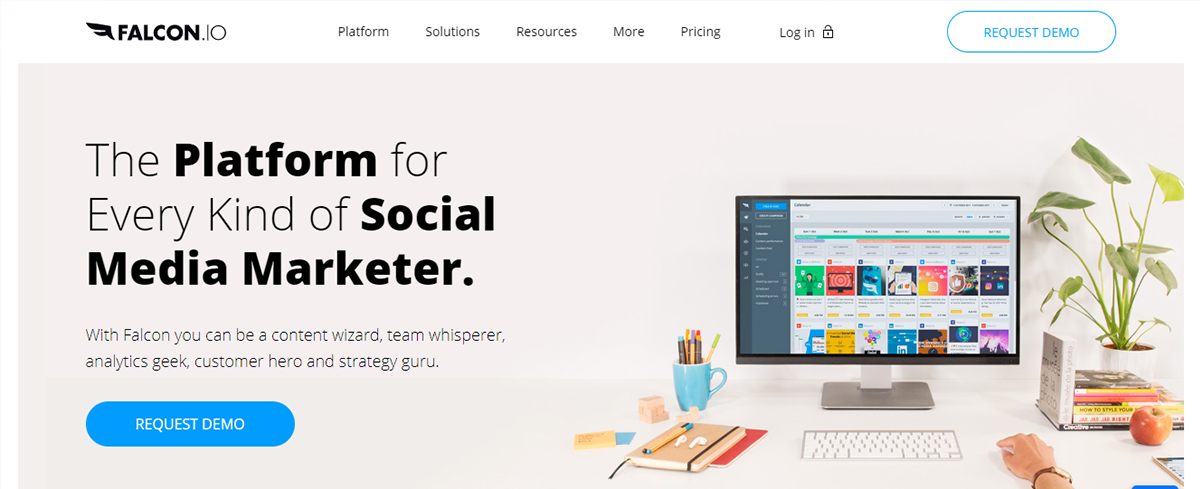 Falcon.io prides itself on its simplicity—calling itself a plug-and-play platform. Intuitive and convenient, this social media management platform brings together many useful features for professionals, from social listening to publishing and analytics.
Main Features:
Social Listening
With this feature, you can easily monitor trending topics and hashtags. Know what your customers are saying. Analyze the information categorized by labels like feeling, demographics, or influencers.
Audience Data Management
If a customer interacts with your business, they get a personal profile card that stores future interactions. You can filter your audience and make sure that the right post reaches the appropriate people.
Publishing
As you'd expect from a platform like this, you can schedule your posts directly from the app. There's also an Approval Flow to make sure that everyone on the team agrees.
Zoho Social vs Falcon.io
With Falcon.io you can manage Facebook and Instagram ads, whereas Zoho Social allows you to control only Facebook Lead ads.
If you are looking to understand how your social media strategy stands against the best brands in social media marketing, then Falcon.io helps you benchmark your performance against 100,000 brands. You will not find any such feature in Zoho Social.
Falcon.io gives you more control over the way you want to segment the customer information. E.g., You can customize Inbox to arrange multiple feeds according to your requirements, create a custom audience, etc. Zoho Social doesn't provide you such customizations.
Price: The best thing about Falcon.io is that its packages are customizable. They come with many unlimited features, and you can choose the ones you need. It makes the platform suitable for any professional.
And it's a wrap!
Having a social media management tool can be useful for both beginners and developed businesses. They help save a lot of time that would otherwise be spent checking social media networks. However, each platform has unique features and points of focus.
Before deciding on a specific platform, we recommend getting a free trial or free subscription, if available. It will help you understand what the platform is all about.
You should also be clear about your requirements before subscribing to a tool. It is always a good idea to differentiate your needs in a nice-to-have and must-have feature list. This will give you a clear picture of where you should spend your money.
Once you find that right social media management platform—there's no stopping you! Use analytics to improve your content continually. Increase your brand awareness by curating the creative posts, and drive engagement on all the social media platforms.