Listen to this blog
Social media is flooded with new content every second. From startups to large enterprises, surely all you marketers are trying to figure out how to promote your business on social media.
But to thrive in such a competitive landscape, you might run out of brand-new ideas for social media promotion. Everything seems to repeat, and you are left with no jaw-dropping plans.
It might so happen that your competitors succeed with more followings, high engagement posts, and overall sales while you struggle to even get noticed.
But the good news is, you are not alone. It is not easy to brainstorm ways and be up-to-date with the latest trends.
Yes, you can easily create a Facebook page, post on your profile, or start a live stream on your Instagram handle. But without a proper strategy in place, you're unlikely to develop a community for your brand.
So, here we will discuss a few social media promotion ideas that will add some spark to your campaigns.
Let's get started!
1. Optimize Content Timing for Higher Engagement
It's not advisable to promote when your audience is busy working and is inactive on social media. If you want to know how to promote your business on social media, it is important to attract more eyeballs. So chalking out the time they are at home before or after work is an important step. with tools like SocialPilot.
Although, some potential customers might be on social networking sites while at work (e.g. during lunch). They are more likely to use it while commuting or after having dinner with their family.
Reaching the right audience will also play a vital role in word-of-mouth promotion. It will increase the chances of them noticing your product, browsing your site, and even sharing your offerings with others.
Create a posting schedule, and stick to it. If you don't know how to start, check our ultimate guide to social media posting in 1 hour a day.
2. Enhance Engagement with High-Quality and Authentic Content
Posting high-quality, authentic, and valuable content sheds a positive light on your brand. It is a sure-shot way of how to promote your business on social media, as it encourages potential leads to visit your social media profile and website for more of your content.
If you are finding it hard to come up with relevant and valuable content all the time, you can try out other ways of creating content. You can hire an agency, freelancers, or interns to help you create content. If you have any blog posts or videos, consider repurposing them into smaller bite-sized pieces. For example, consider creating visual quotes from a recent blog post.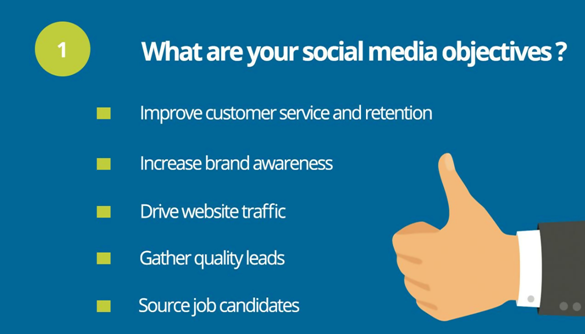 3. Foster Loyalty and Incentivize Your Fans
The best way to attract more followers is to listen to their needs and engage with them regularly.
Look for users who actively provide suggestions or feedback. Encourage them to participate in various product discussions, and reward them for their input. Rewarding your customers by keeping them in the loop can increase your sales.
You can host giveaways and contests to better engage with your customers. It will also help you get user-generated content, reviews, and free promotion.
4. Conduct Competitor Research
What was the first step you took while launching your business?
If you're a savvy entrepreneur, you would have researched the market to understand the product demand. It is also good to see what your competitors are doing in the marketplace.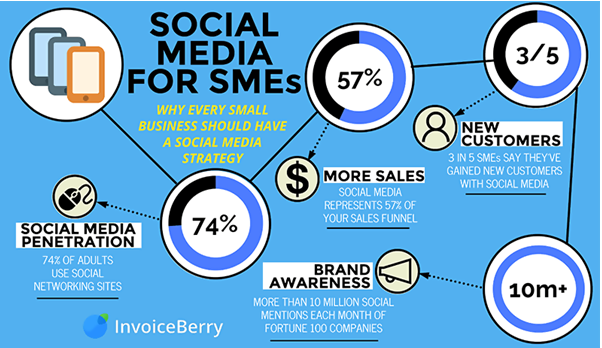 A successful strategy will fail without proper research. Hence, we recommend creating a list of competitors and studying their social media strategies.
What kind of posts do they create, and what's their branding strategy?
Also, analyze their operations, customer support, and interactions. Try to understand what practices work well for them, then tweak your strategies accordingly.
5. Improve Visibility with Promotional Keywords
People tend to get attracted to keywords like "Free," "offers", "discount," "giveaways," and "sale."
If you incorporate these words appropriately in your posts, they can easily tempt your audience and bring you more sales opportunities. Although, make sure the content on your social media matches that of your website.
Such promotional offers usually work best during holidays and other big events. While these keywords can supercharge your sales, be careful not to overdo it.
Also, if you feel aligning your content strategies according to the holidays and events is overwhelming, use social media posting tools to simplify your task.
6. Focus on Driving Traffic to Your Website
If you create content and nobody sees it, what's the benefit of all that effort?
That's where promotion comes in! Test out different posts to see what resonates best with your audience. Is it images, videos, carousels, or stories?
Maximize the number of viewers of your content to grow your website traffic. Consider collaborating with other influencers in your niche.
You can even hold a social media contest that encourages your audience and their friends to follow you. Remember, testing new ideas is essential, so continue experimenting.
7. Stay Updated with Latest Social Media Trends
It is crucial to be relevant and stay on top of the latest trends on social media channels. By being an early adopter, you can find ways to stand out and promote your brand more efficiently. Some examples are:
Live video contents
Instagram stories
Messaging chatbots
360° videos
It is also important to keep up-to-date with algorithm changes on each platform. It is a difficult task, but the benefits are worth your time. The use of these tactics is mandatory to create a winning strategy.
8. Boost Engagement with Customer-Centric Hashtags
Customer testimonials play a very significant role in social media. Yet, searching for recommendations that fit into a tweet or social media post can be a difficult task.
Consider creating a hashtag precisely for that purpose. For example, if you are running a recycling business, you can create the hashtag #CleanTheEarth.
Inspire your customers to share their stories and interactions with your brand by using the hashtag. You can then repost their content as social proof of your brand impact.
9. Innovate with Instagram Video Content
Videos shared on Instagram are guaranteed to get more attention. Videos tell stories and showcase your new products, branding, and customer testimonials. Thus, effectively capturing and retaining the attention of the users.
You can go live and take up a tutorial or Q&A session, post reels to share a series of DIY or testimonials. Use Instagram stories to keep your presence even more active throughout the day.
To leverage the full power of video content on Instagram, you need to be consistent even if it's time-consuming. However, scheduling tools can solve half of the problem for busy marketers like yourself!
SocialPilot is one such tool that can schedule all types of Instagram posts, including Reels and Stories for multiple profiles from the same dashboard.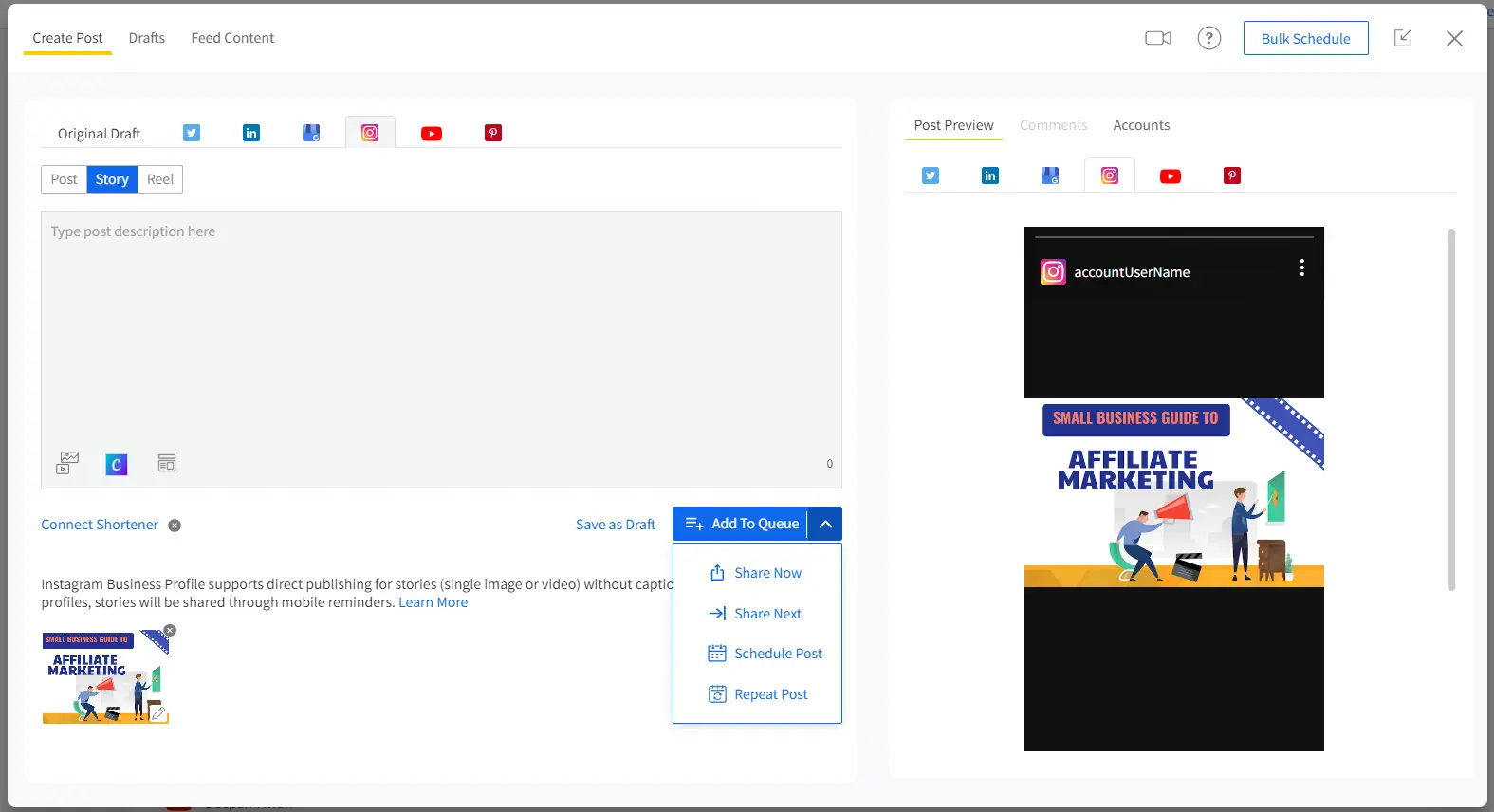 10. Enhance Website Presence with Social Media Icons
Adding social media icons to your website brings more followers to your social media handles. They make it easier for customers to find and follow you. Make your icons stand out by incorporating your brand colors into them. This consolidates them well into your existing website theme.
Adding these social media icons will even increase the chances of your website content being shared. It eliminates that additional step of copying, pasting, and manually sharing the links to friends and family. Now they can directly share interesting blogs or offerings from your website to their social media accounts.
11. Create Engaging Infographics
If you have a long piece of content, consider turning it into an infographic. Design it with a tool like Canva or Visme, and then link it to your blog post or profile, where customers can learn more about it.
Many people find it easier to consume content in visual form. Infographics are a simple way of adding value. They are also easily shareable, making this a simple yet effective social media strategy.
12. Broaden Reach with Guest Interviews
It is a good idea to host a discussion with other influencers on Instagram or Twitter. You can use Twitter spaces and Instagram's live rooms. You can again cut them short into more consumable short videos or posts for more views.
Select a hashtag and chat with other influencers in your industry. It will help you increase engagement and grow your follower base. This is how to promote your business on social media. Make sure to promote these sessions in advance using stories with countdown stickers. That will create the necessary hype too.
13. Leverage Social Media for Sales Generation
Today, few millennials have the time to drive to the retail stores for shopping, especially when they can buy the same products online, often at lower prices. Tools like Shopping on Instagram make it easier than ever for users to shop directly from their social feeds.
Select a hashtag and chat with other influencers in your industry. It will help you increase engagement and grow your follower base. Make sure to promote these sessions in advance using stories with countdown stickers. It will create the necessary hype.
14. Build Brand Reputation through Charity Support
Customers love socially conscious businesses. You can use social media to promote noteworthy causes or share information about various charities. Better yet, hold a contest where you donate to a selected charity in exchange for engagement with your social media page. Social media users who aren't your followers will be lured to follow you because of such charitable initiatives.
15. Create a Memorable Brand Character
Does your business have a logo, mascot, or perhaps a pet representing your business? You can use that as a recurring character on your social media. It will help supporters to recognize and connect with your brand. Also, it would help customers relate with you better, creating a sense of familiarity.
Conclusion
Social media strategies effectively engage you with your potential audience. If you don't offer value to your audience, then you are unlikely to see good results.
Social media promotion connects your audience to your business on a personal level. It provides necessary value by updating them about your products and services.
Always make your followers a top priority, and ensure that your strategies align with their interests. Keep up with changing trends to make the most of your social media. And, follow the ideas mentioned above with some useful digital marketing tools to grow your audience and attain your business goals faster.
With the growth of social media, it has become a difficult task to manage your activities. This is where SocialPilot can help you efficiently manage social media marketing. Take up its free trial to be a social media marvel.