So you refave created your podcast and are ready to put it in front of millions. You are very excited and expecting huge results because you have collected some serious research interviewed some big personalities, promoted some brands, and gathered useful research plus actionable tips.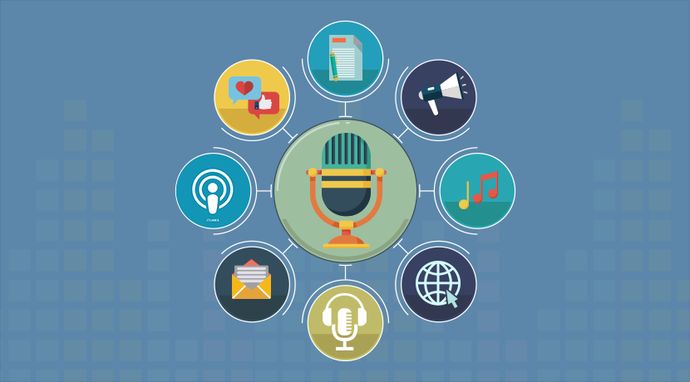 But wait…
Where is marketing?
Don't tell me, you still believe in "Create and they will Come" phrase.
This doesn't work and you know that. Right? What works today is: create, market and grow. You have completed your first step by creating podcast. Now, it's time to market it so that your business can reach to millions waiting for your products or services.
Through this article, you will learn some tips and tricks to spread the word out of your podcast.
Let's get started:
1. Email Bomb blast
Email marketing is not dead. It still works. Just the difference is users check mail on their smartphone instead of desk. If you already have an email list ready, that's a win. And if you don't, you should get the one because email marketing is the way to have a handful of podcast listeners even before it hits the floor.
Laurence Bradford, owner of Learntocodewith.me, had a ready email list she gathered from her consistent blogging.
Here's a part of mail she sent to her fans announcing the upcoming of her first podcast, the other part will come soon:

What's so special about this mail?
In her mail, she is clarifying that this time her users will get another type of special content instead of a blog post. This will make users wait curiously for the new launch.
2. Run a Contest
Even if your mail fails to provoke users, contest will do the trick.
To make your podcast rank well on search engines, you need a good amount of ratings and reviews. Running a contest asking users to submit ratings and reviews in exchange of winning prizes will hike up your podcast's search results.
On her first podcast launch, Laurence announced a contest where users have to submit reviews if they want to participate. She offered three prizes, one was of $600 worth and the other two were $200. She also made sure that podcast should be hard to enter on.
This is what she said regarding podcast launch contest:
"Sure, I could have made it easier to enter the contest. And maybe boosted subscriptions or ratings. But I'm happy with how I did it. Because the people who end up winning the prizes deserve it. They went out of their way to enter."
Not done yet.
If you have made up your mind for podcast launch contest, you need to promote it too.
Remember, I was talking about the other part of Laurence's mail.
There it is: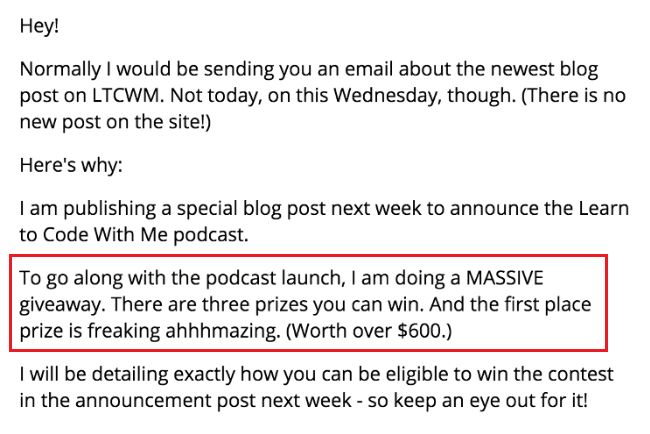 3. Launch Three or More Versions
One podcast and you are done. Will you rely on one blog post to make your site popular among users? Not at all.Then why to keep high expectations from only one podcast.
Isn't it better to release three or more episodes so that users have choice to listen more?
Are you worried that it will take more time?
Here's the trick:
Let's say your podcast is about Facebook Marketing. You can break it into 3 parts naming Facebook Marketing: how to start, how to grow and how to earn.
Simple enough.
4. Humble Promotion Request to Guests
You can skip this step if your podcast is all about you and your teachings.
And if it includes interview with a big personality or you have mentioned examples of successful brands, it's time to mail them with a request to promote your podcast among their audience.
That's what Scott Britton, a podcaster, suggests as he himself sends mail to guests who had remained the part of podcast.
I got the copy of mail, on his blog, he sent to one of his podcast guest: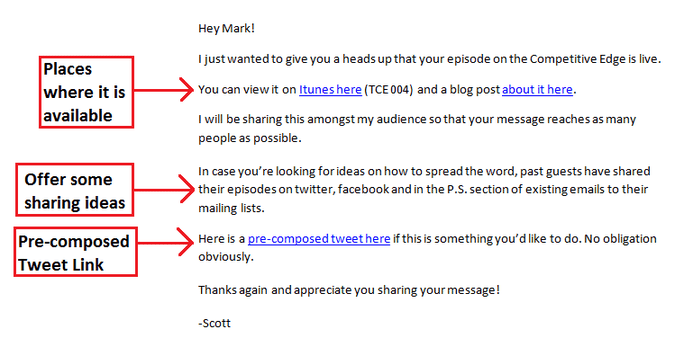 Things You Should Mention
Places where it is available. Not all but important one like iTunes and Blog Post
Give them some easy ideas on how and where to share
Put a Tweet link helping them to tweet directly from mail
5. iTunes Entry
You are missing to reach the millions, if iTunes store doesn't exist in your podcast marketing strategy.
Nieman Lab claims "70 percent of podcast listening happens through iTunes or the native iOS Podcasts app."
I know you have made up your mind to submit on iTunes, after all, it is a matter of minutes.
A twist is about to come…
New and Noteworthy section.
You must know about it if you are a punctual iTunes store visitor.
When you visit a particular section in iTunes store, you are welcomed by New and Noteworthy section where iTunes introduce things worth listening.
Below given is a screenshot I got when I visited podcast section of iTunes store on Mac.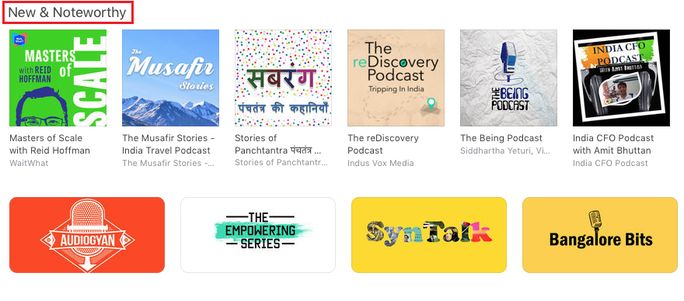 Google put high ranking sites on first page. Similarly, iTunes put well-performing podcast on news and noteworthy section.
Your podcast goal is to appear here.
How to Enter in New and Noteworthy Section?
Three steps to follow:
Gather Engagement: iTunes take 8 weeks to list your podcast on Noteworthy section. During this period, it considers total number of engagement podcast receives. That means you have 8 weeks in total to gather as many reviews, ratings, subscriptions and downloads as you can.
Go Sub-category: That's similar to go niche. Instead of choosing a broad category to submit your podcast, go for sub-category so that iTunes get a clear idea of what your podcast is about. And your podcast have more chances of being listed on Noteworthy section.
Keyword Targeting: Jayson DeMers, my favorite writer and an online marketer, once changed a name of video game podcast from "What's Good Games" to "What's Good Games: A Video Game Podcast". With this simple change the podcast gone from no search to #2 in search results. It's called the power of keywords. Start putting targeted keywords in the title and description of your podcast. If you have three episodes, make sure that each episode is tagged with keyword-rich title and description.
6. Blog Post Announcement
Online marketing is just incomplete without a piece of content. Content is still a king, no matter how much video or audio version has gain popularity. You still need words to grab attention of users.
You have to write three types of blog post:
Announcing an upcoming podcast
When podcast goes live
After-launch podcast transcription
One good example of blog post I found regarding new podcast announcement is of Techcrunch:

Things You Should Mention in Your Blog Post Podcast Announcement:
What's inside for users?
What they will learn at the end?
Date and time of launch
Name of the Guests
7. Submit to Maximum Directories
Apart from iTunes, there are many other directories allowing you to list your podcast. They don't have as much traffic as iTunes but they do have some chunks of your targeted audience. It just takes a click to submit your podcast.
Here's the list of directories where you can submit podcast:
TuneIn
During submission, you may feel like submitting a guest post to other sites.
8. Add Website Pop-ups
Get ready to replace your ebook download pop-ups with podcast announcement. To grow your email list and to let users know about the upcoming of audio content, you have to put pop-ups on your website.
This pop up from Marietv is worth to mention here: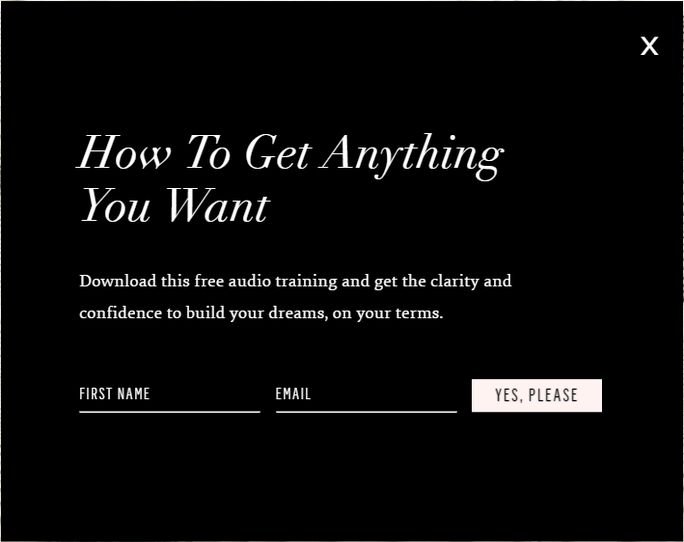 Keep changing those pop-ups with the launch of your podcast. For e.g. first you will upload upcoming podcast, then you will change the content when podcast goes live and at the end, when you have final podcast transcript.
9. Social Media Shares
When you create assets for users, it's necessary to spread the same on social networks as these are places where one can have all type of audiences.
Let me show you some popular ways to expand your podcast reach on social media: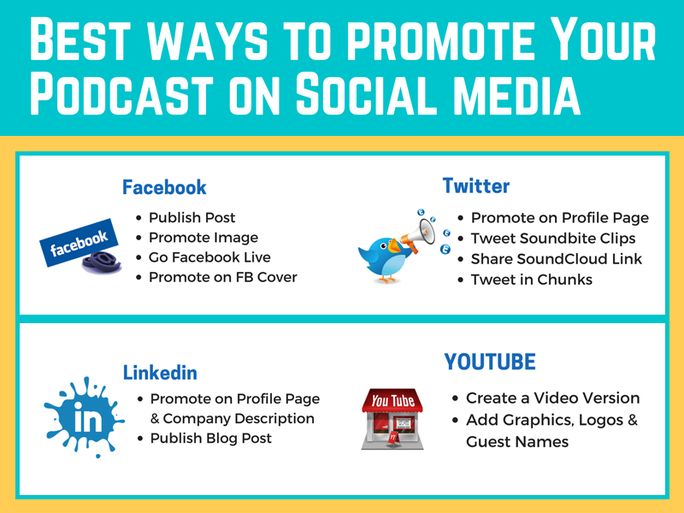 10. Automate Your Social Media Marketing
That's too much on your shoulder. Why not automate some parts so that you can focus more on important tasks?
Yes, you can automate your social media marketing with the help of social media marketing tools free of cost.
Once you make a plan of what and when to post on social media, switch to SocialPilot – one of the best social media tools, schedule everything on your list and leave the rest on this social media marketing tool.
SocialPilot will make sure that everything is shared on time and give you thorough analytics on total engagement you received from social networks.
In a nutshell
Having guests interviewed and sharing their success secrets is what users are always in a hunt of. Giving them such content through audio version is like giving them a song to listen. You just need to throw it in front of right audience for which you have to follow the above given marketing steps. Learn and implement fast to receive quick results.
Don't forget to let me know what works for you even if it's not on my podcast promotion list. Me and my users seek applicable knowledge from you.