GIFs are integral to the digital media landscape these days. They have gone from being a niche and arcane way of conveying emotions and messages to being the cool thing to do.
While they were the sole avenue of communication by regular users, even marketers and bloggers are now increasingly resorting to using GIFs to grab their audience's attention and convey their message effectively.
But how is using GIFs different from using images or videos?
GIFs are being widely used particularly because they are more impactful and creative than images but involve less effort than what is required to create videos.
Creating high quality videos or ima
ges usually require a lot of planning and effort, whereas with GIFs you can easily find something which can be repurposed for your specific use without any added effort. Moreover, the relatability and pop-culture aspect of GIFs help deliver your message more effectively to your target audience.
With something this trendy on the internet, it is only wise that you as a Social Media Marketer/Blogger should leverage GIFs as a part of your marketing toolbox. So, to clear any doubt and to make the concept of GIFs as easy as counting, I'm going to walk you through this guide.
1. What is a GIF?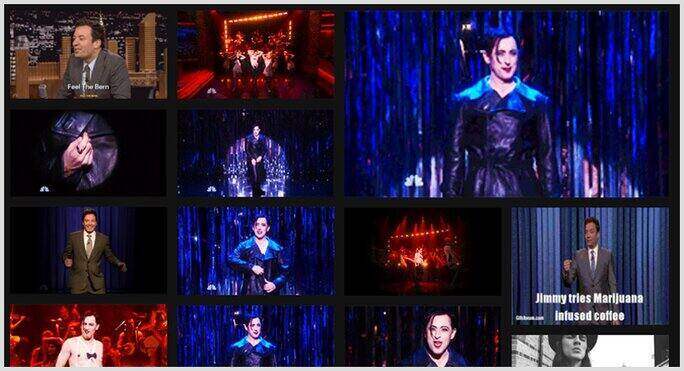 The debate on the actual pronunciation of GIFs is one that infinitely ongoing. It can be pronounced as 'jifs' with a soft g sound or 'gifs', it doesn't really matter.
What a GIF essentially means can be known from its full form, which is Graphic Interchange Format. This is a file standard in which a file incorporates static and animated images.
To put it in layman's terms, a GIF is a series of silenced, condensed image frames that is looped together to play infinitely as a single file.
Due to its short span, it proves as an ideal tool to fit in the right message, information, action or emotion. GIFs by nature are designed to grab your viewers' attention. Since the images are condensed this allows for much smaller file sizes as compared to videos.
For those who might think the GIF phenomenon is fairly new, they could not be more wrong. In fact, 2017 will mark the 30th anniversary of the GIF. Now its time to catch up with what you've been missing all these years.
2. Why Should You Use A GIF?
By now we've established that GIFs hold a higher entertainment factor as compared to pictures, videos or text. However, are they the best option while discussing business values? That depends solely on the creator and his imagination.
Now, here are some reasons as to why you should include GIFs in your social media strategy:
The audience is assured to get your message while also being entertained.
The use of GIFs shows that your company is up to date with the latest trends.
GIFs add more contexts to a short post, tweet or message.
GIFs convey emotions better than photos or videos and in a shorter span of time.
The use of GIFs in email marketing, significantly improves your click-through rate.
GIFs are easily shareable.
To get a better idea of how it works, check out the Redbull GIF below.
Now that you have a better idea of the endless possibilities of GIFs, I'm sure you can't wait to start using and creating your own. Here are some good sites where you might find GIFs that best fit your purpose:
3. Where To Find GIFs?
While GIFs are immensely popular and can be found in every nook and corner of the internet, finding GIFs that you actually like or want to use can get tedious if you don't know the right sources. Additionally, these sites reduce the hassle for you and make searching for quality GIFs as easy as it can get:

Giphy is the largest and most popular animated GIFs library and for good reason. Chances are that if you want to find any kind of GIF, Giphy will have it. Your search can include an emotion you want to convey (i.e., surprise) or even what you want to be in your GIF (i.e., a baby). Be specific in your search and you will get the most relevant results.

Gifbin.com is another large GIF library. However, this particular site has a few stand-out features. Use gifbin's random GIF generator if you don't know what you are looking for and just need inspiration.

Reddit is a great place to find already made GIFs. You can vote for what you like and what you don't among their assortment. You can also customize GIFs if you know the art of it.
4. How To Create Your Own GIFs?
Finally, it's the part you've all been waiting for! Pay attention to this step if you want to bring your unique content to life. It's time to step out of the mundane and take your Social Media game to the next level. How do you create your own GIF?
For those who are addicted to Photoshop and believe it is the answer to all things creative, there is good news for you. You can create a GIF using Photoshop. Here's how:
Open your video file in Photoshop.
Use the timeline tool to crop the length of the video.
Do not forget to set a forever loop.
While saving the video, select "Save for web".
Another easier way is to use one of these readily available online tools to make your GIF. Just upload the pictures you want in your GIF and let the tool do the rest. Here are some good online tools that will help you:
5. Tips & Tricks For Using GIFs
The Do's and Dont's –
Before you decide to venture your brand into the online GIF portal, here are some tips that will want to pay careful attention to. These tips are going to help you reap maximum outcomes while avoiding negative results.
While creating a GIF may seem fun, easy and harmless, the reality of that statement is quite the opposite. Now, lets get a few things straight:
Do's:
Make your GIF's relatable
Using the right GIF is everything. Pictures won't speak a thousand words if your audience doesn't relate to the GIF. Remember, there is no audio.
You only use the power of visuals to get your audience to understand the message you're trying to convey.
No audio.
The more relatable your GIF is to your target audience, the more positive the response will be. For example, try using concepts such as sports, music, television, movies, etc. Current and popular topics immediately grab their attention. Be wary of using GIFs that are on a completely different theme than your topic.
Keep your GIF's interesting
The main reason we use GIFs and like them so much is because they are fun and interesting. A GIF is capable of conveying things in a short time in a way that your other media cannot.
Get creative and analyze the potential for each GIF.
Utilize the freedom of creation that is possible with a GIF and keep your audience entertained. Remember, GIFs can be your unique vision. Let your imagination go wild.
Keep tabs on your competitors
It is always good to analyze your market and see what your competitors are doing. Have a look at the methods they have adopted to get maximum visibility. Also you need to stay updated with the latest trends. This way you can stay ahead and keep your content current and viral.
Dont's:
Don't overdo your GIFs
Too many cooks spoil the broth. That statement holds true here as well. Too much crammed into your GIF is a bad idea, as this won't only slow down your animation but will also take away the impact that you intend for your audience.
Don't replace all your words with GIFs
If Shakespeare decided to paint all his play scenes and Leonardo Da Vinci decided to write all his ideas, their work wouldn't impact the world as much. Words and pictures hold their own importance.
While it is important to use GIFs to help the audience relate better, it is equally important for you to heave written content to support the matter as well. Find the right balance in using both together.
Know your audience
This doubtless is the first lesson every media professional on the internet should learn. Therefore, it bears the need to be repeated.
If your business is to do with a technical offering, it is only obvious that your audience and the people following you are doing so because of what your business offers them.
Therefore, do not experiment and post a lot of memes or GIFs that have no connection to your market. It will potentially lead to you losing your audience.
Similarly, do not feed your audience a bunch of statistics and academic content if your content is meant to be about entertainment. Use strategies that best fit your market and to which your audience will best respond.
6. How To Use GIFs On Social Media
Twitter
In 2016, Twitter launched an integrated GIF library in partnership with GIF resources Giphy and Tenor (previously Riffsy).
Here's how it works. Whenever you're composing a Tweet or a Direct messages, you can search and browse the GIF library. Just click the new GIF button to find one that you may want to add. You can search by keywords, or browse by categories of different reactions like Happy, Dance, Funny, Mic Drop, etc.
As you can see, you may add a GIF by navigating to the 'GIF' button and selecting what kind of GIF you want to share on your timeline. There are some social media automation tools like SocialPilot that let you schedule GIFs powered by Giphy.
So now you know how to insert a GIF in your tweet, you need to think about how you would implement it in your social media strategy.
Hence the best and most effective way is to use it in an action-oriented post. Consequently, this would be where the viewer is asked to do an action. Use the GIF to strike an emotion and connect with the audience so they get your message loud and clear.
In addition, here are some other ways you can use GIFs on Twitter:
1. Create animated posters for sales or events:
If you are looking to cut budgets and save on investing in an ad, then GIFs are the way to go. If done right, GIFs prove to be very impactful and serve as a highly shareable piece of information.
2. Feature your products:
GIFs prove the perfect tool to advertise your product. Nowadays, brands face the challenge of capturing their audience's attention while also making sure that their message is understood and all of this in a very short span of time.
Therefore, make the decision to share a GIF that best highlights the features of your product, or short instructional snippets of how to use it (if applicable).
3. Visualize your data:
Statistics and data visualizations are key in providing data and facts. Hence they needn't remain as mere texts or graphs. It is most noteworthy to use GIFs to showcase these figures in a more appealing way.
To save you time while writing a tweet, and scheduling it to post at the right time, use Socialpilot – a comprehensive Twitter management tool.
Facebook
Facebook didn't support the use of GIFs until recently. Sharing a GIF on your timeline is easy. Just copy and paste the link to the GIF and wait for its preview to appear. Now post that GIF!
If you are a business looking to boost a post with a GIF, then the procedure is the same as above. Afterward, click on "Boost Post". Facebook recommends the following for best results with your GIF:
Use high-quality images or animations.
Use a link ending with .gif.
Ensure you use a GIF with file size <8MB.
Use a GIF with less than 20% text on the body.
Avoid flashy or grainy GIFs, as chances are your GIF might not be approved.
Keep in mind these few golden rules for using GIFs on Facebook. Here are a few different strategies you can use in your social media strategy.
1. Show behind the scenes:
Audiences love following a brand they know they can trust. As a result, you need work work toward building that good will. Using a GIF you can showcase your brand in a quick, soundless manner is bound to get your viewer's attention. Feature your employees, offices, and give them a glimpse of behind the scenes events (e.g., PR activities, photo shoots, events,etc).
2. Feature and showcase your products:
Just the same with Twitter, you can feature your products on Facebook. Use GIFs to showcase your products or services and make a unique GIF presentation of how your product works.
3. Share relevant instructional content:
Due to the short attention span of audiences, GIFs prove to be the perfect tool to connect with the audience. Use instructional GIFs or how to videos that are relevant to your brand. Remember this most of all. You only have a few short moments to catch your audiences attention. Make them count.
Finally, you have now completed your first lesson of GIF discovery. However, I am sure your journey has just began. I hope you were able to get a clear idea of GIFs and how best to use it to benefit your social media strategy.
How To Schedule Posts With GIF From SocialPilot
SocialPilot has integrated GIPHY to provide you easy access to the GIF of your choice. While composing your post for any social media platform, just click on the GIF icon, enter your search query, select the right GIF, and schedule your post.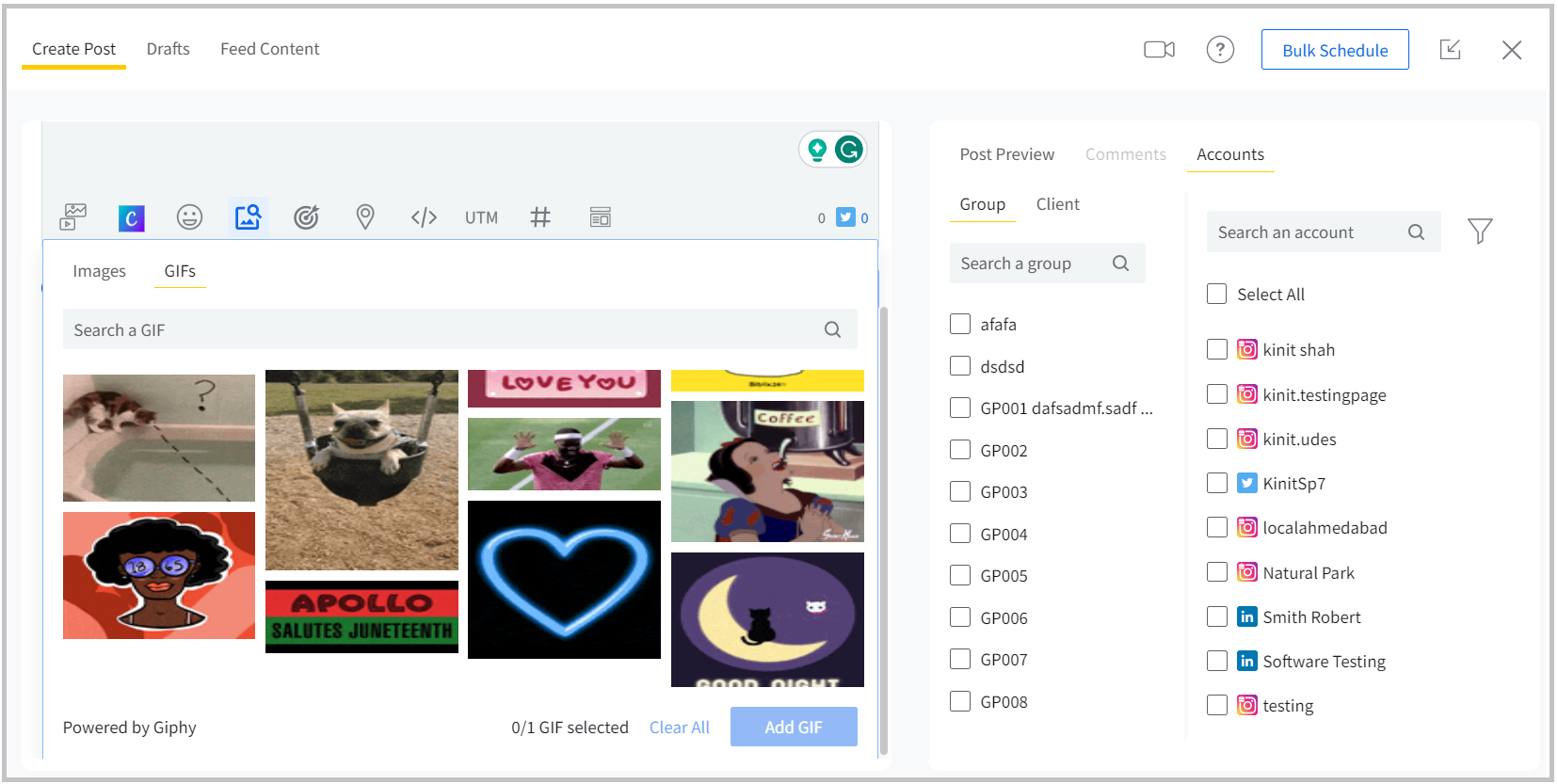 Note: LinkedIn doesn't support animated GIFs. SocialPilot allows you to schedule posts on LinkedIn with GIF but it will be published as a static image.