Do you use Facebook or Instagram for your marketing strategy?
Do you want to manage your content and schedule your post seamlessly?
Well, in that case, Facebook Creator Studio is the most productive business solution. 
As a business owner, you need a one-stop platform to help your manager track all your activities on the Facebook ecosystem without wasting your time switching apps for different marketing purposes.
That's where Facebook Creator Studio comes in. Introduced to the global market by Facebook in 2018, Facebook Creator Studio allows Facebook users to schedule, publish, and track their social media content easily.
But extracting all the desired results using the Facebook Creator Studio platform is not everybody's cup of tea. And that's what this article will help you with.
What is Facebook Creator Studio?
Facebook Creator Studio is the powerful free tool every marketer, content creator, and business owner needs. It gives you the freedom to access and manage all your pages on Instagram or Facebook, all inside a single dashboard.
With its robust features like social media content scheduling, social media analytics, and management, you have the option to level up your Facebook and Instagram influence game.
Available for both mobile and desktop users, you can access this powerful end-to-end tool from anywhere and anytime. Being a free tool to access, Facebook has not compromised on the quality of the tool.
You get almost all the functionalities available in a high-end social media analytics tool. But you might face some hiccups while using Facebook Creator Studio for your business page.
How to Use Facebook Creator Studio?
If you are using your desktop or Mac, you just need to visit the Facebook Creator Studio web portal and sign in with your Facebook official account to get things started.
But if you want to access Facebook Creator Studio on your mobile devices, you need to download a specifically dedicated app on your iOS or Android to access its features.
If your team has direct access to your Facebook page, they'll also get permission to use Facebook Creator Studio for your Facebook business page. Although there will be some restrictions in features compared to the owner, most of the primary functionalities will still be accessible.
The View insights feature is available for all the members like admin, editor, moderator, advertiser, and analyst. Here's a chart explaining the access to different functionalities by different members of your team.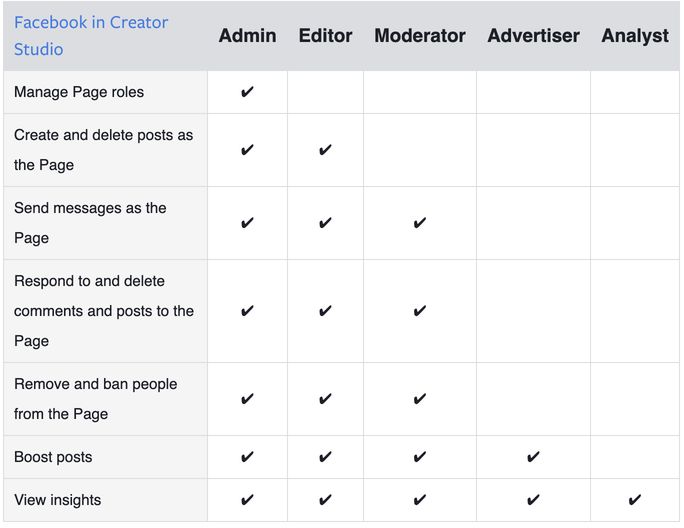 Now, let's talk about all the features available on Facebook Creator Studio for your business page:
Features Provided by Facebook Creator Studio
Once you log in to your Facebook business page, there are six vital elements you'll see:
Post: You can access the post creation tool to create customized posts for Facebook or Instagram whenever you want
Monetization: You can get brief about your earnings from different eCommerce tools on Facebook (only for eligible users)
Insights: Get in-depth tailored insights into your 7-day performance
Recent Posts: You can check all your recent posts and view all the engagement metrics for these posts
Post Status: A complete overview of your posting details of the last 28 days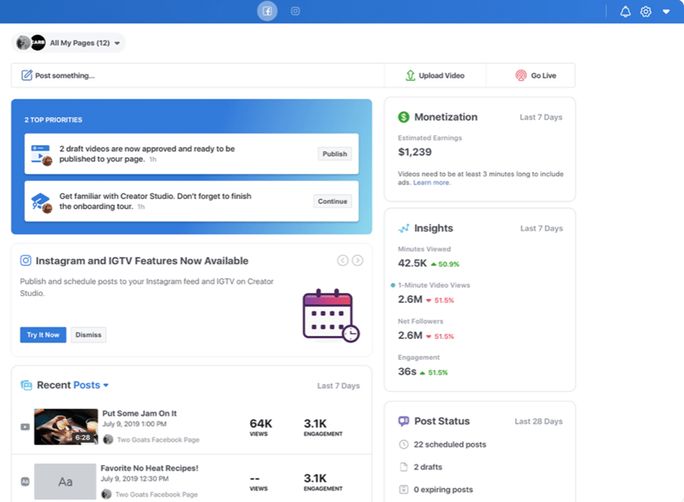 Once you open the left side menu on your screen, you'll get a glimpse of all the features available on Facebook Creator Studio. Going through all these features will give a brief idea of using Facebook Creator Studio for your business.
1. Create Post
Under the create post, you have 7 options to choose from. You have multiple options like create a text post, create post-tests, add a story, upload a video, upload multiple videos, go live, post videos across pages.
Create Post: In your next post, you have the option to upload an image with dimensions ideal for a Facebook post or add any other elements like check-ins, feelings/activities, media files, among others.
Create Post Tests: This is a unique feature you can use for better optimization of your Facebook posts. You have the option to test up to 4 versions of your posts. You can tweak the headlines, content, thumbnails, or any other elements of your post to figure out what your audience likes the most.
Add Story: Same goes for your Facebook story post; you have the freedom to create a customized post using text or photos only. One additional feature you'll get is that you can add a CTA to your Facebook story to channel your audience to a specific destination. You can make them check out your new product or any special offers you have.
Upload Video: Videos are one of the most engaging forms of content across social media platforms. You can boost your engagement rates by uploading videos regularly as Facebook posts. While uploading your video, you have the option to edit the video with different effects. You can also add elements like captions, thumbnails, tracking, and polls according to your social media marketing strategy.
Multiple Videos: If you have to upload up to 50 all at a time, you can do that too. Facebook provides you the option to add multiple videos with their video descriptions and titles for bulk video uploads.
Go Live: You have the option to stream a live video on Facebook where you can interact with your audience in real-time and view their comments and reactions to know more about what they are feeling.
Post Videos Across Pages: Facebook also enables business pages with a feature to upload videos across multiple pages on Facebook simultaneously. If you have multiple brands operational on Facebook or multiple franchises, you can cut the time and upload a common video on all your pages at once using this feature.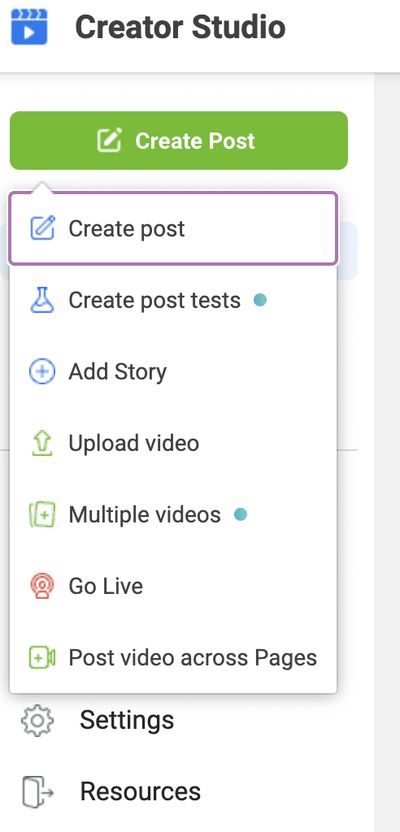 2. Content Library
The next feature on the list for you is the content library. It is the collection of all the posts you have published to date on all your Facebook pages.
If you have numerous posts available, you can filter your post listing using different metrics like publication date, post features, and post type. You can also type in the post details to track down an individual post.
Once you click on any of the posts available, you'll get a complete breakdown of the performance of your posts. You also have the option to perform specific actions on individual posts like edit post, boost a post, view post, view insight, delete, and change date.
Apart from the posts, you also have the option to instantly access all your stories, instant articles, clips, among others.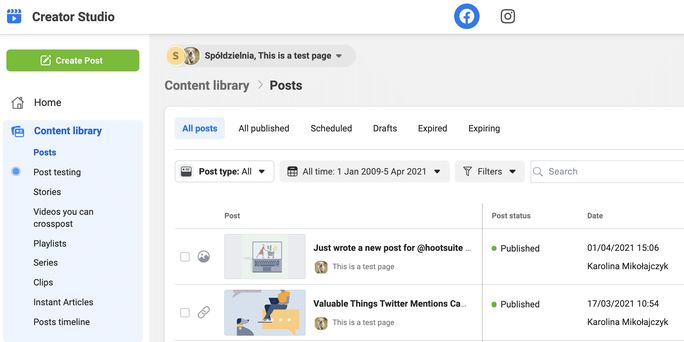 3. Insights
Insights feature displays all the real-time performance of your business pages on Facebook. Since the day Facebook announced that they are shutting down Facebook Analytics, Insights have been one of the vital features available for your analytics purpose on Facebook.
There are four main categories in the Insight feature: pages, stories, videos, and instant articles.
You can access individual dashboards for different categories, and you'll be bombarded with immense information related to all the vital analytics metrics like retention insights, audience insights, among others.
You can also export all the data within a limited time bracket from Insights to your smartphone for offline use.
In the case of Facebook Stories, you need to switch on the analytics feature manually, and Facebook only showcases the data for up to 28 days.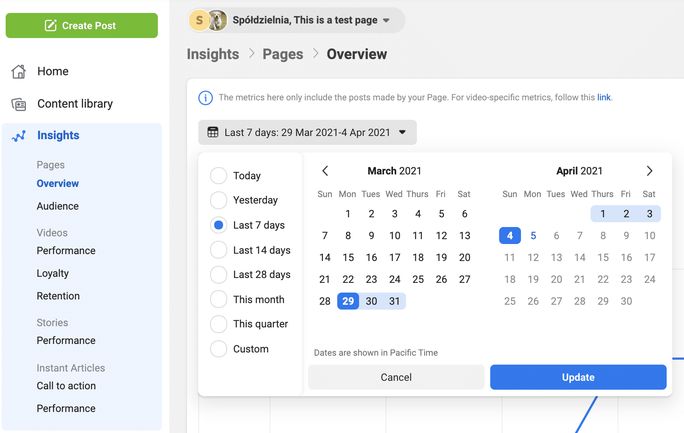 4. Inbox
You can reply and read all the messages and comments you have received on your Facebook business pages. You can also manage these conversations by marking them as done, unread, follow up, or spam.
You also can add notes and labels to all the conversations with the users, request payments from Facebook Pay, and assign threads of conversations to other team members.
5. Monetization
If you are active with Facebook Shop or Instagram Shopping, Facebook ads, you can track all the payouts and earnings under this feature.
Here are all the tools available under this feature:
Stars
In-stream ads
Fans subscription
Brands collab manager
Paid online event
Instant Articles
You can set up these tools once you access the monetization feature. You'll get direct access to all the money exchange information that is happening for your business on the Facebook ecosystem.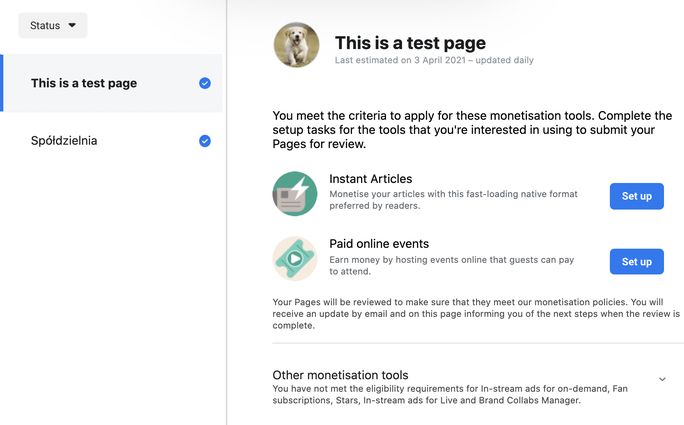 6. Creative Tools
Creative tools feature has two dashboards available:
Sound Collection: You get access to all the royalty-free audios that you can use in your posts across Facebook networks.
Live Dashboard: It is specifically designed for gamers who love to stream live on Facebook so that they can track their performance.
These are all the features you need to know to get a brief idea about Facebook Creator Studio to utilize it to its maximum potential.
If you also want to manage your Instagram, you only have two options in the creative content feature, i.e., IGTV and Instagram Feed Posts. You also have one additional feature, i.e., creating a content calendar for post scheduling. All the other features are similar to Facebook.
Manage Your Facebook Networks
Facebook Creator Studio is a decent tool for managing and optimizing your Facebook and Instagram using a single platform. As it is free of cost, it provides great value to the users for improving their Facebook and Instagram presence.
But there are some limitations you'll experience with Facebook Creator Studio regarding analytics, collaboration and scheduling.
If you are a beginner, it will be great to understand all the basics of these functionalities using Facebook Creator Studio. Still, if you have experience managing your social media handles, you need to access a highly powerful third-party platform.
SocialPilot, one of the leading social media management and optimization tools, can be your go-to tool for better analytics and frictionless content scheduling.
With easy-to-use and highly advanced functionalities, you can unlock new doors of opportunities in the Facebook ecosystem with the assistance of SocialPilot.
So what's making you wait? Go for its free trial today.