Facebook pages are marketer's top choice to engage with their followers.
The reason behind this is the targeting capability of Facebook. Page admins can regulate the visibility as per their preference to get views that matter.
They can share posts when the probability of getting maximum engagement is high with the help of publishing tools on Facebook.
The publishing tools section has many important features such as video management, lead generation, and product sales. Some features like 'Smart publishing' identify those links that you frequently share and publish on followers' news feeds.
Now, if you haven't been leveraging this, you must be wondering where are publishing tools on Facebook?
Click on the 'Publishing tools' on your Facebook page sidebar. You will get to see a detailed dashboard listing your post and story metrics. You can schedule and create posts too. Check the Facebook article if you want to learn more about it.
Now, this Facebook publishing feature has several limitations. That's why most businesses opt for a solution that streamlines, automates, and helps you get more organized with your publishing.
These third-party publishing and scheduling tools are incessantly climbing the fame ladder as marketers can run multiple campaigns for single or multiple clients from one place. Let's discuss 9 such tools to help you optimize and manage your Facebook posting and scheduling better.
9 Facebook Publishing Tools to Use in 2021 that simplify a Marketer's Life
Though the tool offers numerous other capabilities, publishing and scheduling are some of the major highlights of SocialPilot. It is a favorite Facebook publishing tool for marketers working in small and big companies because of its range of features at an affordable price.
Scheduling and publishing on Facebook becomes super easy and highly organized with a tool like SocialPilot, which is tailored especially for increasing brand awareness, traffic, and reach.
Over a thousand businesses trust this Facebook tool's publishing and scheduling capabilities. It allows you to bulk upload posts and automate scheduling, with exciting features like RSS feed automation, identifying popular content, and publishing it automatically. Some of the essential features that this social media management tool provides for Facebook publishing are mentioned as follows:
Why use SocialPilot as your Facebook Publishing Tool?
Multiple scheduling options like add to queue, save posts as drafts, share immediately, share in the next time slot, and repeat some evergreen posts over a period.
Calendar view of all posts scheduled for publishing on Facebook and other social media platforms.
Automated sharing of curated content that SocialPilot discovers using intelligent insights.
Share interesting visual content like GIFs, videos, infographics, carousel images, album posts, etc. Design posts on the spot with Canva integration.
Schedule up to 500 posts on Facebook using the bulk scheduling feature in one go.
Add CTAs to your Facebook posts and specify geo-locations for a targeted post reach.
Schedule Facebook boost posts even before publishing with SocialPilot's Facebook ads feature.
What SocialPilot's Users Say
Cindy C.
What I like most about SocialPilot software is that it saves me time! I have connected my Facebook, Twitter, and LinkedIn social media accounts to SocialPilot, and I manage my accounts directly from the dashboard! This software is smart and easy to use. It is designed in such a fantastic way that anybody can learn to use it. It is so easy to schedule posts to my various social media platforms ahead of time. I just love the efficiency of SocialPilot!
Pros of using SocialPilot
SocialPilot is extremely pocket-friendly, and each feature that it offers adds further value post publishing.
It is the simplest tool for publishing and scheduling, which will get you the results you've been always aiming for. For Susan Daniels, Founder of Beautiful Lives, the tool increased website traffic from zero to 10000!
Along with the usual posting and scheduling, the support is worth the praise. Neil Patel believes that SocialPilot's app team is great when it comes to fixing bugs. Overall, he says that the experience of using SocialPilot is excellent.

---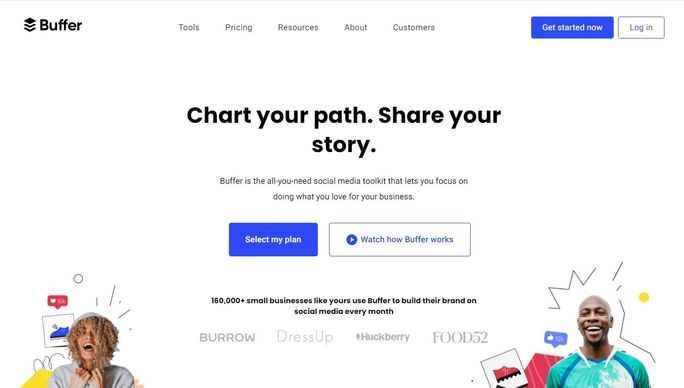 Buffer is another famous Facebook publishing tool among social media marketers. Publishing and scheduling Facebook posts with Buffer is a breeze. The interface is pretty cool and user-friendly. Create your content within Buffer, add it to the queue to schedule it for publishing later. You can custom your post for different platforms too.
Pros of using Buffer
A user-friendly and intuitive platform that even a beginner can start using in no time.
Ability to customize posts as per the requirement of Facebook or any other social media platform, using the tailored posts feature.
Great customer support. You get a reply within seconds if you are stuck with a problem of scheduling, posting, or creating content with Buffer.
Amber C.
Buffer makes it easy to schedule your social media posts ahead of time, and you can also manage multiple different accounts from one place. At our marketing company, it's also easy for clients to understand and use on their own time whether they're on their phone or computer.
Cons of using Buffer
Important and intelligent features like content curation that take social media marketing to the next level are missing.
For 25 social media accounts, you can post only about 2000 posts, which is not enough.
Though on the surface, it looks like a budget-friendly tool, it isn't. To get the most out of your social media posting, you also need to get performance insights. However, these essential features are separate add-ons in Buffer like Buffer Reply and Buffer Analyze, which make your base plan pricey.
Darien C.
Quickly discovered that the platform could not suit my needs because of one insurmountable obstacle – price. The added features like direct Instagram Story & first comment seem interesting for me, but not at the cost of $663/annually when there are alternatives (be it with fewer features). With products such as "Reply," "Publish," and "Analyze," featuring little to no immediately accessible descriptions, and each one carrying a different pricing structure & subscription requirement. Lastly, one feature I've found missing on Buffer is the ability to draft a single post that can be queued in multiple social media channels and customized for each channel.
Check a detailed comparison of SocialPilot being an alternative to Buffer app from here.
---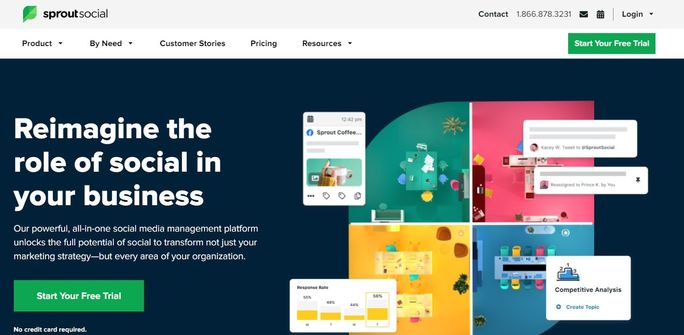 SproutSocial is an easy-to-use Facebook publishing tool that is widely used for automating the social media posting and publishing process. The focus audience for this platform, however, is Twitter. You can also manage your Facebook publishing activities using Sprout Social.
The feature set that SproutSocial provides makes it clear that it is not only meant for social media marketers and managers. It is rather a full-fledged platform that can be used for customer care, employee advocacy, and intelligence management, besides social media management.
Pros of SproutSocial
If you are running sophisticated Facebook marketing campaigns where you rely on personalized messaging, SproutSocial can be a wonderful tool. Run Facebook messenger marketing for different clients using their bot feature.
In SproutSocial, you can set up an RSS schedule and a Feedly sync, enabling you to post updates directly from your Feedly and other vital feeds.
Madison W
It is easy to use and has great support staff. We use it to post on Instagram, Twitter, Facebook, and Linkedin. It is great to schedule posts, so I do not have to set a reminder to post them on my days off or after work hours.
Cons of SproutSocial
Managing multiple accounts using the SocialSprout inbox is difficult because it isn't comprehensive. To dig into insights, you have to toggle between different social account streams individually.
Sprout Social can be highly expensive for small businesses and digital agencies for the limited set of users and accounts it offers. There are various alternatives to Sprout Social that can help you manage more accounts.
Fernando C.
It is a bit expensive for companies with many workers since the program is per user and its cost too. In addition, the cost rises if you want to have more functions. I don't like that the reports are much more prepared, I mean that a heat map can be the solution. Another element that interferes with the total productivity of the program is that it needs consistent interaction metrics on all social platforms, that is, it would be ideal that it could cover all, not just some.
Find out how SocialPilot proves to be a great Sprout Social alternative and a better option as a Facebook publishing tool.
---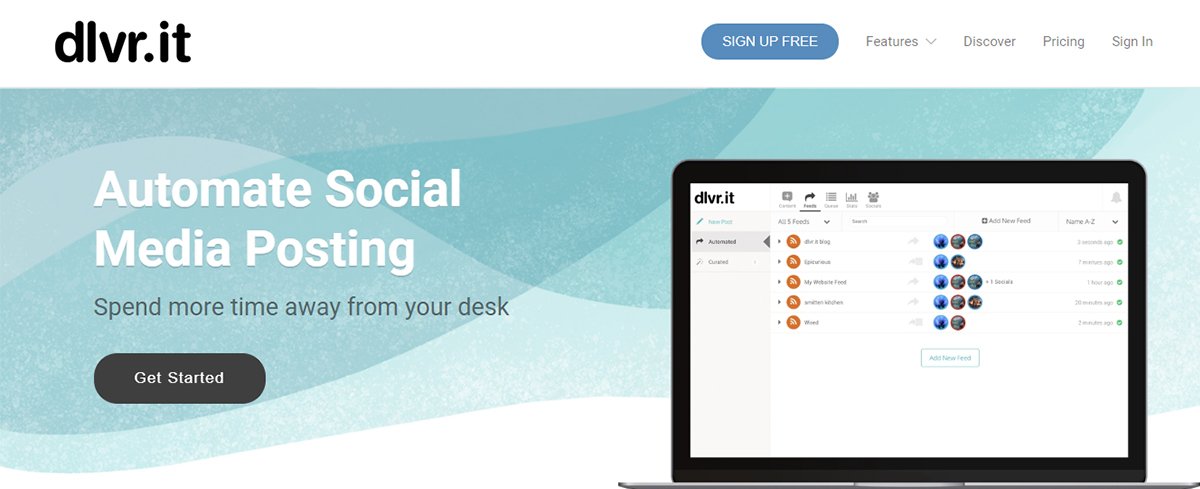 Dlvr.it offers some great features for social media posting. What makes it stand out from most other tools in this list is that it is a posting tool only. Dlvr.it has capabilities like Facebook post scheduler and Facebook posting software.
Using this Facebook post scheduler, you can instantly post new content or queue it to be published as per your scheduled time and date. On the other hand, the Facebook posting software has some advanced capabilities like filters, custom text, auto hashtags, etc.
All in all, it is quite a user-friendly tool for those who want to automate their social media publishing for Facebook and other platforms.
Pros of using Dlvr.it
The tool has a feature for promoting stories. Facebook stories are now quite popular, so this feature can be of good use.
You can pay $1 per story for spreading it to different networks, which means, apart from social media networks, your story also gets distributed and displayed on search engines such as Google or Yahoo.
Gabriel D
You just specify the RSS feeds, connect social accounts, and set the interval. And the service does everything according to the schedule for you. Quite convenient and saves time.
Cons of using Dlvr
The interface has a lot of scope for improvement. It could have been neater.
Even though you can schedule posts, you cannot shuffle or reschedule your posts.
Has a lot of limitations when we talk about Facebook publishing tools compared to other tools in the market.
Verified dlvr.it User
It happens that the authentication of accounts disappears, and there may be no notice about it. Also, sometimes limitations in the free version lead to the fact that the news is not as quickly published as you want. Also, the configuration process is not completely transparent and leaves much to be desired.
---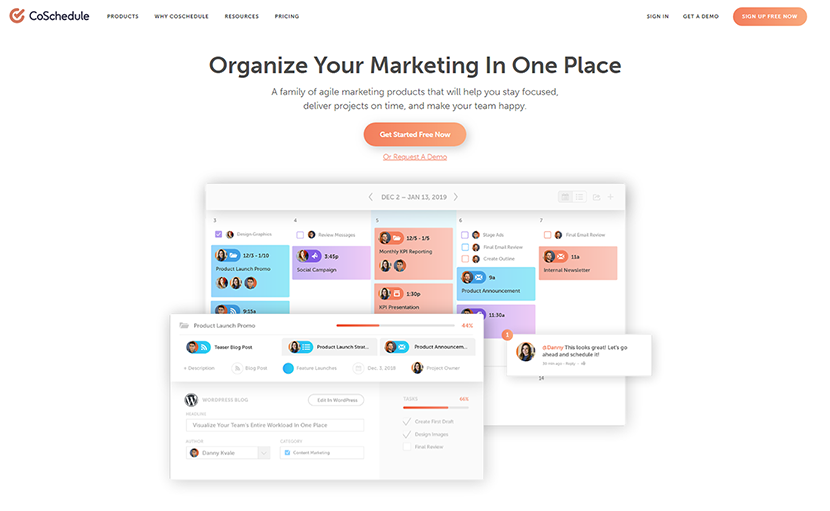 Coschedule is like an 'all-in-one' platform for many marketers. However, one of its best features is the scheduling calendar. The tool enables you to organize and manage your editorial calendar for short as well as long durations. Easy integration with WordPress and Hubspot makes Coschedule a perfect tool for bloggers who wish to automate social media publishing.
Pros of using Coschedule
Using a single dashboard, you can schedule content across multiple social media platforms.
It not only eases your content publishing efforts but also adds more value by giving simple SEO suggestions.
If you miss out on posting as per the schedule, the tool automatically fills in the gap by auto-posting your top-performing social content.
Bruce M
CoSchedule removes a TON of friction from my social media workflow. That's the biggest advantage for me.
Cons of using Coschedule
The tool doesn't offer integrations with many other tools that make social media marketing more intelligent.
It is a bit expensive and even misses out on some great capabilities like social listening.
The interface is overwhelming and requires proper onboarding for new users.
Verified Coschedule User
It takes a lot to understand. It can be challenging to get your team on board as well. It is a lot to learn, which can take some time away from your day-to-day tasks.
Look at the following comparison table between Social Pilot and Coschedule to make the befitting choice.
---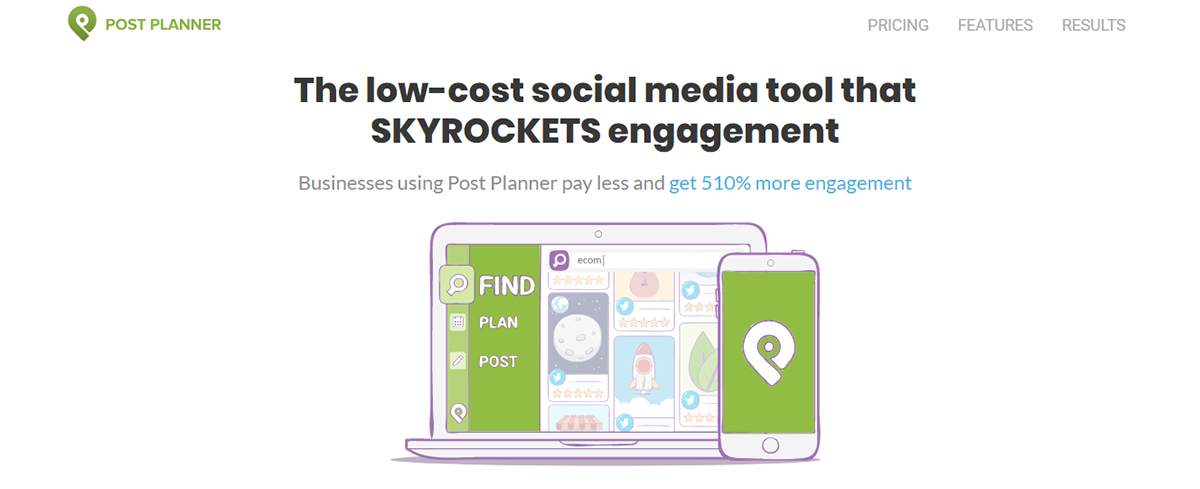 If you are specifically looking for a tool that manages social posting and publishing for Facebook, Post Planner fits the criteria. The Facebook publishing tool provides three straightforward capabilities – find, plan, and post. The 'find' feature helps you identify content that has the potential to win you good engagement and something that your audience will love. The next step is pretty obvious. You can plan its scheduling and use the post feature to share it across your social media profiles.
Pros of using Post Planner
The content discovery feature is such a delight. You don't have to go browsing or searching for content that can work well for your Facebook audience.
Even though it is just a Twitter and Facebook publishing tool, it offers a number of integrations that add more value for marketers who wish to use it.
Bob S.
I love the ease of use and the fact that I can post to all my social media sites with just a few clicks. They have a great search tool to find relevant content and even allow me to import my blog posts straight from my site. I also love the repeat post and recycle features.
Cons of using Post Planner
It is certainly not the best tool for companies that are rapidly scaling or growing. You'll need to integrate it with too many other tools once you need to do more with your social media marketing than just publishing and posting.
Customer support is extremely poor.
It supports 5 social media platforms only.
Michael H.
Frequent outages, constant need to refresh share tokens to enable publishing, its "randomizer" is not random at all.
---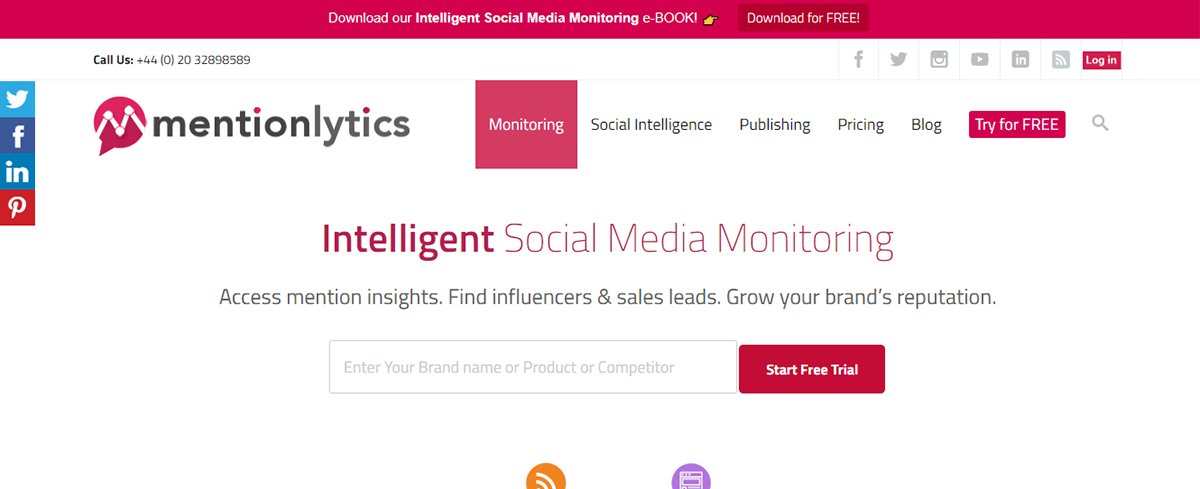 As the name suggests, Mentionlytics is a powerful analytics and social media monitoring tool. However, recently, the tool has added a number of publishing capabilities. The Facebook publisher functionality in Mentionlytics allows you to schedule and publish Facebook posts. You get a calendar view of all the scheduled posts for various platforms from the dashboard.
Pros of Mentionlytics
Even after scheduling your post for automated publishing, you can preview your content anytime and make edits.
If you need to reschedule content on your calendar, you can do so using simple drag-and-drop capability.
Social Intelligence capability in Mentionlytics is really useful in understanding user sentiment on social media.
Aretousa S.
I really like the simplicity of the interface, which is really easy to use, and also the fact that you get a complete picture of your business with just a single look at the dashboard. The support team is very friendly, and they helped me a lot to optimize my account in order to benefit from the tool's potential to my account since I'm not a super tech-savvy person!
Cons of Mentionlytics
The tool sometimes gives a wide range of results when it comes to insights and monitoring. Some of the results can be absolutely irrelevant.
It takes too much time to load, especially the social mentions feature.
Verified Mentionlytics User
I wish more features were available to base plans, even on an a la carte basis. It would be great to see more options to display data. To really get it working for me, I needed to spend some time learning how to effectively use the interface of the tool.
---
Just like Post Planner, Postfity is a simple and straightforward Facebook publishing tool. Apart from Facebook, you can automate social media publishing for Twitter, LinkedIn, Instagram, and Vkontakte using Postify.
The tool offers some intelligent features like a built-in content recommendation engine, which helps you use your most engaging content to improve footfall. Additionally, the tool can recommend the right time for your posts to be published. Nonetheless, you can also schedule your posts as per your pre-decided time intervals.
Pros of using Postfity
You can add watermarks to images or creatives in your social media content to secure them.
Postfity's analytics and reporting are easy to understand. Moreover, you have complete control over how your social media posts are performing. You get exclusive insights on multiple types of data like clicked links, shares, comments, etc., for effective comparison.
Verified Postfity User
Postfity is a very easy social media scheduling tool that allows you to schedule and share posts to multiple social media networks at once. They offer both a Chrome extension and a web app to be able to schedule your posts.
Cons of using Postfity
You don't get to preview how your post will look on a social media channel once posted.
Managing posting and scheduling for multiple accounts at once can be a hassle. You have to change the time zone manually.
Verified Postfity User
Facebook posting within the app has been disabled for quite some time, so a pretty major social network is inaccessible. It is also difficult to view all of your posts that you have scheduled.
---
Agorapulse is a Facebook publishing tool you need if you post on Facebook often. It lets you leverage Facebook insight to get the most out of your Facebook presence. You can also find the best days to publish for a fruitful engagement. If you work in a team, then Agorapulse also takes care of your workflow establishment.
Pros of using Agorapulse
It has a visually appealing interface that is also easy to get a grip on.
The social listening and social inbox feature work wonders.
William A
The scheduler is very simple to use. It has all the features my business needs to publish on social media to our community and new members alike!
Cons of using Agorapulse
Reporting capabilities are limited even at such a high price.
The app has frequent resets and needs multiple login sessions.
Verified Agorapulse User
I am probably missing something but I don't understand why any links I copy and paste in when I am scheduling posts are stripped out. The help/conversation icon in the bottom right hovers over the calendar and when I am trying to schedule a post towards the end of the month. The reports tool doesn't seem to work for a number of the Facebook accounts I am monitoring. I would also like to be able to monitor the feeds for the accounts I am managing, but I can't with the plan we have.
Conclusion
The reason why marketers are switching to Facebook tools is that they have multiple profiles to manage. If you are a budding business, you will need a tool that automates Facebook publishing and aids in getting in-depth analytics and other smart features.
SocialPilot fits your requirement here because it is exceptionally pocket-friendly and offers valuable features like social inbox, bulk scheduling, White Label solutions, customized scheduling, Facebook ads, and more. Start your free 14-day trial and be ready to be amazed.
Frequently Asked Questions
🌟 What is a Facebook publisher?
+
🌟 Where are publishing tools on Facebook?
+
🌟 What are the best Facebook publishing tools?
+
🌟 How SocialPilot proves to be a great Facebook publishing and automation tool?
+
🌟 Why should you use Facebook publishing tools?
+
🌟 Can you access publishing tools on Facebook Mobile?
+