Facebook allows digital marketers to develop highly targeted marketing campaigns that generate significant returns on investment.
However, social media marketers know that it's not easy to conduct Facebook marketing campaigns.
This is why businesses need the knowledge and guidance provided by Facebook marketing courses to achieve the best results.
This blog covers the top five Facebook marketing courses and how you can enroll for them.
What is the Importance of a Certification in Facebook Marketing?
Through free individualized courses and self-driven learning routes, Facebook Blueprint online learning provides basic information about advertising solutions on Instagram and Facebook.
These courses are perfect for advertisers who want to understand the fundamentals and best practices of Facebook marketing.
Facebook certification allows you to prove your expertise in particular advanced-level abilities via proctored tests. It assesses professional competence and offers you a verified certificate that others can view on your social media.
Obtaining a Facebook certification allows you to gain a distinction in the business of digital marketing.
Is Pursuing a Facebook Certification Worth It?
A Facebook certification may be highly beneficial if you want to pursue brand marketing as a profession or promote your own business.
When you get certified in marketing on Facebook, you demonstrate your knowledge of the platform along with your ability to utilize the best practices in real-world circumstances.
Thereafter, upon seeking a job as a digital marketer, your certification can help you stand tall.
Another advantage of undertaking a certification is to constantly stay updated about Facebook's latest features. Facebook's features are always evolving and you can make the best use of the platform only if you know how it works efficiently.
With the course, you not only understand the basics during the tenure of the course, but also stay updated, as most course providers regularly send platform updates and study material, even after you complete the course.
Who all can take Facebook Marketing Courses?
By understanding the ins and outs of Facebook and how to conduct efficient marketing campaigns through these courses, you can avoid the main reasons why businesses fail with marketing on the platform.
Some people who can greatly benefit from such courses are:
Small/medium-sized business owners
Social media managers
Those who are interested in a digital marketing career
Employees of a digital marketing firm that seek to upskill their work experience
Influencers and Bloggers
Apart from simply increasing your abilities, many Facebook training courses include certification upon successfully completing the course, which may bring several benefits in and of itself.
5 Best Facebook Marketing Courses
We combed the world wide web for the finest Facebook marketing courses and discovered some of the best that we have listed below. So, let us take you through each of these courses one by one.
1. Facebook Blueprint courses – Beginner to Advanced (Cost: Free)

Facebook Blueprint Courses, a collection of online lessons curated for a certification exam, is available to assist digital marketers in learning their way on the platform.
The Facebook Blueprint courses are self-paced and one of the best Facebook marketing course free for all. These courses include basic and intermediate subjects that you may utilize to expand your digital marketing expertise, whether or not you are new to Facebook.
You can also take these courses if you want to hone your abilities by studying advanced choices on-demand or improved ways to assess your success.
The following are some of the subjects addressed in the Facebook Blueprint Courses:
Getting started With Facebook
Campaign performance with ads manager
Business manager
Ad auction and delivery
Ad policies for content, creative, and targeting
Brand best practices
Promoting a business via a Facebook page
Targeting custom audiences
Reach and frequency campaigns
After you have finished all of the course content, you must pass the final exam for evaluation to be deemed competent with the course.
Upon successfully passing that exam, you will be able to buy a certificate to prove your accomplishment. A digital certificate may be downloaded as a PDF and can cost anywhere between $99 and $150, depending on the certification level.
2. The Complete Facebook Ads Course [Udemy] – Beginners to Advanced (Cost: $129.99)
Through this course, Daragh Walsh, a skilled digital marketing instructor, will teach you how to grasp and develop your business in an interesting and exciting way. This Facebook marketing course includes nearly six hours of instruction, assessments, and numerous practical quizzes to help you understand everything there is to know about Facebook marketing.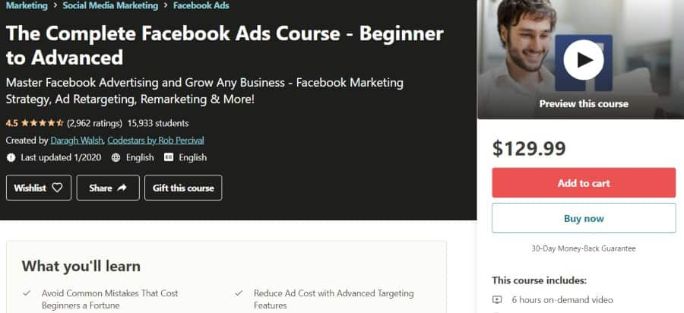 This Facebook advertising course will teach you the following:
Starting a Facebook ads business
Using advanced targeting features to lower Facebook ad expenses
Learning about Instagram ads
Adding discount coupons on the offer ads
Starting a Facebook campaign from scratch
Making a Facebook sales funnel
Generating leads that help in promoting monthly sales
Knowing the ads, which work well with split tests.
Targeting new and potential audiences, customers, email subscribers, fans, and website visitors
Using leap ads to generate leads
Using dynamic ads and collection ads to boost eCommerce sales
This is a beginner-level Facebook marketing course. It does, however, take its learners from the beginning to the end levels of the course. As a result, everyone who wants to be skilled in Facebook marketing advertisements will benefit greatly from the training.
This training will also help those who have a brick-and-mortar or online company, an eCommerce establishment, or an app. The workshop will also help social media marketing enthusiasts and consultants. Ultimately, this training will assist bloggers, entrepreneurs, as well as small business owners.
3. Facebook Ads & Facebook Marketing Mastery Guide 2021 – [Skillshare] (Cost: $19)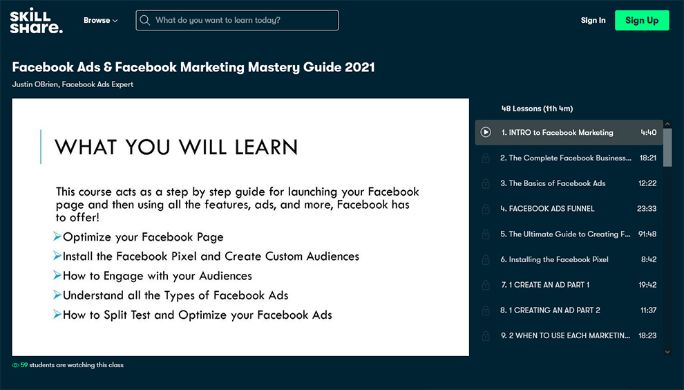 Coursenvy teaches this meticulously designed Facebook Ads & Facebook Marketing Mastery Guide on Skillshare.
Justin O'Brien, a Facebook marketing specialist, will instruct you about all you need to know in this course to progress from the beginner to advanced levels in terms of Facebook Marketing.
He teaches about exactly the same marketing techniques that he himself employs with his clients on a regular basis, as well as how to optimize your content posting process so that you can maintain your Facebook presence far more successfully.
The course is organized into 48 modules and includes more than 11 hours of pre-recorded video content. The following are some of the topics addressed in the lesson:
How to create effective and impactful Facebook Ads
What type of marketing strategy should be employed when?
How to create a Sales Funnel using Facebook Ads
Creating ads for advanced conversion
Creating advanced customized audience personas
How to make more effective Facebook Messenger Ads
A Skillshare premium membership is required to access this highly coveted course. When invoiced manually, a Skillshare Premium membership can cost up to $19 per month or $99 annually. If you're new to Skillshare, you can easily avail of a 7-day free trial upon signing up.
As soon as you subscribe to Skillshare Premium, you get lifelong access to all the course contents, allowing you to continue studying as new content is released or upgraded each month.
4. Creating Effective Paid Ads on Facebook – [Creative Live] (Cost: $13)
Designed by Bill Gene, counted among the world's top-notch marketing influencers and leading educators, this course is one of the finest Facebook marketing courses that you may ever come across. The training course contains all of the ideas and methods that can help your company succeed in Facebook marketing. The course consists of 18 HD video lectures totaling over 3 hours in length.
There is also supplementary content provided by the instructor. It is a completely online course that you may access at any time and from any location. You can stream videos on both mobile and desktop browsers.
Given below are some of the concepts covered in this top-notch Facebook marketing course:
Advanced Facebook targeting to increase the customer base
Creating popularity by maintaining an appealing brand image in front of the audience at all times
Understanding and creating messenger ads, capture ads, and lead ads
Identifying marketing techniques that are appropriate for the present scenario
Understanding some of the projects undertaken for some of the instructor's clientele
5. The Complete Facebook Marketing Masterclass – [Udemy]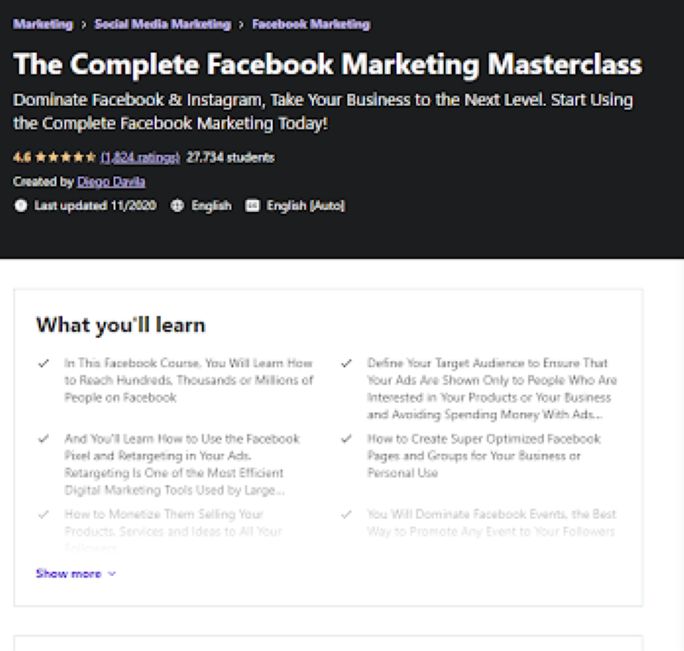 The next Facebook marketing course in our catalog is another Udemy course with a 4.6-star rating. It is one of the most thorough and informative Facebook marketing lessons available online.
These Facebook lessons will teach you:
Reaching and expanding your target audience
The course teaches you how to spend your money exclusively on techniques that will help your business succeed
Create effective ads via ad retargeting
You will become acquainted with Facebook pixels
Creating highly optimized Facebook pages is also an important aspect of this training.
The training also includes additional instruction on how to sell your products, ideas, and services.
Increasing reach and monetizing the page
Emphasizing Facebook events is also an important element of the training since it teaches you how to promote an event to your followers in the best way possible
How to increase the number of views on your Facebook
You will be able to make more revenue with your Facebook marketing efforts and expand your social media following after gaining the insights from this course. This is a no-risk Facebook marketing course. So, if you do not like taking the course for any reason, you may get a refund after contacting Udemy.
There are 11 hours of on-demand video content, three articles, and twelve resources that can be downloaded in the course. You may stream the video lectures on your TV or mobile device. Every module in this Facebook marketing class is backed by a lifetime warranty.
Some Parting Words
Completing a Facebook marketing course might assist you in developing the requisite knowledge and abilities required to successfully promote a business on Facebook. Digital marketers, small company owners, and aspiring influencers stand to profit the most through availing these Facebook training courses.
Such courses are designed to lend all the insights necessary for learning everything about Facebook marketing.
But understandably, not everybody has the time and learning bandwidth for gaining a competitive marketing edge on Facebook in the shortest possible duration.
This is why there is SocialPilot.
SocialPilot is the ultimate Facebook marketing tool that is equipped with cutting-edge features such as Facebook post scheduling, and access to advanced analytics.
Furthermore, its team communication and customizable dashboard feature, among several other useful features, provide a comprehensive solution for scaling your marketing efforts.