As the summer slips from our hands, it also takes away the comfort to work on the routine marketing strategy.
Because with winter comes the task to create a marketing campaign for the holiday season.
As a business, you wouldn't want to miss out on the enormous potential sales you can realize for the holidays.
But in order to achieve great results, you need to pick your marketing channels smartly.
One of the channels that you particularly need to focus on is Facebook. Without a doubt, Facebook marketing is one of the most effective strategies today to make the most out of the holiday season.
Facebook caters to 2.89 billion monthly active users and is still growing every quarter. 42% of marketers give high value to Facebook marketing. It shows that Facebook is too big of a social media platform not to host your holiday marketing strategies on it.
But to cook the best holiday marketing strategies on Facebook, you need to have the best Facebook marketing tips by your side.
Here are 8 of the best Facebook marketing tips that can help you do the best Facebook marketing campaigns for the 2021 holidays:
1. Study Facebook's Holiday Guide
Just like every year, Facebook released the Facebook 2021 holiday marketing guide to aid advertisers. This can help businesses come up with campaigns that are compliant with Facebook's guidelines on effective marketing strategies.

But, if you are looking to create a striking holiday campaign on multiple social networks. Here is an all-in-one social media holiday season guide to creating a successful campaign.
That said, make sure that you read this year's holiday guide and use this to lead the direction of your Facebook marketing campaign. Facebook's 2021 holiday guide is filled with helpful insights, as well as a campaign planner that can help you schedule your campaign to bring about the most effective schedule.
2. Create a Personalized Holiday Selling Experience
Personalization is vital in coming up with a winning marketing campaign. This stands true even for Facebook marketing. With there being too many advertisements that customers will bump into across different channels, those that are personalized are the ones that stick.
To personalize your marketing strategies, you will have to do your part in understanding who your customers are and what appeals to them. You will have to gather data not only on the demographics of your customers but also on their shopping behavior. One of the ways that the latter can be achieved is by understanding past orders or product searches.
Once you are done creating a proper buyer persona, utilize the hyper-targeting features of Facebook to give your audience a personalized experience.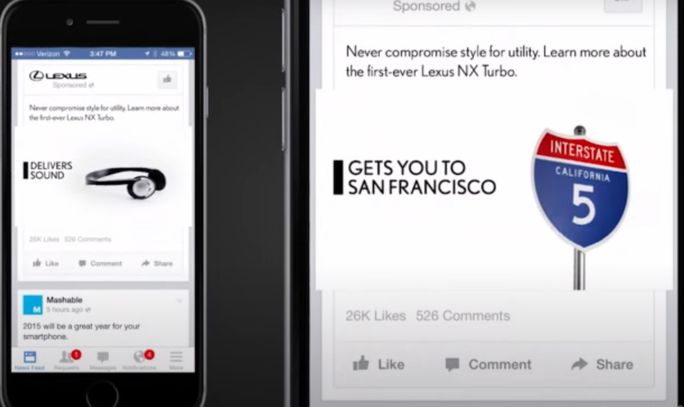 One example of a highly personalized marketing strategy (and highly engaging) is Lexus's beyond the utility campaign of over 1000 ads. Lexus targeted over 1000 different buyer personas and created 1000 versions of the same video ad for each audience type.
The video was comparing mundane items with utility but no style against the same type of items with utility and elegant looks. The idea was to represent an infusion of both utility and style in Lexus's new car.
The highly targeted Facebook ads helped Lexus reach 11 million users and increased engagement by a whopping 1678%.
The campaign's success helps marketers and advertisers realize the importance and the need to personalize the communications message.
3. Publish Your Posts at the Right Time
Another essential aspect to look into is the timing of your posts. For all marketing platforms, including Facebook, a success factor that you should consider is when to post content for maximum benefit.
You will want your posts to have immediate feedback, which can be attained by publishing at the best time to post on Facebook.
Research shows that there is no one way to tell when your customers are active, as this differs depending on who your customers are. So you will have to track metrics in Facebook insights tools to determine what your specific audience's most active times are.
Facebook Page Insights can also help you do this. It can show you when your fans are online so that you can schedule your posts accordingly.
To do this, you can simply go to the Admin panel on Facebook, then click Check out Page Insights. From there, check Posts, and then select When Your Fans Are Online.
The result will show your followers' activity for a week so that you can find the best days of the week and the best time on those days when your posts can be published.
Knowing key dates and times to publish your posts, you can schedule your posts for more reach and engagement using Facebook marketing tools. Facebook also enables you to schedule your posts way ahead of time, so you don't need to post on your chosen schedule manually.
But the native Facebook scheduling capabilities are not enough for a marketing agency handling multiple client accounts at once. Here you need a tool like SocialPilot, which enables you to schedule various posts for various social accounts from a single dashboard.
With all these, there is no reason why you would not achieve timeliness. Match this with content quality, and you are sure to achieve the desired results.
4. Host Exciting Contests on Holiday Theme
To engage your customers, you can develop exciting contests that fit the holiday season vibes. When you come up with contests, make sure to pay attention to the following key points:
Determine your goals for your contests. Is your goal to increase brand awareness or improve conversions? Your goal will help you guide what campaign you will launch.
Ensure that the value of the prize can grab the attention of your audience. Are your prizes interesting enough to encourage your audience to participate? Can your marketing budget sustain these prizes?
Plan your content correctly, and perform smoothly. With the proper understanding of your goals, make sure to plan your contest to organize it with no sweat and with maximum results.
Evaluate the results of your contest, and check if your goals have been met. Determine whether your strategy worked. If not, check what led to that and make sure that you consider the cause for future activities.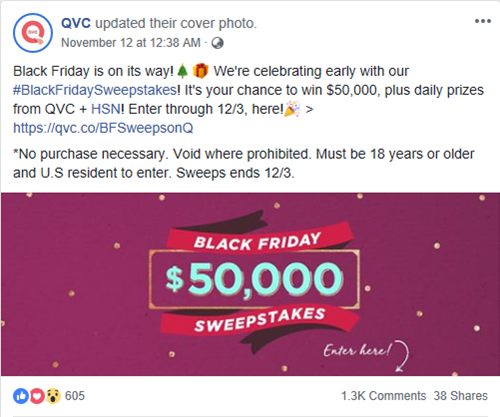 QVC came up with a sweepstake for Thanksgiving. By simply entering your email address, you can have a chance to take home $50,000. This allowed them to engage a lot of potential customers while at the same time improving their mailing list.
5. Produce Different Ads for Your Big Sales Event
Sales are definitely big around the holidays.
Ensure that you come up with several ads that will not only disseminate that there will be a sale but encourage your target customers to actually purchase during the said date.
Capitalize on what benefits your customers can enjoy if they bought during the sale, and make it a point that each of the holidays has their custom promotion that can pull in people.
Don't make a single campaign that will last for the entirety of the season – craft dedicated campaigns for each holiday. This way, you can develop strategic campaigns that are more capable of meeting the desired results.

Take Kohl's, for example, It offers different promotions for different holidays, as seen in the above images. With this, their customers would keep on coming back for newer offers compared to having just one offer for the entire season.
6. Utilize Collection Ads to Advertise Better
Facebook collection ads give an immersive experience to browse and purchase the products instantly. The ad has a cover image or video that opens up to a new window showing multiple product images associated with the cover image or video when clicked upon.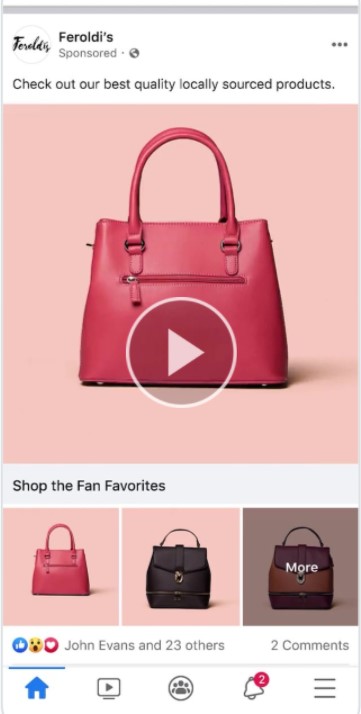 Facebook has 4 collection ads templates, and each is applicable for a specific goal:
Instant Storefront: Best for advertising four or more products, Instant Storefront features a format that can help display your products in a way that your audience can see them easily, without the need to leave Facebook.
Instant Lookbook: Instant Lookbook helps you effectively digitize your catalogs, as well as feature your products in action.
Instant Customer Acquisition: If you aim for conversions, Instant Customer Acquisition is designed just for that. This format is designed to drive people to take action on your site.
Instant Storytelling: And if your goal is to tell your brand's story, then the Instant Storytelling format is your best choice. It helps you engagingly convey your message.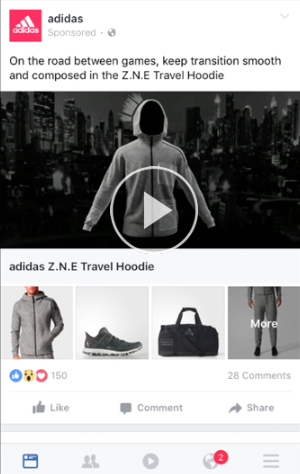 Adidas makes great use of Instant StoreFront, allowing Facebook users to see multiple products within the limited space.
7. Implement Facebook Dynamic Ads
Facebook dynamic ads offer a great way to automatically target people with a specific set of products they are likely to buy.
Why call them automatic? It is because you don't have to create individual ads for every item you sell. Just create a catalog with all your products and services and set up a campaign.
From here, Facebook will automatically generate ads based on the user's activity on your product catalog.
This is a great way to ensure that your Facebook campaign is effective – pushing it to users who are most likely to respond positively to your campaigns.
What's more?
The users' preference is not limited to the Facebook activity or the information on a user's account, but as to what a user searches anywhere on the World Wide Web.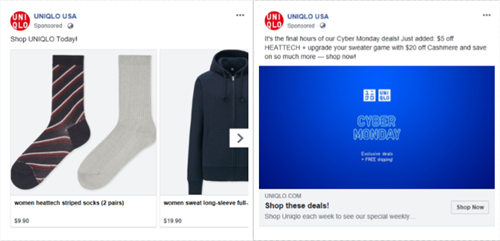 If you, for example, searched for Uniqlo, you would most likely see the above ads. It is also worth noting that dynamic ads can be designed either as a carousel or as a single image, so you can opt for whichever works best for you.
8. Find Your Audience by Training Your Pixel
Facebook Pixel allows you to track users' activities who were led to your website by your Facebook ads. But Facebook Pixel doesn't just store activity data – it helps Facebook understand your audience better. By doing so, Facebook can identify the best audience for your ads, allowing your campaigns to reach the best potential customers.
In itself, Facebook Pixel allows you to track the following actions from your audience:
Which pages does your audience view
What searches were made on your site
What items were added to the cart
What items were added to the wishlist
When your audience check out their carts
When your audience key in their payment information
When your audience complete a purchase
When your audience become a lead by signing up for a free trial
When your audience complete a registration form
Knowing these actions helps you understand what your campaigns are achieving. You can then craft better campaigns off of this knowledge. This can even be amplified when your ads are shown to a more appropriate audience as Facebook learns more about your target audience.
It is therefore essential that you make use of Facebook Pixel not only to craft your Facebook campaigns but to help them be pushed to the most appropriate audience.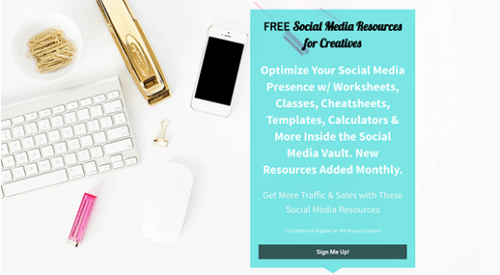 You can further make use of Facebook Pixel marketing to track leads.
For example, with the above ad, there can be two events:
landing on this page,
and signing up.
While both cases would mean that the users are interested, those who sign up did so because the offer worked for them. You can also track those who didn't sign up and maybe push for a different offer that might work for them.
Make it Big this Holiday with Winning Facebook Marketing Campaigns
E-commerce sales are highest around the holidays. According to eMarketer, online sales will contribute 18.9% in total holiday season retail sales and reach a record $206.88 billion.
You must have a share in this by implementing winning Facebook marketing campaigns.
The 8 Facebook marketing tips above can help you achieve that and more. But remember a holiday Facebook marketing campaign can be pretty tiring for you, so don't shy away from taking the help of Facebook scheduling.
Facebook is a pretty wholesome platform to target your customers at every stage of their buyer's journey.
So buck up, plan wisely, organize yourself, and sell maximum. Let the holiday planning begin!