30% of the internet users use Facebook more than once a day. This is why Facebook always rolls out things to make the user experience seamless.
The common use of smartphones started in 2007, and Facebook launched Facebook Touch in 2009 to incorporate this transformation.
Wondering what Facebook Touch is, how is it different from the Facebook app and what is its significance?
We are here to answer all those questions and more.
What is Facebook Touch?
Facebook Touch is an advanced Facebook app that has many distinct features. H5 apps developed it as an app made especially for touchscreen phones.
Available and applicable across all smartphones, Facebook Touch offers a fine user interface and serves as an alternative to the typical Facebook App.
The core difference between the Facebook App and Facebook Touch is that Facebook Touch has better graphics and a user-friendly interface. It also runs faster than the former.
You can use Facebook Touch even with a slow internet connection.
Difference between Facebook Touch and Facebook App
When you open Facebook on a browser, the web address will read http://m.facebook.com. If you open Facebook Touch, the web address would be different and is – http://touch.facebook.com.
Once on Facebook Touch, you will come across higher-quality images and better displays. The typical Facebook website comprises less data and lower quality images.
Facebook Touch offers a better user interface while consuming less data as it is designed specifically to serve smartphones.
The overall functionality of Facebook Touch is more advanced than the typical Facebook version. This is because Facebook Touch is designed for mobile users while typical Facebook's resolution degrades when operated on a smartphone.
How to Download Facebook Touch on Your Smartphone?
Downloading Facebook Touch from the Play Store or the App Store of your smartphone is not really a viable option. If you choose to type "Facebook Touch" on your Android Play Store or App Store, you will simply see the "Facebook App" in the search results.
To download Facebook Touch, you will have to get an APK file and download it from there. Once downloaded, log-in to your account and browse through better quality images and refined user interface. To access the APK file for Facebook Touch, follow the given steps:
Step 1 – Change Authorization Settings
The first step in downloading Facebook Touch is to change the authorization settings in your device. For this, authorize installation of applications from unknown senders on your smartphone.
Step 2 – Search for Facebook Touch in Web Browser
Open the web browser that you generally use, and search the term "download Facebook Touch" in your search box or type this where the web address typically sits.
Step 3 – Choose the Right APK File
Out of all the files that appear, choose the APK file that complies with all the specified terms and conditions.
Step 4 – Download the File
Once you have selected the right file to download, tap on the download button and let it download. Try to have your phone connected to WiFi so that your mobile data does not deplete much.
Step 5 – Install the Facebook Touch App
Once the APK file is downloaded, you will have the option of installing the application. Click on the "Install" button to get this done.
Step 6 – Launch the App
Enjoy all the benefits of Facebook Touch by launching the app and logging into your account using your account login info.
What are the Features of Facebook Touch?
Facebook took its user's feedback and designed Facebook Touch in such a way that makes the user's experience seamless. Let us see what some of its striking features are:
It delivers a flawless user experience of using Facebook. There is no lag due to a poor internet connection.
You can view images in a high resolution at a faster pace of loading.
The version is more inclusive in terms of group accessibility and page accessibility.
Facebook Touch comes in both app version and web version.
The interface is beginner-friendly.
There is no limit for the width of posts. You can see the posts in a very large size.
The chat window within Facebook is a good one.
Facebook Touch is a better, more advanced version of Facebook. You just need to run it once to see that for yourself.
Limitations of Facebook Touch
While Facebook Touch is no less than an upgrade from the regular Facebook, it still has its limitations. Let us analyze what these are:
The difference between regular Facebook and Facebook Touch may not be quite noticeable to everyone. The people accustomed to using the regular version of Facebook may find it somewhat difficult to make the switch.
Since the launch of Facebook Touch, Facebook has already launched other versions for touch devices that are probably better than Facebook Touch.
The desktop version of Facebook Touch may not be right compared to the regular version.
The limitations seem minor in front of the features but the final call is yours whether you wish to use this or not.
How Can I Turn off Facebook Touch Notifications?
No one likes to be bombarded with constant notifications. Notifications like when someone "likes" your post or "reacts" to your comment are very distracting. But the good news is you can turn off the notifications easily. Follow the below given steps for the same:
Open the "Settings" tab on your smartphone.
Another window will open. Here tap on the "Apps".
Under the apps, you will find the Facebook Touch app.
Tap on this and click on the Notifications tab.
Here, you can disable the notifications and force stop the app.
Doing this will prevent Facebook Touch from sending any notifications to your mobile device.
Account Information and Privacy Settings
The accessibility of account information, personal details, and privacy settings are not the same across the regular Facebook website and the Facebook Touch app.
With Facebook Touch, it is easier to access these as compared to the regular app. Let us guide you through the process: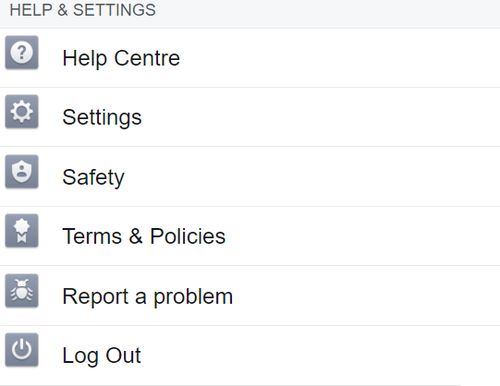 Step 1 – Open the App
The first step in accessing the account information and privacy settings is to open the app. If you have not downloaded it, first download it by following the steps given above and open the app.
Step 2 – Log in to Your Account
The next step is to log into your account. For this, simply write your username or phone number and the password to log in. If you do not have an account already, create one via signing up with Facebook.
Step 3 – Opening Settings
As you log in, the homepage will open up. On the top right corner of the homepage, you will see three lines. Tap on this. Another tab will open. In this tab, you will see your name and profile picture on the top. As you scroll down to "Help and Settings", you will see the option of Settings. Tap on that.
Step 4 – See and Edit Your Details
Once Settings open up, you can see your account information, preferences, visibility and permissions. You can also take a look at the community standards and legal policies.
Messaging on Facebook Touch
The option of direct messaging on Facebook Touch is only enabled via the Messenger app. This implies you have to download Messenger to send anyone a message.
The Facebook Messenger app was launched in 2011. This app allows you to send instant messages on Facebook. This acts as a replacement for Facebook Chat and can also be used by individuals who do not have a Facebook account.
You can use the Messenger app on your Android, iOS, Apple Watch and other devices by downloading it from the Play Store or App Store..
If you use Messenger in the browser, you can get add – ons to access it faster. Since Messenger is majorly built for texting, you can easily initiate one on one and group texts using it.
You can also send attachments like images, videos and GIFs using Messenger. You can send stickers and emojis as well.
If a person you are conversing with is typing, you will be notified about it within the chat window. You could also see the read receipts and the delivered receipts. You can look at the timestamps for the exact point of time when the message was sent and received.
You can search within the messages through text keywords and search for messages from specific people and groups.
Messenger also enables you to view any message requests from people who are not on your friends' list. You can also view filtered messages, archived messages, unread messages, spam messages, and people who are active on Facebook at a particular point of time.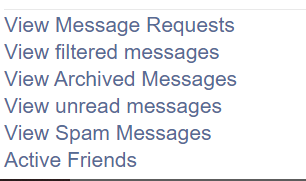 It also lets you see how long ago a particular person was active on the messenger app.
Easy Access Through Facebook Touch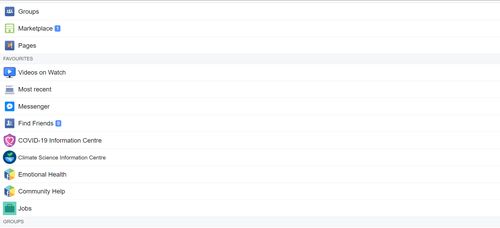 Facebook Touch acts as a source of easy access for multiple other Facebook features. It collates various domains within Facebook in one place for considerably easy accessibility.
You can do most of the things on Facebook by simply tapping on the three dots on the top right corner of the screen. This is so because the Facebook Touch user interface allows unification of most action points of Facebook in one region.
The new tab that open would comprise of the following:
Your profile picture – Clicking on this will redirect you to your profile page.
Suggested tab – Under this you will see suggestions related to groups, marketplace, and pages on Facebook.
Favourites' tab – Within this, you can access the videos on watch, most recent, messages, find friends etc.
Groups – Here you can see all the groups that you are part of.
Apps – Under this tab, you can see all the apps that are enabled within Facebook.
Pages – Within this, you can create a new page or create a new ad.
Help and Settings – Through this, you can reach the help centre, change settings, safety, see terms and policies, and log out of Facebook.
Ready to Switch to Facebook Touch?
For all those who use Facebook on their phone, Facebook Touch is probably an indispensable option. Not only does it take your experience to a whole new level, but it also enables you to easily access features of Facebook without any hassle.
If you wish to take your Facebook experience to a whole new level, then getting a comprehensive Facebook solution from SocialPilot might be your best bet.
With that, we wish you happy Facebooking!