"The thing that we are trying to do at Facebook, is helping people connect and communicate more efficiently."
Mark Zuckerberg (The Facebook's Prodigy)
Coming from the owner itself, the statement doesn't need any justification, right? Well, apart from personal purpose, even the businesses are leveraging the social media giant extensively. Hard to believe?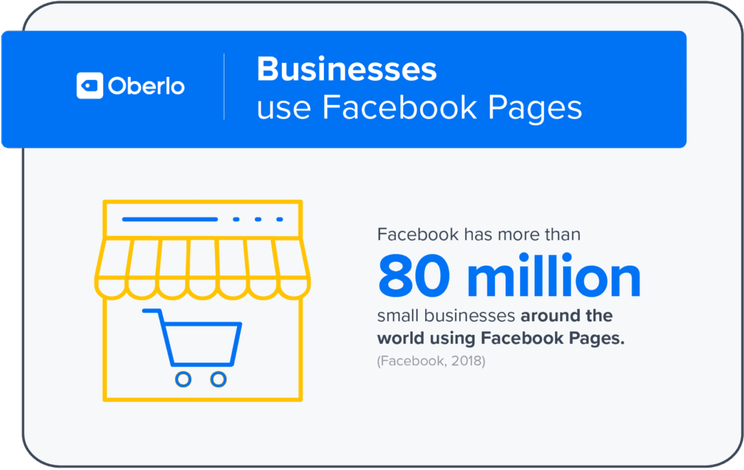 Why Is Facebook Marketing Important For A Business?
Facebook pages, business communities, and groups that the platform consists of, and the Facebook Messenger are a couple of key features to help entrepreneurs connect with the targeted audiences and drive more traffic to their websites.
More than 7 million active advertisers were leveraging Facebook to promote their services and products in the 3rd quarter of 2019.
Also, there is a whopping 6 million boost in the number when compared with the previous year's metrics, now that's something worth looking at to dig out the key drivers of the sudden surge and how this can be utilized to promote your brand in front of the right people!
Why Is A Facebook Business Page Important To Create?
On one hand, there are highly evident opportunities that drive entrepreneurs to leverage Facebook for promoting their brand.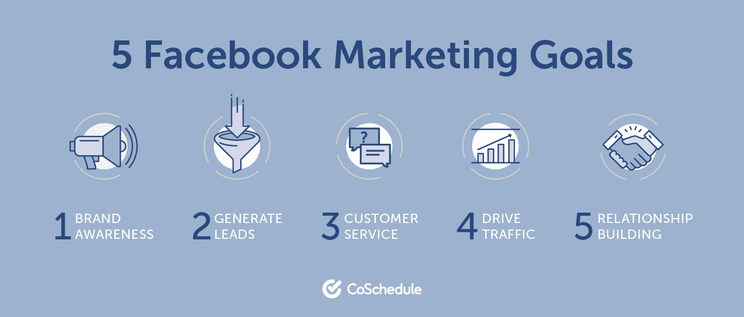 Also, the platform provides an opportunity to connect with the targeted audience and build a loyal community.
But is this enough why you should build a Facebook business page? No? Let's explore the key reasons for how such a page can work wonders for your brand and bring you to the spotlight
How does a Facebook business page help in building a brand?
Give An Identity To Your Business
One of the biggest perks of this platform is that it gives you a chance to attach a face and personality to your brand with which your targeted audience can relate to naturally.
Also, you can develop an emotional bond with your prospects through one-on-one interactions that would let you build long-term relationships.
Moreover, the page provides the audience with the basic business information about your company like your location, contact details, etc. that let you be familiar with your brand and learn more about the same.
An Opportunity To Earn Quality Attention Every-day
There are above 2.45 billion active Facebook users as of September 2019 across the globe. So, what could be better than getting a chance to earn the attention of your targeted audience every-day, on such a densely populated platform, right?
A couple of ways which helps you in keeping your audience hooked through your business page are:
Sharing engaging and relevant posts regularly
Status updates like before and after photos
Viral links and videos to thought-provoking information
Time-lapse tutorial videos
Customer testimonials
Limited time offers
To make the media more eye-catching on this platform helps in garnering the attention of more people and being right there in their memories for a longer time!
Tip Use Facebook marketing tools to simplify your content marketing plan on facebook business pages.
A Pocket-Friendly Alternative To Fetch More Leads
The cost of creating a Facebook business page is null but the returns are stunning! As per Mashable, 20% of customers prefer to buy products through the Facebook business pages rather than the company's website:

Besides, these pages drive three primary benefits which are:
a. Placing relevant CTAs like Shop Now, Sign Up, Look For More Info, etc. on your page draw more prospects to your website and boost the click-through-rate.
b. Expanding the organic reach of your business by letting the audience like, share, and comment on your posts and thereby enhancing the organic exposure.
Leverage audience insights to build your ideal customer
Nowadays, the social media channel provides entrepreneurs with many alternatives to gain an edge over your competitors by leveraging features like Facebook Insights. This helps you in tracking the performance of your business page in terms of the total post shares, likes, reach, and engagement rate.
Moreover, there are a couple of features that help you in gathering relevant insights about your audience like demographic background, preferences, etc. All this information helps you in planning your business strategy more efficiently going forward and build a loyal follower base.
Steps To Create a Facebook Business Page
Let's learn the process of how to create one! The procedure is simple, but there are many steps you need to follow and missing anyone could hamper the end product. So, why not take a look at the process in detail.
To build a Facebook business page for your business, it's a must that you own an account on Facebook for which you need to have either a functioning phone number or an active email address.
If you already have an active Facebook account, it's fantastic, but if not, don't be disheartened as it's simple to create one! Head towards facebook.com and fill every field that's placed under Create an account section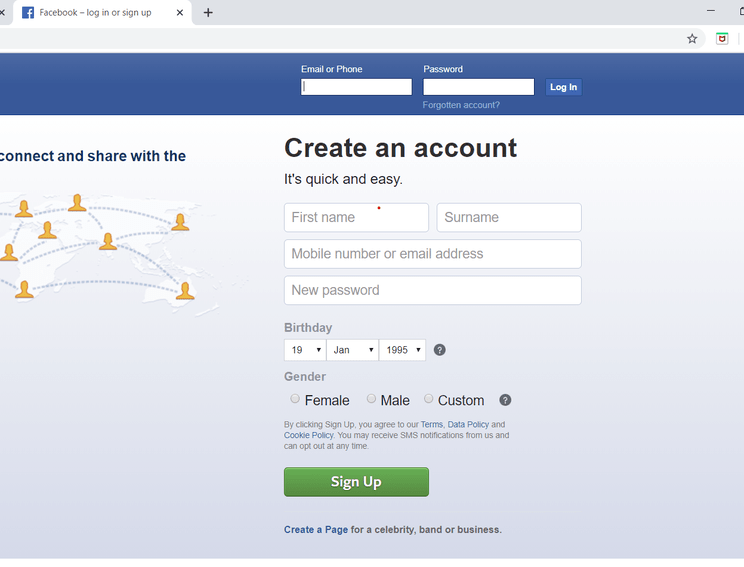 Once you feed the email/contact number and set-up the password, your Facebook account will be created

As you can observe, many fields are required to be completed here, like your basic info, profile, and cover pictures. Once that is done you can move forward to setting up your business page. You'll need to follow the below-mentioned steps carefully:
Choose the 'Create a Page' Option from the drop-down menu
Click at the Create option that would be displayed at the right-hand side of the blue toolbar and you will be greeted with a drop-down menu from where you will have to select the Page option

Select The Business or Brand Icon
You will be directed to a page where you will be prompted with two options. Create a page for Business or brand, and Community or public figure. Select the right option.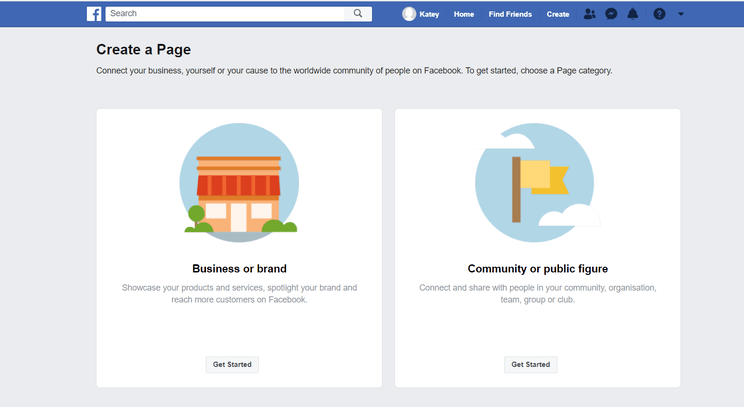 Pick The Right Category For your Facebook Business Page
As you are here to create a business page click at the Get Started option given in the Business or brand category. By doing that you will get the below screen where you need to feed the name of your page: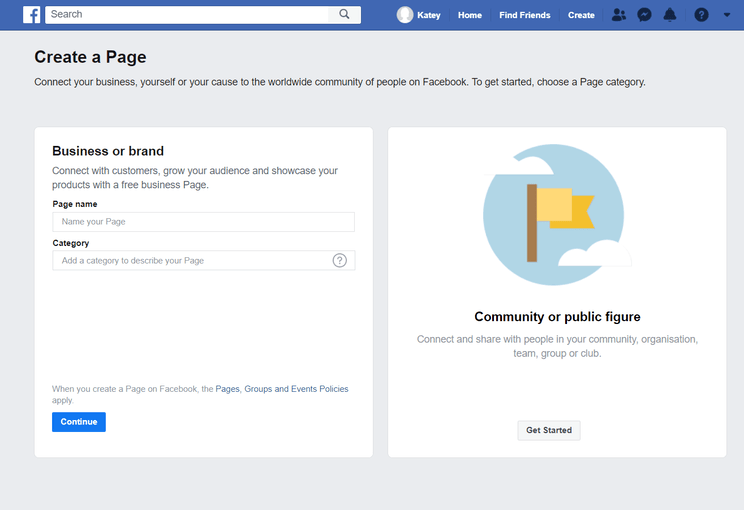 If you are creating a page for beauty salon services then mention the name of your business. After choosing the name you will have to feed the category that's best suited to your brand, here, the broad niche will be "beauty" and when you type that keyword Facebook will provide you with a couple of suggestions from where an appropriate one can be chosen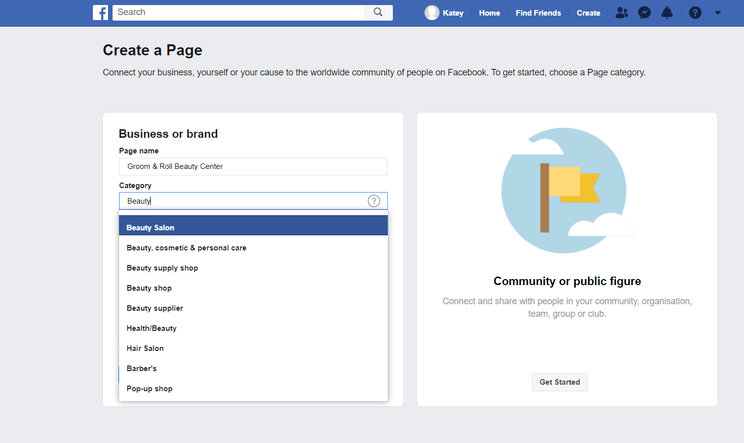 Choosing a business category might sound simple, but you must keep your targeted customers in mind and analyze what they are likely to think of when they think about your business before putting the same in a category.
Here, if you pick the beauty, cosmetic, and personal care category, you will be asked to provide your address and other details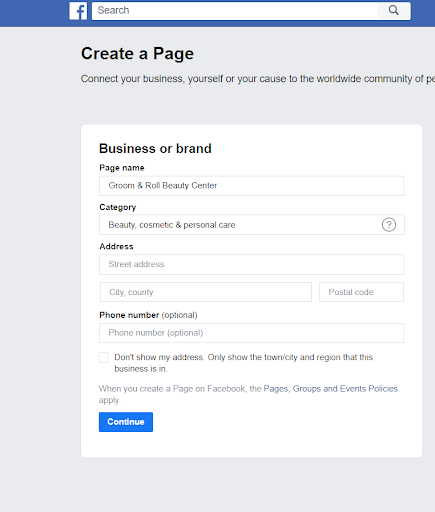 After adding the address and contact information (optional), you can also check the box to keep it hidden. Post adding the details, and clicking continue you will be asked to add a suitable profile picture for your page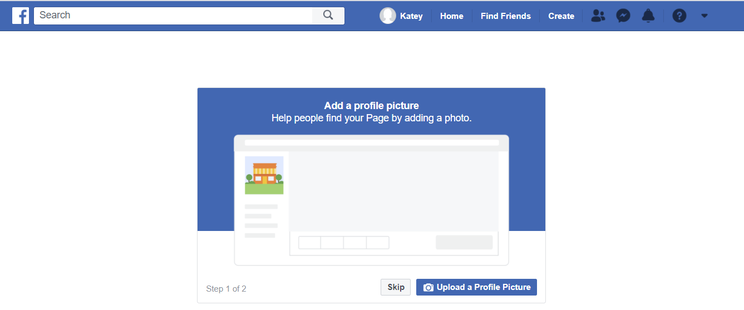 You can skip this step, but putting a relevant profile picture will help you in making your page look even more pleasing. Once you upload the profile picture in the next step, you will be asked to provide a suitable cover image for your page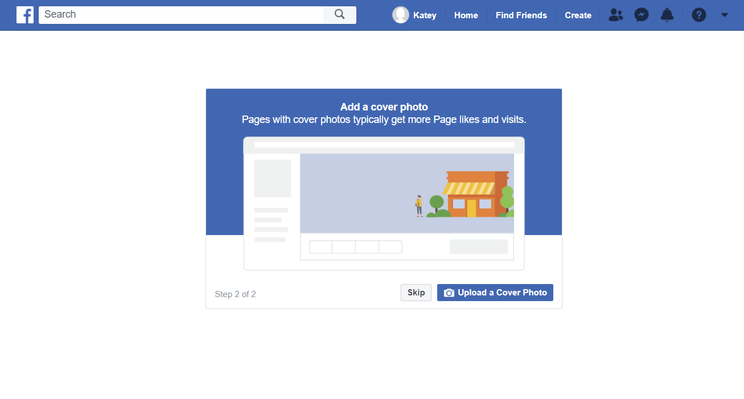 The option is again skippable but better to add an eye-catching cover picture for your page. After uploading the same, your Facebook business page will be created. Yes, you heard it right. So, let's take a look.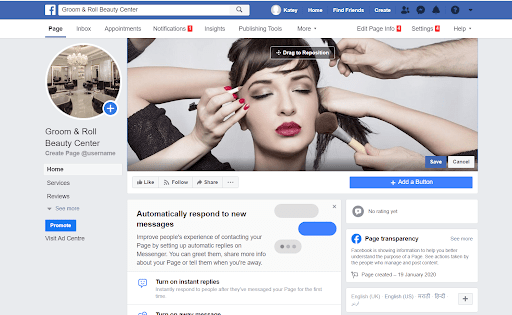 It seems amazing, right? But still, there is a step that's left which is to select a username for your Facebook business page. In the above image, you can check the option to create a username for your page just below the page name.
When clicking on the same you will be greeted with a window where a username can be added.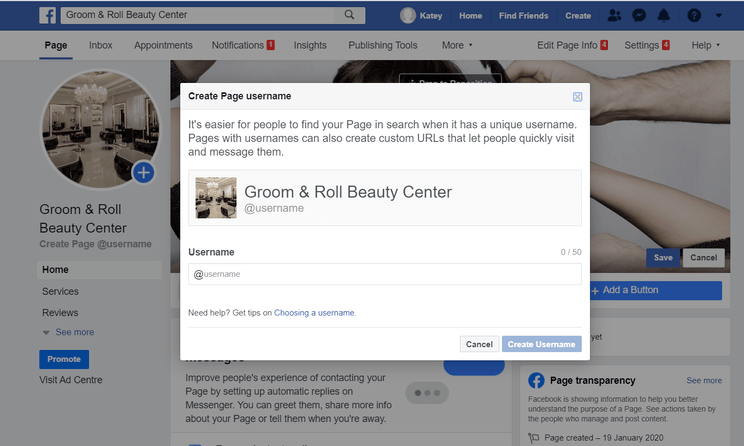 The username you pick for your business page is equivalent to your brand's identity. Here are a few things to keep in mind while choosing the username for your brand –
After your Facebook Username (distinct URL) is established once it can't be changed. Also, this would be available to only one user. But cherry-picking a relevant username is essential for you as it helps more people to find you on Facebook.
You don't need to seek approval from Facebook for your page's name to be unique and these names aren't limited to one person or business. You are free to choose an appropriate name for your page according to your specific business objectives.
You are allowed to change the name of your page until you have 100 fans because after that, it's unchangeable!
Yes, your Facebook business page is now roughly ready, but the story has just begun. There's much more to do, which requires even more cautiousness and an eye for detail. So, consider this merely a glimpse into the success story of your company of becoming a brand from a business on Facebook!
From selecting a relevant category to choosing an eye-catching name, every step is equally important and helps you to establish a robust foundation for your evolving brand on this social media giant. All set to go on a roller coaster ride of creating an engaging Facebook Business page? If so, why wait let's get rolling and Happy Facebooking!