Facebook is one of the most popular social media, with around 2.89 billion monthly users. This number poses an extremely wide audience base, even if only 1% of the users are reached by you.
That's why marketers see a huge potential in Facebook for their branding and social media marketing practices.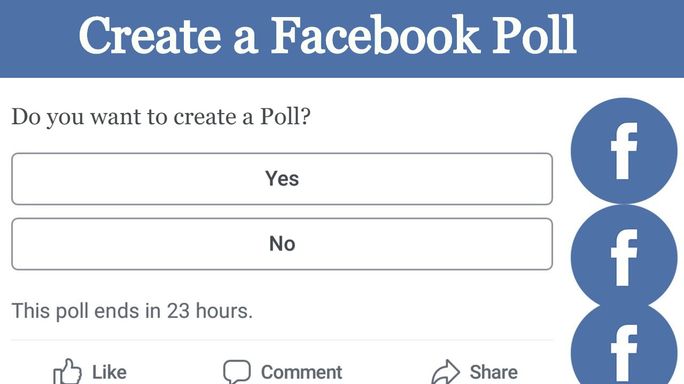 However, a successful marketing campaign must include getting feedback from the users. Facebook polls come into the picture here. They engage with and give an interactive platform for the users to give feedback to a business or a person.
In this article, we'll tell you how to do a poll on Facebook to extract the most out of the platform for your business.
Expand your
audience.
Target the audience that matters to you
with SocialPilot's audience targeting.
What is a Facebook Poll?
A Facebook poll is what its name suggests, a poll created on Facebook by anyone who has a Facebook account. Polls are a free feature that can be created on your timeline, story, or business page.
This feature allows you to ask a question and give answers in a multiple-choice format, to choose from, for your audience. They can click on the answer they want, from the choices you created or add their own answer if you give them that option.
You can put a deadline on the poll, after which users can not submit their answers anymore. After the poll is over, the results are shown against each answer – how many votes did an answer get and what percentage does it constitute.
Why Should You Create a Facebook Poll?
1. Learn About Your Audience's Opinion
A Facebook poll give an opportunity to the audience to voice their opinions. They can choose from the options you created and give their point of view.
For any business or marketing plan, it is crucial to know whatever you can about your target audience. If you have a social media marketing strategy in your mind, it would do you good to learn about your audience's opinion about certain things. This way you can plan better and put your marketing strategy in place.
2. Amplify Audience Engagement
Polls are a great way to boost engagement and interactions with your audience. People are most likely to engage with your poll and submit their answers, as it is basic human psychology to feel valued if their opinion is taken.
Consider polls to be the customer touchpoints in between your business and a sale you make. Encouraging your audience to get involved increases the activity on your profile and makes your audience take notice of your business.
3. Get Results in Real-time
In offline surveys and questionnaires among your target audience, it takes manual labor and a lot of time to evaluate the poll results. In contrast to that, a poll on Facebook gives instant results in the form of the number of votes each answer has received, and the percentage of voters who have voted for that answer.
You can share the results in your profile and base your future social media campaigns and strategy on the evaluated results.
Types of Facebook Polls
Facebook not only gives you the option to create a poll but also provides different types of polls with salient features. Before you learn how to do a poll on Facebook business pages, let's go through some of the types of polls you can create on Facebook.
1. Facebook Group Polls
These are polls created on a Facebook group you have created or are a member of. Since groups usually have a large number of members, your poll can potentially attract many users to answer the poll questions. It eventually helps build a community that is interested in your business and helps boost your sales.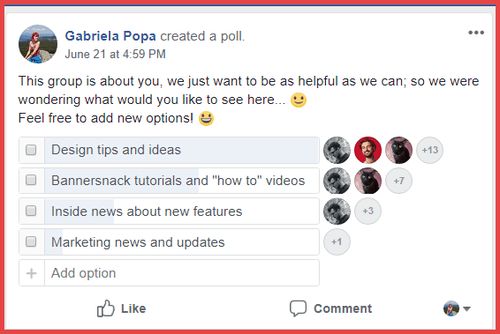 2. Facebook Page Polls
Facebook pages are business pages that you can create for promoting your business. They are different from your profile as they have paid promotional options. You can post on a page only if you are an admin.
Polls on Facebook are a great way to inform your followers about events or products that you are launching. You can ask if they like your products, choose a time slot for an event, or want to join an event.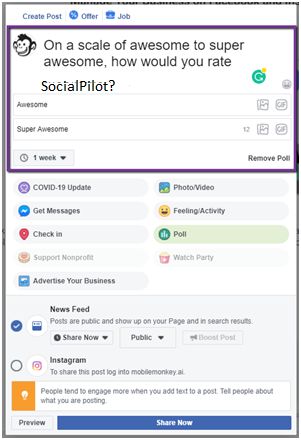 3. Facebook Story Polls
Stories are one of the most popular features of Facebook. Its instant appeal and 24-hour timeline make it apt for sharing daily images and videos. It is a great way to attract the attention of your followers and make them interact with you.
Creating a poll on a Facebook story creates an instant engagement platform for people to answer your poll questions.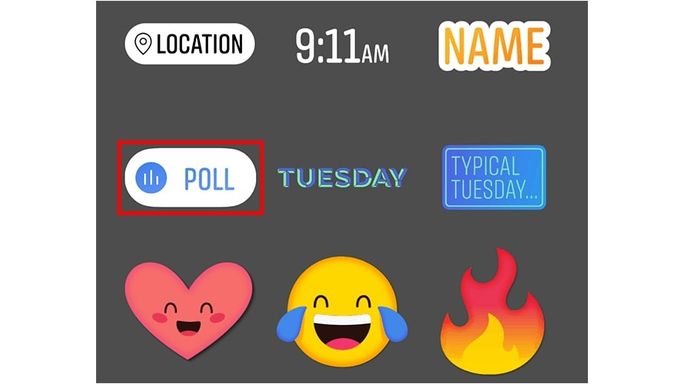 4. Facebook Messenger Polls
Facebook Messenger is the chatting platform for Facebook. Creating polls on Messenger helps you get feedback on questions you want to ask privately. Send the polls on group chats for questions that should not be shared publicly.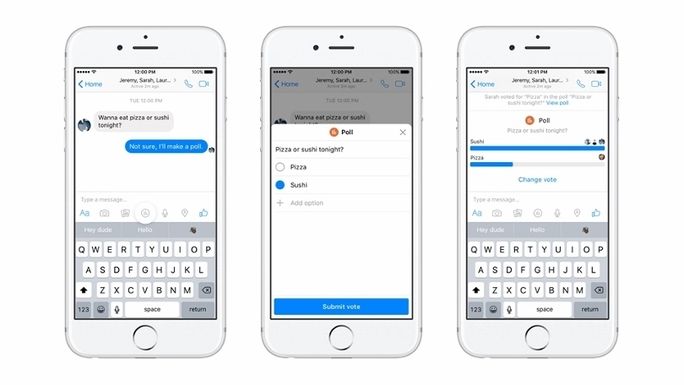 5. Facebook Video Polls
Videos are a powerful marketing tool in the audio-visual era. Statistics suggest that viewers consume about 95% of the message while watching a video. You can use videos to attract attention and create polls with videos to gain feedback from your audience.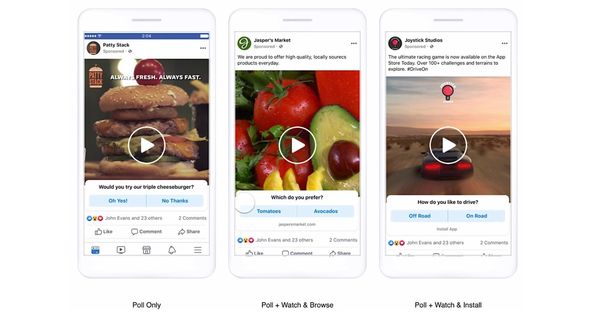 Step-by-Step Guide on How to Create a Facebook Poll
Creating a poll on Facebook is a simple and effective way to engage your audience. It costs absolutely nothing, yet gives so much insight into what your audience prefers.
Before you set off to create a poll, make sure you have the admin credentials of that page since only administrators are allowed to create polls.
Here are the steps to create a poll on a Facebook business page:
Step 1: Go to your business page. Click on "Publishing Tools" on the left-hand panel.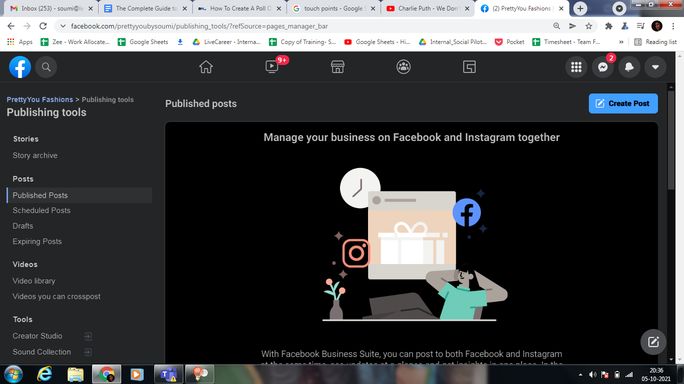 Step 2: Click on the "Create Post" in the upper right-hand corner of the box.
Step 3: Click on the "Classic Post Creation Tool" Button on the lower-left corner.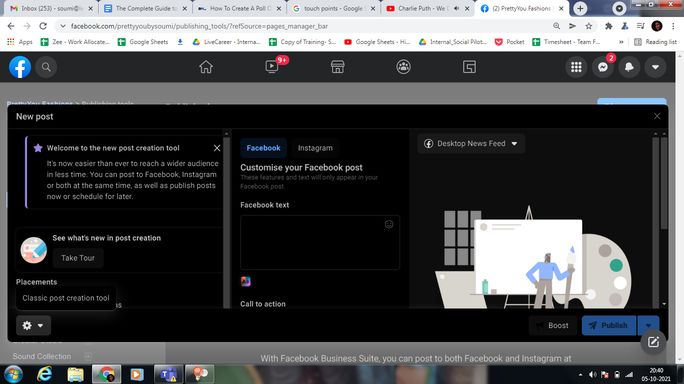 Step 4: You will find the "Poll" option. Click on that.
Step 5: Create your poll question and the answers to choose from. Click on "Share Now."
Voila! Your poll is created.
How to do a Poll on Facebook Messenger
Step 1: Go to your Facebook Messenger
Step 2: Click on the "+" button on the left-hand side
Step 3: Click on the "Polls" button
Step 4: Add your poll question and answers to choose from
Step 5: Finally, click on "Create Poll"
How to do a Poll on Facebook Groups
The first thing you must do is become a member of the group in which you want to create a poll. Then, follow the steps listed below:
Step 1: Go to the group and click on "Create Public Post"
Step 2: On the "Create Post" box, click on the "More" button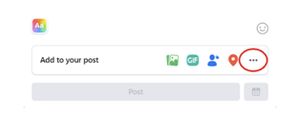 Step 3: Click on "Poll". Write your question and answers to select from
Step 4: Click on "Add to Your Post" and your poll will be published in the group
How to do a Poll on Facebook Story
Step 1: Go to your Facebook profile. Click on "Add to Story"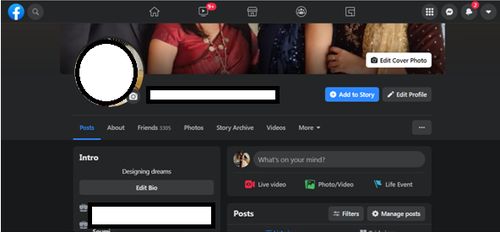 Step 2: In the "Create Story" section, you will find options to choose from Boomerang, Text, Selfie, and Polls. Click on "Polls."
Step 3: Write your Poll question and answers to choose from.
Step 4: Click on "Share to Story"
Best Practices For Conducting A Poll On Facebook
1. Ask questions that hold value for you and your stakeholders: Just because you can post polls for free, doesn't mean you should post any questions. Think of things you really want to know your audience's opinion on. Ask questions that make your audience feel valuable, while also helping you in making business decisions.
2. Observe and learn about your audience: With every question you ask on a poll, you get to learn what your audience thinks. Learning about your target audience can boost sales. Also, make your audience feel that their opinions matter.
3. Analyze the information received: Polls and their results are of no use if you do not analyze them. With the new information received, you will gain a better understanding of what needs to change and what can be improved.
Best Practices To For Conducting A Poll On Facebook
There are several factors to creating an effective Facebook marketing poll. You need to understand your audience, identify the right question type, choose the most suitable answer options, create engaging yet clear questions and add relevant images or videos.
Here is a compilation of some practices you need to follow while creating a Facebook poll.
Understanding Your Audience
The very first step in creating an effective Facebook poll is to understand your audience. You need to know who they are, what type of content they are interested in, and what type of content they engage with. This intel can help you craft pitch-perfect questions for your audiences.
Identify the Right Question Type
You can choose from several question types including the following:
Yes or No
Multiple choice
Open-ended questions
Every question comes with associated strength and weakness and selecting the right one depends on your goals and feedback you seek.
Preparing Short and Engaging Questions
Short questions are essential for effective Facebook polls. Ensure that your audience is able to understand the questions. Give them something to participate in, avoid unnecessary information, and keep your questions up to the point.
Running out of ideas on how to create engaging content for your next Facebook poll? Got a sensitive time frame?
With AI Assistant, generating the question and response ideas for your next Facebook poll is just a few seconds away. Save your time and focus on things that matter the most!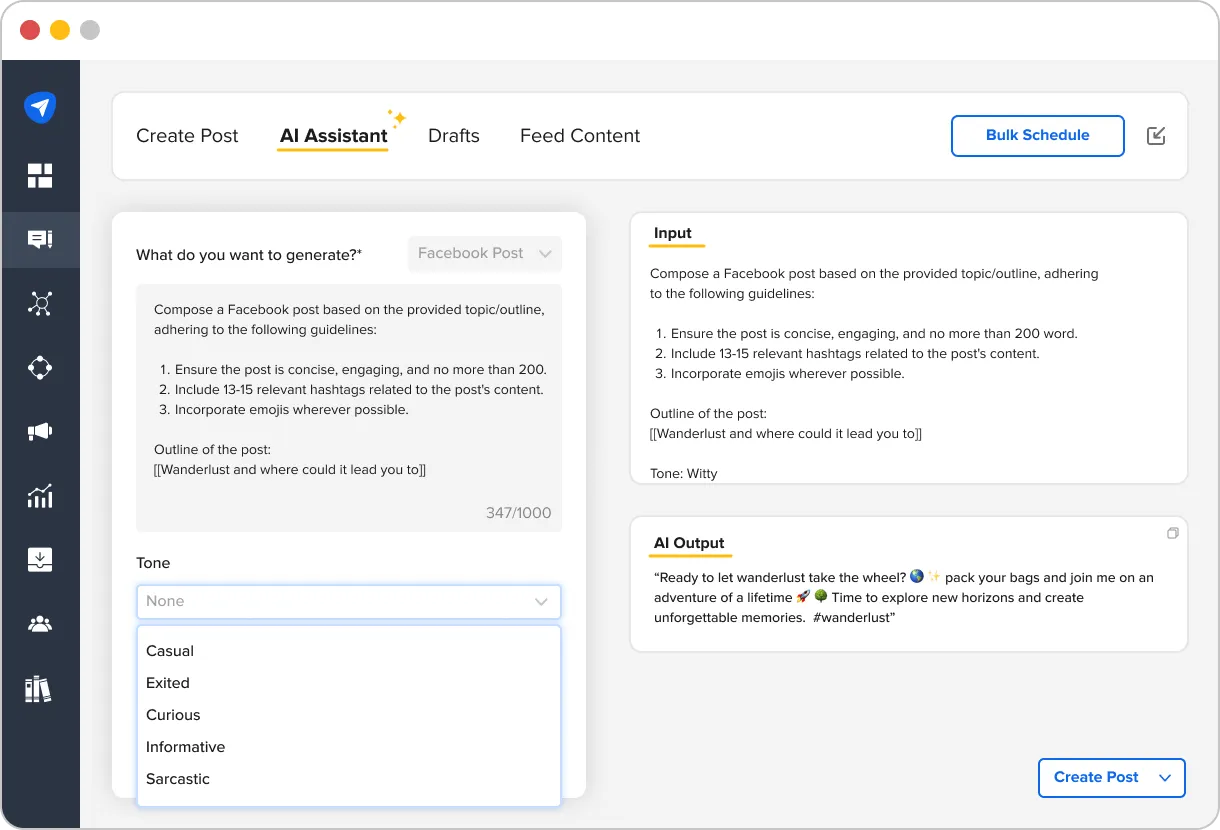 Selecting the Right Options
Preparing Yes or No options is an easy task, but you need to think while Multiple Choice or Open-ended questions responses. Avoid using difficult terms and technical jargon that might confuse your audience. Limit the number of options to make it easier for the users to select their responses.
Increase the Interaction With Images and Videos
Adding images and videos to your poll can increase the chances of engagement. It is easy to get more engagement and impressions on your Facebook polls when it has images and videos. But keep in mind, these elements should resonate with your questions.
By incorporating these practices, you can create polls that are tailored to your audience for increased engagement.
Wrapping Up
You may end up in a monumental mess if you do not manage your Facebook campaign well. Doing it using traditional tools will be highly time-consuming and laborious.
Thankfully, there are third-party tools like those provided by SocialPilot, to help you streamline and manage your social media marketing campaigns across multiple platforms from a single dashboard.
SocialPilot helps you handle a variety of tasks, such as post scheduling, publishing, ads management, performance analysis and lots more.
To know more about how it can ease your Facebook marketing try its free trial today.