Many small businesses run on limited budgets. For such companies, marketing can be a wallet-smashing affair. However, social media marketing is turning this around. It is enabling businesses – both big and small to reach a wide audience with their marketing message at a lower budget.
Whatever industry you are in, a large segment of your audience is on social media. Data from GlobalWebIndex shows that 54% of social media users use those platforms to research products.
A 2018 survey showed that 68% of adult Americans are on Facebook, while 78% of 18 to 24-year-olds use Instagram. It is these statistics that are making businesses turn to social media for marketing their products and services. But with almost every other business now tapping this marketing space, how can you make your marketing efforts stand out?
Here, are nine social media hacks to help you push your social media engagement above the competition:
1. Use Visuals to Tell your Story
In social media growth hacking, visuals play a critical role in encouraging engagement with the target audience. They capture the attention of your audience more in comparison to plain text.
Generally, people like stories, but they like them more when visuals are used to deliver them. This explains why people engage more with visual content on social media than they do with text.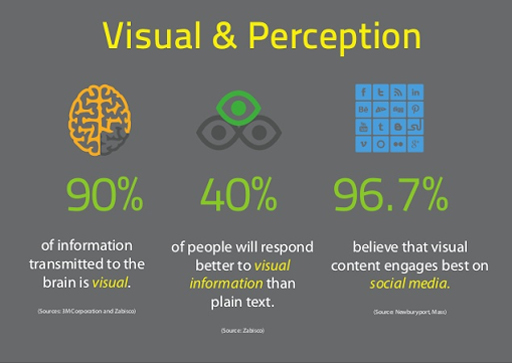 There are many ways to use visuals on social media. You can repurpose content into infographics, create a captivating call to action, or content that entertains like memes and GIFs. Visuals not only boosts your social media engagement with current customers, but they also make your content shareable. This allows you to reach more potential customers.
2. Use Content to Connect With Your Audience
Create content that connects you with your audience and use it to tell your brand story. Rather than promoting your products, focus on sharing content that empowers your audience.
Too much promotional content can cause people to dislike your brand. People don't mind viewing posts that sell products to them . But sharing such content all the time can disconnect your followers from your brand.
Content that helps your customers solve their problems will draw them closer to your brand. It will also encourage them to share their experiences with others. And, this will make your content to go viral and increases engagement on social media.
You can share the content that you create or user-generated content like reviews and testimonials. User-generated content is more useful to increase social media engagement.
This is the kind of content that dominates the internet. Statistics show that up to 80% of online content is user generated. Compared to content created by brands, user-generated content is more trustworthy.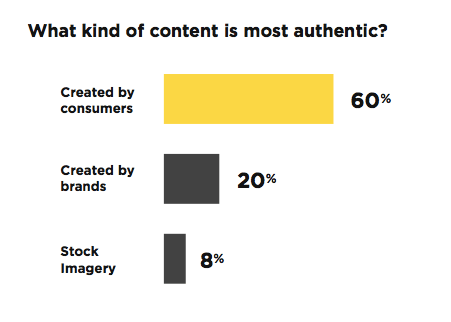 Repurpose such content, and share it with your audience. It can be in the form of videos, infographics, or blogs. Since your followers believe similar people generated the content, they are likely to share it and engage more.
A study by BrightLocal shows a direct correlation between positive reviews and customer trust. According to the study, 68% of customers buy from businesses due to positive reviews left by other customers.
3. Include 'Happiness' in Your Posts
Do you remember how happy you felt when a friend posted photos of his or her wedding or new baby? This feeling is not limited to you. Many people share posts on social media that portray good times. You can include happiness in your posts by using photos, funny videos, emojis, or animations.
It is a fact that posts that have high emotional value get more shares on social networks compared to those that don't. This is because out of all human emotions, happiness is the most contagious.
Like Zappos, consider sharing your team's happy moments with your followers. You could also share personal success stories and brand milestones on social media. These will help you build an emotional connection with your audience.
4. Go Ahead, Message Your Audience
The reason why you are using social media marketing is to reach and engage with people. And, to sell more and increase your brand awareness. To achieve these two goals, you need to engage your followers and make them feel they are an integral part of your brand.
Don't be shy about messaging your audience – go ahead and start conversations. Respond to their questions, add comments to their posts, and share information about your products or events. Engage them and work towards building a community that believes in your brand.
5. Generate Engagement with Polls and Contests
Use polls to create engaging interactions with your audience. These provide you with new information about your followers. As marketing hacks go, polls work well for most people because they do not take much effort and time. For instance, here's how PromoRepublic uses polls to engage its followers on Twitter.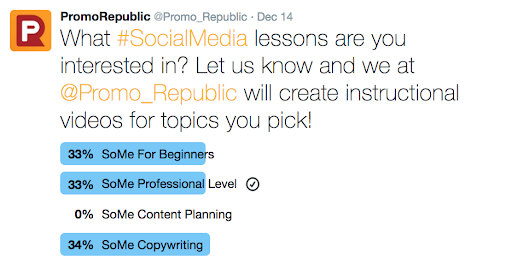 You can also encourage your audience to take action by running contests on social media. As Qwertee did by running a 'like and email' contest on Facebook.
You can also do a giveaway contest every once in a while, like Kylie Jenner. Where a lucky winner gets to win your products. For example, one of her offers included a chance for a follower to win nine beautiful Yves Saint Laurent handbags plus $20,000 cash!
6. Go Live More
Every single day, about 5 billion videos play on Youtube. This means most people have a preference for video content. You can increase your engagement by sharing content in a format that your followers want. To stay ahead of your competition on social media, consider using live videos to engage your audience.
Such videos have a way of capturing the viewers' attention more than still images or text. And, will also help boost your brand visibility across different social media channels. As a matter of fact, 80% of people prefer watching live videos than reading blogs from a brand they follow. While 82% people would rather watch live videos than read social media posts.
Facebook Live is the most used live streaming platform. You should not ignore it when deciding your social media marketing strategy. As it places live videos to the top of news feeds, they offer significant visibility to your brand.
There are many things you can do with live videos. You can show how a new product or service works, showcase your workspace, or give your audience a taste of your behind-the-scenes processes. Get inspiration from companies like Tastemade and AirBnB.
7. Be Authentic
To build a brand that people will respect, you should try to maintain a consistent image. Your branding should remain the same – the name, the imagery, and the color you use should be the same.
At the same time, your brand voice needs to be consistent as well. It should portray your values and personality throughout. You may make it witty or authoritative – but always keep authenticity. Ask yourself – would people identify your social media posts without your business logo or name?
8. Use Social Media Scheduling Tools
Though most social media hacks are easy to implement and very effective. You can only realize their full potential when you post and engage with your audience on a regular basis. With Social media management tools you can manage your marketing efforts with ease. You can keep track of your activities, schedule posts and check analytics.
Besides this, these tools are also useful in enhancing engagement with your followers. This is important because customer expectations are rising, and businesses are struggling to meet them.
At least 42% of customers who engage you on social media will be expecting a response within an hour. This shows the skyrocketing expectations of customers, which you can meet only if you have the right tools.
With these tools, you can manage messages from different platforms in one place. This will save you time and removes the challenge of juggling different accounts.
There are many social scheduling tools to pick from. Though some of them are free, you can access the others at a fee.
9. Don't Just Create, Curate
Creating content for your social media posts regularly can be a daunting task. The good news is that you don't have to do this every time.
Content curation allows you to curate the content relevant to your audience. Statistics show that top marketers use a combination of created and curated content. While 65% of the content is created, 25% of it is curated.
Curating content is a great way to save time, especially when you have a time constraint. With 60% of businesses citing the production of engaging content as a primary challenge, content curation provides an easy way out.
It increases social media engagement by bringing a fresh perspective to your content. And, also provides value for your followers by showing industry trends. When you curate content, you are able to incorporate other voices to your own and shift from product-centric marketing.
Social Media: Changing the Way Businesses Interact With Their Audience
In recent years, social media marketing has gained significant traction. However, with more than 3.2 billion people using social media globally today, it is a crowded space to market your products or services. But this should not discourage you.
With the social media marketing hacks discussed above, you can stand out and grow your customer base even more.