Have you noticed a trend of people adding a collection of hashtags in their comments, rather than in their post's caption, when scrolling through some of your favorite Instagram feeds?
Are you feeling overwhelmed as though you've overlooked some major hashtag trend development on Instagram?
Don't worry, we've got your back!
After parsing and perusing through everything on the Internet that's been said about hashtag usage on Instagram, we've written this ultimate guide for your reference. Simply read it until the very end to gain insights you may have missed so far.
Does Instagram Recommend Using Hashtags For Comments?
According to Instagram, you can use hashtags in your post's comments or caption, as per your unique needs. If you hold a public account and use hashtags in a comment, the post will appear on the hashtag page for that particular hashtag.
If you wish to add a hashtag to an existing post, you can do so by modifying your caption or adding it in the first few comments of the post.
The bottom line for effective hashtag usage is:
In the caption, you can include a maximum of 30 hashtags
After posting, use up to 30 hashtags in the first few comments
Include 20 – 30 hashtags altogether, a few in the caption and a few included in several comments
To remove and/or insert hashtags, you can edit a post accordingly
More hashtags can be added in subsequent comments, as long as you don't use more than 30 hashtags in the post overall
A post can have up to 30 hashtags. Your comment will not get posted if you put more than 30 tags on a single photo/video.
How Did The Trend Of Adding Hashtags In Comments Start?
The recent fad of including hashtags in the comments started so as to maintain clean, clutter-free Instagram captions. But eventually, Instagrammers discovered that hashtags in comments were favored to get picked by Instagram's algorithm.
From then on, several so-called "growth hackers" gone rogue decided that the coolest method to game the algorithm was to alter the hashtag strategy. Thus, they proclaimed that hashtags used in a post's comments were the ultimate tool to make the post emerge to the fore.
But including multiple, effective hashtags in the comments is tedious work, especially when done at scale!
So, in such a scenario, what should a busy marketer do?
There are supporters on both sides of the hashtag argument. While one says that placing hashtags in captions is the way to go, the other claims that adding hashtags in the comments is the best bet. Some even recommend combining the two approaches!
It's essential not to make assumptions with Instagram marketing, as with anything else. This is why you must rely on the information disseminated in the upcoming sections of this blog to guide your decision. Read on.
What Are The Different Types of Hashtags On Instagram?
Hashtags are used to consolidate similar content categories together. These may either be generic hashtags that everyone uses – in which case you're combining your posts and photos with others who share similar content– or they can be specific hashtags that are relevant to only your brand.
Many companies, on the other hand, establish specialized hashtags, called branded hashtags (more on this later,) to generate buzz and cluster together posts for their specific product or service.
Given below is a rundown of popular types of hashtags that Instagrammers use today:
Hashtags for your product or service: Such hashtags are comprised of simple terms that define your product or service, such as #divebar or #handbag
Hashtags with a specific focus: These are a little more specialized, indicating your position within your business sector, such as #travelblogger or #foodblogger
Industry hashtags used by the Instagram community: Instagram has its native communities, and these hashtags might help you locate and join them, such as #craftersofinstagram and #gardenersofinstagram
Hashtags for a certain event or season: These can be used to refer to genuine holidays or seasons, such as #summerdays, or to all of the so-called, made-up "National" holidays, such as #nationalnailpolishday or #nationalcupcakeday
Hashtags for locations: Even if you tag your Instagram post by geographical location, including a hashtag that alludes to your physical store's region, such as #tennesseeneats or #londoncraftbeer, might be beneficial by several degrees
#hashtagsoftheday: From #ManicMonday to #ThankGodItsFriday, there are creative hashtags that can be designated for every day of the week
Hashtags for relevant phrases: Product hashtags, community hashtags, and specialized hashtags, all fall under the ambit of this hashtag category. They are such terms like #shewhowanders or #amwriting that individuals use on Instagram to interact with existing networks in a somewhat insider way.
How To Use Hashtags In Comments For Your Brand?
If you pay close attention to your routine Instagram feed, you will soon be able to recognize popular hashtags for your niche as and when they develop. But do not be too hasty to adopt a trending hashtag immediately. Use a hashtag only if it is truly relevant to your brand and your post's content.
There are several factors you should consider while using hashtags to grow your reach and presence. Here are some that you should consider while using hashtags in comments:
1. Use a branded hashtag
The likelihood of generating an effective hashtag for your brand is the highest when you create it by yourself. In other words, you must create a branded hashtag.
But what is a branded hashtag? Simply put, a branded hashtag is one that you design for promoting your own business or marketing campaign on Instagram. For instance, check out Lululemon's hashtag encircled in red below:

Once you're done creating your branded hashtag, you must include it in your Instagram post's comments, your caption, as well as your Instagram Stories to let your followers know about it.
You can also conduct a contest involving your branded hashtag to raise awareness about your business's offerings and generate user-created content.
And since we are talking about using hashtags in comments in this blog, check out how an Instagrammer used them efficiently on their post: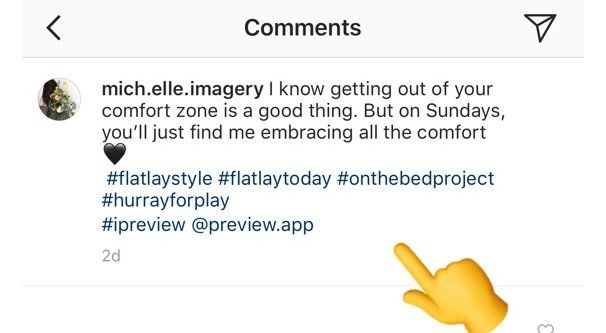 2. Examine your competitor's hashtags
You wouldn't want to replicate your competitors' tactics step-by-step, now, would you? But looking at the hashtags they often use might offer you some excellent hints about what is really working for others in your niche.
Perhaps you might unclog your creative engines and add innovative hashtags to your arsenal. Alternatively, if you wouldn't want to fight for the same eyes, you may explore other hashtags to incorporate in your comments.
3. Examine your audience's hashtags
Keep close tabs on your most active followers and the hashtags that they frequently utilize. Instagram's search functionality may provide you with extra information about important hashtags used by the people you follow.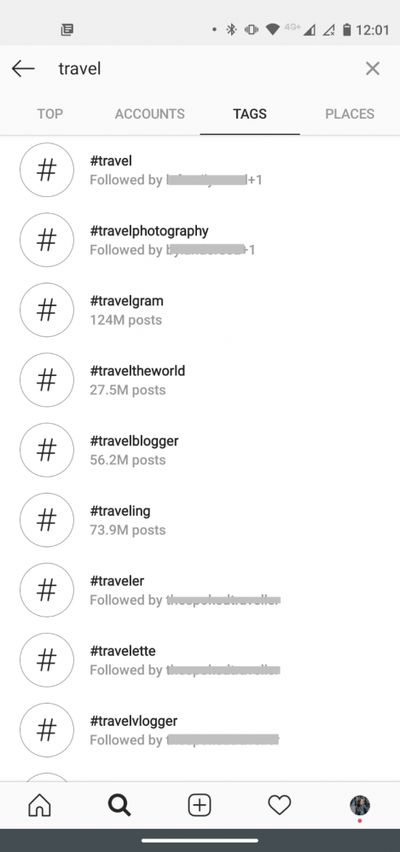 While searching for a hashtag on Instagram, the search tool will inform you whether anybody you follow also follows that hashtag (Please keep in mind that this feature works only for mobile devices and not desktop computers.)
4. Look for related hashtags
This is a wonderful method to locate relevant hashtags that are a little more specialized than the broad keyword-focused hashtags that you are inclined to search. This translates to a more focused audience where you have to compete with fewer posts. This way, you can discover some of the finest Instagram hashtags for companies looking to engage with enthusiastic audiences.
You'll see a list of related hashtags immediately above the "Recent" and "Top" tabs on the hashtag page, which you can navigate by swiping left.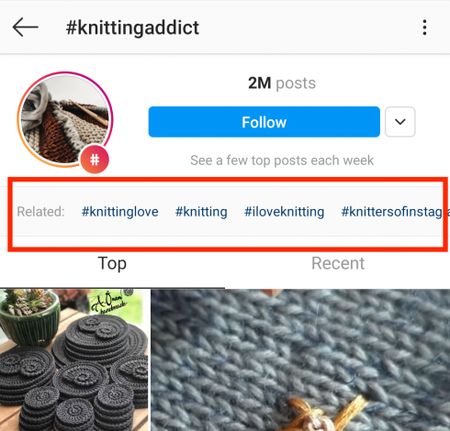 5. Leverage Insights to determine Hashtag efficacy
Effectively using Insights can help you figure out which tags are the most effective. If you have switched to an Instagram business profile, you'll have access to post insights, which show you exactly how many hashtag impressions you have drawn.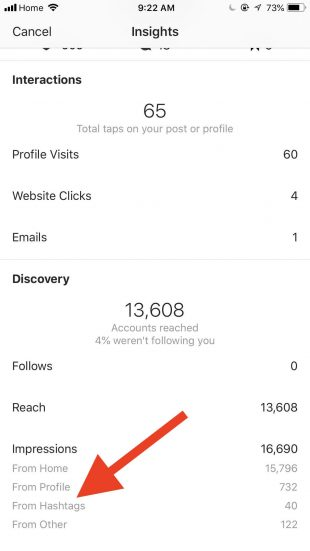 Choose the post for which you would want the data and tap 'View Insights'. Then, swipe up to get all the data for your Instagram post, including the volume of hashtag impressions.
This information aids you in determining which hashtags are most effective in increasing your reach. And as a result, your Instagram presence will get enhanced too!
Are There Any Disadvantages of Using Hashtags in Your Comments?
So after reading the recommendations mentioned in the sections above, you might be inclined to wonder, "After all, if hashtags are so beneficial, why shouldn't I include all the hashtags in the first few comments of my post?"
You may do that, but there are a handful of drawbacks associated with it, which you should be aware of.
To begin with, hashtag-stuffing makes it more difficult to schedule your posts ahead of time. This is because you are required to manually create and publish your comments containing all appropriate hashtags. Doing this entails precious time, which can be better allocated to competitive research, creative brainstorming, and thoughtful Instagram post creation.
Moreover, if your fans are extremely passionate, they may beat you in your own pursuits and leave a comment before you get a chance to post yours! As a result, your hashtag-laden comment might get buried in a sea of enthusiastic comments from others. If this occurs, Instagram may fail to recognize your hashtags.
So, the wisest thing to do is distribute your hashtags judiciously among your comments, captions, and Stories to prevent them from drowning out completely.
Posting all the important hashtags under your Instagram posts in your comment is a good idea. But how to prevent your hashtags from getting buried among other comments? Simply schedule it!
SocialPilot allows you to schedule the first comment right along with the Instagram post itself so they are published together. This makes your comment stand out from the others and gives your post boosted reach.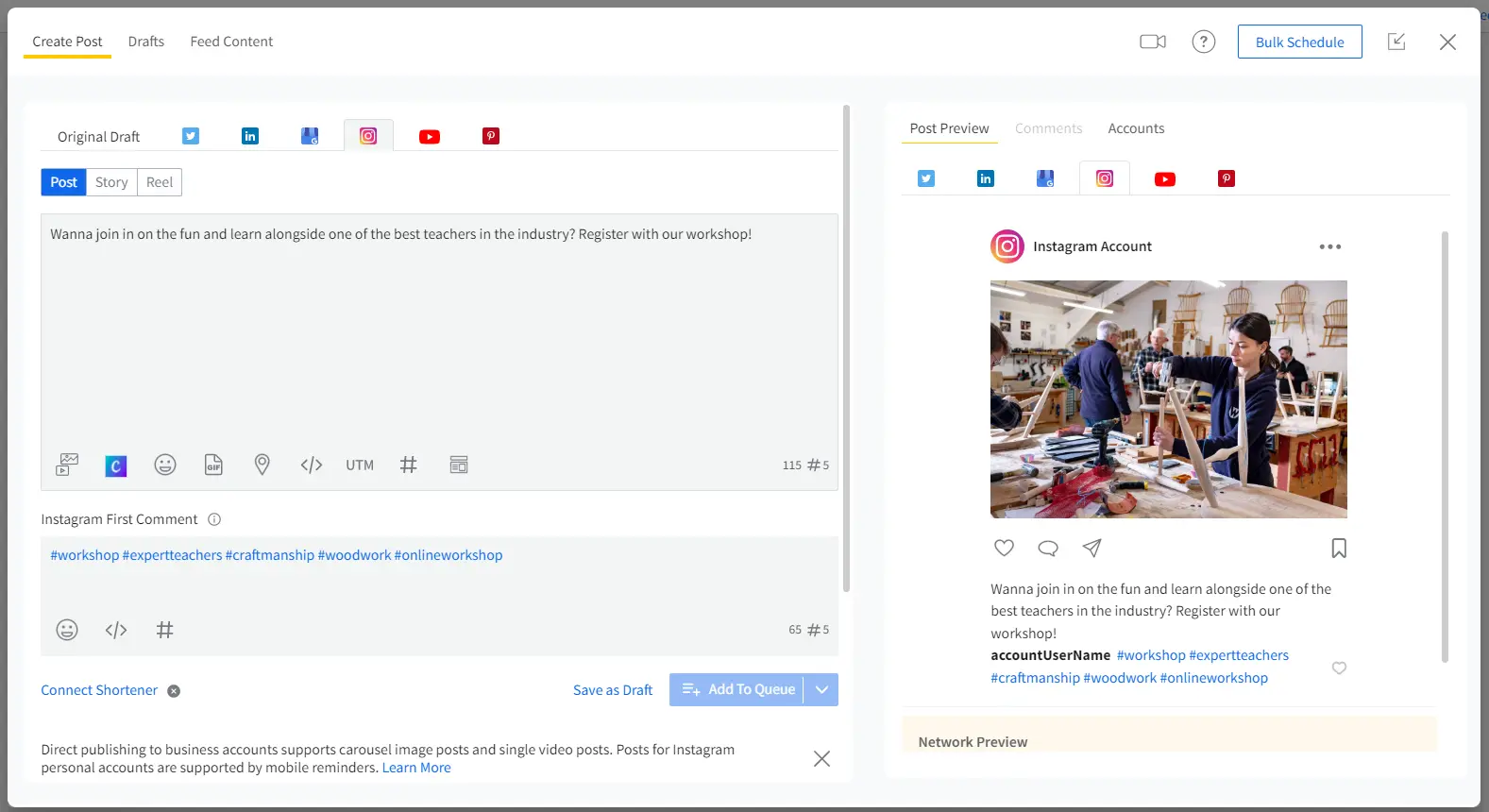 #OurLastWord
Ultimately, you should go with your conviction, backed by thorough analysis, on which technique will work best for your Instagram account. This blog, for instance, provides some practical recommendations and is a good place to start.
What matters most, regardless of positioning, is that you choose hashtags that have the most saturated search results and are most relevant to your business or brand. Instagram's algorithm is always evolving, so remain plugged into what's effective for your business by experimenting with different hashtags to discover which ones are delivering results.
Now that we're talking about social media analysis, you cannot ignore the impact that SocialPilot can wield on your Instagram marketing strategy.
When it comes to devising the ultimate Instagram marketing strategy boasting stupendous ROI, SocialPilot's industry-edge functionalities such as Instagram analytics, post scheduling and social inbox cannot be missed!
CTA Visit SocialPilot right now to revolutionize your Instagram marketing strategy.