With over 1 billion monthly active users and 500 million daily active users, Instagram serves as an excellent platform to promote direct sales and drive action from the users' end. A whopping 130 million users engage with shopping posts on Instagram.
Brands use their Instagram account to raise brand awareness,
display products, engage with users, plan contests, roll out offers, and even allow customers to make direct purchases without leaving the app. No wonder marketers prefer Instagram over other social media platforms.
But, what if you can have multiple Instagram accounts promoting your account? Imagine the boost that your brand can get?
That's where Instagram affiliate marketing comes into the picture.
What is Instagram Affiliate Marketing?
Affiliate Marketing on Instagram is an online sales strategy that includes using influencers as affiliates by brands to market their products and services on Instagram. An influencer promotes a brand's services and products and earns a commission for doing so. Affiliate marketing success relies heavily on selecting the right influencers.
Instagram affiliate marketing takes several forms. Examples include using the swipe-up feature on stories, sharing product and service links in the bio, discount codes, see more options, and more.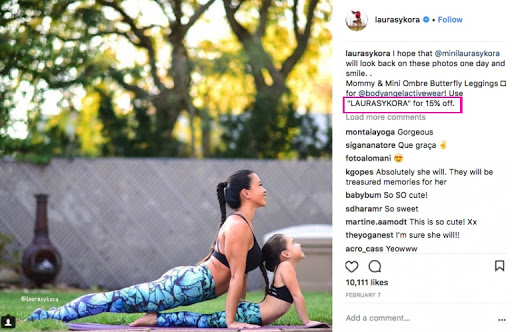 In the image above, you can see an influencer promoting Bodyangelactivewear products using her promo codes.
A typical affiliate campaign involves four parties: the brands, affiliate networks or marketplaces, influencers, and consumers. Using the networks, a brand finds influencers who can promote its products to customers and engage them in action.
Brands using affiliate marketing can pay their influencers using two popular payment models:
PPC – This involves the Pay Per Click method. So if a customer clicks on the link of a brand's product mentioned by the influencer on Instagram, the influencer gets some money.
CPA – Cost Per Action involves the influencers earning some amount when an actual sale is made through their given link.
However, there are no stringent rules, and depending on the nature and objective of your marketing strategy, you can devise customized payment plans with your affiliate partners on different KPIs.
Now that you know the basics of affiliate marketing, get ready for some awesome tips to make an effective and fulfilling affiliate marketing program!
Benefits of Affiliate Marketing on Instagram
Wider Reach
The Possibility Of Reaching A Wider Audience Increases
A brand may approach more than one influencer to promote its products. When they promote the products, every influencer helps the brand gain exposure to all of their followers, thereby increasing brand awareness. Having more links to the brand's site will result in more traffic for the business.
Affiliates are experts in their niche
A brand can choose to work with affiliates who have an in-depth understanding of their industry. Sephora, a multinational retail company, promotes its products with influencers despite having a celebrity brand ambassador, Emilia Clarke. This is because influencers tend to be experts in their fields. Janhvi Kapoor.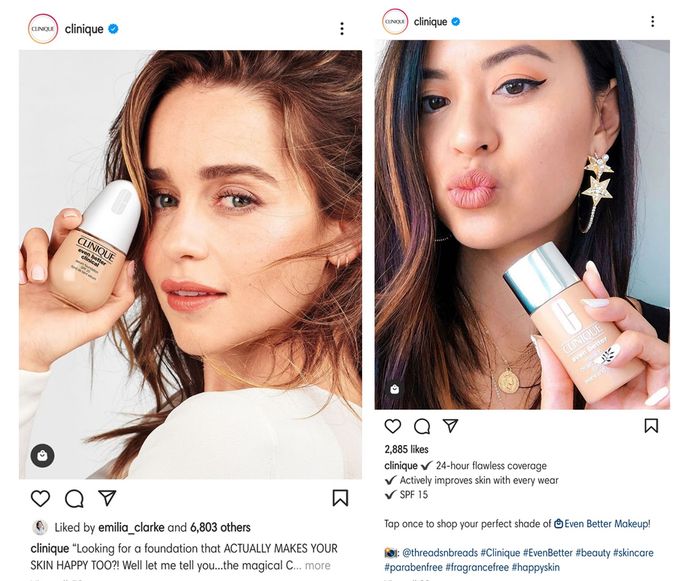 In the image above, Clinique promotes its product through Emilia Clarke, and through its affiliate partner threadsandbread, a micro-influencer.
Consumers trust influencers
Influencers are usually considered to be experts in their fields. They become influencers in the first place owing to their ability to influence users to make purchase decisions or even adopt a particular lifestyle. Mostly the buying habits.
Affiliates who have expertise in their niche industries are a good choice because they can easily encourage users to discover your brand. Niche affiliate marketing influencers are game-changers in this field as their followers deeply trust their expertise, and a shoutout for a product on their page is a good sign for their followers to buy that product.
Quick way to grow brand awareness
As payments are based on performance, influencers ensure that they create genuine content around your products. Add that to the trust which influencers enjoy among their followers, and you get the benefit of enhancing your brand awareness quickly.
Only pay for performance
The greatest benefit of affiliate marketing is the flexibility to make payments based on the performance of the partner. If they do not perform according to the mutually agreed KPIs, you need not pay. It does not block working capital and serves as a cost-effective way to utilize your marketing resources.
8 Solid Tips to Make Money With Affiliate Marketing on Instagram
Acing the affiliate marketing game on Instagram is essential if you want to make money out of it. And to make that happen, here are seven tips hand-picked for your marketing campaign.
1. Partner with the right affiliate network
Affiliate Networks act as intermediaries between the brands and the affiliates (marketers, who will promote the brand's products and services). It is critical for your brand to partner up with a network specializing in the industry to which your brand belongs and gives you access to a widespread of verified affiliates from which you can prepare your shortlist.
There are many affiliate networks available nowadays. Some leading affiliate networks are:
2. Delve deep and search for niche influencers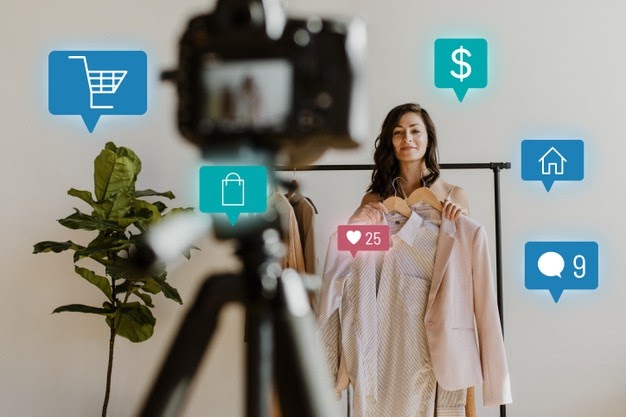 Choose an influencer who fits your brand, has domain knowledge, and can spread awareness of your product or service. Collaboration with a beauty blogger would serve little purpose when promoting gaming products.
A study suggests that 92% of consumers trust influencers more than advertising or traditional celebrity endorsements. Thus, working with affiliate marketers on Instagram may lead to increased audience and sales.
An affiliate marketing campaign that includes influencers who have a website or blog will have an added advantage. The influencers then not only promote your product on Instagram but on their website as well, which means you can spread awareness about your brand using multiple channels.
3. Important metrics to analyze before onboarding affiliates
Engagement Rate
While looking for affiliates, checking the engagement rate is crucial. Engagement with followers by influencers is a big plus. Providing prompt replies to followers' doubts or questions indicates good engagement, and the followers, in turn, feel more connected. This leads to their followers being more inclined to buy the products or services they promote.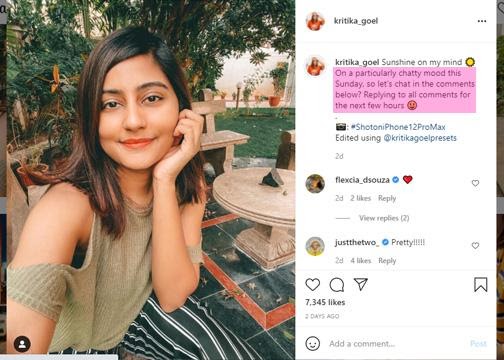 In this image, we can see that kritika_goel, a macro influencer, has employed an exciting way to engage her followers and get chatty with them.
Reach & Followers
You can also check the number of followers an influencer has for better reach. After all, promotion is for the sole purpose of ensuring the brand reaches as many users as possible. Your brand will be more successful if more people become aware of it. Potential customers can also discover your brand through influencers.
Posting Frequency
It is also essential to consider the frequency of posting. If an influencer posts only two posts in two months, you may experience a failure in your marketing campaign since people may not remember your products.
Sponsored posts are another factor that should be considered. Influencers who have been promoting only sponsored posts may not be regarded as unbiased and just by their followers and might not be helpful in fulfilling your marketing objectives.
While it may sound overwhelming to keep track of these nitty-gritty details, you can utilize SocialPilot's Social Media Collaboration Tool for the entire team. You can ensure that no unchecked content is published by delegating the right roles to your team members.
Content Quality
Content is King. This has been repeated countless times simply because it is the truth. Before collaborating with influencers, go through their profiles, scan for previous paid/sponsored posts.
Influencers who spend time crafting quality reviews or product descriptions, in an evidently genuine manner, are the ones who should be sought after. Genuine content speaks for itself and enhances the odds of your marketing success.
4. Keep your profile attractive and engaging
Do not ignore your Instagram page while developing your affiliate marketing structure. The profile and Instagram bio need to be updated with the latest information and pictures about your brand and products. Keep it clutter-free and discoverable by adding your website link, hashtags, and contact information.
Professional affiliate marketers do a thorough background check of brands before partnering with them. These marketers are influential in their sphere and would not want to sponsor brands with a mundane profile that their followers may not like.
5. Plan your budget down to the T
Before beginning your Instagram affiliate marketing campaign, determine and plan your budget down to every detail. It gives you greater visibility of your potential income and helps you better plan other marketing activities to achieve that target.
Choose the tier of influencers you want to work with based on your budget and your objectives. Payments for nano and micro-influencers are lower than those for macro and mega influencers.
Thus, by choosing the right tier of influencers, you are entirely in control of your budget. Depending on the effectiveness of the influencer's promotion, you might decide to offer rewards or incentives to the influencer or not.
6. Decide the optimum payment structure
Another decision to ensure that you get the best returns from your affiliate marketing strategy is to carefully decide on the payment model and commission rate.
For direct sales using Instagram, the CPA model is better. Even though it may be a bit expensive compared to the CPC model, you are required to pay only when an actual sale is made. It justifies every cent you spend and prevents you from draining money by paying unwarranted commissions.
The cost-per-click structure can be effective when you want to drive an action other than direct sales, such as driving traffic to your website or blog.
7. Never rely on one affiliate
You might come across an affiliate who has been performing exceptionally well for you. Still, never rely on one affiliate. Build a robust network of affiliates to promote your products and services.
The fundamental of making solid money is to ensure you have multiple sources of revenue. By using multiple affiliates, even if a few deliver a low performance, you still have a steady stream of revenues for your brand.
However, it does not mean that you mindlessly onboard any and every affiliate you get. Ensure you onboard affiliates only after a thorough background and performance check.
8. Constantly upgrade your affiliate programs with new offers and rewards
The happier your affiliate partners, the greater the chances of your marketing success.
It is essential that you continuously reinvent and improve your programs to maintain the interest of affiliates in working with you. The monetary aspect aside, affiliates prefer working with brands who regularly come up with new products and offers which have the potential to drive up engagement.
Your offers can be enhanced by sharing attractive discount vouchers and coupon codes exclusively with your affiliate partners. This gives them the opportunity to promote your products on the best price terms to users. The exclusivity of affiliates to offer the best terms is a win-win situation as it not only increases your sales but also increases the engagement and popularity of affiliates.
Wrapping Up
The massive reach and marketer-friendly features of Instagram provides a bucket full of opportunities to reach more users using affiliate marketing on Instagram. After reading this article, if you have already decided to use Instagram affiliate marketing for your brand, then we think you have made an intelligent move.
Whether you are selling a product or service, affiliate marketing will increase brand awareness and sales. Also, it is an excellent way to build strong relationships with influencers who can positively impact your brand. To build these relations and succeed in affiliate marketing, seamless communication with your team is key. Use SocialPilot to effectively collaborate with partners and optimize your marketing efforts.
Seamless communication with your team is key to success in affiliate marketing.