Instagram reported that it has 1 billion monthly active users. It's hard to believe that the platform, which was launched in 2010, has gained popularity akin to Facebook. The platform's visual appeal has earned it a place in the social media sphere. It is popular especially among young adults.
Instagram has presented you with a hub where you can create a visual identity of your business. Whether it's about increasing engagement with the audience or driving sales, businesses are considering using Instagram to achieve their goals.
If you haven't tried Instagram marketing yet, here's why it's time for you to get cracking:
Why is Instagram important for you?
One of the fastest growing social networks, Instagram allows a brand to showcase its products and stories to create a community of fans and customers. Most importantly, it is the most effective brand-building platform for every type of business.
Pictures are equal to a thousand words and Instagram is a platform which translates this phrase into reality. Hence, it is crucial to create Instagram post that gets your audience's attention. In fact, visual content is a great way to build a connection with your customers. More than 40% people respond better to visual information than just text.
So, if you are not on Instagram, you are missing a very good social media opportunity to uplift your brand's image. Therefore, don't miss the chance to build and share your brand with the Instagram community.
Check out some statistics and facts that prove its importance:
Instagram videos receive 21.2% higher interactions than single photos, and 18.6% more interactions than carousels
33% of B2B businesses, 71% of businesses and 98% of fashion brands use Instagram.
130 million Instagram users tap on shopping posts every month
Instagram posts with faces get 38% more likes.
Post tagged with a location receive 79% higher engagement.
73% of U.S. teens say Instagram is the best way for brands to reach them about new products or promotions.
Posts containing or featuring UGC have a 4.5% higher conversion rate than non-UGC posts.
How to create a marketing strategy for Instagram?
Now that you are convinced about Instagram's ability to push your marketing efforts, let's talk about creating a marketing strategy for it. Instagram has its own unique features and hence, what works on other social media platforms might not work here. You need to create a different marketing strategy for it.
Find your audience
Scan Instagram for the kind of content which is relevant to your brand. Make a note of the people who've reacted to or engaged with this content. These people are your target audience. If this method doesn't work for you, here's another one. Observe and follow various trending hashtags on Instagram. Fill different categories like age, location, gender, income, interests, motivations etc. based the kind of users you wish to target. Check out profiles of people who are following hashtags relevant to your brand. You can also observe your competitors' followers.
Learn from your competitors
Observing your competitors' Instagram accounts will give you some great insights in terms of what works and what doesn't work. Make a note of their:
Pictures
Hashtags (including the most popular ones)
Posts with the highest engagement
Frequency of posting
Captions
Stories
IGTV Videos
This will help you determine the kind of content you should include in your strategy. Use Instagram analytics tools to analyze your Instagram accounts thoroughly.
While you start thinking about using your competitor's Instagram tactics, also add some ideas of your own. Remember, Instagram is a platform where uniqueness is both acknowledged and appreciated.
Make your editorial calendar
Editorial calendar is great way of organizing your marketing efforts and ensuring that you don't miss out on any opportunities. Hence, make a list of all events, product launches etc. so that you can create content around them and post them in a timely manner. You can use Instagram business tools to keep things in check.
Also ensure that your editorial calendar includes content in all the formats available on Instagram:
Photos
Videos
Boomerangs
GIFs
Hyperlapse
Stories
How to Manage your Instagram marketing effectively?
Now that you have a marketing strategy in place, it's time to manage it effectively. In today's tech-enabled world, it makes sense to have and use tools to manage your marketing processes. And given the number of social media accounts you'll be tracking, Instagram Marketing Tools can help streamline processes for you and your team.
SocialPilot is one such Instagram Marketing tool which is designed to help you at each stage of a marketing process:
Setting a social media calendar
Uploading posts in bulk
Monitoring multiple accounts
Analyzing your social media performance

How to start with Instagram on SocialPilot?
To get started on using your Instagram account with SocialPilot, just follow the steps outlined below:
1. Connect Instagram account to SocialPilot

Once you have logged into SocialPilot, click on 'connect account' from the sidebar. Now you will see a tile view of multiple social media platforms that you can connect with SocialPilot.
Scroll down to Instagram. Here you will see two options for connecting your Instagram account.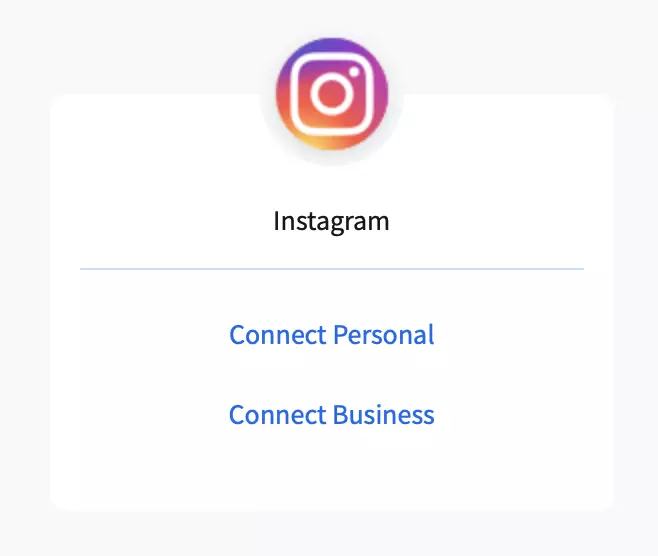 Connect Personal: By clicking on this option you can connect any type of Instagram account, personal or business, without going through the authentication process. Connection through this option only allows you to receive a reminder from SocialPilot to post on Instagram at a scheduled time.
To add a personal account click on "Connect Personal" icon . It will open a small pop-up asking for a username. Add your Instagram username.
Connect Business: Click on this option to connect only your Instagram business account with SocialPilot. Connection through this option enables you to directly publish a scheduled post on Instagram without the need of reminders. Moreover, you can also gauge the analytics of your Instagram account.
To add a business account. click on" Connect Business" icon. You will be directed to a Facebook login page for authentication. After giving your Facebook page credentials you will be redirected to SocialPilot to choose the Instagram business accounts you want to connect.
You can choose single or multiple accounts from the "Profile List" by clicking on the checkbox given beside each profile.
2. Create post
Go to "Create post" and select the type of content from the three available options, Post/ Story/ Reel. After selecting the type, add the text in the post-composer section. Select your Instagram account from the right sidebar. Also, select an image or video for the post from your system. If you are sharing an article from another website, you can choose an image from the article.
Now, click on the "add to queue" to schedule on pre-decided times or the "schedule" button to choose any time and date of publishing. And you're done creating your post!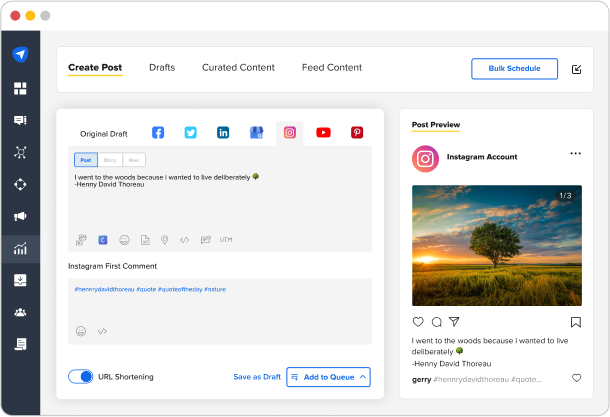 3. Get push notification on mobile device for Instagram personal account
This below step is needed to post on personal Instagram business accounts only.
On your scheduled post time, you will get a push notification from us on your Android or iOS device. First, tap on the push notification on your phone to be directed into the app. Next, review the post and when you are ready to publish it, tap to open it in Instagram. Lastly, make sure you log into the Instagram account you wish to publish to.
Once in the Instagram app, you can filter the image, tag users or add a location. The caption you composed in SocialPilot for this image will be copied to your device's clipboard. Paste this content in the caption field.
Finally tap 'share' to publish your post on Instagram.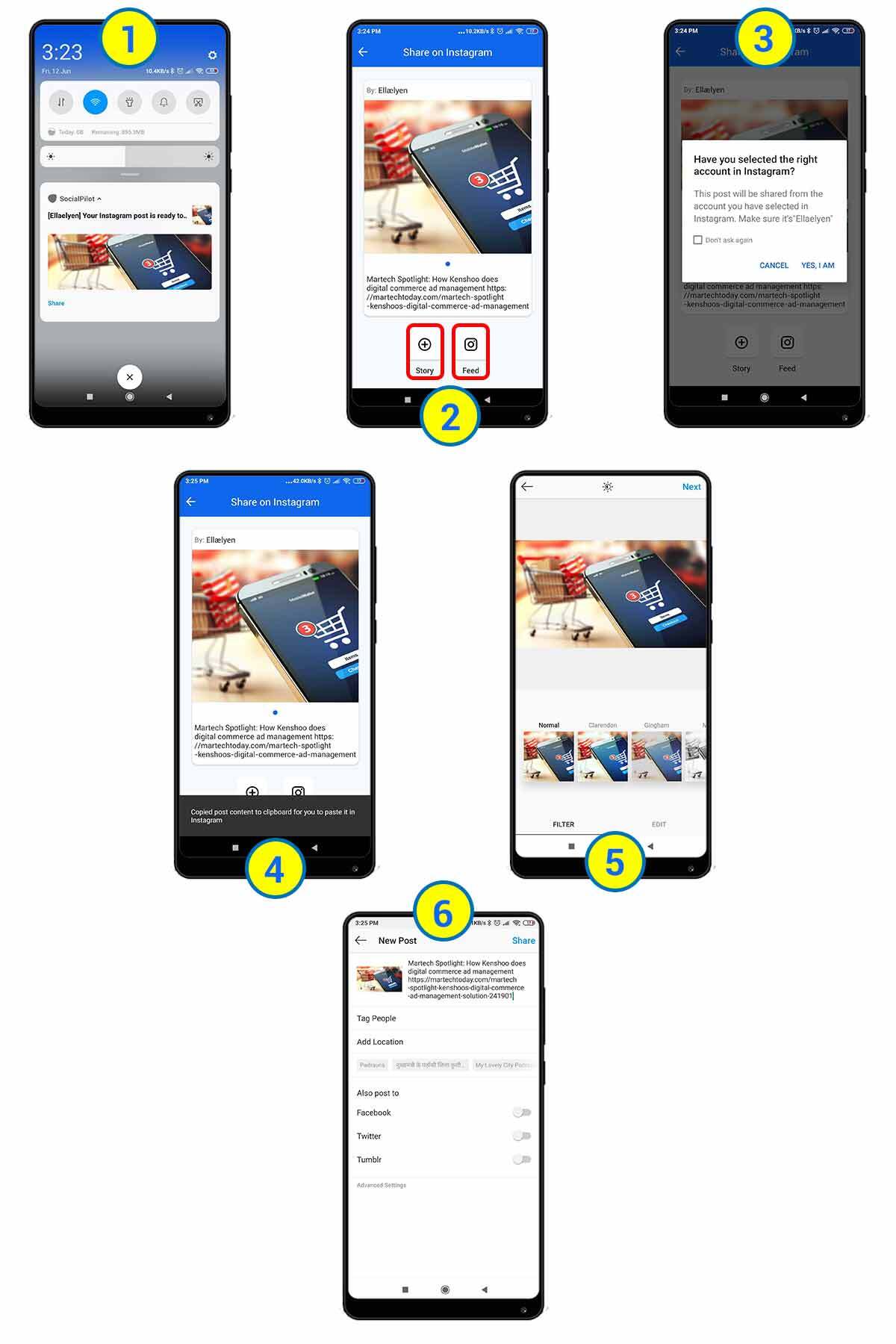 And it's a wrap!
In conclusion, we hope you are excited to get started with Instagram + SocialPilot today!
If you have any tips, suggestions or advice about Instagram marketing, do tell us in the comments section below.