As a business aiming to grow its social media presence, you fall into either of two categories:
You are planning to create your TikTok account to boost your presence, or
You are on TikTok, posting videos daily but unable to see a considerable increase in the number of views
So now, the million-dollar question arises – how to really go viral on TikTok?
If it makes you feel any better, every business — whether successful and well-known or not, at some point, has been at war with the question.
Creating quality content is only half the battle when it comes to going viral on TikTok. The other half is getting your videos seen by the right people.
Fortunately, we've got some tips and tricks to get more views and get your business TikTok-famous.
How Marketers Are Brandishing Their Magic on TikTok
Statista states that with a valuation of $140 billion, TikTok currently stands as the second-largest "unicorn" company. However, it is recently that the brands have slowly realized the potential of TikTok marketing.
TikTok is quickly gaining high engagement compared to other social media platforms, as a study found that over 60% of TikTok users spend more than 10 hours on the app on a weekly basis. And many brands are going out of their way to make the most of this and utilize its creative and interactive features.
#PepsiChallenge
In 2021, to boost its TikTok presence, Pepsi came up with The #PepsiChallenge, wherein it collaborated with football platform Copa90, for its fans worldwide to show off their football skills alongside the likes of Messi, Sancho, Pogba, and Van de Sanden.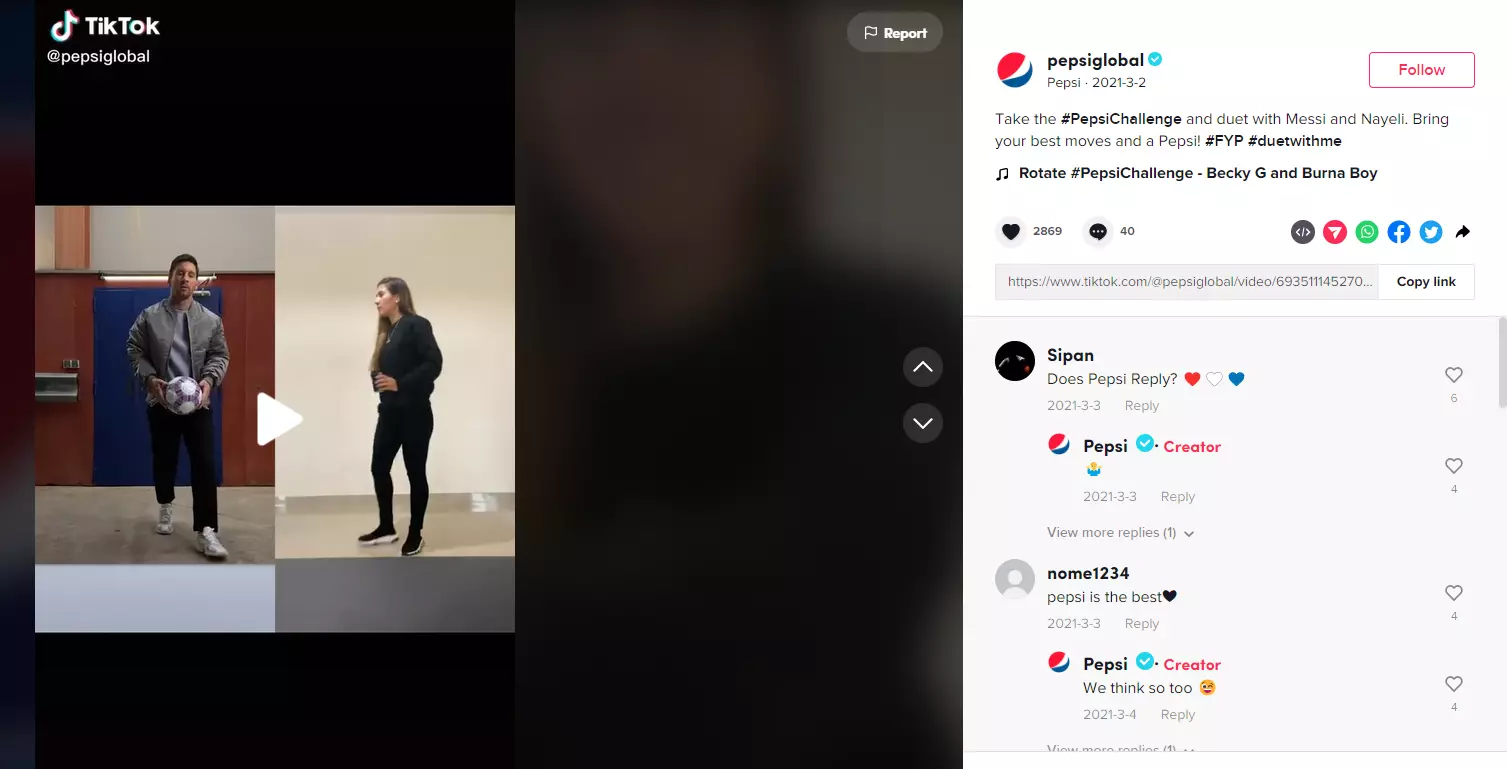 Using TikTok's 'Duets' feature, users could collaborate with anyone on their video content and perform in a split-screen video. All they needed to do was search for #PepsiChallenge and choose their preferred player for collaboration via the @PepsiGlobal TikTok channel. The result? #PepsiChallenge hashtag garnered over 2.3 billion views.
#Dunkin' Donuts
Similarly, Dunkin' Donuts utilized TikTok's "create a video" feature to create user-generated content (UGC) featuring their products. One of the top food accounts on TikTok, the brand has about 3 million followers and 21 million likes, with a lot of funny UGC.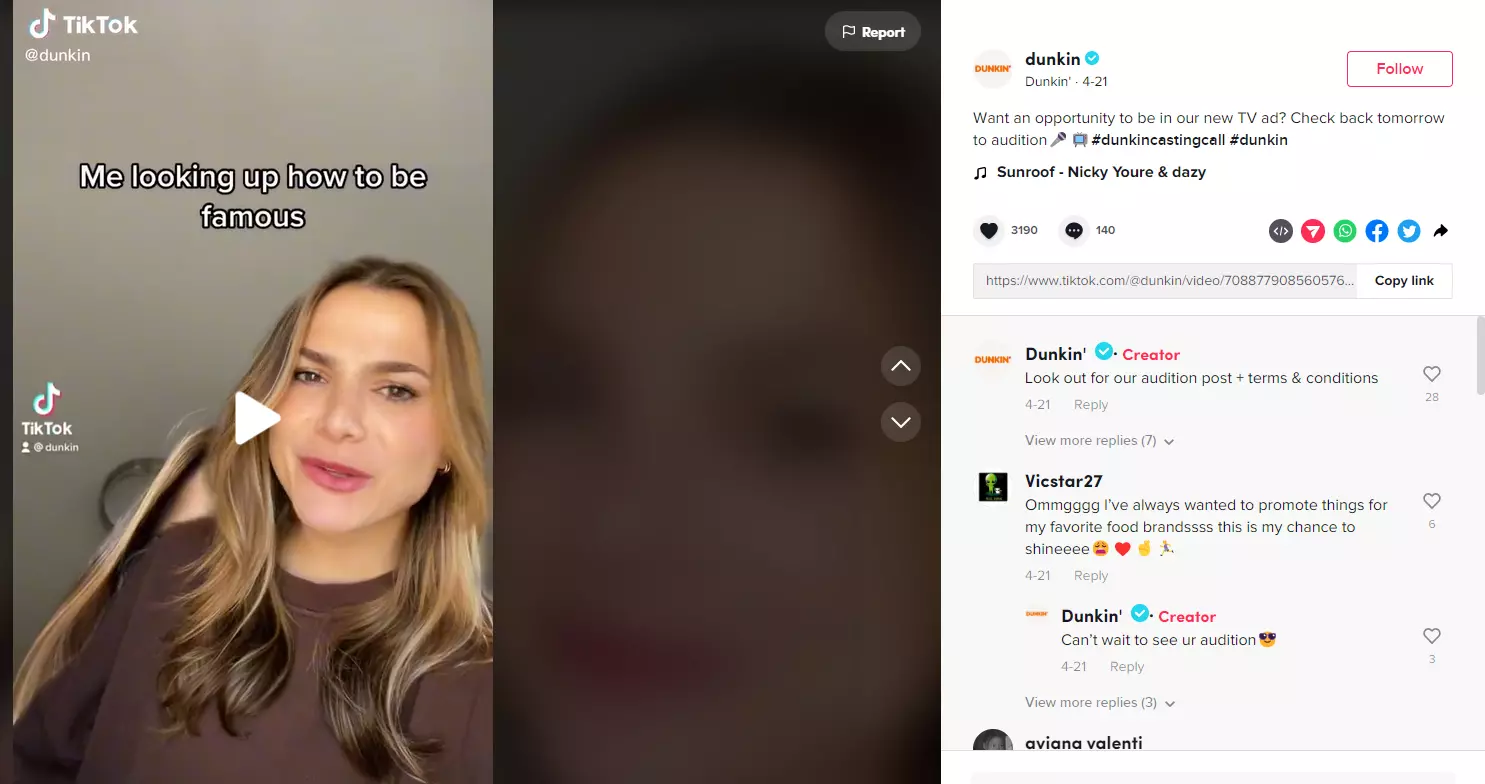 To attract more of the Gen Z audience, the brand collaborated with Charli D'Amelio, one of TikTok's megastars. The partnership resulted in a 20% increase in Cold Brew units' sales; on the second day, it increased to 45%. Also, the partnership strategy also saw Dunkin's app downloads increase by more than 57%, as against its previous 90-day average. The strategy overall helped the brand achieve a new record for daily active app users.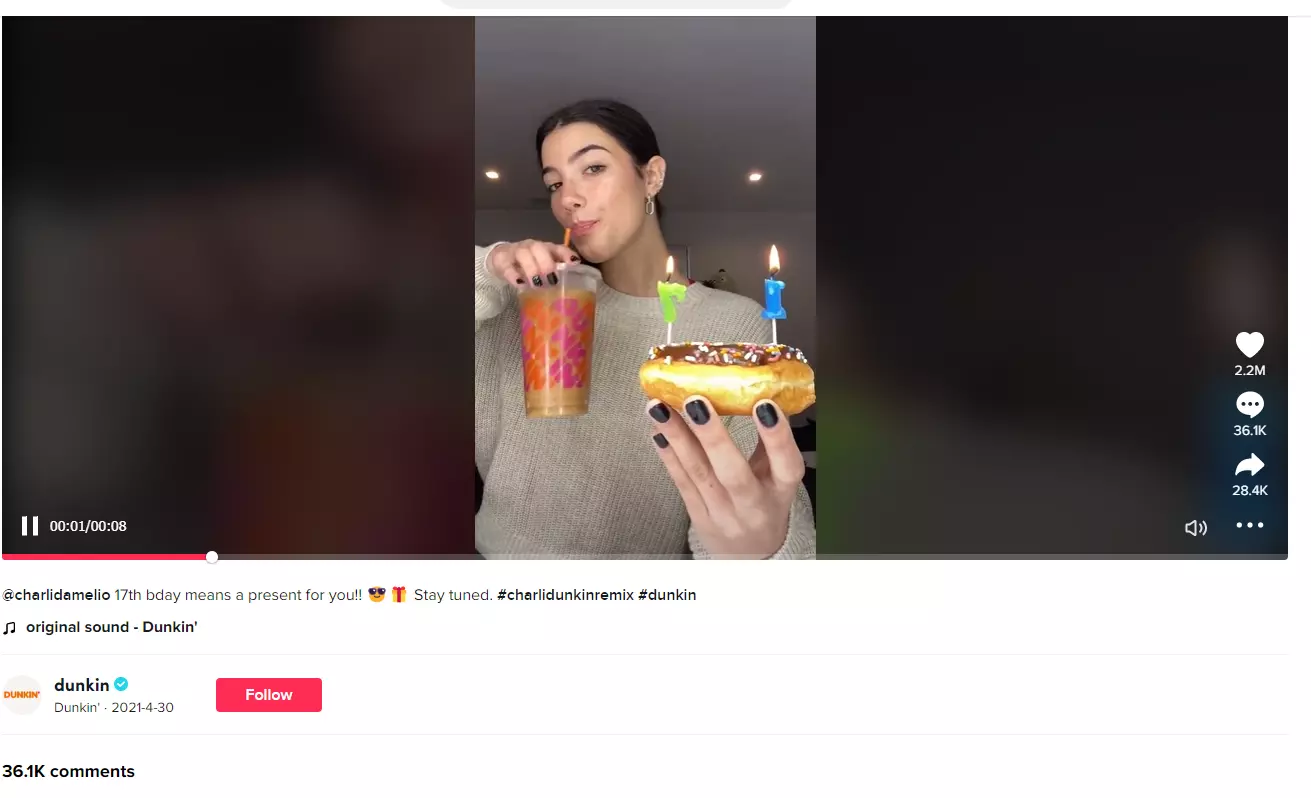 By using these and other innovative techniques, marketers can create engaging and memorable content that will resonate with TikTok users.
Let's dwell more on this to know how to make your video go viral on TikTok:
9 Dope Ways Of Slaying It To Go Viral on TikTok
Use What's Trending
Using trending hashtags and music in your videos is one of the sureshot ways to go viral on TikTok. This helps to ensure that your videos show up in users' feeds, and it also makes them more likely to be shared.
One of the effective strategies to find trending hashtags is to use the "Explore" page on TikTok. This will show you a list of the most popular tags at the moment, so you can choose ones that are relevant to your video.
You should also try to include popular music in your videos, as this will make them more catchy and attention-grabbing. Additionally, try to be creative and produce high-quality content that people will enjoy watching.
Jolyn Clothing comes up with its own version of popular dance trends like the viral "Blinding Lights" dance and also uses trending hashtag challenges in its videos. The video shared below has about 23K likes and 290 shares. Their posts overall generate about 265.1K likes.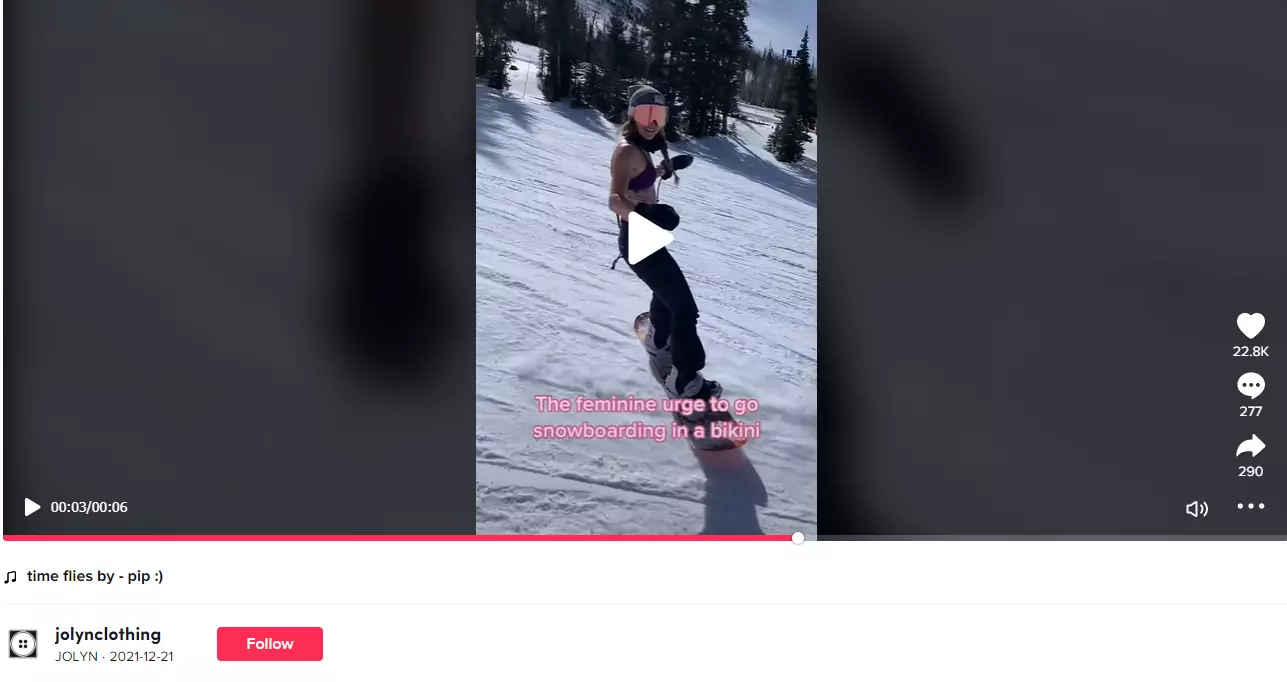 Collaborate with Influencers
To know how to make your video go viral on TikTok, you first need to collaborate with influencers. It's one of the effective, coolest, and fastest ways to achieve your goal of going viral. By jamming with someone who already has a large following, you can tap into their fan base and make yourself known to tens of thousands or even millions of people.
Take this case, for instance, of Alo Yoga. The fitness-focusing firm collaborates with lifestyles and yoga-centric influencers to show off their new products in unboxing and OOTD videos. The video shown below has 72.7K views. Their posts have overall 1.9M likes.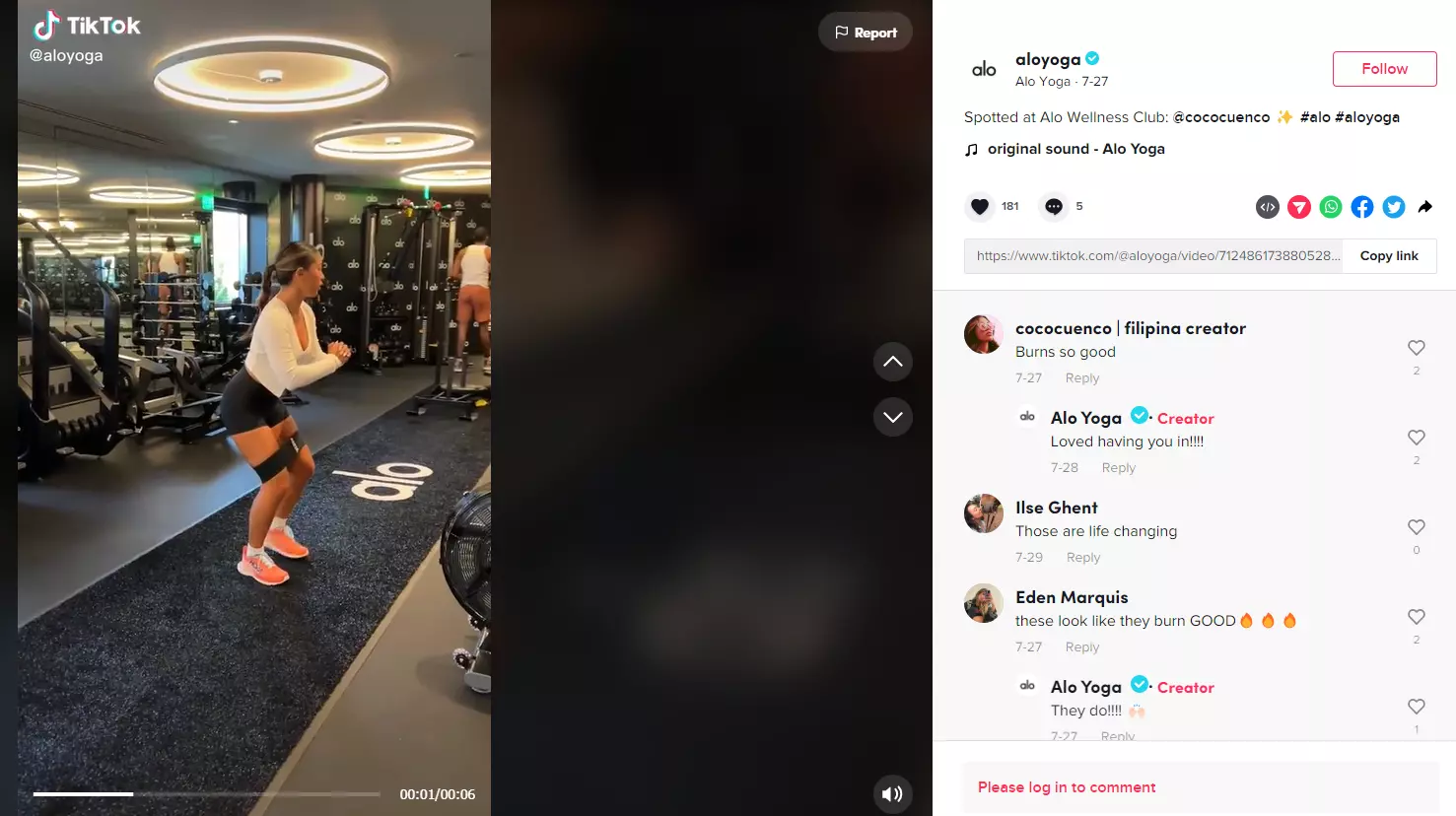 The question of how to go viral on TikTok with no followers is not that difficult too — using TikTok for business account helps you easily find and reach out to influencers who can align with your brand goals and vice versa.
TikTok Creator Marketplace is a great place to connect with creators — wherever they may be situated in the world — and collaborate with them to create awesome content that would help you solve the problem of how to go viral on TikTok with your brand. The filters on the tool help you find the right creators /influencers, after which you can easily reach out to them by sending them details of your campaigns.
So don't be afraid to drop them a DM or an email. And who knows? You might just end up going viral!
Use Overlaying Texts In Video
This is one of the best strategies to again make your video more engaging and accessible to users. A Verizon & Publicis study found that about 92% of viewers watch videos with the sound off, and about 50% of viewers depend on captions. This stresses on the need to create videos which are optimized for silent viewing, as well as for viewers with hearing disability.
How to add overlaying texts?
You could either tap the icon at the bottom of the app to create/ edit/upload a video and add text to your video. Or you could use TikTok's video editor tool on TikTok Ads Manager to add overlay text to your clip. Choose from the various themes, styles, and font options to add to your text to make the video catchy.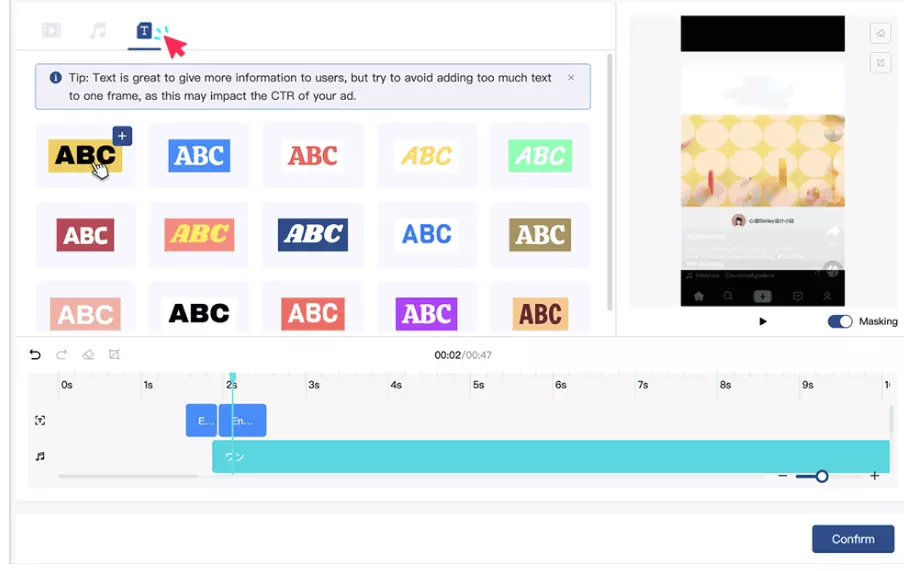 One of the most interesting features of TikTok's text editor is that you can change the duration of your text's visibility on the screen. So using the text duration feature wisely is an effective way to tell a story by using on-screen texts.
Use Keywords
Including keywords in your video titles, in-video texts, captions, and tags is a good practice to boost your visibility. This will help viewers find your video when they're searching for specific topics. When you promote your keyword-rich video on TikTok or on other social media platforms for that matter, it helps drive traffic to your video and increases its chances of getting more views.
Understanding your audience
A TikTok research found that about 79% of users go for brands that understand how to create content for the platform. TikTok is all about engagement, meaning that users are more likely to watch, like, and share videos they can relate to.
So, it boils down to knowing who your target audience is before you start making videos. Once you understand what type of content they prefer, you can start creating content that will resonate with them.
As an example, the NBA makes use of the fact that basketball can actually be fun and makes it a prime theme for its TikTok marketing. To date, the basketball league has garnered about 13.8 million followers and above 330 million likes on its TikTok posts.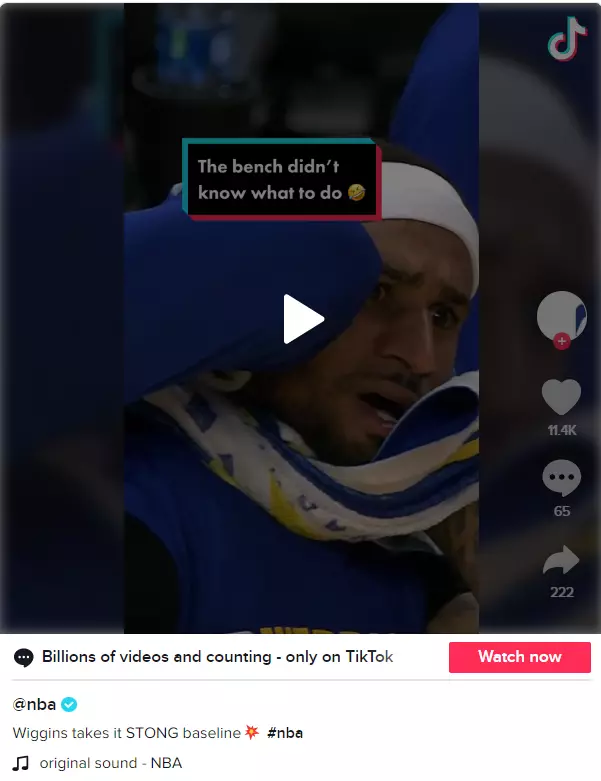 Posting at the right time
When it comes to answering the question of how to go viral on TikTok with no followers, timing is everything. The platform is incredibly fast-paced, and trends change rapidly. As a result, it's important to know the best time to post your videos in order to maximize your chances of going viral.
For instance, to make the most of the Christmas holiday season, Kool-Aid came up with a $10,000 contest to encourage people to post videos of themselves while enjoying the holidays. All they had to do was use the tag #OhYEAHChristmas to win a chance of bagging the cash prize. It worked wonders — the #OhYEAHChristmas challenge garnered over 10K videos in response and currently has about 1.9 billion total views.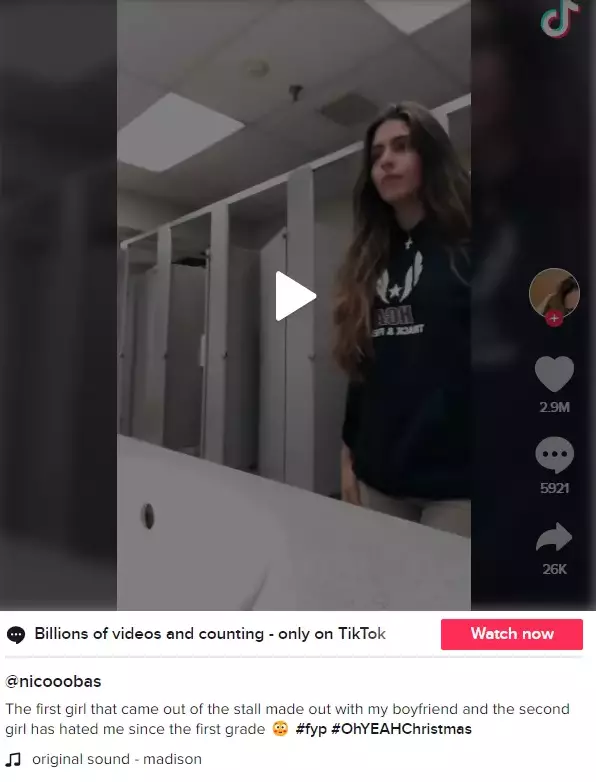 Depending on your location and audience, different times of day will be more active than others. One strategy is to post during peak hours when people are most likely to be scrolling through their feed during commute times or after work hours.
Alternatively, late at night and on weekends is a great option too. Another approach is to post immediately after major events or breaking news stories when users are most active on the platform.
Interact with the audience
To interact with the audience successfully, you need to consider what kinds of videos are trending on TikTok. People tend to watch funny, relatable, or visually appealing videos. You'll be off to a good start if you can create content that falls into one or more of these categories.
Additionally, it's important to be active on the app and interact with other users. The more engaged you are with the community, the more likely people will see and share your videos. Reply to comment on your videos and share UGC content of your brand to boost engagement.
More importantly, don't give up if you don't see results immediately – sometimes, it takes time for a video to catch on and start racking up views. If you keep at it and regularly publish quality content, you stand a good chance of eventually going viral on TikTok.
Use In-App Shopping Feature
One of the best (and quickest) ways to go viral on TikTok is to utilize the app's In-App Shopping feature. This feature allows users to tag and buy products featured in their videos, making it easy for viewers to purchase the items they're interested in.
By including this feature in your videos, you're giving viewers a direct way to support your content – and increasing the chances that your video will be shared widely.
Take a look at this ad below by Melaa Cosmetics: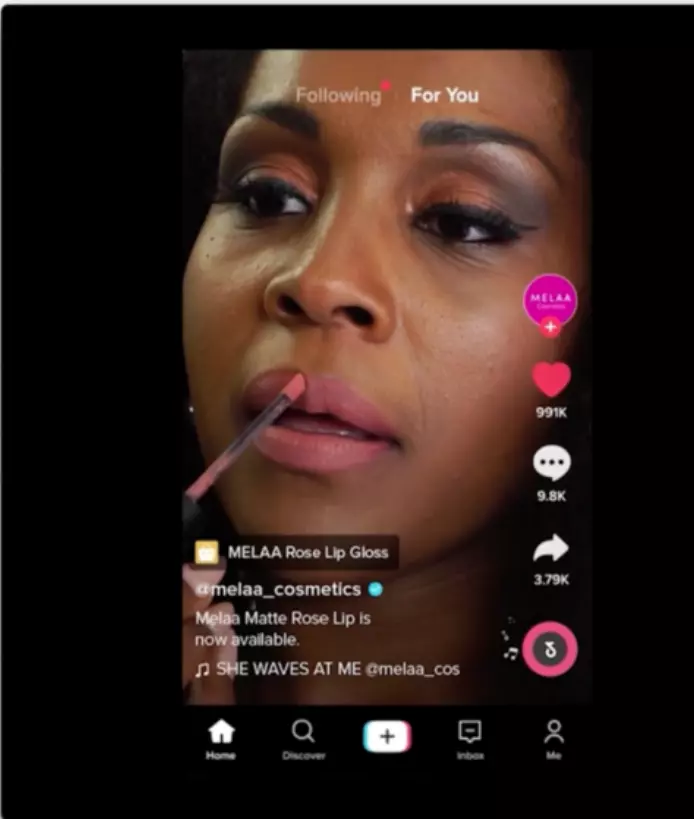 This ad, with over 991K likes and about 4K shares, has the shop link for buyers to quickly go to the website to get the lip gloss the model in the video uses. A perfect example of an ad gaining engagement by using the in-app shopping feature.
Of course, going viral on TikTok isn't easy. Even with In-App Shopping, you'll need to create high-quality content that resonates with viewers. But if you can produce engaging videos that make use of this powerful tool, you'll be well on your way to achieving TikTok fame.
Go Viral on TikTok Easily With SocialPilot's TikTok Scheduling Tool
As a marketing professional, you know that creating quality content is just the beginning when it comes to creating a successful TikTok marketing strategy.
If you want to go viral on TikTok, you must post consistently. This can be excruciating, especially if you're already stretched thin with managing multiple client accounts and posting regularly to ensure that the right people see your content.
Thankfully, there's SocialPilot to take care of it. It's a complete package that lets you schedule your tiktok posts in advance and keep you organized to make your TikTok marketing more effortless.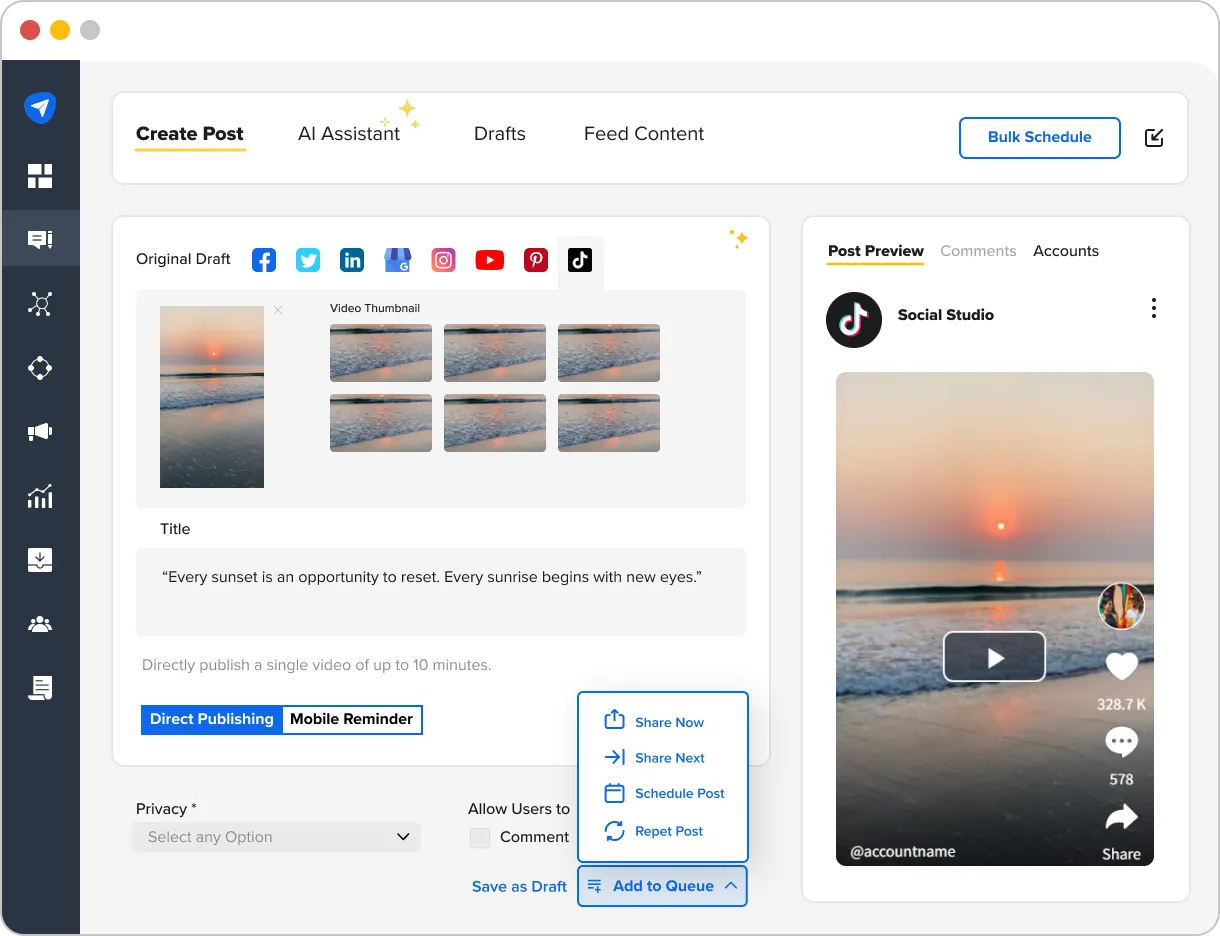 With the ability to schedule your TikTok content strategy way ahead, you get the time to do productive work that requires your focus more.
What's more? By using the SocialPilot editorial calendar, you get a singularly managed view of monthly posts from all your connected TikTok accounts! Use filters to get a more detailed look at the posting day, and rearrange it according to your best time to post on TikTok.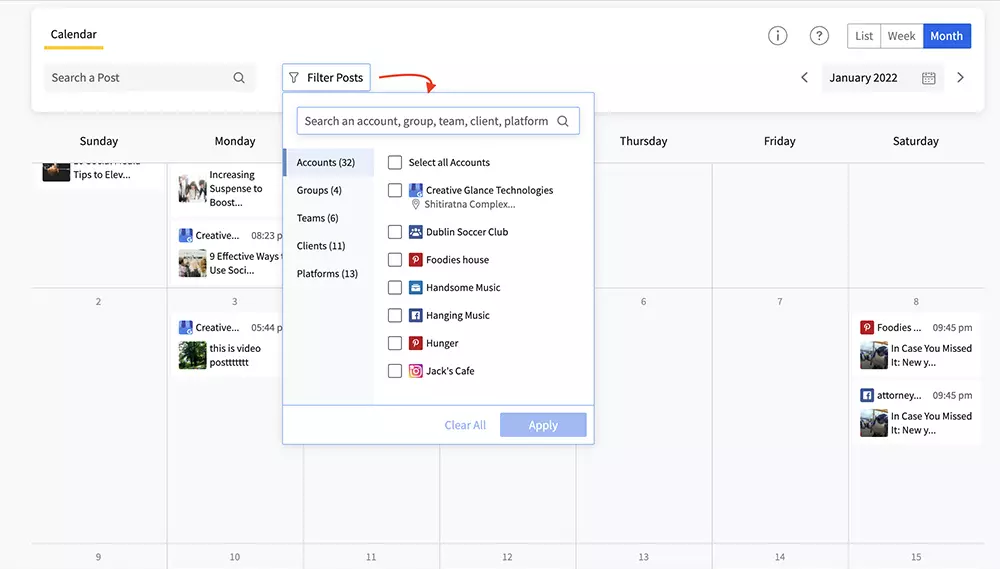 Summing It Up
As any marketer knows, going viral is the Holy Grail of online success. And these days, there's no better place to make your video go viral than TikTok. The app offers great potential for brand exposure, with users sharing billions of videos each month.
Summing up the tips mentioned above, focus on creating content that is interesting and relevant, use creative and eye-catching visuals to help grab people's attention, and also give links to your products in your videos. By making use of the tips discussed above, you can give