A good marketer knows that the only way to stay ahead of the competition is to have a proactive approach to creating marketing strategies. Using TikTok for your business is rather a prolific calculated decision than a straight-out bold hunch.
Tiktok sees an increase in the number of users every year. It is estimated that TikTok will cater to a total of 1.5 billion users by 2023 end.
Therefore, growing your business on TikTok is not an option; it's a necessity.
If you aren't already on TikTok, this is the best time for you to hop on board. Make use of the benefits of TikTok for Business to grow your reach and attract potential customers.
Using TikTok for small businesses is the best bet to grow your online presence and gain more views and engagement by creating creative videos.
This blog will discuss the most pertinent hows and whys for unleashing your brand's creative side on TikTok for business marketing.
Why This is the Best Time to Use TikTok for Your Business?
With TikTok's mass popularity, we are now on the verge of another paradigm shift in the world of social media.
Many social media experts like Gary Vee and Rachel Pederson backed the idea that TikTok will be a major player in the social media platform market. Cut to the present – you can see how TikTok has grown like wildfire.
Here are a few statistics that show why a business cannot afford to ignore TikTok.
TikTok users watch over 167 million hours of video content on the app in a sample of one minute, according to Statista.
The total number of app installations on user devices has been more than 3 billion, as per Sensortower.
TikTok is currently available in more than 141 countries and is among the top 50 apps in 140 countries, predominantly in Asian countries, as per appTrace.com.
35% of TikTok users globally are below 30, the largest age bracket of users.
The most popular TikTok account has 136.6 million fans and has earned USD 17.5 million, making them the highest-paid TikTok star, as per a Forbes report.
TikTok is a relatively new platform and is majorly focused on gaining more users rather than on aggressively monetizing the platform. Therefore, marketers should focus their TikTok marketing strategy only on content creation and garnering maximum reach in a short duration.
Top 5 Benefits of Using TikTok for Business
1. Connects You to Millennials
The majority of TikTok users are millennials. Thus, the platform presents a great opportunity for your business to connect with this key demographic in a fun and authentic way.
A TikTok study found that 37% of TikTok users instantly seek to buy a product upon discovering it. Thus, they're interested in brands that create engaging content for their products.
So use TikTok for business to focus on creating videos that are creative, entertaining, and informative. It will help your business reach a new audience and build brand awareness.
2. Increases Conversion Rate
TikTok is popular because people are drawn to the platform's creative and relatable content. TikTok for small businesses is a powerful marketing tool can help them reach a wider audience and increase their conversion rate.
It allows you to showcase your products and services creatively and engagingly, which can instantly attract the viewers' attention. For example, create short and to-the-point videos on your products' USP while being creative to grab users' attention. Encourage them to take action like sign up, check out, etc.
A TikTok study found that adding Calls to Action (CTAs) in TikTok video text can up conversion by 152%.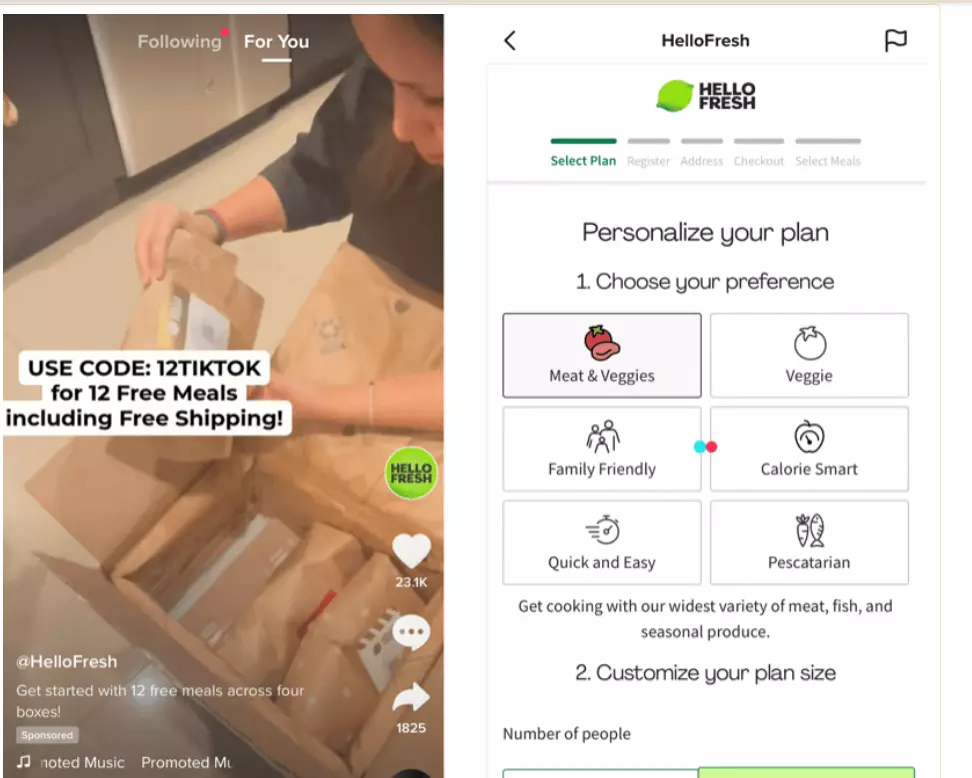 For instance, HelloFresh perfectly captures the viewers' attention by placing the coupon code right on the video, with the post garnering more than 23K likes.
3. Engage with the Audience
Interacting with a major chunk of your audience is an invaluable part of your TikTok marketing strategy. You will find more people while you look for new ways of engagement.
With the users spending an average of 52 minutes on the app every day, it gives you a perfect opportunity to make your videos stand out.
You can be humorous, add filters and do more to make your videos engaging. It is always a good idea to have your content ready for uploading at the most opportune moment.
4. Make your Marketing Look Organic
When you do TikTok for business marketing, it doesn't look like marketing because of its content vibe. See, Generation Z doesn't like to be bothered by advertisements, which is why 51% of them use ad-blockers.
It should be clear that the old marketing techniques will not fair well with these users. As a smart marketer, you should find less invasive techniques and quickly grab the attention of your target audience through engaging content.
And TikTok is all about fun, quirky, and creative content. The creators you will find on the TikTok creators marketplace have already mastered the content creation on TikTok and can promote your brand in a non-intrusive way.
Also, once you master the technique of incorporating your brand into well-structured stories, you win.
5. Perfect place for user-generated content
Millennials value authenticity over anything else. They are aware of the marketing tactics and thus will not fall for age-old concepts.
In such a situation, user-generated content is the best way to build trust with your audience. And TikTok is the biggest source of user-generated content and has the advantage of being the new kid on the block.
Even some popular video publishing platforms have been plagued by fake views for some time, leading to users having trust issues with what they see on these platforms. TikTok drives content organically as a part of its design and encourages user-generated content through its challenge concept whenever possible.
Here are some ways how to use TikTok for business to grow your overall brand presence.
5 Stellar Ways to Use TikTok for Business
1. Understand Your Audience
As per TikTok, 79% of its users prefer brands that understand how to create content for the platform. TikTok has evolved to be more than a teenager's app and is being explored by businesses as the preferred marketing strategy.
Before you sell your products and services on TikTok (or any other platform for that matter) and start engaging with the audience, it is important to understand your target audience and their requirements on the platform.
For example, Dr. Azadeh Shirazi, a dermatologist with more than 1.5 million followers on TikTok, uses the platform to talk about skincare products while also creating engagement.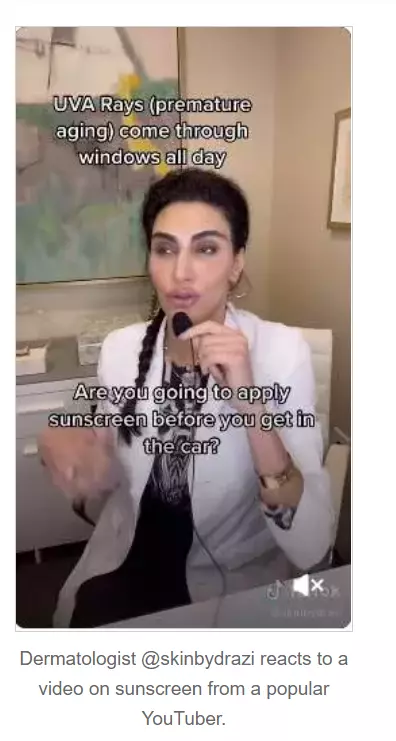 In the example above, Dr. Azadeh Shirazi, whose TikTok handle is @skinbydrazi, is reacting to a video on sunscreen from a popular YouTuber.
2. Create Your First TikTok Video
TikTok for business marketing is all about fun and entertainment. So you don't have to shy away from letting your brand personality shine through in your videos.
Focus on creating content that is visually appealing and easy to consume. People are scrolling through their feeds quickly, so you want to ensure your video grabs their attention.
In the example below, @softcookiessarona shares a video on how to create the perfect crepe, which has more than 14 million views.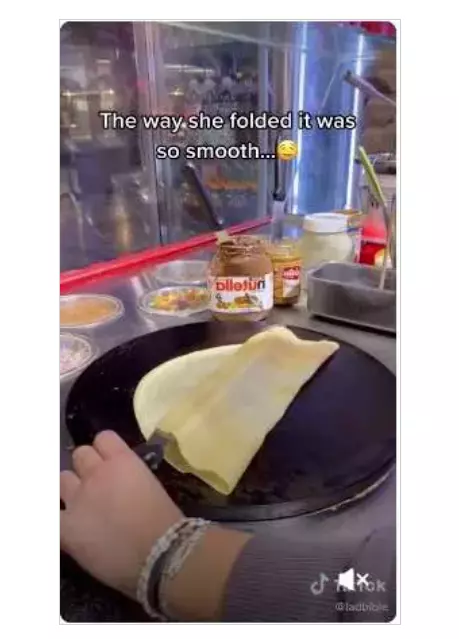 Besides talking about your product features, you could also post review videos to make your brand more authentic to viewers.
Also, make sure you're using hashtags and incorporating popular trends into your videos. This would certainly help you reach a wider audience and increase your chances of going viral.
3. Advertise on TikTok
TikTok for business marketing offers several features that can be used to increase brand awareness and drive sales.
For example, you could use TikTok ads to reach a wider audience, create sponsored ads or sponsored challenges in collaboration with other brands, or go live create to encourage user participation.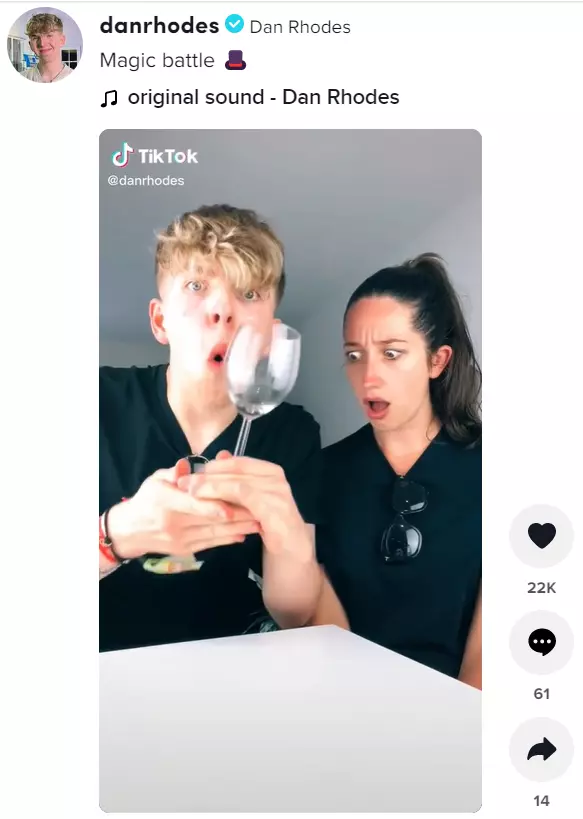 With TikTok's Ads Manager platform, you can create ads and choose from the different formats mentioned below for the same, with each format you select giving you simple step-by-step guidelines on the app.
In-Feed Ads

In-Feed ads are the ones that appear on a user's 'For You' page. It's like the home page where you first land on opening the app. The 'For You' page features content that TikTok's algorithm believes you would find interesting based on your browsing activity (your likes, shares, and views.)

Types of in-feed ads include image ads, video ads, and spark ads. Between 5 to 15 seconds long, you can show in-feed ads in user feeds for only one day. As discussed above, you can add CTAs to your in-feed ads to up conversions of your video ads.

Top-View Ads

Top View Ads for TikTok for Business are like the unskippable ads that you see on YouTube. The top-view video ads appear at least once when users open the app daily.

The ads can last as long as 60 seconds with the sound on. As these ads' run time is run longer than the average normal videos, the Top View Ads are ideal for advertising products that need viewers' attention for a long time, such as movie trailers.

Hashtag Challenges

As per TikTok, 90% of branded hashtag challenges view at least 2.5X return on ad spend (ROAS). With hashtag challenges, you can create unique challenges and invite the user community to come up with and post content around the TikTok challenge.

Brands using this ad format have exclusive access to the hashtag, and the hashtag challenges last up to 6 days.

Branded Effects

The branded effects features enable you to use 2D, 3D, or AR effects to the images of your products or/ and your TikTok videos.

You can create customized stickers of your products or design customized filters representing your brand for TikTokers to use while making videos. These branded effects' main goal is to increase your engagement and boost your brand awareness.
4. Build on Trends
According to a BusinessWire report, 67% of consumers find personalized brand experiences important. Posting a mix of content demonstrates to potential customers that your brand uses TikTok outside of running ads.
Whether it's a popular trending ad, a song, or a meme, don't be afraid to hop in on the trend. Come up with ways to combine the ongoing trend with your brand content without losing your personality.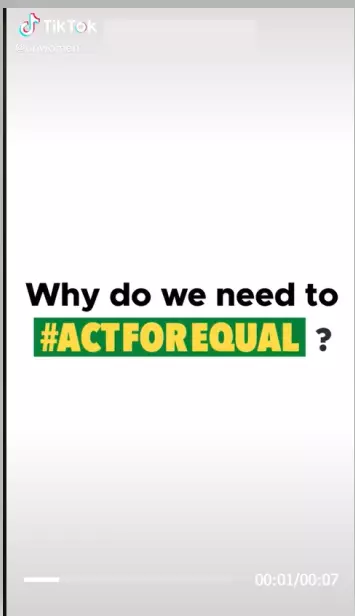 For instance, on the occasion of Women's Day, Tiktok introduced the hashtag #SheCanDoIt to celebrate and acknowledge all the female creators on the platform. Various TikTok accounts made content from this trending topic, like UN Women, who garnered more than 400K views on their #GenericEquality campaign.
Including hashtag challenges inspired by the current trend is thus a great way to engage with a wider audience. Moreover, you could also use current trending topics in your content to provide a personalized experience to consumers.
5. Make Use of User-Generated Content
TikTok offers a unique opportunity for businesses to connect with potential customers through user-generated content (UGC). According to a BusinessWire survey, user-generated content highly impacted 79% of users' purchasing decisions.
UGC involves curating and sharing content created by TikTok users rather than creating your content from scratch. By doing this you —
Know what users are talking about
Have a cost-effective strategy to tap into the app's massive audience and
Reach potential customers who would be interested in your products or services.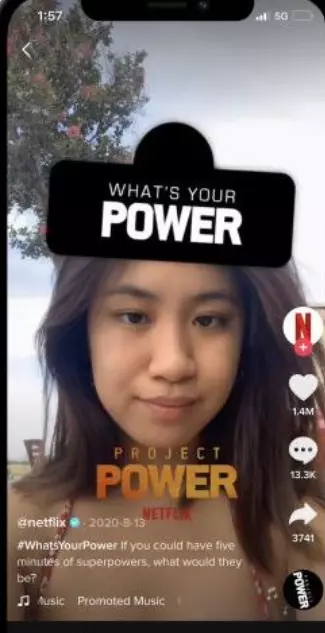 Netflix is a great example of creating powerful UGC. To boost their audience engagement on TikTok, Netflix came up with the #WhatsYourPower campaign for viewers to determine their superpowers. The campaign was superhit, with over 100,000 user-generated videos being posted by eager participants on the platform.
How can SocialPilot help you use TikTok for business?
Scheduling your content on social media is vital especially when you are handling multiple accounts. By scheduling the content, you are streamlining the clockwork so you don't miss out on the key posting times again.
Here is a detailed approach to TikTok scheduling.
TikTok Scheduler:
With this feature, you can save tons of hours on TikTok scheduling. Save weeks or even months of your scheduling plans.
There are two ways to schedule:
The very first way is the TikTok Direct Publishing feature by which you can eliminate the hassle of your mobile reminders for your business accounts. With this feature, you can directly publish your TikTok content and go live at the specified time. Say no to additional steps and push notifications.
Secondly, if you are someone who likes TikTok reminders, then use the mobile reminders. With this feature, you can make any last-minute changes to your plans or reschedule your TikTok videos without any hassle.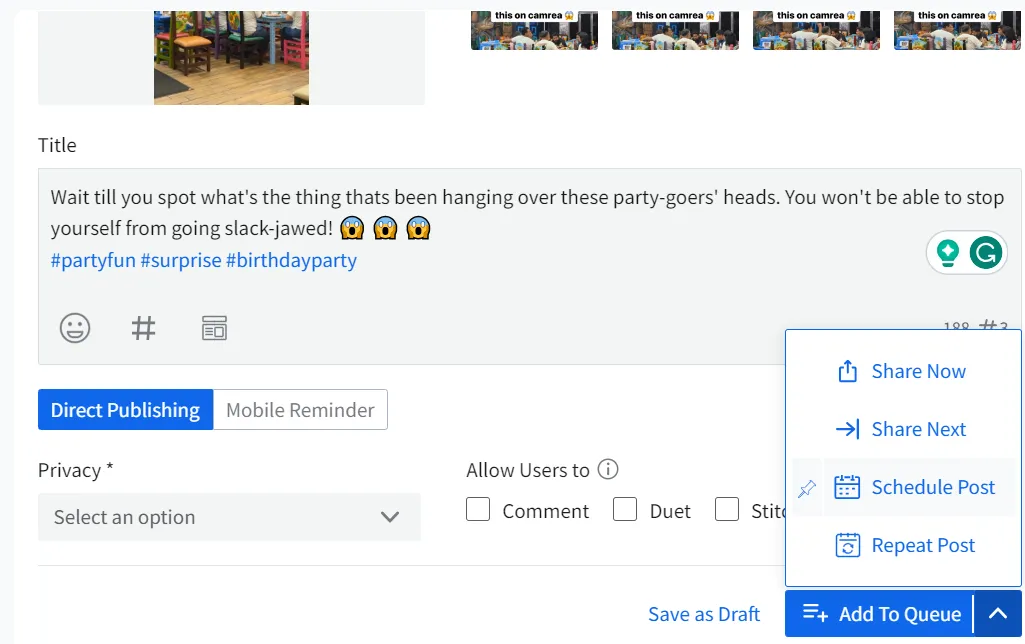 Streamlined Account Management:
Both small businesses and agencies can manage multiple accounts efficiently using SocialPilot's TikTok scheduler. You can seamlessly schedule videos for multiple TikTok accounts and even set up an individual posting schedule for them. This ensures that all your posts are published at the right time and can engage with maximum users on the platform.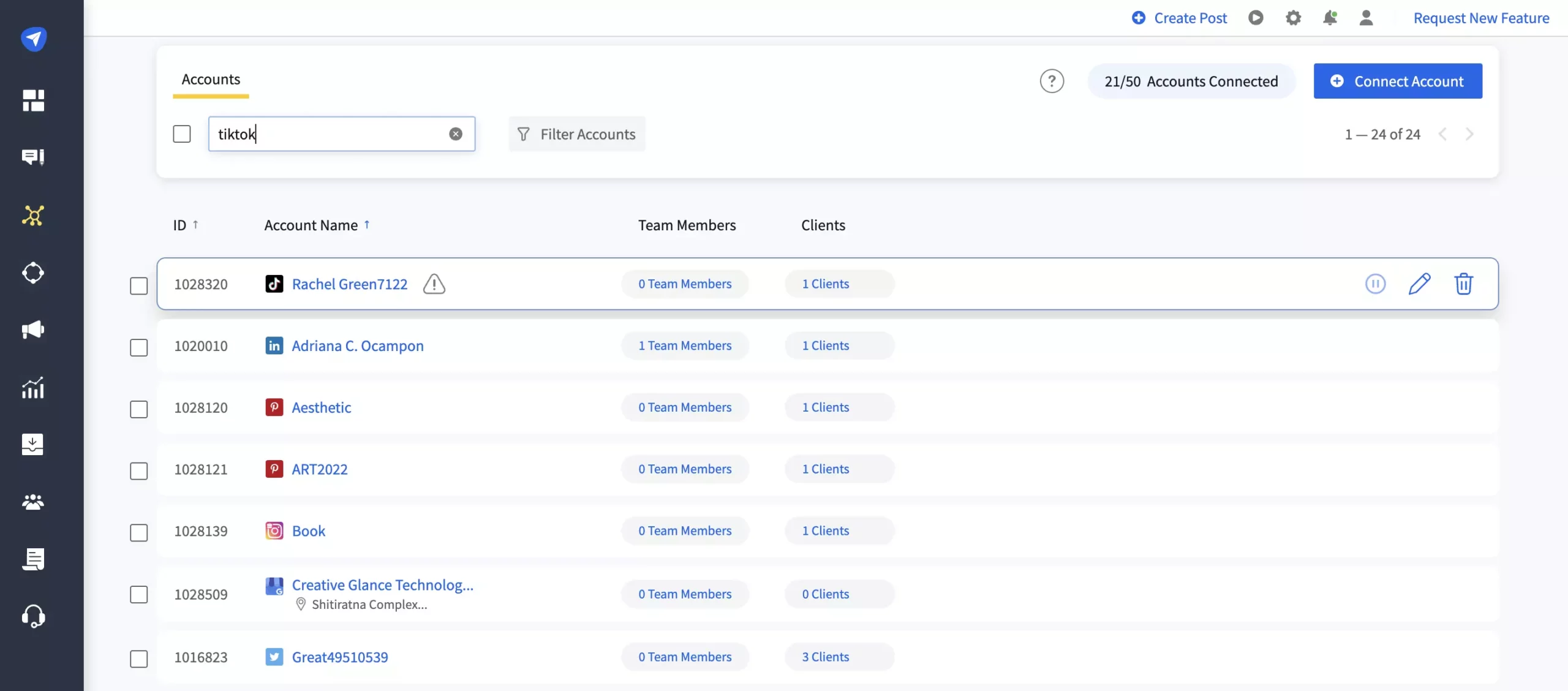 Better Collaboration:
With SocialPilot's Team Collaboration feature, you can rest assured that your marketing team will be publishing error-free and engaging content every time. A streamlined workflow combined with approval settings ensures that any post drafted by the marketing team will be scheduled only after approval from the Admin.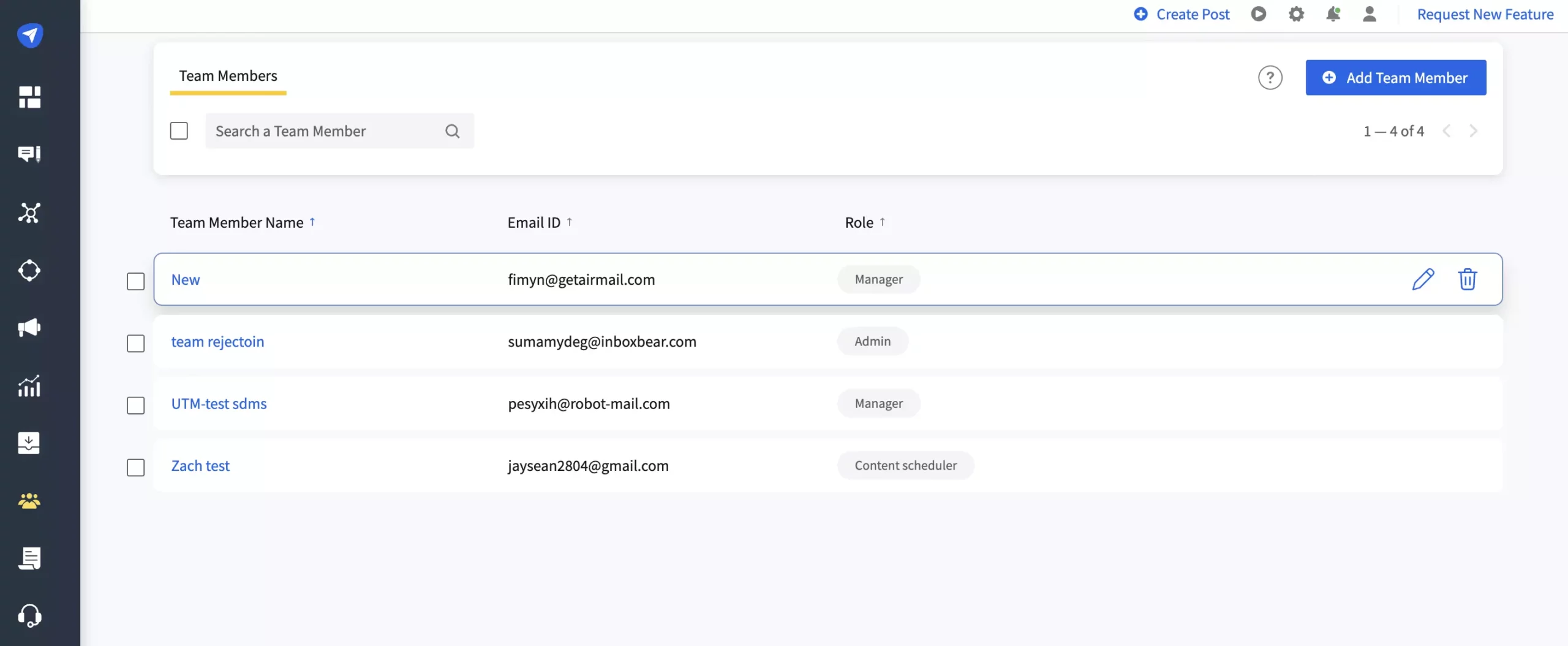 Content Planner:
You will be able to create and implement a visual strategy with SocialPilot's content planner. It gives you a bird's eye view of all the associated TikTok accounts and allows you to edit, reschedule, and reshare the posts directly using the content calendar.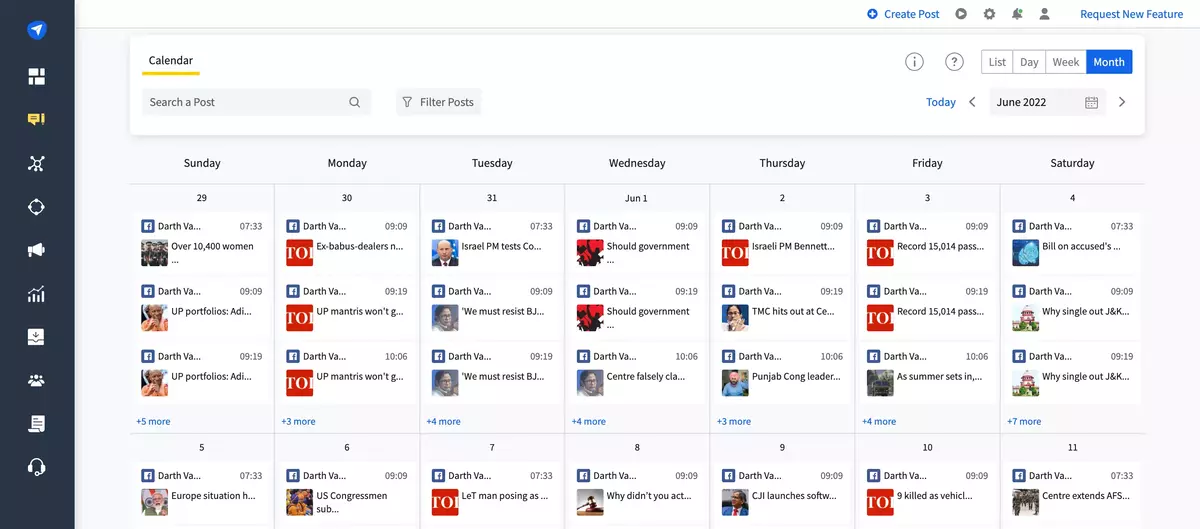 SocialPilot Mobile App:
Socialpilot's mobile app has always kept social media marketing hassle-free, even on the go. Now, Its seamless interface and smooth managing feature can be used with TikTok too. SocialPilot enables the creation and scheduling of your TikTok post way ahead. You can schedule it for any time, and when it time comes, the app will remind you with a push notification and share it on the command of your finger.
To see a step-by-step guide to scheduling TikTok posts on SocialPilot, click here.
Summing Up
Over the years, TikTok has become one of the most popular social media platforms, with a large and engaged user base. When used correctly, TikTok can be an incredibly powerful tool for growing brand awareness, selling products, and engaging with your target audience.
So what are you waiting for? Start creating some fun and creative videos right now on because you know just how to use TikTok for your business and up your brand's presence on the platform!