As social media apps evolved over the years, they recognized their potential to boost businesses and their visibility. So, they came up with features to help business communities attract and engage potential customers. And TikTok is no different.
The popular video app, with over 1 billion active users, as per Statista, is a great addition to your brand's marketing strategy. It can help you promote your products, reach out to wider audiences, and boost your conversion and engagement rate. And you can do all this with the help of TikTok Creator MarketPlace.
Let's dive deeper into it.
What is TikTok Creator MarketPlace, and How Does It Work?
TikTok Creator MarketPlace is where brands and TikTok content creators meet to create high-quality creative content. It's an excellent way for both to monetize their TikTok following and boost their engagement.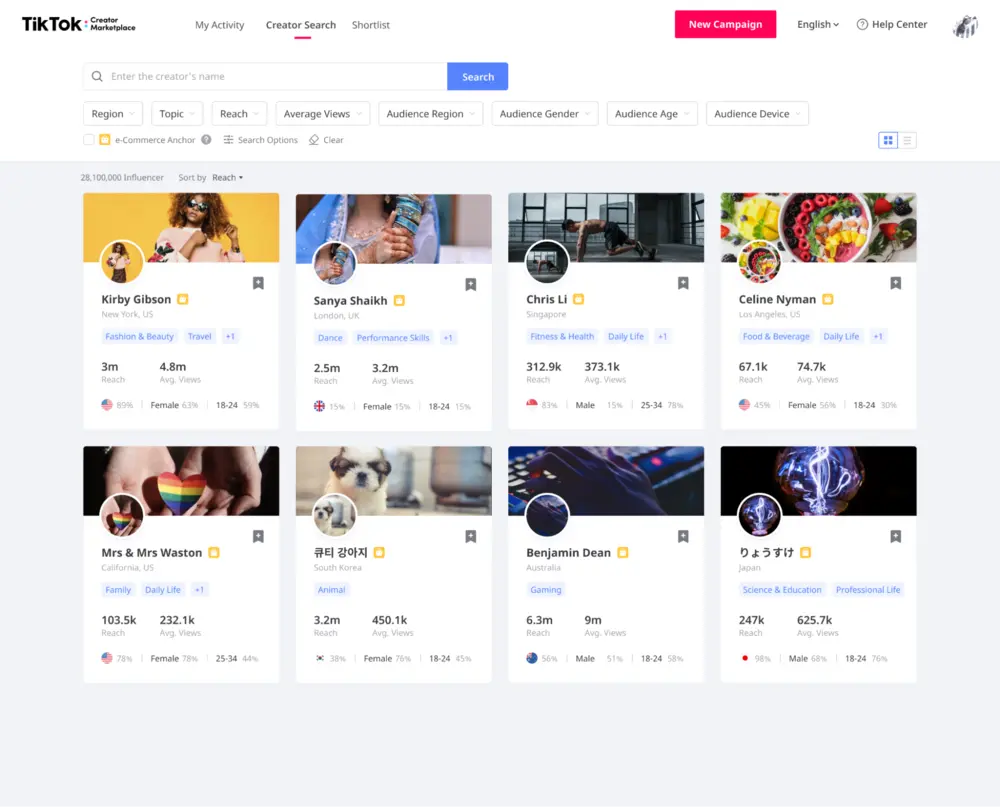 In TikTok's own words, businesses can currently reach creators in over 20 countries and regions on the TikTok Creator MarketPlace. Business partners can invite TikTok creators to collaborate through the app, and creators can freely go for the opportunities they find interesting.
On the TikTok Creator MarketPlace platform, you can browse through creators by location, category, and even the number of views, followers, or reach.
Simply put, TikTok Creator MarketPlace:
Helps you find the right creator for your brand campaigns (more on that later)
Helps you make your business decisions based on credible market-driven data
Gives you profile data of potential influencers/ content creators who ticks TikTok Creator MarketPlace requirements and can make your business campaigns successful
Allows you to track and analyze all your promotional campaign results in one place with the help of the campaign reporting tool
Sounds interesting, right? Let's look at the benefits of working on TikTok Creator MarketPlace.
What Do You Gain from TikTok Creator MarketPlace?
As a business owner, your brand stands to gain a lot from TikTok Creator MarketPlace, as follows:
1. Increase Brand Awareness
With TikTok, here's how you can level up your brand awareness:
Connect with potential content creators for your brand on TikTok Creator MarketPlace
Create collaborative videos to increase your brand awareness
Have your products and services promoted by content creators through their videos in creative and innovative ways
When the TikTok creators share the videos on their TikTok accounts, it reaches their followers and your target audience.
A TikTok study found that 35% of the app's users discover products and brands by following creators. Additionally, 65% are interested in their posts about products and brands. Sounds lit, right?
Real-Life Example: Chipotle, a popular restaurant chain, launched the #GuacDance challenge on TikTok when it made its account on the platform. The campaign was planned to coincide with National Avocado Day. It resulted in over 250K video submissions, and almost 430 million video shares. Various content creators posted creative videos to promote the challenge. The six-day campaign increased the number of orders and Chipotle saw more than 800K sales of guacamole during that period alone!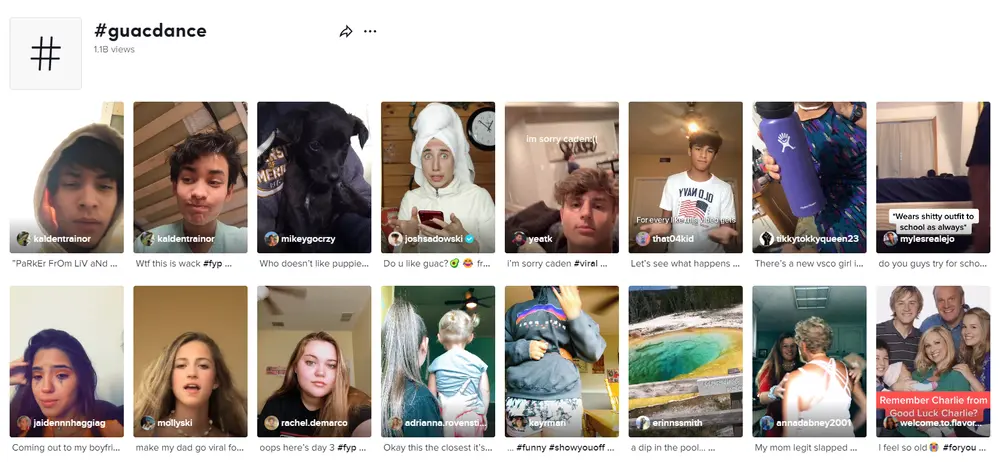 Thus, TikTok Creator MarketPlace is an effective way and win-win for both you and the content creators to reach potential users and increase brand awareness.
2. Collaboration with Fellow Creators Worldwide
TikTok Creator MarketPlace gives an exciting opportunity for your brand to tap into new markets and connect with potential customers. What's more, it offers you an easy way to reach out and build relationships with your favorite creators globally.
How to connect with the creators?
Browse through the platform seamlessly
Find creators whose content style resonates with your brand and target audience, and
Reach out to them for a collaboration
(We'll discuss that in later sections.)
You can find TikTok Creator MarketPlace rates and charges conveniently on your dashboard.
Real-Life Example: Louis Vuitton successfully collaborated with BTS to increase its brand awareness. In the example shared below, the LouisVuitton post has garnered over 4 million likes and more than 113K shares.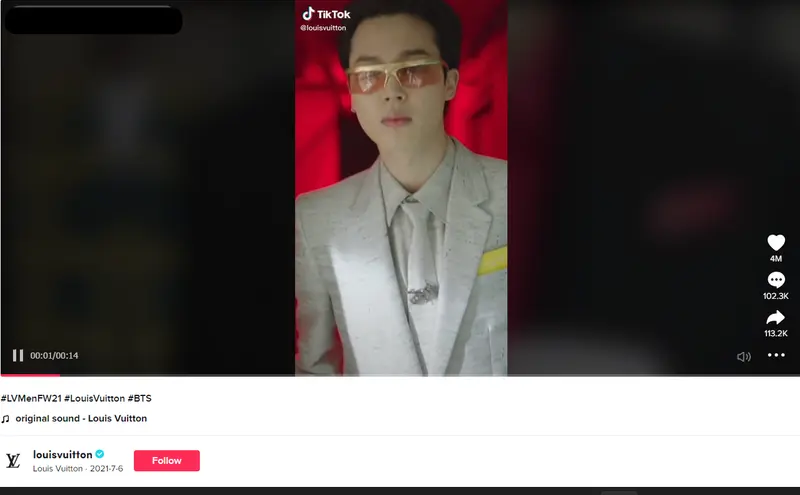 Since TikTok has 1.7 times more possibility of being used as a product discovery tool, it presents an excellent opportunity to connect with TikTok's vast community of users.
3. Access to First-Party Data
TikTok's API for TikTok Creator MarketPlace enables brands and marketing agencies to access first-party campaign data in real-time. It makes it easier for you to analyze the insights, as direct first-party data helps you accurately track user data to modify your marketing strategies.
Simply put, first-party data access makes it easier for you to classify users in different segments according to target audiences and personas that look forward to buying specific products or services on TikTok.
4. Track Campaign Results Easily
You can easily find influencers and content creators on TikTok and collaboratively track and create campaigns. TikTok Creator MarketPlace makes it easy to track campaign results and measure your return on investment.
Moreover, the platform also offers detailed analytics, so you can see how your campaigns are performing and accordingly make adjustments to them. The metrics and insights make collaborating with creators easier based on your industry, budget, and business goals.
How to Connect With Creators and Create a Campaign on TikTok Creator MarketPlace
It's super easy to reach out to creators to create a campaign on the TikTok MarketPlace. Here's how you do it:
Inside the marketPlace, use filters to find the content creator(s) who have a large following on TikTok and who produce high-quality content that aligns with your brand
Click Add to List to zero-in on and shortlist the creator(s) you want to reach out to

Once you've zeroed in on the creators, select Create campaign on the top right corner of the screen
Fill in the details of your campaign, such as your brand name, the product you wish to advertise, your industry, your campaign name, etc.
Describe your campaign objectives for the creators to know if you want to create an ad or simply a fun video, and share a script or brief details of your campaign with them

Select Upload Message to use TikTok's custom template to add clarity to your information

You can also set your campaign budget based on the current marketPlace rates. Once the creators accept your price, you can go ahead and share your product and more details with them so they can create the video. And you're all set!
Let's now see how we can effectively use TikTok Creator MarketPlace to hit the marketing bullseye!
5 Awesome Ways of Using TikTok Creator MarketPlace Effectively
1. Collaborate with Creators Who Share Your Brand Goals
TikTok's Creator MarketPlace is a fantastic way to find content creators who align with your brand goals. A TikTok study found that 79% of TikTok users prefer brands that know and understand how to create for the platform.
The MarketPlace allows you to search for content creators by region, interests, and even TikTok trends. It enables you to easily find creators who can produce quality content that will resonate with your target audience.
Simply find a few creators you think would be a good fit for your brand. Then, you can seamlessly reach out and collaborate with them on TikTok to create innovative videos that help your brand stand out.
Real-Life Example: Guess, a popular clothing brand, came up with the #InMyDenim campaign to increase its brand awareness. For the campaign, creators posted creative videos about transforming into stylish Guess outfits from their old clothes.
Furthermore, Guess collaborated with Bebe Rexha and used her song "I'm a mess" to increase its brand reach. The song was used as the background score for most of the UGC, thus helping Guess reach its objective of higher engagement with the audience. Influencers such as @ourfire and @jackjerry posted videos using the hashtag, which garnered over 53.5 million views.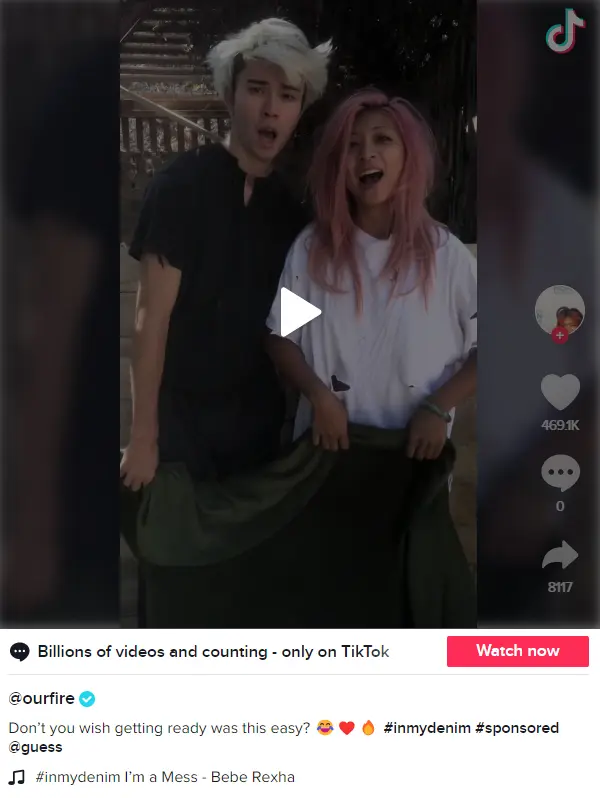 2. Use Filters on TikTok Creator MarketPlace to Find the Right Creators
TikTok Creator MarketPlace provides you access to a vast pool of creators on the platform. You can easily find the right influencer for your brand from there. Easily filter and find creators based on the following parameters:
The country or region where the creator publishes content and resides
Their topics of interest or niche about which they make content (e.g., food, sports, fashion, etc.)
Their reach, mainly through three modifiable ranges of between 10K to 100K, between 100K to 1 million, and between 1 million to 10 million

Their average views — help you know how many views the creator's previous content gained and how many views their videos get on average, based on which you can ascertain how much of a reach you would gain through the collaboration

Access to e-commerce — to see that the creators primarily provide a link in their content for the viewers to access a brand's products or external landing pages conveniently
3. Make Sure You Follow All Content Guidelines
It's important to note that TikTok creators come with their unique styles and vision. To collaborate with TikTok creators and produce high-quality content that aligns with your brand goals, you first need to have a predefined set of rules.
It is best to inform the creators about the guidelines by which every piece of your brand's content must abide. Otherwise, the results may differ vastly from your expectations. Also, it is important to consider TikTok Creator MarketPlace requirements. By being specific about your goals, you can ensure that the content produced is in line with your brand identity and well within TikTok's guidelines.
4. Regularly Monitor Analytics
You need to regularly monitor the TikTok Creator MarketPlace dashboard to keep track of your goals for each collaboration and to measure the success rate you achieved through it. You get to know better what works well with TikTok creators (as well as with the viewers) and what doesn't. So accordingly, you can make revisions to your strategy.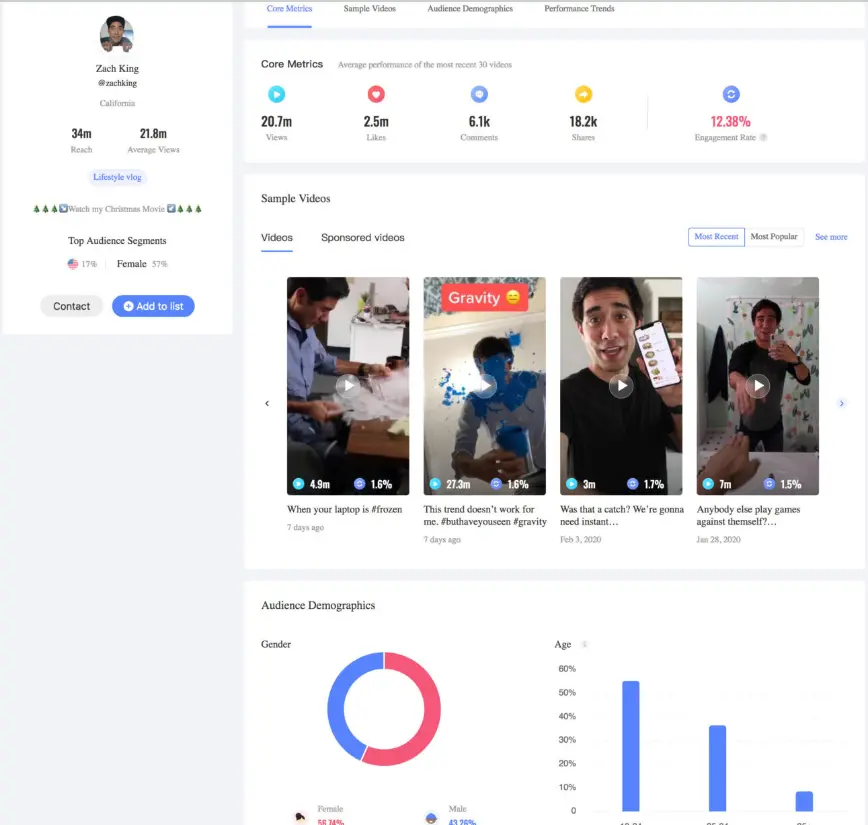 With the first-party data access that TikTok Creator MarketPlace gives you, you can utilize it to come up with an incredible marketing strategy. TikTok directly provides you with the data rather than relying on secondary sources or Google Analytics for data regarding ad campaigns and analytics on influencers' views. So bingo! You have your leverage there itself.
5. Have Back Up Plans
There is a high chance that something untoward or unplanned may occur with your marketing campaign, which is very common. There could be a last-minute change in the content guidelines or chances of your video's scheduled date being postponed. In any case, it is helpful to have Plans B, C, or Z.
We have curated examples of some great integrated marketing campaigns for you.
Summing It Up
TikTok has turned the world of social media upside down, and it's only getting bigger. The app's users are highly engaged and always looking for new and exciting content. Partner with content creators, plan and implement brand campaigns, do paid advertising, and much more.
TikTok MarketPlace, thus, gives you a great opportunity to enhance your brand's marketing strategy. Successfully integrate TikTok campaigns into your digital marketing efforts to take your business to new heights.
Best of all, TikTok Creator MarketPlace is completely free to use. So, you have every reason to take it for a spin!
When your brand starts getting traction through the creator's efforts, maintain it by consistently posting with the help of a scheduling tool like SocialPilot.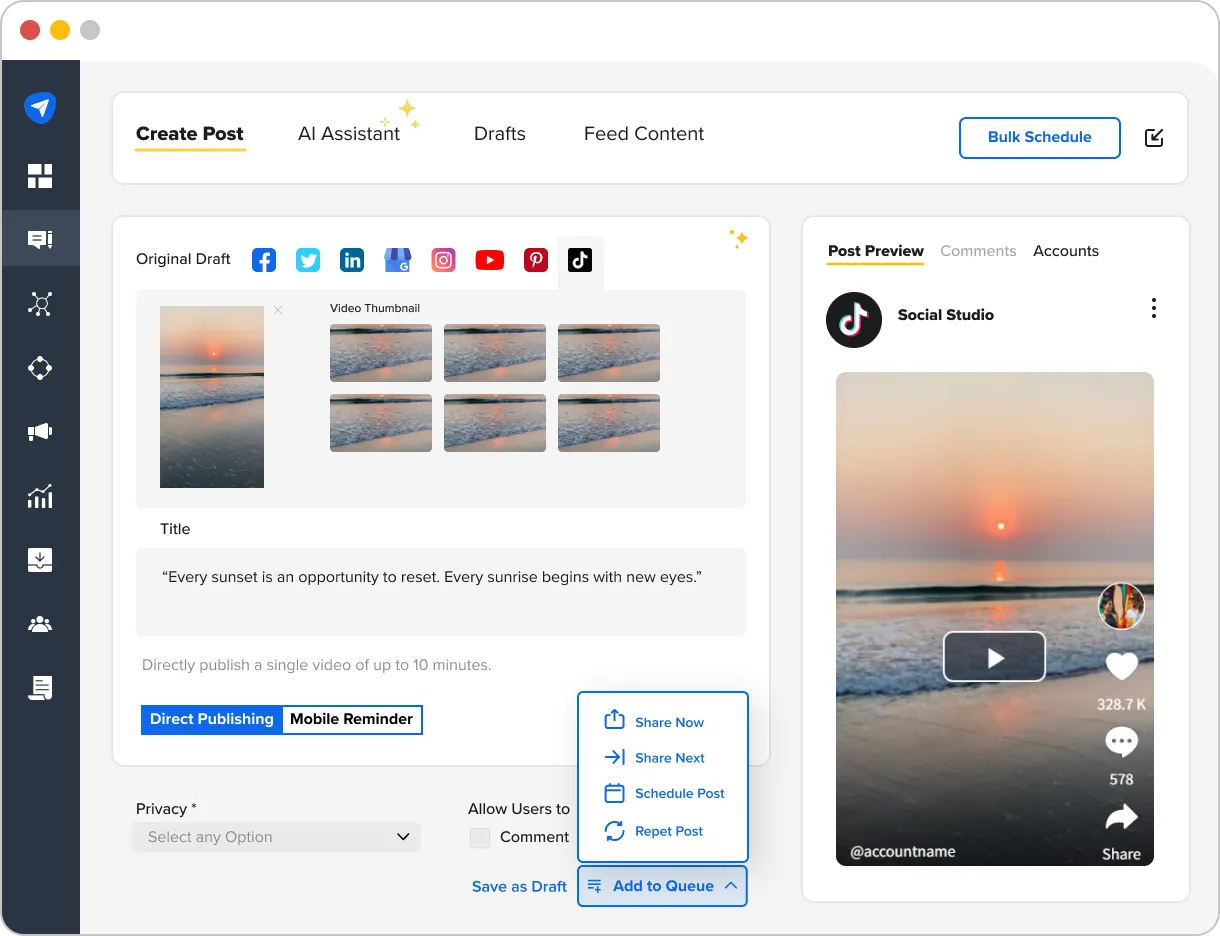 SocialPilot enables you to effectively schedule and publish your TikTok posts for multiple accounts from a single place. Take off the load of manually posting multiple videos for multiple accounts from your back and focus on other important things. Simply schedule your videos with the TikTok scheduler, and watch SocialPilot automatically publish those!