Hailed as a social media phenomenon, TikTok is extremely popular around the world, with an average user opening it 19 times a day. In the last year alone, more than one billion videos have been watched on the app every single day.
Today, bite-sized content is booming as attention span continues to fall. If you haven't jumped on the TikTok bandwagon already to market your business, it's time to do so. Having a proper marketing strategy in place will be the best way to go.
Where do you begin, though?
This blog post will serve as a guide on how to create a business TikTok account, advertise on TikTok, create its marketing strategy, and promote your brand on this insanely popular platform.
Let's start from the beginning.
How to Create a Business TikTok Account
Before creating a TikTok business account, it's essential to understand the difference between a TikTok Business account and a Creator account.
Why does this matter?
With a business account, you can gain access to valuable tools such as analytics and ads. You can also add a website link to your profile, create an e-commerce storefront, and use a third-party tool to schedule content.
The only downside? Restricted access to sound clips.
All said and done, here's how you can create a business TikTok account:
Download the app and create a new account
Open your TikTok profile and choose the hamburger menu located in the top right corner
Choose 'Settings and Privacy'
Tap on 'Manage Account'
Select 'Switch to Business Account'
Select the category that corresponds with your business type
With that, you are done! Now that you have a business TikTok account let's guide you through…
Types of TikTok Ads
Looking to reach more eyeballs? Advertising on TikTok is a fantastic way to do just that.
However, bear in mind that TikTok users are savvy, and they will not appreciate it if your ads appear sales-y, boring, or too long. There's a fairly high chance they will skip them.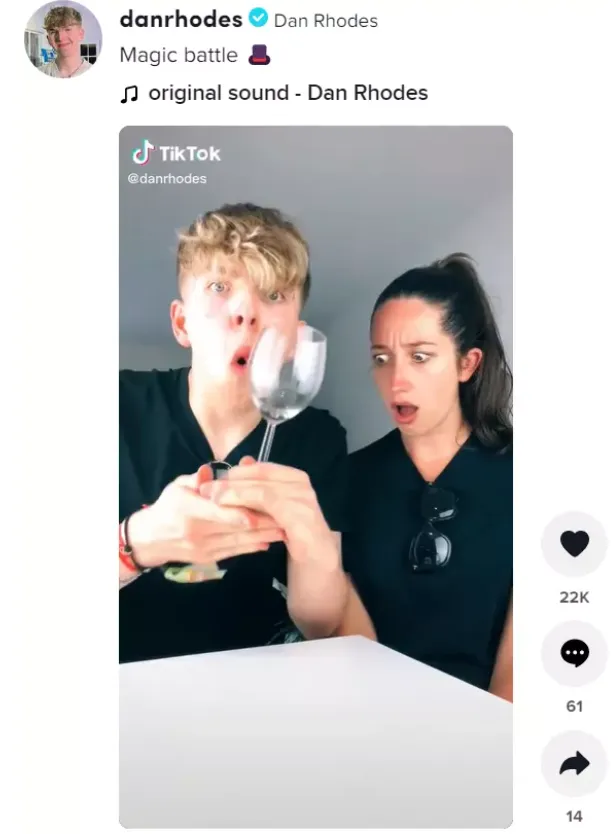 So, what do TikTok users love? Short, entertaining, and creative videos. That's the essence of TikTok advertising. Here's how you can tap into that:
Be Authentic: TikTok users value authenticity. Showcase your brand's personality and connect with your audience on a personal level.
Use Music and Sound: TikTok is known for its sound-driven content. Utilize popular music or create catchy jingles to resonate with viewers.
Incorporate Challenges and Trends: Engage with the community by participating in trending challenges or creating your own. It's a fun way to get noticed!
Collaborate with Influencers: Consider working with TikTok influencers who align with your brand. They can help you reach a broader audience.
With this in mind, let's look at the different TikTok ads you can go for
1. In-feed Ads
These are embedded within the 'For You' page of your target audience. Designed to blend seamlessly into the feed, they can drive downloads or boost brand awareness. They come in single-image or carousel formats, and you can add a CTA to direct users to your app or site.
Tip: You'll have no more than a second or two to attract your audience's attention, so ensure you're using engaging and high-quality images and videos in the ad.
2. Branded Effects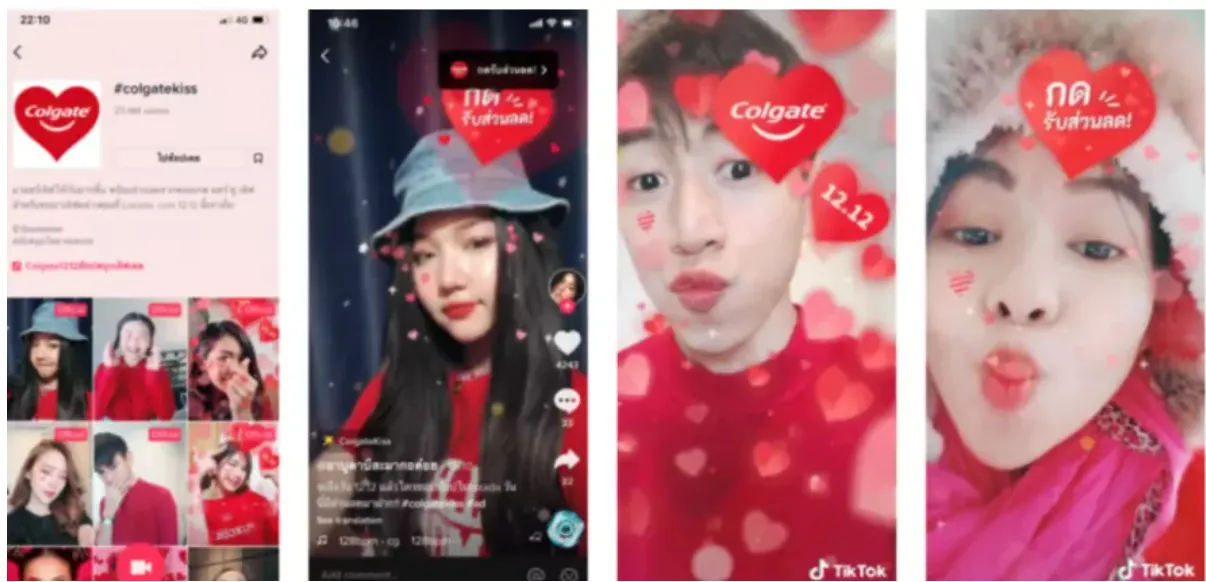 This type of ad allows brands to add personalized filters and lasts up to 10 days. Ideal for promoting a particular service or product, this type of ad includes the brand's trademark or logo. Here are a few options for branded effects:
Branded Hashtags: Promote a product or a campaign with a searchable hashtag featuring your brand's name or logo.
Static Overlays: A static overlay is a fixed graphic that appears over the video. It can be used to display additional information, such as a logo, slogan, or special offer. The overlay remains constant throughout the video and doesn't interact with the content.
Branded Stickers: Branded stickers are interactive graphics that can be added to videos. Unlike static overlays, they can be animated or customized by the user. Stickers can be used to enhance engagement, allowing viewers to interact with the brand in a playful way.
3. TopView Ads
TopView is the first ad a TikTok user will see once they log in. These show up in front of your target audience daily and are 60 seconds long.
When should your brand use this ad?
You can consider using it if you want to tell a story in a much more engaging way while offering an immersive, full-screen experience. An effective TopView ad creates an emotional connection with the audience with a story that is easy to follow and eventually drives them to take action. Use it to promote an event, boost brand awareness, or introduce a new offering.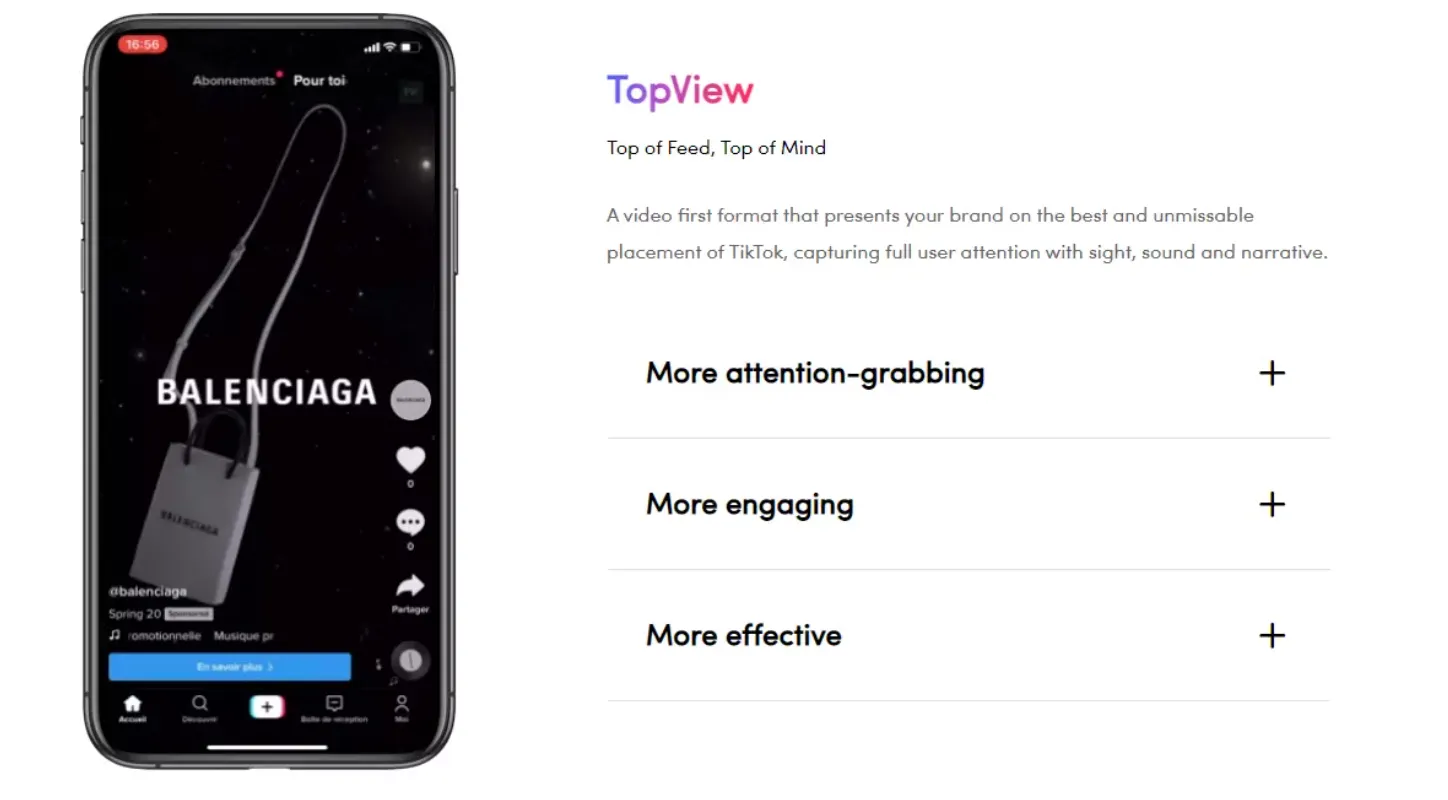 4. Brand Takeovers
Branded Takeover ads also take up the entire phone screen. Lasting just three to five seconds, offer immediate visibility, capturing user attention right at the start of their TikTok experience.
Since this ad type appears only once to users in the entire day, it provides an exclusive opportunity to make a strong impression. Their short and eye-catching nature makes them ideal for promoting time-sensitive offers, launching new products, or boosting brand awareness.
Note: Branded Takeover is an ad type that appears only once to the users in the entire day. Given the short length of the ad, you need to make it eye-catchy and supreme-quality.
5. Carousel Ads
Carousel ads are versatile video ads that let you display multiple photos or videos in one ad. They appear in the news feed, allowing you to upload up to 10 distinct, visually appealing images or videos, each with a clear CTA. Released a new product? Want to promote a giveaway or some content? Carousel ads are perfect for showcasing a range of products or features in a single ad.
6. Spark Ads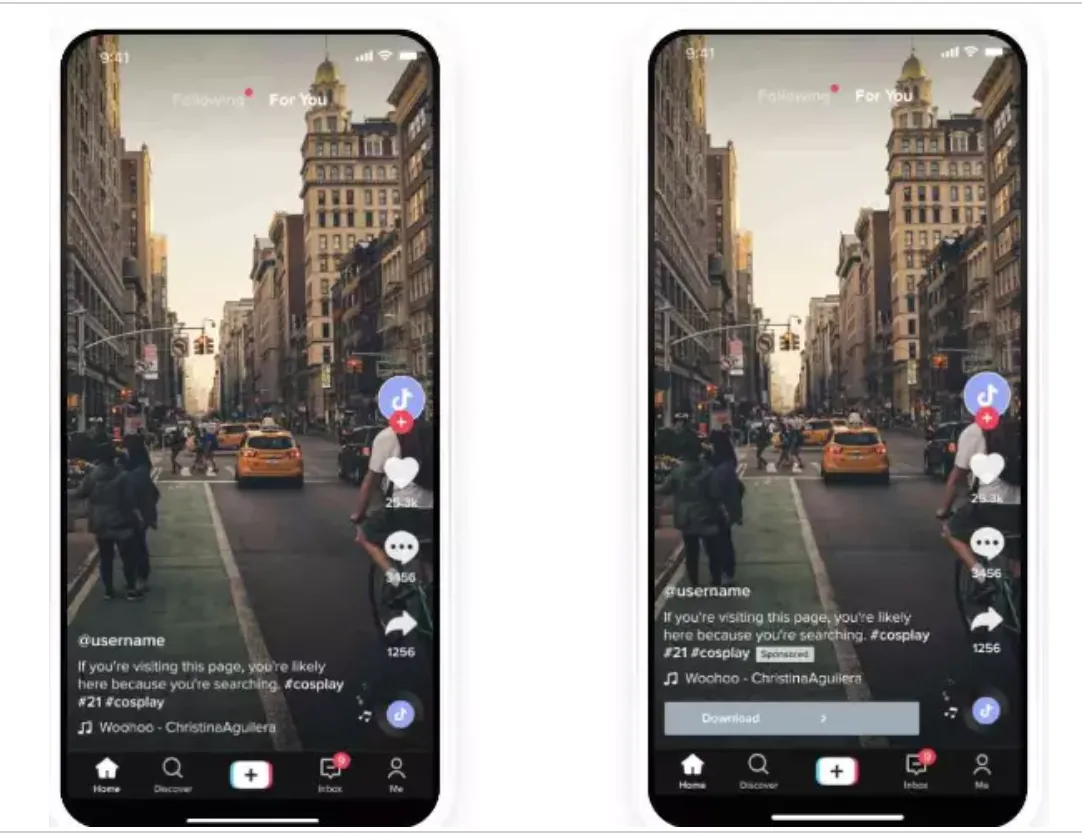 If you are a brand looking for a TikTok ad type where you can autoplay videos in users' feeds, then you can consider Spark Ads. These are a more engaging alternative to in-feed ads. You need to create a video clip (not more than 15 seconds) to use this ad type and accompany it with engaging text, a compelling CTA, and an optional link to your site. Spark Ads can generate more engagement, making them a valuable tool for advertising your product.
7. Hashtag Challenge
Hashtag Challenge ads appear as a promoted video on the Tiktok app. They are designed to be shared as challenges among users and often include a CTA to follow a brand's account. Upon clicking the hashtag, users are taken to the brand's landing page, where they can access other videos with the same hashtags and browse your products. If you decide to use this ad, ensure you keep it a short video that's a maximum of 15 seconds.
How to Advertise on TikTok
If you plan on running ads on TikTok, you need to make an ad account for TikTok Ads Manager.
For this, head straight to ads.tiktok.com and choose 'Create Now.' You will be asked for basic information, such as your country, business name, contact details, and industry. Simply feed in all the necessary information and you're good to go!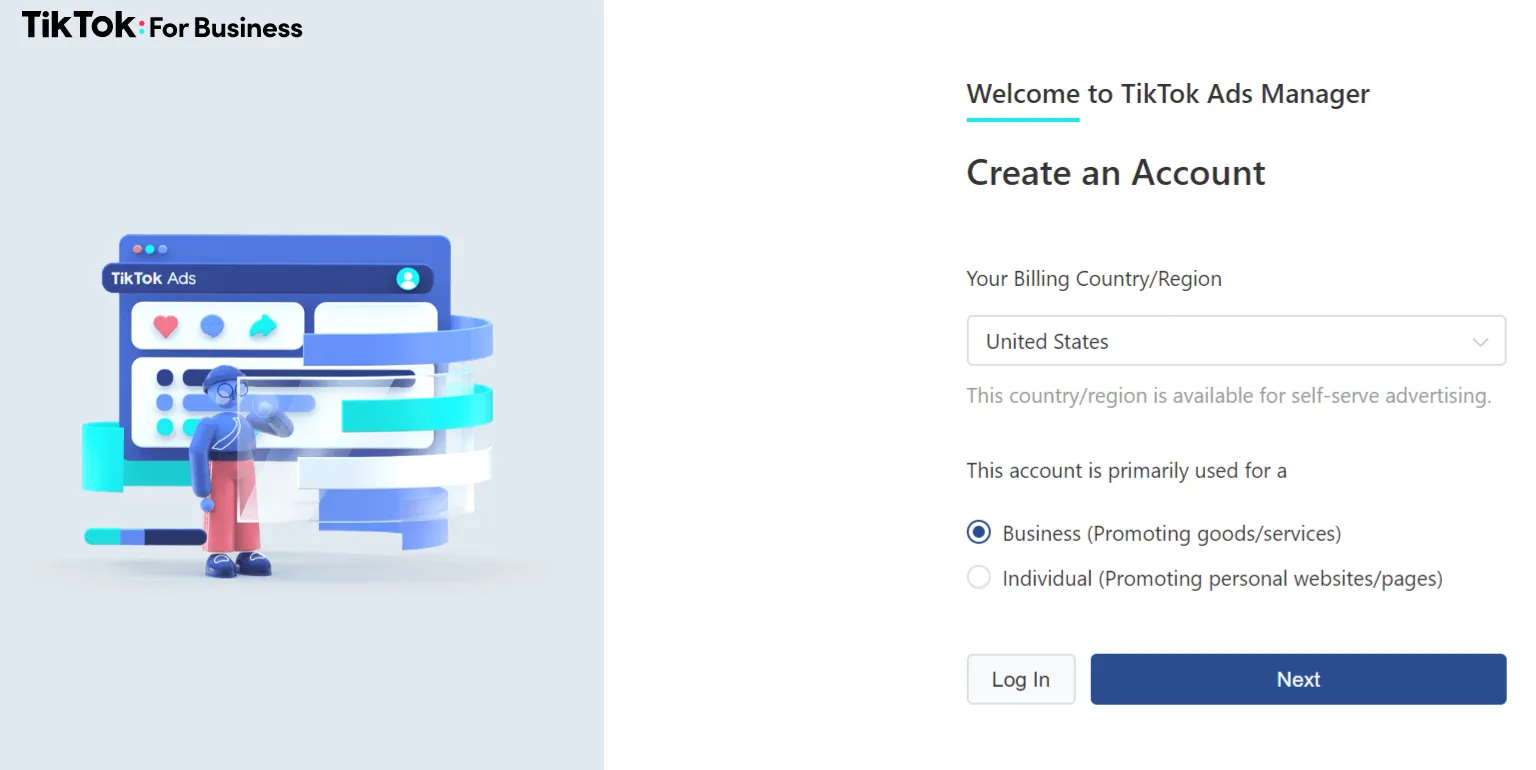 Next, we will walk you through setting up a TikTok ad campaign. Simply follow these steps:
Go to the TikTok Ads Manager in your TikTok business account.

Select Campaign and then choose Create.
Select Simplified mode (to create the ad in less than 5 mins) or Custom mode (to set more complex configurations).
Choose a campaign objective (i.e. awareness, consideration, or conversion).

Name your campaign and select the ad category.
Next, choose if you want TikTok to optimize your campaign budget.
Now name your ad group.
Select your target audience based on age group, gender, location, etc.
Decide content exclusions. (This allows you to specify where your ad should not appear, avoiding certain content or categories that may not align with your brand.)

Set your budget and schedule (when you want the ad to be displayed).
Set your bidding (decide how much you will pay per metric).

Next, upload your content, enter a caption, and choose a display name (which is either your own brand's TikTok account or a display name).
Set your destination page and add a legal disclaimer if need be.
Hit Submit. Voila, you are done!
8 Tips to Create a TikTok Marketing Strategy
TikTok marketing is a unique and dynamic way to promote your brand. Unlike other social networks, TikTok requires a deeper understanding of its platform and culture. Here are a few tips to help you create a winning TikTok marketing strategy:
1. Understand TikTok Content
Start by thoroughly exploring how the platform works. By that, we mean exploring popular videos, recent trends, and even "bad content" to understand what resonates with the audience. TikTok is not just about following trends; it's about authenticity and creativity. Embrace the platform's features, experiment with filters, and engage with branded hashtags.
2. Audit Competitors' Content
Understanding what your competitors are doing on TikTok provides insights into what works in your industry.
What do you audit?
Analyze their content strategy, engagement levels, and audience response. This information can guide your content creation, helping you stand out and connect with your target audience more effectively.
3. Determine Success Metrics
Setting clear and measurable goals is a crucial step for any marketing strategy.
The metrics you choose depend on the objective of your campaign. If you want to drive traffic, you need to track metrics and KPIs such as CPC on the ad, landing page view, and CTR. On the other hand, if your objective is to drive conversions, you should track CPA and conversions.
Tracking crucial metrics ensures that your TikTok campaigns are aligned with your business objectives. Regular monitoring and analysis allow for timely adjustments to maximize ROI.
4. Post Consistently
Social media algorithms love consistency. Post TikTok content regularly by developing a content calendar that balances your regular posts with the flexibility to jump on emerging trends. Engaging with viral content can boost visibility, but having backup content ensures that your brand maintains a steady presence. Consistent, high-quality posts build trust and keep your audience engaged.
Want to post consistently? SocialPilot's scheduling and publishing feature can manage multiple social media platforms with great ease.
Schedule posts in advance or in bulk to maintain consistent engagement and to simplify social media management, saving you valuable time and effort.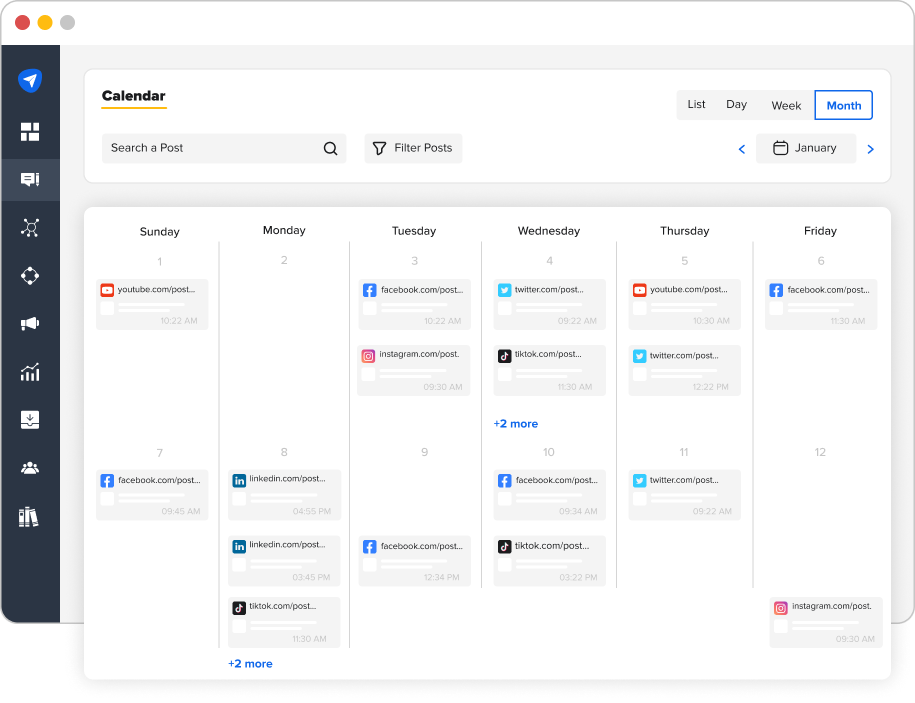 5. Track Progress
Continuously monitor your TikTok content's performance. By analyzing what works, you can replicate the approach you followed for it and make similar content.
Did an influencer collaboration or trend work for you? Did informative videos or BTS (behind-the-scenes content) work for you? Check all of this, know what you did right or wrong, and make the tweaks accordingly.
Always make necessary adjustments and align your content with your audience's evolving preferences, ensuring sustained engagement and growth.
6. Learn Everything About TikTok
TikTok's unique features and user behavior require a tailored approach. Brands must explore and experiment with the platform's trends, filters, audio, and effects. Engaging with branded hashtags, duets, and TikTok dances can enhance visibility and foster community engagement. Understanding the TikTok algorithm ensures that your content reaches the right audience at the right time.
7. Be Authentic and Establish Goals
Authenticity resonates with TikTok users. Your content should reflect your brand's personality and values without sounding like a sales pitch. Establishing clear business goals guides content creation, ensuring that every post contributes to building stronger customer-brand relationships, improving brand image, or reaching new audiences.
8. Incorporate Live Videos and Editing Features
Live videos on TikTok offer a unique opportunity to connect with users in real-time. Regular livestreams, Q&A sessions, or behind-the-scenes glimpses foster a sense of community and transparency. Utilizing TikTok's editing features like effects, filters, and GIF stickers adds a creative flair to your content, making it more visually appealing and engaging.
Interesting strategies, aren't they? Assuming you have using these strategies to your advantage, the next step involves understanding…
How to Promote Your Brand on TikTok
Some effective ways in which you can promote your brand on TikTok are:
1. Leverage TikTok Influencer Marketing
Collaborating with TikTok creators can exponentially increase your brand's reach. Influencers with millions of followers can provide authentic endorsements and creative content that resonates with your audience. Furthermore, collaborating with even one of them would mean a massive reach for your products and services. However, for a successful partnership, select influencers that align with your brand values and target demographic.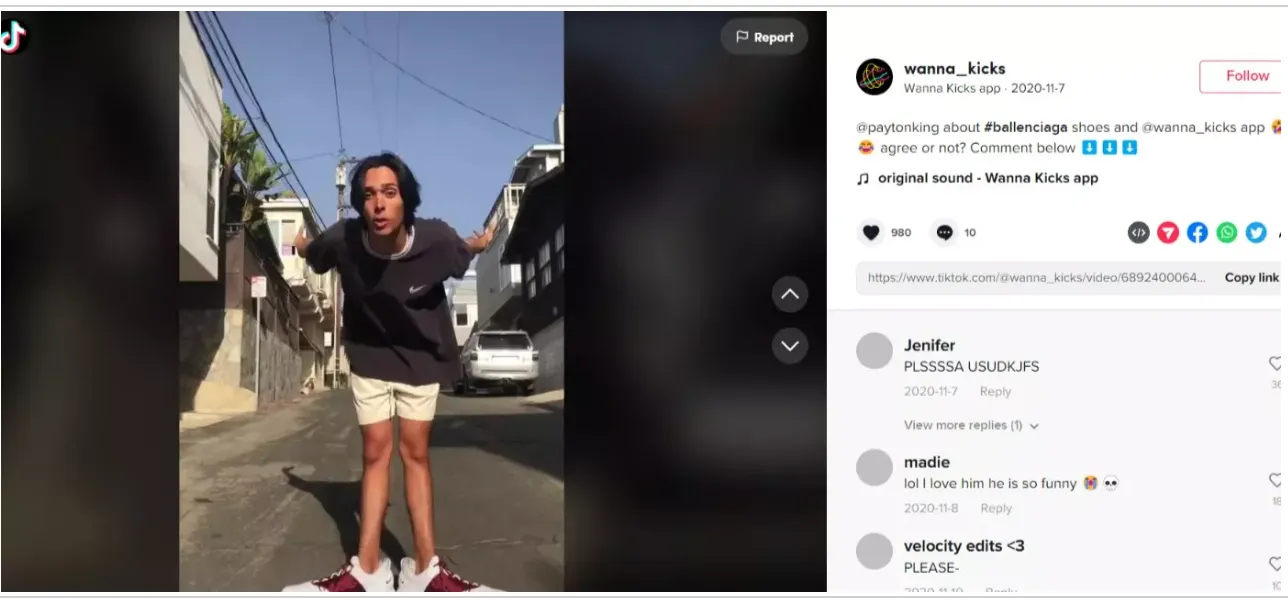 2. Utilize the "TikTok Made Me Buy It" Phenomenon
Whether you post videos about your product or use TikTok ads, it's likely that people will see it and eventually decide to purchase from you as the platform has a powerful influence on purchasing decisions. In fact, there is a popular phrase and hashtag on the platform – "TikTok made me buy it."
Entice viewers to make a purchase from you by creating spectacular videos, sharing user testimonials, highlighting unique product features, or offering exclusive discounts can further.
3. Integrate TikTok With Instagram
If your brand already has a solid presence on Instagram, leverage TikTok's native features to link the two platforms. Sharing TikTok videos on Instagram and encouraging cross-platform engagement can create a cohesive online presence, maximizing your reach and impact.
4. Create Short and Engaging Videos
TikTok thrives on concise and captivating content and needs to be digestible. Ensure you go for 15-second long videos and sprinkle 60-second videos in between. For more complex topics, consider breaking them down into a series of 15-second videos, maintaining interest and encouraging viewers to follow along.
5. Connect in the Comments
When you put out videos on TikTok, ensure you respond to comments on them. This initiates communication, conversation, and explanations. You can also like comments that don't necessarily require a response from your end. All of this shows that you are a brand that cares enough to respond to your audience and leaves a lasting impression.
6. Keep Your Feed Looking Fresh
TikTok always introduces new features and tools. This means a chance for you to keep refreshing your feed while experimenting with titles, filters, animated GIF stickers, and other app upgrades to keep your content fresh and exciting. Embracing new trends and features enhances your content and demonstrates that your brand is innovative and in tune with the platform's evolving culture.
Conclusion
Having a good understanding of TikTok marketing ensures you're in a more informed position to promote your brand and its offerings on this platform effectively.
Focus on creating short, engaging, and entertaining videos to begin with. This should then follow by integrating with other social media platforms like Instagram and consistently monitoring and adapting your strategy.
Tiktokoffers a unique opportunity to connect with a diverse audience, and with the right approach, you can create compelling campaigns that resonate with your target market.