Did you know?
TikTok ads have the potential to reach roughly 885 million people.
This staggering figure alone highlights the immense potential for TikTok advertising, explaining why numerous top brands are intensifying their marketing efforts on the platform to connect with a younger demographic.
TikTok Ads are nothing less than an art form. When executed correctly, they are cost-effective and highly productive.
But what makes TikTok ads so effective?
How can you make them work for your brand?
These are the questions we are poised to explore.
In this guide, we'll demystify TikTok advertising by diving deep into diverse TikTok ad types and strategies that make it click. From understanding the core essence of each ad type to harnessing their power for your brand, we're going to cover it all.
Ready to delve into the world of TikTok ads?
Let's get started!
What are TikTok Ads?
TikTok ads serve as promotional content that businesses and creators can deploy on TikTok to reach their target audience.
TikTok ads mirror the appearance and feel of organic TikTok videos and often incorporate the platform's music, trends, and interactive add-ons. This makes them seamlessly blend with the organic videos on the "For You" page.
There exists a diverse array of TikTok ad types to explore (we will explore these in detail shortly), each meticulously crafted to captivate different audience segments and amplify your brand presence.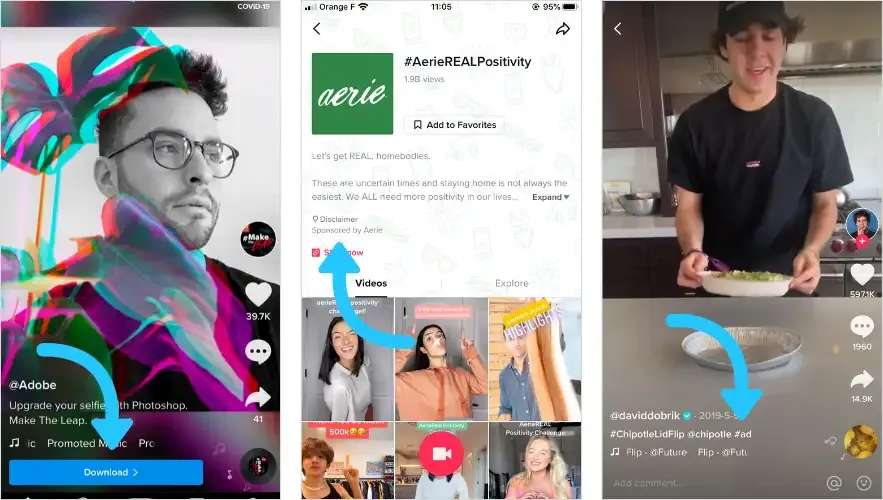 TikTok ads can be crafted within TikTok's Ads Manager. This feature-rich platform facilitates the effortless creation, targeting, and optimization of TikTok ads.
Similar to Meta's advertising functionalities, TikTok's ads manager also lets you:
Assign daily or lifetime budgets
Define audience based on demographics, interests, and more
Construct and target "Custom Audiences" and their "Lookalike" equivalents
Organize ads within specific groups and campaigns
With that covered, let's get to…
Exploring the 7 Different TikTok Ad Types
There are several effective ways to advertise on TikTok, depending on who you are trying to reach out to.
Here are the best TikTok Ad types you can consider for your marketing strategy:
1. In-feed Ads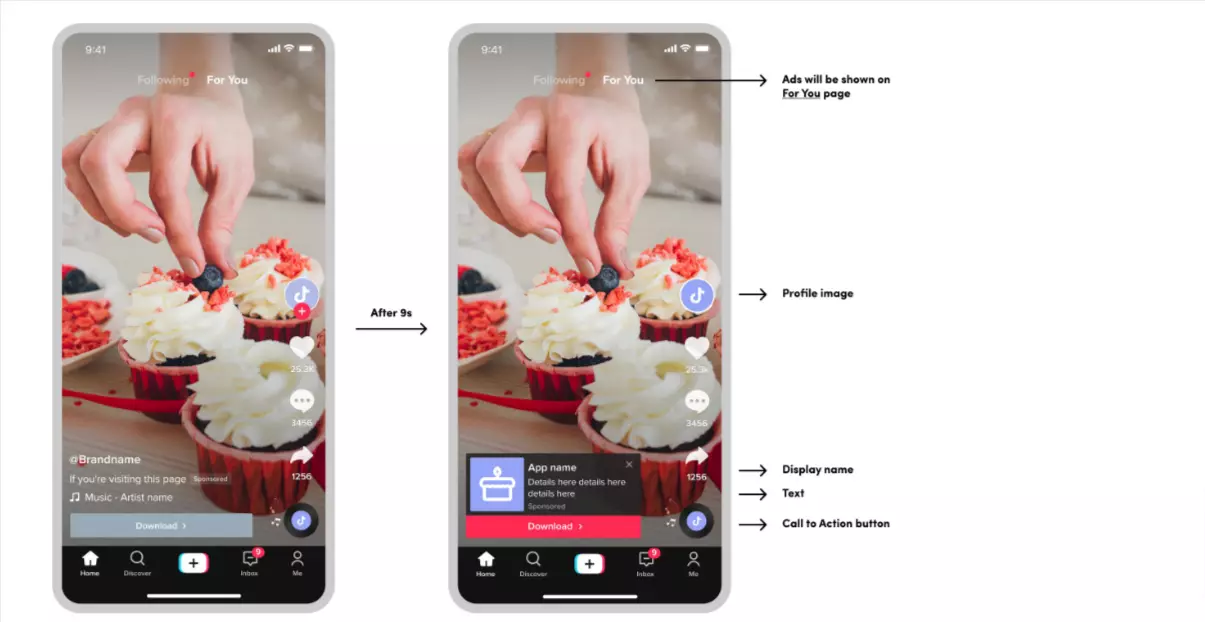 In-feed ads are designed to integrate seamlessly into users' feeds on the 'For You' page, allowing interactions like liking, commenting, and sharing. These ads come in two distinct formats: Single Image and Carousel Ads, each serving unique marketing goals.
Single Image Ads: These display one image, ideal for conveying focused, clear messages. They require high-quality images and concise text, coupled with a clear call-to-action (CTA) button, directing users to a specified destination, enhancing traffic and conversions.
Carousel Ads: These allow multiple images or videos in a single ad, suitable for showcasing a range of products or conveying a story. Each slide can have its own CTA, offering a multifaceted approach to user engagement. Engaging visuals and compelling text are crucial to retain user attention.
Also, similar to other videos found on the For You Page, In-Feed Ads can be quickly scrolled past or skipped. Your audience will only give you around 2-3 seconds of their attention before they move on. Hence, content needs to be succinct and captivating.
Want to construct an in-feed ad?
It's crucial to:
Utilize high-quality and engaging visuals
Maintain clarity and conciseness in the accompanying text
Ensure the CTA is conspicuous and comprehensible
Keep the ad's duration ideally between 9-15 seconds
In-feed ads are exceptionally effective for reaching actively engaged users, generating substantial engagement rates, and are a potent tool for amplifying brand awareness and facilitating downloads.
2. TopView Ads
TopView Ads, with their 60-second duration, are a daily feature for your target audience on TikTok, typically being the initial ad a user encounters upon logging in.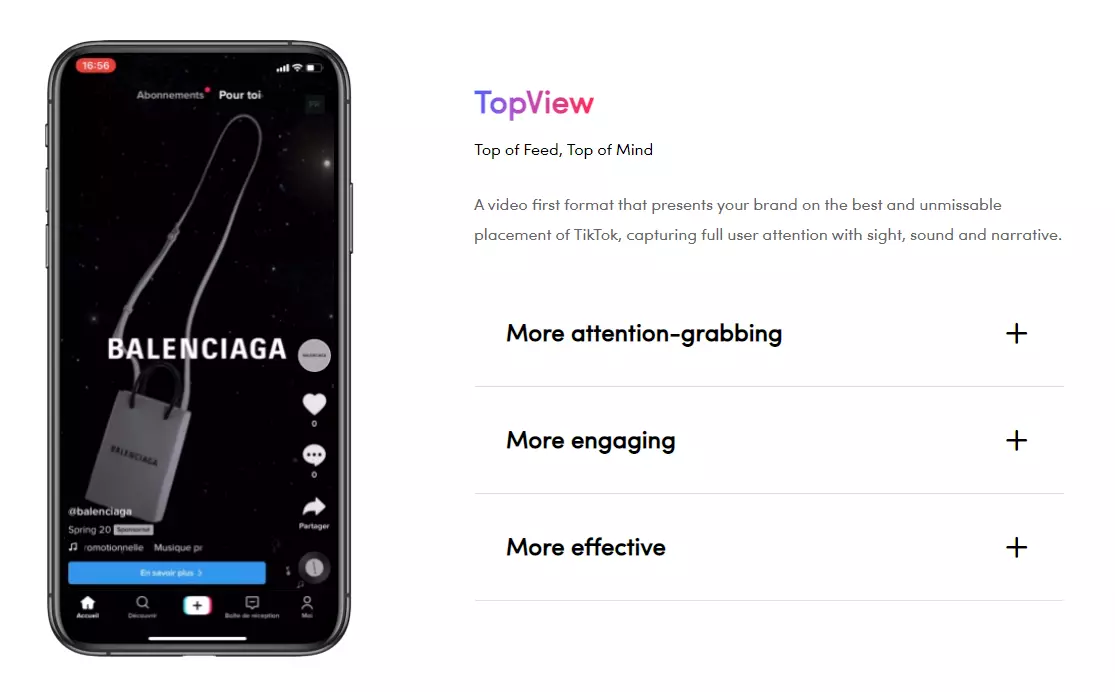 TopView TikTok ads empower brands to craft immersive, full-screen experiences, enabling the narration of engaging stories and yielding enhanced results.
How are these ads beneficial?
These ads are optimal for forging an emotional connection with viewers and spurring action. They serve as versatile tools, whether the goal is to introduce a new product or service, highlight a sale or event, or simply elevate brand awareness.
When designing a TopView ad, it's essential to:
Employ high-quality footage and visuals
Develop an engaging and coherent story
Incorporate a compelling call to action
By adhering to these considerations, TopView Ads can effectively captivate the audience and drive meaningful interactions and brand recognition.
3. Branded Effects
Branded Effects on TikTok serve as a dynamic tool for brands aiming to enhance customer engagement. These personalized filters, which can persist for up to 10 days, are a unique way to capture viewer attention, as exemplified by Colgate's effective use of branded effects.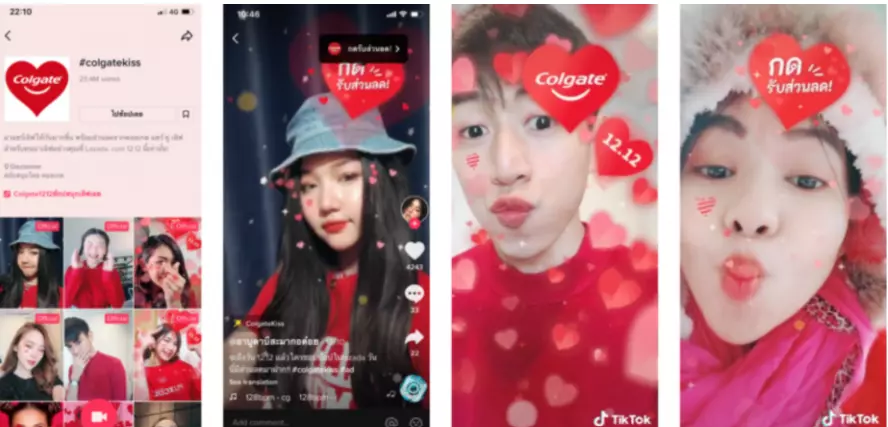 These effects often incorporate the brand's logo or trademark, acting as a promotional medium for products or services. They are designed to be striking and to resonate with the viewers, offering different options.
These include:
Static Overlays: These are graphics positioned over the video, usually in a corner, serving to promote a brand or product and can provide links to more information.
Branded Hashtags: These include the brand's name or logo and are utilized to promote campaigns or products, being searchable by viewers.
Branded Stickers: Similar to hashtags, these graphics can be integrated into videos to promote a brand or product and can link to additional information.
4. Branded Hashtag Challenge
Branded Hashtag Challenge Ads are a unique and interactive TikTok ad format designed to maximize user engagement and brand awareness. These ads appear as promoted videos and are crafted to encourage users to participate in challenges, creating a buzz around your brand or product.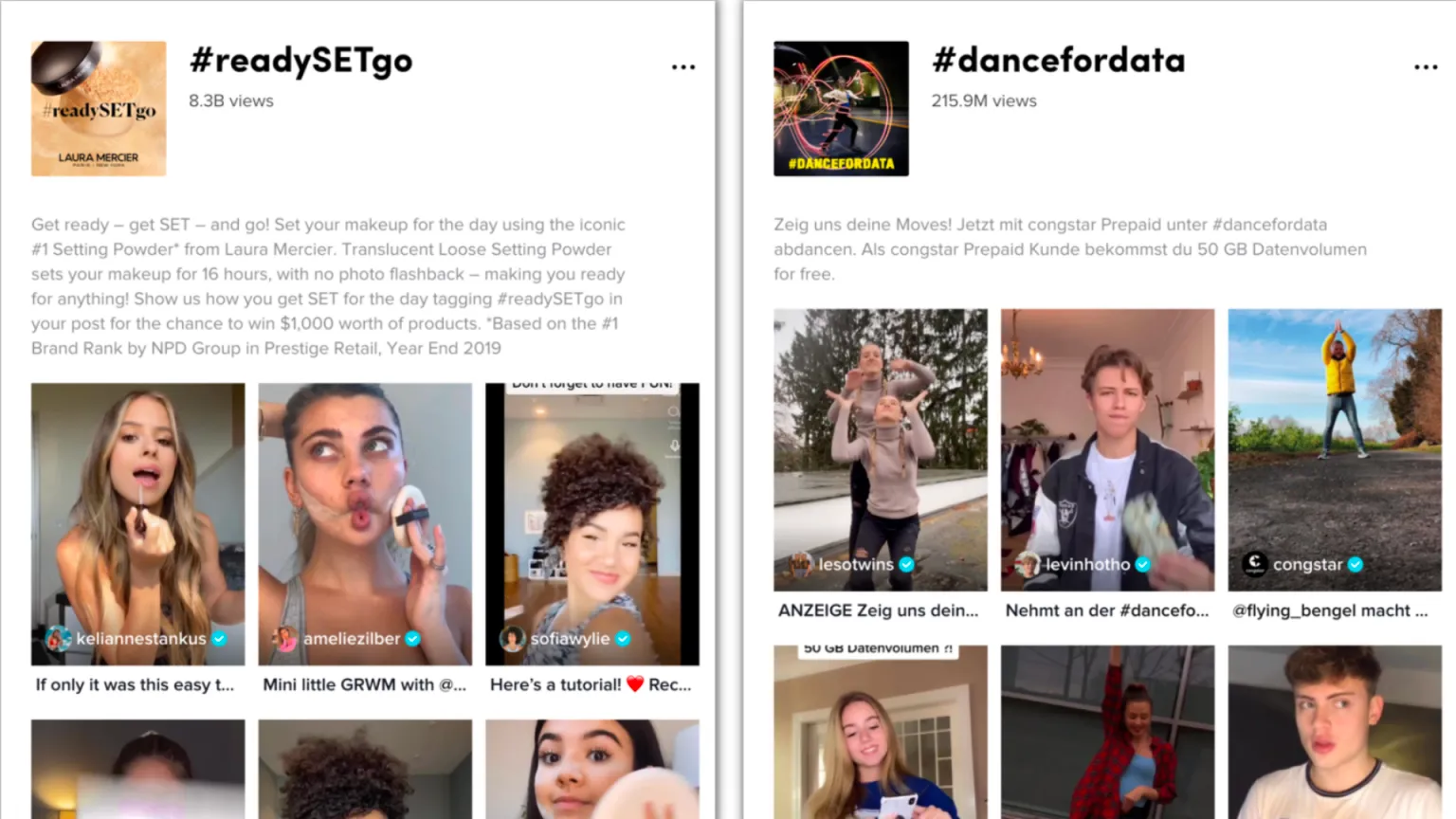 When users click on the promoted hashtag, they are directed to the brand's landing page, showcasing the products and featuring a collection of videos associated with the same hashtag. This immersive experience places your brand at the center of cultural conversations, transforming users from passive spectators to active participants.
Want to create a successful Branded Hashtag Challenge?
Crafting a concise and engaging video, ideally no longer than 15 seconds
Developing a catchy and memorable slogan or phrase that resonates with users and encourages sharing
Incorporating strong visual elements to capture attention and enhance recall
While Branded Hashtag Challenges can be a substantial investment, costing around $150,000 per week, the extensive exposure and engagement they generate can offer significant returns, making them a worthwhile consideration for brands aiming to make a splash on TikTok.
5. Brand Takeovers
Brand Takeovers are a distinctive category within TikTok ad formats, characterized by their full-screen presence and high-quality visuals designed to leave a lasting impression on the viewer.
These TikTok ads are the first thing a user encounters upon opening TikTok, lasting for 3-5 seconds and appearing as either a still image or a GIF, making them a powerful tool for creating immediate impact.
Given their prominent placement and brief duration, it's crucial that Brand Takeover ads are meticulously crafted with effective and consistent branding and messaging, aligning seamlessly with the overarching marketing strategy.
TikTok meticulously regulates the frequency of these ads, ensuring that users are exposed to no more than one Brand Takeover ad per day, maintaining a balance between user experience and promotional content.
6. Spark Ads
Spark Ads offers brands the opportunity to amplify their existing TikTok content and user-generated videos, eliminating the need to develop a new video from the ground up. These ads maintain the appearance and essence of organic content, like In-Feed ads, ensuring a seamless scrolling experience as they integrate into the feed.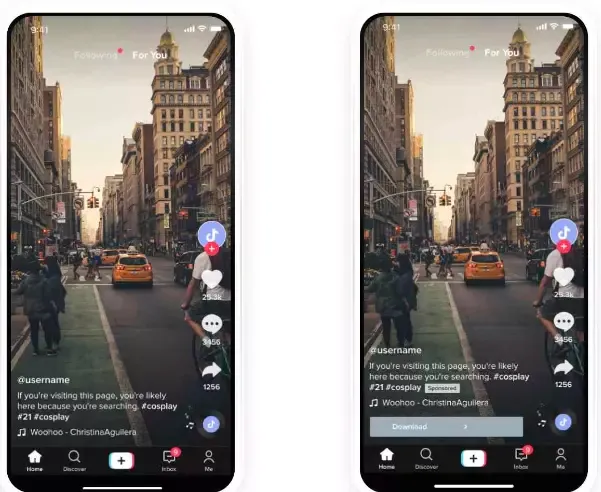 However, a distinctive feature of Spark Ads is their ability to redirect to a TikTok account instead of merely a landing page. Given that these ads are associated with a specific TikTok account, viewers can directly connect with the original poster.
Every interaction, be it views, comments, shares, likes, or follows acquired during a Spark promotion, is credited to the original organic post, whether it belongs to the brand or the creator. The enhanced analytics integrated into Spark Ads simplify the process of evaluating the campaign's ROI.
Moreover…
Spark Ads have the flexibility to feature a CTA button, guiding viewers to a landing page rather than an account page if needed. Additionally, tapping on the ad's music icon allows viewers to access the audio page of the track, facilitating its use in their subsequent TikToks.
7. Video Shopping Ads
Video Shopping ads are a relatively new TikTok ad format currently available to all Web advertisers for open beta testing.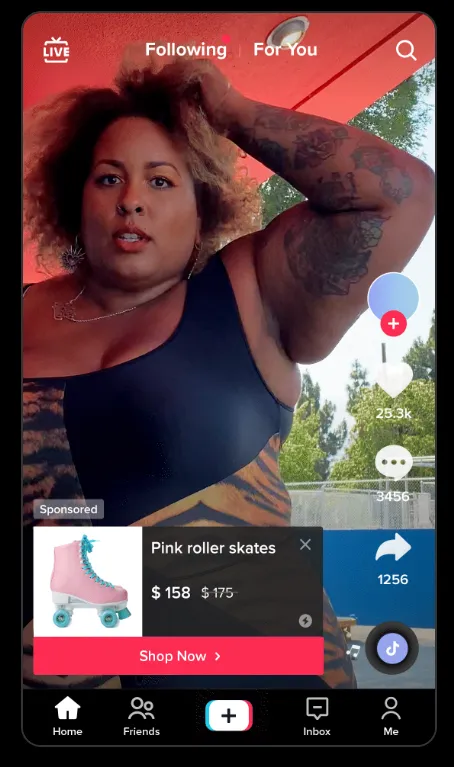 TikTok's Video Shopping Ads facilitate a seamless transition for viewers from the TikTok feed to the TikTok Shop, allowing them to browse products effortlessly. The inclusion of a product anchor link or card along with your video transforms your viewers' browsing curiosity into potential purchase opportunities.
TikTok Shopping ads come in three different variants.
These include:
Video Shopping Ads: These are conventional video ads enhanced with a shoppable experience.
Catalog Listing Ads: Highlighting a range of products, these ads showcase your entire catalog for users to browse and shop.
Live Shopping Ads: While broadcasting on TikTok Live, these ads guide viewers to the precise location where they can buy the featured product.
TikTok Ad Specs
Adhering to the specific requirements and specifications for each TikTok ad format is crucial.
Why?
It ensures that the advertisements harmonize with the user-centric environment of TikTok, capturing attention and driving desired user actions such as clicks, shares, and conversions.
Properly formatted ads are pivotal in leveraging TikTok's vibrant ecosystem to enhance brand presence and interaction.
Here's a list of general specifications for TikTok ads:
Aspect Ratio: 9:16 (recommended), 1:1, 16:9
Maximum Video Length: 60 seconds (varies by ad type)
File Types: .mp4, .mov, .mpeg, .3gp, .avi (for videos), JPG, JPEG, PNG (for images)
Resolution: 540x960px, 640x640px, or 960x540px, 720x1280px, 1200x628px
Maximum File Size: 500MB
Brand Name Display: 2-20 English characters (Emojis should not be included)
How to Run Tiktok Ads: A Step-by-Step Process
Now that you're familiar with the various types of TikTok ads and its specs, it's time to learn how to set them up in your TikTok ad account.
Step 1: Register for a TikTok Business Account
Start by determining your billing country or region and specifying whether the account is for business or individual use. After making these selections, you'll be prompted to enter basic information, including your email address or mobile number, to receive a verification code. Post-verification, agree to TikTok's terms and conditions to complete the registration process.
Step 2: Set Up TikTok Pixel
The TikTok Pixel is a code you can integrate into your website. It enables the tracking of various user interactions and activities on your site, such as arrival methods, predominant device usage, and user location.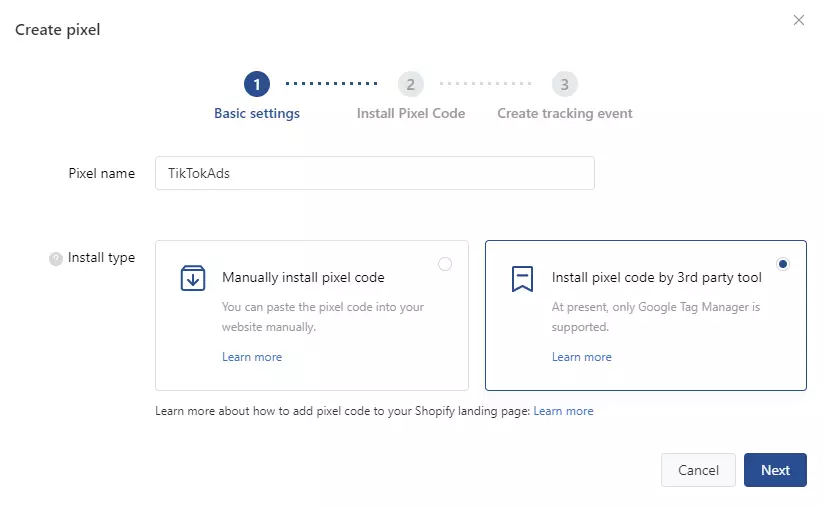 With all this data, you can analyze the efficacy of your TikTok ads, discerning which ones are leading to more sales and which are falling short of expected outcomes.
TikTok Pixel can be a handy tool to track the returns on your investment and help you build Custom Audiences or Lookalike Audiences.
Another vital function of Pixel is the ability to retarget website visitors with engaging, personalized ads that are more tailored to their liking, thus enhancing the user experience.
After signing up, navigate to the "Assets" from the top bar and click on the "Events" option. Next, choose to track either "App Events" or "Web Events" and proceed to create a pixel. Lastly, you can deploy your pixel manually or through a third-party integration.
The next step is to run a TikTok ad campaign.
Step 3: Create Your First TikTok Ad Campaign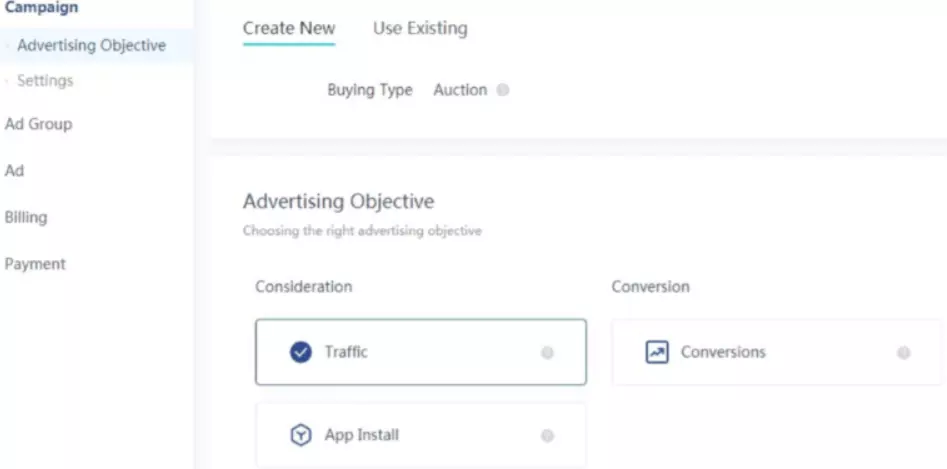 To create a campaign, click on the 'Campaigns' tab and then the 'Create' button. You'll be presented with various objectives like driving traffic, conversions, or app installs. Name your campaign, set a campaign-level budget, and decide whether to allocate a daily or lifetime budget to connect methodically with your audience.
Step 4: Formulate Your Ad Group
With your campaign in place, it's time to create the Ad Groups. Think of these as the building blocks within your campaign, each housing different ads. Within each Ad Group, you can specify target audiences, allocate budgets, and determine ad placements.
Now, let's delve deeper into the various configurations available at the Ad Group level.
a. Choose the Ad Placement
Firstly, you need to decide on the placement of your TikTok ads. You can manually choose to show your ads on TikTok feed, Pangle, or TikTok's global app bundle.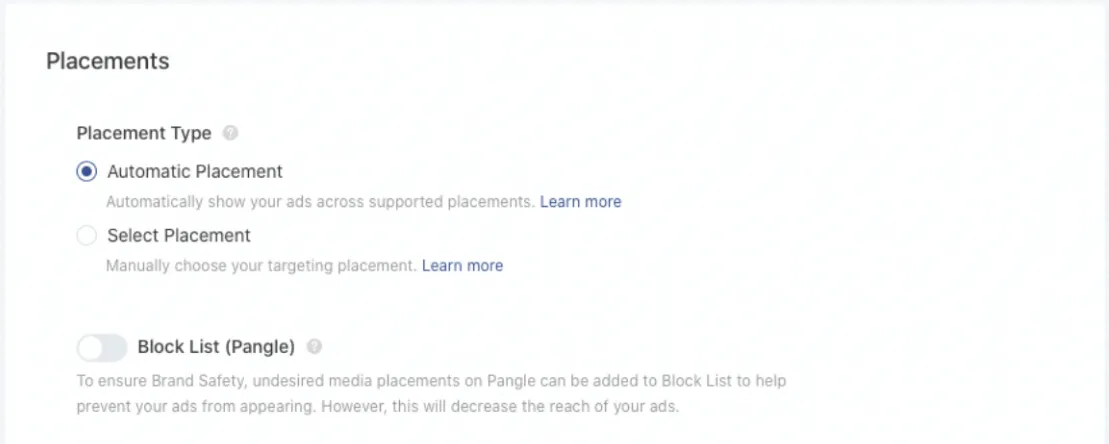 Alternatively, you can opt for 'Automatic Placement,' allowing TikTok's algorithm to optimize your ad locations.
Here, there's also an option to turn on the comments and allow downloading of your TIktok ads.
b. Turn on the Automated Creative Optimization

Too busy to create highly effective ads?
Upload images or videos, write ad text, select your call-to-action, and let TikTok's "Automated Creative Optimization" combine and create multiple TikTok ads for your campaign.
c. Choose Your Target Audience
A crucial part of running a successful TikTok ad is choosing the right audience. Define your audience at the Ad Group level based on demographics, interests, operating systems, and other options, and decide whether to include or exclude custom and lookalike audiences.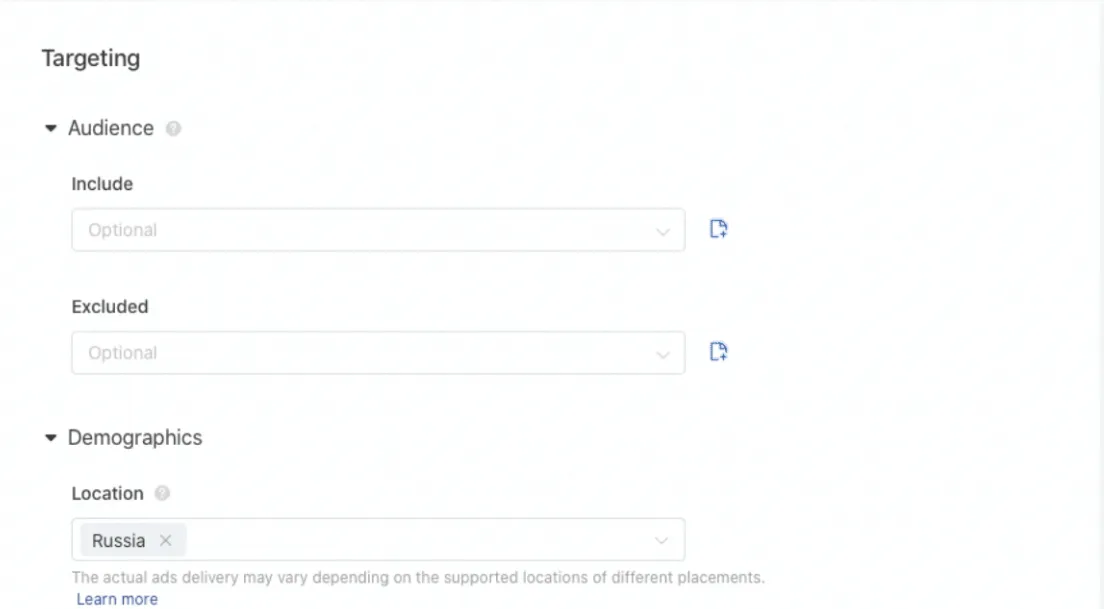 d. Determine Ad Group Budget and Schedule
Next, decide on the maximum daily and lifetime budget (no less than $20) for your Ad Group to ensure the expenditure on all your ads stays within the limits.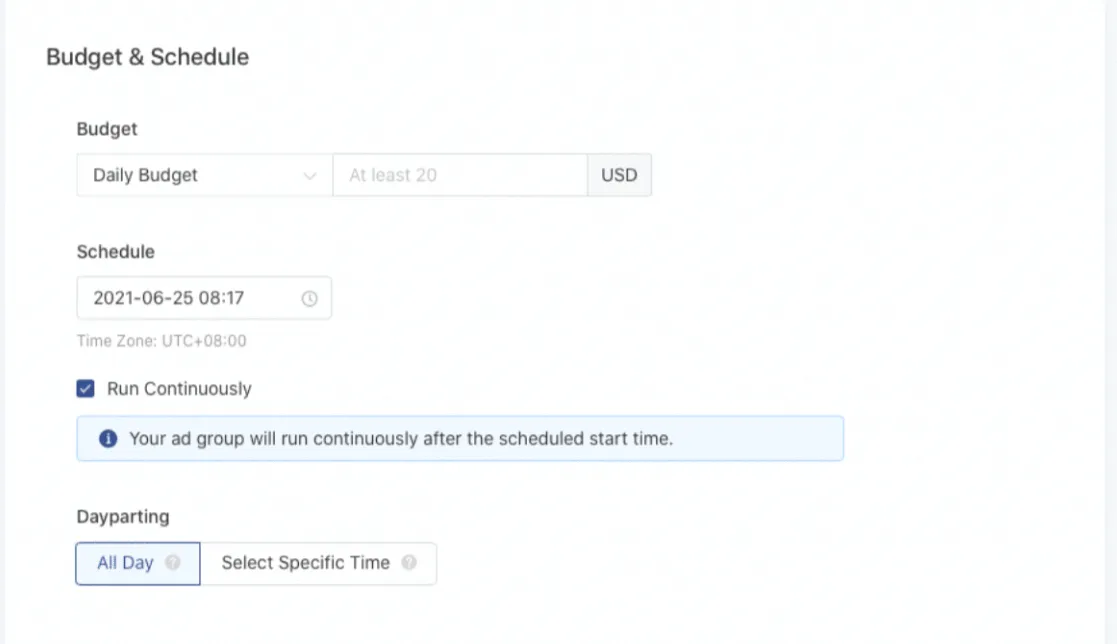 Thereafter, choose your ad's start and stop dates or continuously run your ad after the start date. The "Dayparting" feature offers further granularity to schedule your ads to run for specific hours and days of the week.
e. Establishing Bidding and Optimization
Finally, in the "Bidding and Optimization" section, decide the optimization goal for your campaign and, based on that, the metric you will be bidding on (paying for).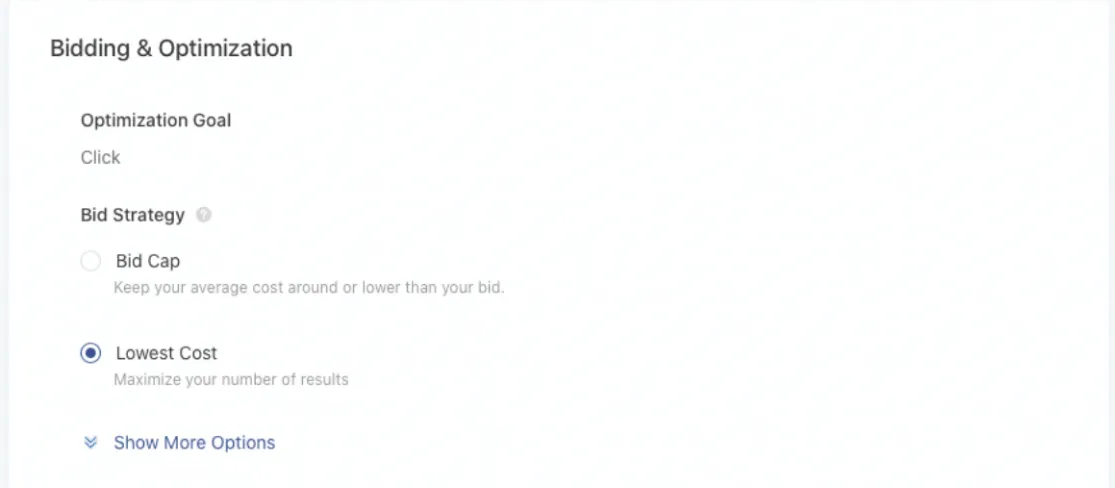 Optimization goals are essentially the responses or actions you anticipate from users upon viewing your ad. TikTok has three optimization goals: Clicks, Conversion, and Reach. Depending on your goal, you'll get different bidding methods and strategies.
Currently, TikTok Ads Manager has four different bidding methods:
​Cost per Mille/Thousand Impressions (CPM)
​Optimized Cost per Mille/Thousand Impressions (oCPM)
​Cost per Thousand Views (CPV)
​Cost per Click (CPC)
Now, set a bidding strategy, defining the amount you are willing to expend based on your selected bidding method. The TikTok algorithm will then orchestrate the delivery of your ads based on your bid.
How do you go about this?
Opt for the Bid Cap option to put an absolute limit on the cost per result.
Choose the Lowest-cost bidding strategy to let TikTok use the available ad group budget to generate as many results as possible at the lowest cost per result. You don't need to set a bid here.
Use a Cost-cap bidding strategy to give TikTok an average cost per result you are willing to spend. This will keep your actual cost per result around or lower than your bid amount.
Finally, decide on the ad delivery strategies to determine how your allocated budget gets utilized. You can choose the "Standard" option to spend it evenly during the scheduled campaign time or opt for the "Accelerate" option to spend as quickly as possible to get the desired results.
Ready to run your first TikTok ad? But before that, it's important you know…
How Much Do TikTok Ads Cost?
If you're contemplating leveraging TikTok Ads professionally as a marketing tool for your brand, you must consider how much TikTok ads cost. While the investment can be significant, the returns can be pretty substantial.
Of course, the exact costs depend upon the type of ad format, targeting preferences, competition, and the campaign's specific goals. However, we can provide some insights into the average and minimum expenditures associated with running TikTok ads.
How does this work?
TikTok ads work on the auction and bidding model, giving you the flexibility to decide how much you pay per video view, click, or impression. The platform's bidding system is similar to other digital advertising platforms, enabling the setting of daily or total campaign budgets.
The minimum budget typically starts at $50 for a campaign level and $20 at the ad group level. However, for tangible results, TikTok ads cost about $10 per CPM (cost per 1,000 views) and $1 per CPC (cost per click), and you must spend at least $500 on an advertisement campaign.
Here is an average estimation of how much different TikTok ad formats cost:
Brand Takeover ads cost $50,000 daily.
Branded Hashtag Challenge ads cost about $150,000 per week.
Branded Effects costs can start from $80,000 to $120,000
How to Optimize Your TikTok Ads?
To maximize the reach of your TikTok Ads, consider the following strategies:
1. Reassess and Refine Your Ad Campaign Goals
Be sure of the objective of your TikTok ad campaign.
Question yourself…
Do you want to display your ad to the maximum number of people possible?
Do you want to send the people viewing your ad to the landing page of your website or app?
Do you want to promote app downloads or target viewers to watch more of your TikTok videos?
Your strategies should align with your brand's popularity and needs. After establishing clear objectives and strategies, craft ads that align seamlessly with your goals.
2. Experiment With Budgeting and Bidding Strategies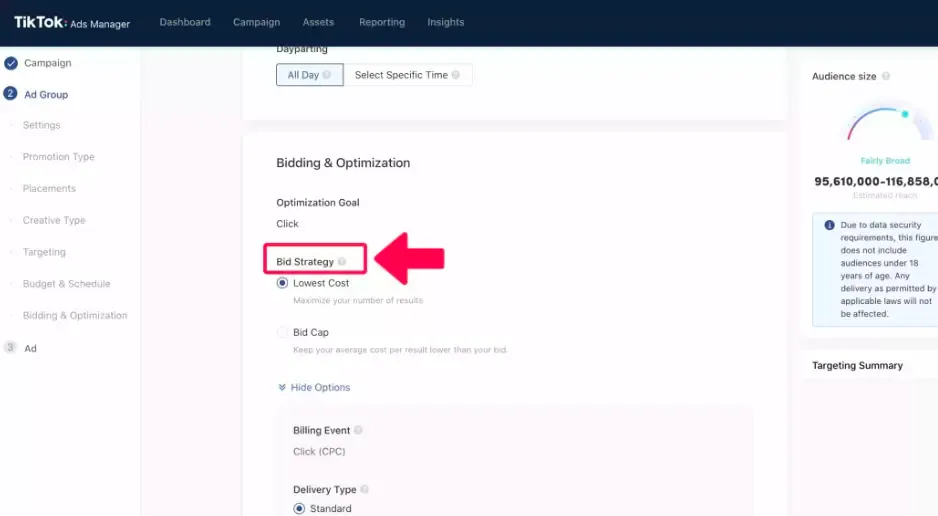 Optimizing TikTok ads involves a strategic approach to budgeting and bidding. TikTok Ads Manager currently supports three pivotal bidding strategies:
Bid Cap: This strategy is optimal for those aiming to maintain their average cost per result below a predetermined bid threshold. Simply input the maximum cost you're willing to bid per result, and the system optimizes your delivery accordingly. It's particularly effective for conversions, content views, and managing your average cost per result.
Cost Cap: Employed in cost-per-result systems like Google AdSense or Bing Ads, Cost Cap allows the system to aim for an average cost per result, which may occasionally fluctuate around the bid amount. It's a suitable strategy for app installations, lead generation, and managing average costs to ensure they don't surpass your bid.
Lowest Cost: This strategy, requiring no specific bid, utilizes the ad group budget to secure results at the most economical cost per result, allowing exhaustive budget spending to achieve optimal results. It's ideal for app downloads, catalog sales, and conversions.
Now, how do you plan your bidding strategy?
Ensuring your TikTok ad bid is competitive is crucial for a successful campaign. Regularly compare your bids with TikTok's recommendations to avoid underperforming campaigns due to low bids.
For strategies focusing on conversions, plan your daily budget to secure at least 50 conversions weekly. Initiate your campaigns with a budget of around 1.2-1.5x your average cost per acquisition and adjust as necessary.
Refrain from making any alterations in the ad group components for at least two days after any campaign budget changes and avoid drastic bid alterations, maintaining within 20% of your current bid.
3. Implement A/B Testing
Conducting A/B tests helps determine the optimal creative, targeting, and bidding strategy by comparing the outcomes of ads with one variable changed.
Make sure your A/B tests are conducted for at least two weeks. Keep in mind that the tests do not overlap with significant, high-traffic holidays, as that could possibly ruin the objectivity of the results.

4. Undertake Competitive Analysis
Staying abreast of the latest trends and analyzing competitors' strategies are crucial for maintaining relevance on TikTok. Incorporate successful trends observed in competitors into your marketing strategy to enhance the reach of your TikTok Ads.
5. Regularly Review Performance
Regularly monitor your results on the TikTok performance dashboard to ascertain the effectiveness of your optimization efforts.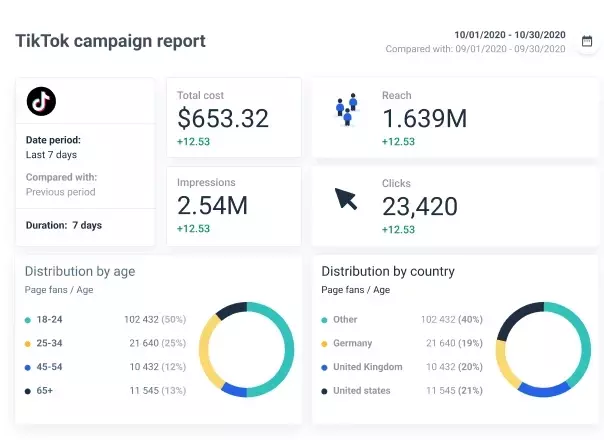 When reviewing your TikTok Ad's performance, consider the following aspects:
Approval and Scheduling: Ensure your ads have been approved and are scheduled according to your target audience's time zone.
Bid and Audience Analysis: Evaluate whether your bid for the ad was adequate and whether your target audience is sufficiently broad.
Funding and Quality Check: Verify the availability of sufficient funds to run the ad and assess whether the video quality of your ad meets optimal standards.
Metric Examination: Scrutinize various metrics such as click-through rate, video views, and conversion rate of your content.
By addressing these questions, you gain insights into what is yielding results and identify areas for improvement to achieve the desired outcomes.
6. Understand Your Target Audience
Gaining a deep understanding of your target audience is imperative for extending your reach and converting engagements or views into sales.
For optimal results, choose the "automatic" option when selecting your audience. This allows the platform to fine-tune targeting, focusing on individuals who interact most with your ads.
By enabling TikTok to formulate lookalike audiences mirroring your existing high-value customers, you enhance the probability of engaging your target demographic and converting them into paying consumers.
5 Benefits of Using TikTok Ads
TikTok stands as a remarkable advertising platform, with numerous brands leveraging it to connect with a younger, dynamic audience.
From renowned sports entities to emerging tech ventures, a myriad of brands are experiencing substantial success through advertising on TikTok.
Here's a closer look at the benefits of using TikTok Ads:
1. Access to a Diverse and Expansive Audience
TikTok proudly hosts over a billion monthly active users globally, with the U.S. contributing over 120.8 million active monthly users.
Did you know:
It's a common misconception that TikTok primarily caters to the 18-26 age demographic, but in reality, nearly 55% of its users are above the age of 25.
This diverse user base, spanning Millennials to Baby Boomers, offers advertisers a broad spectrum of audiences to target, allowing brands to tailor their ads to resonate with various age groups effectively.
2. Enhanced Online Engagement
TikTok Ads have proven to significantly boost online engagement.
Don't believe us? Here's an interesting fact:
A staggering 61% of TikTok users are inclined to purchase from brands they see advertised, and 63% identify as brand-conscious.
Effective ads not only drive subscriptions and trials of displayed products but also foster brand recommendations among users' friends and family, amplifying brand visibility and credibility.
3. Impressive Returns on Ad Spend (ROAS)
The potential returns on TikTok Ads are substantial, with an average ROAS of 2.5x.
What does this imply?
With a $500 investment in an ad could potentially yield $1250 in sales for the advertised product. This lucrative return rate underscores the financial viability of TikTok Ads, making them a lucrative investment for brands aiming to optimize their advertising spend.
4. Insightful Customer Feedback
TikTok Ads serve as a rich source of customer insights, providing valuable feedback and responses from the audience. This interaction allows brands to gain a deeper understanding of customer preferences and product expectations, facilitating informed product development and refinement.
5. Customization and Social Responsibility
TikTok Ads offer the freedom to customize content categories, allowing brands to create more engaging and socially responsible advertisements. This customization leads to higher engagement and drives more people to the brand's page, making it an ideal platform for creative brand promotion.
Want to see real brands leveraging TikTok ads to boost sales?
Here are…
4 Amazing TikTok Ad Examples to Ignite Your Creativity
Equipped with the knowledge to craft efficient TikTok ads, your strategy would be further enriched by a dash of inspiration.
To fuel your creative spirit, we've handpicked some standout TikTok ad examples that are sure to ignite your imaginative flair and guide you in developing top-tier TikTok advertisements.
1. Maybelline's Innovative Top-View Shaker
Maybelline left a significant imprint on Valentine's by showcasing their SuperStay Vinyl Ink with Tiktok ads featuring their brand ambassador, Maca García. They brilliantly integrated a Shaker feature in TikTok's TopView ad, mirroring the lipstick's shake-to-glow characteristic.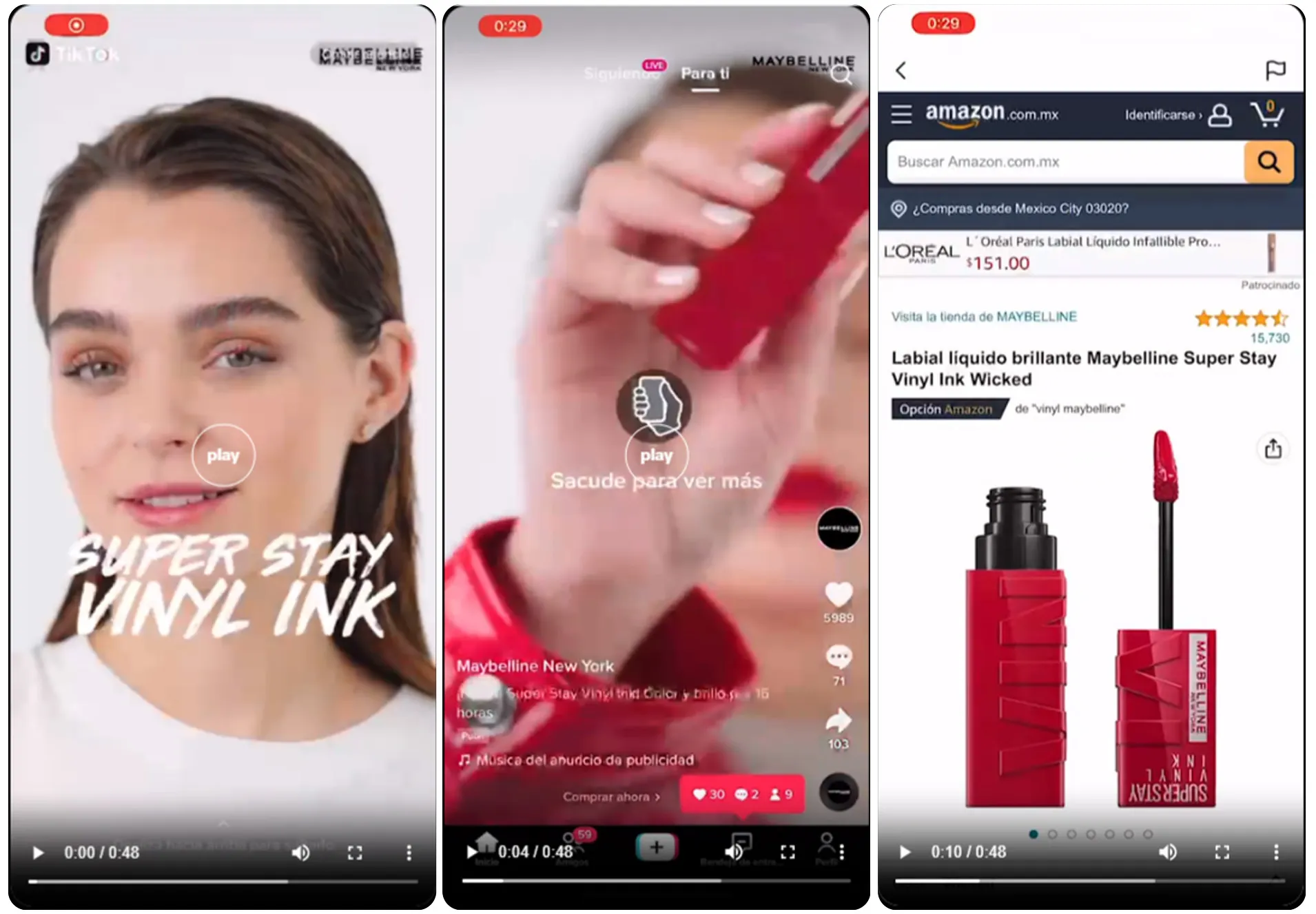 This feature aligned perfectly with the product's unique characteristic: the lipstick needed a shake before its application to unveil its signature glow.
In a similar interactive manner, users shook their phones to be redirected to Maybelline's official Amazon store.
The TopView Shaker ad, combined with an In-feed strategy for ongoing engagement, saw an uplift of +208% compared to an average day, racking up over 55 million impressions in just 24 hours.
2. Grupa B6's Spark Ad
Recognizing TikTok's potential to elevate his consultancy Grupa B6, Marciniak leveraged TikTok's Spark Ads to amplify his reach.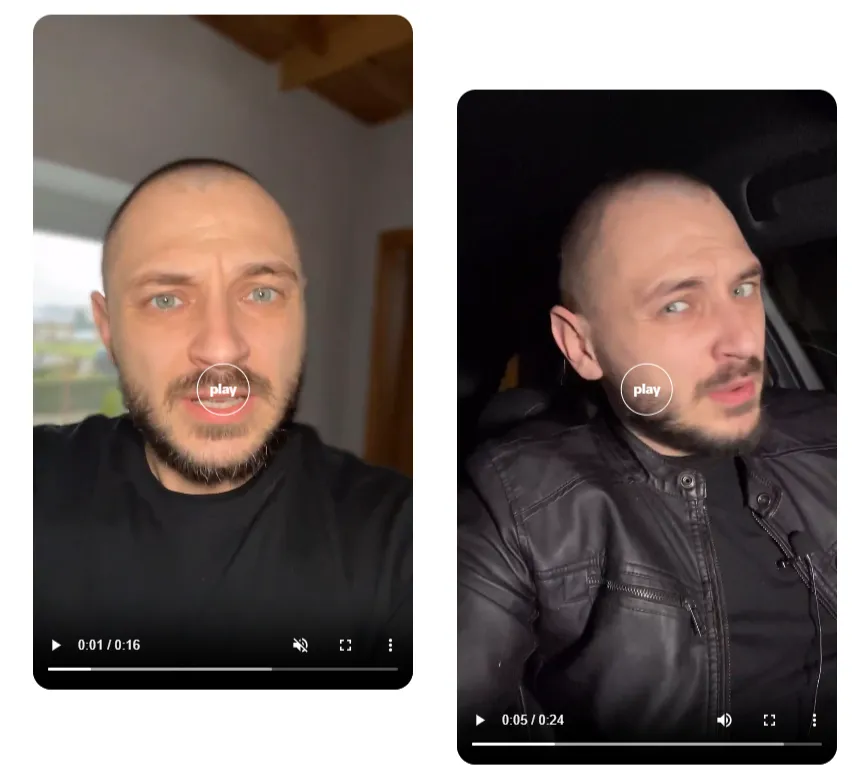 His content strategy was straightforward: address the core challenges and aspirations of the entrepreneurial community. By promoting daily content targeting business-oriented TikTok users over 25, he introduced a micro-persuasion strategy, a series of videos addressing common concerns about his services.
The outcome? A resounding success.
With Spark Ads, Marciniak saw a 3x reduction in cost per lead and a 4x increase in lead generation. His conversion rate skyrocketed by 400%.
3. Santander's Hashtag Challenge
Hashtag Challenges, the brainchild of TikTok, offers a dynamic way to engage with your audience and encourage user-generated content.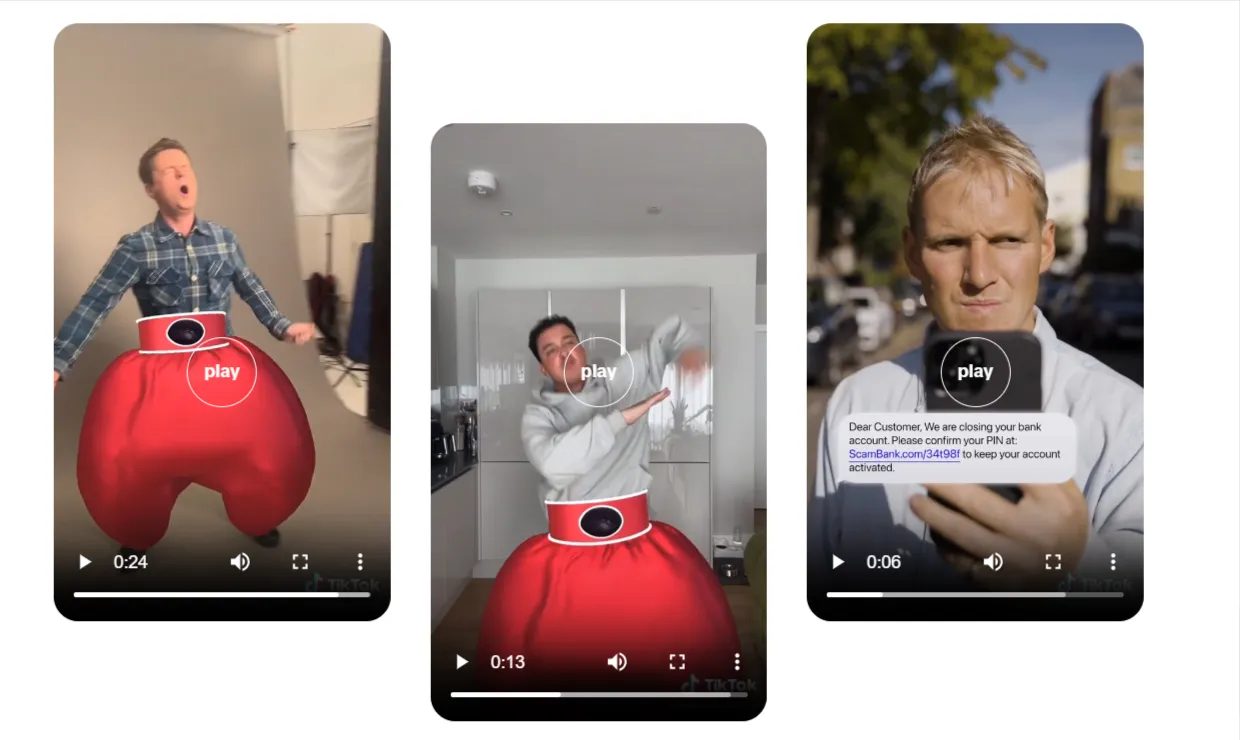 Santander did the same with their "Stop! Scammer Time" campaign on TikTok. They combined humor and vital information to raise awareness about financial scams, and it was a big hit.
Using TikTok's unique ad solutions, Santander introduced a Hashtag Challenge, inviting users to don the 'Scammer pants' through a Branded Effect. This humorous approach highlighted stopping common financial scams, emphasizing Santander's commitment to customer safety.
The campaign was bolstered with Spark Ads and TopView Ads to amplify reach. Moreover, collaborations with major UK TikTok creators further propelled the campaign's message.
The results were astounding.
The TopView Ad alone amassed 24.4 million impressions, predominantly targeting users under 35. In the UK, 35 million individuals viewed the campaign's Branded Effect panel. The campaign also achieved a significant brand lift, with a 7.2% increase in ad recall and a 2.7% boost in positive attitudes.
4. Bomb Pop's Branded Mission
Bomb Pop, a nostalgic frozen treat associated with Fourth of July celebrations, aimed to reintroduce its brand to a new generation during this crucial holiday.
They launched the #AFlavorForEveryYou campaign on TikTok, the first Branded Mission campaign in the US combining a Branded Hashtag Challenge and Branded Effect.
The Branded Mission allowed Bomb Pop to crowdsource authentic content, boost top-performing videos into ads, and enhance brand awareness—all in one campaign.
Users interacted with a custom Bomb Pop filter, showcasing that, like Bomb Pop's flavors, there's more to them than meets the eye. By tapping the on-screen Bomb Pop, users could explore different categories and flavor combinations, sharing their favorites.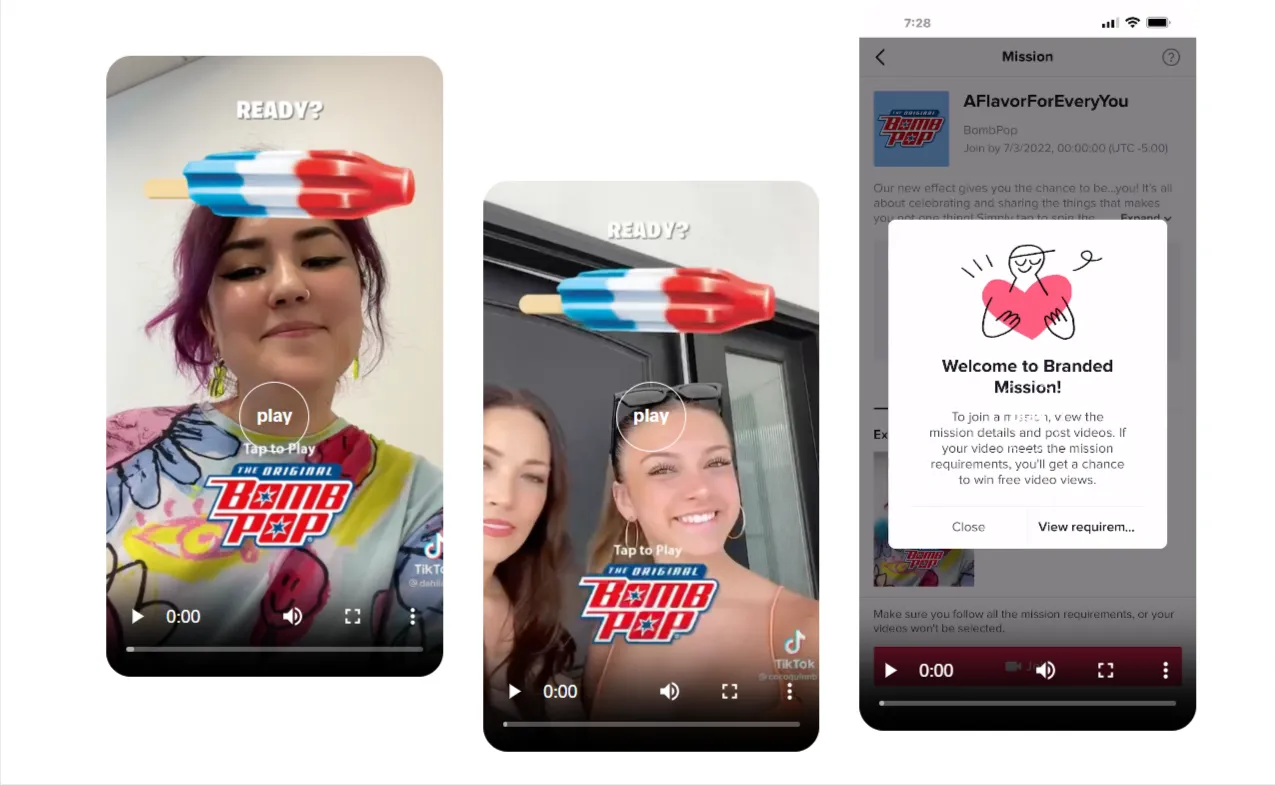 The results were explosive.
The campaign yielded over 40,600 user-generated videos, a 13.2% lift in ad recall, a 10.5% boost in awareness, 37.4 million impressions, and an 11% engagement rate. This innovative TikTok campaign led Bomb Pop to one of its most successful Fourth of July sales periods.
Conclusion
Having delved into the significance of TikTok Ads in the contemporary digital landscape, it is prudent to establish a TikTok Business account and leverage TikTok to enhance your brand's visibility and reach.
We hope that we have equipped you with the insights needed to craft impeccable TikTok ads, align with prevailing trends, captivate your target demographic, and elevate your brand presence.
It's crucial to meticulously assess your brand's requirements, comprehend the functionalities of diverse ad formats, and achieve your desired outcomes.
Once your TikTok ads campaign gains traction by yielding the anticipated results and augmenting engagements, sustaining the momentum is vital by consistently delivering engaging and authentic content.