Features
1. Scheduling
eClincher's scheduling features enable you to create, customize and schedule posts for multiple social media networks simultaneously. The tool supports scheduling for Facebook, Instagram, Twitter, Linkedin, Youtube, Pinterest, and TikTok.
Its scheduling tab is divided into two parts. On one side, you get the view of your post composer; on the other, you get a weekly and monthly calendar view of your scheduled posts.
In the post composer, you need to choose your social media accounts and add media from local and cloud storage, as well as from third-party images libraries, such as Pexels, Pixabay, and Unsplash. After that, write down your caption. You can keep the same post for every social platform or customize it using the toggle switch.
After creating your post, you can easily schedule it for the best time to post to get maximum exposure. Here you can also see a post preview of your to double-check for any edits you need to make before the post gets published.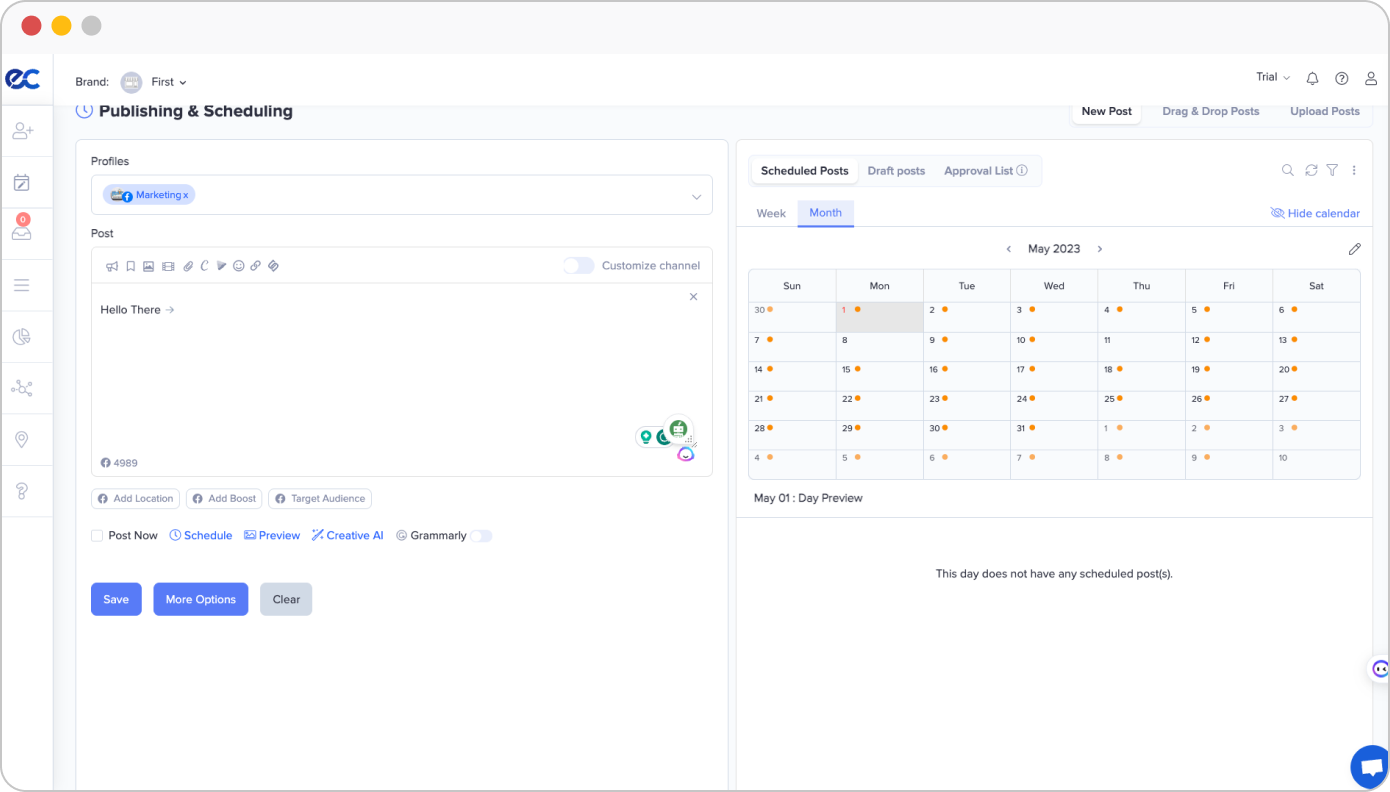 2. Calendar
eClincher has a visual calendar to help you overview and manage your weeks or month of scheduled, drafted, approved, and rejected posts for multiple platforms from a single tab.
The calendar view enables you to better visualize your social media plan. You can see which post is scheduled for which date, time, and social media. If you want to change the date – drag, drop, or make changes in the posts by editing them directly from your calendar.
Also, the color-coding system to denote the status of every post makes it a breeze to filter out content on the fly. You can easily monitor which posts are approved, in the draft, set for auto-publishing, or pending your approval.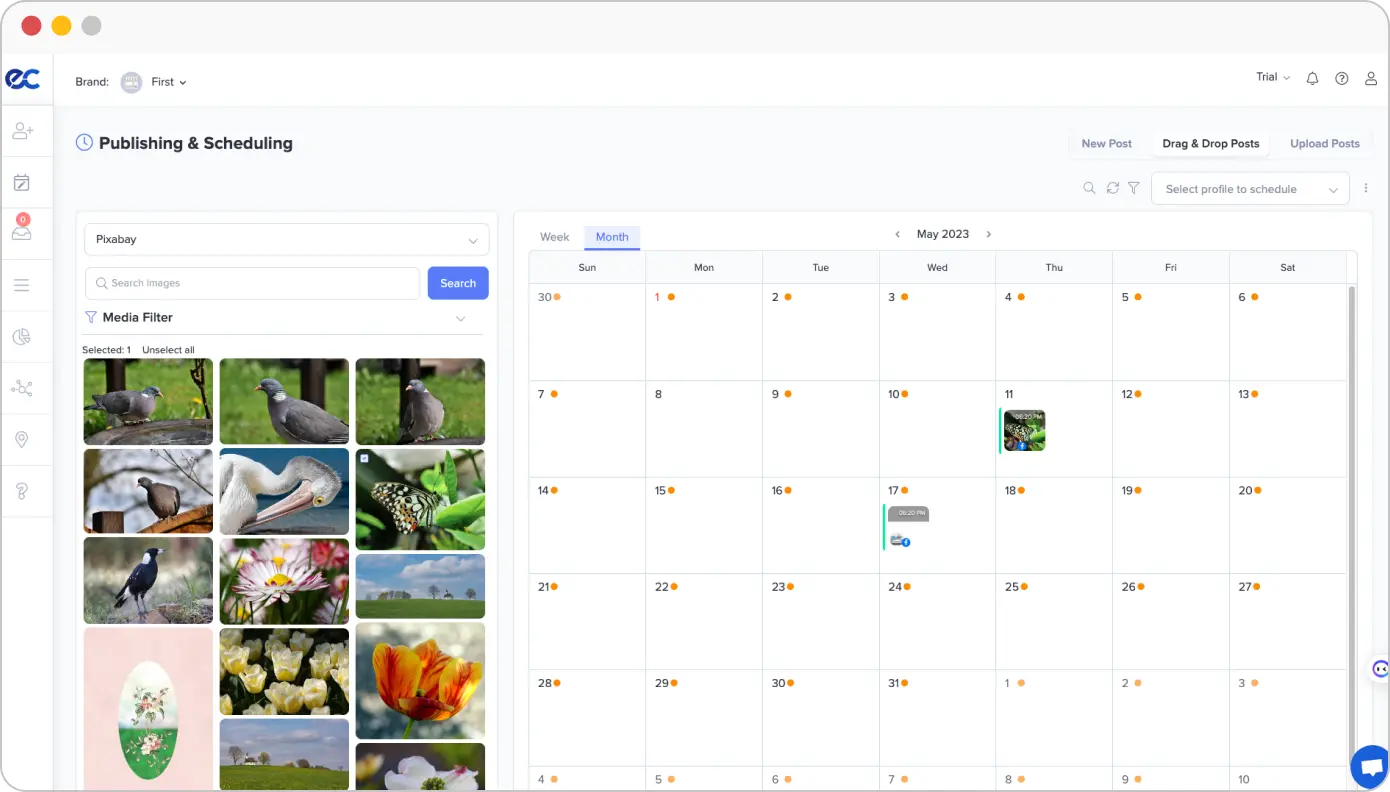 3. Messaging
The Socal Inbox feature of eClincher is designed to keep all your conversations, mentions, messages, and comments in one place so you don't have to manage it all in different tabs.
You can collaborate with your team inside the inbox by assigning different messages to different team members and leaving internal notes for better communication. eClincher inbox also has a sentimental analysis feature that lets you predict the tone of the message you have received.
Based on the 4 different tones, you can automate user assignment and tagging of inbox items.
Custom cross-channel tagging makes it easier for you to organize and keep track of different conversations easily. You can also mark items "complete" as you go to keep your inbox clutter-free.
And yes, one more thing, you also get an inbox analytics section. This is where you can see the incoming rate, opening rate, overall sentiment analysis of messages, and the performance of the inbox handling team.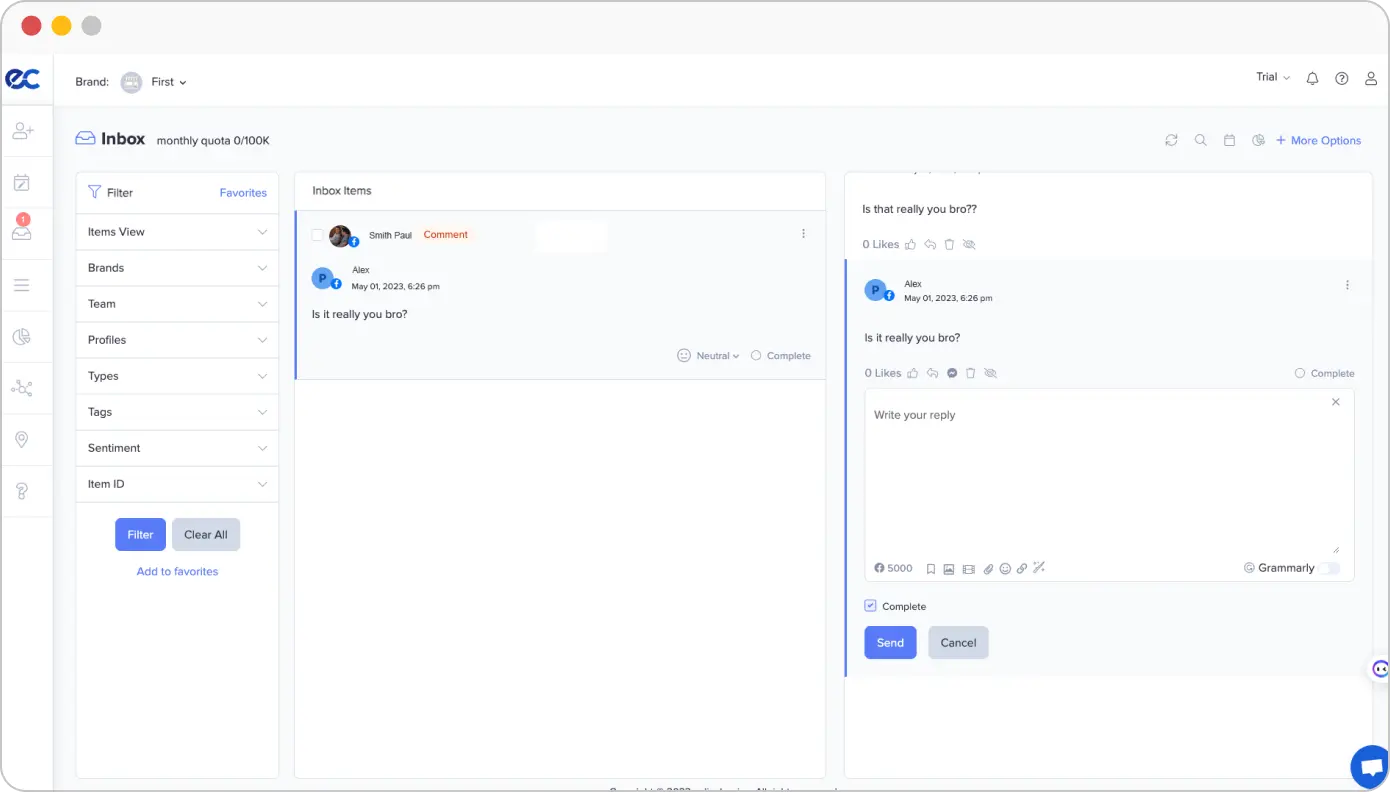 4. Analytics
eClincher's extensive analytics feature gives you a unified platform to keep track of your social media performance. Moreover, with the option to access and overview Google Analytics (GA 4) inside the tool, the platform reaches beyond social media analytics. It gives you a good picture of the customer journey and website traffic.
The tool has an advanced built-in reports feature that provides you with eye-pleasing reports on not only social media performance but also on Cross- channel, Meta paid ads, Social media inbox, reputation management, and Google Analytics performance. You can download these reports as PDF or CSV files or even schedule them to be emailed automatically to the stakeholders.
With higher plans, you also get to create Customized Reports. There you can merge all channels under a single report and choose which items to display in your customized report.