Are you looking for the best eClincher alternatives to accelerate your social media growth? Do you want to find the top alternative social media management tools for eClincher? This article will show you the top 10 you can start using today to manage your social media marketing campaigns.
However, to be a sort-after social media manager requires knowing how to use various management tools to streamline your workflow. On the other hand, if you can't find the right marketing software, your clients' accounts will suffer, and their reputation may be on the line.
Thus, you don't want to happen as you will lose your clients and money. The good news is that there are lots of eClincher alternatives in the marketplace. eClincher is a robust social media management software that lets you link your social profiles and connect with your target market across platforms. So, why look somewhere else for alternatives? Let us look into the "why" a little.
Why Should You Care About eClincher Alternatives?
As stated above, eClincher is a fantastic management tool for social media content marketing. It offers you the opportunity to maintain consistency across multiple marketing channels and build your brand authority and online presence.
Nevertheless, it helps to explore similar tools that can do the same job or better. Also, eClincher may not give you all the functionalities you need. Therefore, it makes sense to look for the best alternatives by competitors and compare their features, including pricing.
While eClincher's competitors may offer similar features, others may be unique, making them top contenders. Furthermore, you may want to use multiple automation scheduling tools for various use cases, including developing a stable social media toolkit. As a result, we put together a list of eClincher alternatives that will help you grow your business.
The Best Alternatives to eClincher for Small and Medium-Sized Business Management
Be reminded that eClincher is a remarkable social media management tool that allows you to handle your marketing activities and track results all-in-one place. Therefore, here are the top 10 alternatives for your consideration:
So while we evaluate the tools below, look for features and functionalities that stand out to you. Pinpoint characteristics that make you want to switch products or services.
1. eClincher Alternative ─ SocialPilot
SocialPilot is one of the best and most efficient social media marketing that you can find. It is top on the list of tools that compare to eClincher. SocialPilot's developers designed the software for small and mid-sized businesses and agencies. The software lets you connect with your target market in real-time and manage up to 50 social media accounts.
SocialPilot's primary features include:
Customizable central dashboard
Consistent with 50 social media networking sites
Bulk scheduling
Content curation
RSS feeds automation
Powerful Facebook ads management
Workflow management (team and client collaboration)
Custom branded opportunity with reseller resources
Furthermore, one of SocialPilot's outstanding features is the ability to engage your followers directly from the software. Its engagement capabilities let you respond to user comments and messages. Also, the software is ideal for small enterprises that manage several clients' social media accounts. As a result, you can seamlessly collaborate with your team by creating workflows approvals.
SocialPilot vs. eClincher
As the best alternative to eClincher, how does the eClincher software stack up to SocialPilot?
Without a doubt, eClincher is a top social media management tool, and it works seamlessly with all leading social networking platforms. The software provides several features and functionalities, including its outstanding integration of the Pocket app.
Did you know?
I have been using Pocket for over three years, and I know how valuable it is to integrate it into your marketing mix. With Pocket, you can save content for later reading. You can also share them across social sites.
But, despite eClincher's incredible characteristics, when compared to SocialPilot, eClincher does not allow users to collaborate directly on projects. But SocialPilot scales through in this regard.
How about a friendly user interface (UI) that helps improve user experience (UX)?
Compared to SocialPilot, eClincher falls short as well. That is why they encourage consumers to get assistance from the help desk and training from support documents.
Furthermore, SocialPilot gives you the main dashboard to manage your social media tasks and lets you categorize networking sites. Adding social media sites in groups is vital because it allows you to manage multiple clients with ease.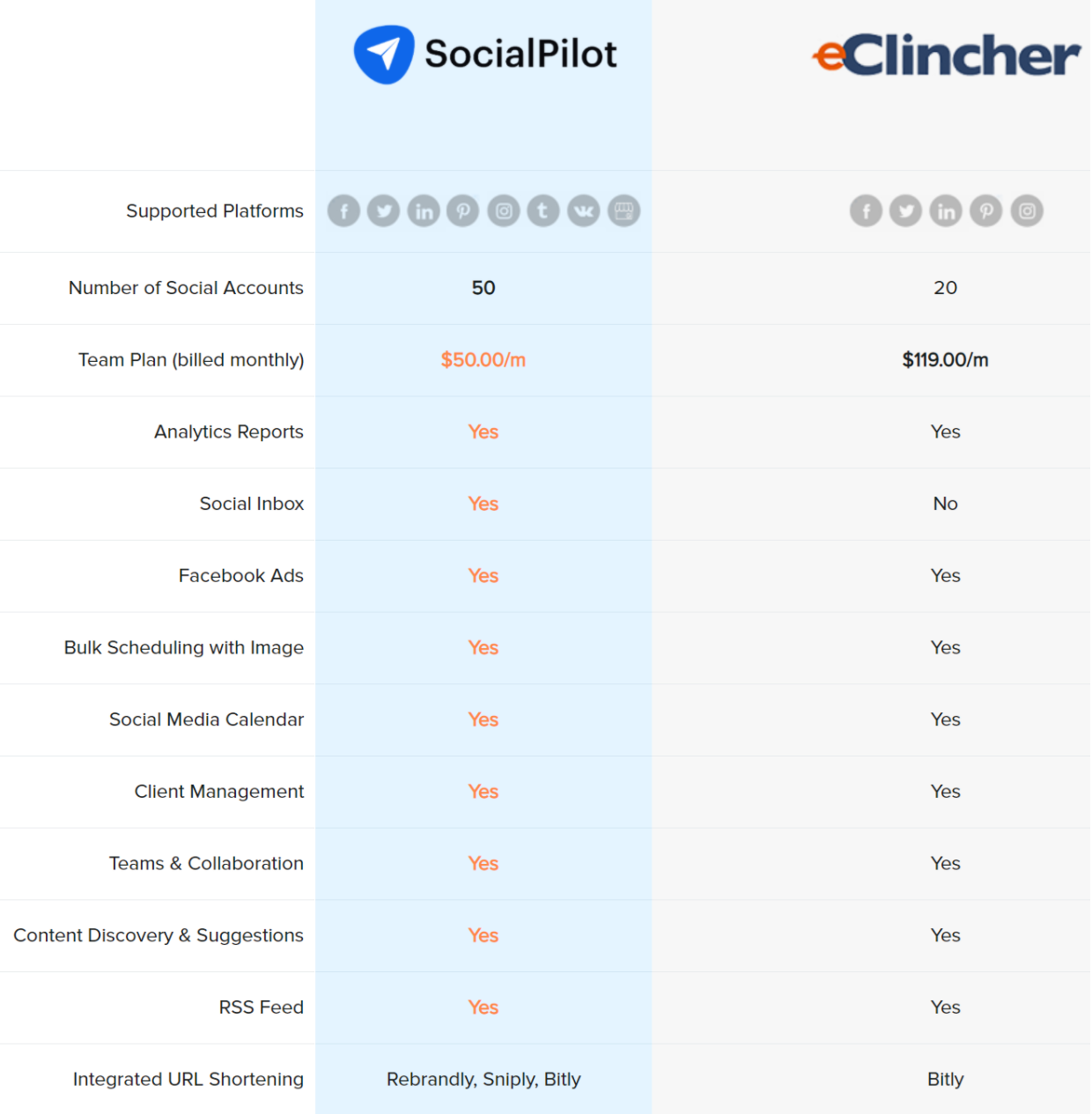 Pricing: SocialPilot offers a lesser price of $25/month, while eClincher asks $59 per month. You can go to this page to see why SocialPilot is a top eClincher alternative.

---
2. eClincher Alternative ─ Publer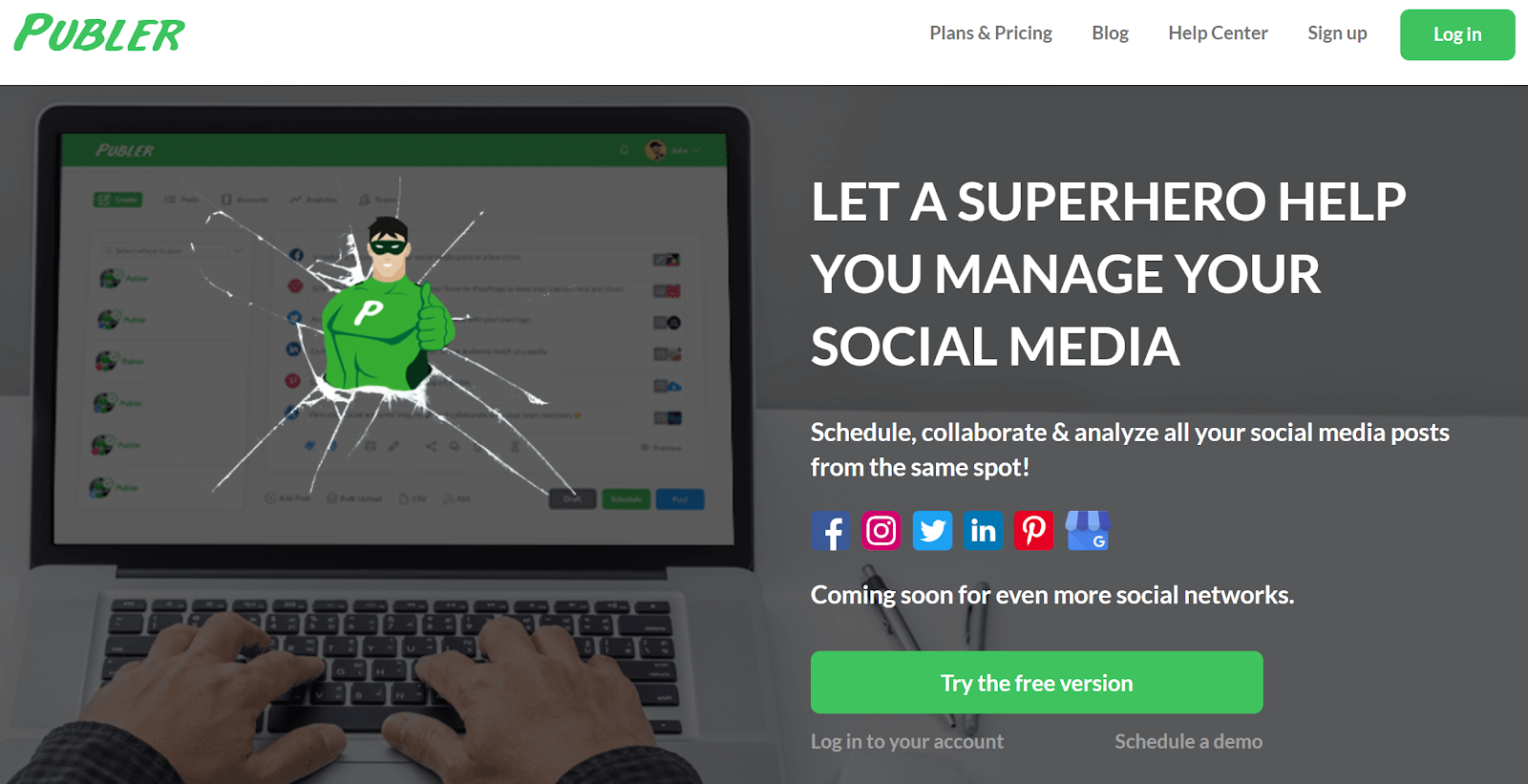 The developers of Publer considers it a superhero, and for a good reason. Publer is an AppSumo partner that lets you tailor your content and schedule up to 500 posts simultaneously across social media through:
Multi-post creator
Bulk media uploader
CSV file, or
RSS feed
As a result, the software is a top contender for the best alternative to eClincher. In view of this, Publer's pricing starts at $10 per month with a free plan that allows up to five social accounts.
The primary features of Publer are:
Unlimited post scheduling
Infinite posts in drafts
Unrestricted team collaboration
External published posts history
Add signature, as you would in emails.
Calendar view mode
Built-in CSV and RSS
Upload photos from URL
Group social accounts
Add a delay between posts.
Bulk scheduling
Schedule follow-up comments
Auto-recycle posts
Analytics reporting
Watermark photos and videos
Tailored or customized posts
Auto-delete
Create additional teams
Schedule recurring posts
Schedule new Facebook albums
Publer vs. eClincher
The list of features above is too valuable to ignore.
It makes Publer one of the best replacements for eClincher.
But, keep in mind that the software does not yet have a mobile app for use on the go. Notwithstanding, when you compare pricing plans, Publer is more budget-oriented than eClincher.
How?
Pricing: Publer offers a free plan and lets you start with a $10 premium package that caters for up to five accounts and three team members. In contrast, the eClincher Basic package is $59 a month, one team member, and ten profiles.
---
3. eClincher Alternative ─ Sprout Social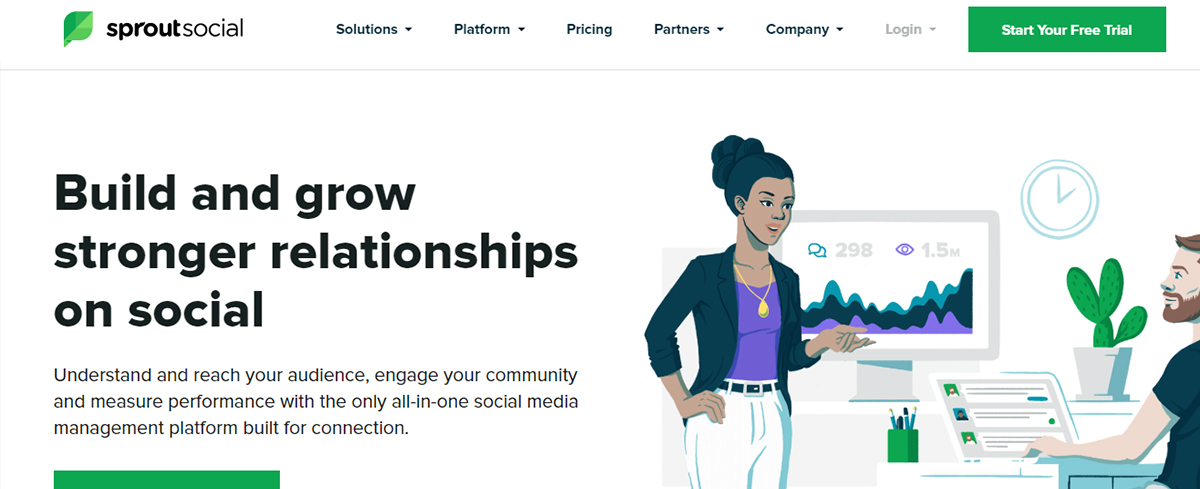 Sprout Social is a marketing platform that provides social media management services to online marketers. The developers describe it as an all-in-one social media management software. That is because Sprout Social gives users more flexibility to accomplish more tasks comfortably from a single platform. Hence, it helps improve your social media marketing strategy.
Sprout Social main features include:
Smart social inbox
Mobile
Team collaboration
Keywords, location, and profile monitoring
Social CRM (tasking and toolset)
Social media suites
Account analytics
Sprout Social vs. eClincher
As eClincher focuses on content curation and publishing, engagement, and analytics, Sprout Social also concentrates on the same parameters across channels. It also works well with third-party apps.
But while eClincher can merge and incorporate 20 other apps, Sprout Social welcomes only 16 external applications.
Yet, if you compare the overall product performance ratings, eClincher scored 8.1, whereas Sprout Social earned 8.9 points.
Pricing: Sprout Social gives you a 30-day free trial and a pricing plan that starts from $99.
---
4. eClincher Alternativer – Buffer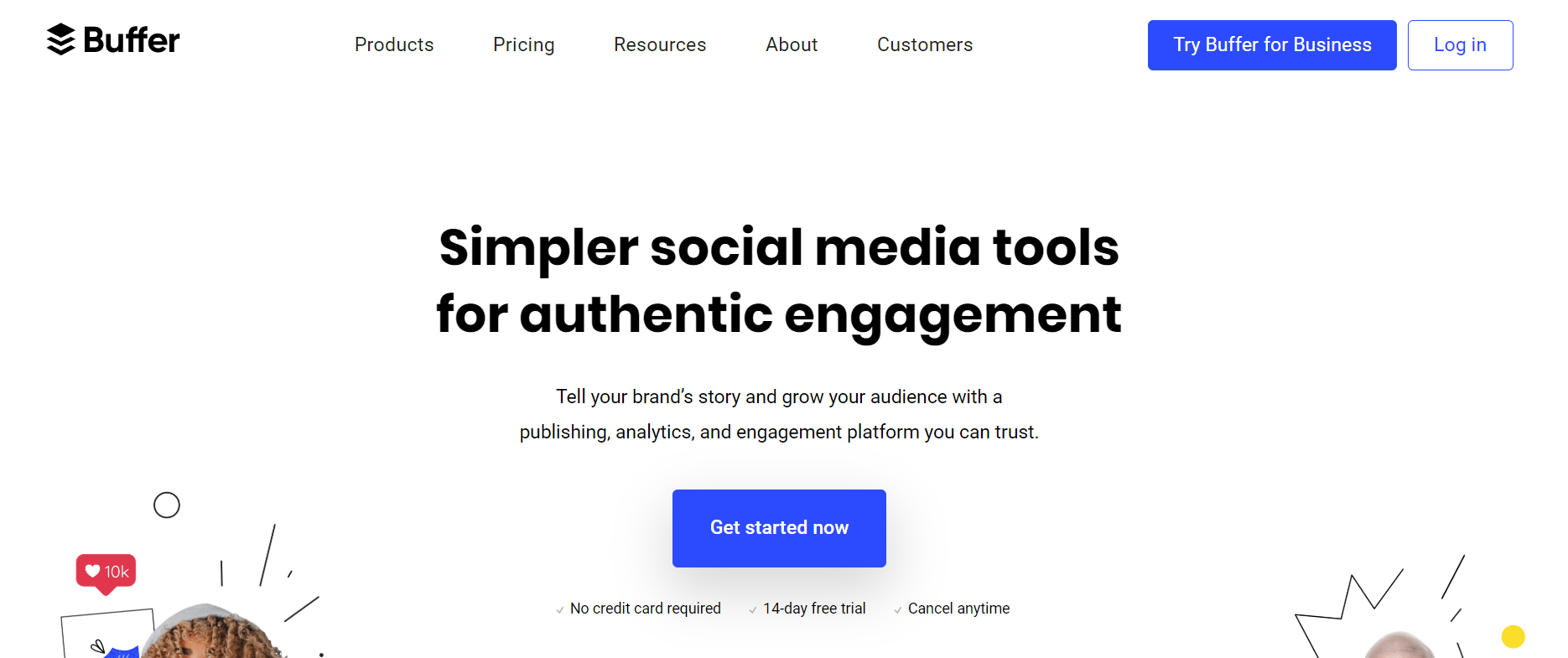 Like eClincher, Buffer has a suite of products that enables you to establish your brand presence and online reputation on social media. With a $15 a month starting price, you can connect with clients and potential customers through consistent posting and content scheduling. In that way, you will engage your followers and build trust.
Buffer's core features are:
An all-inclusive feed for all major social media sites
Integrates with more than 60 third-party platforms (including Atomized, Geckoboard, and HipChat)
Free life-time plan (for three social media accounts)
Approval workflow
RSS feeds connectivity
Social analytics data
Social media profile sharing
Stats comparison
Team collaboration through administrator rights
Customized scheduling
Curate content via RSS feeds
Buffer vs. eClincher
Buffer's "Approval Workflow" and 73 third-party integrations make it a top contender to eClincher. Although eClincher provides similar services, it only integrates 22 third-party apps. Also, eClincher offers competitor tracking and influencer monitoring. But Buffer is yet to provide these services.
However, Buffer has a simple user interface and dashboard. But you will find much from the dashboard to enhance your effort. What you see once opened it is your queue, analytics, and setting. But the recently added boosted post insights that show you how paid and organic posts compare is a fantastic experience.
Pricing: Buffer offers a free plan and after the trial, you can avail the'Awesome'plan at as low as $12/month (billed annually) but limited to a single user.
You may also like to read the comparison between Buffer vs. SocialPilot.
---
5. eClincher Alternative ─ Traject Social

Traject Social is a management software for social media managers and agencies that work with numerous clients. Like eClincher, use Traject Social to schedule and post your content on all social sites. It helps you maintain consistency with your audience and build your brand credibility.
The core feature of Traject Social are:
Smart social inbox
Canva integration
Built-in image editor
Analytics reporting (engagement optimization and cross-channel performance)
Website analytics
LinkedIn ads
Facebook ads
Traject Social vs. eClincher
Similarly, eClincher offers its users a 14-day free trial; Traject Social also provides a 14-day free trial. But their pricing plan that starts at $49 a month is lesser than eClincher with its starting price of $59 monthly.
---
6. eClincher Alternative ─ Hootsuite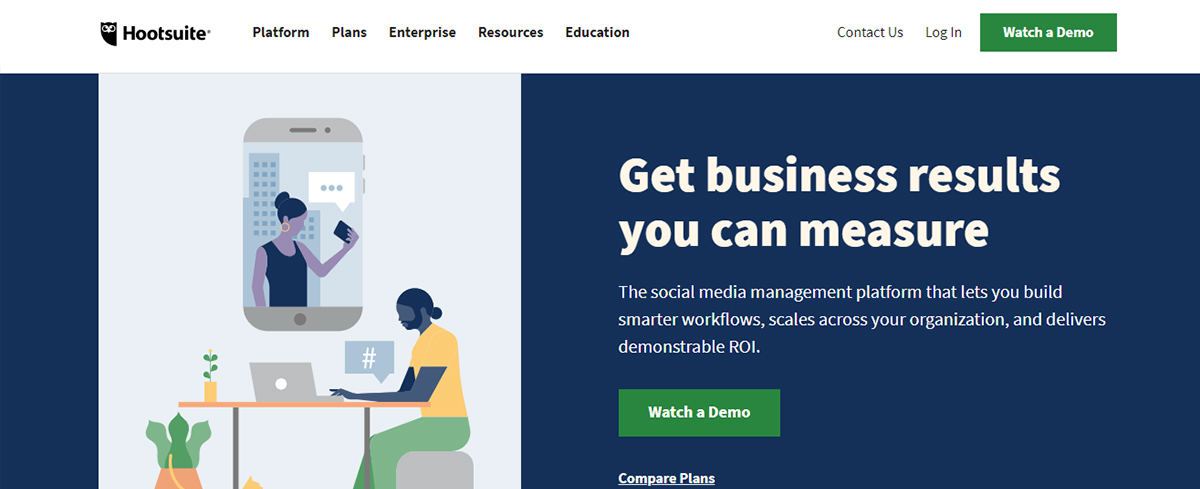 Hootsuite is among the best social media management tools in the marketplace. It is beginner-friendly and allows consumers who're using the freemium version to create, curate, and schedule 30 variable content materials in the queue for posting across social media.
The opportunity to create and schedule 30 content pieces for posting, which equates to 90 for three social sites, is phenomenal for beginners with a limited budget. So, it is sensible to include it as a competitor and top alternative to eClincher. Also, by supporting 35 social networks, Hootsuite gives marketers and social media managers the privilege to manage your social media activities and client's work without stress.
Hootsuite's outstanding features, including:
Conversion tracking
Keyword Filtering
Customer targeting
Contact management
Manage ads campaigns
App integration
Hootsuite vs. eClincher
While Hootsuite offers many vital features, they have similar functionalities with eClincher. You can use hashtags and keywords on eClincher to monitor social mentions. But Hootsuite lets you filter keywords for better results.
Also, Hootsuite does not provide white-labeling features that come with custom branded solutions. But the software is still a viable alternative to eClincher.
Therefore, if you're working with numerous clients on various platforms, you should contemplate using Hootsuite as an alternative to eClincher.
But like Buffer, Hootsuite does not provide" White Label Solutions."
Pricing: Hootsuite starts from $19 a month, depending on your plan.
---
7. eClincher Alternative – Later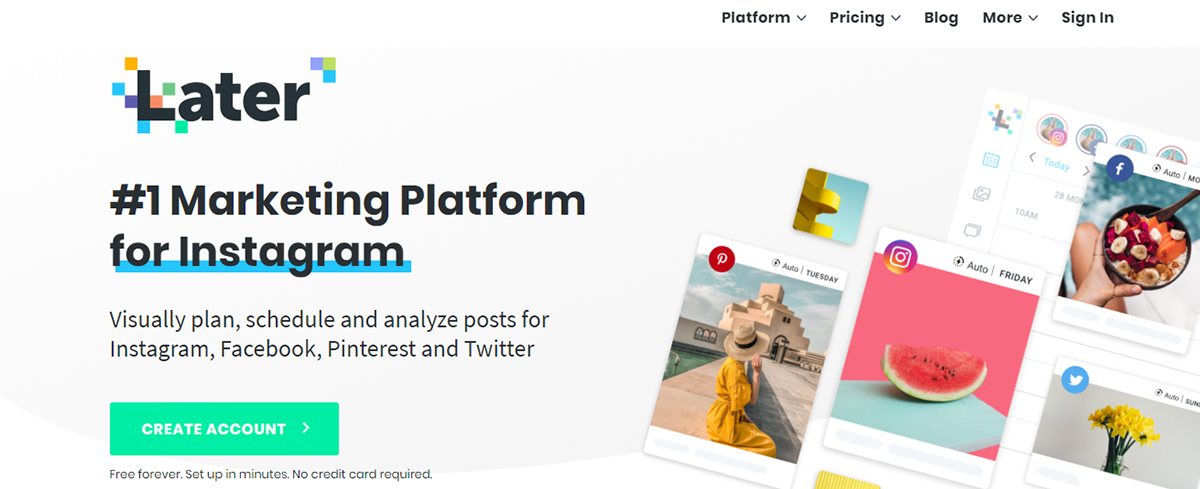 The developers of Later tagged it as the #1 social media marketing platform for Instagram. Why? Because they launched the software with a focus on Instagram. But it has evolved into a viable alternative to eClincher. Consumers use it prominently to create visual materials and post content on platforms like Facebook, Instagram, Pinterest, and Twitter.
Now they have added more features, including a visual calendar. Later also included more social sites to the platforms' list.
Later's core features are:
Visual content calendar
Linkin.bio (lets you add a link in your bio. You can also transform your Instagram feed into a traffic-driver by creating a clickable, optimized landing page)
User-generated content (UGC)
Instagram posts and stories scheduling.
Instagram hashtags
Pinterest scheduling
Analytics (measure your ROI from the platform)
Later vs. eClincher
Though eClincher supports various social media platforms and third-party apps, including LinkedIn, Google My Business, and YouTube, Later puts more emphasis on visuals. For this, they cater to only a few social sites. So if you're into Instagram, Pinterest, Facebook, and Twitter, Later is your best bet.
Interestingly, they offer Instagram training on how to grow your Instagram followers and Instagram engagement.
Pricing: Later offers a free-for-live plan for individuals, but their premium plan starts from $7.5 per month. Their pricing contrasts eClincher that begins at $59 a month.
---
8. eClincher Alternative – Statusbrew
Statusbrew is one of the best tools for managing your social media marketing campaigns. The software covers most social media platforms from a single dashboard and is available to users for free for as long as you want.
With Statusbrew, you can engage your audience and customers via a coordinated social inbox by responding to user interactions in real-time personal conversations. The marketing software also lets you collaborate with your team and clients by creating workflows, permissions, and approval structures.
Did you know? Among other platforms, Statusbrew also supports Google My Business.
The key features of Statusbrew include:
Dynamic ad comment
Review management
Automated content moderation
Enterprise-grade security
Statusbrew vs. eClincher
The eClincher software and Statusbrew supports all the major social platforms, including GMB. Also,  Statusbrew is a social media solution software for all businesses─small and mid-sized businesses, agencies, and enterprises at every touchpoint of the customer journey.
Pricing: With a free plan for life, they stand out as an authority for marketers with little or no budget. Besides, their paid plans come with a 7-day free trial and start at $99 per month.
---
9. eClincher Alternative – Mention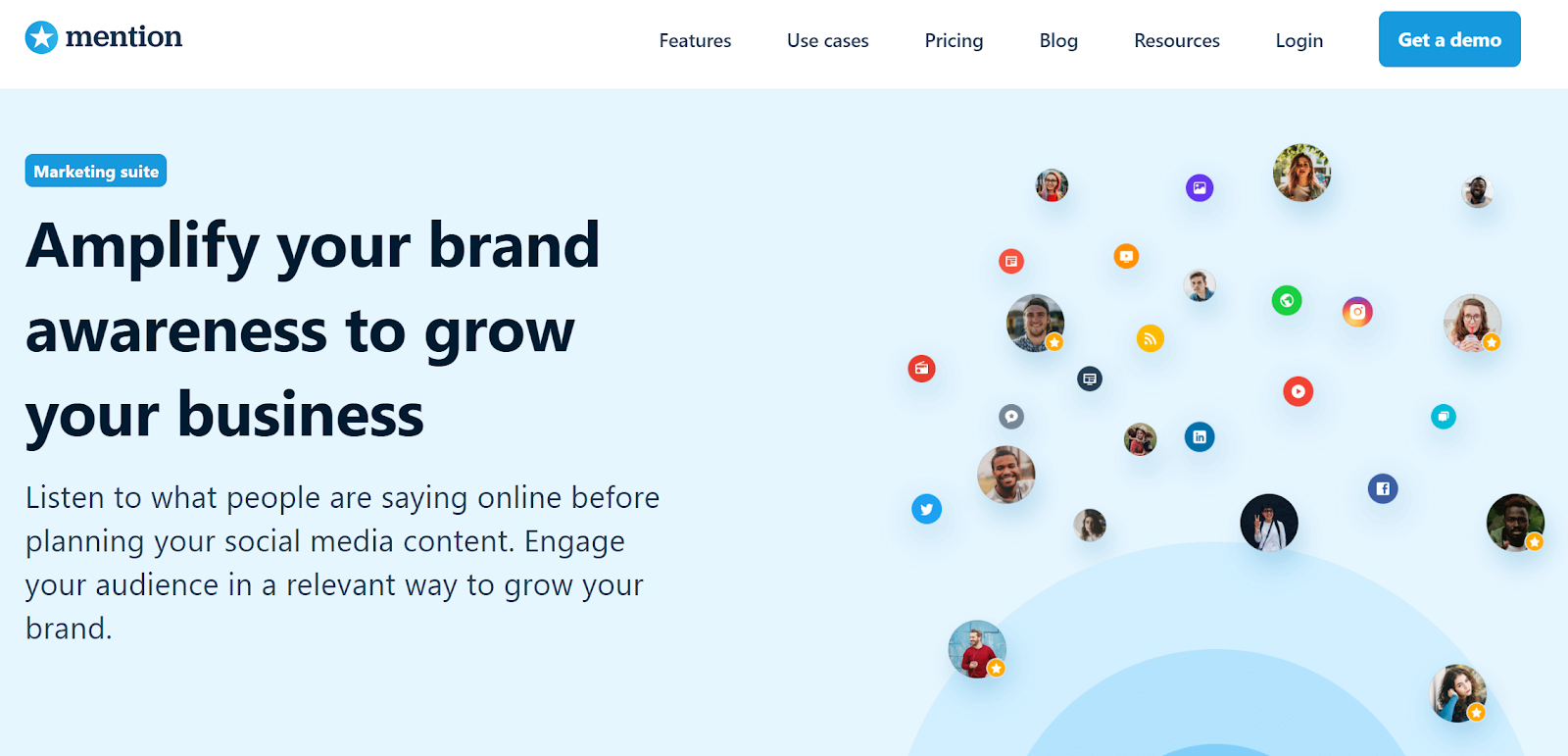 Mention is a suite that enables brands to enhance their online activities on different social media websites. It assists you in increasing engagement and improves conversions. Moreover, Mention's Publish-spread the word feature allows you to create exciting content pieces that stem from intelligent marketing insights.
In that way, you have a full calendar of quality content that connects with your buyer persona to share across social media. Nonetheless, Mention's primary trait is its ability to listen to what consumers say about your brand. It helps you create an efficient social media content plan and engage your marketing persona effectively throughout social channels.
The software has three primary characteristics that encircle all other features. The three components are:
Monitor
Listen, and
Publish
Mention vs. eClincher
The three properties above will boost your social media marketing. How? By tracking content materials across the web to determine those that drive conversions. Mention also listens to consumer interactions and user feedback to understand what types of posts excite your audience. Furthermore, it evaluates social media trends that produce results from various platforms.
Armed with this data, you can create evergreen content pieces around irresistible topics for posting on social media for months. On the other hand, eClincher also tracks user feeds through keywords and hashtags on social media. But Mention goes beyond social media by monitoring website content daily.
The software looks at different articles and platforms to gather helpful information. It examines the following:
Press articles
Review sites
Forums & communities, and
Blogs
That way, Mention digs out useful information to build your brand authority and grow your business online.
Pricing: eClincher starts with a basic $59 monthly plan, you can use Mention for free. You also have the option to start with premium packages, starting at $25 monthly. So you can use Mention as an alternative to eClincher to manage your social media marketing effort.
---
10. eClincher Alternative – Loomly
Loomly is a marketing platform with a focus on brand success, content management, and workflow onboarding. If you are a social media manager, Loomly provides you a host of content ideas established according to trending topics in your niche. It also gives you marketing content ideas from RSS feeds and social media best practices, including Twitter trends and events-related celebrations.
Loomly ensures you don't run out of ideas for content creation, scheduling, and publishing to various social media sites. This incredible feature helps social media managers in their content creation and curation tactics to serve your clients better.
Top features of Loomly are:
Post and ad mockups
Approval workflow system
Automated pushing for Facebook and Instagram ads
Commenting system
Notifications
Content ideas
Subject and labels
Optimization tips
Loomly vs. eClincher
Much as eClincher provides users with a content suggestion system, Loomly, as focused content creation and scheduling platform, also gives you tons of posts ideas that will engage your followers and drive traffic.
Furthermore, since eClincher does not currently provide a social ads system, you can reach your target market with Loomly's Facebook advertising and Instagram ads-driven campaigns. This medium enables you to attract a broader audience, generate targeted leads, and enhance your business growth.
Pricing: Loomly offer a 15-day free trial, with a starting price of $25 a month.
Wrap Up
Social media is a sustainable marketing channel that is driving results for businesses of all sizes. But to have success with social media marketing, you need a stable strategy for marketing your business and building brand recognition.
You agree that you cannot possibly accomplish your goals with the pace of social media activities manually. You need the right software to streamline the process. And while there are tons of social media management tools to choose from, eClincher is one of the best.
However, eClincher may not be the right software for you due to the lack of essential features or pricing packages. For this, we made it easier for you to find the best alternatives to eClincher, such as SocialPilot, that offers you a ton of fantastic features at lower prices.
Thus, examine each of the social media tools above and make your preferred choice. Do you have other comparable tools to recommend?
We appreciate your comments below!