85% of Americans spend time watching videos every day. People prefer spending time watching videos than reading any text or photos.
With over 2 billion people using YouTube for viewing content around 250 million hours every month, the opportunity is huge, and it's time you jump into the world of quality video content creation.
But before you do that, you need to have access to one of the most important ingredients in creating YouTube video content, i.e., a good YouTube video editor.
There are tons of YouTube video editors available on the internet, so which one is best suited to fulfill your requirements?
To make your content creation process smooth, we've filtered the best YouTube video editors suitable for your business that'll help you produce amazing videos.
So, without further ado, let's start.
11 Best YouTube Video Editors
Leading from the front, Shotcut is one of the most amazing and powerful tools compatible with iOS, Windows, and Linux.
You get a smooth workflow as the tool allows you to place audio and video fragments on the main front, and then you can apply all the changes and effects.
Once you do the editing part, you can convert the file into a video file. It has a strange and unusual interface compared to other top tools as it was first designed for Linux users.
But it has tons of intuitive features that make YouTube video editing easy and fast. You can drag a file with ease to import it into your project.
You can learn all the key features and understand the tool's functionality with tailored tutorials in text and video formats.
Pros
You get multiple customization options which you can use in the menu bar
You can place a user request for automating all the workflows
Cons
You cannot preview all the filters available in the tool
With the help of this Twitter tool, you can only post and publish your posts on 5 social media platforms: Facebook, Twitter, LinkedIn, Pinterest, and Instagram.
---
A powerful and popular tool from the house of Adobe, it is a user-friendly tool that can help you edit YouTube videos, adjust their colors, and process audio.
You can use this amazing tool on your desktop or mobile devices to explore its unique and advanced editing features across different popular operating systems.
Using Adobe Premiere Pro CC, you can process and edit any video content and convert it into the desired format for easy YouTube uploads.
If you want to level up your editing, you can gain access to the paid version of Adobe. With Premiere Pro, you desire 4K support and 360 VR, making it an ideal tool for professional editors.
With this tool, you get a complete editing experience, whether you are a beginner or an expert in the field of YouTube editing.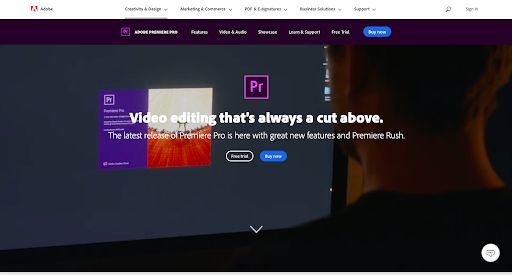 Pros
Adobe provides its users with a friendly and convenient user interface
You can convert your output result into any desirable format with no hiccups
You can also integrate other Adobe products so that you can create an entire Adobe ecosystem for a smooth workflow
Cons
It is difficult to edit titles
It is costly if you want to access the pro version
---
If you want simplicity and elegance in your YouTube video editor, then iMovie is one of the ideal choices for your requirements. It is a popular editor available in the iOS ecosystem across different Mac OS, iPhone, and iPad.
It has eight themes with transitions, music, and titles for more creative options in your editing process.
Filters created by Apple are also available; you also have the option to add different effects like slow motion, split-screen, an image in the image, and fast forward.
The tool also enables you to create soundtracks, and the most highlighting feature is its 'Green Screen' that helps you place any object in any background.
It has a ton of options to explore with a simple interface.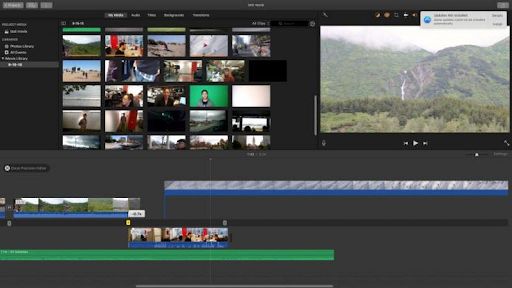 Pros
A intuitive interface for easy usability
Supports 4K video creation and editing
It has a unique theater mode in which you can share the edited video across Apple devices
Cons
It lacks some advanced functions like 360° video and motion tracking
---
Lightworks is a free YouTube video editor that enables users with some amazing video editing options. The software is compatible with macOS, Linux, and Windows.
It can be used for creating smooth and flawless videos and also helps to keep the premium quality intact.
If you are low on budget but still want an effective YouTube video editor, Lightworks is the tool you are missing out on.
You can render and import your video in the background, edit, and create a simple video editing environment.
It is perfect for editors, bloggers, sound engineers, and camera operators.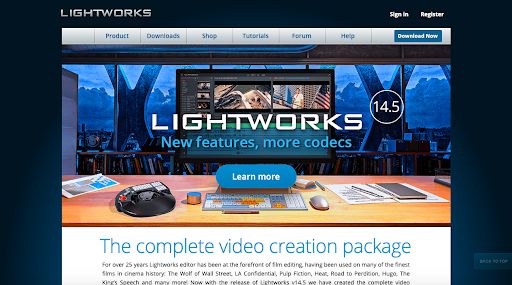 Pros
It provides you with multichannel support
You can easily operate all the editing, cropping, and adding effects in the timeline of video editing
It also has the 3D video processing ability
Cons
It can be hard for some users to understand the editor management system
Apple developed Final Cut Pro X for its Mac OS. It is quite similar to the iMovie but has some additional functionality.
Its wide range of features like title effects, transitions, audio, and video effects makes video editing a simpler task to perform.
It helps the user to integrate easy uploads to Facebook, YouTube, and Vimeo and provides a wide range of output video formats to choose from.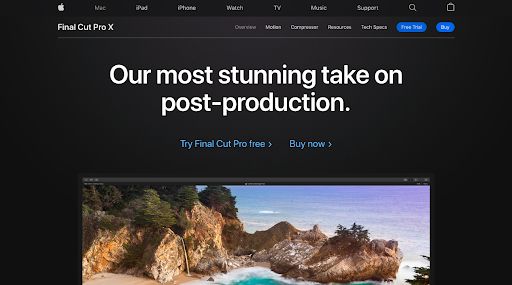 Pros
You get great flexibility with the video formats to import and export
If helps to keep the quality of the image and video intact by providing lossless results
It has a wide range of libraries available for the easy editing process
Cons
The cost of the software is high
---
It is a free YouTube video editor tool that provides a compelling set of tools for the editing process. It has a wide range of inbuilt templates and advanced features, making video editing a piece of cake.
Once you have created and edited the video, you can quickly export it in the high-quality format for uploading it on YouTube or across multiple platforms.
HitFilm Express helps create amazing custom videos as it has an excellent range of 3D compositional, green screen, and other features.
It helps to adjust colors, trim clips, and export the footage to any device or social media channel.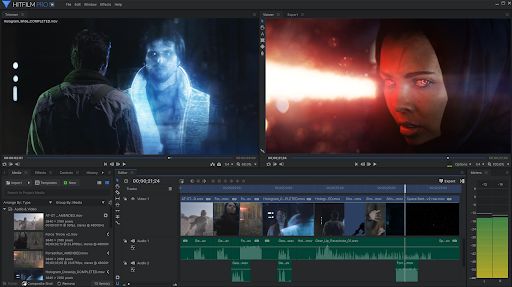 Pros
It has a powerful timeline editor
It has an intuitive design with tons of features
It enables 4K and 360° video support
Cons
The exporting process is a bit slow
You need to purchase the pro version to access some of the advanced features
---
If you want the power for editing YouTube videos on your mobile phone, Adobe Premiere Rush is the tool for you. It was released for iOS initially, and then later rolled its versions for android.
Though it is a simplified version of the Adobe Premiere Pro CC, its functionality is still very advanced. Most of the important tools for editing are there, and you get the freedom to edit on your mobile devices and tablets.
It is an ideal tool for YouTube content creators and video bloggers to take their videos a level higher in terms of the finish and the quality.
You get the option of video resizing, working with the audio, color correction, and other amazing features.
Its professional templates help a user bypass the time duration of starting from scratch. You can swiftly share the results with your audience on YouTube and multiple social media platforms easily.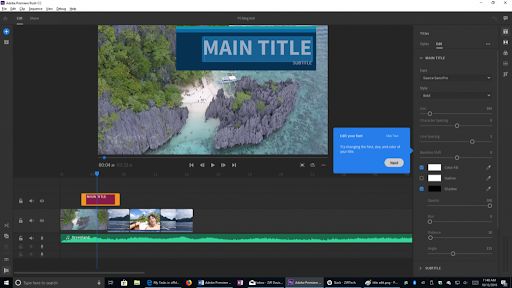 Pros
Simple and quick video editing process
You can optimize your edited video for multiple social media platforms
Cons
There is a lack of professional editing features
---
Filmora is considered an alternative to any powerful video editor as it provides a great video editing environment for its user.
You get different editing options like adding multiple audio and video effects, transitions, filters, custom captions, overlays, and other elements for a better video experience for your viewers.
If you need the same tool for editing on your mobile phones, you can download Filmora Go, handy for mobile video editing.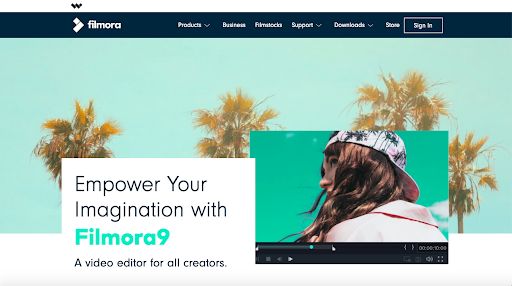 Pros
It has its music and sound library
It has a simple, easy-to-use interface
It provides you with 4K support
Cons
You can remove the watermark in the free version
---
VideoStudio Ultimate provides a diverse set of video editing options to choose from. It has excellent editing options like video collage templates, color management, trimming, and numerous others.
You also have the option to edit 360° video and upload directly to your YouTube channel for a greater experience for your viewers.
It also supports advanced features like motion tracking, 4K support, VR support, and multicam.
Besides all these technical functions, it is well-known for its faster agile rendering speed.
It offers a complete editing package and has an intuitive user interface.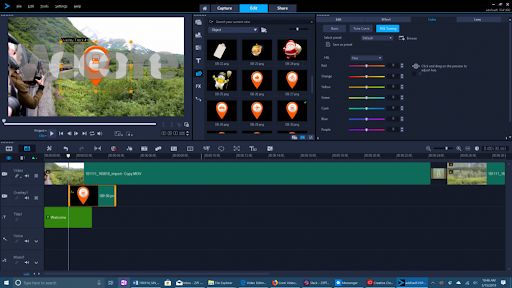 Pros
It provides a variety of essential editing features
It also has a music library
It supports 4K editing
Cons
Doesn't provide many features for professionals
---
If you want a powerful 3D graphics editor tool, Blender is the perfect blend for your requirements. It is highly popular among 3D models because of its open-source code, cross-platform characteristics, availability, and other functionalities.
Video editing might not be the primary feature of the tool, but it does a decent job when it comes to editing. It is compatible with Linux, Windows, and MacOS. However, you might find it difficult to export the edited file.
It has a great interface and tons of functionality to create and edit amazing 3D and normal videos.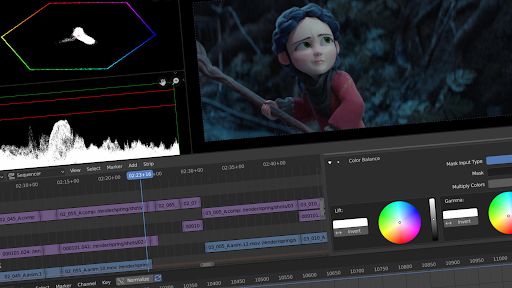 Pros
You experience a detailed and extensive timeline for your editing process
You can also see the live preview of the edits you make
Offers many enticing filters and transitions
Cons
You might face issues with audio/video sync
---
Movavi Video Suite is an effective tool for beginners who want to edit videos quickly and easily. It is a complete 360° editing tool loaded with great features for a smooth editing experience.
You can cut, merge, add transitions, and export the video to any other platform.
It offers in-depth tutorials and great screen recording features. With 160 filters and other advanced features like slow motion, chroma key, and caption support, it is one of the best YouTube video editors for beginners.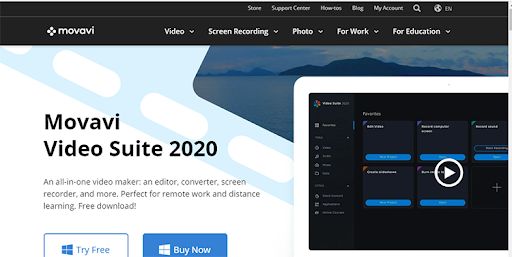 Pros
It has an attractive and enticing UI/UX
You get a plethora of video formats to choose from
Cons
Lacks professional editing features
Trim. Crop. Edit!
So that wraps up our list of the top YouTube video editing tools that can help you create amazing videos.
Upload videos crafted using these tools to create amazing flawless video content. Choose one of these tools to give a boost to your YouTube marketing strategy.
If you need further assistance with managing your content with proper scheduling, maintaining content, and optimizing your social media performance, use SocialPilot – an all-round social media optimization and boosting tool.