YouTube is the home to user-generated content.
Wondering what that means?
It means that a good amount of content posted on YouTube is created by regular people. There are brands, celebrities, and mammoth companies on YouTube, but about 32% of content is created by common folks.
While that gives you freedom to post whatever it is you wish to share with the world, there is also a risk involved.
Some channels might be releasing content that is deemed "inappropriate". For viewers, it is crucial to recognize which channels post inappropriate content and then report such channels.
You must take the charge in such a scenario. You might think that someone else will report it or what if I get in trouble for reporting?
But we can assure you that you will not get in any trouble for reporting and would rather be helping YouTube stay in sync with its community guidelines.
YouTube takes hateful and inappropriate content rather seriously. YouTube removed 100,000 videos and 17,000 channels because they were deemed hateful as per the content policy changes made in June of 2019.
In yet another incident, Steven Crowder, a conservative Pundit, used homophobic language against Vox personality Carlos Maza. YouTube took away all the advertising privileges from Crowder, but the channel stayed up because videos were not highly inappropriate.
So, now you know that reporting a channel hosting inappropriate content is a good practice.
The follow-up question is – How to do it easily?
Understanding YouTube Community Guidelines
Before you get on the channel reporting wagon, you must understand the YouTube Community Guidelines. YouTube has created these to keep the community safe and protected.
YouTube community guidelines and policy decides on what is permitted on YouTube and what is not.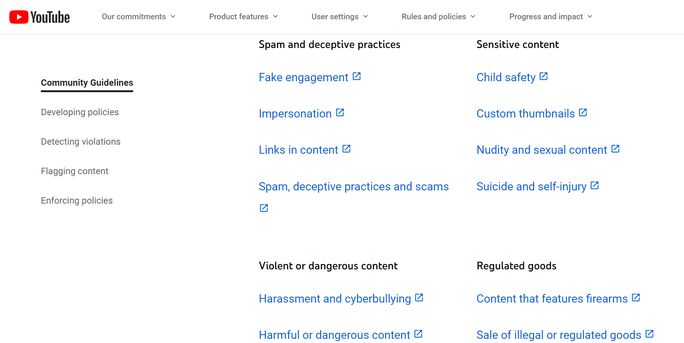 Let us take a quick look at what comprises the guidelines.
1. Guidelines for Spam and Deceptive Practices
YouTube identifies content that generates fake engagement, impersonation, links in content, and scams as content with spam and deceptive practices.
Fake Engagement
According to YouTube, any content that promotes or links to third-party services leading to metric inflation for views, likes, and subscribers is considered fake engagement.
Additionally, if a channel offers to subscribe to another channel only if their channel is subscribed also falls under fake engagement.
Impersonation
If you're wondering how to report a YouTube channel for stealing videos then this is it. If you see some content on YouTube that mimics content from other channels, then that counts under channel impersonation. This does not imply that the content should be 100% copied. This also includes any content that seems like it's posted by someone else.
Links in Content
In case you are posting content that contains an external link, it is considered spam by YouTube. This includes links to pornography, malware, phishing sites, etc.
Spam, Deceptive Practices, and Scam
You might come under YouTube's radar if you are posting spam content. This could include video spam consisting of fake redirections, getting clicks by promising money, misleading metadata like title or description, offering cast and pyramid schemes. These also include comment scams, incentivization scams, and even livestream abuse.
2. Guidelines for Sensitive Content
YouTube does not permit sensitive content; these include child safety, custom thumbnails, nudity, sexual content, suicide, and self-injury.
Child Safety
Any content that is harmful against minors is taken very seriously by YouTube. This might include content involving sexualization of minors, harassment in the form of emotional abuse, or dangerous tasks.
Custom Thumbnails
With custom thumbnails, we are referring to those that include pornographic content, acts of violence, gore and vulgarity. These thumbnails can also be misleading.
Nudity and Sexual Content
Any content consisting of visual depiction of body parts aimed at sexual gratification is considered to prompt nudity and falls under this category. These are not restricted to videos, and could include text, audio and images.
Suicide and Self Injury
Content expressing suicidal thoughts or engaging in physical self harm is a no go for YouTube. If anybody comes across such content, YouTube prompts them to reach out to emergency services and flag the video.
3. Guidelines for Violent Content
YouTube prompts you to flag any content that hosts harassment and cyberbullying, harmful or dangerous content, hate speech, violent criminal organizations, violent graphic content and Covid-19 misinfo.
Harassment and Cyberbullying
Content that has insults and racial slurs or content created with the intent of shaming and insulting a minor falls under harassment and cyberbullying.
Harmful or Dangerous Content
This involves content that asks you to do extremely dangerous challenges, dangerous pranks, includes instructions to inflict self-harm, glorification of eating disorders, and glorification of violent acts.
Hate Speech
Any type of hate speech is not acceptable on YouTube. These could be speeches promoting hatred and violence towards anyone based on their age, gender, caste, class, ethnicity, disability, race, religion, and sexual orientation, etc.
Violent Criminal Organizations
Content depicting acts of criminal organizations or content produced by such criminal organizations is not welcome on YouTube. This consists of any content that praises terror incidents or terrorists, justifies their actions, recruits members, and depicts hostage situations.
Violent or Graphic Content
Any content that prompts people to commit violent acts, or shows clips of violent acts, falls under this category. Videos that have beatings, brawls, and other acts of violence are a part of this.
Covid-19 Misinfo
Content that spreads misinformation about the Covid-19 pandemic is a part of this category. This includes treatment-related misinformation, prevention-related misinformation, diagnostic and transmission related misinformation, to name a few.
4. Regulated Goods
Under this, goods such as firearms and illegal goods are included.
Content Featuring Firearms
Content that tries to sell firearms or serves as a promotional video for firearms falls under this. Any instruction-based video prompting manufacturing of firearms is also a part of this.
Sale of Illegal and Regulated Goods
Content created to sell illegal, and regulated items such as alcohol, drugs, stolen credit cards, organs, explosives, endangered species etc. comprises this category.
5. Additional Policies
The additional policies for YouTube community guidelines are centred more around account activity than the nature of content. Major things included are channel removal upon 6 months account inactivity, posting content that was removed before, encouraging violation of terms of service etc.
How to Report a Channel Anonymously?
Clearly, YouTube takes inappropriate content seriously. The guidelines and policies are not to be taken lightly. So, what's your role here?
Not only is your job to adhere to the guidelines, it is also essential to report something that fails to comply with them.
If you fear your name or other details getting revealed in the process then we would like to tell you that reporting on YouTube is always anonymous.
Without any further delay, let us now try to understand the stepwise process of reporting a channel.
Reporting a Channel on Mobile Phones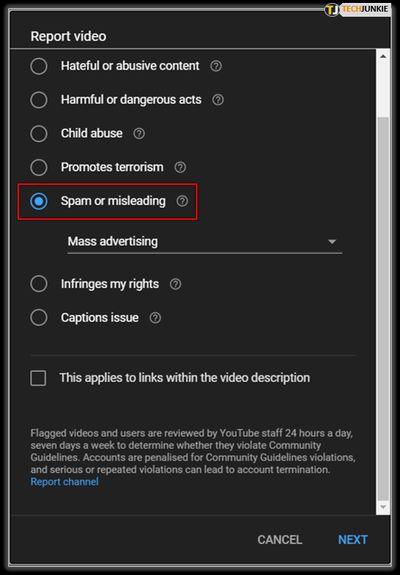 Generally, any reported content is taken down automatically if found in violation of the community guidelines.
Want to know how to report a YouTube channel on mobile? Well, the act of reporting a channel on a mobile phone is not an option, but you can still report a video, playlist, thumbnail, comment, live chat message, and more using your phone.
The basic guidelines for these are to head over to the three dots on the content you wish to report and press the "Report" button.
Reporting a Channel on PC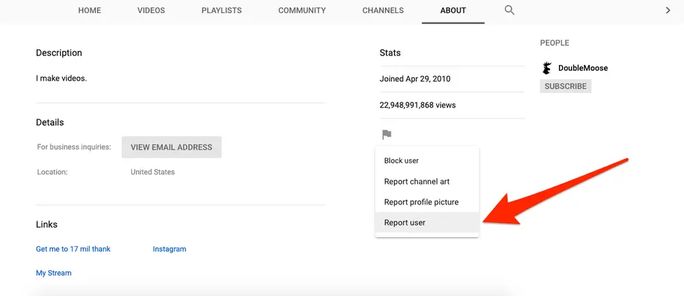 To report a channel on your PC, you just have to follow these easy steps:
Go to the YouTube official website by searching for YouTube in the search box.
Sign in to your YouTube account.
Go to the page of the channel you wish to report.
Click the "About" of the channel.
Click on the "Report". There would be a flag next to the report button.
Out of all the options that pop up, select the one that defines the problem you faced with the channel.
While we prompt you to report anything that is deemed inappropriate, we also recommend that you do not report a channel unnecessarily.
What are the other Reporting Options?
Along with reporting a channel, there are many other options available for reporting. Since you may find a particular element offensive or inappropriate and not the whole channel, you can simply report that element.
Below are some of the options, and general guidelines for them:
Reporting a Video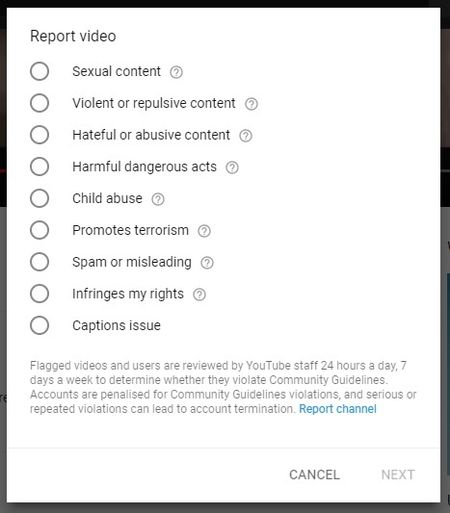 For any videos reported, YouTube has a team reviewing these videos at all times. You can report a YouTube video at any point in the day. Once reported, the video is reviewed. If the review team finds no violation, the video is not taken off.
To report a particular video, click on the three dots below the video player and press more. When a drop-down menu appears, click on report. Tell the reasons for reporting and submit.
Reporting a Playlist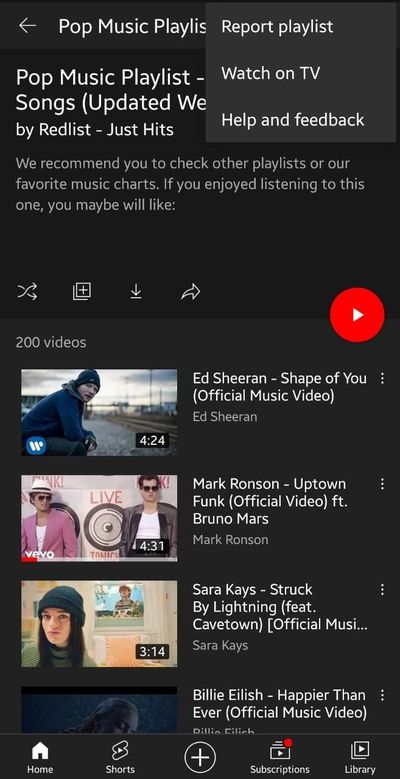 For any playlist on YouTube, if you find the content violates the Community Guidelines, make sure that you report it.
For the same, sign in to your YouTube account, go to the playlist page, and click on the three dots over the side of the title of the playlist. Click on the report button and press submit.
Reporting a Thumbnail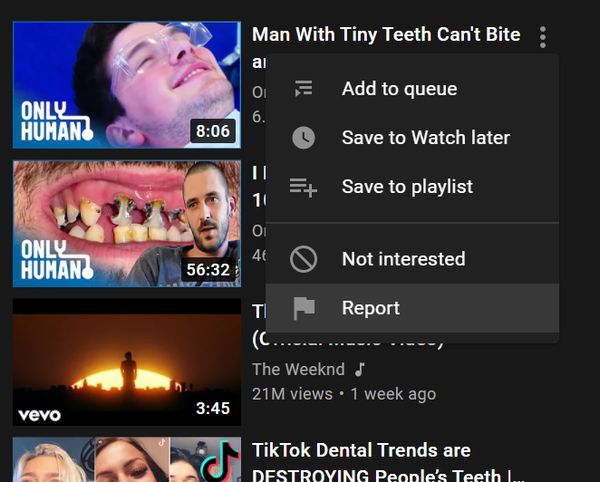 So, now you have come across a thumbnail that needs reporting. To report it, head over to the thumbnail you wish to report, click "More", and then "Report". Give the reason for reporting and submit.
Reporting a Comment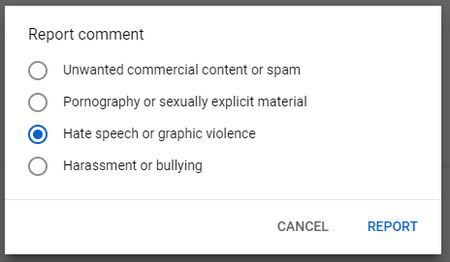 If a comment on a video seems to be out of your acceptable range, you must report it by going to the comment you wish to report, clicking on "More". Click on report spam or abuse and give your reason for reporting.
Reporting a Live Chat Message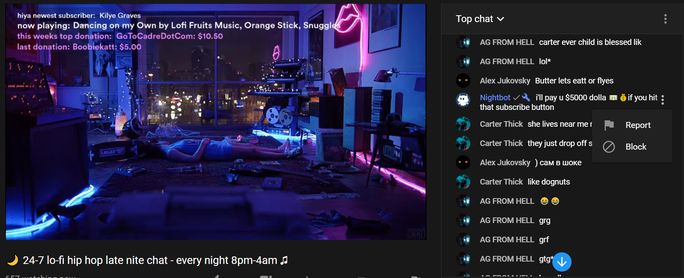 While it may seem that leaving inappropriate messages on a live stream chat will not have much repercussions, the same is not exactly true. To report a live chat message, go to the message you wish to report, click on more and tell your reason for reporting.
An Insight into YouTube Trusted Flagger Program
YouTube developed a YouTube Trusted Flagger program to endow trusted individuals and organizations with tools to help identify violation of community guidelines easily.
Usually a bulk flagging option is offered that aids in reporting various videos at once. This program also enables the trusted individual or organization to have complete visibility into the decisions.
Generally, government agencies are a part of this program. And all the flags made by them are prioritized over the other ones.
Non-government organizations also have the option of becoming a trusted flagger and for them YouTube runs occasional online training.
What is Included in it?
To be a trusted flagger you must exhibit some passion for YouTube in terms of keeping it a protected platform. The first step in the process is to join the program by consistently flagging the content that seems to be in violation of the said community guidelines.
The right candidate for the trusted flagger program must have some expertise in any of the categories in YouTube Community Guidelines. Their content flagging should also be legitimate. This implies that the content reported by you should actually turn out to be in violation of the guidelines.
YouTube also reserves the right to remove a participant who does not exhibit sufficient engagement in the program.
If you wish to be a trusted flagger, you must provide YouTube with your email or the point of contact's email.
And once you are in the program, everything you do falls under NDA.
Who is Eligible for it?
Before you decide on becoming a trusted flagger for YouTube, take a look at your eligibility for the same.
Generally, YouTube considers any individual users, government agencies and NGOs eligible for the program but the best candidates are those who have some expertise in any of the categories mentioned in the YouTube Community Guidelines.
YouTube always prioritizes candidates who show accuracy in past reporting. As a potential candidate, you should also be open for discussion and feedback received from YouTube.
Lastly…
With a whopping 1.9 billion users, YouTube is one of the biggest social media platforms out there. Keeping it clean should be our job.
While you also have the option of becoming a trusted flagger, simply reporting anything that seems out of line is also welcome.
Just remember, children also use YouTube. Safeguarding them from bad content is our priority.
Social media when used responsibly is a great medium for bringing the world together. Along with posting valuable and worthy content it is equally important to know when to post.
But fret not as you have SocialPilot to your rescue which can aid you in posting on time and analyzing your post's performance too. Not just this you can also use it for curation when you run out of ideas for posts. Wait no more! Go for its free trial to know for yourself.