Nearly five billion people, or 60% of the global population, use the internet to learn about or shop for the products/services they need.
To appeal to this population, you must proactively generate online traffic to your business website and social media accounts. There are two main ways of generating online traffic: Paid or organic advertising.
The jury may still be out on the organic vs. paid advertising debate. However, everyone in the marketing circles acknowledges that both approaches are essential for a well-rounded, holistic digital marketing strategy.
Paid advertising promotes your brand to a targeted audience, while organic advertising nurtures a lasting connection with the audience.
Let's look at a more in-depth comparison of the two marketing approaches.
Understanding Organic Vs. Paid Advertising
To fully comprehend the ongoing debate surrounding the effectiveness of organic vs. paid advertising, it is crucial to understand both digital marketing strategies comprehensively.
What Is Organic Advertising?
Organic advertising is a digital marketing strategy that brands use to raise brand awareness, build relationships, and generate online traffic. It helps them generate new leads naturally without relying on paid advertisements or other forms of direct promotion.
Organic advertising encompasses all free online marketing tools & methods that entice online users to notice and interact with your brand naturally.
Some of these include:
Blog posts on your website
User-generated content (e.g., reviews and testimonials)
Guest posts on high-authority websites
Backlinks
Search engine optimization (SEO)
Social media optimization (SMO)
Unpaid social media posts
YouTube videos
The key to effective organic advertising is providing online users with entertaining, reliable, informative, and valuable content.
Is organic advertising entirely free? No, it isn't.
Organic advertising may not require a direct monetary investment. But it still requires significant resources and effort to create content, engage with audiences, and drive traffic to a website or social media profile.
For instance, creating high-quality content and optimizing it for search engines can be time-consuming and requires a certain level of expertise. Similarly, engaging with social media followers and building relationships with influencers requires significant effort and investment in building an online presence.
We only say it's free because you don't pay any social media platform or search engine to promote your digital marketing material actively.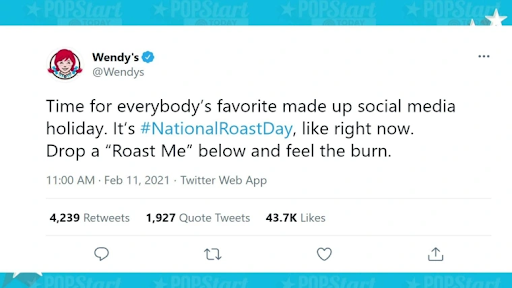 Above is an excellent example of fast-food chain giant "Wendy's" doing organic advertising. They constantly "roast" brands, celebrities, and even regular users on their Twitter. This fun and quirky banter attracts much attention and interaction from people and businesses alike.
Benefits of Organic Marketing
Better at Building Customer Loyalty
By providing helpful and informative content, businesses can establish themselves as thought leaders in their industry and build trust and credibility with potential customers.
Long-Lasting Results
Organic marketing can take longer to produce results than paid advertising. Still, it can have a longer-lasting impact since the content remains visible and can continue attracting new leads over time.
Customer Retention
Businesses can foster customer loyalty and retention by engaging with existing customers through organic marketing channels such as social media or email.
Cost-Effective
Organic marketing is often more cost-effective than paid advertising since it relies on creating valuable content and building relationships with potential customers rather than purchasing ad space.
What Is Paid Advertising?
Paid advertising is when marketers pay social media platforms and search engines to promote their content and ads. Their ads are displayed at the top of search results to make them more visible to internet users.
The most common example of paid advertising is PPC (pay-per-click) advertising, where marketers pay for each click their ad gets.
Other examples of paid advertising include:
Google ads
Paid social media ads
Remarketing ads
Why is paid advertising necessary? More visibility, exposure, and a wider reach.
Paid advertising improves your digital marketing results by targeting internet users who are genuinely interested in what you sell. With more and more brands in your niche turning to digital marketing, targeting people interested in seeing your ad helps you stand out from the crowd.
In 2021, businesses worldwide spent more than 181 billion U.S. dollars in paid social media advertising and almost 210 billion U.S. dollars on Google ads. These figures are projected to rise to 357 billion U.S. dollars by 2026. You can already tell from these figures how much trust marketers have in paid advertising.
Let's explore some of the popular paid advertising channels.
1. Google Ads
Google accounts for over 84% of all internet searches worldwide, making it the most powerful marketing tool ever.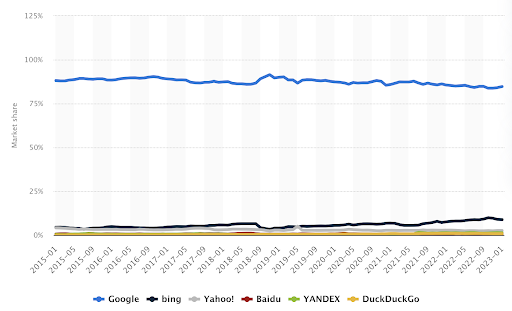 When you display an ad on Google, the search engine shows it to everyone who searches the keywords you have optimized in the ad. According to Hubspot's 2021 State of Marketing report, a well-timed Google display ad gets clicks from 63% of Google users who search for related keywords.
Below is an example of a Google ad for the keyword "free website builder":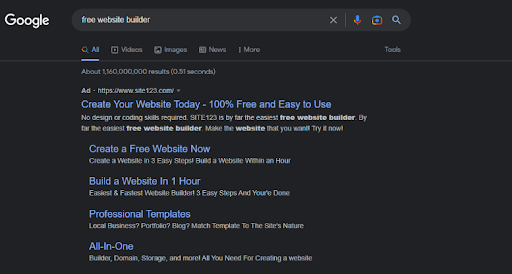 2. Paid Social Media Ads
Social media algorithms are designed to prioritize content posted by friends, family, and people within a user's social circle. As a result, marketing messages may not receive the same level of visibility as personal content.
Paid social ads can help overcome this problem by leveraging data insights to determine what your target audience wants to see and then displaying it to them. This can increase the visibility of marketing messages and help reach a wider audience.
Example of a social media ad: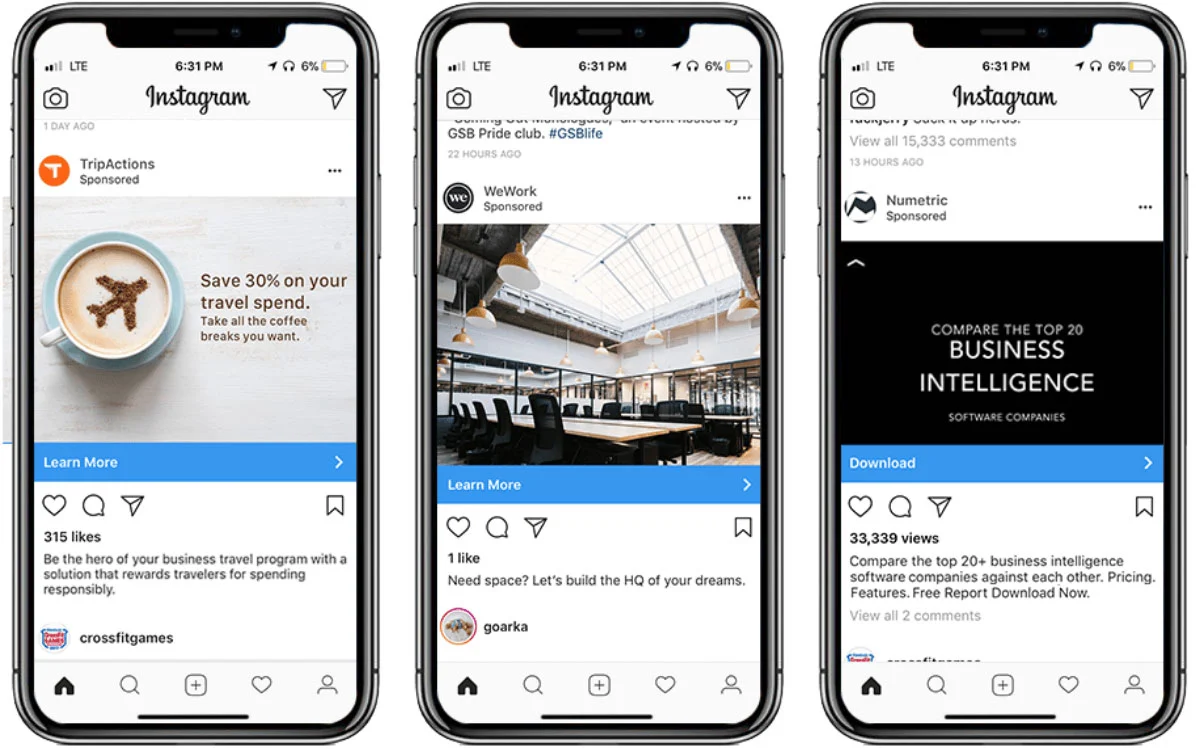 3. Retargeting Ads
Retargeted ads allow you to take a second crack at appealing to your past web visitors. Past visitors are high-quality targets. They visited your website because they were/are interested in what you sell, after all.
Retargeted ads pop up on their screens as they watch YouTube videos or browse the internet, enticing them to come back for more.
Why should you use retargeting ads?
Of all the first-time online guests your website gets in a specified period, only about 2% of them convert. That's a 98% leftover to chase after and try to get a second chance with them.
The main reason why 98% of first-time visitors don't convert is that they want to browse several websites before making their purchase decision. Retargeting ads encourage them to have a second look at your brand.
A retargeted ad's click-through rate (CTR) is approximately 0.7%. Compared to the CTR of a regular display ad (which is 0.07%), you can see how impactful retargeting ads can be.
Benefits of Paid Advertising
Amplifying Your Reach
Paid ads always appear in users' feeds, unlike organic content sometimes gets lost in the social media noise.
Faster Results
Unlike organic advertising, which can take time to build momentum, paid advertising can deliver faster results by immediately increasing visibility and driving traffic to a website.
Measurable Results
With paid advertising, businesses can track metrics such as impressions, clicks, conversions, and return on ad spend (ROAS). This can help businesses optimize their campaigns and measure the effectiveness of their advertising efforts.
Flexibility
Paid advertising offers businesses the flexibility to adjust their ad campaigns in real time based on performance data and changes in the market or business goals.
Organic vs. Paid Advertising: Which One to Use When?
The decision to choose organic or paid advertising for your clients depends on various factors such as their business goals, target audience, budget, and resources.
Organic advertising can build relationships and increase brand awareness, while paid advertising can generate leads and drive immediate sales.
Both strategies have their benefits and limitations, and a combination of both can be the most effective approach to maximize results and optimize the ROI of advertising efforts.
Now that we understand both digital marketing approaches, when would you need to utilize one over the other? Also, when should you leverage both for an effective integrated marketing campaign?
When Should You Use Paid Advertising?
Paid advertising is your best bet when you want fast results. In other words, when you want to…
Promote brand awareness and keep up with the competition. Paid ads will get your brand noticed faster by potential customers than organic marketing.
Promote your website. Paid ads give you a shortcut to the top of Google ranking.
Target a specific audience. Organic advertising is a wide net that, over time, catches both high-intent clients and curious onlookers who will never convert. Paid ads target internet users who have already shown an interest in what you sell, making them more likely to convert.
Nike is a perfect example of how you can leverage paid ads to promote brand awareness and target a specific, high-intent audience.
In 2018, the company collaborated with Facebook and Snaps, an AI Platform, to market the Air Jordan brand on Facebook messenger. The campaign saw Nike deliver Air Jordan blog content directly to Nike aficionados on Facebook. That campaign grew the brand's awareness from less than 20% to over 87%.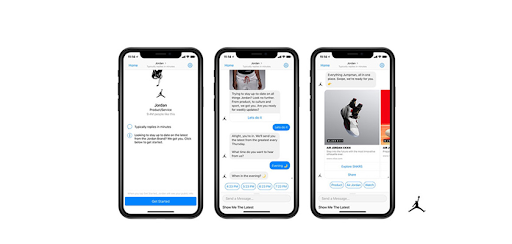 Likewise, Amazon also rose to the top through buying Ads on Google.
In 2011, Amazon bought more ads on Google than any other company, spending more than 55.2 million USD on Google advertising. The company still uses Google ads to stay at the top of the global e-commerce market.
When Should You Use Organic Advertising?
Organic advertising is your best bet when you want to…
Attract online traffic to your website and/or social media pages on a tight budget.
Gradually and consistently build a lasting connection with an audience, with the hope of the audience converting to paid customers someday.
Create a community of loyal customers by creating entertaining, educative, and shareable social media content regularly and consistently.
Create an online audience that you can later retarget with paid ads.
A good example of organic marketing is the #wayfairathome hashtag on Instagram.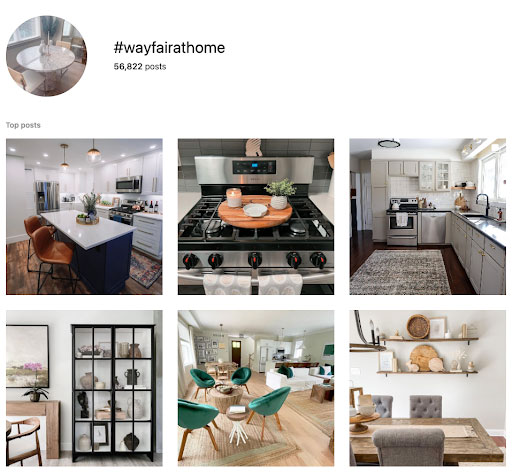 Wayfair, an online furniture store, leverages user-generated content to drive its digital marketing campaigns. The hashtag encourages customers to show off their classy homes after they buy new furniture from Wayfair.
Another notable example is O'Reilly Media's use of guest posting to gain more exposure. The brand's government correspondent, Alexander Howard, is a regular guest author for high-authority sites such as the Huffington Post. His guest posts give not only O'Reilly Media more exposure and authenticity in the global tech space.
When to Use Both Organic and Paid Advertising?
Honestly, as much as you can!
Successful marketers recognize the importance of leveraging both approaches to increase reach, generate leads, and drive conversions.
Integrating paid ads with organic content can be accomplished by sponsoring or promoting your best-performing social media posts using pay-per-click (PPC) advertising. By investing in ads for posts that have already been shown to bring in high-quality customers, you can expect even more conversions and revenue.
This approach helps to optimize the ROI of both organic and paid advertising efforts, allowing businesses to maximize the impact of their marketing campaigns.
SocialPilot is an excellent social media management tool that can help you with both organic and paid advertising. It is a robust ad management platform that enables businesses to create, manage, and optimize social media ad campaigns
Features like audience targeting, ad creation tools, and detailed reporting make it easy for businesses to launch successful ad campaigns and track their results.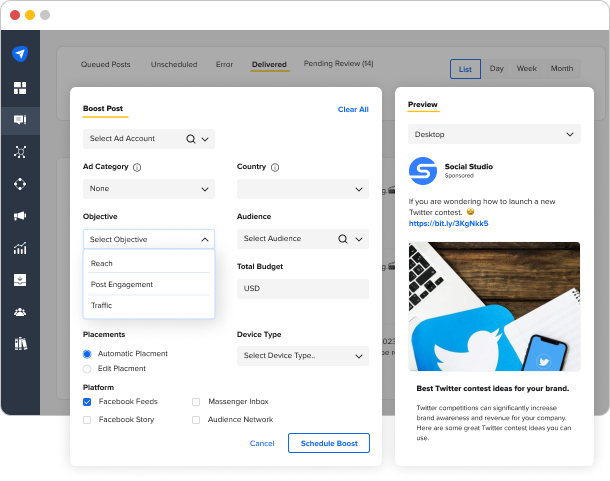 Conclusion
The decision to use organic or paid advertising for your clients ultimately depends on their goals, budget, and target audience.
Both approaches have their strengths and limitations, and a combination of both can be the most effective way to maximize results.
The key is to understand each approach's unique advantages and use them complementary to achieve your specific goals.