If you want to outdo your competitors, there's only one assuring way. And that's grabbing most opportunities to make your audience realize why you are the best fit for them.
To do that, you need to make a scroll-stopping online presence on most digital forefronts. Sounds easy? It isn't!
Well, the right online marketing for small businesses will require tools to help you nail your goals. They can boost the effectiveness of your marketing team. From foundational tools to more specialized ones, they can really help you execute your strategy on time, so you zoom past your competitors.
In this blog, we have covered top online marketing tools for small businesses in different categories that can help maximize your team's productivity in multiple aspects. Ready to explore them all?
Let's begin!
Best Online Marketing Tools For Every Marketer
---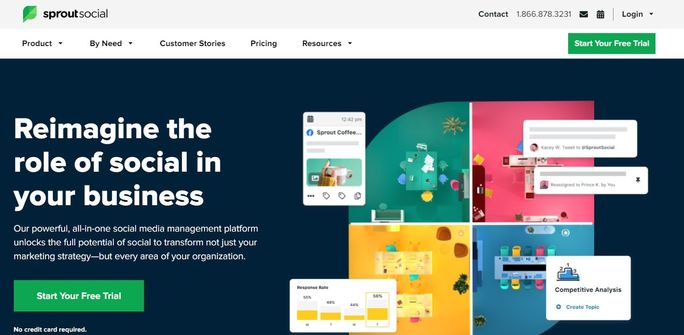 SproutSocial helps you understand and reach your audience, measure performance, and manage your social media platforms. It caters to businesses of all sizes by automating scheduling content and managing approvals for publishing. It enables team members to collaborate on various tasks and monitor multiple platforms' performance.
You can try out SproutSocial for free for 30 days or choose the SproutSocial Professional plan for $169/month. Unfortunately, SproutSocial allows you to manage only 10 social profiles.
Check out the detailed comparison of SocialPilot as an effective alternative to Sprout Social.
Collaboration Tools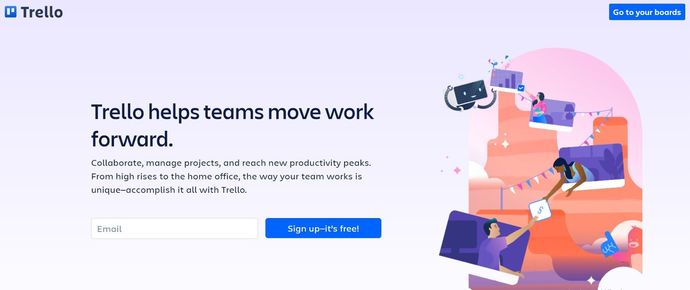 Trello provides you with boards, lists, and cards for organizing tasks, projects, notes, or anything that allows your team to work more collaboratively. It is a great tool to replace your team's chats and emails for task-based communication.
Trello enables you to keep all your communication and required information in a single location. You can use Trello for workflow approval, manage your schedules, and monitor your marketing campaign.
It offers three plans for teams and agencies: Free, Business class ($12.50/month) and Enterprise ($17.50/month for 25 users).
---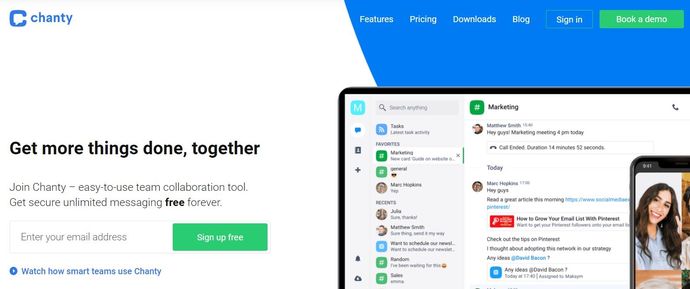 Chanty is a simple and intuitive AI-powered team chat tool that allows teams to communicate and collaborate from just one platform. The tool has a feature called Teambook that organizes your tasks, files, conversations, and links into folders.
It offers unlimited searchable message history and allows you to create tasks or turn messages into tasks. However, it does not have custom integrations just yet.
Chanty offers a free plan for teams of up to 10 members. For teams with 10+ members, the pricing plans start at $4 per user every month.
---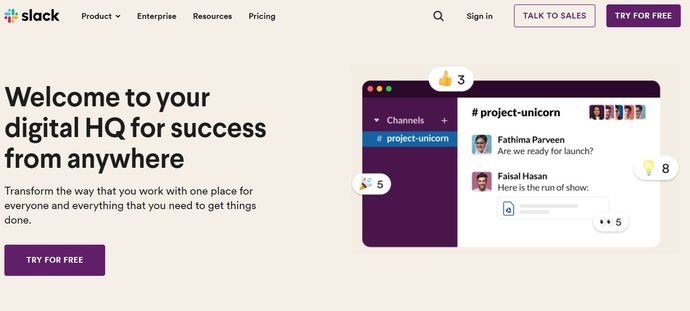 Slack is a well-known tool for team communication and collaboration. A leader in the world of team collaboration tools, Slack simplifies teams' work and boosts their productivity.
It enables file sharing, instant messaging, powerful search, audio/video calls, and multiple integrations. It also allows you to keep everything in one place for easy accessibility.
The Standard plan charges $8 per user per month, while the Plus plan charges $15 per user per month.
---
$14.99
For 9 licensed accounts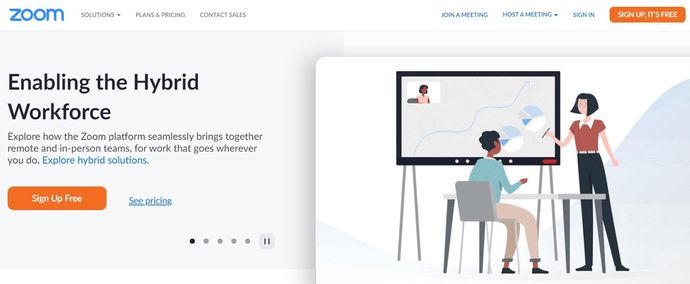 Zoom is designed to help teams to communicate and collaborate effectively to achieve results. This powerful collaboration tool is most popular for its video conferencing, but it also integrates virtual meetings, group messaging, screen sharing, whiteboarding, and more in a single cloud-based platform. You can also annotate or co-annotate files.
Zoom offers different plans for teams and agencies: Pro ($14.99/month), Business ($19.99), and Enterprise ($19.99).
---

G Suite is a communication and collaboration tool that enables teams to work together and increase productivity. It integrates a complete set of applications for emailing, calendaring, instant messaging, spreadsheets, documents, video sharing, presentations, websites, and more. The suite helps you to connect with colleagues, access files, and manage everything from a centralized console.
G Suite offers 3 plans for teams: Basic ($6), Business ($12) and Enterprise ($18).
---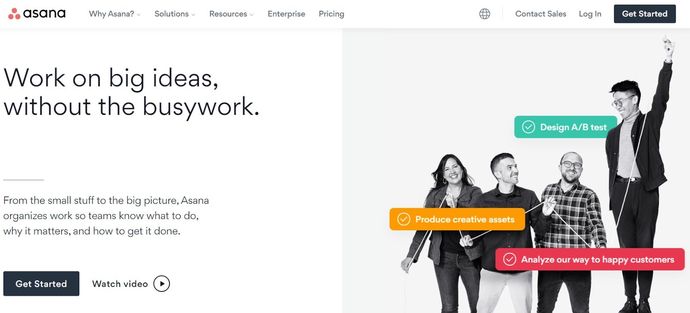 Asana is one of the best project and task management tools. It enables businesses and agencies to manage and organize projects and tasks, communicate in real-time, track progress, and collaborate.
It helps teams to handle multiple projects concurrently. Its main features include task management, automatic notifications, collaboration tools, reporting, dashboards, and document management.
Asana can be integrated with different applications such as Google Drive, DropBox, and Slack. It is free for teams of up to 15 members. Above that, the Premium plan charges $13.49 per user per month, and the Business plan is priced at $30.49 per user per month.
---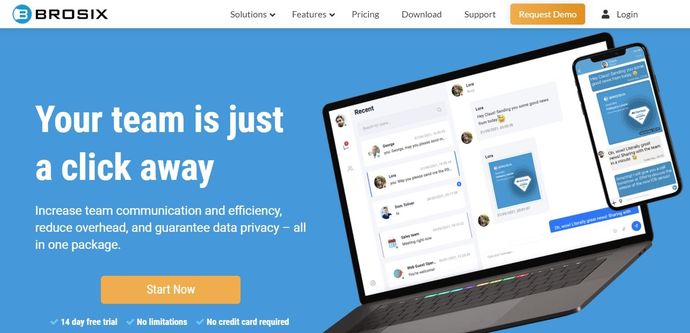 Brosix is a secure team communication solution that provides you with a fully administrable private team network. Team networks come with a wide range of communication and collaboration features, allowing you to streamline your team's communication in one location.
Brosix's security standards, including end-to-end data encryption, make it a great choice if you're looking to boost your team's cybersecurity protections.
Brosix has two paid plans per user for businesses and organizations: Business ($5/month) and Premium ($8/month).
Analytics Tools
HubSpot helps you determine what works the best in your marketing strategy with its insights on the entire funnel. You can track the lifecycle of any visitor and study their behaviour with the help of HubSpot analytics.
You can measure your website traffic as a whole or get page by page analytics. You can even generate and compare key metrics like sessions and conversion rates. Get detailed reports of your website, landing pages, emails, blog posts, social media accounts, calls-to-action, and more.
HubSpot offers 3 different plans: Starter, Professional, Enterprise, starting at $50, $890, $3200 respectively.
---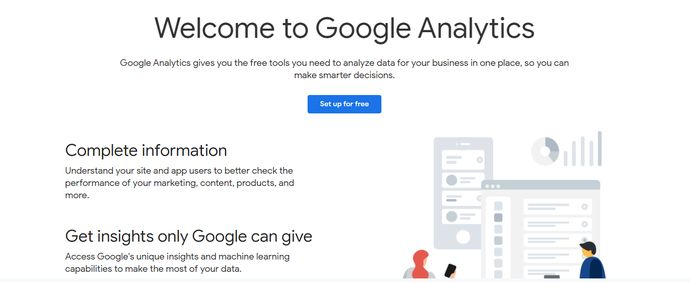 Google Analytics is one of the must-use tools of all digital marketing tools. It is a free web analytics service offered by Google. It provides you with an in-depth analysis of your website activity based on the person's visit (Sessions), individual page, and event (clicks, video views, etc.).
It provides various sharable reports related to the audience, advert, website behaviour, conversion and more. You can connect Google Analytics easily with other tools. The best part is you can track any results of any campaign with UTM.
---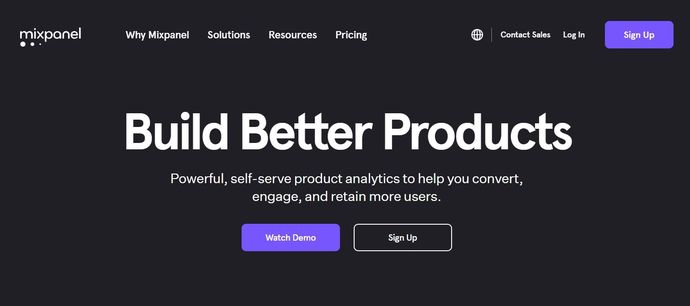 Mixpanel empowers your company with its out-of-the-box reports. It helps you to understand user behaviour, so you plan and advance your product/service accordingly. Mixpanel takes behaviour analytics a step further with predictive behavioural stats based on data science.
Target users that boost your KPIs, run A/B tests, and track its impact to get the most out of your audience. Its simple interface makes sure that everyone in your organization understands it.
Mixpanel offers 3 plans: Starter, Growth, and Enterprise, with Starter being a free plan.
---
$25
Per 100,000 unique users
Finteza takes care of the data cycle as a whole, from collecting your data and processing it to providing instant data mapping through charts and reports. You can segment and analyze your audience into 15 basic parameters: age, location, UTM parameters, events, page address, and more.
Furthermore, it also helps you detect bad traffic such as scammers, spammers, and hackers. Its advertisement management space makes it easy to manage and sell ad spaces within the service itself.
Finteza charges for its services based on unique users per month: $25 for website application analytics and $4 for multipurpose advertising for 100000 unique users.
---

Mouseflow is the most comprehensive behaviour analytics platform in the market. It is designed with digital marketers, product, and UX professionals in mind. Its heatmaps suite and session recording features are engineered to identify users experiencing difficulty on your website quickly.
Mouseflow is free to use and offers 4 different plans depending on your website traffic: Starter ($24), Growth ($79), Business ($159), Pro ($299) and Enterprise custom plans.
The rat race continues as more businesses dominate online platforms for their marketing ventures. But you still stand a fair chance to outnumber your competitors. Make sure to select tools by keeping these three factors in mind: scalability, user-friendliness, and value for money.
The online marketing tools for small businesses listed above will keep your team effort in check, increase efficiency, and save time with high ROI. Wait no more, and start exploring!