Did you know there were 4.59 billion social media users worldwide in 2022? No wonder companies are looking at dedicated Social Media Managers to up their game!
If you're interested in the Social Media Manager job description in 2023, you'll play a crucial role in shaping the digital footprint of a business or organization.
As the social media landscape continues to evolve, your responsibilities will include creating and executing strategies that drive engagement, increase brand awareness, and, ultimately, generate revenue.
However, hiring a great Social Media Manager requires a first-rate job description.
This guide will show you how to write a Social Media Manager job description to attract the best candidate. But first, let's look at what the role entails.
Responsibilities of a Social Media Manager
A Social Media Manager is mainly responsible for a brand's social media presence. They may work as part of a marketing or social media team and specialize in certain areas, such as content creation or analytics, or work across many areas.
Below are some of the tasks a Social Media Manager performs.
Maintains Post Consistency
A Social Media Manager ensures your social media content一such as posts, videos, and comments一has a tone and style consistent with your brand's voice. They also create a posting schedule, so your audience knows when to expect your content. This consistency is a great way to create anticipation and build your brand.
Helps Brands Keep Up With Trends
Keeping track of the latest industry news and social media trends ensures your brand stays relevant and is an authority in its field. Social Media Managers use trending hashtags, post about current events, and more to do this.
Improves Customer Engagement Ratings
Social Media Managers check your brand's social pages daily and respond to customer comments. This shows people you're listening, which is a great way to boost customer engagement. You can also learn more about your intended audience.
Helps in Customer Support Strategy
Today, social media is often people's first interaction with your brand, so maintaining strong social media customer service is crucial. Social Media Managers have intimate knowledge of your brand, so they're well-equipped to reply to questions or resolve issues in a way that reflects positively on your company.
Helps Track and Measure Ongoing Campaigns
Another important role of a Social Media Manager is measuring the performance of social media campaigns. They do this by tracking your social media KPIs, such as likes, link clicks, reach, and follower count, and using these to optimize your campaigns.
For instance, if your comparison of VoIP phones in Canada campaign didn't get the engagement you hoped for, your Social Media Manager can use analytics to gauge what went wrong and improve future campaigns.
5 Tips to Write a Social Media Manager Job Description
A Social Media Manager job description should start by outlining the salary, job type (such as full-time or remote), benefits, and so on. After that, you should include a few sections to encourage high-quality candidates to apply.
1. Provide the Position Summary
The Position Summary should provide a brief overview of the role, including the primary responsibilities and qualifications required for the position and who they will be reporting to.
The Position Summary should be the first thing job seekers see when they read the job description, so it should be written in an attention-grabbing and compelling way. It should give candidates a clear idea of the job and why it's an exciting opportunity.
The summary should clearly state the main goals of the role, such as increasing brand awareness, driving engagement, and generating leads through social media platforms. It should also describe the size and scope of the social media accounts that the candidate will be managing, including the number of followers, engagement rates, and platforms.
Additionally, the Position Summary should highlight any unique aspects of the role that might make it particularly appealing, such as the opportunity to work with a dynamic team, collaborate with a specific brand or industry, or develop new social media strategies.
Look at the example below of a brief yet detailed summary of this position at a company.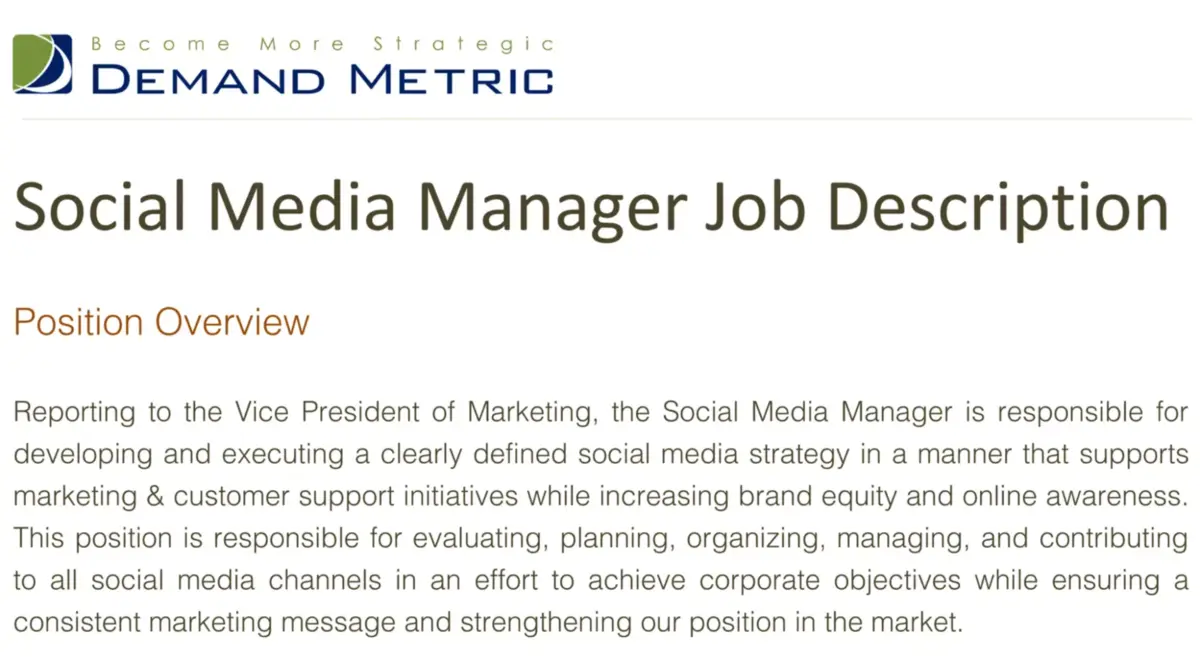 2. Include the Objective
The objective of hiring a Social Media Manager should clearly outline the company's specific goals and expectations for the role. This objective can help candidates understand the key responsibilities and deliverables associated with the position and what success in the role looks like.
For example, the objective is to expand the company's social media presence and reach. In that case, the Social Media Manager will need to develop and implement a strategy that targets new audiences and engages with existing followers in meaningful ways.
Suppose the objective is to generate leads through social media. In that case, the Social Media Manager will need to create campaigns and content that drive traffic to the company's website and convert followers into customers.
Including the objective in the job description can attract candidates who are excited about the specific goals and objectives of the role and who have the necessary skills and experience to help the company achieve those goals. This also helps ensure that candidates have a clear understanding of what they will be expected to achieve in the role, which can lead to a more productive and successful hiring process.
Other common objectives for hiring a Social Media Manager might include:
Improving social media engagement and increasing follower count
Creating and implementing effective social media campaigns to support overall marketing goals
Providing exceptional customer service through social media channels
Developing and executing strategies to increase website traffic and generate leads through social media
3. List the Responsibilities
Including a detailed set of the Social Media Manager's responsibilities in the job description is important for several reasons.
Firstly, it gives potential candidates a clear understanding of the role daily. This allows them to determine whether they have the necessary skills and experience to perform the role's duties and whether it fits their career aspirations well.
Additionally, including responsibilities in the job description helps to ensure that expectations are clearly set for the role. This can help avoid misunderstandings or conflicts down the line, as both the candidate and employer will clearly understand what is expected of the Social Media Manager.
Furthermore, listing the responsibilities of the role can help attract candidates with the necessary skills and experience to excel in the position. The other benefit is that it attracts qualified candidates with relevant experience. This ends up saving time and resources in the hiring process.
Look at the very detailed set of responsibilities listed in this example of a Social Media Manager job description below.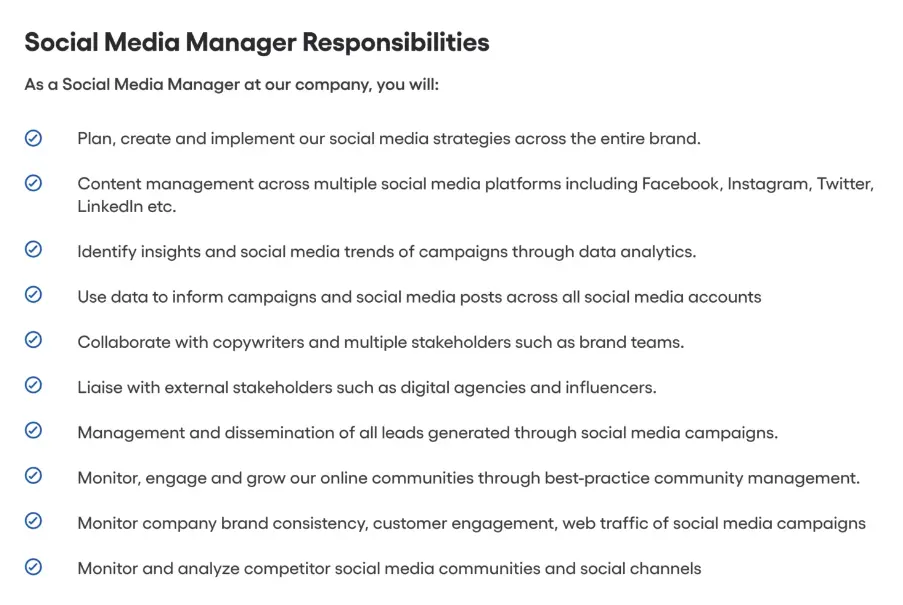 4. Enumerate the Skills and Qualifications
Including the skills and qualifications you seek in a Social Media Manager helps ensure that potential candidates have the necessary knowledge and expertise to excel in the position. By clearly listing them, you can attract candidates with the knowledge and experience needed to perform the job effectively. This can also narrow down the pool of applicants and save time in the hiring process.
Additionally, listing the required skills and qualifications helps set expectations for the role and ensure that both the employer and candidate clearly understand what is expected. This can lead to a more successful and productive working relationship.
Competent Social Media Manager should possess the following:
Experience as a social media specialist, social media manager, or similar
Strong communication skills
In-depth knowledge of the latest social media trends and best practices
Ability to multitask and time-manage effectively
Good understanding of SEO and social media KPIs
Experience using tools like Facebook Business, Facebook Lead Ads, and Canva
Excellent critical thinking and problem-solving skills
Ability to work in a team or independently
If your potential Social Media Manager has to oversee a team, they should also have excellent leadership and interpersonal skills.
5. Include Preferred Qualifications or Nice-To-Haves
In addition to outlining the required skills and qualifications for the Social Media Manager position, it can also be beneficial to include preferred qualifications or "nice-to-haves" in the job description.
Preferred qualifications are not necessarily required for the role but would be considered a bonus if a candidate possesses them. These qualifications can help to narrow down the pool of applicants further and may be used as tiebreakers between similarly qualified candidates.
Including preferred qualifications can also help signal to potential candidates what skills and experience are highly valued within the organization. This can help attract candidates looking for opportunities to grow and develop their skills in particular areas.
Some examples of preferred qualifications for a Social Media Manager might include:
Experience with paid social media advertising platforms, such as Facebook Ads or Google Ads
Familiarity with social media management tools, such as SocialPilot
Knowledge of search engine optimization (SEO) and how it relates to social media marketing
Graphic design skills and experience creating visual content for social media
Experience with video editing and production, particularly for social media platforms like Instagram and TikTok
Knowledge of analytics and data analysis, and experience using social media analytics tools like Google Analytics or Facebook Insights
Experience with community management, including responding to customer inquiries and engaging with followers
Proficiency in a second language, particularly if the company has an international presence or serves customers in multiple languages
You may specifically include knowing and using SocialPilot as a preferred qualification because it shows a candidate's proficiency with a specific tool that the company uses for social media management.
Furthermore, a social media management tool like SocialPilot offers a range of features that can help Social Media Managers streamline their workflow, including scheduling, publishing, and analytics. Familiarity with these features can enable Social Media Managers to create more effective campaigns and better analyze their performance.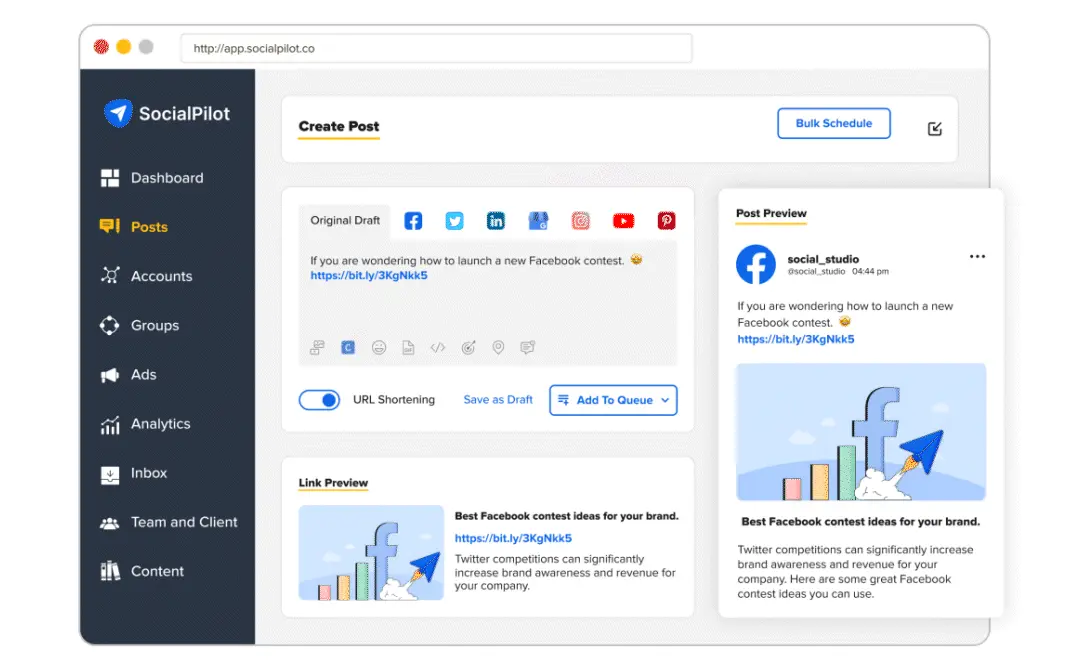 Which Departments Do Social Media Managers Work With?
Social media isn't a one (wo)man show! Specialists must work closely with other departments to reap the platform's benefits.
Marketing: The Marketing department is often responsible for developing overall brand strategies and campaigns. Social Media Managers work closely with this team to ensure that social media efforts align with those strategies.
Public Relations (PR): The PR department manages a company's public image and reputation. Social Media Managers work with this team to ensure that social media messaging is consistent with the company's PR strategy.
Customer Service: Social media has become an increasingly important channel for customer service. Social Media Managers often work with the Customer Service department to respond to inquiries and complaints on social media.
Sales: Social Media Managers may work with the Sales team to create social media campaigns that drive sales and revenue.
Creative: The Creative department produces visual content such as graphics, videos, and animations. Social Media Managers work with this team to create engaging and visually appealing social media content.
Social Media Manager Job Description Template Examples
To help you create your Social Media Manager job description, we've included the following template. Feel free to customize it or use it as inspiration.
About the Role
Example A
Here at [company name], we're looking for a Social Media Manager to grow and engage our social media audience across our [A] and [B] brands.
As Social Media Manager, you'll report to our Head of Marketing. You'll work closely with our [X] and [Y] departments to create a seamless customer experience on all our social media channels. At the moment, we're particularly keen to drive engagement on [platform 1], [platform 2], and [platform 3].
Example B
We are looking for a creative, passionate, and experienced Social Media Manager to join our social media team. Our company specializes in [A], so experience in this industry is a must.
As Social Media Manager, you will develop and implement our social media strategy to increase our online presence, improve our marketing efforts, and grow our audience across platforms. To achieve this, you will work closely with our [X], [Y], and [Z] teams.
Example C
Hi, we're [company name], and we're looking for a confident and experienced Social Media Manager to join our team. We have a passion for [A], and we want our content to reflect that. That's where you come in.
You'll work with our brand and social managers to deliver engaging, informative content that reflects our brand's unique voice. We're looking for someone creative and hard working who can manage content on multiple social media platforms. In return, we're offering [X], [Y], and [Z].
Duties and Responsibilities
Develop and manage a social media strategy
Track social media KPIs
Measure the success of each social media campaign and create reports for senior management
Create engaging, informative content in a variety of formats
Work with copywriters and designers to create engaging, informative content
Create and maintain a schedule for all social media content
Lead organic and paid social media campaigns
Optimize content in line with the latest SEO guidelines
Stay up-to-date with the latest industry trends and innovations
Attend social media conferences and networking events
Communicate with industry professionals and influencers to create a strong brand network
Respond to comments and social media posts in line with brand guidelines
Manage the social media team and provide guidance to junior members
Skills and Experience
At least [X] years of experience as a Social Media Manager (or similar)
Extensive knowledge of Facebook, Twitter, Instagram, Pinterest, LinkedIn, and so on
Excellent understanding of SEO
Sound knowledge of social media KPIs
Familiar with key tools like SocialPilot
Experience in web design and publishing
Excellent design and writing skills
Strong leadership and interpersonal skills
Good at multitasking
Ability to think critically and problem-solve
Excellent time-management skills
Strong presentation and communication skills
Team player
Preferred Qualifications
BSc in Marketing, Business Management, PR, Journalism or another related field
BSc in Graphic Design, Creative Writing, or another related field
A-Level or equivalent
Social media apprenticeship or internship
Conclusion
Creating a comprehensive Social Media Manager job description is essential for attracting top talent and ensuring that candidates have a clear understanding of the position's responsibilities and qualifications.
By following the tips outlined in this guide, companies can craft job descriptions that accurately reflect the role, showcase the company's culture and values, and attract candidates who are a strong fit for the position.
By creating a detailed and thoughtful job description, companies can set themselves up for success in their social media marketing efforts.