Are you looking for a career change?
Or do you want to start a side hustle?
Irrespective of your decision, working as a freelance social media manager is a lucrative career path if you want flexibility and autonomy.
As businesses seek to build their online presence and engage with their audience on various social media platforms, the demand for freelance social media manager jobs has skyrocketed.
According to the data from LinkedIn, the demand for marketers with social management skills has increased by 116.4%.
But becoming a successful freelance social media manager requires more than just a love for social media.
You must have a deep understanding of the platforms, the ability to create engaging content, and the skills to manage multiple accounts and campaigns.
This article will provide a step-by-step guide to becoming a successful freelance social media manager.
So, without further ado, let's dive into the nitty-gritty aspects.
Who Is a Freelance Social Media Manager?
The role of a freelance social media manager is to create, curate, and publish content that engages and grows the client's audience on various social media platforms, like Instagram, Facebook, Twitter, LinkedIn, and more.
Given the ever-evolving nature of social media and the abundance of users, social media managers are in great demand.
That's where freelance social media contractors have a great opportunity to build a successful career.
A professional freelance social media manager works independently and is hired on a project or contract basis to manage the social media presence of a client's business or organization.
As a freelance manager, you can work remotely. Also, you can work with multiple clients simultaneously to generate a steady income flow.
You must have a strong understanding of social media best practices, excellent communication skills, and the ability to work independently and manage your time effectively.
These factors can provide you with multiple advantages compared to working as a social media manager in a company.
What Are the Advantages of Going Freelance?
In a recent report, freelancers rated their job satisfaction 4.1 out of 5.
So, becoming a freelancer instead of doing social media manager job is a great career choice that is rewarding and enjoyable.
You can:
Set your schedule.
Choose who to work with.
Make a difference to companies globally.
That's not it.
You can set your freelance social media manager rates based on your experience, skillset, and your presence in the market. Look at a few stand-out benefits for better understanding.
Social media freelancing allows you to develop your skills and knowledge in different areas, from social media marketing to project management and client relations. You can also gain experience working with clients from different industries and backgrounds.
You can choose your clients, projects, and freelancers' working hours. You can work from anywhere if you meet your deadlines and deliver high-quality work.
You can specialize in a particular niche or industry and choose the projects that interest you.
You can showcase your social media capabilities on a global scale.
But with the upsides of working as a freelance social media manager, you can encounter multiple downsides. Have a look:
You may experience fluctuating income as a freelancer, which can be stressful. However, you can minimize these fluctuations over time with consistent marketing efforts and building strong client relationships.
Finding new clients can take time and effort, especially in the beginning stages of your freelance career. But with persistence and networking, you can establish a solid client base.
Also, juggling multiple projects and deadlines can sometimes be overwhelming. You must acquire strong project management skills and be committed to meeting deadlines to manage multiple projects successfully.
Despite these potential downsides, many freelancers have succeeded in the social media management industry. Consistency, self-confidence, and dedication make it possible to build a successful career as a freelance social media manager.
Who Can Become a Freelance Social Media Manager?
Anyone with the right skills, knowledge, and experience can become a freelance social media manager. Although you must be tech-savvy with a strong understanding of social media platforms, best practices, and trends, it goes deeper than that.
Becoming a successful social media manager requires you to be adaptable and innovative because the landscape is constantly changing in the industry.
A pinch of creativity with the ability to communicate and collaborate ideas can be essential skills in a successful freelance social media manager. Also, freelancers need a thick skin and specific skills that aren't important for their employed counterparts, like persistence, self-motivation, and self-confidence.
That's not it.
Let's understand the specific skills required in a freelance social media manager.
Skills That Freelance Social Media Managers Should Have
If you want to become a successful freelance social media manager, you need a combination of professional skills that are critical but deeply intertwined with one another.
Have a look:
1. Creativity
As the social media space is becoming crowded, businesses want their social media managers to give them a cutting edge in the competitive environment.
To help your clients get the target audience's attention, develop creative campaign ideas that help them stand out.
You must be able to take something ordinary and turn it into something extraordinary.
Well-honed creative skills can give you the discerning eye to visualize what others cannot create or see.
It can help you deliver the best results for the clientele and build your strong presence in the industry as an expert marketer.
Check out how KFC UK creatively managed its 'Ain't No Small Fry' social media campaign. The brand promoted criticism of its old chips and shifted the attention to its new and improved chip recipe. The promoted awareness of the new fries was around 62%, which was above KFC's original target of 50%.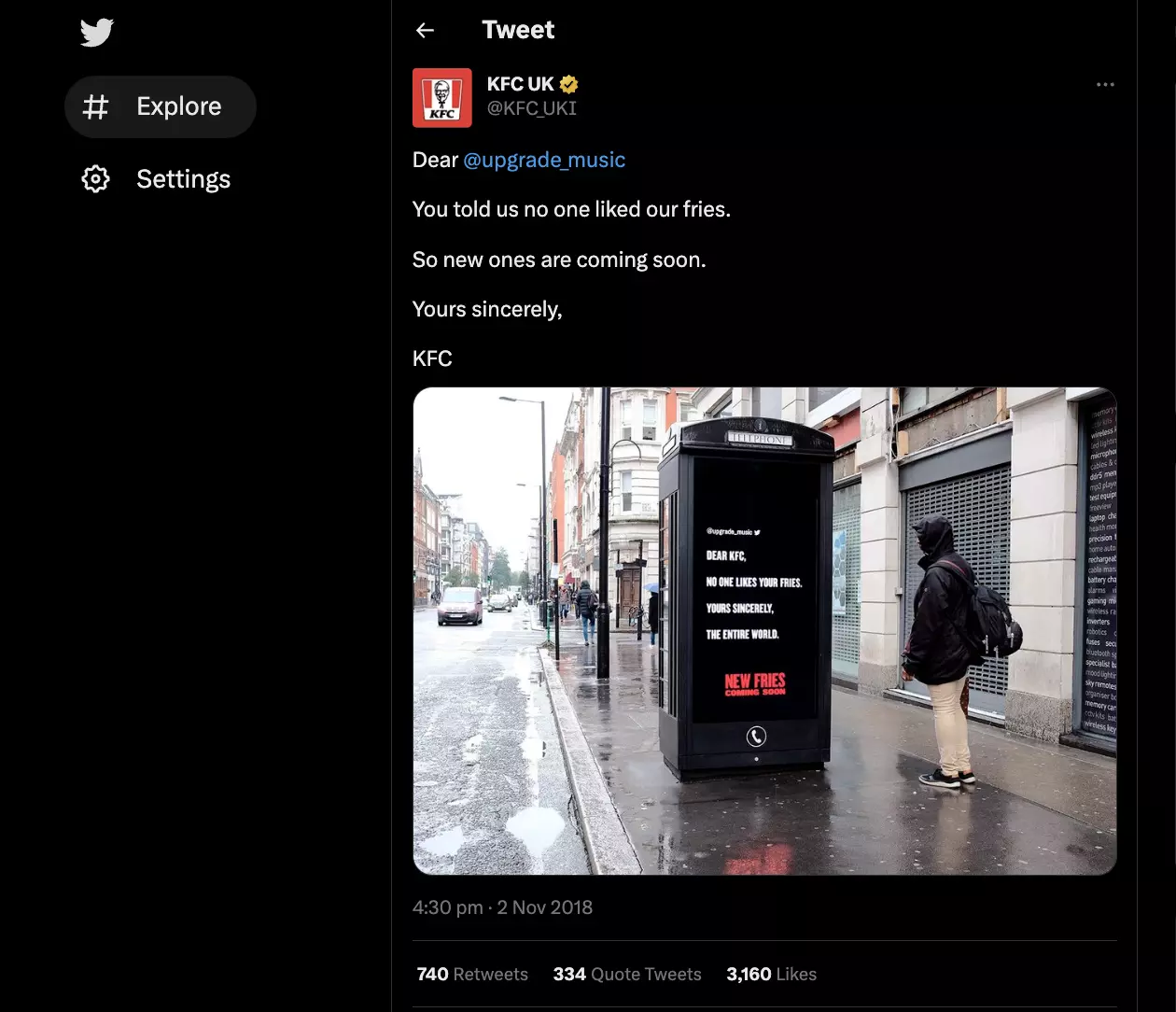 2. Copywriting
The art of making a reader take a specific action while going through your social media posts is the most lethal skill set to stand out.
Well-honed, action-driven copywriting skills can captivate and motivate readers to take a particular action.
Not only that,
As a professional social media manager, you must create powerful content that resonates with the audience and syncs with the client's brand messaging.
Here's how brands like Emirates used copywriting in their crisp yet comprehensive Instagram post caption to deliver the message within 50 words.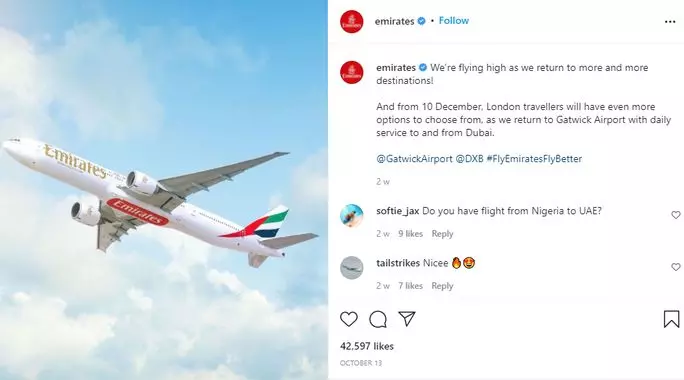 3. Handling brand interactions
Once you manage the social media handles of your clients, you'll receive multiple brand interaction requests from their target audience.
From DMs to reviews and comments, a professional social media manager has to handle every request with finesse. Although it can be time-consuming, it's part of the overall process.
You require a vast range of skills like:
Communication
Active listening
Transparency
Research
Empathy
Qualitative analysis
Here's an example of how Starbucks handles its social customer support, which helps the brand have a strong connection online with its audience.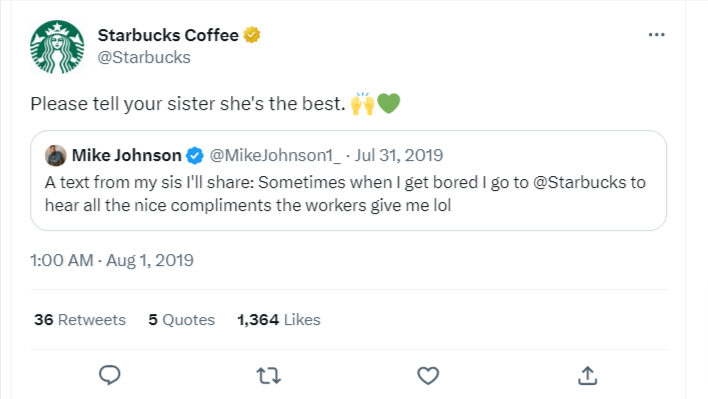 4. Pitching and selling your services
Running a freelance business requires skills to pitch and sell your social media management services to your potential clients. It's a skill you don't require as an employee, but without these skills, you can't accomplish great heights as a freelancer.
You must keep your eyes open to grab new opportunities, as once a client project ends; you may not have new clients lined up to generate a steady flow of income.
Create a tailored template for your social media proposal to seamlessly convert new prospects into clients.
Once you practice pitching and selling your services, you can become more comfortable with the process.
5. Staying updated with modern trends
You must have your fingers on the pulse of modern trends on different social media platforms.
From current events to memes, keep a close eye on every minute detail to help your clients improve their engagement and connect with their audience.
It can also ensure that your social media campaigns for your clients are relevant and up-to-date.
For example, during the pandemic, Nike launched the #PlayInside campaign to encourage people to stay active while staying indoors. It was focused on the need for social distancing during the coronavirus.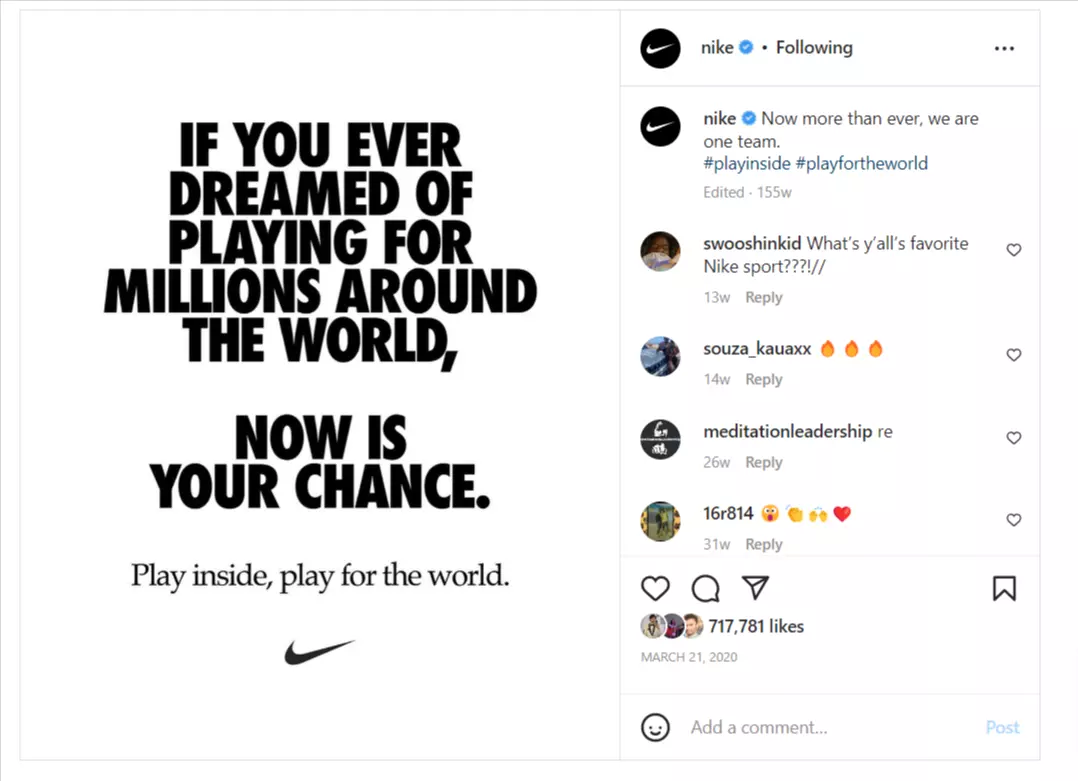 6. Managing client relationships
Improve your relationship with existing clients to scale your business. It can help you get more work from them, continue your association, and also help you achieve positive word-of-mouth marketing results.
Maintaining and building client relationships is vital to becoming a successful social media manager. Here are a few tips which you can follow:
Keep your current clients informed about your progress and any updates or changes in their social media strategy.
Respond to their messages and emails promptly, and be available to answer their questions or concerns.
Offer suggestions for new campaigns or ways to improve their social media presence, and show them that you're invested in their success.
Deliver high-quality work consistently and be transparent about your process and pricing.
Regularly ask your clients for feedback on your work and how you can improve.
By following these steps, you can build strong, long-lasting relationships with your clients and position yourself as a valuable asset to their business.
Also, ensure you keep tabs on your past and potential clients and inform them of your availability. You can use tools like Trello to create a board for each client and add cards for each project or task you're working on. You can also add labels to each card to indicate the status of the project (e.g., in progress, completed, waiting for client feedback).
Here's an example of how you can use Trello to keep track of your clients and potential clients: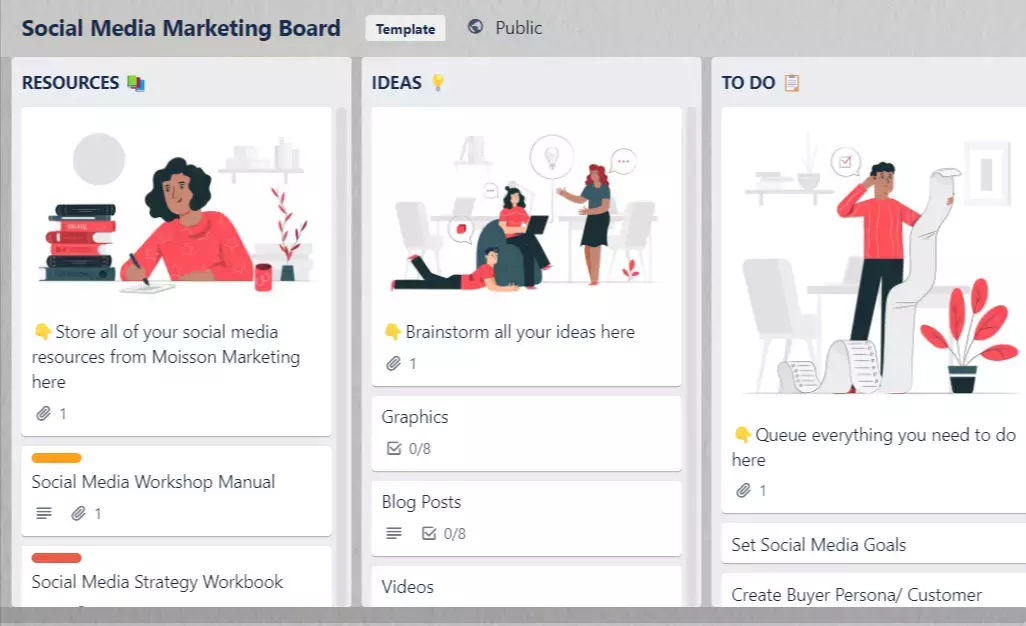 7. Analysis and reporting
As a freelance social media manager, you must analyze huge amounts of data to optimize your social strategy.
It's crucial to conduct a social media audit for every new client to get an overview of their social media presence, evaluate their past performance, and identify areas of improvement.
You can follow a standard social media audit checklist to conduct in-depth audits for your clients.
What's next?
Regular analysis and reporting are essential to track the success of your campaigns and optimize your strategy accordingly.
It helps you to stay updated with the latest trends and industry benchmarks and also demonstrates the value of your services to your clients.
But that's not it!
You need to create detailed reports and derive meaningful conclusions from helping your clients understand your approach.
Optimization is critical to ensure your time, efforts, and budget is invested across the right social channels and helps your clients achieve their desired results.
Is the task of tracking insights of multiple clients making you nervous? Here's a solution:
Use SocialPilot's social media analytics feature to simplify social media analysis. Keep track of all your client account metrics across multiple platforms under a single dashboard. Moreover, with easy-to-share PDF reports, you can share the performance report with your clients in one simple click.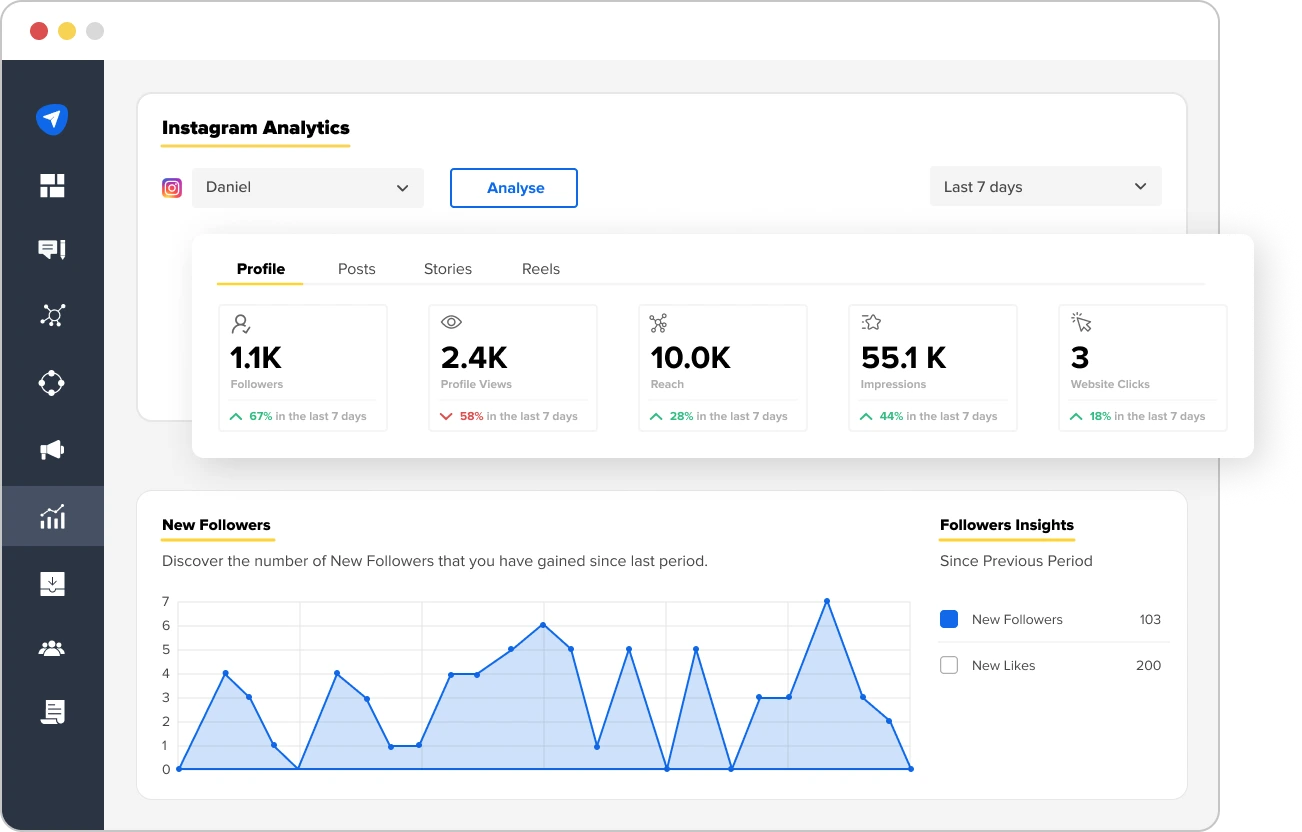 8. Budgeting
Being a freelancer, you may get a fixed budget for your client's social media campaigns. So, you must create social strategies on a budget and streamline your expenditures, ensuring the strategies are well-executed within this budget.
Ensure you avoid ineffective strategies which can save your client's budget and help them achieve the desired social media marketing results with finesse.
You don't require a degree in finance and accounting to master social media budgeting. You can estimate your expenses and add contingencies to plan your social media budgets.
With experience and time, you can master critical skills and deliver your clients the best social media marketing results.
9. Project management
As a freelance social media manager, you need to possess the vital skill of organizing your projects.
When you start social media freelancing, the job of managing your clients' content calendars and tracking other business operations falls in your lap.
This means laying out weeks or months of plans on the calendar, sharing them with the client, getting their approval, providing regular updates, and addressing any questions or concerns that your client may have.
Phew! Too much, right?
Well, this is an important step, as it ensures that your client is happy with the content that you have planned and that their social media campaigns align with their broader business goals.
Use SocialPilot to access a calendar view and a post-level feedback feature to keep both clients and your team in the loop.
The teams and collaboration feature allows multiple team members to collaborate on social media management tasks, such as scheduling posts, creating content, and monitoring social media accounts. Also, you can assign specific roles to each team member, which helps streamline the process and avoids confusion.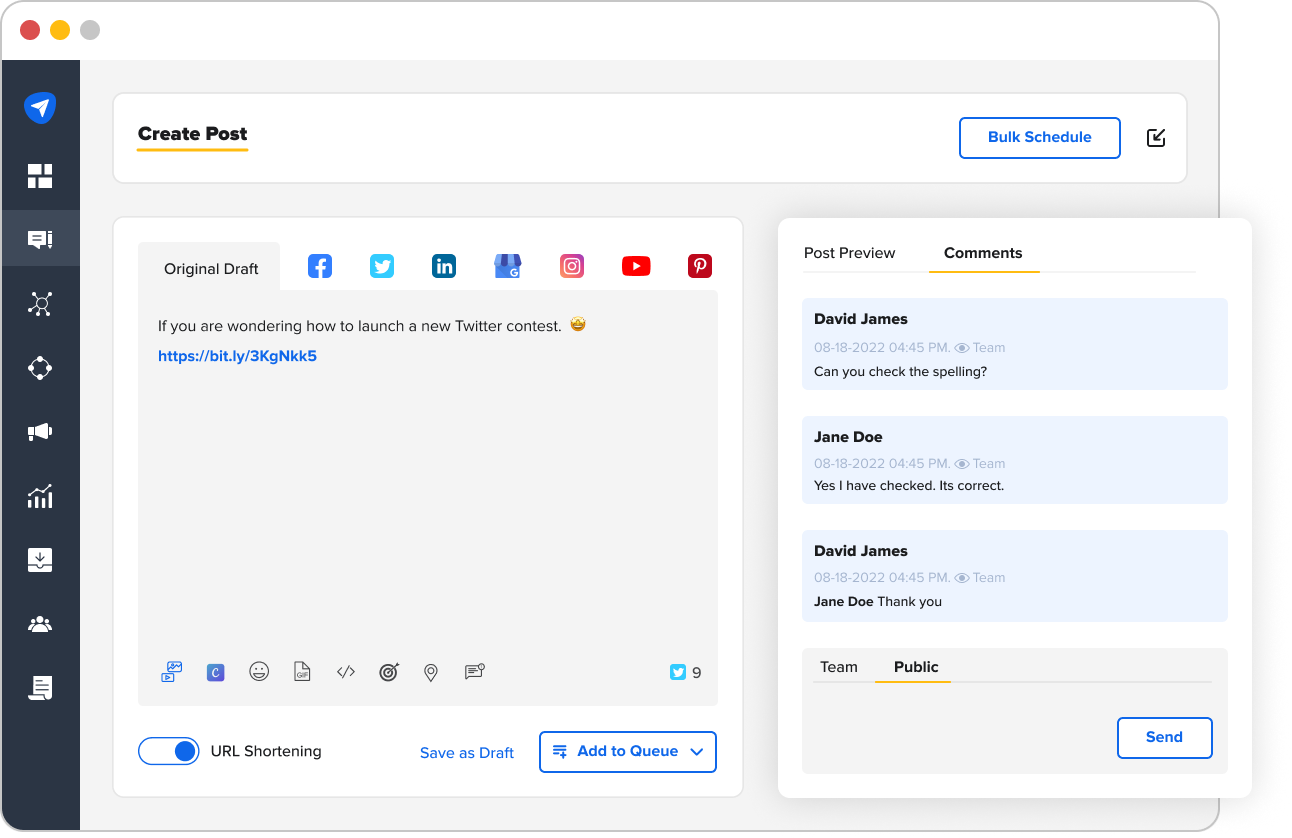 How to Become a Freelance Social Media Manager: Getting Set Up
Becoming a freelancer social media manager can be a great way to use your skills and expertise to earn income on your own terms. Here are some steps to follow when getting set up as a freelancer:
1. Set up your business
Before you start taking on clients, you'll need to set up your social media freelance business. You have to channel the setup process based on national and local laws.
But there are general elements you can't miss out on:
Create a business bank account.
Acquire the required business license.
Register with the tax governing authority and get your tax numbers.
Register your unique business name, which can also help you trademark your brand in the future.
Be clear about the type of business you want to run, i.e., whether it's a sole proprietorship, partnership, or limited liability company.
You can also consult a tax professional to get insights about the type of business you want to run.
2. Build a portfolio
A solid portfolio is vital for showcasing your skills and expertise to potential clients. Ensure your portfolio includes examples of your social media work, such as posts, campaigns, and analytics reports.
You can showcase your professional portfolio by:
Creating PDF files
Building a website
Using your LinkedIn profile
Highlight your past results, which can improve your credibility in the industry and help you secure potential clients.
3. Develop your rate card or packages
Decide on your pricing structure and create a rate card or package options that outline your services and pricing. Consider factors such as the level of expertise required, the time commitment involved, and ‌the project.
Here's a sample rate card that you can use for charging for your social media management services.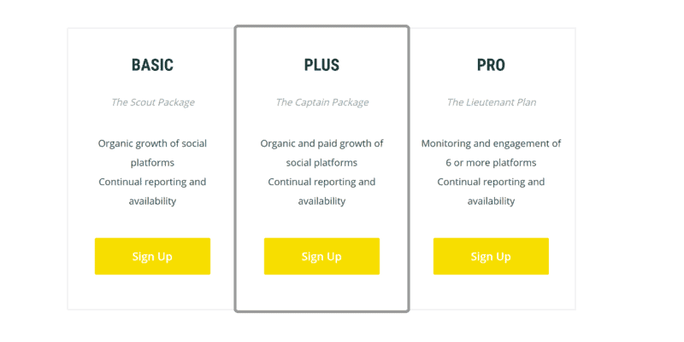 Understand your market and maintain a balanced pricing package. It can help you develop a competitive rate and attract more potential clients.
4. Build your network and promote
Once the foundation is set, it's time you close your first client. Building your network is critical to finding new clients and growing your business.
Join social media groups or forums related to your niche, attend industry events and conferences, and reach out to potential clients via social media or email.
Using a blog or YouTube channel, you can also build a longer-term stable source of potential client referrals. Share your expertise by covering topics that can interest your prospective clients and include a CTA of your services.
5. Develop additional skills
Adding new skill sets and improving your overall management results can be highly beneficial. Here are some skills you can acquire:
Content repurposing
Videography
Influencer marketing
Paid social advertising
Online reputation management
By taking these steps, you can set yourself up for success as a freelance social media manager and start attracting clients, looking for your skills and expertise.
But that's not it.
As a freelance social media manager, you'll need access to various tools and resources to help you manage your client's social media accounts. This might include social media scheduling and analytics software, design tools, and resources for staying up-to-date on industry trends.
That's where you can trust SocialPilot.
How Can SocialPilot Help You As a Freelance Social Media Manager?
Being a successful freelance social media manager offers unique challenges that can be hard for you to handle.
It can be daunting, from managing multiple clients to staying organized and keeping up with the latest social media trends.
That's not it.
Finding relevant and engaging content can be time-consuming, especially when managing multiple accounts. Also, as a freelance social media manager, staying organized is essential to ensure timely posting and consistent engagement.
Don't forget about meeting deadlines. And missing them can harm your credibility and reputation.
Phew! Are you having second thoughts? Don't worry, SocialPilot is here to help.
Being an all-in-one social media management tool, SocialPilot can ease your pressure and help you streamline your workflow and manage multiple clients efficiently.
Here's what it offers:
Social media scheduling features enable you to put your posting across platforms on autopilot mode, so you can focus on more important tasks.
Content curation feature that suggests relevant and engaging content to share across social media platforms.
Content calendar that can help you stay organized and on top of your social media strategy.
The Centralized dashboard allows you to manage multiple clients' social media accounts in one place.
Detailed analytics with powerful insights to make informed decisions and help your clients optimize their social media results.
And that's just the tip of the iceberg.
You can try out the demo version to understand the nitty-gritty aspect of the professional tool before you make your final decision.
Final Thoughts
Becoming a successful freelance social media manager requires a combination of skills, experience, and business savvy.
You can attract clients and build a thriving freelance business by developing the right skills, building your portfolio, and promoting your services.
Now that you know the nitty-gritty aspects of becoming a successful freelance social media manager, you must rely on intelligent, data-driven tools, like SocialPilot, to manage your tasks.
It's an all-encompassing social media tool that can provide seamless collaboration, powerful publishing, and insightful analytics.