Audit. Improve. Execute. Repeat.
If social media marketing is a crucial element of your marketing strategy (which it should be), then you must know the ropes to run a social media audit – again and again.
However, most businesses don't bother putting time and money into running a social audit.
As a result, they end up drowning surplus money, time, and workforce in the longer run.
Just so you don't blindly run your social accounts with half-baked strategies, we have come with a step-by-step guide to run a successful social media audit.
As an agency, you will anyway start off with clients by auditing their social media channels, and if you are a business, then a social media audit is necessary to update your strategies.
Wait! We have also created a social media audit template for you to understand the auditing process hands-on.
Let's go.

What is a Social Media Audit?
In simple words, a social media audit is a step-by-step procedure to track, compile, and evaluate the current state of all your social media accounts in one place.
If a tax audit is a scary analogy for you, then understand it as a quarterly or yearly health checkup.
The aim is to understand what worked and what misfired with the help of social media metrics and register it in one place so that you can easily derive new data-driven strategies.
Why is it Important to Run a Social Media Audit?
If you are still unwilling to spare the time for a social media audit, let me explain why performing a social audit is essential to improve your social presence.
Pick the right channel: Just like your brand is different than the person next floor, so is your target audience and the social media channel they hang out on. An audit gives you clarity on which social channels are right for you and which ones are not.
See the real growth: An year-on-year or QOQ breakdown of all the right metrics of all social channels in front of you tells you the real picture of growth that you can't see any other way. With a proper audit, you can also figure out the real growth drivers.
Align with goals: Social media audit structure enables you to track and review KPIs that are directly aligned with your marketing goals.
Catch the impostors: Help you find the stale or imposter accounts that steer people away from reaching your active profiles.
How to Run a Social Media Audit?
It doesn't matter what kind of business you or your clients have; if it has a social media presence, then the audit process below will work.
Most probably, you will go through the steps below as you sit down to perform your first audit. I'd recommend downloading our social media audit template and using it to jot down the information mentioned in each step.

Step 1: Round up all Your Social Profiles
Start off with rounding up every social media profile running in your/client's name and put it in the sheet.
This might sound like a trivial thing; of course, you know all your social media profiles. Yes, you do, but still do the exercise, so you don't miss any inactive profiles you made long ago and forgot about.
Also, you may get the shock of finding unofficial accounts of your brand made by affiliates or impostors. Find them and get them closed.
The aim is to have a unified list of all your social profiles in one place so you can supervise and explore new or missing opportunities on any channel.
So, stretch your fingers and start searching your brand name on google and every other social media network. Be it an Instagram audit or taking stock of your Facebook pages, every network is important.
For later, when you find out every social network that is decisive in impacting the growth for your brand or clients, use SocialPilot to connect them all at one place for effortless post scheduling.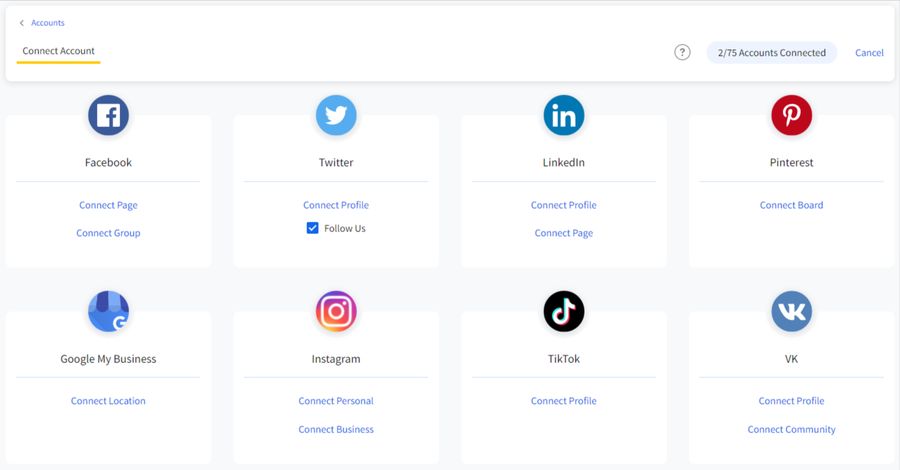 Step 2: Mend all the Branding Inconsistencies
Now that you have the list of all your social media accounts check if they all are consistent in branding.
Consistent branding plays a vital role in maintaining trust and credibility among your audience.
So make sure that every social channel is up-to-date and familiar with look and voice across creatives, promotions, and campaigns.
Look at the consistency in our social profiles across all platforms.

Here are a few things you need to check for on all social channels:
Profile and cover image
Profile bio
Profile description
Pinned posts
Destination URLs and landing pages
Brand and campaign hashtags
Verification

Step 3: Figure out Your Social Media Goals
Without goals, your audit is as good as a car driving in stark darkness on a freeway without headlights.
If you go and dive into the insights of any social media channel right now, you will find there are
multiple social metrics.
So, do you evaluate each one of them, be it an Instagram audit or a Twitter profile? Maybe or maybe not.
Here, the need for social goals comes in.
With the correct social media goals for each platform it becomes easier to pick up solid KPIs that you will add and evaluate in your social media audit.
And remember, you can have different goals for different social channels.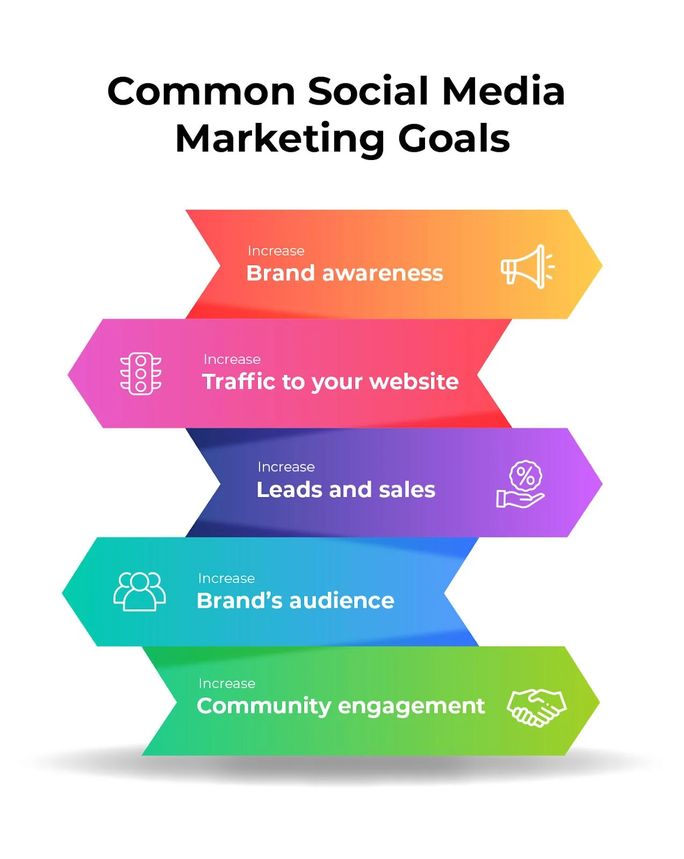 So, is it increasing your followers, getting more conversion, or creating a community?
Step 4: Define Your KPIs
Once your goals are defined, it becomes easier to select the right key metrics that you need to keep in your social media audit.
Here's the breakdown of an Instagram audit metrics based on different goals.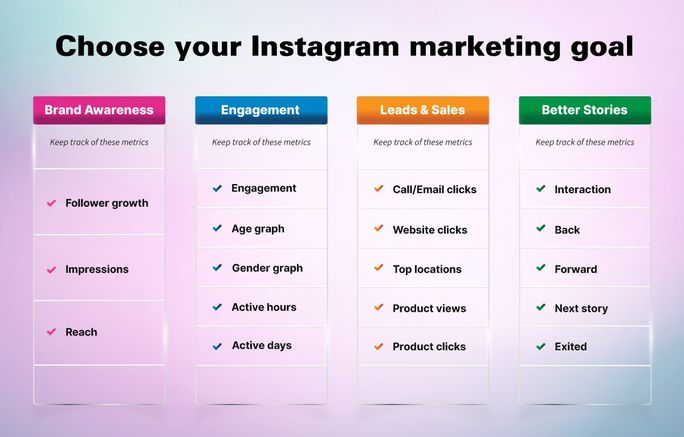 Let's say one of your goals is increasing engagement on Facebook, then you need to track KPIs like engagement rate, comments, likes, and shares.
Here are some of the common and important social-specific metrics that you can include in the audit:
Account information
Engagement metrics
Publishing metrics
Audience demographics
Referral traffic
Check out the KPIs table included in our social media audit template. All you have to do is put down the numbers.
One more thing!
The idea of your first audit is to define the current state of your social media presence and create a benchmark for the next audits to come.
Hence, it's crucial that your audit showcases the month, quarter or year-over-year percentage change of different metrics.
Why?
Timely tracking will allow you to spot regular seasonal changes
It gives you a better picture of growth with time
Helps in making timely changes
The Best Way to Track Social Media Analytics for Agencies
Are you an agency looking for a straightforward way to track down the metrics of multiple clients?
SocialPilot is the tool for you with its amazing analytics feature that lets you easily download PDF analytics reports and generate crucial insights from the metrics of multiple social channels.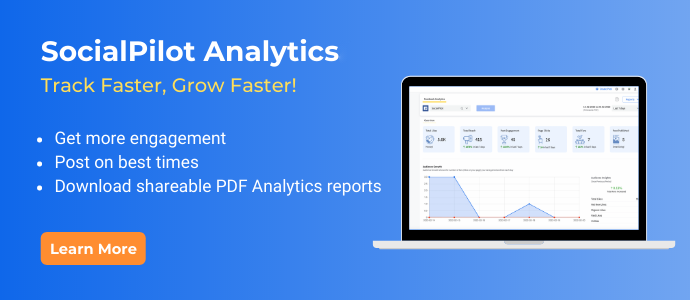 Step 5: Identify Your Top-performing Social Content
The whole purpose of social media audit is to create content that brings value to your customers and returns to your investments.
That's why you must know which content types are already bringing you glory and then double down on it.
So what's your audience already liking? Is it the information-rich videos, polls, questions, chats, or memes?
Another way to put it – which posts are helping you achieve your social media goals?
So dig deep into your analytics and check which of the social media posts are shining the most in terms of engagement, impression, and reach.
Want a more simpler route? SocialPilot's analytics will give you the information of best posts and the top hashtags for multiple accounts in one place.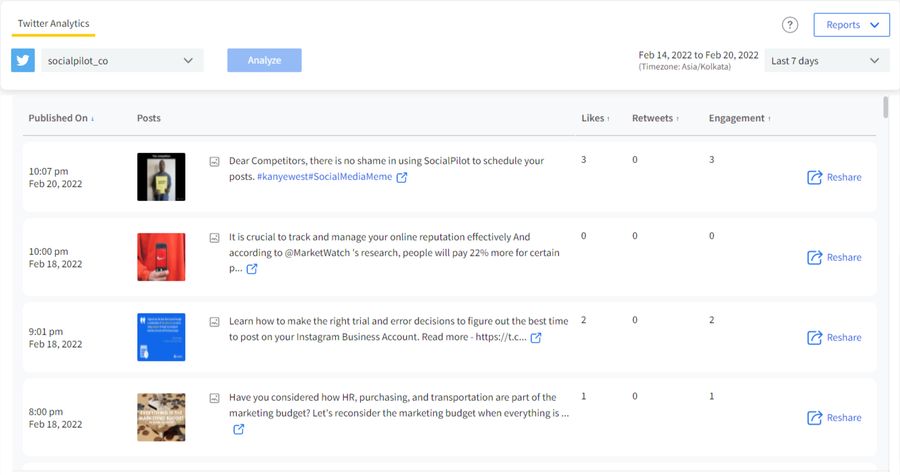 You can further go ahead and include the best time to post on social media for each of your accounts.
Having all this information will help you create a winning social media calendar with high performing content.
Step 6: Calculate Your Social Media ROI
To truly understand how much value your social media marketing has generated for the business, calculate your social media return on investment (ROI).
Put simply, social media marketing ROI shows how much you get back from the money, time and efforts you spend on social media marketing.
However, not every effort on social can be translated into money.
In such cases, you need to quantify non-monetary metrics derived from your social goals.
Step 7: Understand the Audit with SWOT Analysis
By now, your social media audit template should be completely filled.
Now cometh the main task; analyzing the audit to derive some strategic game plan for your social media marketing.
The whole idea of the exercise is to understand where you currently stand and how you will move forward.
Just by looking at the time-over-time percentage changes of your key metrics, you can gauge the current state of your social media efforts.
The overview of your social media audit template will also show you the thriving social platforms out of the ones which require your attention.
What's next? Build a new plan with the help of SWOT analysis.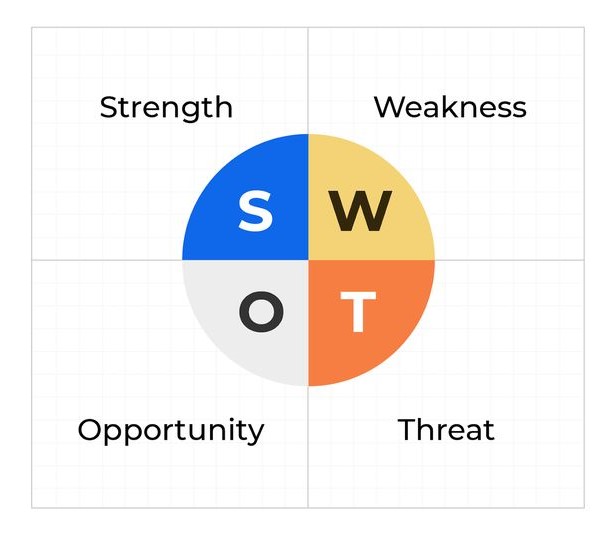 Yes, SWOT analysis is an excellent method to acknowledge current strengths and weaknesses and create an actionable plan.
You do it by dividing your analysis into four different sections:
Strengths
Weaknesses
Opportunities
Threats
Find a well-organized space in our audit template to perform SWOT analysis effortlessly.

Social Media Audit Checklist for Future Audits
Let's do a quick rundown of the social media checklist that you can utilize for quick future audits.
Make a list of all your social media accounts and correct any branding inconsistencies
Figure out your social media goals to pick valuable KPIs
Research about your audience to create the right content
Identify your top-performing content and create more of it
Gauge your engagement rate on monthly, quarterly, or yearly basis
Monitor your posting frequency to understand engagement patterns
Note down your referral traffic to know the social channels driving the most traffic to your website
Do a SWOT analysis to acknowledge current growth and make an actionable future plan
You can also forget all of this and use our perfectly curated social media audit template to effortlessly perform your social media audit swiftly.

Ready, Get Set, Audit!
The social media presence of your brand/clients can't thrive without a data-backed strategy.
And performing a social media audit takes you knee-deep in the data that impacts social growth.
With the steps discussed above, you will be able to perform a solid audit of all your social channels to create a winning social presence.
Remember, an audit is not a one-off thing. It's important that you keep auditing your social performance at regular intervals to find new opportunities and setbacks.
Once you are all set to deploy your audited plan, get your hands on a scheduling tool like SocialPilot to grow effortlessly.
SocialPilot is the best-in-class social media management tool with unparalleled scheduling, collaboration, analytics, and social inbox features.
Try it yourself! Start the free trial or schedule a demo call today.