Social media marketing is about connecting, engaging, and drawing an impressive client-base toward your product or service.
The ways you share or promote your brand culminate its range of a thriving customer source. Usually, it is tough to differentiate between posts that garner more hits and the ones that need attention.
When you want to gain traffic to your post, great content is only half the battle you have won. No matter how much effort you put to make the content user-friendly and shareable, getting the right number of hits and clicks is what matters the most.
If the target audience doesn't click on your post, all your well-put efforts, and great content become useless.
Everything from the headline to the featured image to the URL should be perfect and optimized.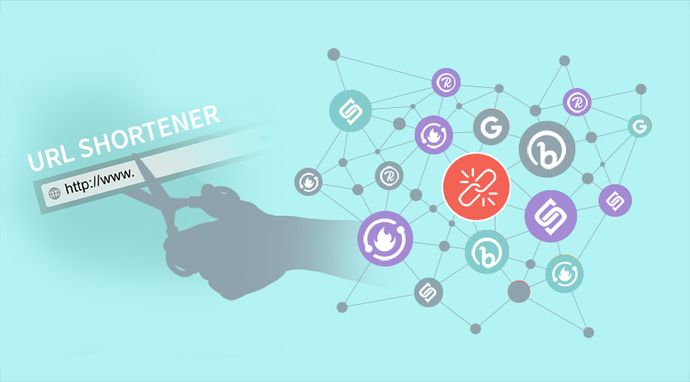 Earlier, marketers didn't bother much about how URLs functioned.
The audience didn't like clicking on such long, distracting URL. It took a lot of space especially in emails, and text wrapping broke the link.
It was impossible to keep track on how many clicks were there in a URL.
Longer URLs are nothing but an eyesore not to mention a hassle, especially for social media marketing.
But with advanced technology and URL shortener tools, the concept of short, customized URLs came into the digital world which is now considered to be most crucial in pulling traffic to your online service as well as in social media marketing.
Why use a URL Shortener?
1. Tracks the number of clicks, their location and time
Link shortener tools provide analytics so that you can track your link clicks, from which channel they are propagated and at what time the click was made. With this, you can get a clear idea of the post that has more likes and is able to gather a large audience.

2. Helps in making the post look better
Long URLs look clumsy & boring and therefore they bounce even before clicking the link. With the help of customized short URLs, the target post delivers acceptance and has more chances of being clicked.
There are plenty of social media marketing tools that help you with automatic customization of long boring URLs.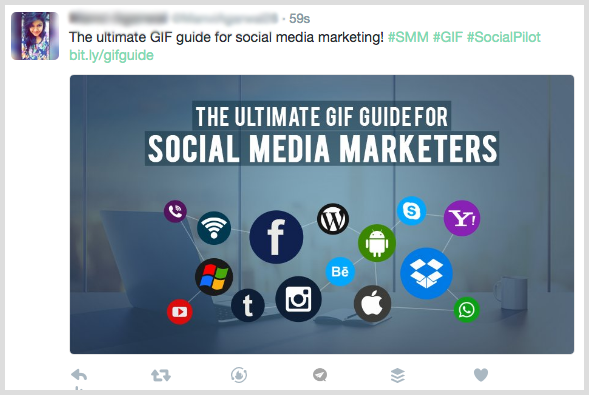 Here, the Twitter user has shared a Gif guide blog using Bitly shortening tool, and customized the link name to "gif guide" that makes the URL not only readable but easy to recognize and remember.
The more appeasing and user-friendly your links are, the higher are the chances to attract heavy traffic.
3. Helps in recognizing a brand
Customized URLs' are created by using one's product or service name, which increases the brand visibility, as prospective clients and regular ones can share and recognize the link consisting their brand name in an instant.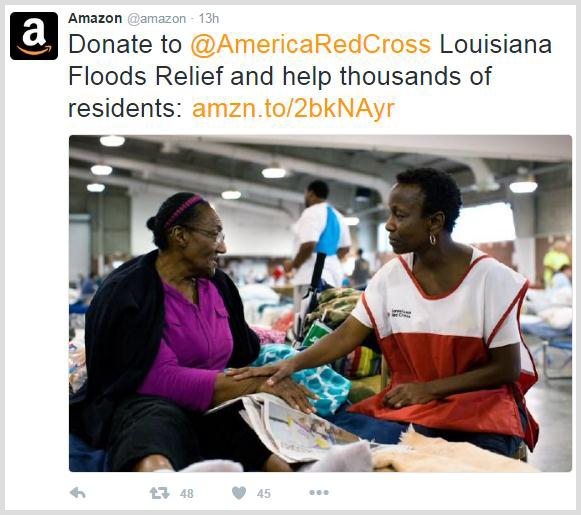 Here Amazon has created its branded link amzn.to, which is an easy abbreviation of the brand itself.
A popular site like Amazon also uses customized URL shortening to spread its brand recognition.
4. Drives maximum traffic towards your site
The thumb rule of marketing your product is following the 4:1 ratio.
This means that when you are on the run to promote and create visibility of your product, 1 portion should be targeted to your brand and 4 parts should be about general things related to your field.
The benefit of URL shortener is, you can cross promote your products, blog posts or services with any of the links you're sharing.
URL shortening tools like Snip.ly and Starafire.com help in driving the maximum traffic back to your website.
You can add your customized badge or call-to-action tag to any of the websites with shortened, customized links.
With features like cross promotion, adding badges, analysis on clicks' timings and channels; link shortening tools help in driving traffic back to your website.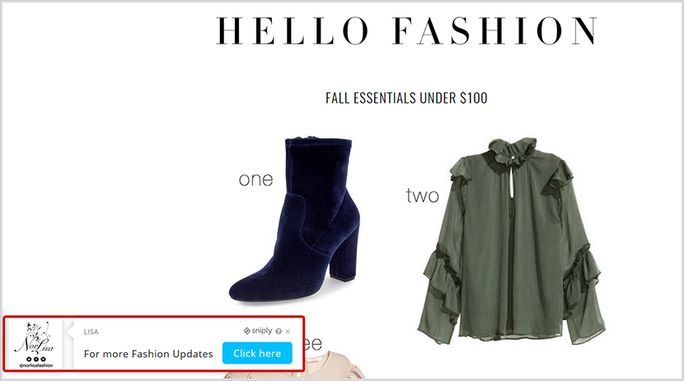 Here fashion designer Lisa, has branded her call-to-action tag to a blog site where there are winter fall essentials sold with tips to wear.
So if someone's visiting this page. Seeing the pop-up, call-to-action tag of Lisa, the reader will be directed back to Lisa's website which indirectly drives traffic.
Tools providing Customized Shortened URLs'
Snip.ly
Snip.ly helps you capture the value of every link you share. It's a simple tool that allows you to overlay your customized message onto the shortened link. Snip.ly not only shortens the link but also lets you add a call-to-action pop-up that leads back to your own website and also lets you add a message before the link. For e.g. 'Click Here'.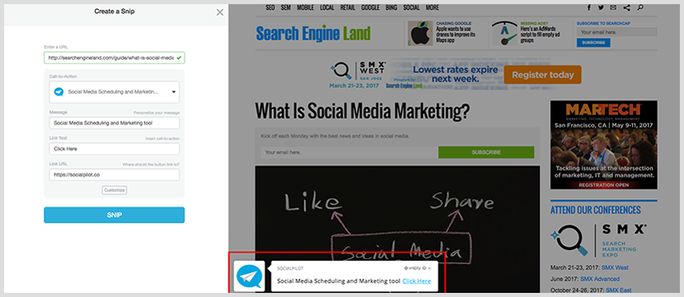 Create a Snip by just entering the link to the post then add a call-to-action link of your website with the link text and the message you want to display on the pop-up and your call-to-action- button is created.
Top 3 features of Sniply we like:
Lets you add as many as call-to-actions with different brand names.
Sniply browser extension available to create snips on the spot.
RSS Feed integration with Sniply.
Doesn't Snip.ly sound amazing with its added features.
Rebrandly is the easiest way to create and share shortened links with a custom domain name. You can signup, register your domain name (starting from $2/year) and start shortening your links with your brand.
Rebrandly lets you use unlimited domains, create unlimited links, count the clicks, retarget your links, forward parameters and add UTM codes.
Differently, from most URL shorteners you can edit the branded links anytime after you created them.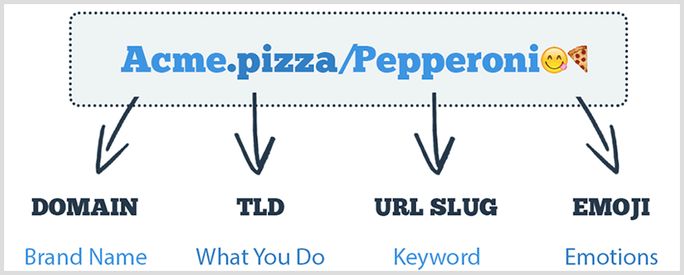 The concept of Rebrandly is to remove the unidentified links like "short.ly/789fc6" that makes no sense and seems spammy.
Instead, customized shortened link like "acme.pizza/pepperoni" makes complete sense, is easy to remember and makes your brand stand out.
Your links will gain trust and the CTR (Click Through Rate) will increase up to 30%. Rebrandly links also help in improving SEO as they include a keyword i.e. your domain at the end of the URL.
Top 3 features of Rebrandly we like:
Has a customized domain integration, with which you can add your own domains or select from it's vast library.
Rebrandly browser extension available to create customized URLs'/domain names on the spot.
A very unique feature is you can add emoticons to your URL's
Your branded customized domains are waiting
Bitly is probably the most used and popular URL shortener processing eight billion clicks on their links every month. You can easily shorten, share, manage and track your links with the help of this tool.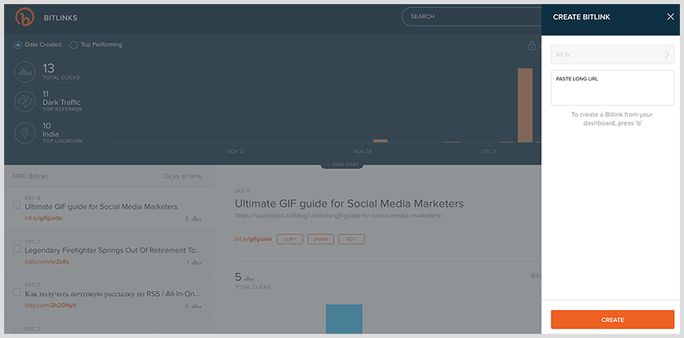 Just signup with Bitly and create a Bitlink with a customized tag of your own. You can share your customized Bitlinks anywhere you want.
Bitly allows you to keep a track of the location and time-zone of each click with the help of its analytics.
With Google, you don't need to create a different account for link shortening. You just need to sign in with your Google account and open the link, Google link shortener

Shorten your URL easily with this tool by just pasting your long, unwanted URL and clicking on 'shorten URL' with goo.gl tag. You can track your shortened goo.gl link clicks with the Google Analytics provided.
Now, that you're aware of the reasons behind using a URL shortner as well as why should it be an integral part of your social media content – it is important to save time on creating individual URL tracking links first in your URL shortening tool and then add those links to your social media content.
Here's a nifty way to cut down on the redundancy –
Once you've chosen your URL shortening tool, you can easily integrate it with a social media scheduler. For example, with SocialPilot, you can integrate sniply, rebrandly, or bitly accounts and set it for auto-shortening of links with each post you share! See the next section on how you can do it.
How to Shorten your links with SocialPilot
You can easily automate, share and schedule all your shortened links with SocialPilot. Select whatever tool you want to use to shorten your link as SocialPilot is able to integrate with all them.
Follow these steps to authenticate these URL Shorteners with your SocialPilot account:
Click on Settings and go to URL Shortening.
Select the URL shortener you want to use and click on it.
It will lead you to the authorization page where you need to authorize the app.
Select the accounts in which you want to use the particular tool. E.g., you have selected 'Rebrandly' for your Facebook page and Snip.ly for your Google+ Collections. SocialPilot will automatically shorten your links to the respective URL shorteners you have selected.
You have successfully completed the selection and now can create your post accordingly for your accounts to be shared using the URL Shortening.

One thing should be kept in mind before you venture into SMM, you must have a clear knowledge of how URL shortening generally works and with SocialPilot in particular and how important they are to drive traffic towards your website.
Start sharing, and scheduling your shortened links with SocialPilot right away.