The world is taken over by the storm called Social Media. It is nothing less than a revolution where we find ourselves engaged in the virtual world more than our present reality. Social media consumers include Customers, prospective buyers& employees and i.e. where the Market lies. It is a place where we can achieve the most effective results for business via Digital marketing.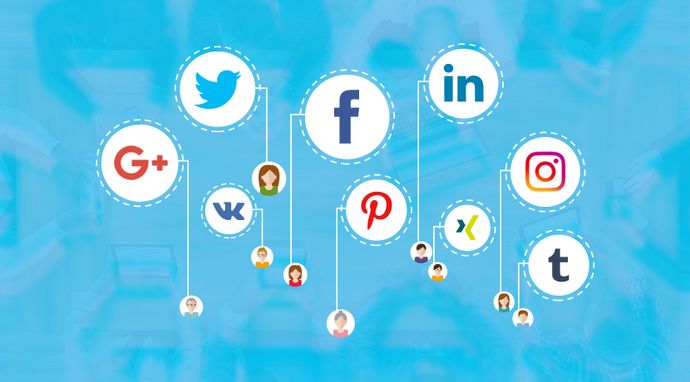 Buyers, prospects, and audience look forward to their needs through this medium due to the convenience it provides. Thus, Social Media Marketers need to be smart and cannot ignore the fact that online presence is very much crucial for a business to flourish. To identify your customer's needs and to engage them for long enough so as to build a company's loyalty is one very important thing a marketer needs to consider. Provided below are a few tips that can help you build your customer base on Social Media:

#1: Analyse Your Customer's Needs And Deliver
The thumb rule to any business is to analyze your market and your customers.
Pay close attention to what their demands are. Your business is only as good as the satisfaction your customer receives.
Keep a track of the industry changes, trends, competition and customer needs and benefits.
Subscribe to newsletters and read online portals on your product.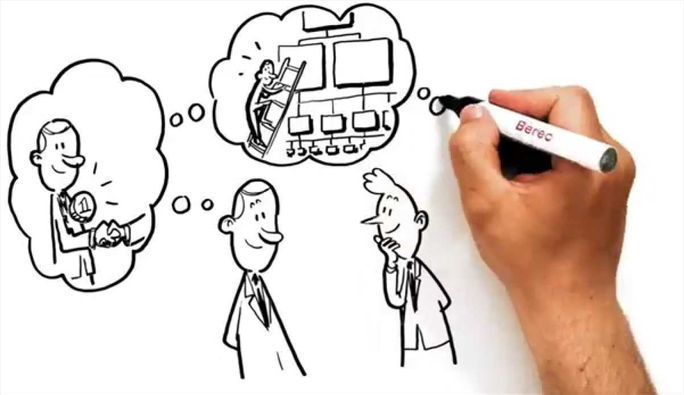 This will help to classify your customers into different categories. Once you know what attracts which of your audience, it becomes easier to cater to their needs.
All this social data is not just about information on social interactions but it must present to you the customer's likes/dislikes, needs and/or their frustration.
This is immense data and must go under processing to aid in Business Strategy and provide a direct impact on every business department in real time.
Initially, things may not go as you want them to be, but mainly focus on factors where your company is being talked about by the Customers and Industry Leaders and then, keep working on it. A continuous improvement by working in a step-by-step approach will make your business flourish.
#2: Add Customers To Your Network
Once you have analyzed your customers the next step is to get them in your network. Not just that, once they are in, they should stay loyal and long enough to your business.
58% of marketers indicate that their social media efforts have generated leads. Social media produces almost double the marketing leads of trade shows, telemarketing, and direct mail.
When you build a network it will help you to share content and engage your audience through your social platforms. Easy ways to achieve this are:
Add your page links in your email signatures or even blog posts. Your customer must know that you are available across various platforms.
Promote everywhere possible including Business cards, Event Handouts, updates, Blogs etc.
You can also let your audience share the company's pages, posts, and updates with their own personal networks; this, in turn, will see the exponential reach of your network.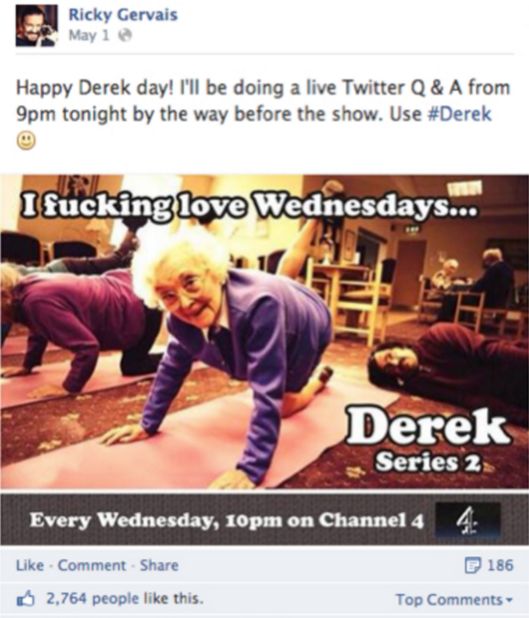 Here Ricky Gervais has posted his update on Facebook and targeted his Twitter followers into a question and answer round which would ensure a reciprocal side of his followers' loyalty and add more to his network.
Another way is to create pages on Facebook, LinkedIn and every other relevant social media platform and build a customer base on each platform and let them know of your services, products, prospects, and customer benefits. You can even cross promote your content on either platform. This further, shows your social media presence.
#3: Share Great Content
Matter of your content is the most important factor. A well written and thought of content is something your audience will always connect with and act upon. If you post only company promotions and updates it will never work, so to ensure a repeat visit by the customer you must provide valuable content and regularly update them.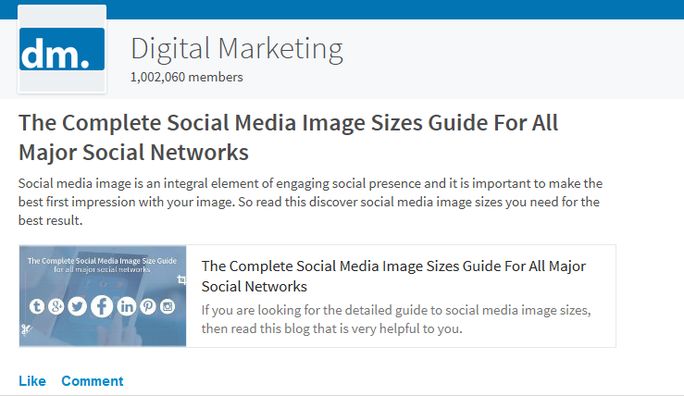 You can consider these points for a well-written Content:
Product guidelines: Provide as much as information you have regarding your products and its guidelines including White papers or Technical Guides.
Statistics and facts: Keep posting updates on statistics and facts. This keeps it interesting.
Informative graphs: Graphs speak more than text. If they like it and it's easy to understand, they may stay on your page.
Surveys: The Internet is filled with surveys and surveyors. Everyone loves them.
Polls: Polls are an excellent way to interact with your audience and keep them engaged however it may not be easy to gather primary data.
Customer Case Studies: This is where your credibility is formed. Keep a standard format for Customer case studies and list them in your page. People like reading case studies as they can relate to them.
Webinars: Another interactive tool, which keeps online audiences, hooked to a page.
Great blog articles you find: Provide links to a great blog article where you think your audience will appreciate it and come back for more.
Industry news and reports: Provide links to Industry news and reports relevant to your business. This will make your audience more knowledgeable in turn widening your consumer base.
You should try to mix up these strategies and put up different content each time.
In the initial stages, it is advisable to stay active on your social media pages and post at least four to five times a week. Be bold and experimental with your posts. You can try different methods and analyse which type of content delivers the best results. Expand your arsenal of sure shot performers by trying different content posts.
#4: Actively Engage Your Customers
When you share great content on your page it will get you a good readership, but keeping your customers engaged is more important. Customer interaction by engaging them in online activities makes them feel special and thus they keep coming back to your page.
Here SocialPilot has run a contest as a Christmas give-away to engage more of its fans and new customers with SocialPilot and offered premium subscriptions to lucky winners chosen randomly.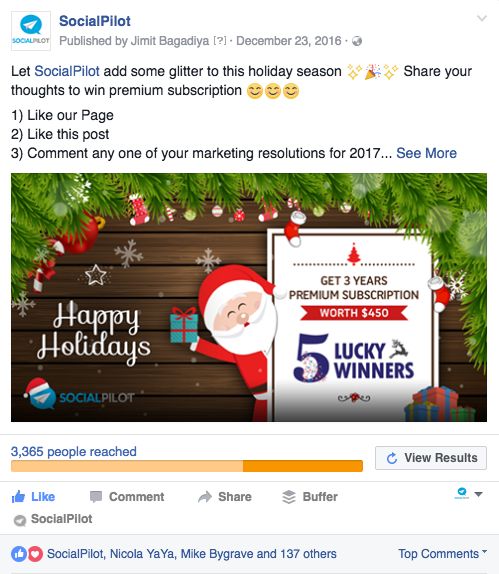 Some points you need to keep in mind to keep your audience engaged are:
A Call To Action phrase in your blogs in any content posted online always helps.
Generate discussions, polls, forums and such to keep the audience engaged.
Look for mentions of your company name by other people online. When you find something like that share and promote it to your audience that may be relevant to your business as well.
In case you are hosting a promotional event, a campaign, etc. make your audience aware about the same and get them a sweet deal so they benefit too.
This is bound to keep your customers happy and loyal to your company.
#5: Stay ActiveBy Sharing Fresh and New Content
74% of marketers who spend 40+ hours using social media per week earn new business through their efforts.
The Chief Marketing Officer Council World Wide (CMO Council) reveals that 82% of brands represented on Twitter release between one and six tweets per day. That said, 83% of consumers made mention of a bad social media marketing experience.
You want to stay and post constantly to your social networks but find it difficult to post fresh new content now and then? SocialPilot can very easily do that for you!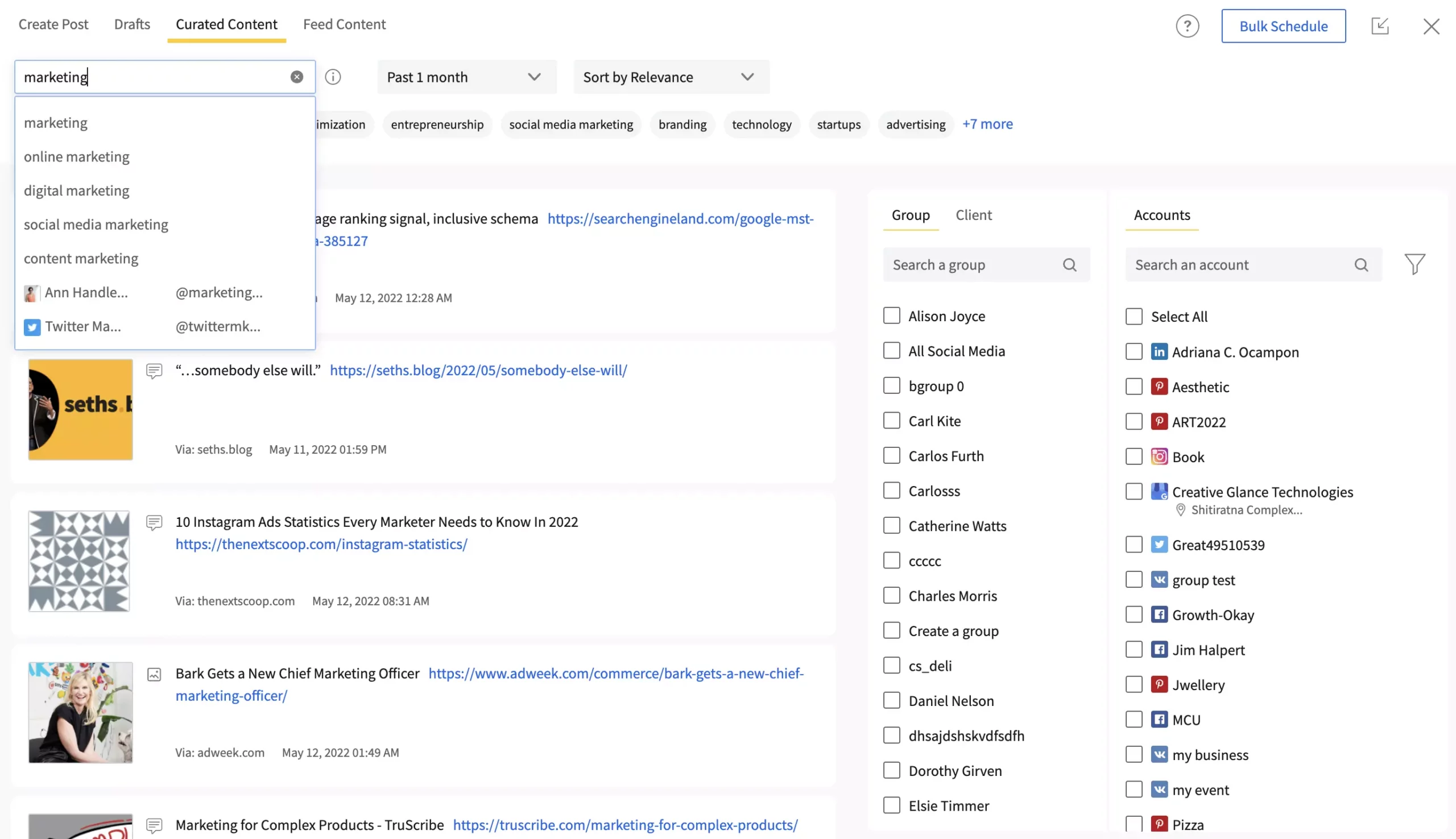 Always staying visible to your customers is possible by sharing content frequently across all social media networks. You can use the best social media scheduling tools that help you to make your profile active as well as saves your time and efforts.
SocialPilot suggests you the content from various categories like business, marketing, technology etc. so that you can share and schedule content on your social media profile in an easy manner and you always stay on the top of the game.
Don't give up on it yet. Your page presence must not die. Keep sharing content, product ideas, and your business news. The more time you put in, the more benefits you will reap. If your audiences leave behind comments on your page make sure to reply to all relevant feedback. This not just engages the audience but also builds your credibility amongst them.
#6: SPAM Overload/Avoid Unnecessary Posts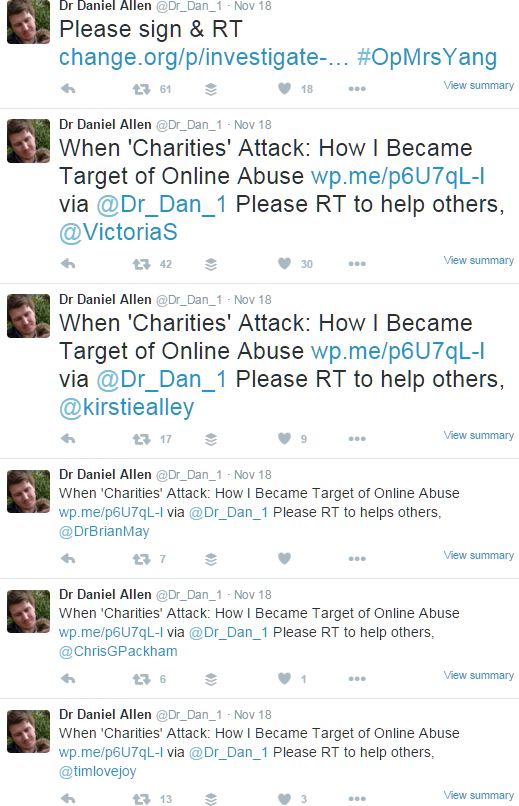 No one likes spams. So, you must avoid this at all costs. You should share only relevant content and in a sensible amount per day.
Do not clutter your customer's news feed with your constant updates and posts. A maximum of five well-spaced outposts a day will do. A sufficient gap between one post and the next will generate good results.
You can also send occasional marketing posts. Don't let the customer get tired of you and your page due to excessive marketing. In process, you not just lose a customer but their entire network.
Although Social Media is still in its nascent stage it has shown immense potential. Unsurprisingly enough, marketers and businesses have shifted some of their focus towards Social Media to promote their business and if it's done in the right way using the right social media tools, the benefits could be humongous.