Being a social media giant, Facebook doesn't provide its users with a specific option to download Facebook video offline.
That sure feels restricted.
So how to save videos from Facebook if there's no permission from Facebook to download them?
Well, we have filtered some of the most effective and best ways for you to download a Facebook video on your smart device or computer.
But before we jump to the core part of downloading, let's first understand why a Facebook business page needs to download a Facebook video for its marketing purpose.
Why Do You Even Need to Download a Facebook Video?
No doubt, static images are great, and you can be creative with them, but with videos, you can expand the horizon with your creativity. Videos are powerful and versatile; you get to explore more things and grab the user's attention more quickly.
And by scrolling and watching through video content on Facebook, you make yourself aware of what's trending, what's working, what's not working, what your competitors are doing, and what your target audience wants to see.
Once you get the idea, you might want to download the videos for your future use to avoid the need to run down your feed repeatedly to spot the exact video.
Let's look at some of the vital points that can make Facebook video downloading a necessity for your Facebook video creation efforts:
1. You Need to Solidify Your Marketing Efforts
If you are in the online business, you'll come across thousands of creative ideas daily by just scrolling through your social media feeds. And if you come across any Facebook content piece, you can download it and save it to show to your team members.
They can scribble more creative ideas by getting inspiration from the videos. Having a saved video will also save you from all the troubles during presentations or any crucial meetings experiencing bad internet connectivity.
2. You Want Instant Access to a Specific Content
With tons of content available in a Facebook feed, there are chances you like a video and never even spot that particular video again. So why not save it to your smart device?
Even if you know some particular details about the video, scrolling and searching could be a time-consuming task.
Now it is time to understand and learn the steps involved in downloading a Facebook video on your computer or other smart devices.
3 Simple Steps to Download a Facebook Video
Download Facebook Video on Mac or Windows
There are multiple tools and platforms, but we have used VLC Player to showcase how you can download a Facebook video in three simple steps.
No doubt, VLC Player is a media player, but you can download any online video using the platform, including Facebook Videos. Let's see how:
Step 1
You need to install a VLC Player on your Windows or Mac and select the Facebook video URL you want to save or download to your clipboard.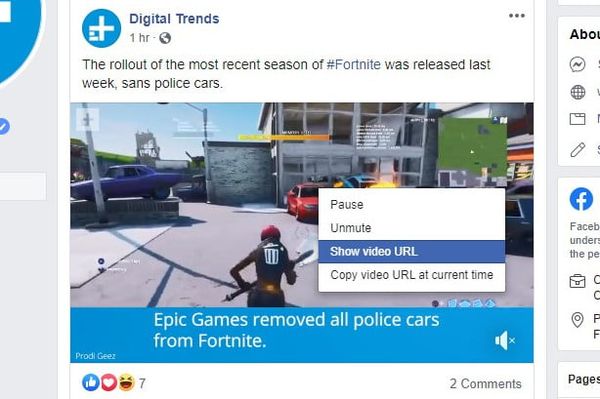 Once you copy the link, open the VLC application and on the left corner of the application, click on the Media option. Scroll down and click on Open Network Stream.
In the case of Mac, to access the same feature, click on File and then click on Open Network.
Step 2
The Open Network Stream option helps users play any online video content; you need to add the copied link in the dialogue box and click on the Play button.
Sometimes users may encounter some trouble during the process; you need to ensure that the latest version of VLC is installed.
The video will automatically start playing, but you wanted to download it, right?
Step 3
Click on the Tools option visible in the top options bar and then select Codec Information. If using a Mac, select Windows and then Media Information.
You need to copy all the content in the location field, and then you need to paste the video address in the web browser. Your video will appear in the browser.
Right-click and then click on Save Video As, choose the file location on your computer, and you are done with the process.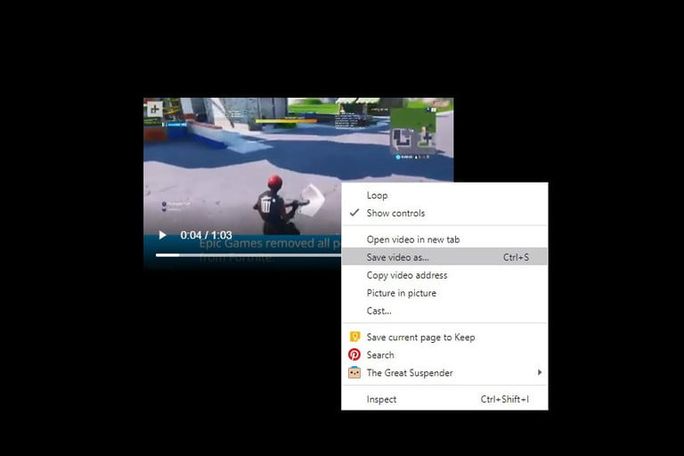 Simple, right?
You can use these steps to download multiple videos from Facebook and save them on your computer. There are more ways to save a video using VLC Player, but this is one of the simplest ways.
Let's now see how to do the same on your mobile phone or other smart devices.
Download Facebook Video on iOS Or Android
As you have multiple options to download Facebook video on your mobile device, we'll show you the process using fbdown.net, an online platform to download mobile videos.
Step 1
Open the Facebook video and copy the URL of the video. Now open fdown.net on your browser, paste the URL in the dialogue box, and then open all the downloading options.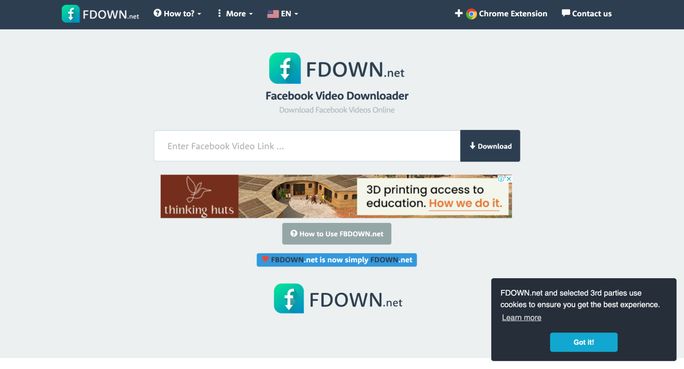 Step 2
A pop-up will appear, and you need to select different downloading options like the video quality and the location of your video.
Step 3
Once you've chosen your preferred video settings, click the Download button, and wait till the download is complete.
Your Facebook video will be saved on your device.
Now that we are done with the steps involved in downloading a Facebook video on multiple platforms let's see what different tools you can use to achieve the desired result.
4 Best Facebook Video Downloader Tools
1. By Click Downloader
One of the finest video downloader tools available on the internet, By Click Downloader, is your one-stop-shop if you want to download videos from Facebook, YouTube, or any other leading platforms.
You have the option to download videos of different qualities and save them on your devices within a few clicks. The platform can support multiple audio and video formats to make the process simpler and easier.
It has an elegant and intuitive interface and simple functionalities, all available within a single dashboard. But only Windows and Android users can avail the tool as it doesn't support Linux or iOS devices.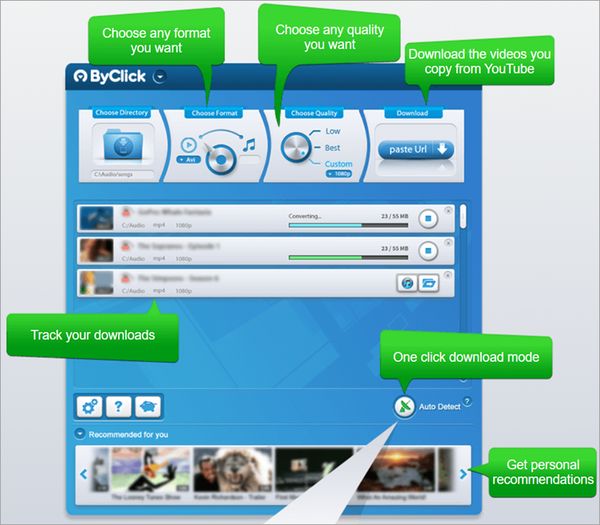 2. Allavsoft
Allavsoft is another leading platform that can assist you in downloading Facebook videos with ease. The platform supports multiple video and audio files and helps you to convert those files into any of your desired formats.
You can also export the downloaded file to multiple channels using the platforms with the help of its powerful features. It has an attractive interface and decent customer support to assist you with any issues or queries.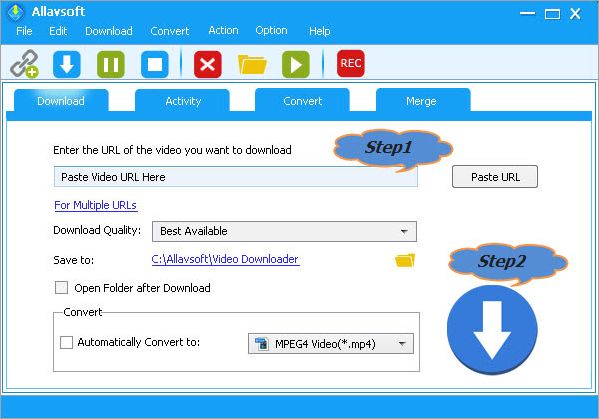 3. SnapDownloader
One of the most powerful video downloader tools you can use to download a Facebook video is SnapDownloader. Download video files up to 8K resolution, be it of any format and convert them into any format.
It provides a free trial version of 24 hours where you can get your hands-on all the premium features of the tool. It has a powerful dashboard loaded with features and an enticing UI/UX for a great user experience.
You'll get complete 24/7 customer support if you buy its premium version. Being compatible with Windows and MacOS, it's a great video downloading asset for your video marketing requirements.
4. 4K Video Downloader
One of the fastest video downloading tools for your Facebook videos is 4K Video Downloader. It can download videos up to 8K resolution and from any top digital platform.
You can download multiple audio and videos into different formats to ensure you get your desired results. It also offers a simple process to download a Facebook video or any video; you just need to paste the URL in the dialogue box and then choose the format and the file location to download the file.
It doesn't support the iOS or Android platforms, so you can easily access all its powerful functionalities if you are a Windows user.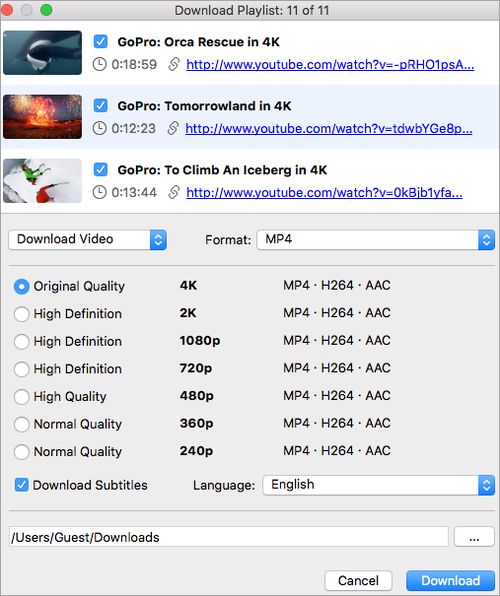 Wrapping Up
Now that you have a crystal clear idea about downloading Facebook videos to strengthen your business marketing efforts, you need to start with the implementation process now.
You can use videos in your Facebook Ads, Stories, or regular posts. But don't forget to keep in mind the copyright aspect of using the original video clips in your Facebook marketing strategy.
If you need further assistance with your social media marketing efforts, you can use SocialPilot to make things simpler for you. With its content scheduling, content creation, and calendar abilities, you can easily manage posting not only videos but all other kinds of content on Facebook and other social media platforms.