Do you want to increase your product sales?
Do you want to skyrocket your revenue and earn hefty profits?
Do you want to master the art of online sales?
If yes then, Facebook has something of great value to you.
Its Facebook Shop feature can help you cash in on an enormous opportunity to boost your sales.
But to make the most of this golden opportunity, you need to set up your own Facebook Shop.
How to do that?
What are the best practices to make the most of your Facebook Shop?
Learn all of that in this complete beginner guide to Facebook Shop.
What is a Facebook Shop?
Before discussing all the technical aspects, let's get our basics right about this gold mine offered by Facebook for businesses.
The Facebook Shop is the latest introduction to the world of Facebook to help businesses in the disruption caused because of the global pandemic.
It allows businesses to showcase their products to their target audience on Instagram and Facebook pages intuitively.
From creating a custom product collection, tweaking color patterns, customizing the shop's layout to playing with multiple image options – Facebook Shop has it all.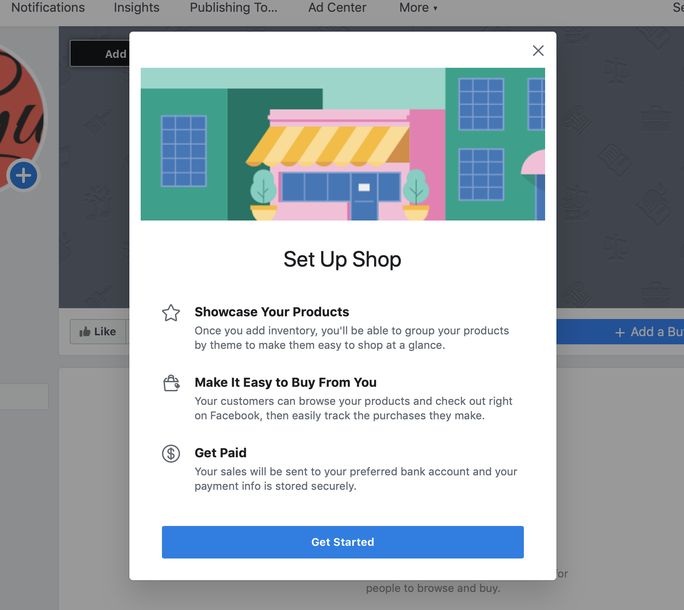 If you are a small or medium-scale business owner struggling to move towards online business then make the most of Facebook shop.
People can access your online store and shop from your Instagram profile, Facebook business page, or Instagram story from the comfort of their homes.
Benefits of Creating a Facebook Shop Page
Scale Your Profits
Having a Facebook Shop helps in increasing the sales numbers and ROI. Once you tap the Facebook audience, you'll have the opportunity to convert your Facebook target audience into your customers.
You can channel your audience towards your Facebook Shop so that they can buy from your brand quickly and easily.
It helps to eradicate all the distractions a consumer can have while in the buying mindset. Therefore, increases the chance of sales and results in increased sales numbers and ROI.
Gain New Customers
When people see your products on Facebook, they can save your product, share it with their friends on Facebook, like it, or just leave a comment regarding what they feel about the product.
You can capitalize on this opportunity and make the most of it. If you are proactive with your target audience and engage with them regularly, they'll talk in their close circles about your products and services.
All of this combined will help you build a large customer base.
As seen in the image below, there are options to share, save, like, comment, or buy from the website.
If you have enabled the checkout option for your products, but you are from the United States, your target audience can directly buy from the Facebook platform itself without leaving the platform and jumping to your website or landing page.
Simplify the Sales Process
A Facebook Shop helps you ease the sales process. As a buyer can add as many products in the cart, they can browse your shop and even chat with their friends in the same window.
Once they are done, they can quickly checkout on the same platform to finish the purchase.
There are no multiple hoops or distractions that a customer has to jump through. It minimizes the funnel leaks and increases the conversion rate.
How to Create a Shop Page on Facebook
You might come across multiple complicated learnings on how to set up a Facebook shop, but we have simplified the procedure so that you don't face any hiccups during the process.
You just need to have your business's Facebook page and a Facebook commerce manager account.
Add Shop Section
You can kick-start your Facebook Shop building process by accessing Facebook's commerce manager.
Once you have created a commerce manager account, you can click on the "Create a Shop" option.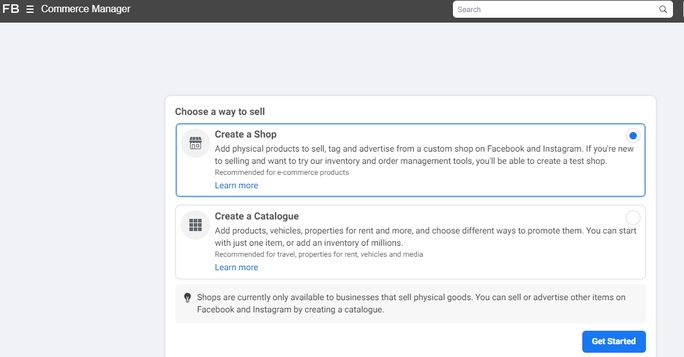 The very first thing you'll be asked is whether to complete the purchase on your:
Website
Facebook or Instagram
Choose an option that seems convenient according to your business goals and requirements.
The following section will have three options for you.
Your Business Details
You'll be asked about your business's general information, like your business name. Also, you'll be asked to link your account with your Facebook manager account and Facebook business page.
Terms & Conditions
The next step is your "Inventory and Shipping Preferences," you'll add your return policy, delivery options, and other essential things so that you don't face any troubles during your operations. Set up these terms and conditions to make things smooth for the future.
Payout Option
The last step of your basic Facebook Shop setup includes the payout option. You'll be asked to fill in your business's email, physical address, and a category (industry you are in). You also need to link your bank account with your Facebook commerce account to be eligible to receive payments.
Upon completing all these steps, you would've successfully created your Facebook Shop.
But wait, what's the fun of creating a shop without adding products in that shop, right?.
Add Products
You need to add all the products that you want to sell on Facebook and build an impressive product catalog for your brand.
It is super easy to add products to your Facebook Shop, just click on the "Shop Section" and then click on "Add Product."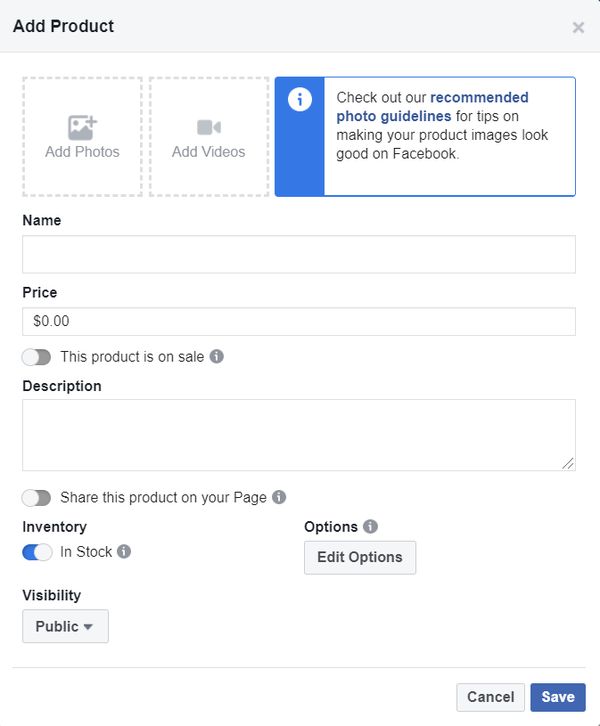 You need to fill in the product details like description, image, price, and other product varieties (it's limited to four).
Here's an example of how your shop page will look once you are done adding your products.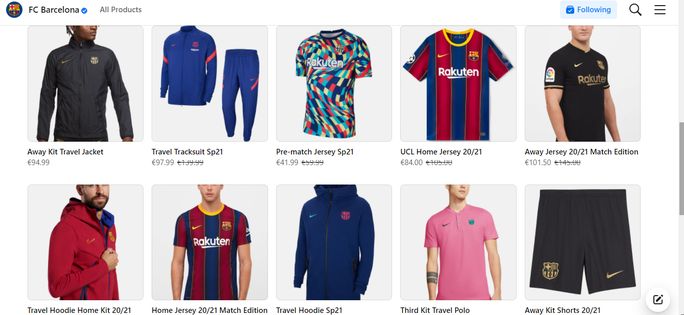 Create Product Collections
One additional feature you can use while creating your product catalog is creating a product collection. It's just a group of 6-30 similar products which fall under the same category.
If you have more collections, people will have a different variety to choose from, and it will ultimately increase the chances of them buying more from your store.
Here's an example where you can see a product collection of apparel.
Once you click on the CTA, you'll land upon another page.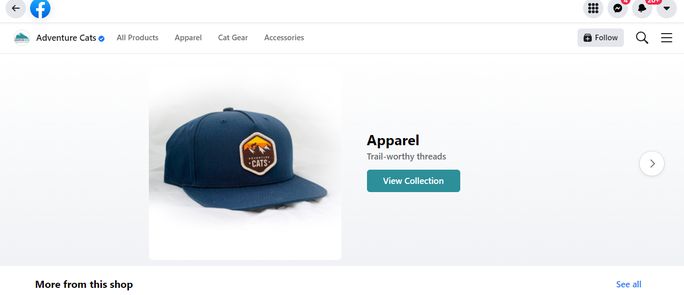 The results will be filtered, and out of all products, you'll see only apparel. Now a customer can shop a variety of apparels from this section and check out from their cart.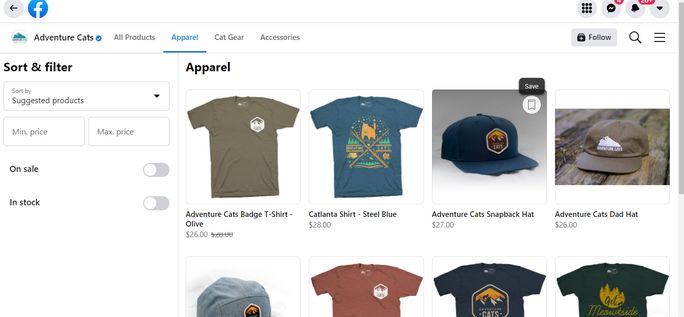 You can do the same for your Facebook Shop if you have various products available in your product catalog to filter out products for your audience. It will make their shopping easier. This is how a Facebook Shop reduces the friction in the buying process for your audience.
That's all for setting up a Facebook Shop using tools provided by Facebook, but things get simpler and easier if you are a Shopify shop owner.
Setting Up Facebook Shop Through Shopify Store
Add Facebook as a Sales Channel
Once you log in to your Shopify account, you need to hover onto the settings options, click on the sales channel and select Facebook to begin the integration process.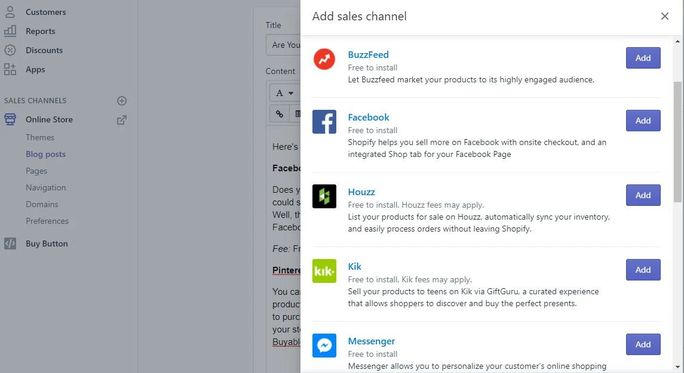 Connect Your Facebook Account
Once you have added Facebook to your sales channel, you need to connect to your Facebook account.
You need to choose your business account; don't select your personal accounts.
Once Facebook verifies your account, you are ready to launch your Facebook Shop.
Enable Shop Tab
The last step you need to do is click 'Enable Facebook Store,' and you can choose what collection of products you need to make visible on your Facebook Shop.
You also need to choose one of the checkout options, either by Shopify or Facebook.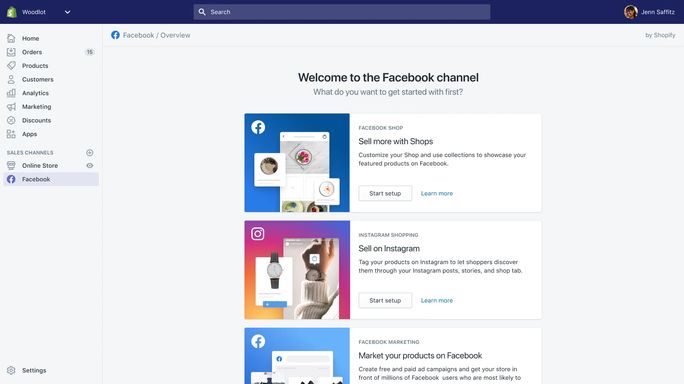 Once you are done, now it's just you managing your orders and making your customers happy and satisfied.
Best Practices for Facebook Shop
Use High-Quality Images and Concise Descriptions
Once you know how to add products to Facebook shop, you can add premium quality images and product descriptions.
If you know how to create engaging images for social media, that's great. Otherwise, hire a professional product photographer or outsource your work to make it look professional and authentic.
Look at the below example how "Todd Snyder" has used high-quality product images to showcase to their Facebook customers.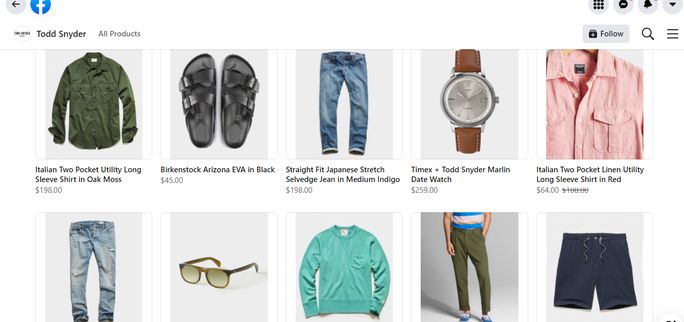 Also, while you are uploading your products, don't forget to use short and brief descriptions of your product. It gives your customers an idea about the product.
Keep a Regular Check on Your Inventory
You don't want to disappoint your customers, so you need to keep a keen eye on your inventory. If you don't have the stock and your customers still come to buy that product, they will be disappointed, and you'll lose plenty of potential sales.
Don't forget to Offer Discounts
It helps to attract new audiences and keeps the existing ones happy. This will also help you build a healthy relationship with your customers, and they'll buy from you for years to come.
Here's how "Jack Threads" offered heavy discounts for their Facebook audience on a Black Friday.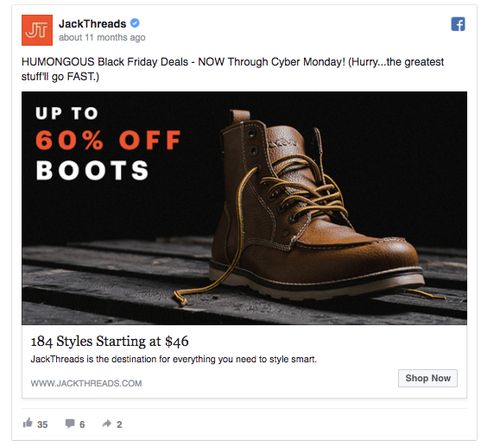 Customer Satisfaction
You need to provide a better customer experience on your Facebook Shop. So try to optimize things like your product descriptions, color patterns, and layouts.
Also, don't delay your deliveries. Attracting an audience on Facebook is one aspect, but you need to satisfy that audience as well.
Make sure you follow their result-oriented practices and see magic in your final results.
Are You Ready to Boost Your Sales With Facebook Shop?
Facebook Shop has endless opportunities to make your product sales go up. It's up to you to grab the opportunity and make the most of it.
We have discussed all the nitty-gritty about how to kick-start your Facebook Shop and what ins and outs you need to know before jumping into it.
If you need some additional help to stand out from your competitors and strengthen your marketing campaign for better Facebook Shop results, you can use SocialPilot to smoothen your journey.
It's your time to skyrocket your sales and take your offline business to new heights using the power of Facebook.