Instagram, with over a billion monthly users, keeps dropping new features now and then. Instagram TV or IGTV is one such example, which launched back in 2018.
Despite its modest start, Instagram TV has steadily gained popularity and is now widely used by brands in social media campaigns. By offering videos ranging in length from 1 minute to 60 minutes, IGTV is slowly but surely changing how video content is consumed.
There are 7 million users of the IGTV app worldwide and many believe that IGTV will rise to be YouTube's core competitor in the near future.
In this blog, you will learn all about IGTV, the advantages of using it, the best practices, how to create an IGTV channel and upload videos, as well as some examples to get you started.
What Is IGTV?
IGTV or Instagram TV is a video application by Instagram that allows users to upload and watch long-format vertical videos. Videos up to 60 minutes in length can be uploaded using this feature. IGTV is available as a standalone application as well as within the Instagram app and website. However, while uploading videos from a smartphone, the duration is limited to 15 minutes.
What Is The Importance Of IGTV For Brands?
There are many reasons why brands prefer Instagram over other social media platforms, and IGTV will only add to this list. IGTV combines the potential of YouTube and Instagram in one application.
With IGTV, brands can significantly increase their visibility. By having experts offering product reviews, question-and-answer sessions, facility tours, and polls, you can describe your products and services in more detail to your audience, generating more traffic.
With IGTV, brands can increase awareness of their products and services. With this feature, they can show how their products are used, what benefits they provide, and how they are made.
In light of the lockdown in most parts of the globe today, IGTV has proven to be an excellent way for brands to launch their products online.
IGTV provides a great way for businesses to engage with consumers. You can use it to create engaging and creative video content like step-by-step tutorials, recipes, and even fashion tips. Descriptions of these videos can include clickable links that can direct viewers to your landing page.
In the image below, we can see Sephora has shared links to some of their products in the IGTV video.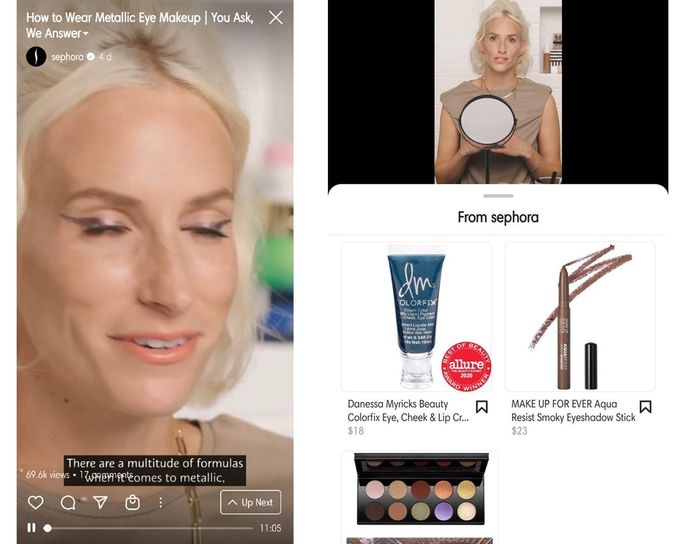 Brands can collaborate with influencers to promote their products and services using IGTV videos. This way, the audience will be able to learn more about the product compared to short clips or 15-second reel videos.
Through IGTV, you can build a community of followers on Instagram. Series or recurring shows are a good way of engaging users and giving them something to visit your page regularly. With BTS, bloopers, and insider content, you can attract more viewers.
6 IGTV Best Practices
Set an appealing cover image
Cover Image is an imperative part of IGTV videos. Cover images should be alluring and appealing enough to compel users, or even non-followers, to click on the post while scrolling through your IGTV channel. You don't have to necessarily use a snap from the video for the cover image. You can upload an entirely different cover image for your post as long as it is interesting and relevant to your video content.
Make sure you plan ahead
When it comes to posting on IGTV, be consistent. Only if you post regularly and consistently will users stay interested in your channel. Before beginning a series or recurring show, plan out the content calendar in advance, for the benefits are many. Prepare a script that will clearly convey your message. By posting consistently, you can keep your audience interested in your channel.
Use relevant hashtags
When posting videos on IGTV, do not forget to include hashtags. Hashtags are an amazing way to discover content on Instagram. Remember that hashtags enable non-followers to discover your page and post. However, do not go overboard with hashtags. Use relevant hashtags on the IGTV posts. When using hashtags, a few relevant ones are more effective than many irrelevant ones. You can use hashtags in the video descriptions or the comments section.
Keep an eye on the video length
A major advantage of watching IGTV videos is that you don't have to rotate your phone. In other words, IGTV supports vertical videos. In contrast to regular posts, IGTV allows you to upload videos up to 10 minutes in length. You can upload up to 60-minute videos once you are a verified user. The more engaging and shorter the video, the more likely it is to be watched.
For most types of content, a 3 to 4-minute video is an ideal viewing time. Creating series can be a good option if you wish to upload longer content. You can play around with the length of your video to see which engages the users more.
Share your content far and wide
Once you have uploaded an IGTV video, make sure to promote it in the best way. Utilize Instagram stories, feeds, and the live feature to spread the word about your new video. To create excitement amid your audience, you can even upload a preview of your IGTV video to garner as many views as possible.
Monitor IGTV Insights
Check your IGTV Insights frequently to determine if your content is bringing value to your audience and contributing to your business goals. In case it does not echo with your audience, then you know you need to polish your content to attract the expected attention from them.
How to use IGTV Channel and Upload Videos
How to Create an IGTV Channel
Step 1: Download the standalone IGTV app.
Step 2: You can sign up or log in with your Instagram credentials.
Step 3: You will find the settings option in the right-hand corner, where you can find 'create a channel'; click on it.
In case you have not downloaded the IGTV app, you can create a channel from your Instagram app directly.
Steps to upload IGTV videos
Step 1: On your profile page, you will find this '+' sign in the right-hand corner.
In the case of the IGTV app, you will find the '+' option by viewing your own channel.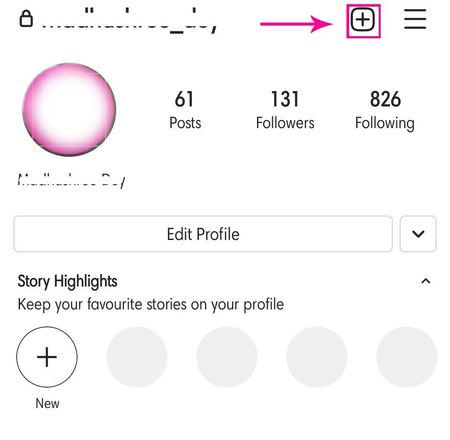 Step 2: Click on the '+' sign to create a new IGTV video.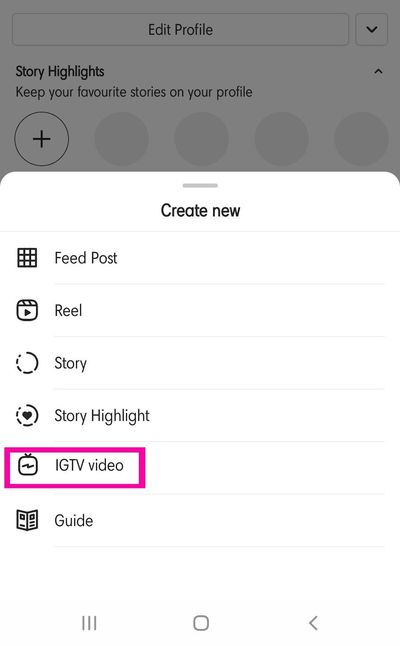 Step 3: You can choose a video from your gallery and tap Next. In the case of the IGTV app, you can directly record a video by clicking on the hands-free button and then tap on Next.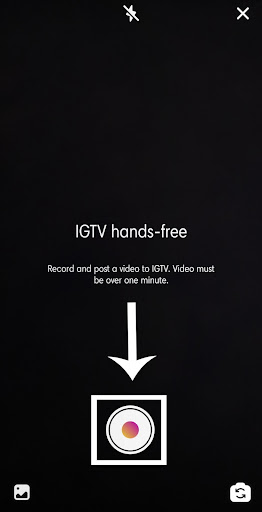 Step 4: Set the cover image. This could be a still from the video or a completely different image from your gallery. Tap Next.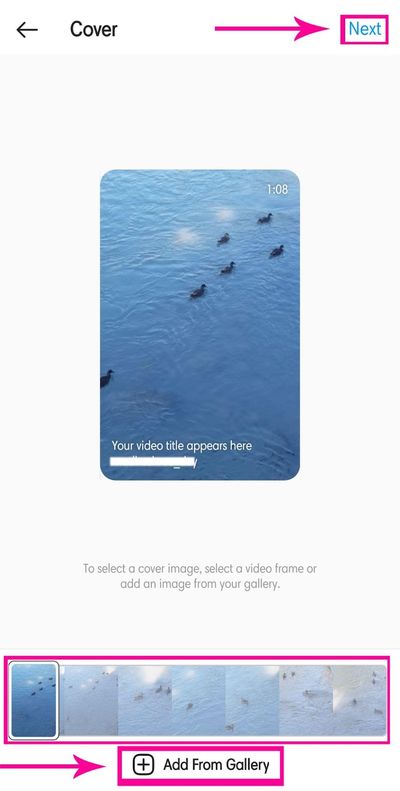 Step 5: Add a title and a video description, and you are good to go. If you plan on creating a series of videos, you can add to the series option.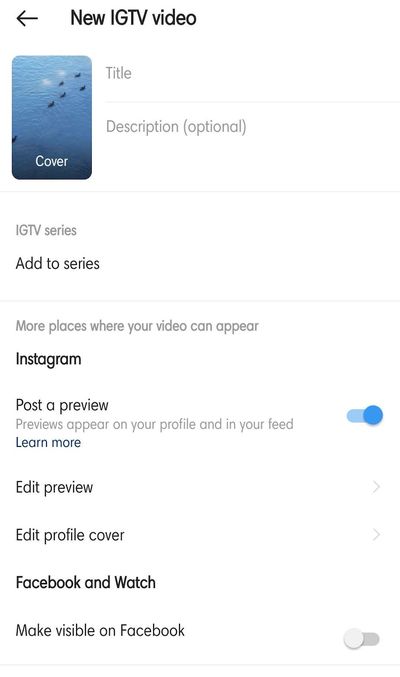 You can also enable the option 'Make Visible on Facebook' to make it available on Facebook as well.
Step 6: Click on the Post to IGTV and your IGTV video is up and running.

Steps to upload IGTV from the browser (www. instagram.com)
Step 1: Log in to your Instagram account from the browser.
Step 2 Go to your profile.
Step 3: Select IGTV, and then click on upload.

Step 4: You can use the '+' sign to add a video or drag and drop a video from the desktop or laptop.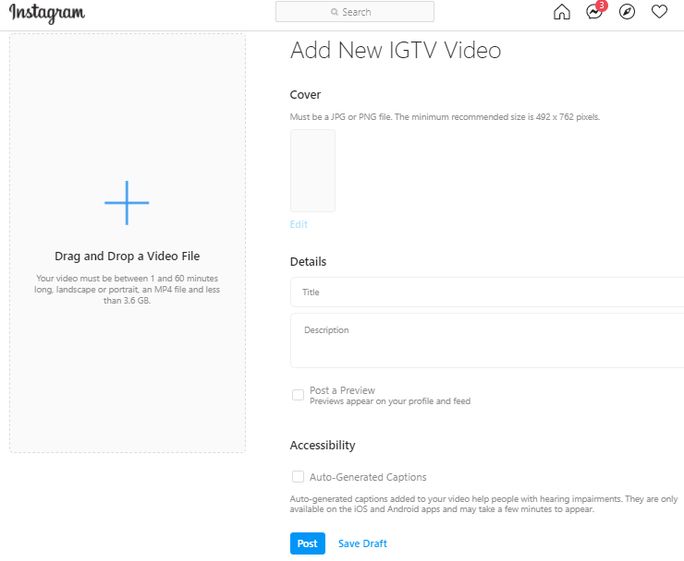 Step 5: Add details like title and video description. If you want, you can add a preview of the IGTV video to your Instagram feed or even to your Facebook page.
Step 6: Click on Post.
To check the requirements, you can click on the IGTV Video Requirements option.

Here are some specs you must keep in mind while making IGTV videos:
Video Length: 1 minute (minimum) & 15 minutes (maximum); 60 minutes in case of verified users or if uploaded from the desktop
Video Format: MP4
Video Size: 650 MB for 10-minute videos
Video Size: 3.6 GB for 60-minute videos
Aspect Ratio for Vertical Videos: 9:16
Aspect Ratio for Horizontal Videos: 16:9
Aspect Ratio for IGTV Video Preview: 4:5
Video Resolution: 720 pixels minimum
Frame Rate: 30 FPS
IGTV Examples – 5 Examples of How Brands are Using IGTV
Example #1
Brand – National Geographic
Instagram handle – natgeo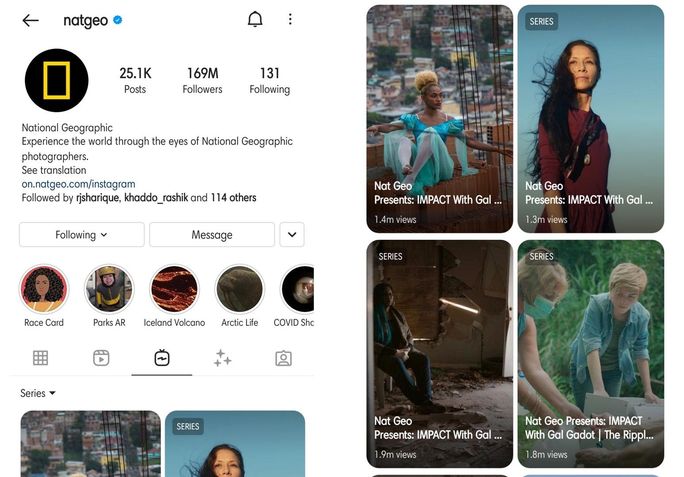 The following image shows NatGeo utilizing Instagram TV to create a series called IMPACT with Gal Gadot. A documentary series narrated by actress Gal Gadot features six women, from across the globe, who are significantly impacting their communities despite facing tremendous atrocities.
Example #2
Brand – Sephora
Instagram handle – Sephora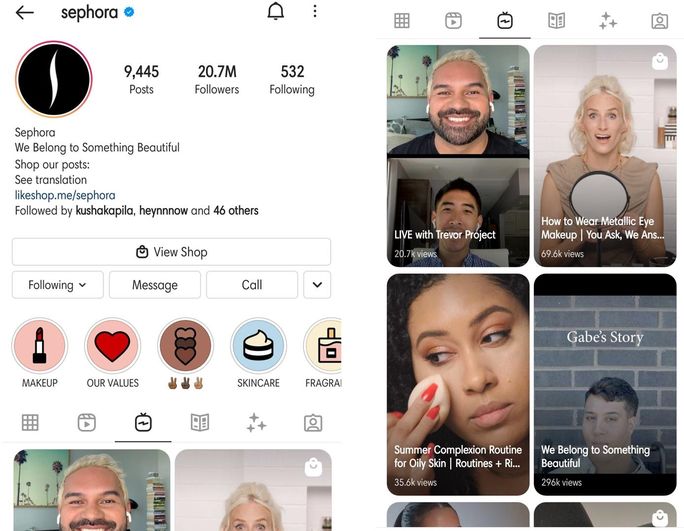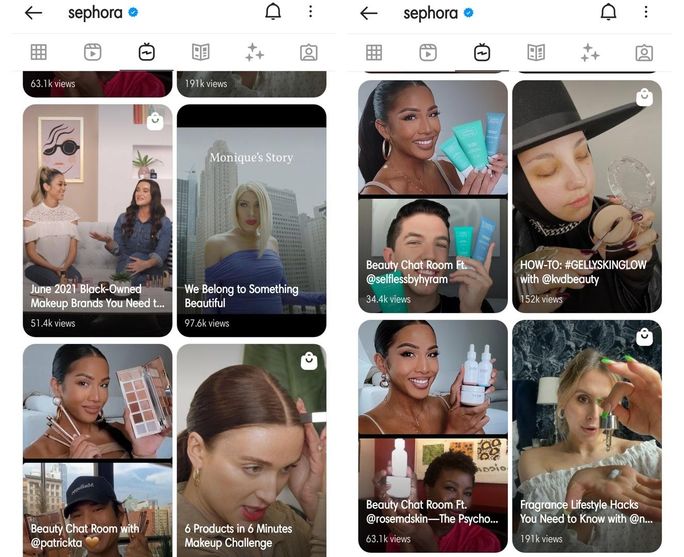 In these images, international make-up brand Sephora uses IGTV videos for uploading tutorials, make-up and skincare routines, beauty chat rooms, lifestyle hacks and a lot of interesting and product-related content to engage their audience.
Example #3
Brand – Netflix
Instagram handle – Netflix US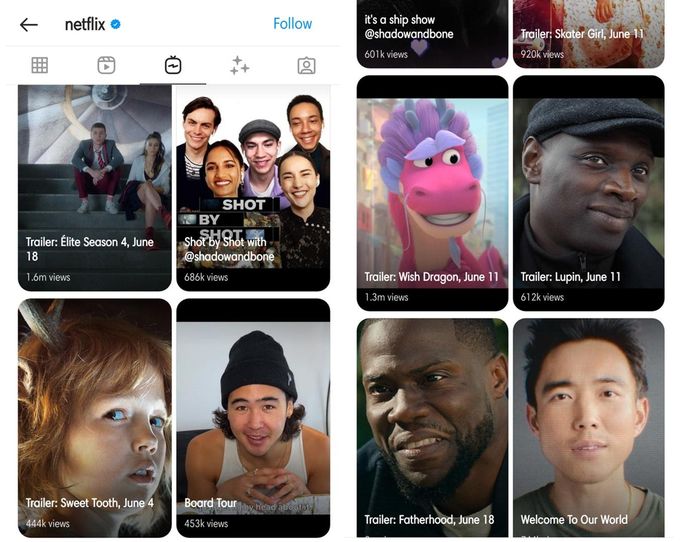 Netflix uses IGTV to promote the trailers and teasers of their upcoming shows.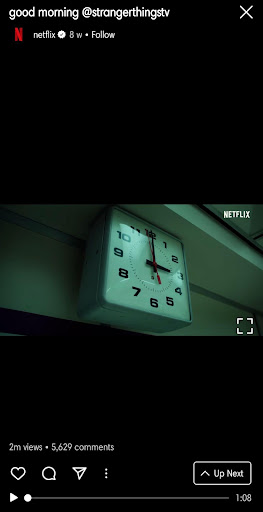 Netflix used the IGTV feature to release the teaser of the renowned series Stranger Things 4. The 68 seconds IGTV video has garnered around 2 million views.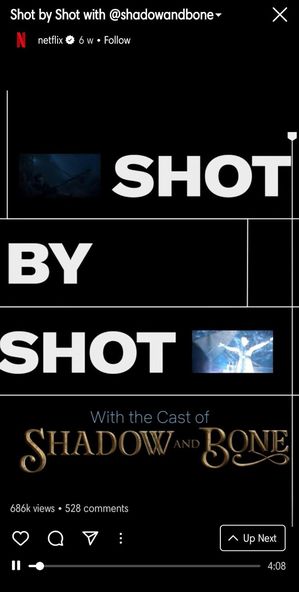 Through this snap, we can get a glimpse of the behind-the-scenes or shot-by-shot scenes of the series Shadow & Bones, wherein the cast and crew share their experiences of shooting the series and also break down some of the scenes for the audience.
Example #4
Brand – Adidas
Instagram handle – Adidas & Adidas Originals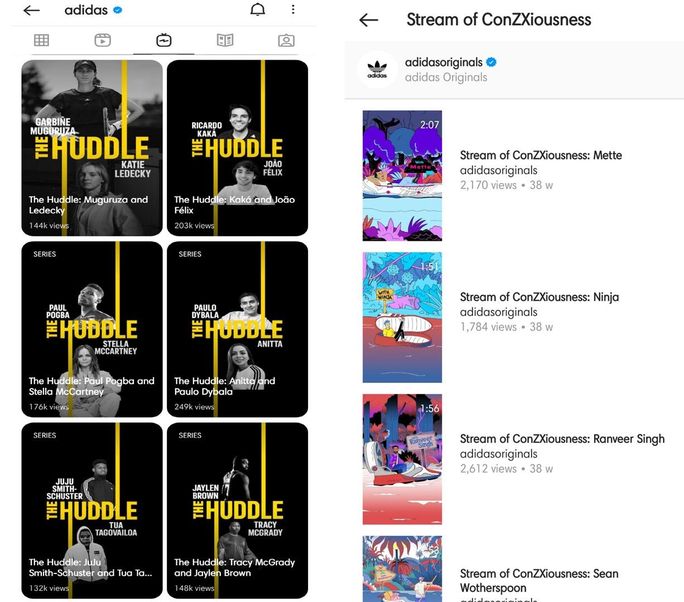 Adidas created a series using IGTV called The Huddle, wherein famous personalities come together and have engaging conversations.
The stream of ConZXiousness is another series by Adidas Originals. It is a series of psychedelic 2D animations to promote the Adidas ZX shoes.
Example #5
Brand – Dior
Instagram handle – dior official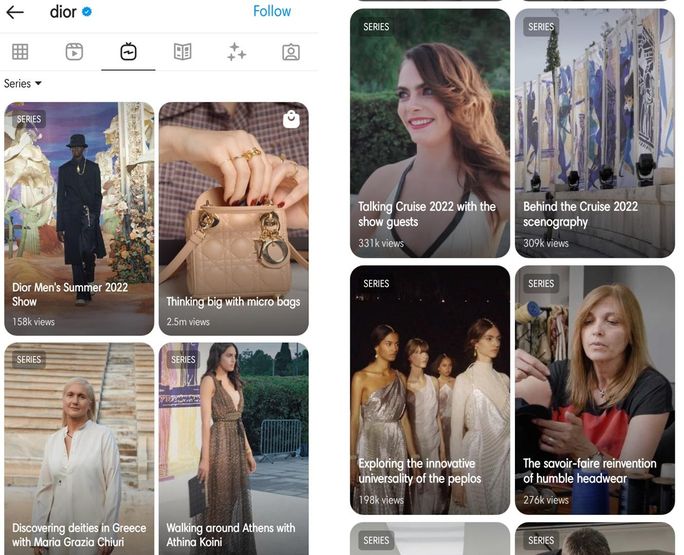 Dior uses IGTV videos to promote their products, upload fashion shows, behind-the-scenes of fashion shows, and what goes into designing their products.CTA – A recent report states that 200 million Instagram users visit a business profile every day, and 80% of Instagram users follow at least one business. Imagine the wonders you can achieve with the gram and its cool features. IGTV offers an endless array of possibilities. With IGTV, Instagram has combined the power of two platforms in one, which can provide the much-needed amplification to any brand. SocialPilot can help you learn more about Instagram,